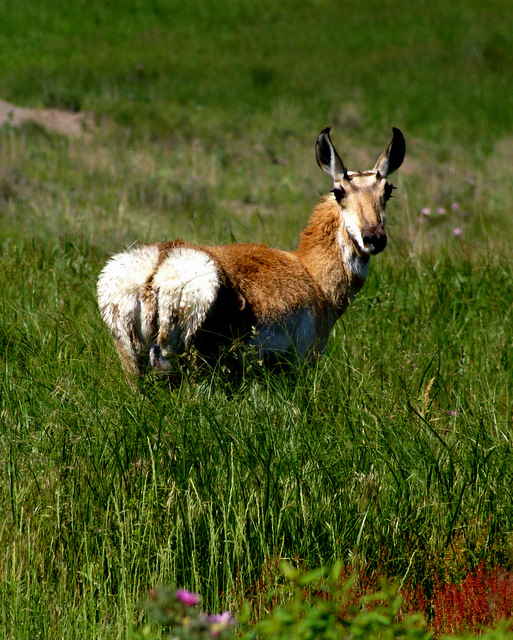 Those who live in a northern region understand front to back and top to bottom what the arrival of summer means (plants, animals and humans). Winters on the Great Plains are especially long and severe – it seems like springtime will never come. June is, to us, a breath of Heaven. To get a feel for what I'm talking about, read on and ride with me out where the deer and the antelope play.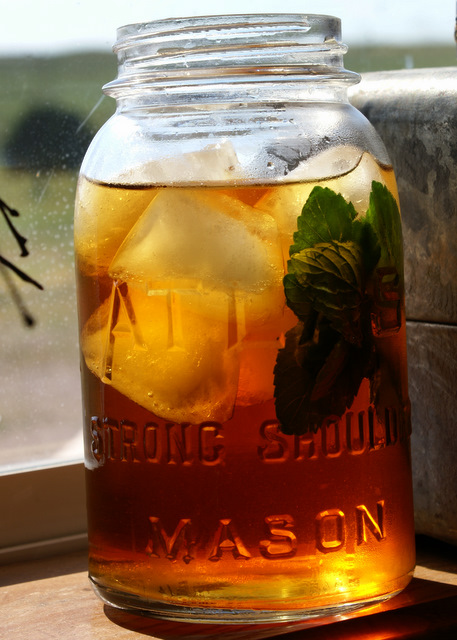 Yesterday, I made a gallon jar of sun tea…a sure sign of summer. This afternoon (our first hot day – 98 degrees), I'm working on my new blog article and the above jar of tea is sitting in front of me. A sprig of Peppermint makes the tea seem even colder. In preparation for a HOT day, I watered everything heavily this morning and then I took Anita to the ranch for a foraging mission. The other day when Lynn and I were moving cattle, I spied several Giant Penstemon plants in bloom and committed the location to memory so that Anita and I could go back and get a few to transplant. Isn't she a beauty?! She stands about 16″ tall. I put my specimen in my flower bed and Anita planted her's on her house. They have a bermed home and it is covered with hardy perennials and ground covering junipers.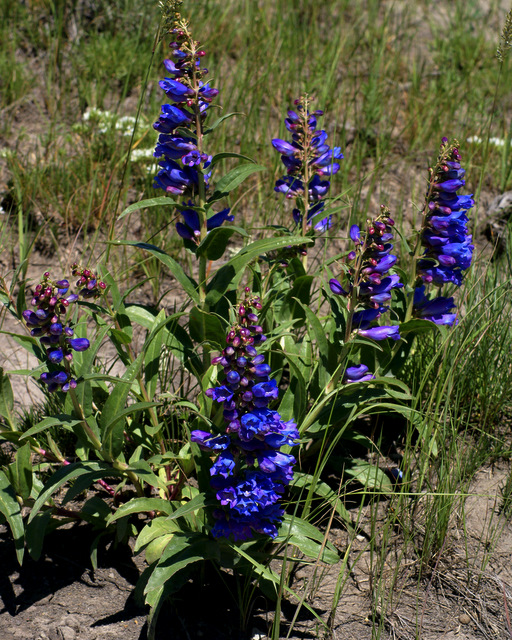 Before I get too far into this, let me share a YouTube song that is perfect for this article and the season. It'll get you in the right frame of mind. Ok, its not western, but I'm a child of 60s & 70s and I love soulful golden oldies. Here'z "Hot Fun In The Summertime" by Sly And The Family Stone: http://www.youtube.com/watch?v=3ahhmiuyko0 . Now to get this blog really rollin', I've taken a ton of photos in the last couple of weeks and I hope you like pictures because I got a little carried away!! I don't have a great camera, but I have grrrreat material to work with! Lets go…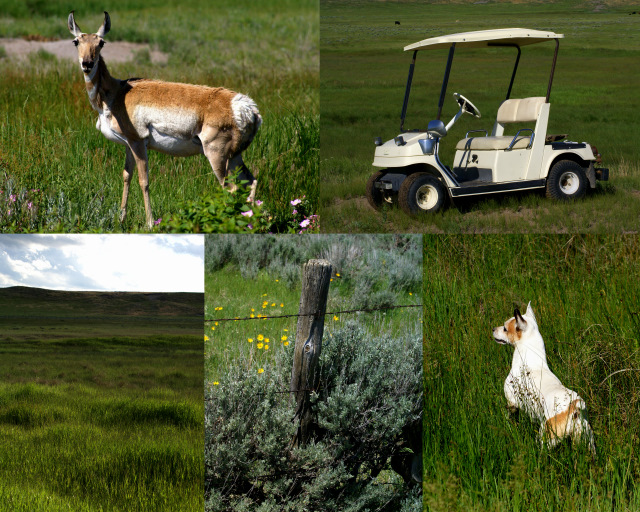 The above photos in the collage were taken here at home. The doe antelope have their babies during the first two weeks of June, but they keep them hidden from view until the kids are about a month old. Confession: my other country ride is not a horse. My girlfriend gave me her old golfcart a couple of years ago. I LOVE it, how did I get along without it!? It is a farmgirl chore coup deluxe. She's naked in this photo, but ordinarily there is a shovel or pitchfork in the golfclub holders, a bale of hay on the back or whatever else that I need to tote from one place to another. "Daisy" sure saves me a lot of walking. I also take it on safari trips to the outback…as in in the back pasture.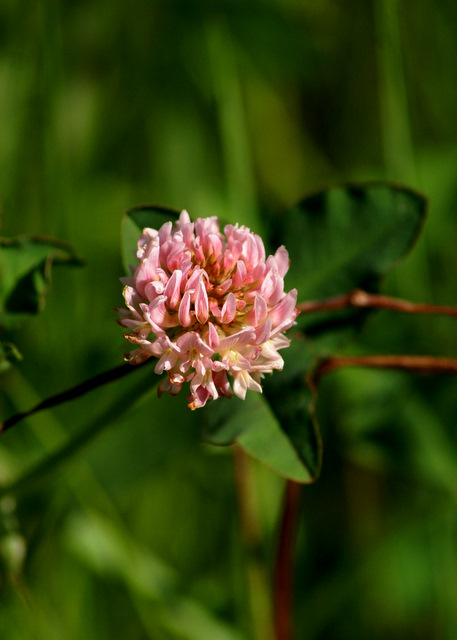 Last summer, I'm certain that whoever was driving by on the highway early one morning thought that I'd taken eccentric to a whole new level. A hawk had killed one of my hens and was constantly hovering overhead for another opportunity. Consequently, I was in sniper mode. Early in the AM one day when I was doing my chores, I spied my enemy perched on a fence post way down the driveway. So, I hastily grabbed my shotgun and hopped in Daisy. We sped down the road toward my target. Ok, a golfcart isn't a NASCAR candidate, but I had the pedal to the floorboard and she was doing her best to rival the old song "Hot Rod Lincoln". What a sight. I had my nightgown on, cowboy boots and I was packin' heat. I looked like a cross between Cruella DeVille, Cattle Kate, and the Oz witch in the stealing Toto scene. Blam, blam, Blam!! I failed to cause his demise, but I did nick him because he suddenly dipped in flight. My shootin' gallery moment didn't solve the problem, but it made me feel better as I putt-putted back home.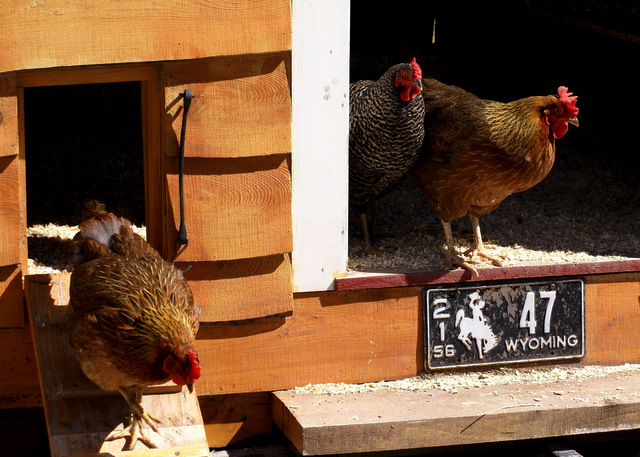 Summer is so busy for us, I feel like the chickens when they're first turned loose…running and flapping their wings for joy. They look so goofy and clutzy. Swans they are not :o) This time of year, I, like them, don't know which direction to run in. Even so, I've gotten quite a bit accomplished this past month as I'm sure many of my farmgirl sisters out yonder have. As I write this, my husband is getting the haying project underway and that will be a priorty for the next two weeks – the future. But, here is what was going on here recently: some cowboying, some shopping & crafting with farmgirl pals, branding at Anita & Jerry's, gardening, planting flowers in several containers, tidying up the barn and homestead, and enjoying Nature every chance I get. Photos will reflect the goings on. Below, my Lynn loping along when we were moving cow/calf pairs. His horse, Peso, is usually very laid-back, but as you can see here, he's "up in the bridle" and Lynn has much more contact via the reins than usual. The grass this time of year is so powerful, it is kinda like when kids get sugared up :o)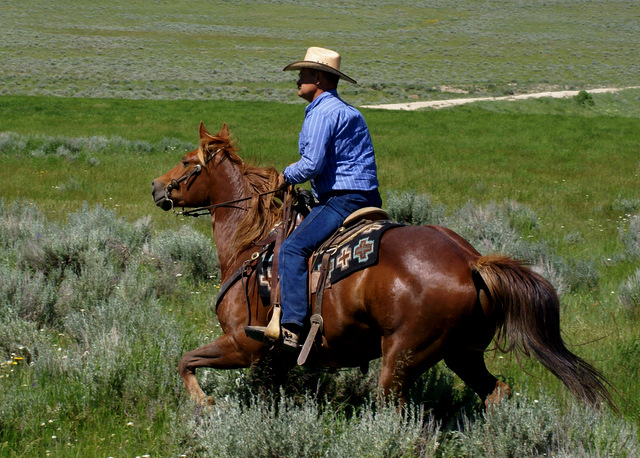 Mama and baby on their way to a different pasture. Photo made possible by the best cowhoss in the known universe, my Dolly.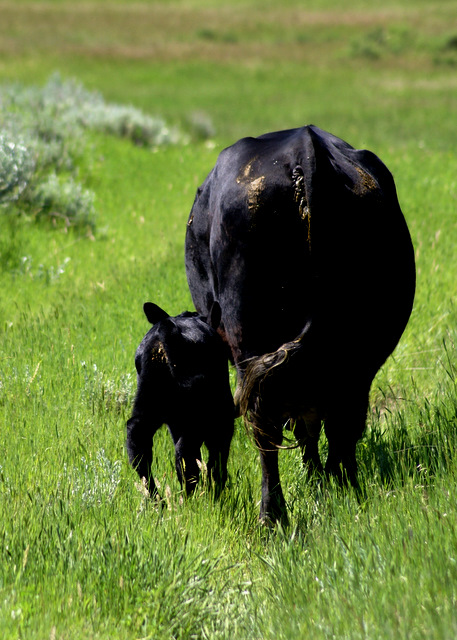 Scenes from the rest of the ride that day follow…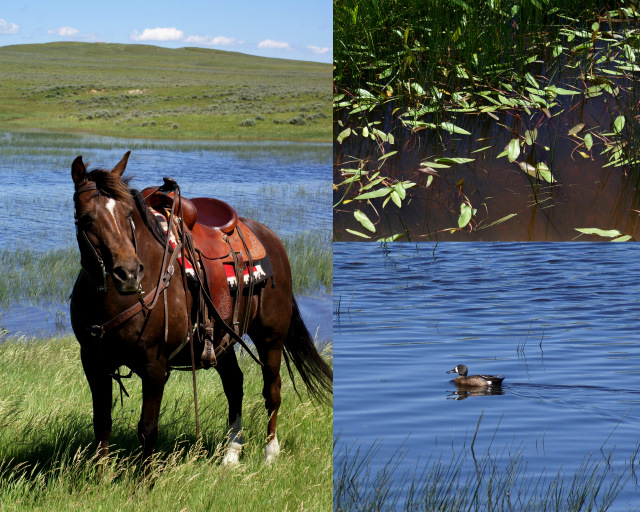 Above: Dolly near a reservoir that was teaming with waterfowl. Below: a duck nest that I spotted from the saddle and a female Wilson's Phalarope in flight. The swimming duck is a male Blue Winged Teal; he was swimming toward his mate who had nine babies following her. Ranch reservoirs provide thousands (millions?) of homes for waterfowl. This might annoy some environmentalists(?), but fencing reservoirs for waterfowl is an expensive idea that does not accomplish what it is said to do. Many water or shore birds prefer waterholes like this one, where some/much of the bank area is walked down by cattle. It is easier for the birds to navigate from land to water (and visa-versa) and they can see predators when cattails and such aren't present around the entire perimenter of the body of water. More environmentalists ought to listen to ranchers about what really happens out here. We do care about Nature and we live here year round. We're 24/7 stewards of the land that we rely on all the days of our lives. Many ranchers are lifers and have observed Nature and the weather … day in and day out, year after year. They know more about their natural neighborhood than anyone else. Because of man-made ranch reservoirs, there is much more water habitat. When managed properly, ranch country is some of the healthiest land on earth. Look at the abundance and variety of life for proof. Ranchers are known to be good neighbors and that fact is not limited to their human neighbors. Ok, I'll surrender my soapbox now :o)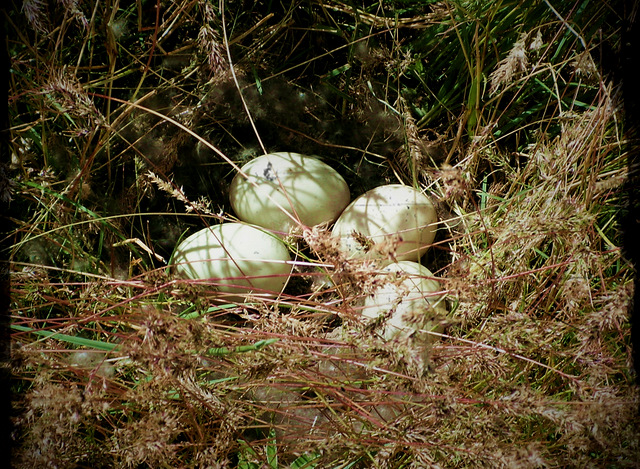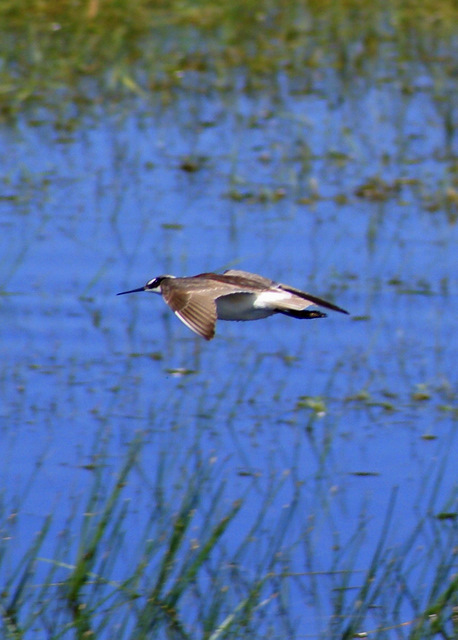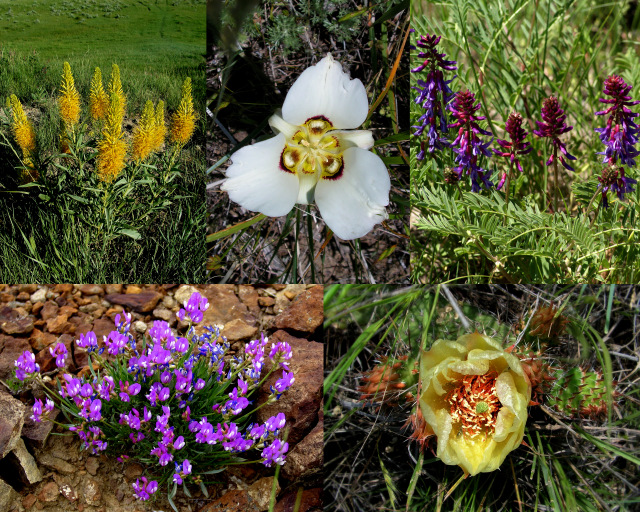 The wildflower in the top left corner, Prairie Poker, is very rare and I've only seen it in one location on the ranch. It stands about 24″ in height. Below: our ranch mascot, "Kramer", a long retired Corriente roping steer. We think he's about 15 years old and he weighs near a ton. Isn't he the coolest looking thing? He's what the old west looked like, and like those "bell steers" of the old-time cattle drives, he too goes to the front of the herd and takes the lead. He will eat treats from my hand. I love his markings. Someday, when his clock quits ticking, we plan to do a head/shoulder mount of him. For now, he decorates the ranch and helps us out when the herd needs to move.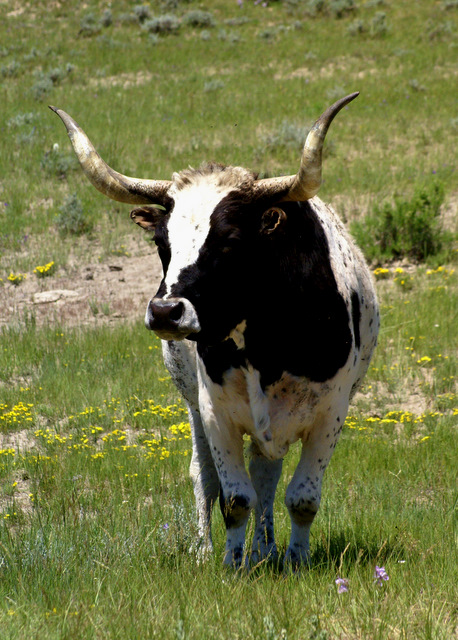 The Wildflowers below are (left to right): Bitter Root, Giant Penstemon, Mallow, Sorrel, Butter & Eggs, Wild Rose.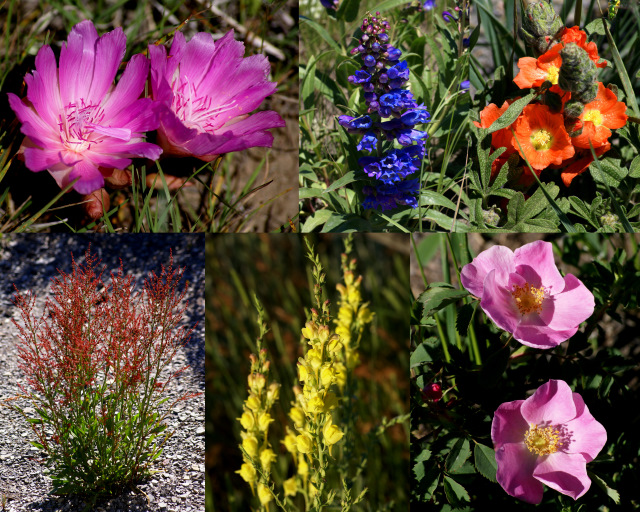 I'd like to mention here that I've loved being outside for as long as I have memory, and I've always been drawn to the details in Nature. When I was a young adult (1970s), a truly gifted musician captured the hearts of millions, mine also. He sang to my heart on every level. His name, John Denver. When my girlfriends and I drove to the Black Hills (in my 1962 Bug) for a day-hike, we often listened to his songs and sang along. I still do. Its a little thing, but I'd like to dedicate this article to John and here is a verse from his song, "Summer", that is fitting … "Riding on the tapestry of all there is to see." To embellish this dedication further, here is one of his songs that makes my eyes moisten. John's original music video (via You Tube) "Boy From The Country": http://www.youtube.com/watch?v=YyzzmA21D4I&feature=related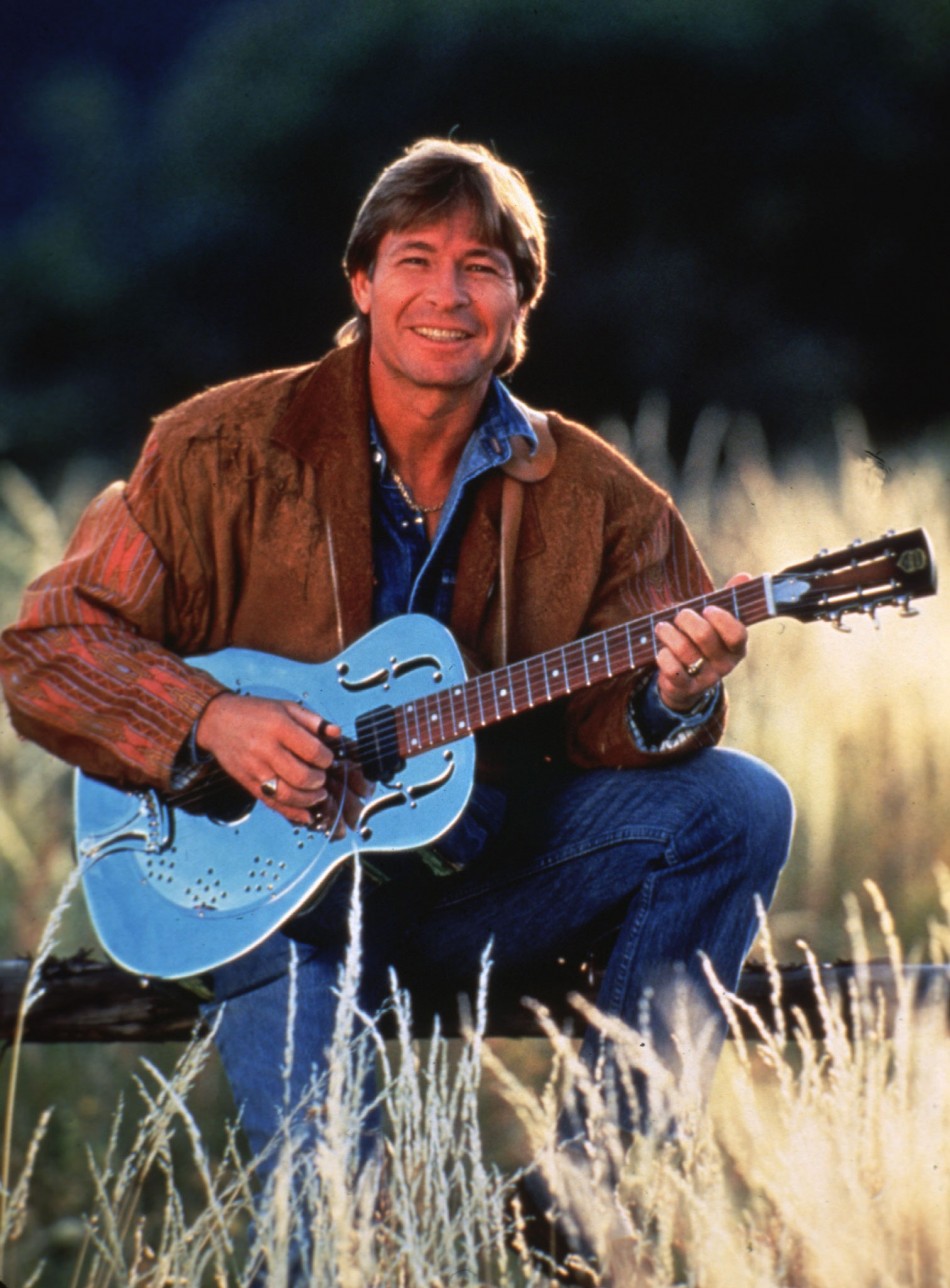 MaryJane is close to my age and although I haven't asked her, I suspect she might also be a fan of John Denver. Comparing the two, they're like Strawberries & Thimbleberries … different and yet similar (in my opinion) … full of natural sweetness and a juicy love of life … all of it.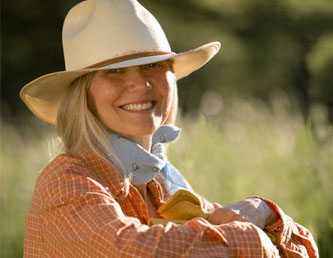 Moving on, next on the agenda involves spending some leisure time with a couple of my farmgirl pals – Anita and Michele. The other farmgirls in our flock weren't able to make it to our farmgirl get-together at Michele's house. Summer is busy and people are going in a hundred directions. Below: We went to nearby Belle Fourche, SD to go to three antique stores, a nursery, and a great little cafe called "The Green Bean". It is a darling little Victorian cottage turned into an eatery. We had Panini and southwestern style cole slaw. I scrutinized the ingredients and I'll share my recipe version with you (bottom of page). The little brown box in the top left corner held my gift to Anita, it was her birthday. On the shopping trip, we all found some antique goodies, but for Anita, a dream came true. She found a smaller wood burning cook-stove in near mint condition. She's wanted one for a long time and plans to make full use of it. The only heat in their bermed home is passive solar and a wood burning stove.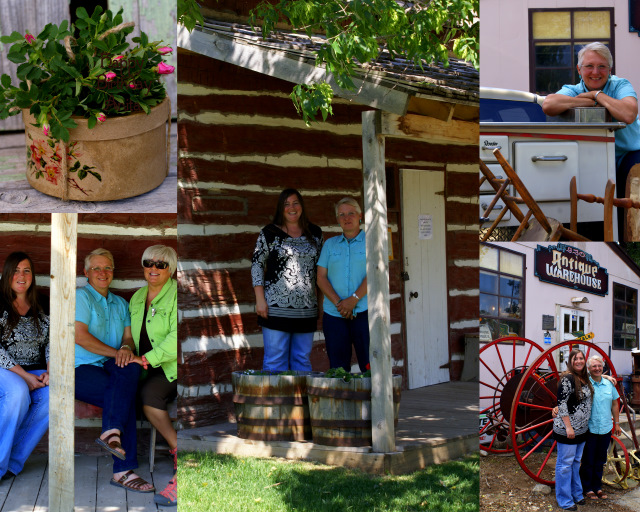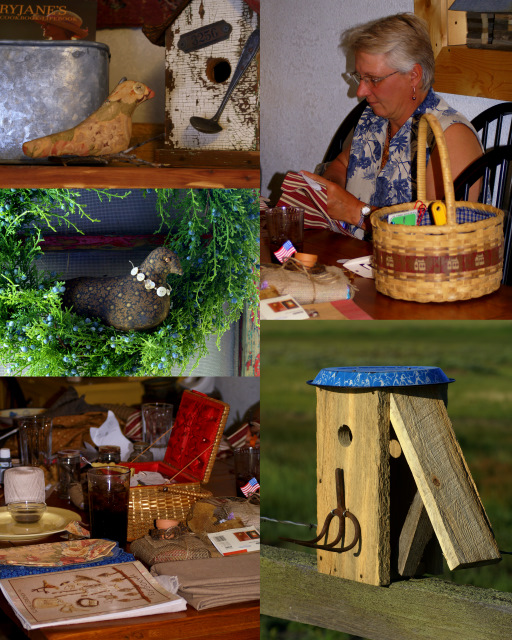 At Michele's home, we feasted on Mexican food…even homemade tortillas. Her mother and sister joined us. The craft project this go-round was bird themed – very appropriate for this time of year. We each began our "bird herd" by making calico and homespun birds from patterns I drafted. A kitty will come too, but we didn't get that far. The birdhouse above is one of Michele's creations (for me). She makes & sells gobs of birdhouses and embellishes them with rusty odds & ends. The "How Too" of this birdhouse is in the newest edition of the MaryJanesFarm sisterhood online magazine, "The Cluck". You can become a member/subscriber by clicking on the MaryJanesFarm text header at the top of this page. It will take you to the sisterhood website and then you can follow the links to the membership pages.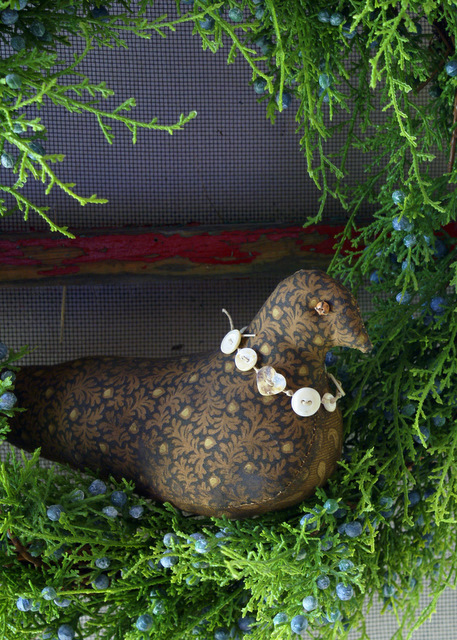 Above: One of my birds – I used historic reproduction fabric and "aged" it when it was finished. My antiquing "goop" recipe: equal parts of water, cinnamon, dark brown acrylic paint. Rub the sticky liquid on sparingly. With a sponge, I rub it on gently along the seams and add a smudge of it here & there. The birds we made were inspired by antique birds in the country decorating book, "Seven Gates Farm". I bought a used copy via Amazon.
Continuing the bird theme, below are photos of some of my feathered friends here at home. When watering one morning, I noticed a baby bluebird in my garden tank. It was obvious that he was a rookie and this was Day One for him in the world beyond the nest that he had just left. I spent the next couple of hours locating his siblings and taking their photos. Mama and Papa busied themselves by watching over their babies and taking them meals. I had been waiting for the babies for a few weeks. They nested in a the end of a pipe on the corral. Simple pleasures are some of the golden moments in life.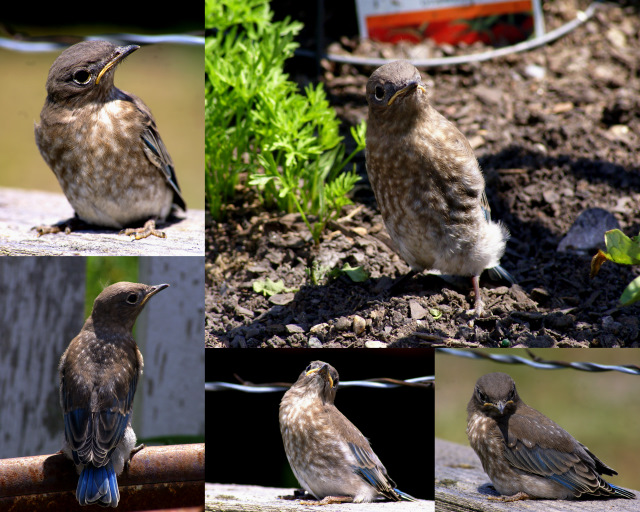 I kept my two cats inside until the next afternoon to help insure the safety of my young friends. I've seen three of them since, here & there and they're much more savvy now. As you can see in the photo below, the little male is already sporting more blue than his sister. These are Mountain Bluebirds.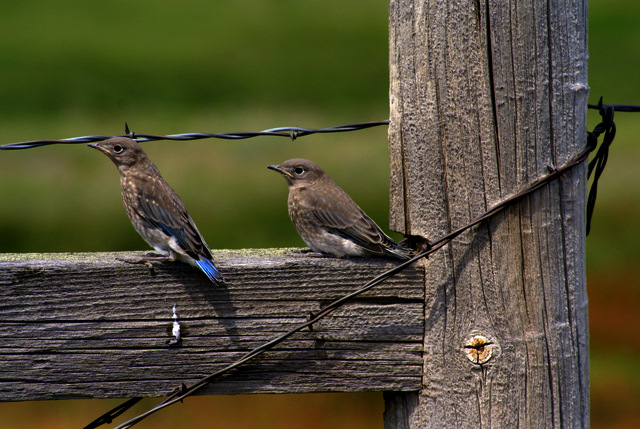 Three days ago while on my morning walk with the dogs. I noticed that Mother Robin was scolding me when I got close to one of the old cedar trees in the back pasture. I soon discovered the reason for her nervous behavior. Her babies were waiting in the branches for her to bring them meals (see her in photo with a caterpillar in her beak). They too had just left the nest.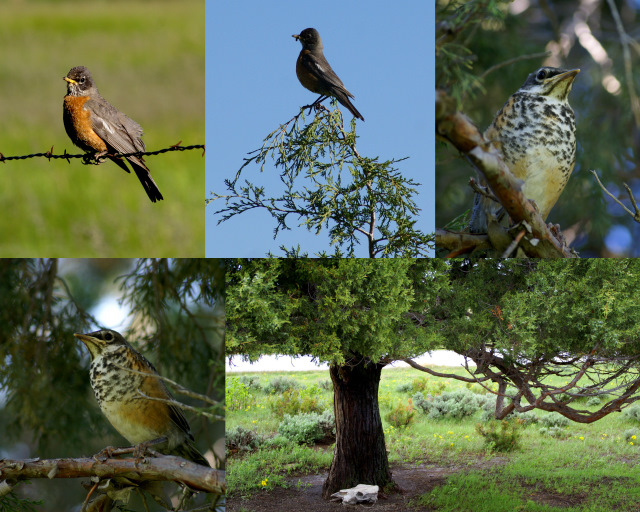 Do you recall me telling you that I had mounted a birdhouse on a board and then wired it to a cornerpost? I then wired a dead cedar to the post. Tree Swallows made their home in it and are raising their family.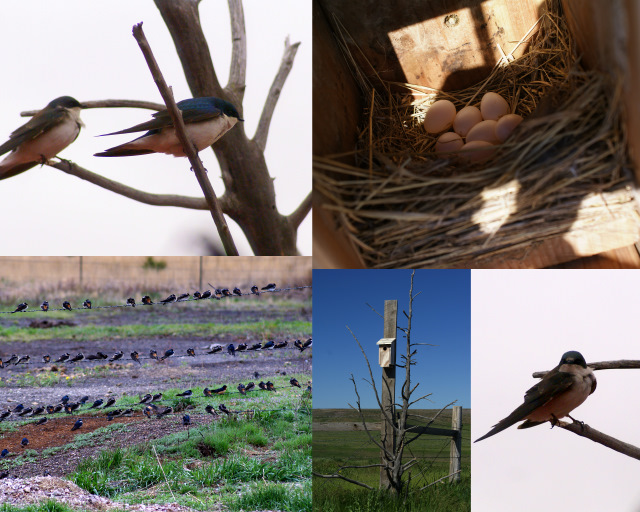 When the summer birds began to return here, both Tree Swallows and Barn Swallows here hanging out together on the back fence (above).
Mr. Tree Swallow: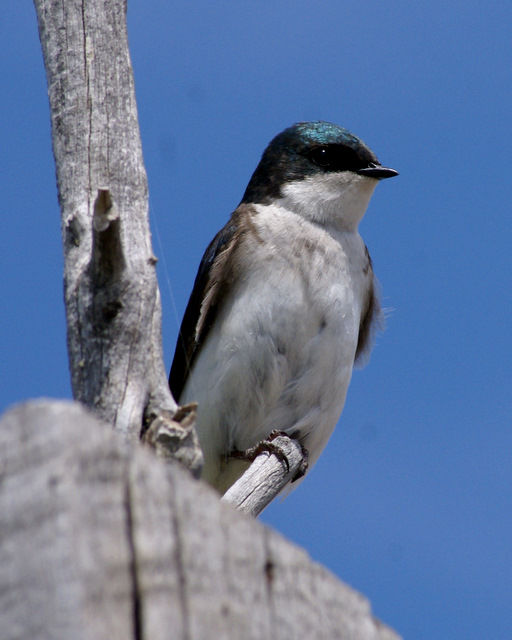 Down in the pasture where the highway bridge is, Barn Swallows always make their nests under the bridge.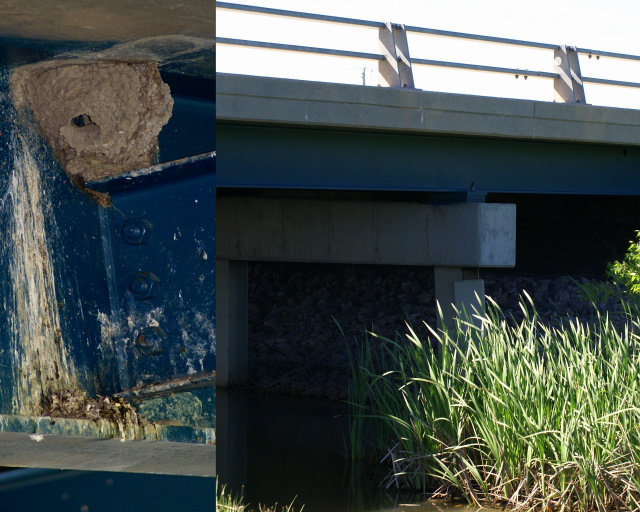 Home, my favorite place in all the world…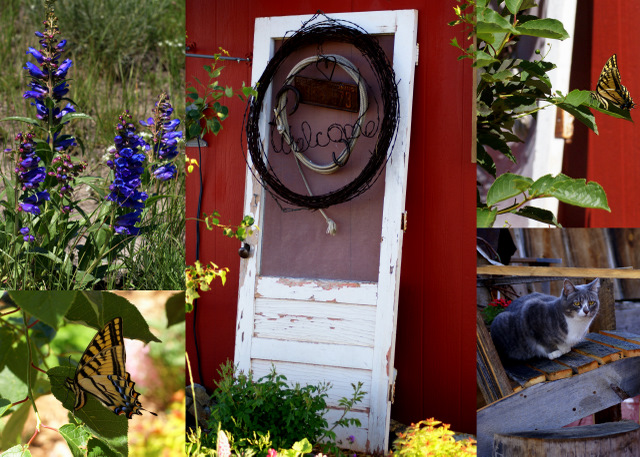 I caught Mother Swallowtail laying eggs on my Chokecherry; see her rump lowered and touching the leaf. I'll have to spray the tree or it will be stripped of leaves. I hate to do that, but there is a thicket of Chokecherries in the lower pasture and I'm sure Mama or her relatives laid eggs down there too.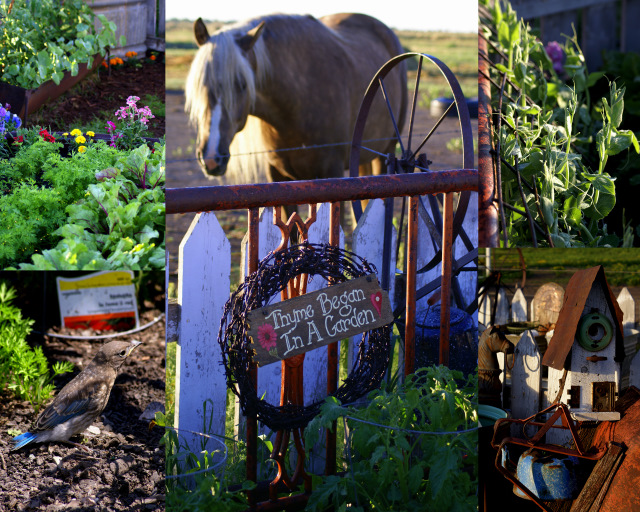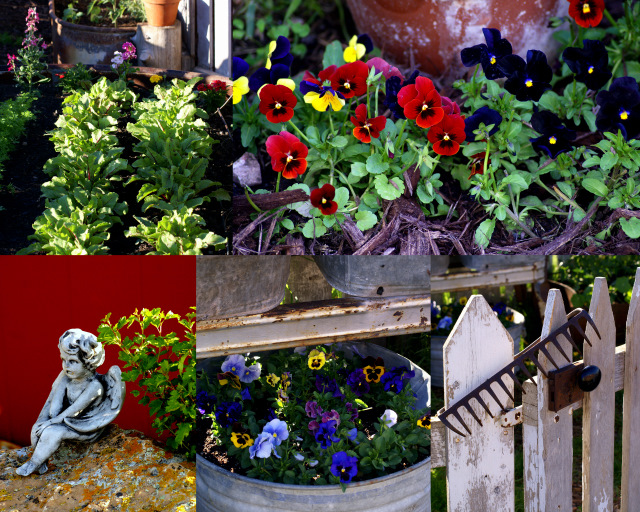 My friend, Roberta, paid me a visit the other day and brought me Rhubarb. She is quite the horsewoman; she cared for, trained & showed world champion Morgan horses some years ago. An old pelvis injury wont let her ride anymore, but she still loves the unmistakable fragrance of horses. If you're a horselover, I needn't explain further.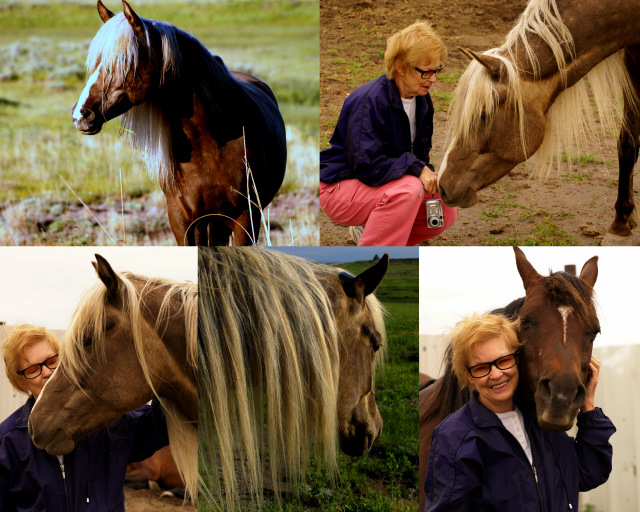 At Anita and Jerry's branding, I met a little lady on the front end of her horselover experience: Anita's great niece, Riley. Prior to that day, she was fearful of horses…but drawn to them. My husband somehow helped her overcome her fear and introduced her to his horse, "Chevis". He's a perfect equine gentleman and knows that children are "human foals". In about 20 minutes, Riley was smitten, as evidenced by the look on her face. Just yesterday, Anita gave Riley her very own 1st horse. Anita's old mare is retired, but in good shape and she'll be a perfect teacher/babysitter for young Riley. "Remmy" & Riley will have a busy summer. If she is anything like Anita and I, this little girl will never recover from horse fever…and this will not be her only horse. After the branding, Riley helped her Aunty with chores by feeding the bum lambs.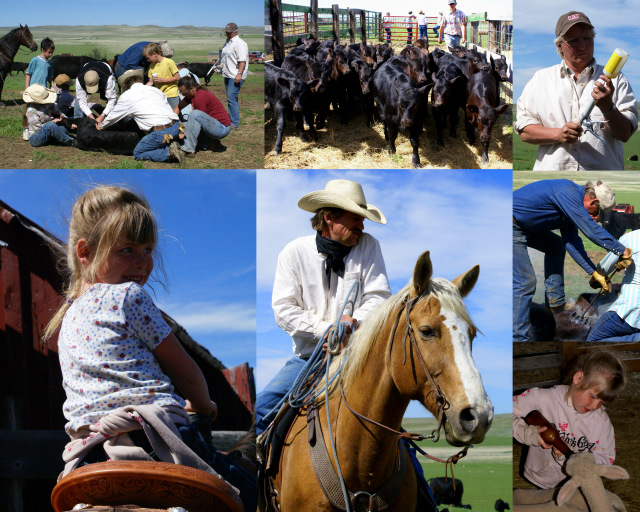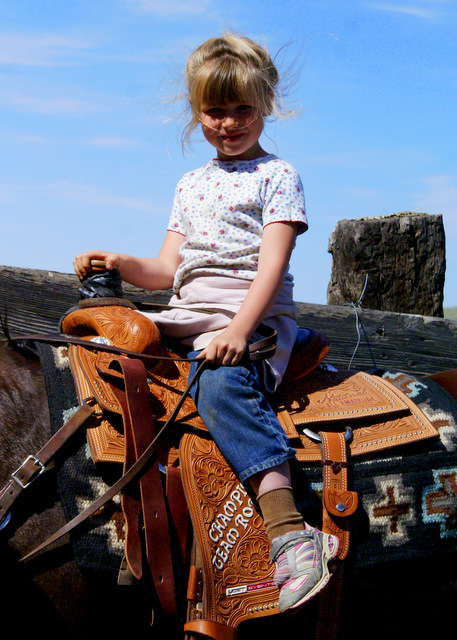 Riley in the saddle that my husband won at a team roping a month ago. He was SO excited. The saddle resided in the living room for a couple of days :o)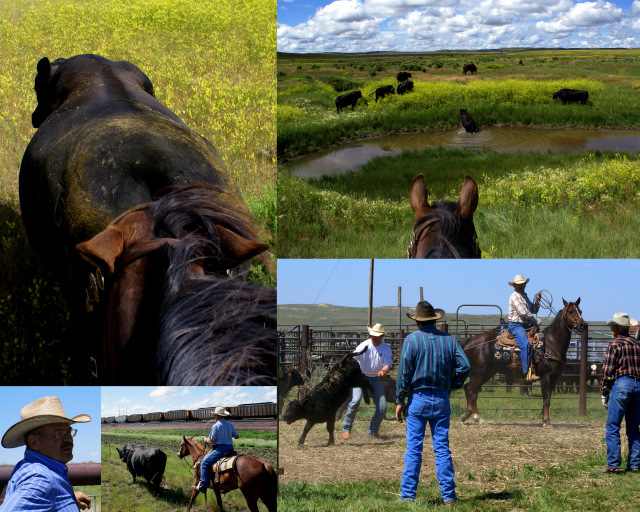 Above: In June, the brandings are ending. Bulls are returned to the cow herd for breeding season (generally two months) in June & July. My husband is the rider in the bottom three photos. I am the rider in the top two photos – making use of the Dolly-cam. Below: Dolly.
Next on the agenda is July! We'll have a few friends over for dinner on Independence Day evening. I bought a few fireworks for when it gets dark. We'll sit outside on the deck and watch the fireworks display that locals put on at the top of the hill (behind the house about a half mile away). There is an airstrip up there and it is a perfect place to shoot off fireworks.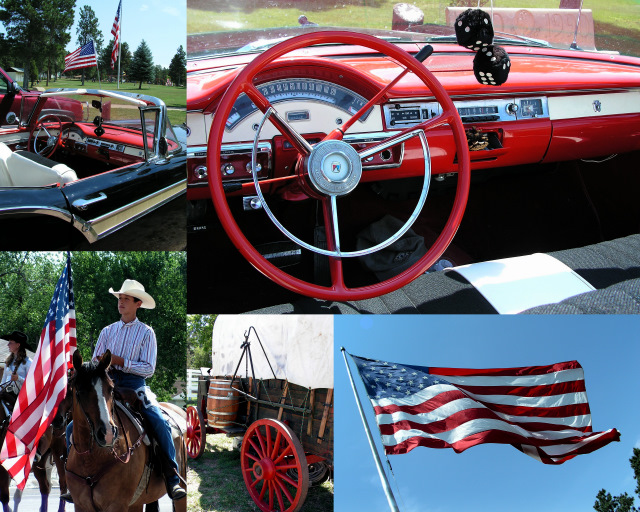 Below: My design submission for the June edition of "The Cluck", a quilty log cabin flag that can be finished in a variety of ways. You can get the directions by becoming a MaryJanesFarm "sisterhood" subscriber/member. Also below, my chocolate pudding cake and the Southwestern coleslaw that I told you about earlier in this article. Recipes to follow.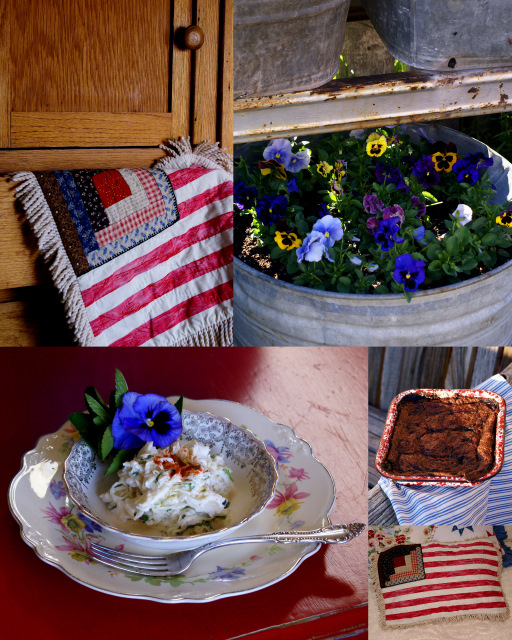 Southwestern Slaw
5 C. shredded cabbage
1 C. Mayonaise
Juice of 1 large lime
3 Tblsp. chopped Cilantro
1 Tblsp. finely chopped Jalapeno
1/2 tsp. sea salt
1 tsp. sugar
dash of fresh ground pepper
Combine and chill until serving. Best if you let it set for a couple of hours.
——————-
Easy-Shmeezy Chocolate Pudding Cake
Oven: 350. This dessert is made in the same pan it bakes in and it makes pudding on the bottom as it cooks.
1 C. flour
3/4 C. sugar
2 T. cocoa powder
2 t. baking powder
1/4 t. salt
1/2 C. milk
2 T. vegetable oil
1 t. vanilla
—————-
3/4 C. brown sugar
1/4 C. cocoa powder
1 1/2 C. boiling water
In an ungreased 9×9″ baking pan, combine flour, sugar, cocoa, baking powder, salt. Then, add milk, oil and vanilla. Spread batter around in pan. Sprinkle brown sugar on top, then the cocoa pour the hot water on last. Bake for about 40 minutes – the top will be crusty (see photo). Serve with ice cream or table cream.
——————————
Well, here we are again at the bottom of the page. I hope your summer is as enjoyable as mine has been thus far. Here is a parting thought for you: As I was walking by the barn, I noticed a wildflower thriving in the middle of a pile of equine "meadow muffins". It reminded me to bloom where I'm planted … even when circumstances aren't ideal. Now, that is definitely farmgirl attitude for ya :o)