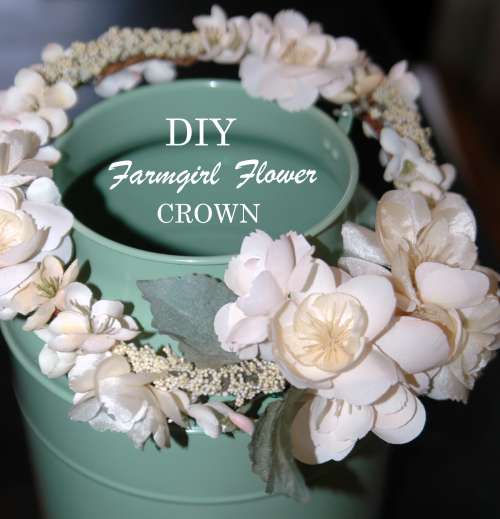 Dear sisters,
Can you believe September is half over already? It just seems to be whizzing by. Today I'm sharing a fun tutorial for making a flower crown. They are all the rage in floral design these days and I just happened to have a bride who requested one for her wedding this weekend. Come on in and get some tips on how to make your own DIY Farmgirl Flower Crown!But first, a brief history lesson on the flower crown. According to Wikipedia, wreath attire has played a part in many cultures dating back to ancient times. A wreath for attire purposes, is a headdress made of leaves, grasses, flowers or branches. It is typically worn in festive occasions and on holy days and has a long history and association with ancient pageants and ceremonies. Outside of occasional use, the wreath can also be used as a crown.
Have any of you ever made a flower crown or " wreath" to wear for a special event or farmgirl gathering? I think it would make a fun craft for a Farmgirl Chapter meeting, seasonal solstice gatherings, baby showers, bridal showers and more. I know! What if you had your very own farmgirl crown? Something to put a little fun in your day when you need it most!
I've been spending an inordinate amount of time on pinterest ( and YouTube) looking at flower crowns lately and I have to say, they sure can make a farmgirl feel light, free and flirty!
This photo by Flowergirlosangeles.com served as my inspiration. The bride and groom are having a very small backyard ceremony. They are already the proud parents of three bounding boys. What better to make her feel extra special than a floral crown to wear on her wedding day? When I mentioned it to her in our interview her eyes lit up!
I used silk flowers for her crown so she could would have it as a keepsake from her wedding day.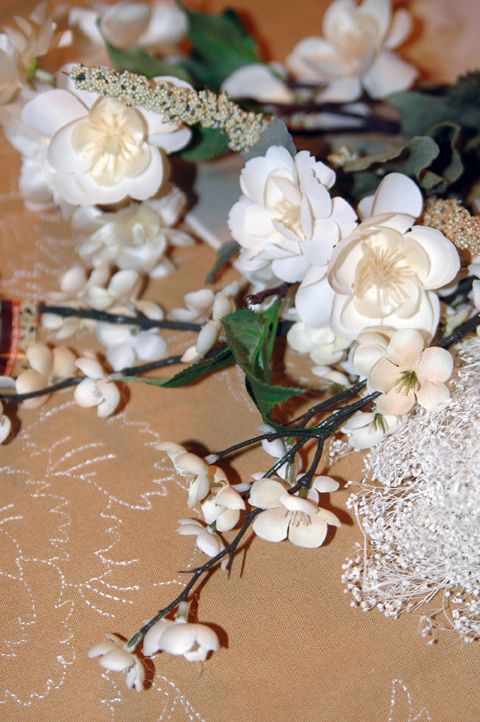 My color scheme is monochromatic. I chose soft ivory's with a hint of pinky-beige to compliment her champagne colored wedding dress.
When choosing your flowers go for a mix of sizes that range from small to large and be sure to add in something interesting for texture.
SUPPLIES: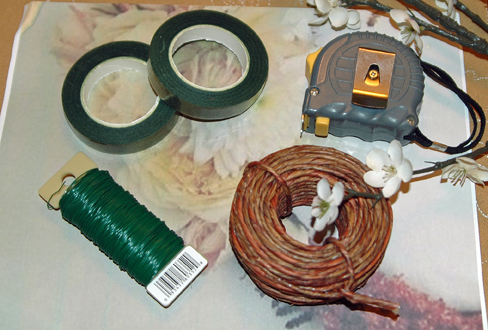 Floral Tape
Tape Measure
Floral Wire
Coiled Wire
Small wire cutters
Pruners
Scissors
Glue gun and glue sticks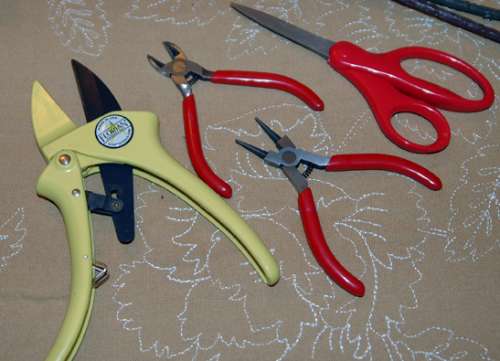 Be sure to have a precise measurement for your headpiece before assembly begins.
Use a piece of twine to wrap around your head placed where you would like your crown to sit.
Cut it to size then measure the coiled wire to the same size and add two inches so you can twist the ends together to make a circle.
Make a second cut of coiled wire and wrap it around the first circle so you have a double ring.
Secure the ends by twisting them together and press down any wires that may be poking out.
Double wrapped coiled wire makes the headpiece more sturdy and gives you more surface to add flowers to. Now that you have the base ready you can begin to apply the flowers.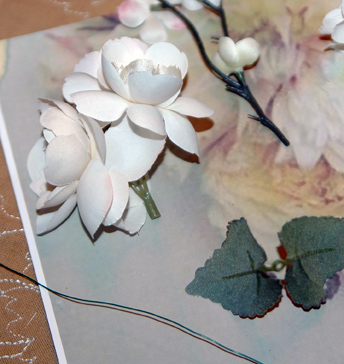 Cut flowers off of the stems and fiddled with them on the base before tying them on with floral wire just to get an idea of where you want them permanently placed.
Continue to build your crown bit by bit thinking about the balance of the over all look once it's done.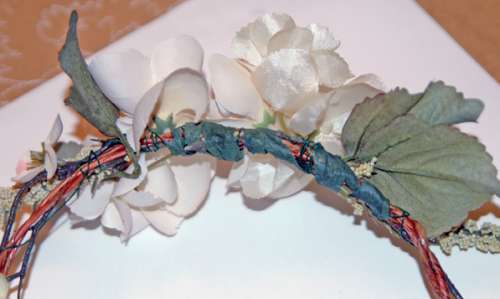 Once you have everything wired on, wrap some floral tape around the base where you want to cover the floral wire. You may choose to wrap the entire headpiece in floral tape depending on your finished design. Since I was following the curves of the coiled wire I left it bare in some places.
Here is where I got out the glue gun and secured the remaining flowers until it was finished.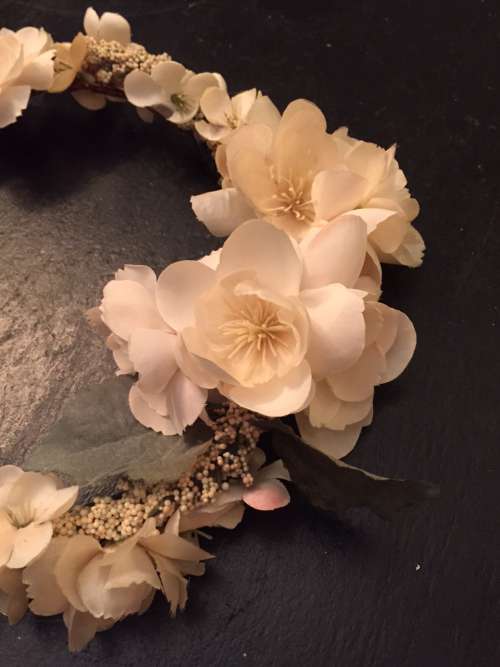 Ta DA!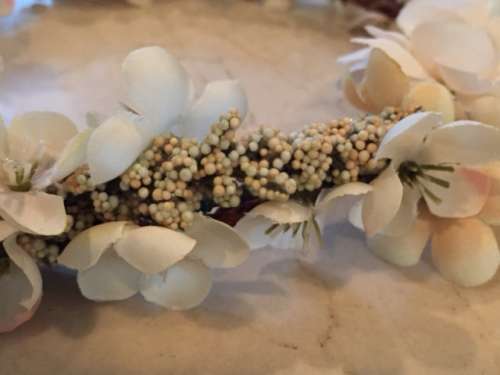 The way the flowers are placed on this crown it can be worn with the most amount of flowers in the front, on the side or in the back.
I can't wait to see how the bride-to-be decides to wear it!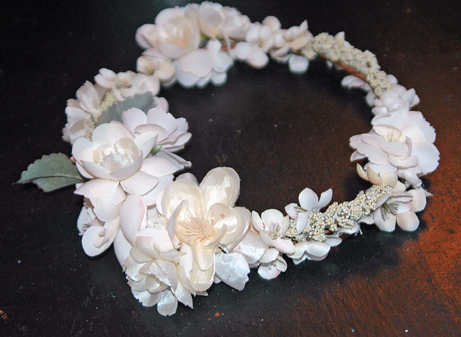 I think all farmgirls should have a flower crown of their own, don't you?
I'm calling you out! 
Gather your supplies and get crafting! Your crown can be made of fresh flowers, silk flowers, everlasting ( dry flowers ) herbs, twigs, fruit, feathers, shells; whatever your little farmgirl heart desires. Just make it yours!
I'll post the challenge on the Farmgirl Chatroom over the weekend and we can share photos there!
Should we have prizes and categories too? Talk to me in the comments!
Until our next shoreline visit~ Craft On Farmgirls!
BEACH BLESSINGS and Much Love,
Deb, the Beach Farmgirl
# 1199