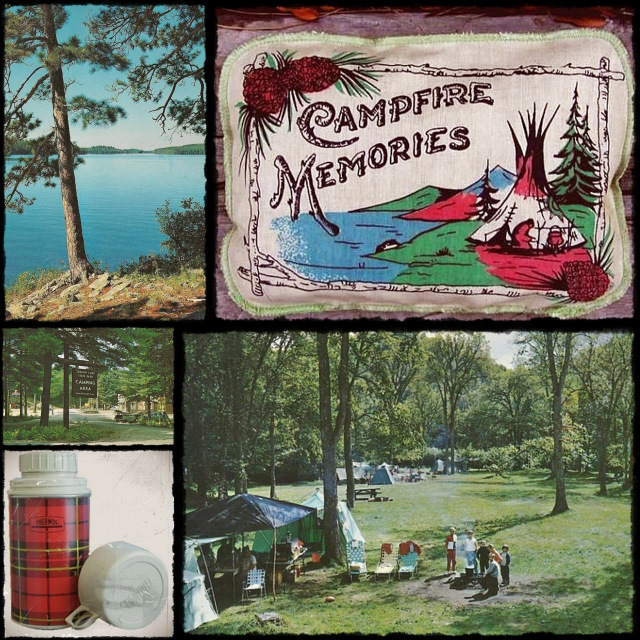 I'm itchin' to hit the trail and go camping. But, when I look out my window, all I see is snow drifts. So, for now, day-dreaming about it will have to do. Are you itchin' too? If so, saddle up your horse, lace up your hiking boots, hitch up your camper, load your bikes on the SUV and lets go on a virtual camp-out. I'm so outta here!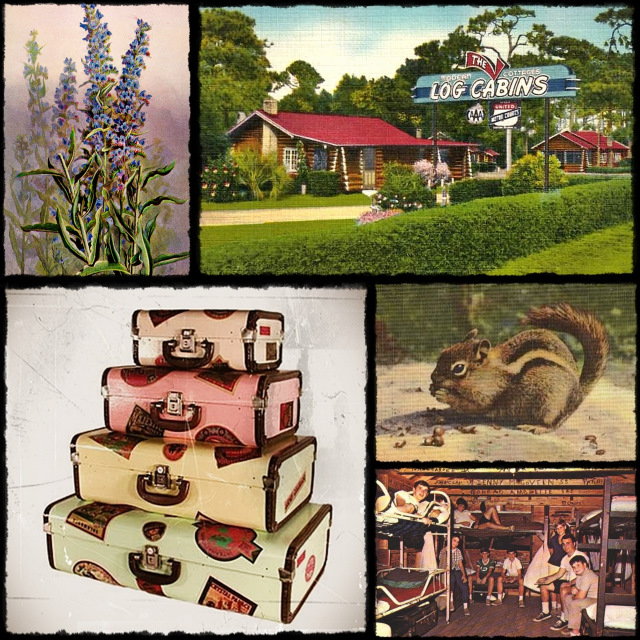 Americans love, love, love camping trips, whether it is for the weekend or a much longer stay that requires much preparation and quite a bit of gear … pannierds, pack horses, wall tents, rifles, stoves etc. My opinion: I think the pioneer spirit of our forefathers (and mothers) has something to do with our hunger to go on "walk about". It wasn't just settling this country that drove people into the back country. No, the wilderness drew them. Breath taking beauty, the quiet, the majesty, the solitude, the sights and smells, the sheer fun of adventure and the freedom … the freedom. We've never outgrown a healthy lust for the great outdoors. Fortunately, there have always been inspired conservationists who are called to protect the next generation's right to enjoy God's wondrous creation. I think they should be called Preservationists. Anyway, there have been many, but here are two famous gentlemen that really got the ball rolling in this country. They were also friends: John Muir and President Teddy Roosevelt. Think of them while you listen to the loons from your cabin porch in Minnesota. Think of them when you stand awestruck below the Grand Tetons. Think of them as you squeeze lemon juice on that trout caught in a lake that few to this day have ever seen. Think of them and how they inspired many others to pick up where they left off. Think and be thankful.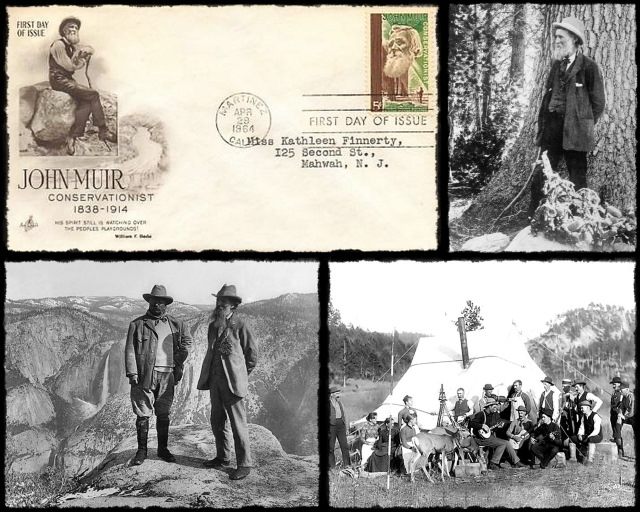 "Everybody needs beauty as well as bread, places to play in and pray in, where nature may heal and give strength to body and soul."
"God has cared for these trees, saved them from drought, disease, avalanches, and a thousand tempests and floods. But He cannot save them from fools."
" The mountains are calling and I must go."
~ John Muir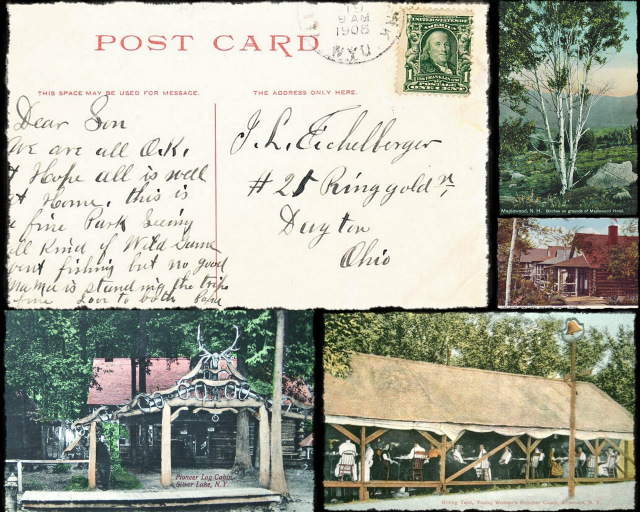 There are a thousand ways to enjoy the great outdoors and a place for everyone: a cot in a cabin, a real bed in a lodge, a sleeping bag under the stars, a camper parked by a lake. You can enjoy a traditional breakfast in a cozy inn or cook your own over a fire … after you get back from gathering wood near your campsite. Families eager to go camping created the camp trailer market … and a huge one it is. There's every shape and size imaginable: from pop-ups to tiny tear-drops, from truck mounted campers to remodeled school buses, from modest motor homes to monster motor homes. The newest craze is getting your vintage luvin' hands on an itty-bitty camp trailer that needs a little sprucing up and retro decorating. They're a red-hot fashion statement for the modern outdoorswoman.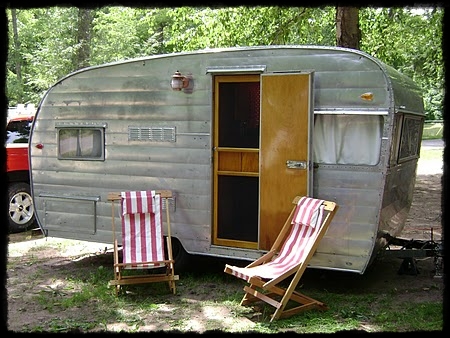 The postcard in the collage above is one of millions sent from happy campers to friends & family back home. It reads, "Dear Son, We are all ok & hope all is well at home. This is a fine park. Seeing all kinds of wild game. Went fishing but no good. Mama is standing the trip fine. Love to both, Papa"The postcard was sent from Yellowstone Park in 1908.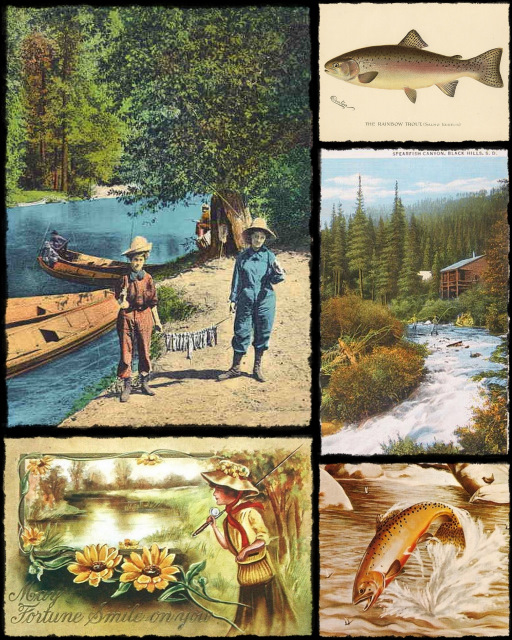 Fishing. I want do more of that this summer. The last freshly caught fish that I ate was a Cutthroat Trout at Emerald Lake in the Big Horn Mountains (about 3 hours to the north) six years ago. The elevation was around 9,000 feet. We drove in as far as we could, then unloaded our saddle horses and pack horses and rode the rest of the way to the high country. It was the middle of June and we only saw two back-packers the whole trip. We camped for 5 days. I hope we can find the time to go horse-camping again this summer. We keep saying we're going to and then "life" happens. A ranch is really hard to get away from.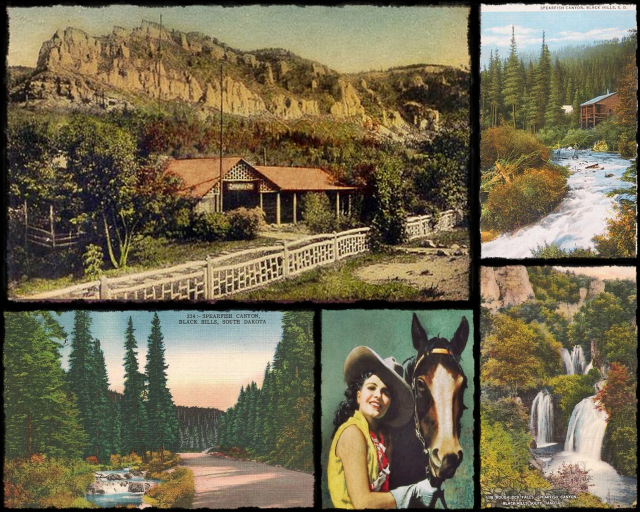 Luckily, we're just a hop, skip and a hooey from the Black Hills (above images). The lodge is the old Latchstring Inn located in Spearfish Canyon. I count myself lucky to have memory of the tiny restaurant and bar. The bar seated about ten people. The red checkered curtains hung lazy-like on string. Nowadays, a grand lodge sits on the same site. It is big, bold and beautiful, but I'm a sentimental sap. Impressive just can't replace charm … for me. The "hills" as they're casually called by those of us who live in these parts offer so many different kinds of camping options that are just a couple hours away. Going on horseback treks in the "hills" this summer is another goal of mine. My farmgirl pals caught the vision too. Three of them are not avid riders, but I've got gentle horses that will offer them a comfortable, safe ride. We're so looking forward to our "expeditions". Ok, so we won't be roughing it. We're going to "cabin up" and stable the horses. I'm over being the rough & ready mountain goat girl. My old North Face back-pack (circa 1975ish) is now just a 'memory relic' in my trunk. If my husband and I do go to the mountains this summer, my pack horse will be carrying a "miracle foam" mattress! Frankly, I love amenities and creature comforts. That is one of the reasons why I dream about spending a few nights in a MaryJane's Outpost wall tent. I bet many of you do too. Confession: Of the three MaryJane books, "Outpost" is my favorite!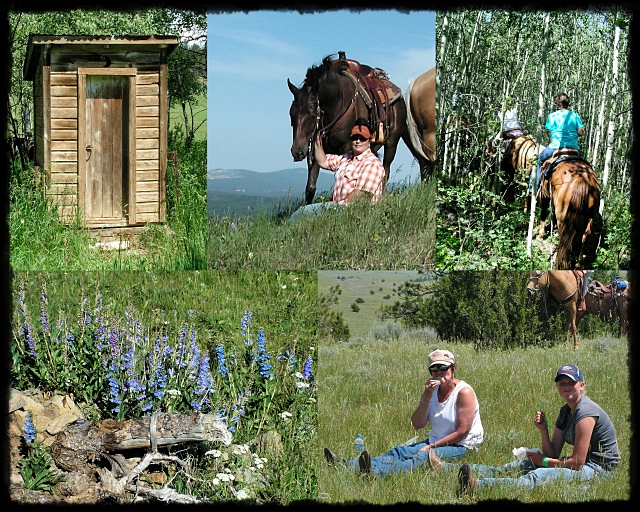 Above: trail riding in the Black Hills with some gal-pals. I'm the one sitting next to my horse. We were on top of Cement Ridge near a fire lookout tower.
Below: Images of horseback day trips with my friends to Moskee (Black Hills in Wyoming) and Custer State Park. The two gals are my farmgirl friends, Anita and Brenda. Both of them (and their husbands) are actively involved in "Search and Rescue". They were honing their map and GPS skills that day. Me, I didn't care if we got lost.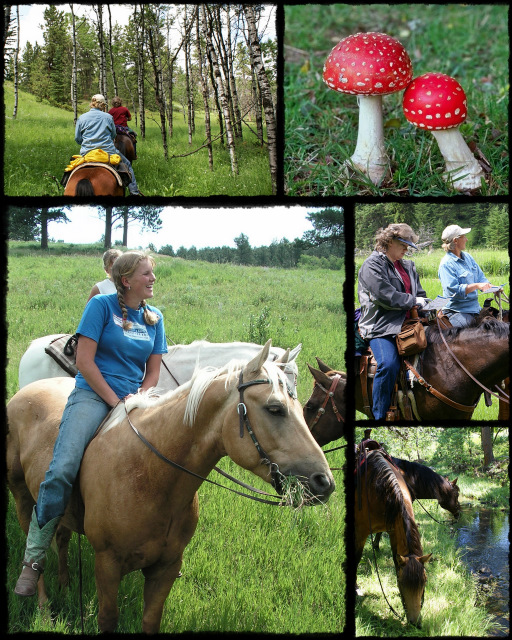 Below: The reason I can still cover a lot of country: horses. Here, Rosey was resting in the shade of Quaking Aspen while we ate lunch. My saddle and blanket are parked next to her.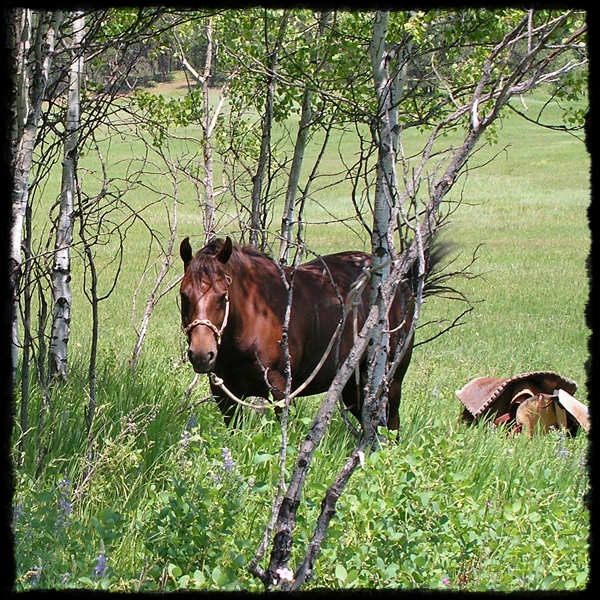 So, where are you venturing off to this summer? Where would you like to go? Our great country offers an endless buffet of great places that are still wonderfully wild. One day, I hope to go to the Adirondacks in the summer. I've been enthralled with that region for soooo long. Fortunately, I live in a state that has a very long list of wonderful places where a nature luvin' girl can enjoy the call of the wild. Heck, if I never leave my own state, I'll not run out of places where I've never set foot. As you may know, I love music and when I think of camping, there is but one song that comes to mind: Four Strong Winds, performed by Neil Young. Here tiz' … http://www.youtube.com/watch?v=wfZes9fFmXc . When I was 21, I went to the Tetons with friends … on Harley-Davidson motorcycles allllll the way across Wyoming. One night in the Million Dollar bar in downtown Jackson Hole, I played this song over and over. Neil still had hair back then and mine was a dark brown braid that hung down the middle of my back to my … my… below my belt loops.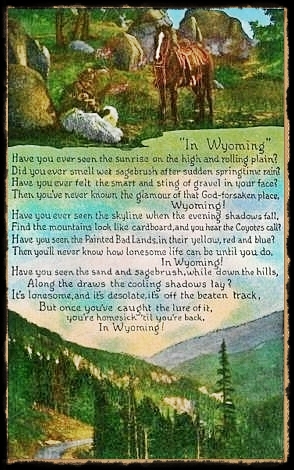 People may argue about where the most beautiful place to camp is, but I know one thing with 100% certainty. We would all agree that some guests are not welcome at ANYone's campsite. No matter how cute she is, Miss Pewy is nobody's buddy. Another confession: I've wanted a pet skunk since I was a little girl. When I saw "Flower" in the movie, Bambi, I was smitten. By the way, I own the movie and I didn't buy it for visiting youngsters. There, I said it.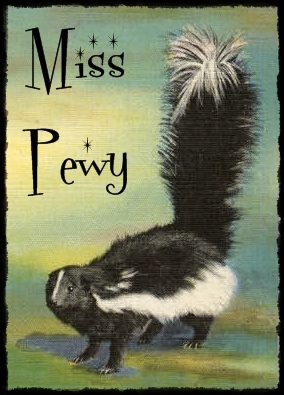 Wherever your wanderlust leads you this summer, have fun and may the good Lord grant you safe and happy trails.
~ Shery