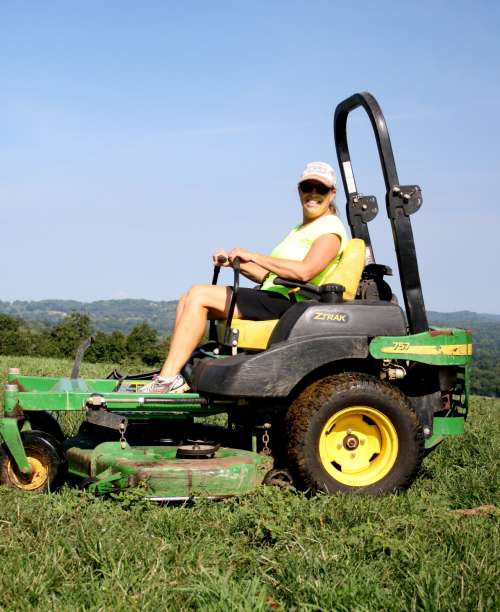 .
One of the things I love the most about living in the South is the green grass.  But what I didn't take into consideration until we moved here is that the rain that brings the gorgeous green grass also means that it grows… and grows… and grows.  And when you have miles of highway frontage and a mile of roadside through the pasture up to the house and fence lines to maintain, a really good mower is a must.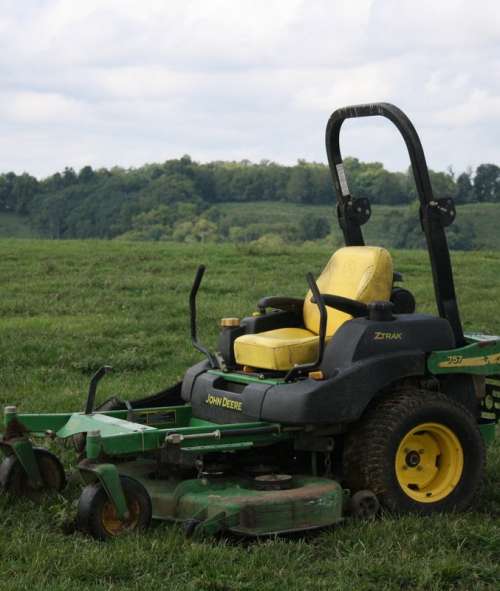 .
Let me introduce you to my best friend in the summertime.  This is a John Deere 757 ZTrak.  Isn't it the craziest looking mower?  Some of you may be familiar with the "Zero Turn" mowers but until we moved here I'd never even seen one before, much less driven one.
.
.
It is very interesting.  There is no steering wheel, no gas pedal, no brake.  Everything is done by holding on to those black bars you see there.   It's a little hard to explain but basically it is like this:  to go faster you push both bars forward, to slow down and stop you pull them back, to turn to the right you put the left bar forward the right bar back, etc.  Got that?  You have to be very careful as it can turn FAST… like a zero, you know? You can spin donuts like nobody's business!
.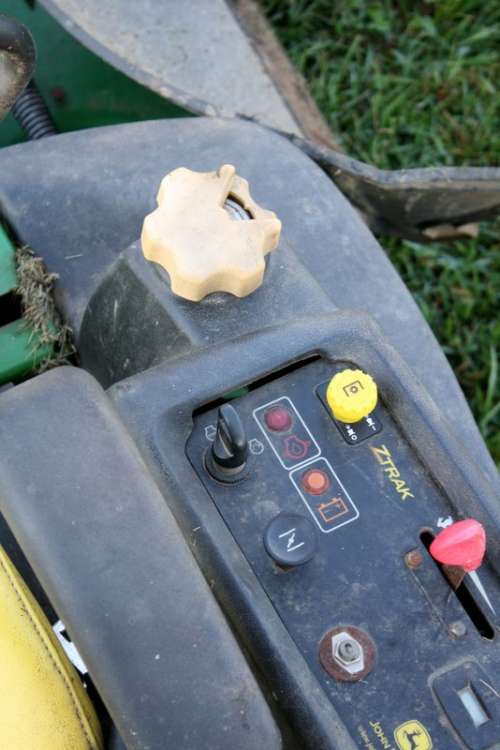 .
These are my controls.  The yellow knob at the top of the picture changes the mower height.  I like it set really low because it cuts the grass short and looks awesome… BUT, it also scrapes rocks, the ground, and anything else in the way and shortens the life of the blades.  (Trust me, I learned this is the hard way.)   The other knobs are fairly self explanatory.  The little yellow one turns the mower on, the red one is throttle speed.  Very basic.
.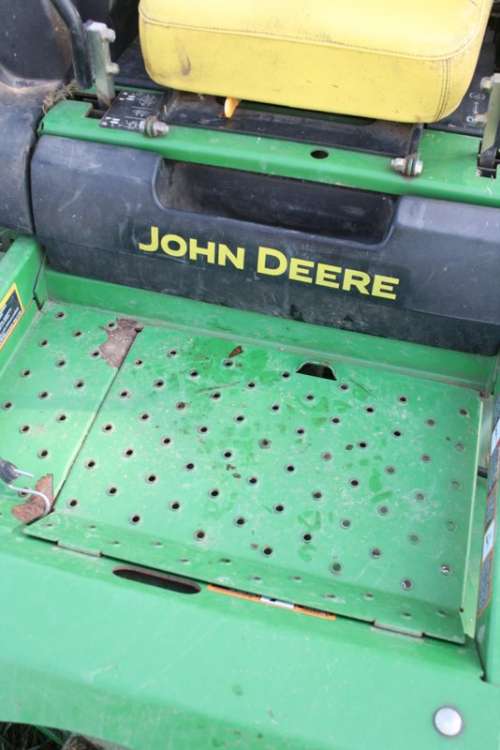 .
My feet rest on this deck and underneath that is where the mower is located.
.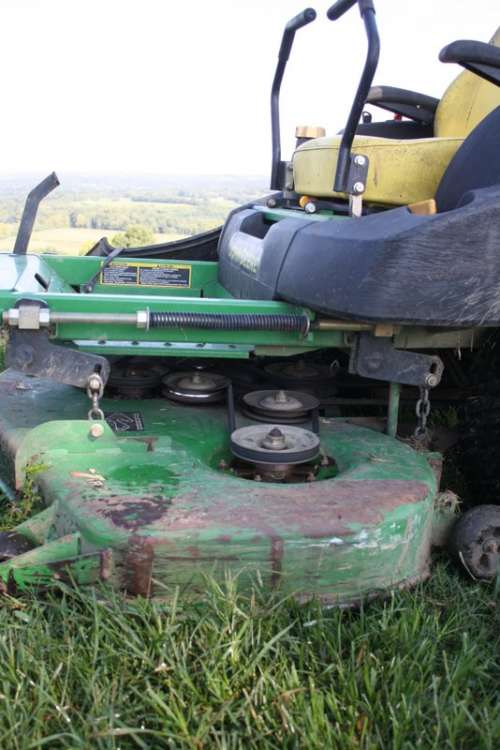 .
It is a wide mower and cuts a five foot path.  Which is really awesome.
.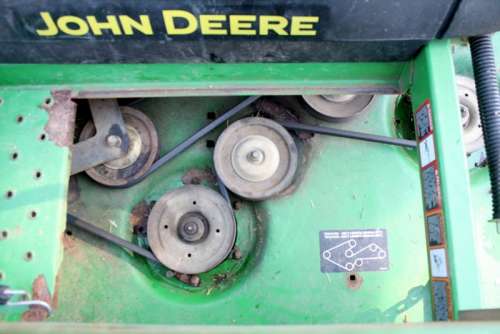 It is powered by a belt and pulley system that is totally crazy.  Good thing there is a diagram right on the mower because when it comes to changing the belt, you'll want the diagram (trust me on that too!).
. 
.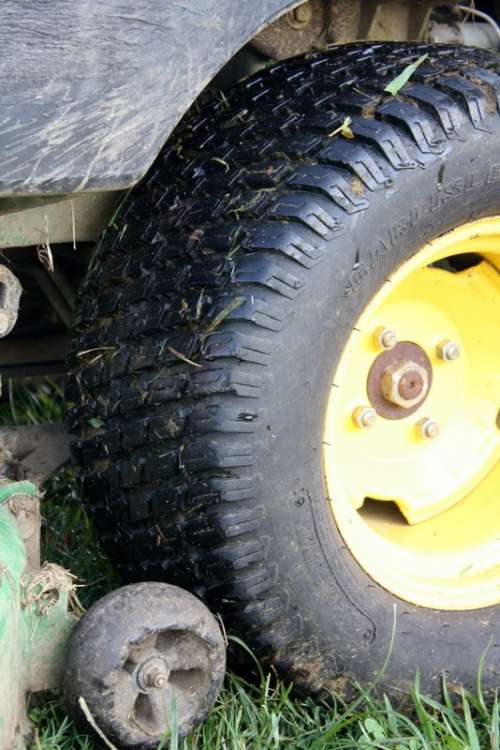 .
Nice fat tires that help when you get stuck.  I've done that.  Many times.
.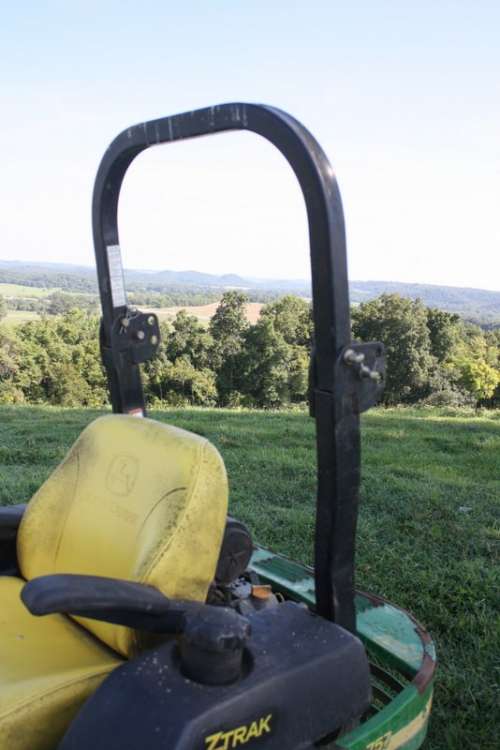 .
One of the things it has that I'm really thankful for is the roll bar above the seat.  I've not experienced first hand how easy it is to turn one of these over and I really hope I never do.  But there is one section of our highway frontage where it is a very steep bank and I'm always thankful for a seat belt and a roll bar.
.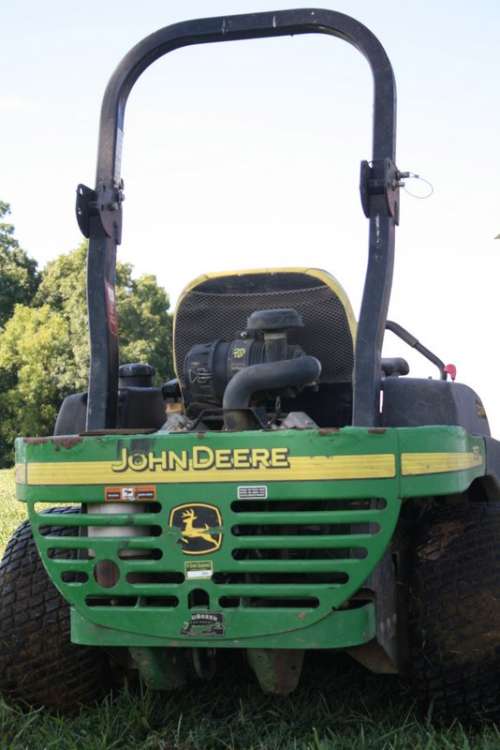 .
This mower is not really made for the purpose of mowing yards… it is basically a mowing machine for more cross country type jobs and believe me when I tell you it really takes a beating.  We bought it used when we first moved here and my husband does all the maintenance on it.  And it really requires the maintenance.  Blades, belts, and tires.  I've ruined them all a time or two.  (Mowing too close to the barb wire fence will ruin a tire real quick.  Can you guess how I figured that out?)
.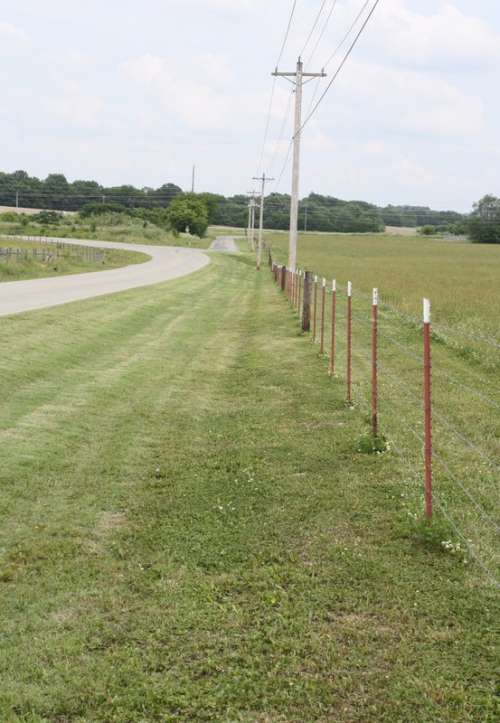 .
The above picture is our highway frontage that I mow both sides of the fence as far as you can see and around the bend about a half a mile.  It's a big job.  Even with a five foot mower, it takes me three and four passes to cover all the ground on the highway side.
.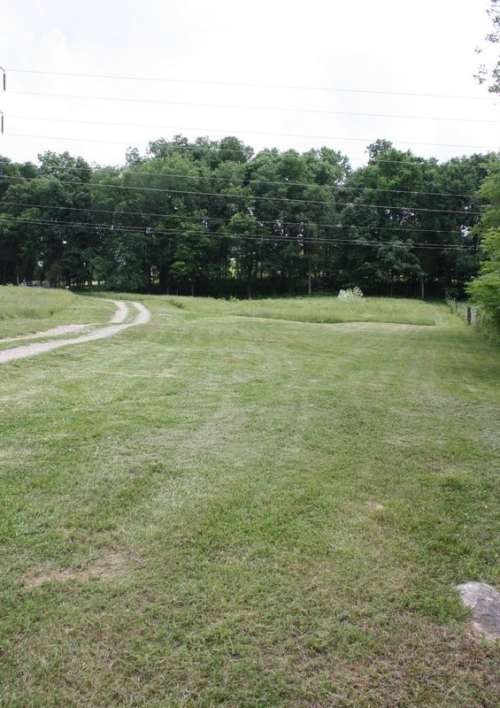 This is part of our gravel drive through our farm up to the house.  I mow on both sides of the road and in some places that is a lot of mowing.
.
.
This is the same spot looking in the opposite direction where I mow on both sides of the road all the way to the highway.  And along the fence line! The tall grass you see is part of our hay pasture.
.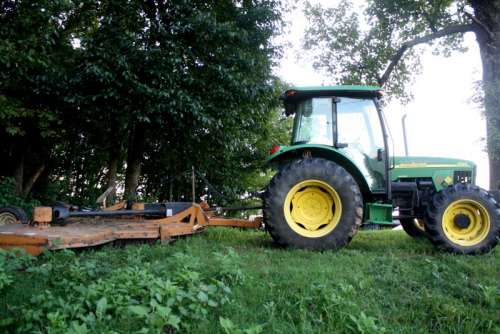 .
Lest you think my husband doesn't help with any of the mowing, well here is his mowing machine!  He mows all the hills around the farm.  He mows about four times in the summer and it is a week long job each time.  We have a lot of hillsides.
.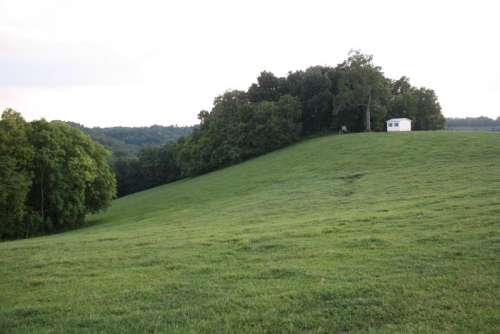 .
This is just one of them.
.
So, the question is this.  Do I still love green grass?  Do I still love mowing?
.
Here is my answer.  I think there is nothing more beautiful than green grass!  I hope I never  get so used to it that I no longer love it.  And yes, I still love to mow.  I get on my mower and I solve all the problems of my world!  So, one day a week all summer long you can find me happily mowing along with (hopefully) a big smile on my face.
.
One thing I've learned in the four years we've been here in the South is that Farmgirls of all ages love to mow.  I'm not unique in this.  So I know there are a lot of you that drive something just as cool as my John Deere 757 and I'd love to hear about it!  Please share!
..
Until our gravel road cross again… so long.
.
Dori
.
P.S.  I'm actually really happy that in Tennessee, summer (and green grass) isn't over yet!