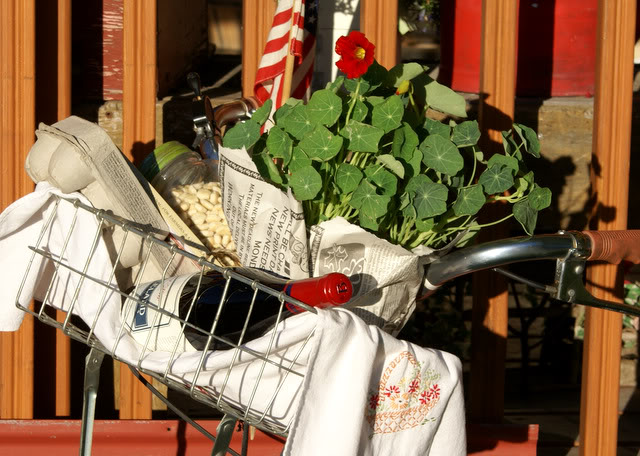 Is your life a busy mosaic of activities in the summer? I'm betting so. It is always a challenge for our Farmgirl chapter (High Plains Sage Hens) to organize a time when all of us can be present, but we did it and held our monthly get-together this past week. The hostess hen, Jenny, taught us the "how to" and provided most of the materials for creating mosaic goodies. Wanna see?

As I write this, I'm just a weeee bit overwhelmed. This weekend is our little town's annual festival and it began tonight with a benefit auction and street dance. Tomorrow is the BIG day and the activities & events run back to back all day long and at the same time in many cases. I apologize for the delay in getting my new blog article up, but today my life was in the NASCAR fast lane and my tires were smokin'.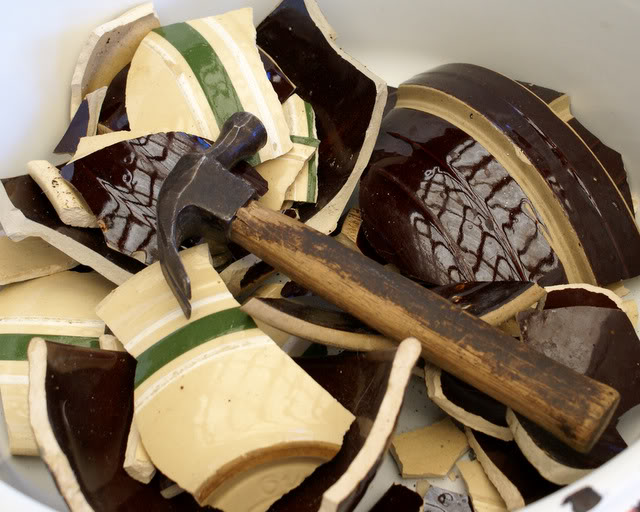 In addition to getting a float ready for the parade, this was the afternoon that we were to have our cattle (the calf crop) professionally video-taped in preparation for them being sold. It was hotter'n blue blazes. We eased around the herd and moved the cattle nice & easy so that the sales representative could film the cows and calves. Whilst riding along, my husband's cell phone rings and it was his daughter asking to talk to me to get some last minute details about the jewelry I donated to the benefit auction that she organized. I could hear my mind ticking away, so many things to think about…it was as if I was in a clock store show room…ticking on every side of you and then all of the clocks start chiming at once. Ever feel like that??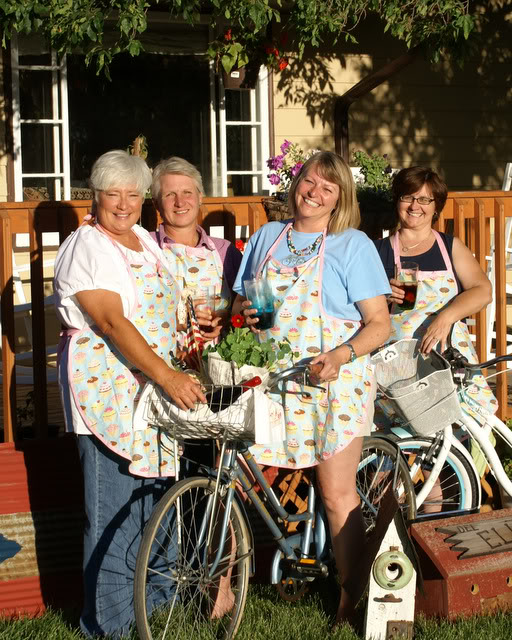 Tomorrow morning… well, I can't think about that right now. It will bring a whole new pile and when I began composing this article, I wasn't quite done sorting out today's pile. I also need to back up a bit. Originally, I was going to offer up an easy going report about our most recent farmgirl get-together. But then, bingedy-bing-bing-bing…one thing after another hit and came to mind. Perhaps you too will soon ask yourself, "Where did the summer go?" because it zooms by so fast just trying to keep up with us. There I go again…mind running too fast. Note to self: Chill Out.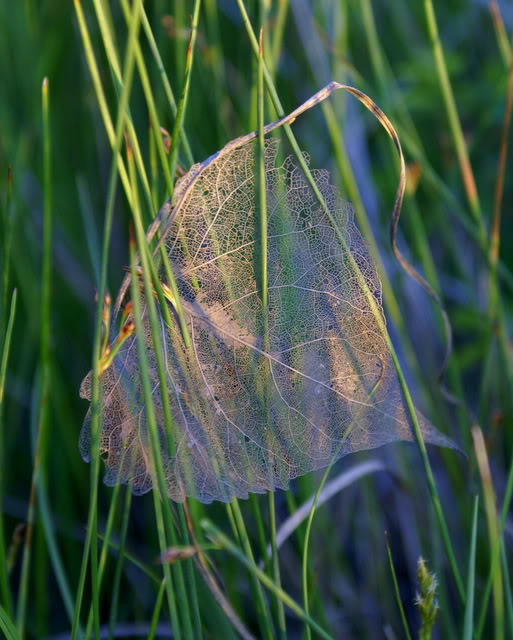 Ok, so what was I saying? Oh yea, our farmgirl meeting! Our hostess hen was "Jenny". Upon our arrival, she gifted all of us with matching cupcake aprons. Cupcakes are smiles you can eat. There were other gifts too…Lisa gave each of us scented candles and Michelle painted folksy Americana flags on large sheets of corrugated tin for her lucky farmgirl gal-pals. Jenny served us a dinner that included bacon wrapped chicken breasts, pan gravy, a yummy salad (cukes, tomatoes, avocados, cilantro), bagette bread and dipping oil. The craft project for the evening was learning how to make mosaic items – something I've wanted to do for a long time.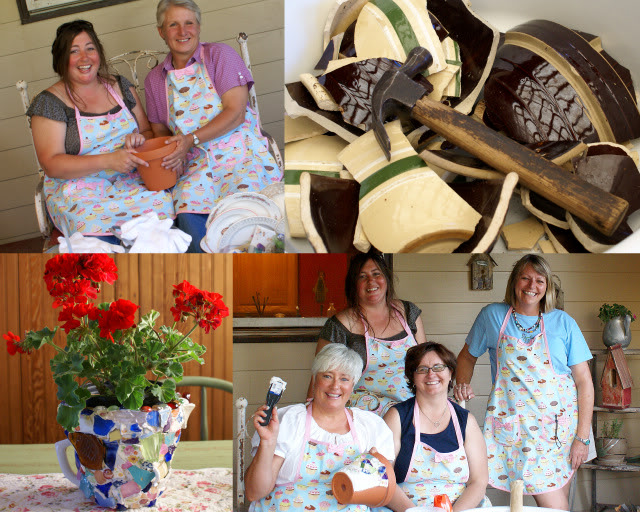 Jenny provided most of the materials to work with and after our supper, we headed to her patio to get 'Project Mosaic' underway. A couple of us brought clay flower pots to embellish. I also brought some broken china and glass from the old dump on the ranch. Poor Jenny, she accidentally knocked two of her cherished antique pottery bowls off of a shelf last week. You can see here how the pieces found a new lot in life in the above photo. We used our handy-dandy hammer to make the broken pieces smaller and away we went mosaic-ing! My flower pot morphed into a tea pot of sorts. Anita put bits & pieces of broken canning jars (blue-green and lavender) on an old mirror. Oh we had fun and very sticky fingers!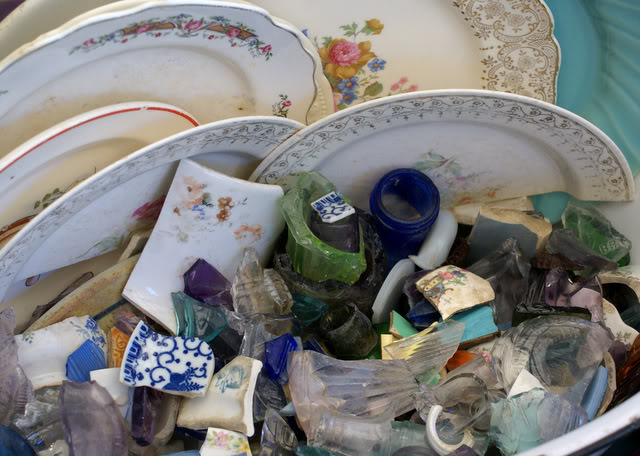 Lisa had told me earlier that Jenny was on the hunt for a farmgirl style bike or a vintage looking one. I just happened to have an old 3-speed Columbia named 'Bluebelle'. So, I cleaned her up and put some goodies in her basket and she went to her new home with Jenny. However, we didn't know that Jenny had just bought this gorgeous new bike. So, now she has two! Shown below is Michelle taking the new bike for a test drive. Also shown below is a birdhouse Michelle made for me to deliver to the lady who let us go junk hunting on her parent's property. Michelle made the birdhouse as a thank-you gift. The name plaque had been nailed to the gal's parent's old house. Neat hu?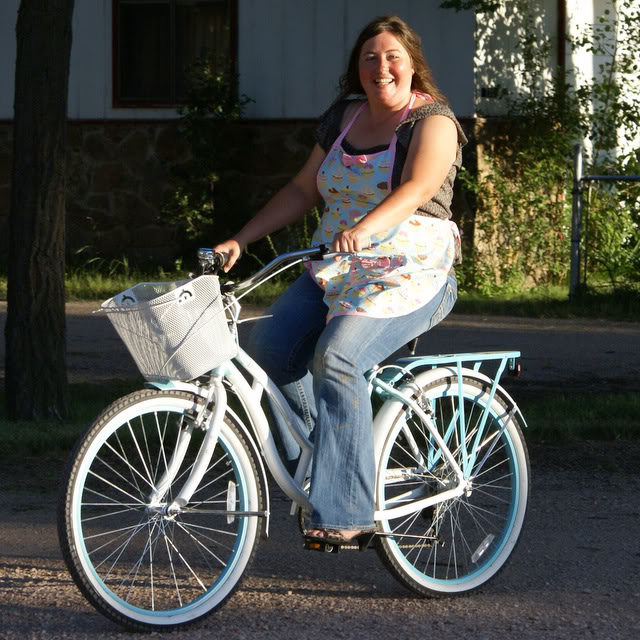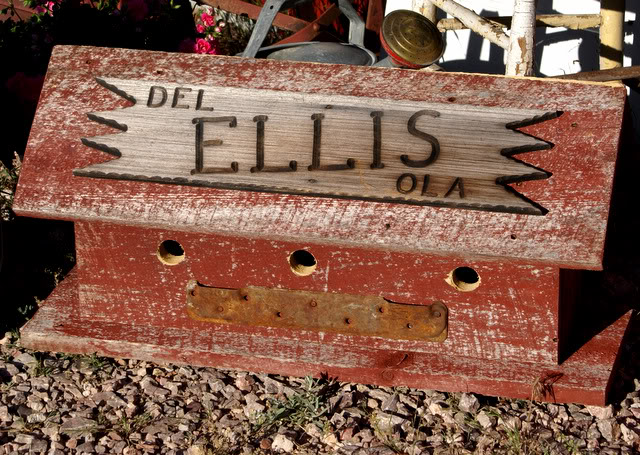 Remembering the title of this edition of my blog, I'll move onto the "other" things. But before I do, I want to thank you from the bottom of my heart for so many kind comments and lovely private emails. I love hearing from you and other site visitors really enjoy reading the comments section. Keep it up! Ok, so, summer is zooming by for us all, I bet those of you who garden might be as amazed as I am when your garden patch really starts coming on. I've got a cucumber almost ready for salad. Us northerners have to wait longer than those of you who garden in more temperate places. Boy, I really had to water today since it was 90 degrees. My pullets scurried from one shady place to the next.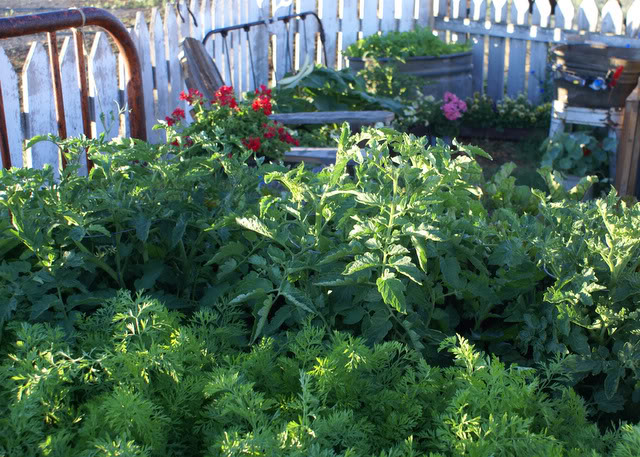 I really enjoy the MaryJanesFarm Sisterhood Connection forum and I remember reading that many of you (like me) ordered chicks this past spring. I hadn't had chickens for four years prior and I'm so enjoying my little flock. I've spent a lot of time with them and a few are true "lap chickens". I do need to have a covered run built since I lost one pullet to a red-tailed hawk. I saved a second one literally from the hawk's death grip. That lucky little chicken spent two days inside, but she did recover. The breeds I have are: Welsummer, Cuckoo Marans, Blue Wyandotte and Dark Brahma. The little barred beauty is my only named pullet, "Ida". That is her first name. Her last name is RatherBeOnYourLap.
I just bought two more perennials and an Austrian Pine. All of the garden shops around here were offering 50-75% off last week. I bet many of you had a busy spring planting gardens and creating landscape projects. I've spent my summer evening hours hauling 100 feet of hose around. Thank Heavens for my golf cart! I "pony" the hose around with it clamped under one arm. A golf cart is this farmgirl's best friend!!! Mine looks like a Beverly Hills hillbilly version with a pitchfork and a broom in the golf club holsters(?), various buckets hangin' onto the sides, maybe a bale of hay and Lord knows what-all-else on board. Oh…and two dogs riding shotgun.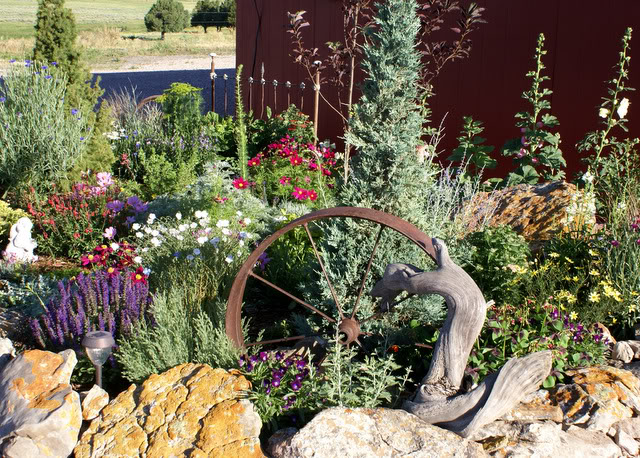 Meanwhile, back at the ranch…summer is the time of year we are busiest. But, for the moment, things are kind of settled – not as much riding. The bulls are turned out and the calves are growing nicely. I ride my 3 year old palomino filly every chance I get when we go out to check on the herd. This has been a GREAT grass year (see photo below). Here are some pics of life around here in the last two weeks…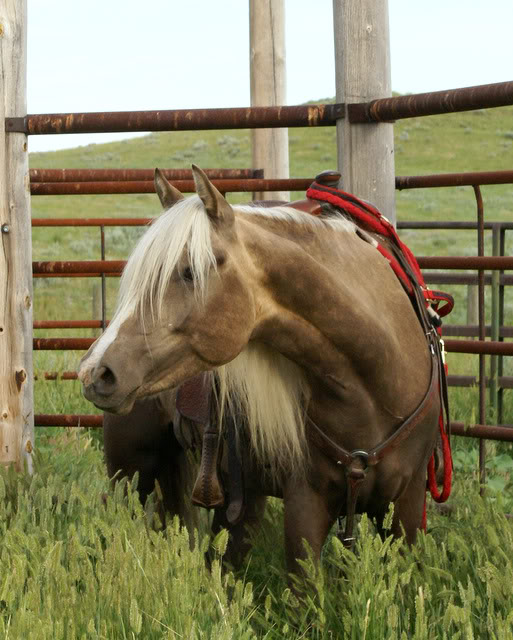 Here is how the grass is looking in much of our country. Banner year for grass growth…and HAY!
This is "Ribbon" hanging out in a corral at a recent branding…eyeball high in grass.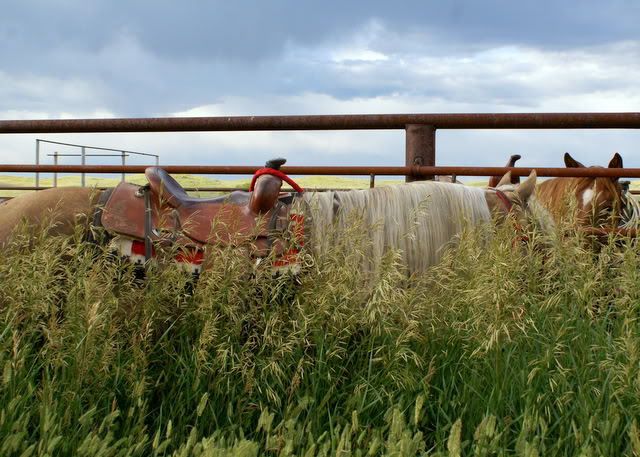 Here is my Beloved…dragging calves to be branded.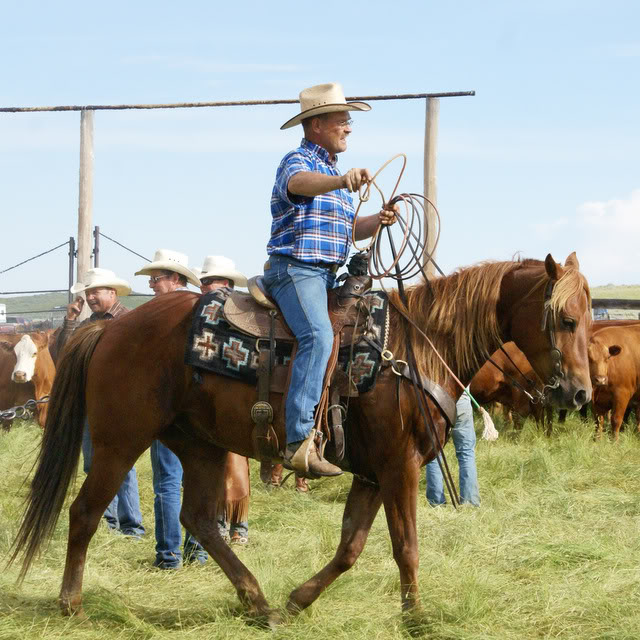 Freshly branded calf with her mama. The calves are also vaccinated.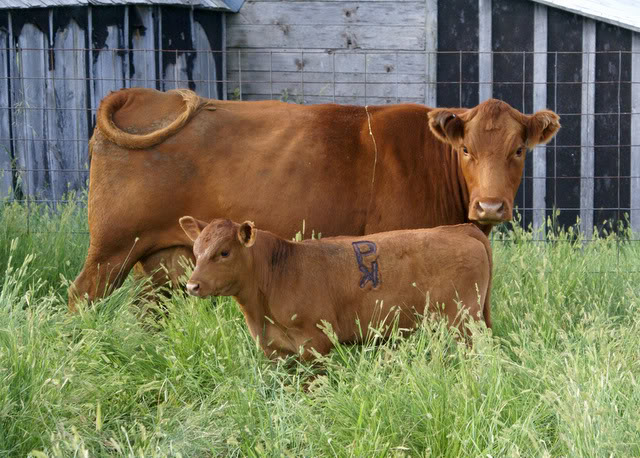 Summer is a fun time to go on "field trips" with farmgirl pals. We love to do lunch, go antique-ing, hit the fabric shops and garden centers. I collect antique china and I found a really neat old metal dish drying rack to display some of my plates in.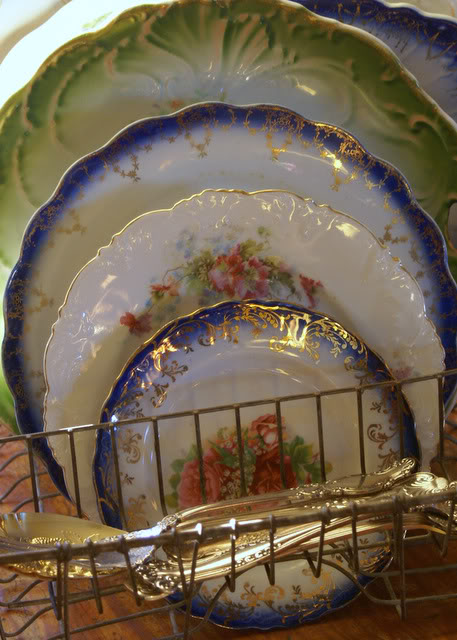 Ahhhhh, it worked. The frazzled nerves and anxiety seems a lot smaller than it did two hours ago. My rose bush's first offering has a magical way of making the world a quieter place…even if it is just for the moment I pause to enjoy it.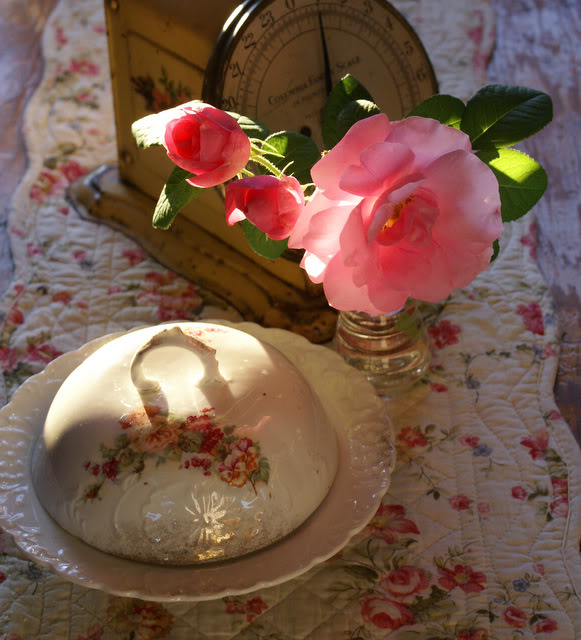 As evening fell, I glanced back at the tractor drying off in the golden light of dusk and listened to the crickets. The tractor needed a spiffing up for the parade tomorrow, so I hosed off the dust and bird droppings. The sun has set on all that kept me on the run today. Life was good here today, good & busy, good & full. Now, I'm good & tired. It is a nice thought to go to bed with. My tired, 54 year old feet are ready to slide into cool bed-sheets. Nighty-night farmgirls.