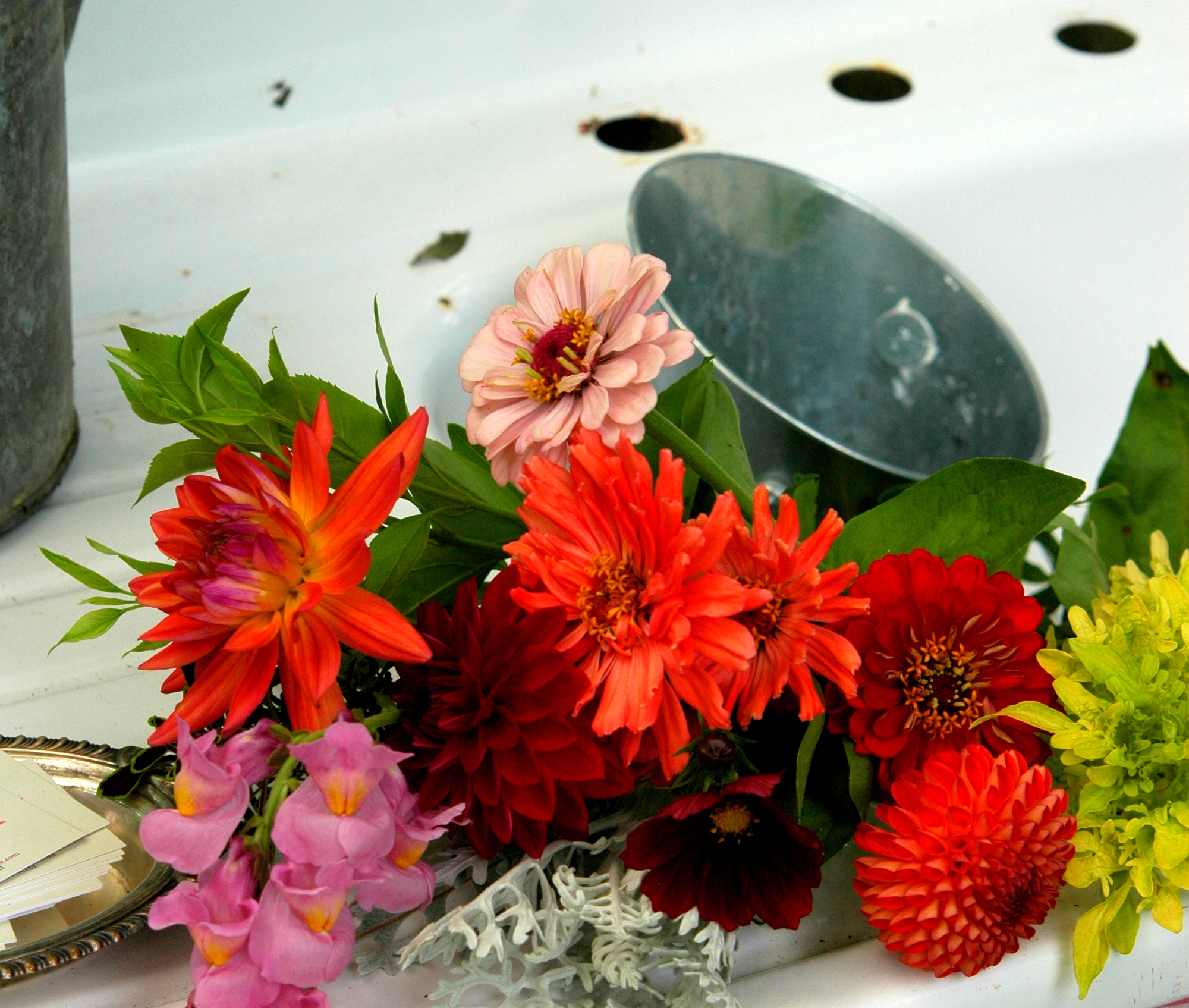 Plant your wildest dream seeds and grow a patch of wonderful. Deb Bosworth
Dear sisters,
I think you'll agree we farmgirls are constantly looking for fun ways to do new things with an old-fashioned farmgirl twist!  Whether it's making totes bags from reusable feed-sacks, re-vamping your glamper-camper, building your first chicken coop or dairy barn or starting your own farmgirl enterprise, Mary Jane has us covered. With a fearless farmgirl leader like Sister #1 at the helm, how can you NOT just bloom? And I mean B.L.O.O.M!
I speak the truth when I tell you that ever since I discovered MaryJanesFarm five years ago, I've managed to rustle up the courage and the know-how to try a bunch of new things and I know you have too! Don't you just love the anticipation and excitement of birthing a new idea or plan? After all, how else are we going to become our true and authentic self if we don't stretch and grow beyond our comfort zone?
So what if we flop now and then. Is it really a flop? Or is it just life's way of telling us to get up, hit re-start and try again? I think, wait, I KNOW that with every little thing we do to cultivate and express our individual creativity we get closer to honing in on how to best to shine our light brighter and brighter so others can see it too and be inspired. Have you ever stopped to think about how many people you've inspired or motivated in some way? Right now there are people you will never have any way of knowing that you had an impact on them whatsoever. That's why it's important to keep doing you no matter what. We all have something beautiful inside of us to share with the world. Yes, we do! NEVER dim your light for anyone or anything sisters!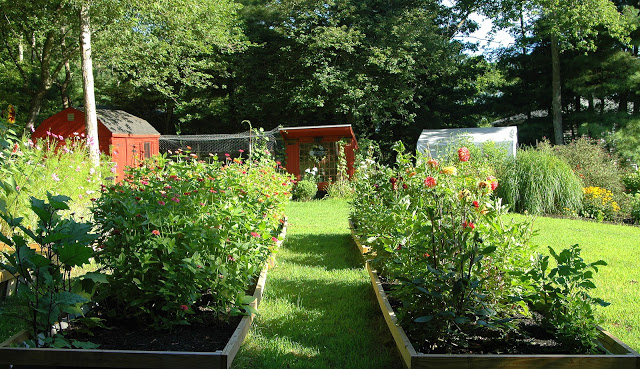 At the juicy age of 53 ( ripening to perfection ) I'm beginning to feel like a " Jane " of all trades and you know what? I like it!
I've been slowly growing my latest farmgirl enterprise ( Dandelion House Farm Flowers ) in my backyard for the last 3 years and I'm excited to share some of my progress with you!  After months of carefully planning and plotting my raised beds and garden borders and tracking bloom times I'm finally ready for my first Farmers Market. I signed up to be vendor this year and I've been gearing up for weeks to get ready. It's a goal I set back in 2012 at the start of this venture but as with all new things, there's an undeniable learning curve. Battling doubts are part of that too, not to mention the farmers market jitters that keep me awake at night worrying if I'll have enough flowers.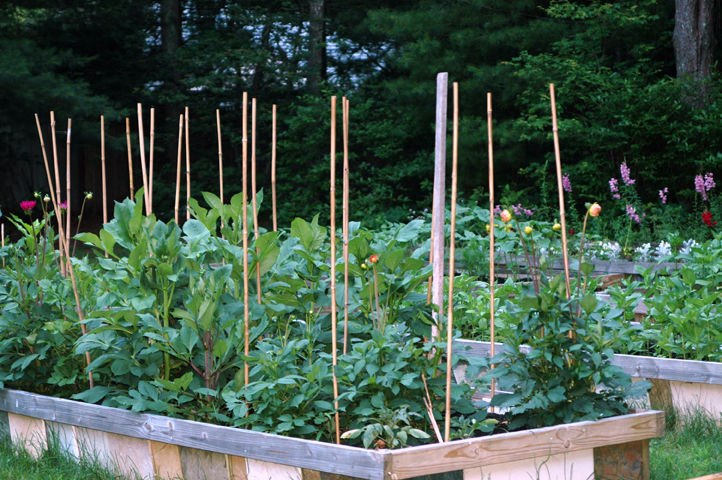 It's natural to be nervous and apprehensive when launching something new. But when the doubts are quiet, my heart sings with happiness about all the possibilities of being a backyard flower farmer. When I'm outside tending the flowers I wonder where this journey will take us ( my flowers and I) and who we will meet along the way. ( I've already booked two weddings this summer). YIKES! Will they see the beauty and economical advantages of local, seasonal flowers the same way I do? I look forward to doing my part in educating people about why buying local, seasonal and sustainable cut flowers from your local flower farmer is just as important as buying from your local organic produce farmer.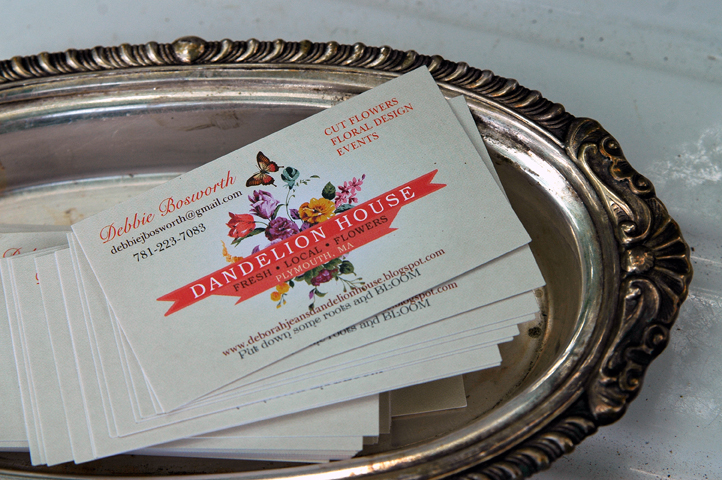 It's not all about seed selection and planting schedules! I want to make splash in the local flower market with a brand that people will love and remember. I got busy right after the first of the year working with a designer friend of mine who helped me create a logo that I can use for all of my business needs such as business cards, banners, labels, and more if needed. I've always loved vintage seed packet and I adore colors from the Victorian period. Rich, muted pinks, corals, purples, greens, an golds feel homey, nostalgic and romantic to me. They also remind me of my wedding colors. Hm, maybe that's why I love it so much!
I went for a farmgirl romance theme for my farm stand display. I picked up an amazing enamel ware cottage sink at The Vintage Bazaar for a steal. Propped up on top of two saw horses it makes the perfect display table. I found the checked fabric in my signature pink color at IKEA of all places.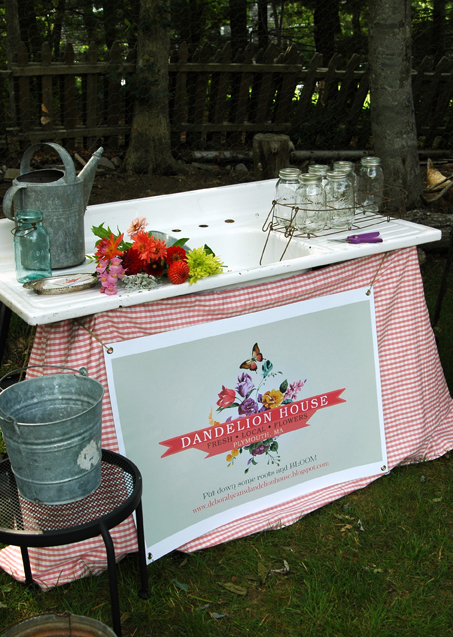 It's important to always place your cut stems in the freshest of water to avoid bacteria which could cause early wilting/fading of blooms so I'll put plastic pails in my galvanized buckets to hold small garden bunches. Canning jars are easy to find and very reasonable in price especially if you can find them on sale.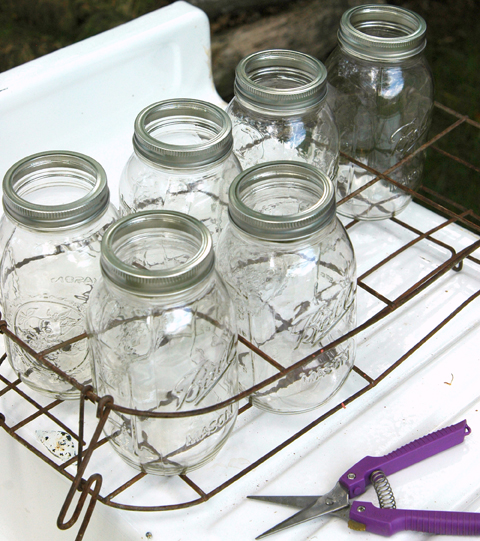 I had my eyes peeled for other vintage items that would be useful for my display like this great old canning jar carrier. It's perfect for holding my Grab n Go Garden Bouquets.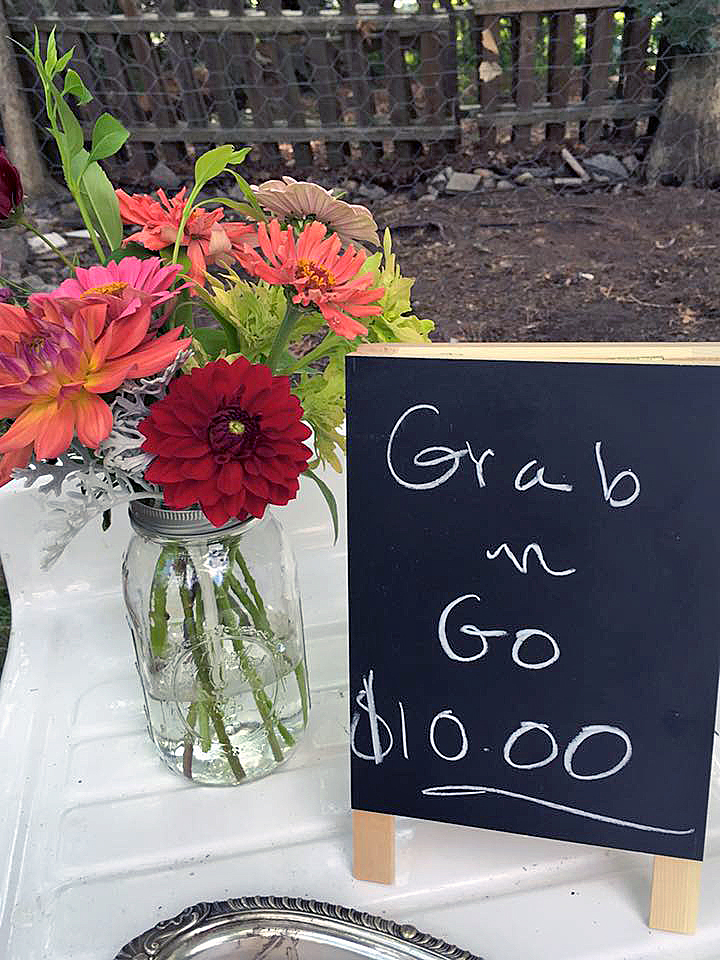 I gussied up an old chair with some Annie Sloan Chalk Paint in 'Scandinavian Pink'( my new signature color) and a wooden frame too, which I'll add a chalk board to for my flower prices menu.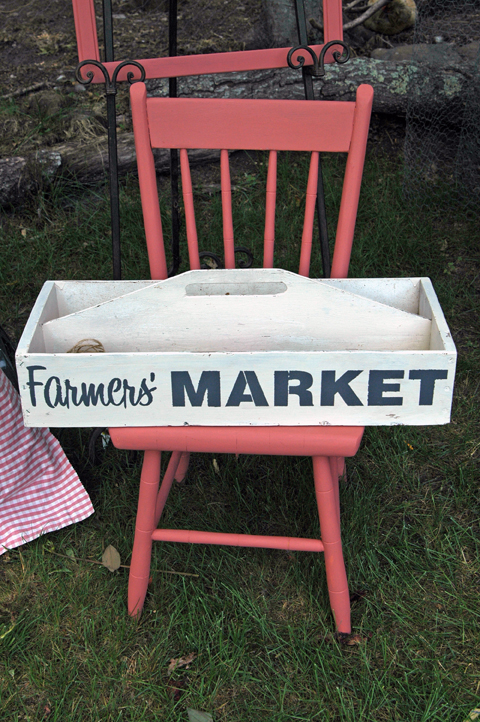 The old wooden tool box was another fabulous Vintage Bazaar find. She's all stenciled and ready to go and so am I! Oh, and to make things even sweeter, my daughter will be helping me every week at the market, or as long as the flowers last…
Are you in the early phases of sprouting a NEW farmgirl enterprise too? Tell us all about it!
Until our next shoreline visit~ JUST BLOOM!
BEACH BLESSINGS and MUCH LOVE,
Deb sister # 1199