I'm wondering about YOUR best three dollar purchase? A cup of coffee can cost $3 these days, you know. So, what's YOURS? What is your most favorite thing you've gotten for three hundred pennies?
Who, me? Well, the other day I'm at a thrift store.
And I see something that I simply must have.
"How much is IT?"
"Three bucks," the clerk answered.
"Sold!"
I gathered IT in my arms and carried IT around the store.
As I walked around looking at other items, people stopped me to comment on my find. They laughed and they smiled. They'd touch IT.
IT is rather incredible.
No, IT wasn't these socks. Or these shoes. But they make me smile too.
Here's what IT is.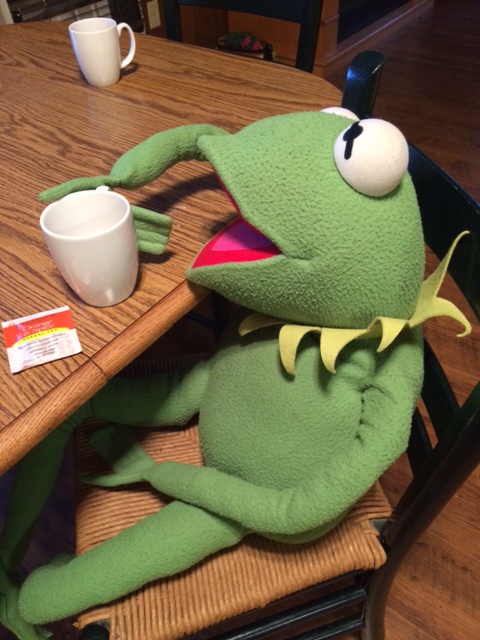 Yes, that's right. IT is Kermit! Can you believe that? I mean, how in the world did Kermit wind up in a thrift store priced at three bucks?
Kermit is having a spot of tea with me.
I took him on a road trip to Georgia with me. My car was at the gas pump as I ran inside to use the restroom and grab a YooHoo. When I came back outside, a couple was at my car, laughing and taking photos of Kermit in my passenger's seat.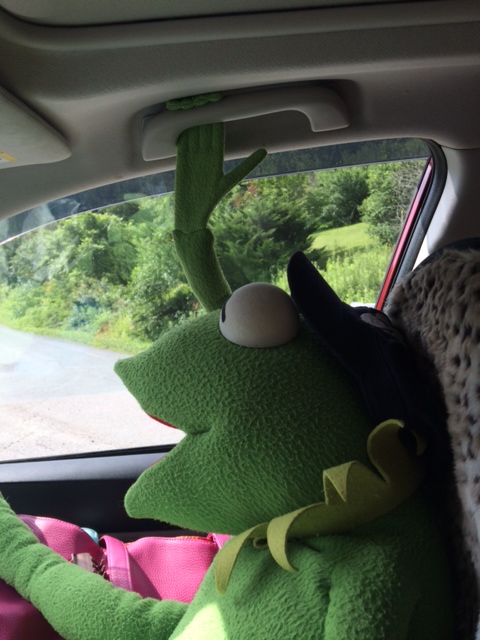 After I met my family at the cabin, Kermit had other adventures. We'd leave the cabin to hike or whatever and when we'd get back, Kermit would be getting into trouble.
He tried to raid the freezer for the ice cream.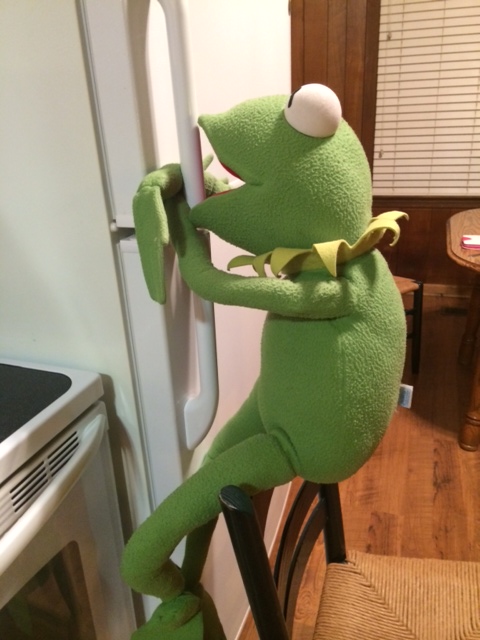 This went on the entire trip. That Ker-mey.
He planned our hikes.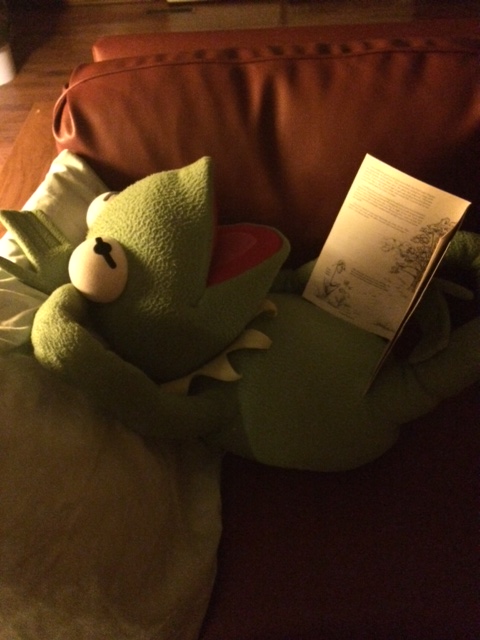 He used up the G's on our phones.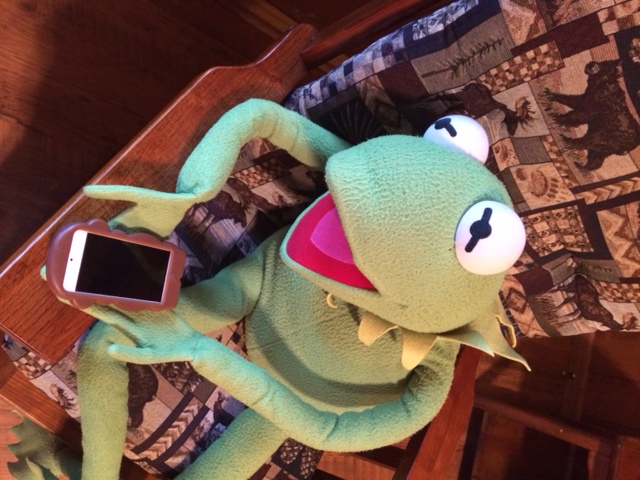 Best three bucks I've ever spent.
When we got back home, I found him out on the tractor. He advised me to get a new tractor seat. Maybe I have a new farm-hand?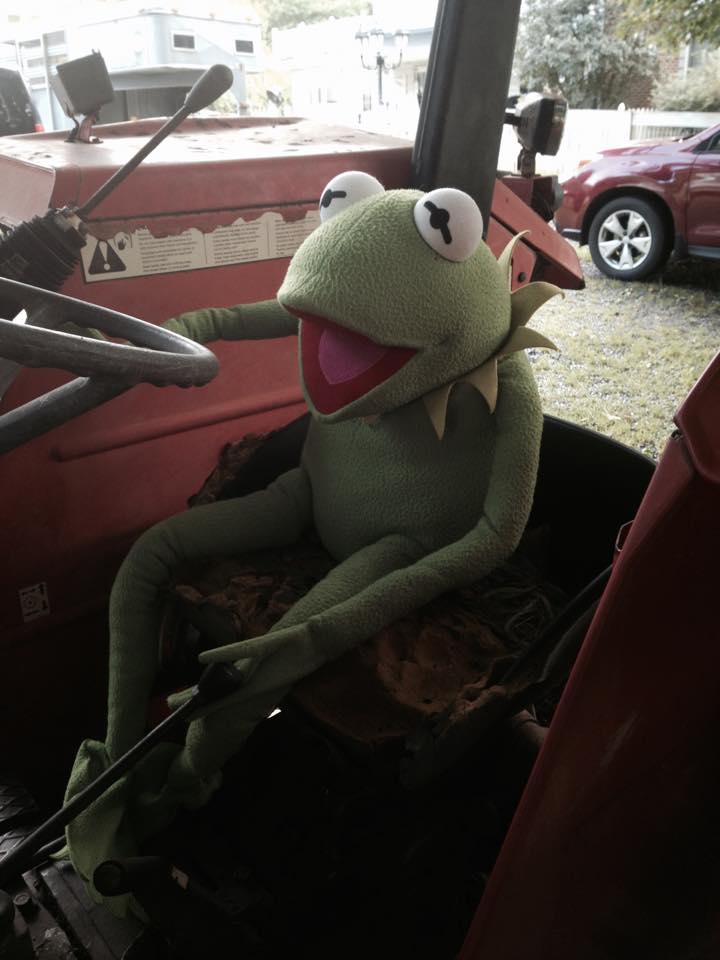 Other than Kermit, there's something else I have on my mind. My Old Milk House. I'm ready to get that old building looking better and need your help.
My budget? Very, very limited. A hundred bucks?
Here's what it looks like now, from the road.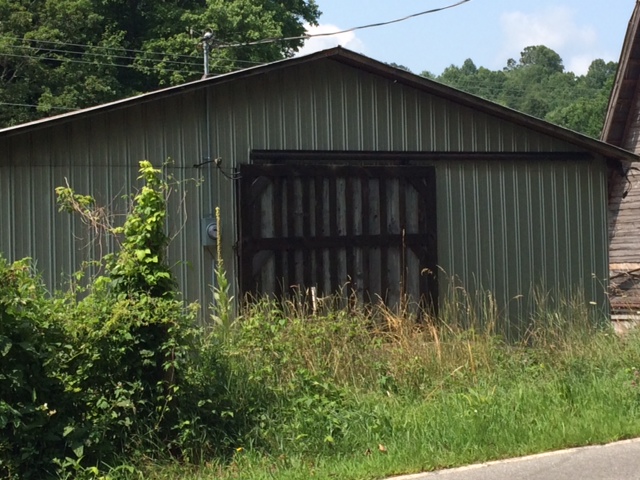 Eventually, I want to re-do it all. It still has the old rusty milking equipment in the bottom level, but this top level is in pretty good condition. I'm wanting to add CHARM. QUAINTNESS. CUTENESS. PAZAZZ. To the outside. Anything to make it not look so bland from the road. It is gray metal, with a gray metal roof. SO HELP!
I guess to start with, I'll get out there and weed-eat in the next few days. But then what?
I've got to run out to the pasture and take care of My Beloved Merlin. He is having a hoof problem in his right, rear hoof. The farrier came yesterday and showed me what to do. Let's hope we can get him up and running soon, My Angel. All healing thoughts, prayers and vibrations appreciated.
Until next time, Friends, savor the flavor of life!
Lots of love, Rebekah, The City Farmgirl in the Country