Keepers of Christmas generally have a rich store of memories to draw upon when they build a new Christmas each year. We hold on to family traditions that grow more and more precious with the passage of time. Cherished are the memories we fondly recall, bits & pieces of Christmas past … loved ones who are no longer with us, special gifts you gave and received, and very likely one particularly brilliant memory that for some reason wears a crown in your Christmas memories book.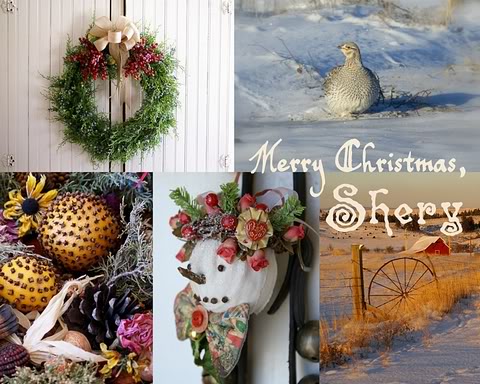 One of my very early holiday memories is making clove-studded orange pomanders with my grandmother. I sat at my usual post in the kitchen – a cutting board that pulled out from the counter. An old red & white kitchen stool was taller than the chairs and just right for a wee lassie like me. By teaching me an ancient holiday craft, my grandma, Bernice, contributed to what would grow into a very long list of wonderful childhood memories.
I'm blessed to have so many sentimental holiday memories, but I'll share one with you that turned out to be humorous … well, not to my father until the "crisis" had passed. While "Santa" delivered our presents on Christmas Eve, we had to leave the house so that he would come. It was explained that he arrived in Wyoming a little early because he had so far to go that night. I now know it also had a lot to do with my folks deciding that keeping little kids in bed until Christmas morning was a losing proposition. My mother, the cook, would also be in much better shape the next day if she'd gotten a good night's sleep.
Everyone knows the sinking feeling you get after reading on a boxed purchase, "some assembly required". The reason that everyone can relate to the anxiety I describe is because the "warning" on the box label is oft times a profound understatement. This happened to be the case one Christmas at our house many years ago. My little brother had asked for a new "banana" bike and sure enough it was tucked away in Santa's bag. Well, more accurately, it was a box full of bike parts. As everyone knows, dads are designated Santa's helpers and so are grandpas when the need arises.
Our little hamlet, a western-style "cowpoke Hooterville", claims 800 souls for the population. The Christmas tradition at our house was to drive around and look at all the Christmas lights in town while Santa was at our house unloading gifts. It took 20 minutes if you really stretched out the tour. This night, it was an hour and a half ordeal. Santa's helpers were having a booger of a time putting my brother's bike together! We stopped back at the house several times to check on the progress. Not known to us, dad and grandpa were a little stressed and maybe a little cranky. The same was true of our chauffeurs (mom and grandma) because their passengers had exceeded their patience level 30 minutes into the tour. All challenges eventually get worked out and so did my brother's bike project. That Christmas was to be like many others, chock full of memories and laughter, good food, and family get-togethers.
Families change and grow and as they do, we get to add to the cache of holiday treasures. We adjust to the changes and work around our kids having children of their own and their need to make sure they can visit everyone on the other side of the family equation sometime during the holidays. The blessed complexity is just part of the fullness of Christmas. I wouldn't have it any other way, would you? The part that makes all the busyness easier for me to deal with is a quiet place I can go anytime during the holiday rush. I revisit a crude, little stable long ago where the only noises were the hushed voices of a handful of people, animals eating their hay and the cooing of a newborn baby.
I hope this holiday season gives you wonderful new memories that will mingle perfectly with your favorite golden oldies. From my barn to yours … Merry Christmas and Peace to you. I also want to share this simple recipe for my favorite hot 'grogg'. It is especially good if you're out & about in the cold…when hunting for a Christmas tree, caroling, skiing, or ice-fishing!
Cowgirl Grogg
Mix these ingredients to suit your own taste:
Hot coffee, Kahlua, a dash of peppermint flavoring (or peppermint schnapps), hot cocoa mix and table cream. Make it by the cup or mix up a hot batch and take it with you in a thermos.