Hello from the shoreline of "America's Hometown" in historic Plymouth, Massachusetts. I'm Deb! Your new farmgirl blogger from the BEACH! It's a dream come true to be here and a pleasure to meet you. I'm just like you and every other gal who's caught the farmgirl spirit. Not long after discovering MaryJanesFarm magazine I joined the forum (as dandelion house), became a certified farmgirl sister (#1199), and started a new chapter called the Hometown Farmgirls. I've been inspired to try new things like writing, growing more organic veggies, and eating healthier. Best of all, I'm learning to romance my inner farmgirl into making her dreams come true one footprint at a time. I'm hopin' this blog helps keep you sailing starboard towards your BIG farmgirl dreams, too!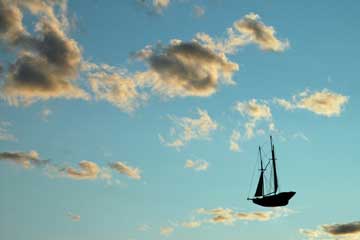 I come from the land of sagebrush, silver, sunshine and wild mustangs. It's been ten years since we moved east, and this wash ashore desert rose is finally feeling at home by the sea. I packed a good-sized helpin' of western hospitality, so pull up a beach chair and relax. I'll tell you how I got so far from home.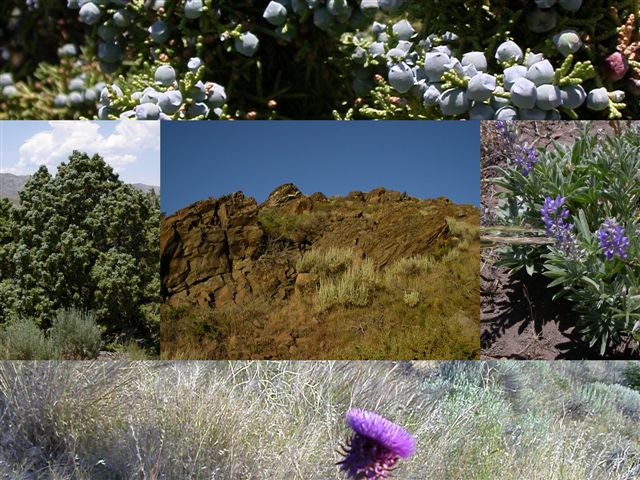 Once upon a time, I was a younger farmgirl with long curly golden locks working as a hairstylist in Nevada. One day a handsome Yankee just passin' through with a twinkle in his eye and the warmest smile ever came in for a trim. I thought the Yankee was pretty darned cute (inside and out). Being the bold farmgirl that I was/am I asked him out! I didn't hear bells exactly, but the words "he's a keeper" flashed through my mind as I cut his hair. God was right and the rest is history.
Fast forward 23 years, two homegrown children, chickens, our corgi Max, a boat, a tiny solar-powered beach cottage, more than a few gray hairs and here we are.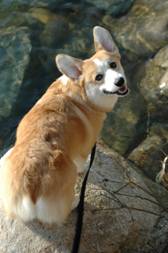 I can't wait for you to meet our "girls" and show you the Little Red Hen House. We'll turn a few old so and so's into "Painted Ladies" and share our garden dreams for the coming spring, too.
Right now, it's deep winter here in New England, so let's pretend we're sitting by a nice warm bonfire on the beach. Here's a blanket and some hot cocoa with whipped cream and cinnamon sprinkled on top. Comfy now? Good. I feel a story coming on…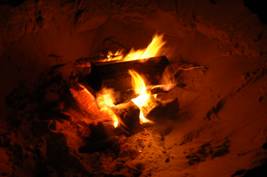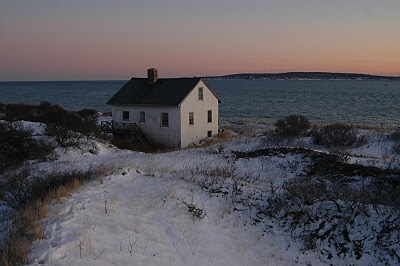 My hubby gets a case of the winter blues every year when beach season ends. I feel for him! We all do! It's a little harder on him than the rest of us that's all. You see, he has had an ongoing love affair with a special place since he was a small boy…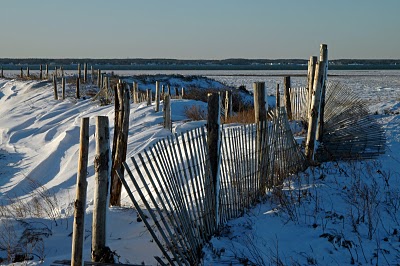 This is no infatuation, no small time fling. This is BIG LOVE I'm talking about. I have learned to live with the fact that he has a mistress and that he must go to her when she calls. He first explored her beaches and waters as a young boy during summer vacation from school. His parents were both teachers which allowed them to stay at the beach for most of each summer. Many long, carefree summer days of sand and sun laid the ground work for a very lengthy courtship.
The cottage was small, rustic and right on the water. What we call GREEN LIVING these days was common place in this beach community (still is) when he was a boy. He remembers gathering water from a community well, playing games and reading by the light of gas lanterns mounted on the wall, looking out for skunks on the way to the outhouse at night, and the warmth of a wood stove on chilly evenings. He slept on the screened porch. Her waves, gently lapping on the shore at high tide were his lullaby.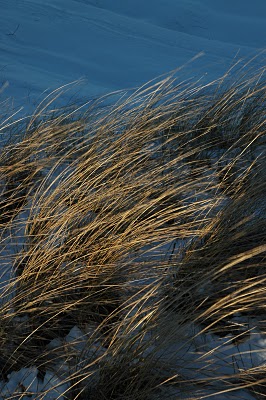 He learned to fish for flounder and crab with a handline, row a boat, and later graduated to being allowed to drive the family motor boat when he turned 12. We don't call him "the fish" for nothing. He loves to swim, and to this day spends most of his time in the water or on it, in his boat or kayak.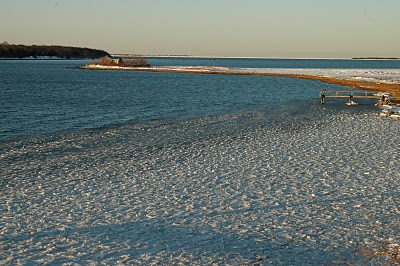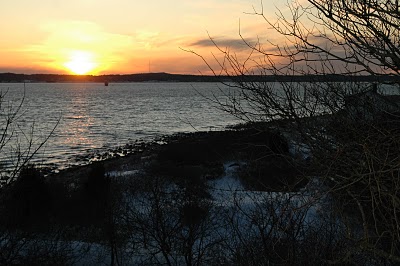 He has spent 45 summers with the "other woman" and 45 winters waiting to be re-united with her. He continues to be lured by her mystery, beauty and everchanging scenery. His photo library consists mostly of her portraits which express her many different moods, seasons, and how she has etched her way into his heart ever so slowly, one wave, one sand pattern, one sunset, one sunrise, one lightning storm, one snowfall, one glorious moment at a time.
This mistress of his isn't so bad once you get to know her! I have had the pleasure of being by his side in his special place for many years. He invited me there early in our courtship and it was love at first sight!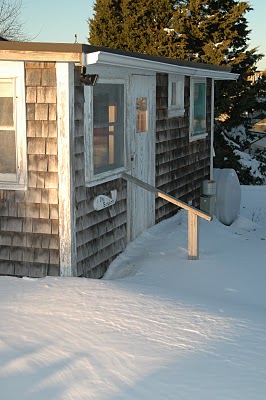 Each cottage has its own personality. Many started out as small fisherman shacks built of washed-up materials from ship wrecks. Cottontail bunnies hop in and out of briars and beach roses and sneak nibbles at the grass when they think no one is looking. The mourning doves welcome us back each spring and sing their song all summer long. The fog horn lets us know when we should leave the boat on the mooring and snuggle up with a good book, do a puzzle, or go visit a neighbor. Low stone walls separate properties today which were once open farmland. Some of the families that make up this small beach community have been there for generations. I remember feeling as if I had come to another world. Indeed, I had — one filled with wonder and beauty as far as the eye could see.
I later learned that my initial visit there was a test of sorts. Turns out, if I had not fallen for his special place, I wouldn't have been deemed "a keeper" and more than likely would have been tossed overboard without a second look!
The moral of this story is, if you're going to be a farmgirl, be a BOLD one. Listen to your heart for rowing instructions and keep your eyes on the horizon. It's o.k. to rest when your arms get tired, but don't ever quit. Remember, you are never rowing alone, so be prepared to change course, if needed. You might just end up awash ashore, too!
Do you have a place that lives in your heart or one you imagine? I'd love to hear about it…
Until our next shoreline visit,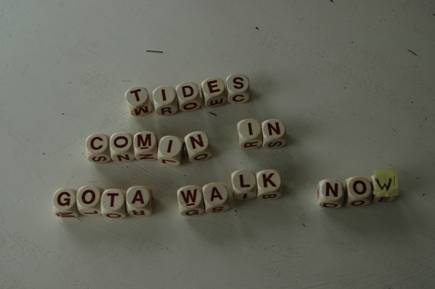 Make each day your masterpiece.
Beach Blessings
Love,
Deb