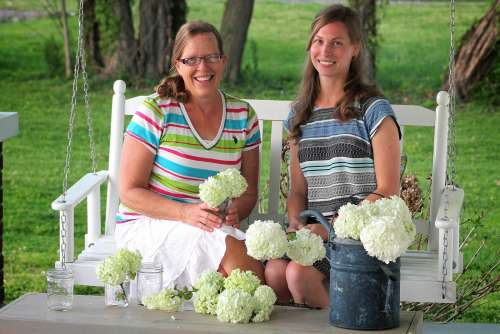 .
My daughter, Andrea, and I are Flower Farmers.  Well, sort of.
.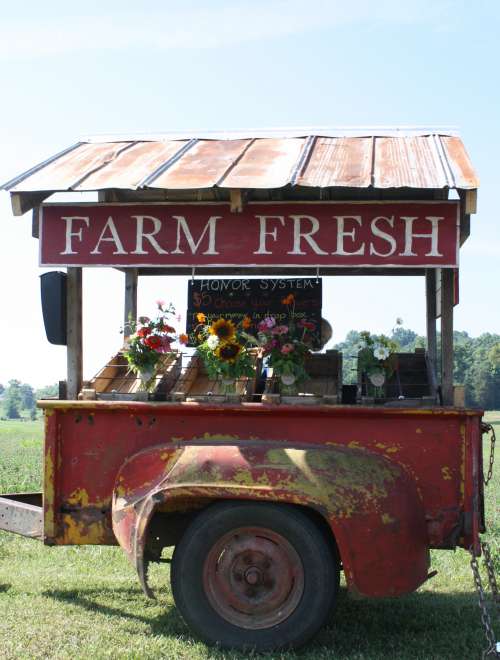 .
We grow flowers, make beautiful country farmhouse bouquets, and sell them by the honor system from our darling flower cart that my son-in-law built for us.
.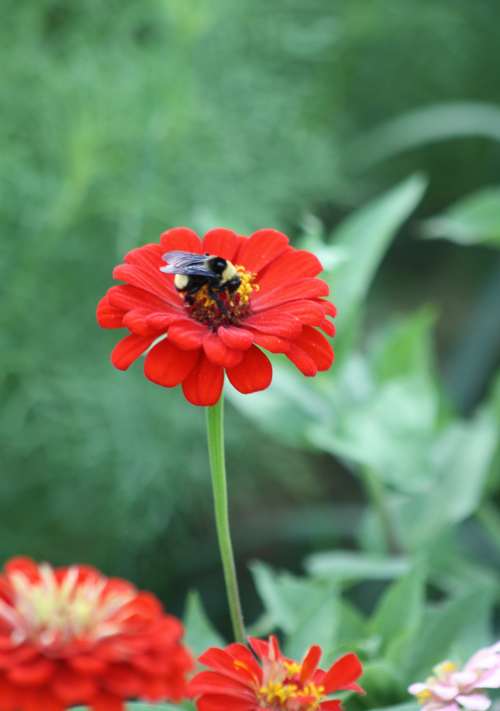 .
When we started this venture together a year ago, we knew nothing about flower farming.  We literally ordered heirloom flower seeds and jumped in with the excitement that one has when you don't quite realize what being a flower farmer entails!
.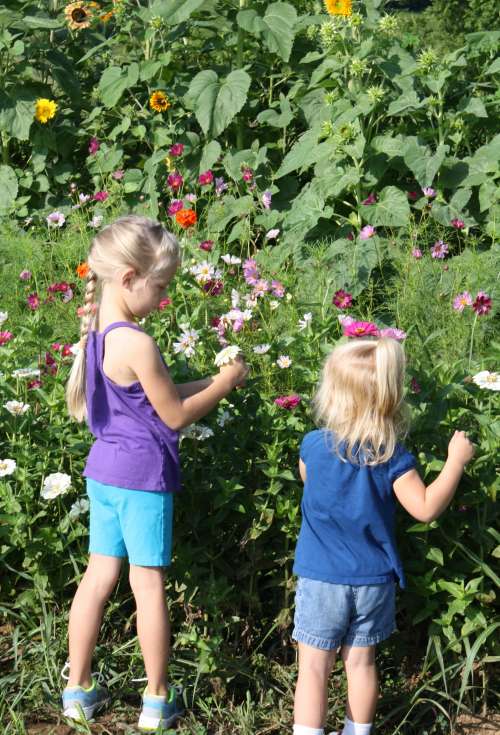 My little grand-daughters helping in the flower garden last summer.
.
We had a few set-backs, but still we had a fantastic summer.  We accomplished everything we set out to accomplish.  Which was:  enjoy being together in the outdoors doing something we love, doing a little business together that would include my daughter's little girls, sell gorgeous flowers at a price everyone can afford, and make a little spending money.  We did do all those things and even surpassed our hopes.  And we learned A LOT!
.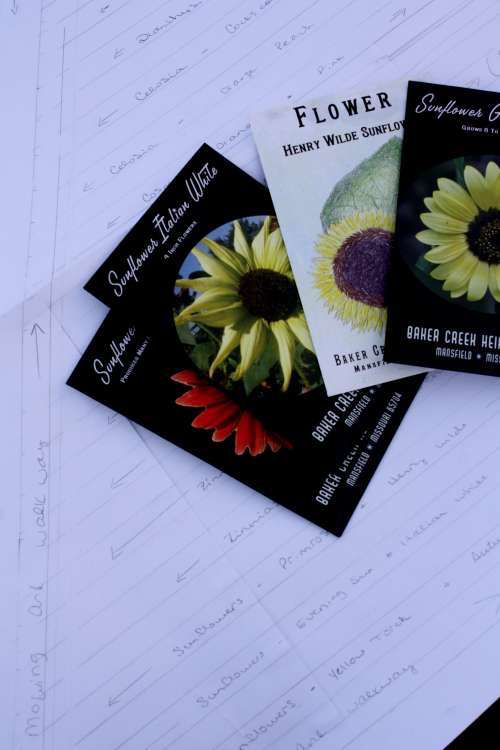 .
So this winter we set plans in motion to expand our garden size, grow more varieties of flowers, and applied to sell at a weekly Farmers Market.  We drew up a garden map and ordered our seeds.
.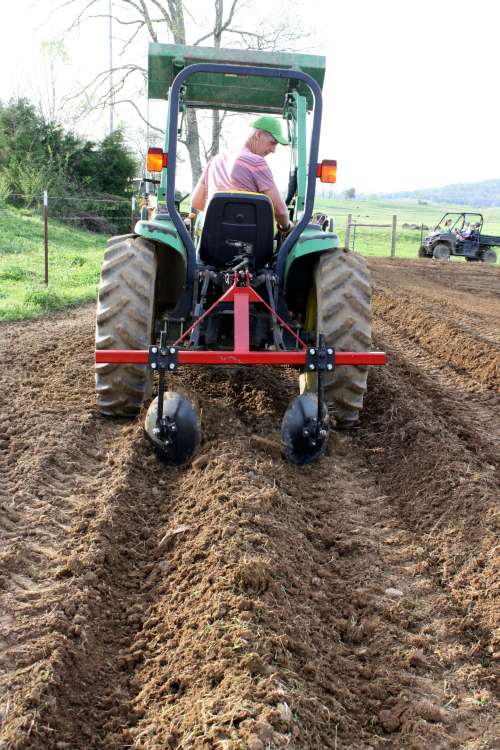 .
Spring came and we got off to a great start.  My husband did the tilling and hilling.
.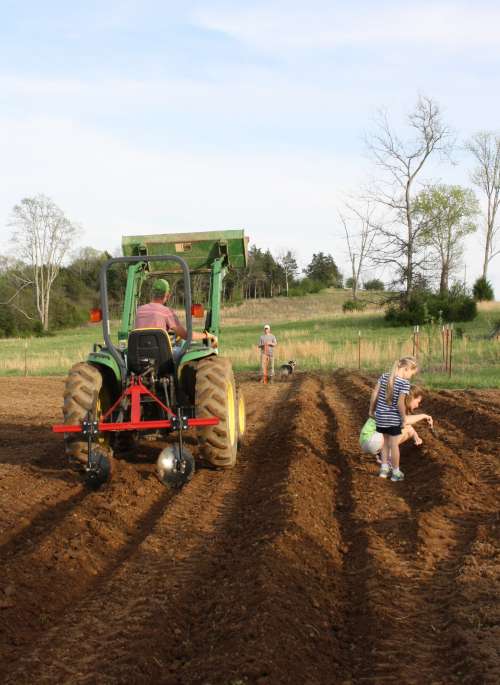 .
The whole family got in on the planting.
.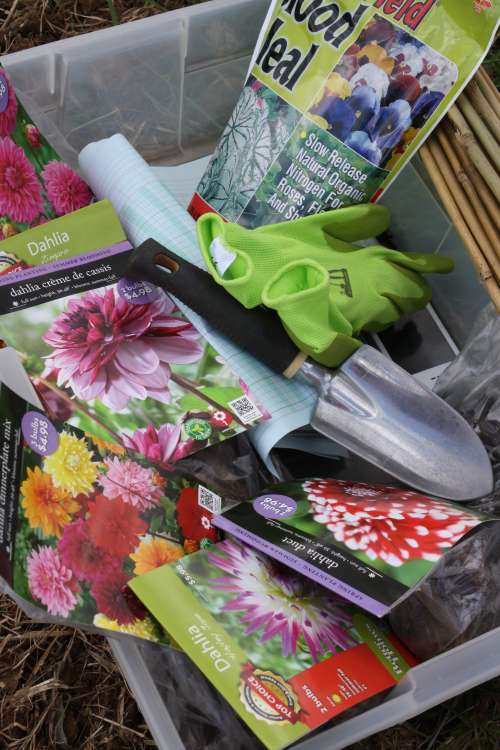 .
Not only did we plant many different varieties of heirloom seeds, we also put in an entire  bed of Dahlia tubers.  Last summer we learned that Dahlias grown from seed take all summer just to grow and so we only ended up with blooms for about a month in the Fall.
..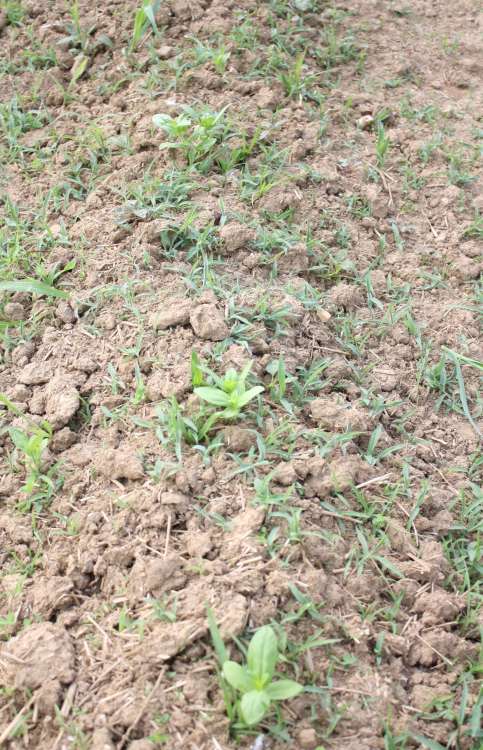 .
Things started to come up and grow.  And then the dry spell hit. After realizing that a lot of the specialty seeds didn't come up and the things that did come up had stopped growing… I quickly got discouraged and disappointed.  And I'm angry at myself for feeling that way.  I'm a worrier by nature and even though I know it and fight it… sometimes it just gets the best of me.
.
.
We are dry-land farming so after three weeks of hot, dry temperatures in May with not a single drop of rain things started looking pretty sad.  My husband, bless his heart (like they say here in the South!) rigged up a pump and irrigation system so that we could get water out of the pond to do some emergency watering.  So that helped me breathe a little easier and made the plants look a little happier.
.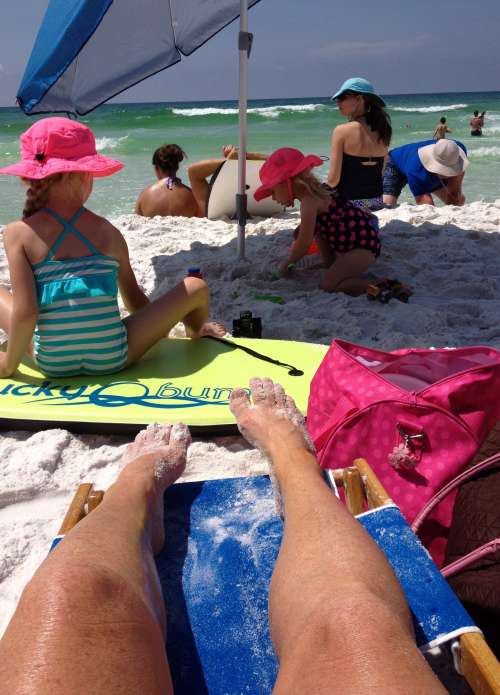 .
Then, as our plants were finally starting to take off and flourish we all went to Florida for a week of vacation and while we were doing this on the beach…
.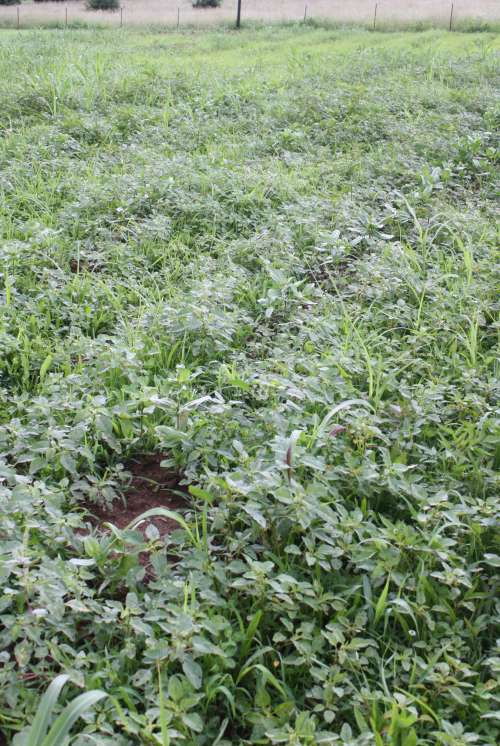 .
…the rains came at home and our flower garden was doing this!  My first thought upon walking up to the gate was sheer panic.  Literally the weeds were so tall that you couldn't see a single flower plant.  I felt sick.
.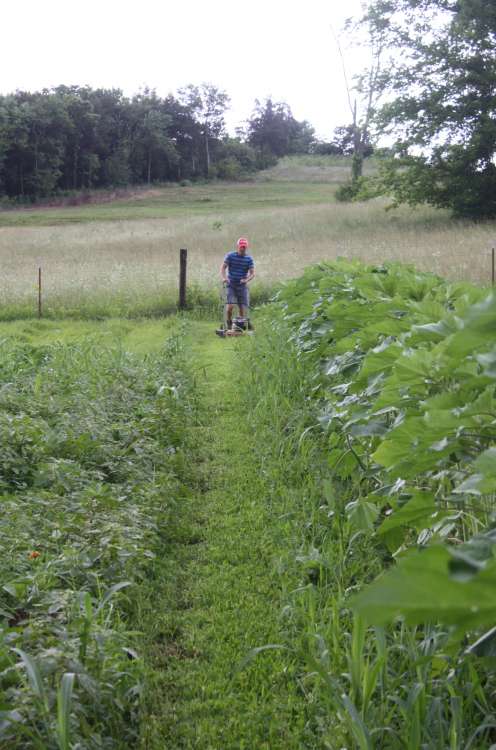 .
My husband came to the rescue again with the push mower and the string trimmer and we actually got the garden whipped back into shape.
.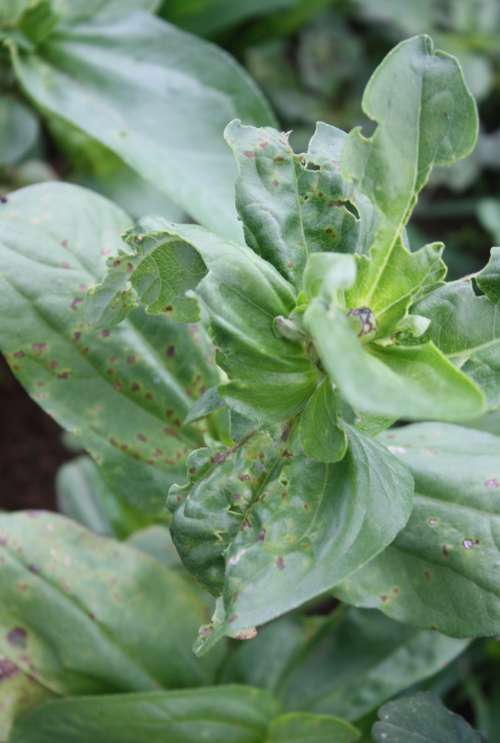 .
But when we finally got the flowers uncovered this is what we saw.  Something had been having a lovely feast on our zinnias.  Rows and rows of heirloom zinnias had their leaves and tops chewed off.  Can you guess what I did?  I am embarrassed to admit that I sat on the ground and had a good cry.  Over bug eaten zinnia plants.  I mean, seriously?
.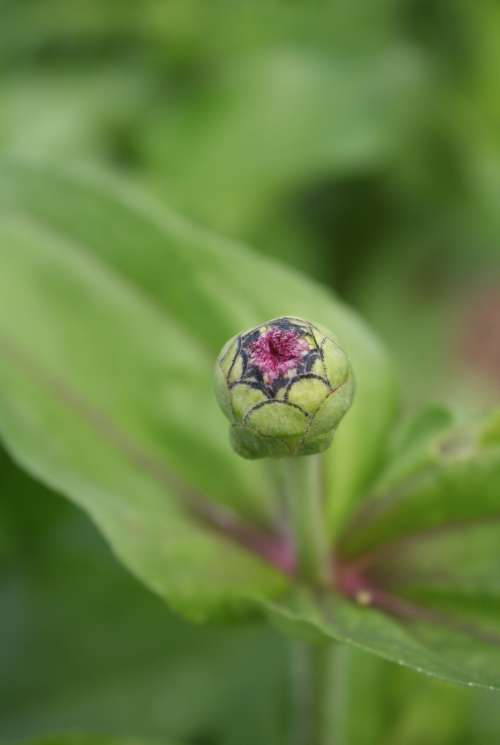 One of the zinnia plants that didn't get eaten by beetles… ready to bloom!
.
My daughter had a lot going on that week so she didn't manage to get over to see the garden, so I drove down to her house and had a nice little cry about our garden.  My 7 year old grand-daughter looked at me and said, "Gram, why are you crying about FLOWERS?"  There was absolutely nothing I could say.  Why WAS I crying about flowers?
.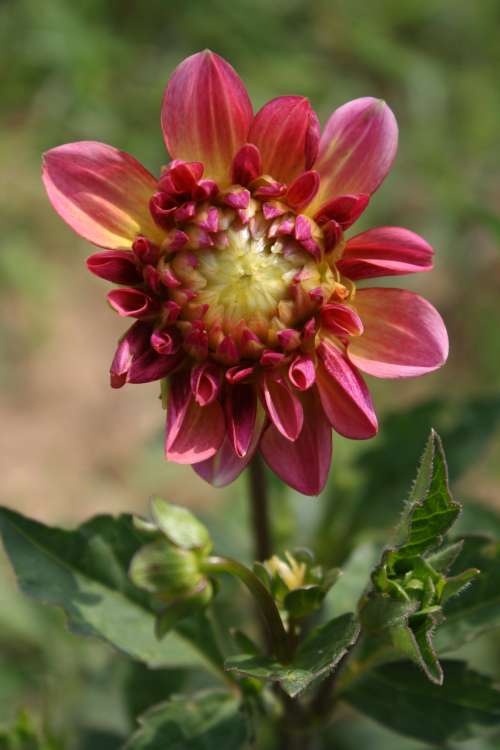 A Dahlia bloom… already!
.
Andrea very sweetly said to me, "Mom, we didn't do this to stress over and worry about.  We did it to have fun.  If it's not fun, we aren't going to do it."
.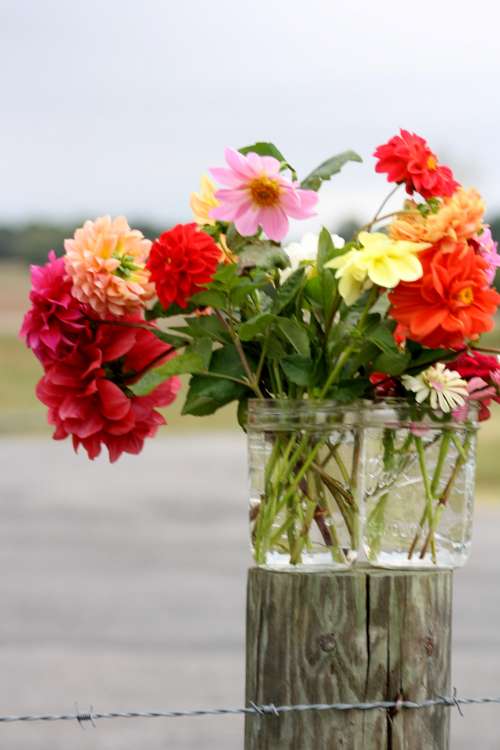 Fresh picked flowers from last summer, ready to be arranged in a bouquet.
.
Somehow that sentence did more for me than anything else she could've said.  It brought back all the reasons why we did this in the first place.  And all the things we loved about it last summer.  It brought back the excitement of growing flowers and making wild and fun farmhouse bouquets.
.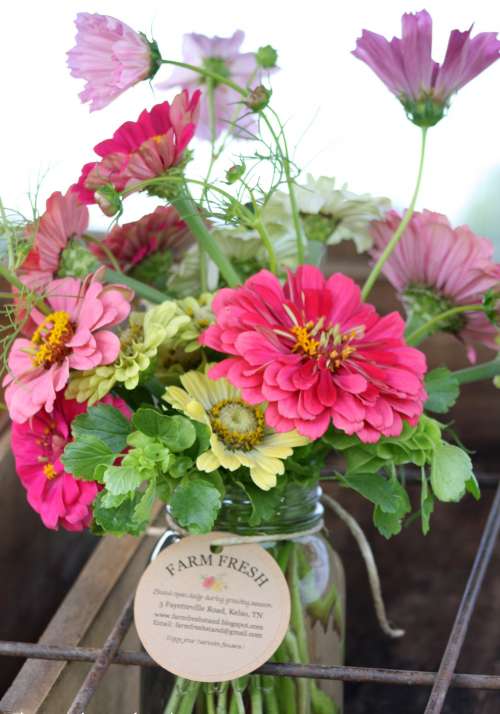 .
It reminded me of how awesome it was to lovingly arrange the flowers in mason jars, tie on our darling labels, and place them in our flower cart first thing in the morning.
.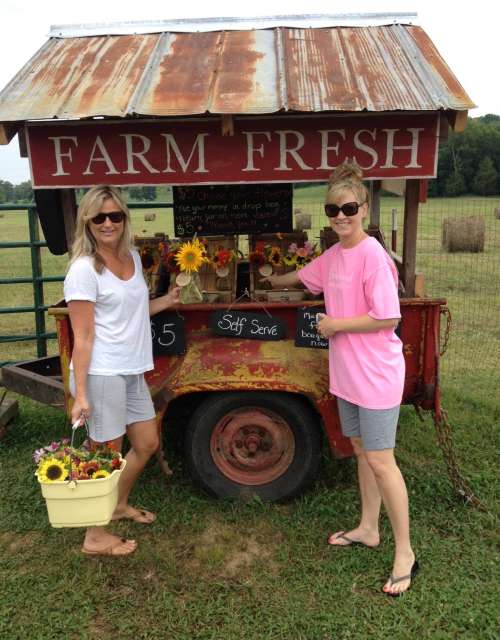 Two of our faithful customers gave me permission to share this picture!
.
I remembered some of our favorite customers that were literally waiting in line for their daily dose of flowers!
.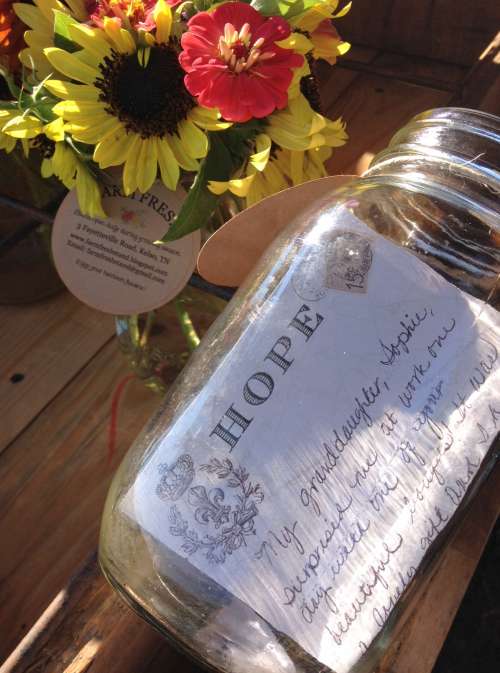 .
And the really sweet notes that happy customers left when they returned their jars.
.
.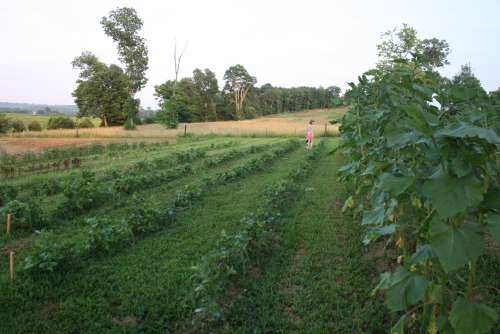 Our flower garden today… hopefully it will be full of flowers in a couple more weeks!
.
And I was reminded again of a very valuable lesson.  Stop.  Slow down.  Stop worrying.  There is so much to be thankful for and to be excited about.  Right in my very own beautiful flower garden!  I also want to learn to have more of the exuberance that my darling grand-girls have over something like the very first sunflower bloom!
.
.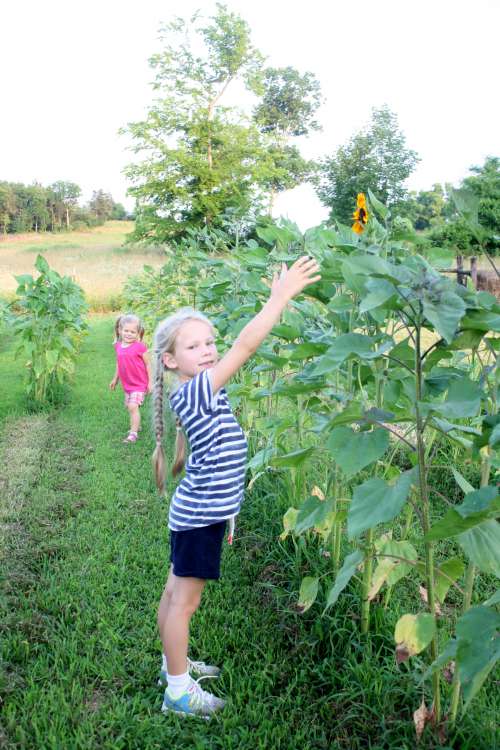 The first Sunflower bloom is cause for great excitement!
.
Thank you Farmgirl friends for always reading, commenting, sharing and encouraging!
.
Until our gravel roads cross again… so long.
.
Dori