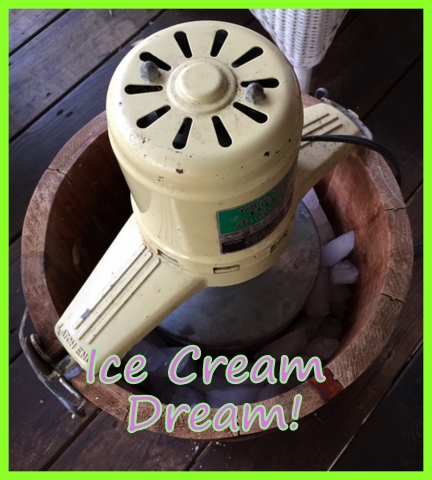 With spring's late arrival, I guessed we would bounce directly into summer-like weather! I went from having my wood stove ablaze to turning on the A/C – which we don't usually touch until July – in a span of just days. I'm not complaining, I love the warmth! In addition to gardening and all the good things that come with warmer weather, we crave ice cream! My family loves it…and I've always dreamed of making ice cream at home. But would a vintage ice cream maker I purchased work or be a disaster?
We've already visited our favorite ice cream shop a few times. Freshly-made on a dairy farm with a field of cows grazing, it's dreamy.
Still, I have always had the desire to try making homemade ice cream. My hubby has a recipe from Denmark that requires no mixing, just ingredients in the freezer, but I wanted to try making  true ice cream using a churn-type ice cream maker, the kind with a wooden outside "bucket" that uses rock salt (not the little plastic "ball" versions sold at mass merchandise stores).
At the end of the summer last year, a local woman was having a big tag sale, and moving toward a simpler life in a remote area of Hawaii (sounds good). For sale was an old ice cream maker. I'd seen a "modern version" of the type of ice cream maker on sale at a local feed store, as an end-of-summer manager's special. We decided to check that new model out first, before picking up the one on the tag sale. It had a wooden bucket, but the motor was encased in plastic, reminding me of modern-day sewing machines (it's almost impossible to find metal on the outside). The inside dasher and scrapers were plastic, as well. We decided to go for the vintage one.
The vintage ice cream maker is wooden on the outside, like a bucket I once purchased in Pennsylvania from an Amish farmer. Made by White Mountain, the inside has heavy metal parts, with wooden scrapers. The motor part looked old, but the cord wasn't frayed or weak looking. (I learned that lesson well at Christmas with that old blow mold – http://www.farmgirlbloggers.com/4581#more-4581. Almost getting electrocuted once is enough, thank you). The all-metal motor is heavy. Though from the 60's or 70's, it would've only run twenty minutes at a time, and looked like a real workhorse. Parts and the manual are still available online (I could also purchase the hand crank for it, if the motor didn't run.) I figured at $20, it would look cute in the kitchen as a vintage display piece.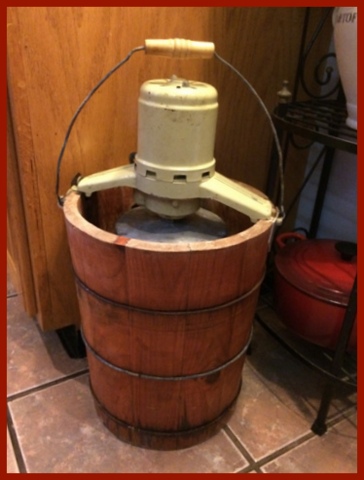 The ice cream maker did just that, waiting in the kitchen corner for a warm snap. When a really sunny afternoon came this week, we decided to try it when my daughter got home from school.
I mixed everything up, using a basic recipe to make 4 quarts, (because if it didn't work it'd be a smaller disaster than 6 quarts). I used the "Classic Vanilla" recipe here: http://www.whitemountainproducts.com/recipes/recipes.html.  I bought some Madagascar Vanilla bean pods at a restaurant supply recently, so I cut a bit off the pod, opened it , and added some bourbon vanilla beans. I measured out a ½ cup of blueberries to mix in later.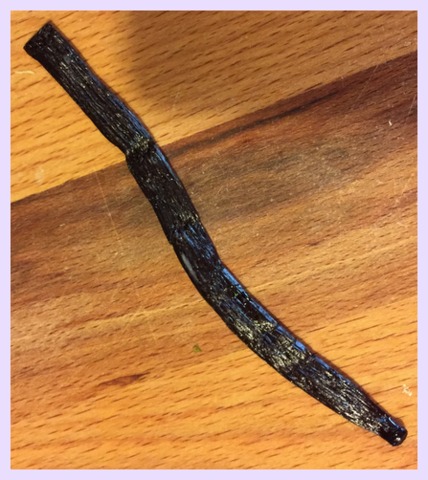 I put the ice cream mixture in the fridge to chill until my daughter's bus came.
After sitting with very little humidity in the winter air, the bucket looked dry, brittle and not water tight! My husband took it outside, wetting it down and filling it up. After repeating the process a few times, the wood was swollen and the gaps closed.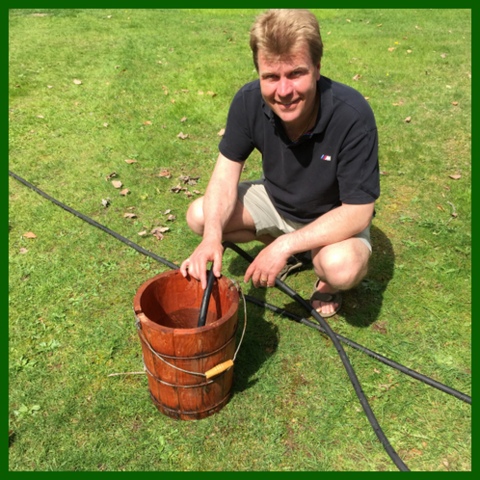 Inside, we washed the innards with hot water and baking soda.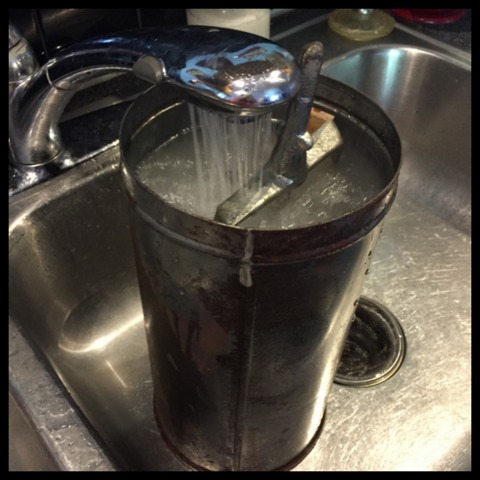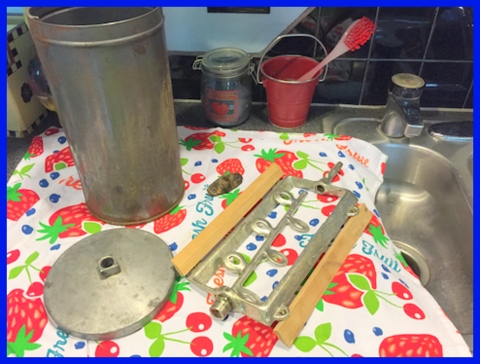 We got our ice ready. My advice: you'll need way more ice than you think. We filled the steel bucket halfway with the creamy liquid, packed in the ice, and added our rock salt. Rock salt is needed to lower the melting point of the ice. You'd think living in the second realm of the North Pole stores would be bursting with rock salt! I was told it was a "winter item". Thankfully, a neighbor gave me some of hers!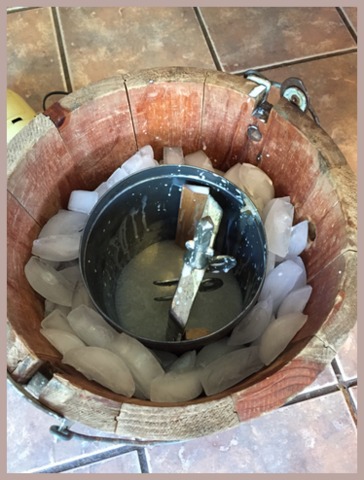 Out to the porch we went, plugging it in.
IT WORKED!!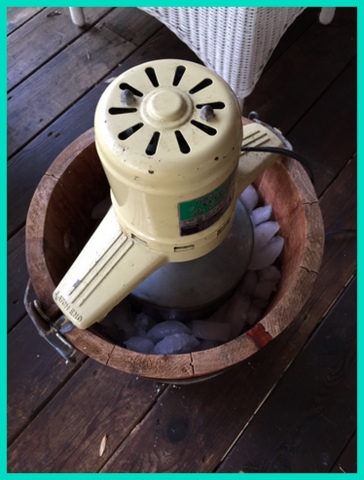 While the engine hummed, the dasher turned, and we took turns adding ice (the instructions said to add ice as it melted), we enjoyed the family time. The blueberries went in about halfway, as a mix-in.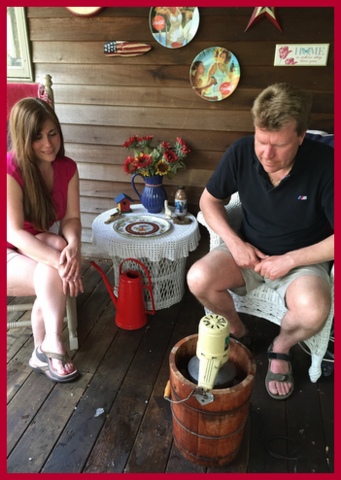 Finally, it was ready.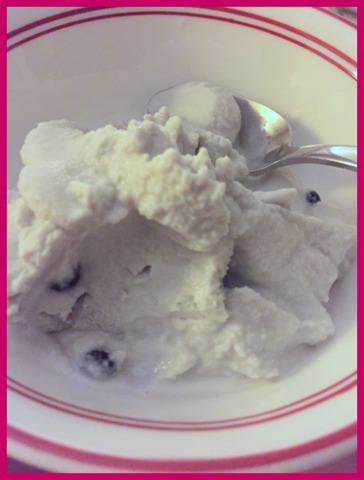 It was delicious! The consistency is more like a soft-serve; to make hard ice cream, we would need to drain the "brine" and repack the ice cream in the maker with more ice and salt, letting it sit until hard. Of course we couldn't wait for that!
Success, made even sweeter because we made it together!
Are you a fan of ice cream? Do you make it homemade? What's your favorite flavor? Remember to let me know you've stopped by!
Until next time…Farmgirl Hugs, Nicole