Dear sisters,
As moms, we log a lot of miles with our children. Starting from day one we manage, mark and track hundreds of important events in our children's lives. We love, nurture, nudge and nourish. Encourage, excite, and inspire. Sometimes, we have to push, pull and prod them along when they drift off course. But that's all part of the amazing journey of motherhood. We recently celebrated our sons Court of Honor Eagle Scout Ceremony. It was proud day for all of us and one for the Mother's Log for sure. Please join us in honoring our young man, Zachary and his good friend and fellow Eagle Scout, Brendan!
When our son was 8 we were in our early homeschooling years and looking for an organization that would provide consistency and opportunities where he could learn and grow with other boys his age, make friends and have fun! One afternoon while shopping in my local supermarket I spotted a woman shopping with a young boy in a Cub Scout uniform so I marched right up to her and asked for some information and that's how we got started on the Boy Scout Trail nine years ago.
The Boy Scouts of America has been around since 1930. It's mission is to help boys of cub scouts age (6-17). Parents, leaders, and organizations work together to achieve the 10 purposes of Cub Scouting:
Character Development
Spiritual Growth
Good Citizenship
Sportsmanship & Fitness
Family Understanding
Respectful Relationships
Personal Achievement
Friendly Service
Fun & Adventure
Preparation for Boy Scouts
The Boy Scouts of America is modeled after the organization Boy Scouts Association founded by Robert Baden Powell in England during the early 1900's. Click here to learn more about the history of scouting and it's visionary founder.
As with all things we introduced our children to, we decided to take things slow and see if things clicked. Zach was always a quiet kid, confident, but quiet. We watched and waited. Right off we were impressed with the level of dedication and support the leaders showed the boys. I drove him to his weekly meetings and his Dad went on his first camp-outs, hikes, biking trips, community service projects and the whole family enjoyed Christmas Caroling at the local nursing homes.
We also attended monthly pack meetings where the boys (and leaders) would receive merit badges, pins, and move up in rank. There are four ranks in Cub Scouts. Bobcat, Tiger, Wolf and Bear. Then the boys move up to Webelos.
As Webelos, the boys cross over into Boy Scouts during a special ceremony where they walk over a symbolic bridge leaving boy-hood behind. This is the starting point for becoming Boy Scouts and working through the remaining ranks of Tenderfoot, 2nd Class, 1st Class, Star, Life and FINALLY, Eagle Scout!  One of the benefits of being a Boy Scout is looking forward to Boy Scout Camp every summer. This is also a great time for Dad's who have been sitting on the sidelines to get more involved. Boys at this age ( 13-17 ) are easily sidetracked with peer pressure and wondering eyes, ( if ya know what I mean ). It helps to have Dad nearby to keep them on course as they move along the trail.
The list of things these boys learn to do during their time on the trail is mind-boggling. And guess what? None of them involve video games! We all know they get plenty of that in their spare time, but during "Scout Time" they have to learn to be focused on the task at hand. Whether it be learning how to sow on a new patch,
climb ropes, or
how to cook in a dutch oven over an open fire, focus is key.
As they build up certain physical skills their moral muscle gets a workout too.
I remember well when Zach earned his Family Life badge. We started a tradition of having a family meeting once a month. It gave us the opportunity to share life experiences and wisdom. And even if the kids were turning blue from boredom ( which I think happened more often than I want to admit) we still learned something new about each other and always felt closer as a family when we were done.
As they boys get further along the trail they get to participate in some adventurous activities. Our sons troop loved to go white water rafting, and rock climbing.
The culmination of all this work and fun leads to the final and biggest project these boys will do as scouts. To earn Eagle they must choose a project that benefits their community and proves they can lead a team to successfully complete the project. They can be small or big as long as they do those two things. Several of the boys in Zach's troop chose projects that benefited local organizations and churches. Others led their teams in making improvements to state parks, and historical locations such as Plimoth Plantation.
Zach chose to create an Emergency Response Binder for our local police and fire departments of our remote off-grid beach community so they can better serve the 250 plus residents in an emergency. We have roads, but many of them aren't marked. It's a 45 minute response time as it is simply do to our location. GPS doesn't help when you don't have an address to plug-in. It was a very ambitious project. He and his father spent hours upon hours on it but they had fun too!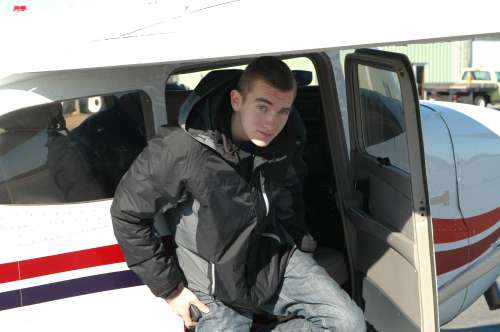 First they went up in a plane to take aerial shots of our barrier beach for the binder. Then they took a group of scouts out to the beach to take photos of each cottage and all of the roads. Then the tedious work of creating a page for each cottage and mapping out the roads on the computer began. Once the pages were finished the binders were put together they were ready to be delivered to the local Police and Fire Department.
Have you ever attended an Eagle Scout Court of Honor? It's BIG! We held a duel ceremony for Zach and his good friend and fellow Eagle Scout, Brendan.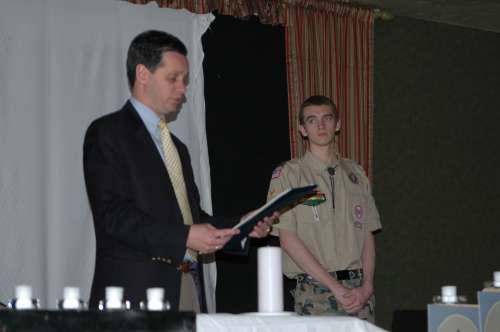 Our State Senator, Vinny de Macedo delivered a beautiful speech and presented both boys with citations direct from the White House. Town Selectmen and Eagle Scout, Ken Tavarus also attended the ceremony. Both men praised the boys with high honors for their dedication to the Boy Scouts of America and for their projects. I cried.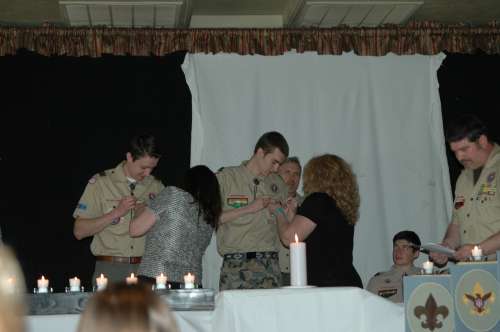 Then the moms and dads get called to the stage to participate in the ceremony. My dear friend, Pat and I got to pin the boys with their Eagle Scout Pins and then we removed their Boy Scout bolo ties and their fathers had the honor of putting on the well-earned Eagle Scout bolo tie.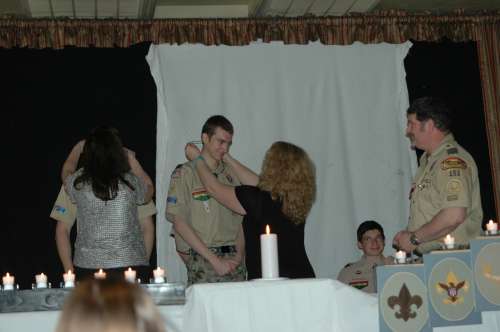 Each Eagle Scout is asked to choose a mentor and say a few words about who they chose. Both boys chose their fathers and pinned them with mentor pins. I cried again.
After the ceremony there was plenty of time for more congratulations with family and friends.
My heart just fills up for these boys and all they have accomplished with the help of their leaders, their community and, of course, us, their parents. What a joyful journey it's been to watch them grow through the ranks of The Boy Scout Trail.
As we were saying our goodbyes to everyone I made a special point of telling his troop leader how grateful I was for all he had done for the boys over the years. He simply said, " it was time well spent ". I couldn't have said it any better!
While at the ceremony, I couldn't help but think of MaryJane. After all, because of her vision we've got our very own merit badge university too! MaryJanes Farmgirl Sisterhood. It's never too late to earn another farmgirl merit badge!
I'm feeling inspired. How about you?
Until our next shoreline visit~  BEACH BLESSINGS and Happy Mother's Day!
Deb~ The Beach Farmgirl
# 1199