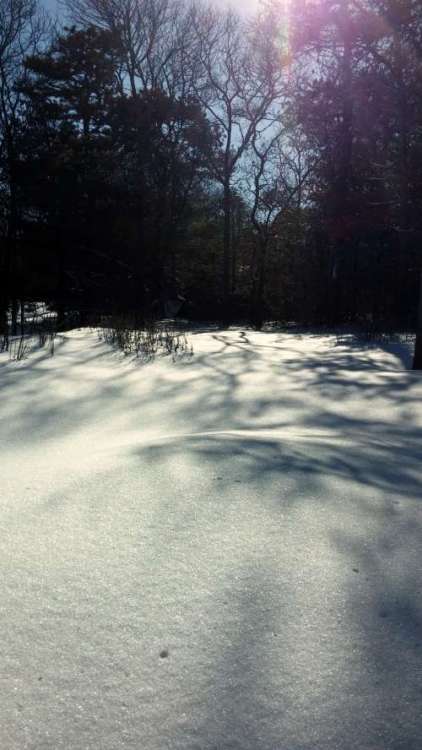 Dear Sisters,
By now I'm sure you've all heard about the Blizzard that came through New England earlier this week. I hope my East coast sisters are all okay! Many were without power but not as many as the Blizzard of 2013 where thousands went without power for several days. We were lucky in that respect. We had plenty of good comfort food, heat and movies to keep us happily occupied while the snow blew (sideways) outside our door for more than 24 hours straight! When the wind and snow finally stopped we had accumulated over 2 feet of snow! You'll be relieved to know that the " girls" came through another nor'easter with flying colors but the greenhouse and our deck gazebo didn't stand a chance against the 50 -70 mph gusts that hurled against them non-stop for 24 hours straight. I'm afraid it's NOT pretty.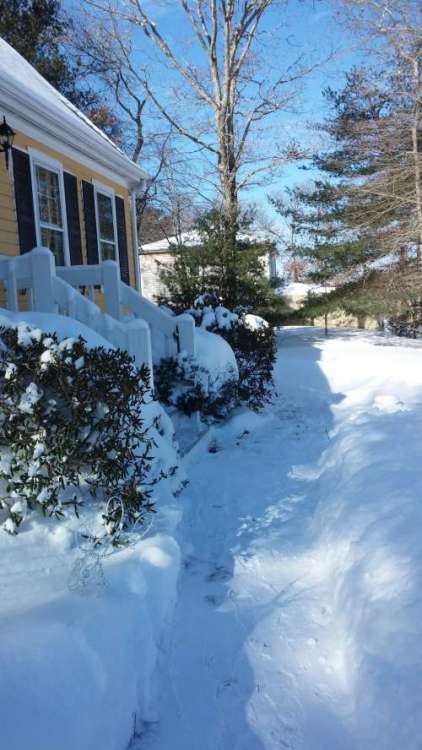 My handsome Yankee shoveled pathways to every door as well as along the side of the house and through the garden to the coop! The snow drifts were just too high to go right through the backyard like we normally do!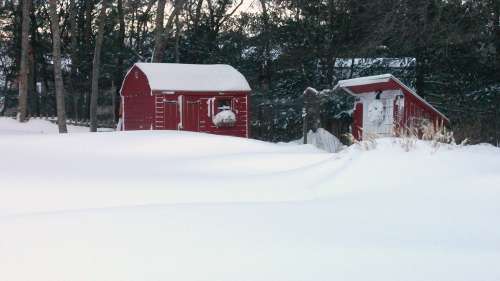 Just the tips of these two wrought iron garden chairs which sit on our patio off of our back deck were visible right after the storm.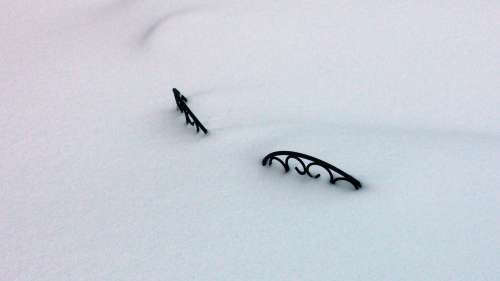 The greenhouse really took a beating as well. We knew it was going to be quite a sight once we could get out to it. The cover is in tatters, and every metal pole is bent or broken. I don't know how it stayed anchored through those gale force winds but it did! Thank God or we would have had seed pots and trays, watering cans and lord knows what else spread out all over the neighborhood.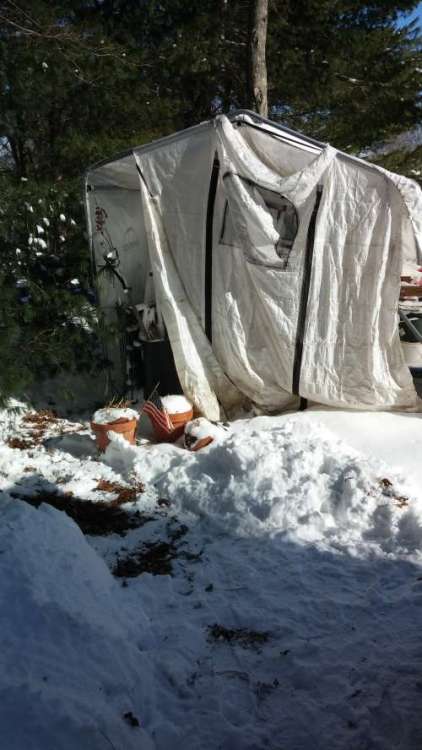 The outside gave every indication that we would find snow inside and, we did.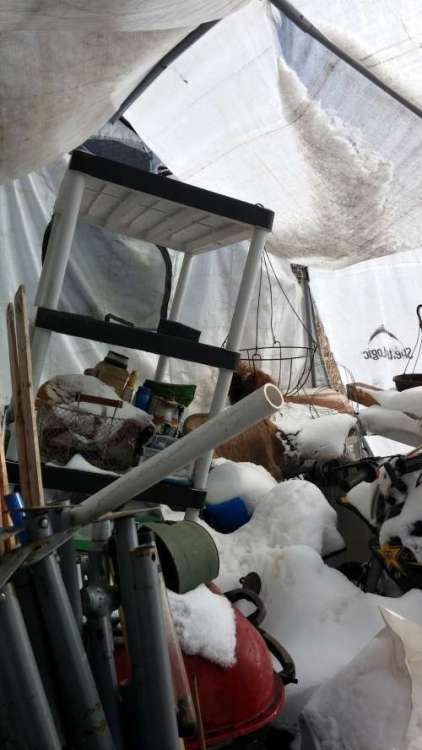 One of the benefits of having a greenhouse is that it also doubles as storage in the off-season. I guess it could have been worse. If the cover had actually set sail as I feared it would we would have lost all of the contents but after a closer look I'm fairly certain most of it can be salvaged. Once we dust the snow off of everything we can cover things up with a large tarp for the remainder of the winter.
Come springtime we will replace the greenhouse with a small hoop house (10 x 12 or 14 feet) in the same footprint. It will be perfect for extending my growing season for herbs, flowers and veggies.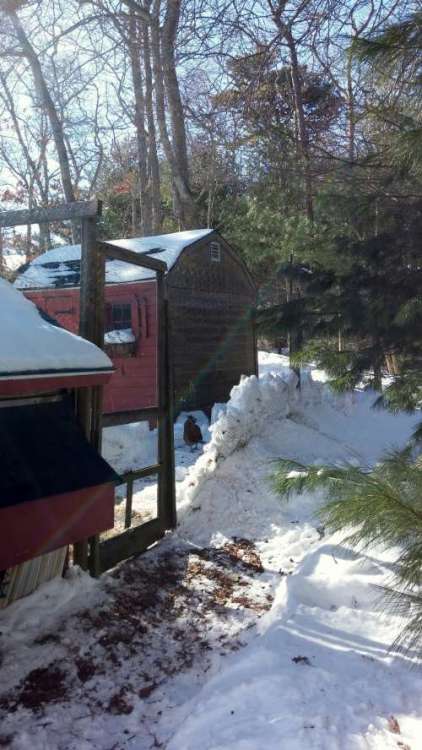 I ALWAYS worry about my girls during severe storms, particularity blizzards because the temperatures can dip into single digits if not a little below zero with the wind-chill factor. My heart did a little happy dance when I opened the coop door and found them clucking up a storm. They were happy to see me too! Freezing water is something we have to deal with during winter so I lug fresh water out to them every day.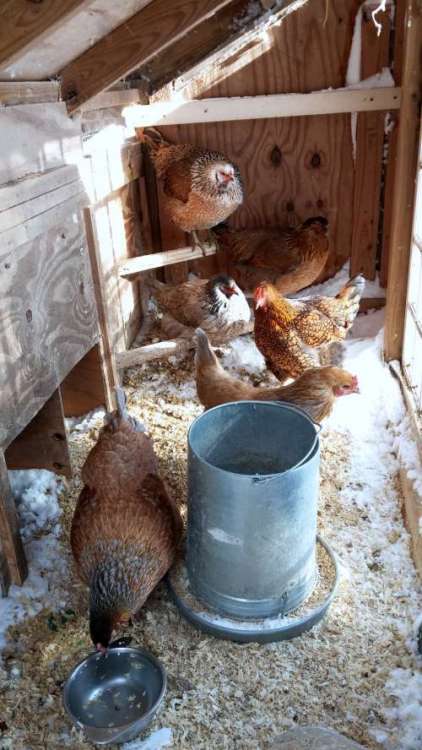 Do you see what I see in the hen-house? I know!!! It's SNOW!!! That is a first!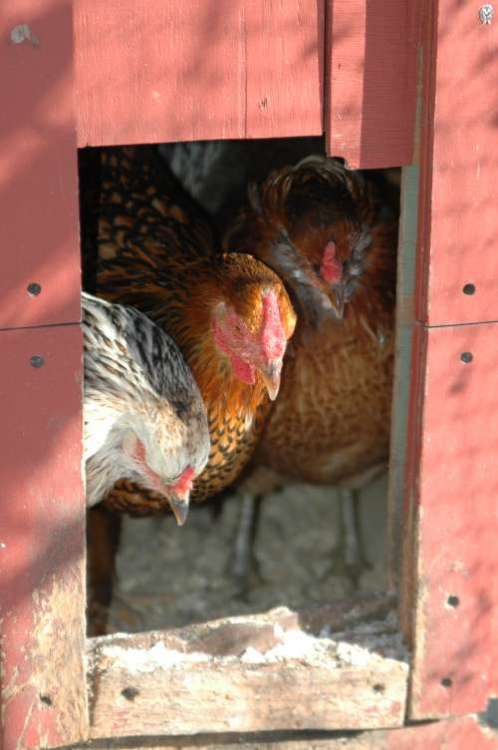 The girls have a small opening on their coop door which opens into their run so they can come and go as they please. They get up before I do, so it's only fair I leave the door open so they can go about the business of being chickens. Never, EVER has snow gotten inside the coop during a snow storm, but this blizzard was like no other we've experienced. The wind just didn't let up. I'll admit, I was a bit horrified when I saw the snow inside, but the girls didn't make a peep about it. I swept it out and gave them another layer of fresh pine shavings to dry things out and brought out some kitchen scraps for them to munch on. See? Happy girls! Here's a link to my first video of the girls on You Tube!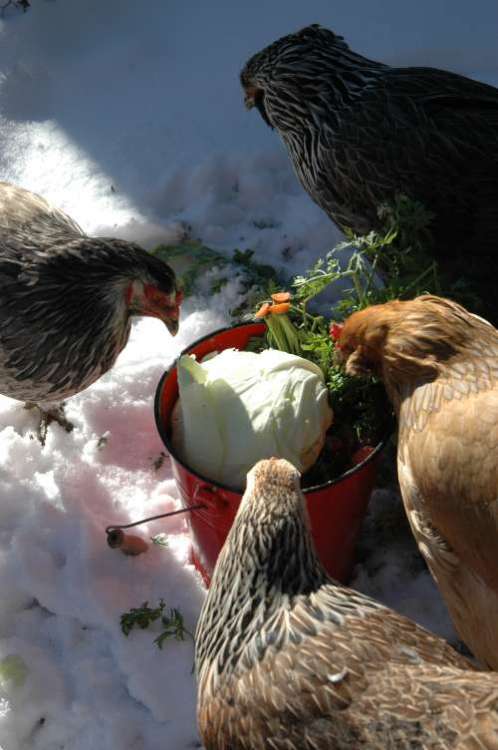 This was our first winter with Gram's ( Grammy Joy) dog, Barkley. He loves, loves, LOVES being outside in the snow. Once the storm had passed he kept my hubby company while he shoveled. Isn't he handsome? And what a sweetheart. We call him 'the bear-cub". He's been a complete gentlemen with Max. I wouldn't call them the best of friends. I think It's gonna take Max some time to warm up to the idea of another male dog in the house.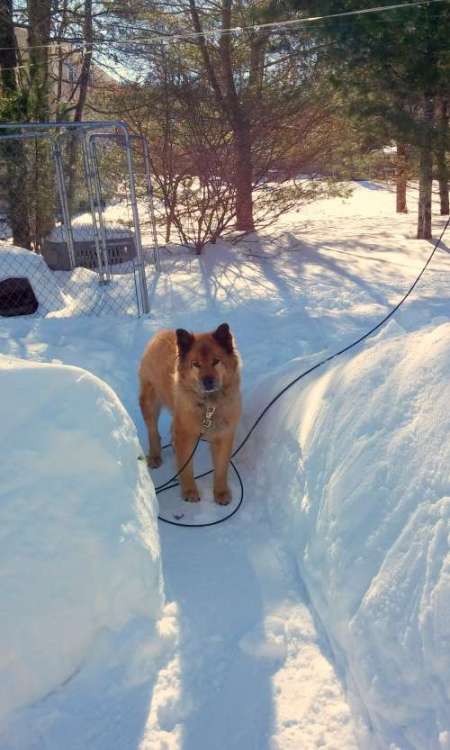 Max was ready to get outside and kick up his short little legs in the snow after being cooped up too!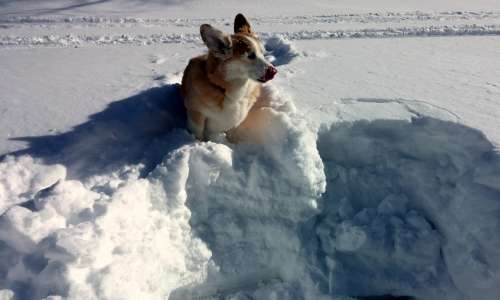 It's a wonder he didn't disappear in a snow drift!
It's always a bit stressful when we know we're going to get slammed by a big storm.
Being prepared minimizes worry and allows you to relax and enjoy the weather.
Here's a list of things we've learned to have on hand in case we lose power during a storm.
Flashlights
Battery operated candles
Portable power pack or back-up generator
Water for drinking, flushing and washing.
Small propane heater
A cooler
Full propane tanks for the BBQ
Easy prepared meals and some of ( Mary Jane's Organic Backpacking Food)
Healthy snacks such as raw veggies, fruit and nuts to fill in between meals.
Chocolate Chip Cookies
Brownies
Proper outer-wear
Full gas tanks in all vehicles.
Charged cell phones and laptops
Plenty of pet food
Fuzzy sox
Extra blankets and comforters
A sense of humor
And it always helps to be on the best of terms with your neighbors, especially
the ones who have snow blowers, if ya get my drift!
What else would you add to this list?
All in all we weathered the Blizzard of 2015 fairly well here at home. However, some of the residents in our beach community ( mostly those right on the beach ) suffered great damage do to the very high winds and high tides during the storm. Currently the road in is impassable. Once it's safe to get to the cottage I'll share the effects of the storm with you.
Rumor has it more snow is on the way to the coast! Time to stock up and batten down the hatches again.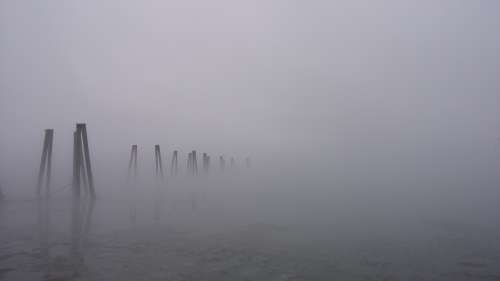 Until our next shoreline visit~ Stay safe and warm and dream of spring! It's a comin'!
BEACH BLESSINGS and much love,
Deb # 1199