Does anybody know who that is there? Sneaking around the corner?
I'll save that news because my post is about something else altogether.
It's about this: do you ever pick a "Word of the Year" for yourself? A theme just for you for the year? If you haven't, do it this year. Find a word that fits you and where you are in your journey. Write it on your calendar. And live it.
I thought FOR SURE mine this year would have something to do with riding horses, or rescuing animals. I've been hot and bothered about a horse hoarding situation in NC where many horses are suffering. For years. And years.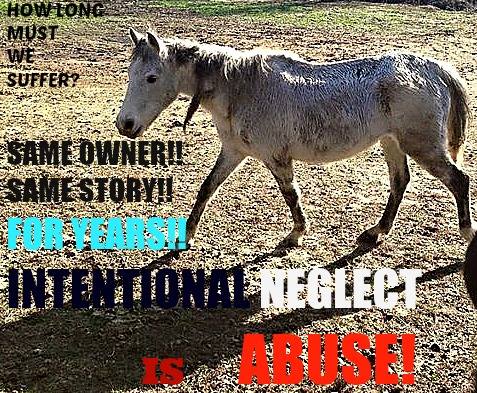 But.
As it turns out, no. My word came to me the other day while I was taking my snowy morning walk among the trees with a cup of coffee.
My word of the year is HOSPITALITY.
Hospitality! What a surprise! A perky, pleasant surprise!
I live in a place where people stop by. This is different than where I lived before. And I LOVE that about this place. Neighbors and friends pop in. Maybe for 5 minutes, maybe for an hour. Maybe they are bringing something, like corn or tomatoes, or maybe they were just driving by.
And.
I live in a place that is 30 minutes from the grocery store. This is different than where I lived before. I used to have a large store less than 5 minutes away.
That means that I have to do better and be prepared in advance.
I know so many of you are expert hostesses. You've had way more experience than I have. I've always been busy, rushing, rushing, rushing. Hostessing is not my strength. So, share your magic.
What does it take to be a good hostess? What are the elements?
Here's what I'm thinking:
**A "clean-ish" house.
Not a spotless house, but, you know, clean-ish. I find when I visit a house that feels lived-in and cozy, it's generally not spic and span. It feels homey when there are books, and knitting baskets, and pets, and a few dishes in the sink. It feels homey when there is a soft inviting chair with an afghan thrown across. A basket of magazines and books. A guitar beside it. A fire in the fireplace.
**Crackers and cheese.
I'd add grapes or apples, but there's no way I can keep those on hand. Crackers and cheese are easy though. Something to munch on.
**Dessert.
I learned last week when I had a neighbor over for soup and bread, that I was not prepared for dessert. At all. My cupboard was bare. Some FaceBook buddies gave me some wonderful suggestions for quick and easy desserts. I'm sharing some of them here so you'll have them too.
I didn't have the ingredients for any of these that day. But now I have made sure to fill my pantry with what is needed for some of these simple, quick desserts.
Here are some of the GREAT ideas they gave me for a quick dessert:
LEMON BARS (this recipe from Taste of Home was recommended)
EASIEST COBBLER EVER
1 stick of butter, 1 cup of sugar, 3/4 c of self rising flour, 3/4 c milk, 28 ounce can peaches with juice.Preheat oven to 350, add butter to glass baking dish and melt in oven while preheating. In a bowl, mix sugar with flour, add milk slowly to prevent lumps. Pour flour mixture over melted butter, do not stir. Spoon fruit on top gently, pour syrup over fruit gently, DO NOT STIR.Bake for 30-45 minutes and eat warm, cold, with or without ice cream, or just pour some heavy cream over it while just out of the oven.
CHOCOLATE CREAM PIE graham cracker crust, cooked chocolate pudding and whipped cream on top. Jiffy quick and yummy.
APPLE CRESCENTS Refrigerator crescent dough brush melted butter sprinkle brown sugar and slice apple or apple pie filling then roll up individual crescents brush with melted butter and top with brown sugar and bake! Super yummy! If not using apple pie filling then slice peeled apple thin.
OATMEAL PIE (from Jonni Lynch, here's the link!) sounds so delicious and comforting!
NO BAKE COOKIES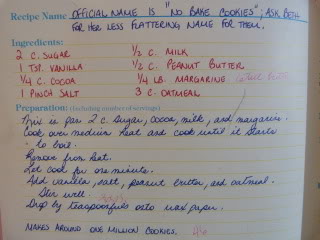 (can you read that? if not, I posted it here)
BROWNIES
GOOEY CAKE, looks yummy and easy. here's the recipe.
and there's always POUND CAKE. Who doesn't enjoy good old fashioned pound cake?

Then, we need beverages.
**Coffee, tea, hot cocoa.
And, most importantly.
**Time. Not in a hurry. Time to visit. Time to sit. Time to listen. Time to share.
I had a wonderful aunt named Aunt Margie. She was a fantastic hostess. Your visit in her home would be filled with laughter and delicious food. She never wanted you to leave. And, when you did leave, you wouldn't go empty handed. On your way out the door, she would always hand you something. It might be a cutting from a plant, or a bag of cookies, or a little vase, or a sweater.
What do you think makes a good hostess?
Now about that cat in my kitchen. Guess who that is??
It is the wild mustached cat I've been playing hostess to for almost a year. Progress!
Here he is, when he was on death row, about to be euthanized. He was part of a catch and kill program for feral cats: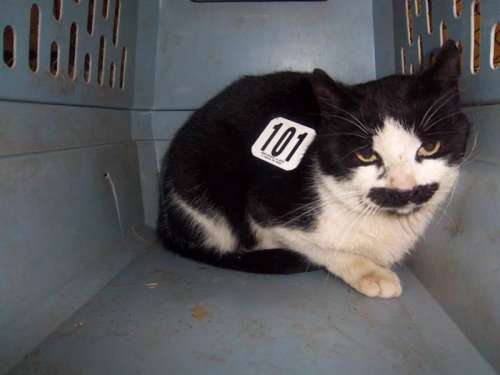 And here he is, snuggly and warm on the sun-room couch:
(I took this photo through the window in the door. He wouldn't have been so relaxed and comfortable if I had opened the door to take a pic.)
Oh yeah, he's coming around.
I left the door open, upon advice I got from FaceBook, and walked away for a while. When I walked back in the kitchen, he was there, sneaking around the island. Yay, Yay, Yay, Yay. YAY!
And one final thing, I just headed to the barn on this cold, cloudy, snowy day.
And here comes the sun, Y'all!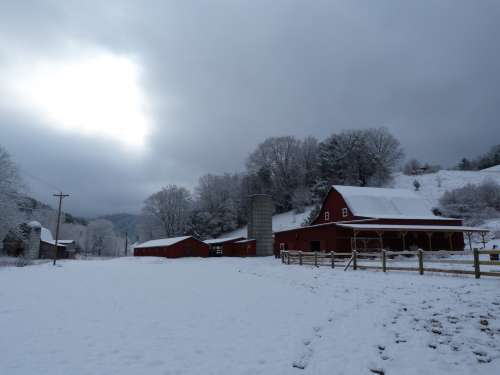 It's going to be good, good year. A very good, hospitable year.
Until next time, Friends, savor the flavor of life!
Lots of love, The City Farmgirl, Rebekah