It's a new year! The passing holidays also marks another milestone: I've had my chickens over a year! Having backyard chickens has been so rewarding. Come see how things are going at "Fowl Knox"!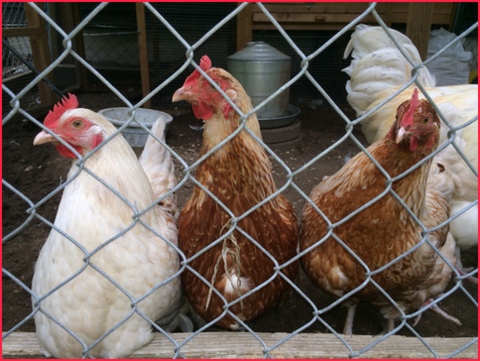 To recap, I acquired my flock newly hatched, from a neighbor whose hen had a brood of nineteen babies, around Thanksgiving. Having not had chickens before, we were "winging" it! Last holiday, Santa brought a coop, which we set up in the garage until winter passed (see how that went here: http://www.farmgirlbloggers.com/2076#more-2076). Before long we had fresh eggs.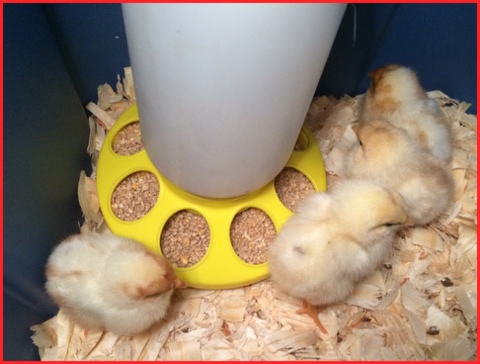 So it's been a year. I've learned a lot.
The flock's grown up: large hens and a rooster. Having a rooster's a blessing; I'm glad "Spot" 's part of the flock. He stays in the hen house with the girls at night. I open the door early (but at a decent hour, so he doesn't wake anyone). He's a great watchman, letting us know when someone comes down the drive, or mail arrives. It's important he knows I'm in charge, so I discourage him from mounting the hens in my presence, and by feeding my "girls" first.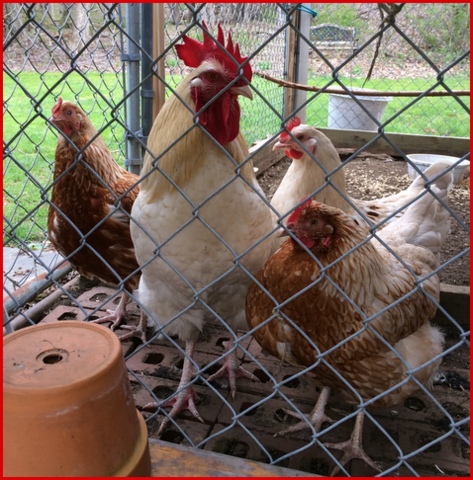 When you have chickens, predators will come. We live in a suburb that's a mix of town and country, an area that's become more populated with time. Still, we're ever-reminded of the "country" aspect with wild critters. Most of my neighbors with chickens have lost more than a hen or two. Having raised my flock from little two-day old chicks, I'm "Mama Hen", very protective of my feathered babies. As much as I'd like to boast that my chickens are "free range", they aren't completely unless I'm outside too. Our coop's within a fenced "run". In the suburbs, it keeps them from wandering over to a neighbors yard, or into the street. Second, since chickens will eat anything, it keeps them safe from ingesting plants in my yard toxic to poultry. Most importantly, it keeps them safe from predators.
"Spot" looks out for his girls, calling for "back-up" with his "distress call".  It's not a crow, but more a quick series of "chirps". He knows I'll come when I hear it. Several times, he's alerted me to a hungry fox. One late morning I heard Spot's distress call. Cable workers in the street in front were making a terrible racket, so I assumed that's what it was about. I came outside to assure Spot all was okay, and ran smack into a fox, feet from the chickens' run! For a moment we stood, eyes locked, both surprised. I'm sure the cable workers thought I was nuts as I chased the fox away in my pajamas, arms in the air, (praying I didn't end up on YouTube)!
We found keeping an old radio on outside, just low enough to be heard near the coop, keeps predators such as foxes, skunks, and fisher-cats at bay. Keeping a nearby outside light on at night helps as well. Digging the fence down a foot is recommended, since predators dig. With Connecticut's extremely rocky ground, that was hard, so we created a deterrent with a rock border around the fence, matching the border around our different flower beds.
The run top's covered with plastic garden mesh resembling chicken wire, bent over the sides, secured with cable ties. The flock gets fresh air and sun, but is safe from the many red-tailed hawks here. Many times we've seen a hawk perched atop, trying to "lift" the roof to no avail. The chickens wouldn't stand a chance completely loose.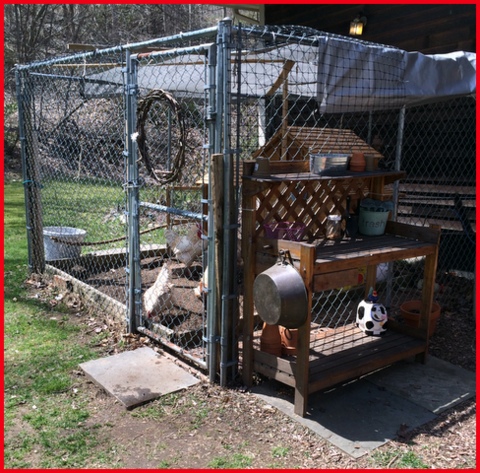 There's also partial covering from a tarp, providing shade and reducing wear on the wooden coop. Of course, we didn't think it through. The first big rainstorm caused the tarp to puddle water and swell like a giant water balloon! After braving storms to drain rain, we created a "domed" effect by wedging a snow scraper underneath, until creating something less "Beverly-Hillbilly" in style with boards and screws. The whole run and coop can be taken apart and moved to another area when needed.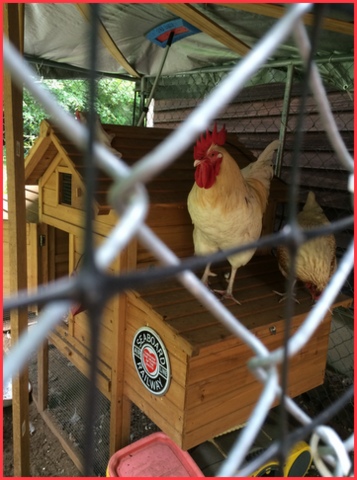 I learned to invest in a metal waterer; plastic can warp and leak.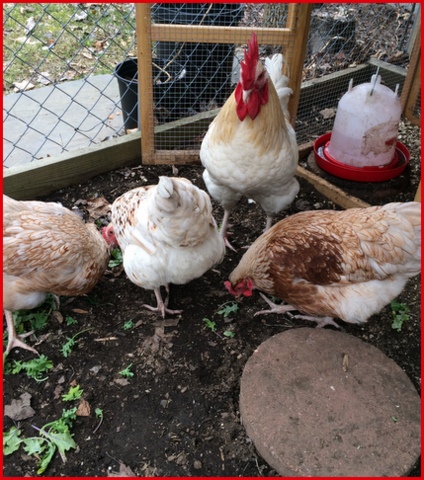 I feed my flock a good diet, supplementing with lots of greens and a few good treats each day. My girls lay an egg each, daily, sometimes every other day. Three hens is more than enough for our family, and I still sometimes give cartons of eggs away.
There's arguments on washing and storing eggs. Fresh eggs have a "bloom", an invisible barrier keeping out bacteria. I settled on quickly rinsing off my eggs in very hot water before storing in the fridge. (Eggshells are porous, so water temps below a hen's body temperature can open pores and let in bacteria).
Chickens are work, but not near what I expected. Cleaning their coop and area daily keeps away odor, and keeps healthy chickens. They're a priority, taken care of first thing each morning and again each night.  Would I do it again? Absolutely!
Wishing you a very Happy New Year! Tell me, do you have any tips for keeping your flock safe?
Until Next Time…Farmgirl Hugs, Nicole