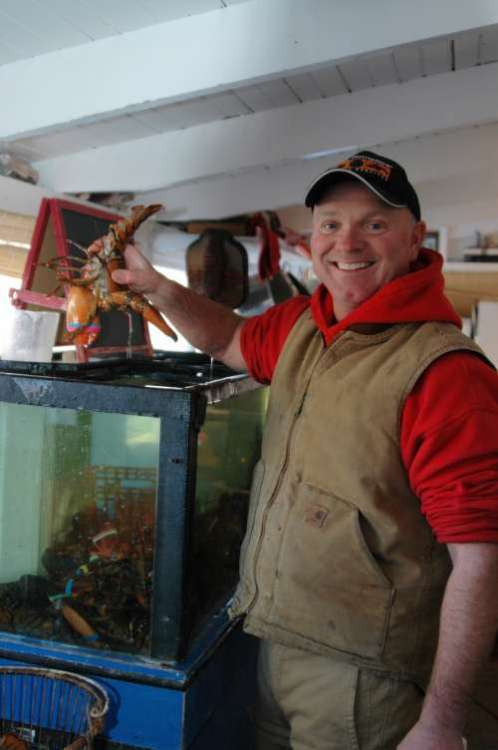 Dear Sisters,
Happy, Happy New Year! I hope you had a warm and wonderful holiday season with your nearest and dearest. We rung in the New Year with a tasty Lobster Boil with fresh catch from our local lobsterman! Come on in for a visit to Salty Lou's and meet the Salty Chicks too!
As I was boning up on New England holiday food traditions this season I was surprised to learn that Massachusettsians are known for celebrating with Chinese take-out. I have to be honest, as a former land-locked farmgirl from the West, I find this tradition sort of UN-fitting. We have attended a few Chinese take-out New Years Eve celebrations. While the mood was festive, the company warm and the food tasty, it just didn't feel very New England-y!
When my handsome Yankee and I lived out West, we often celebrated with some sort of seafood dish ( or dishes ). Finding fresh, live and local Lobster was nearly impossible in the high desert but it sure isn't hard to do when you live on the shorelines especially when one of your beach neighbors just happens to be a lobsterman who sells Lobster from his front porch year round!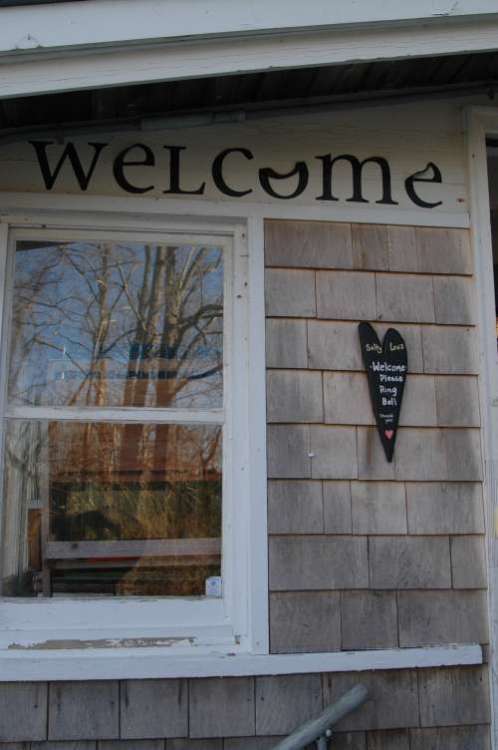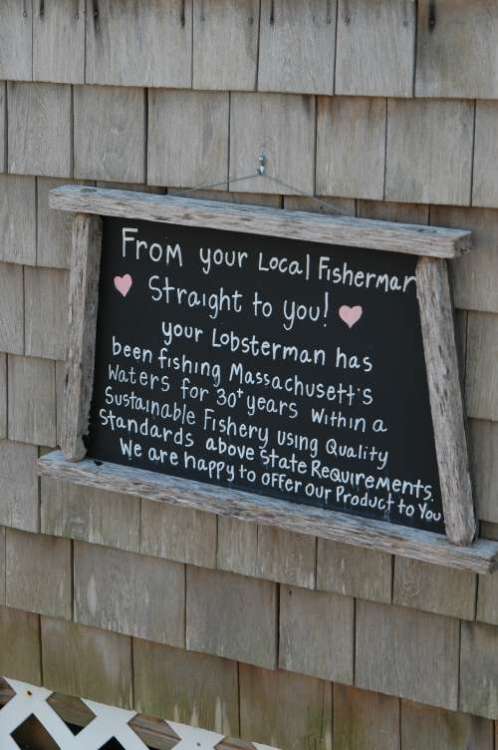 Rob has been fishing the seas off of Cape Cod Bay for 30 plus years and is the proud owner of Salty Lou's. You'll find him fishing 12 months of the year with his faithful sea dog, Lilly Rose ( a golden doodle) by his side.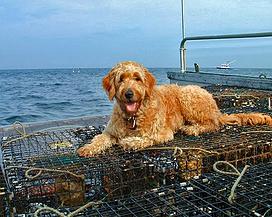 Pictured here on his fishing boat Resolve with his pooch, Cindy Lou ( RIP ) who inspired the name of his business because of her love for the sea!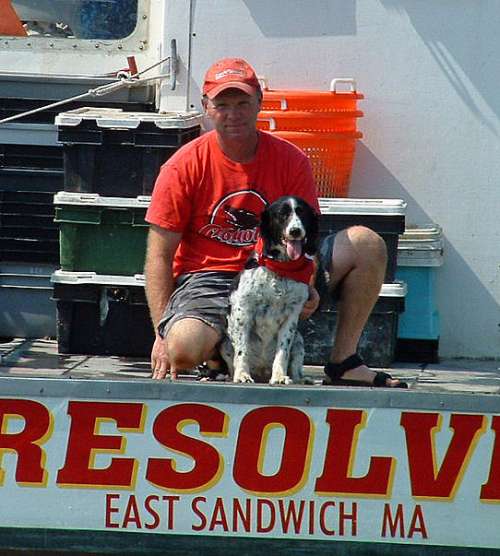 The day we visited Salty Lou's it was in the high twenties! Despite the bitter cold, the sun was shining and we had fun letting Rob show us around his place. My handsome Yankee almost got eaten by a very large crab but he won the battle when he finally put him back down on the ground!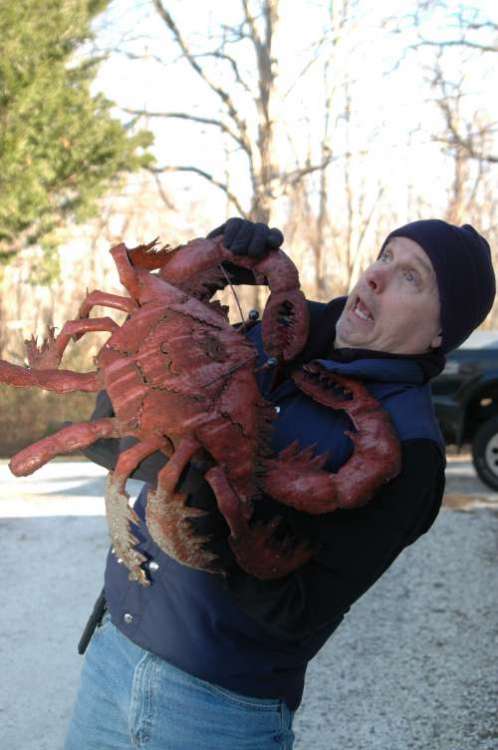 Rob and his partner, Lori keep chickens too! Rob gave Lori the sign for their coop a couple of years ago as a Christmas gift. With a name like " Salty Chicks" I can only imagine the kind of bantering that goes on in the coop!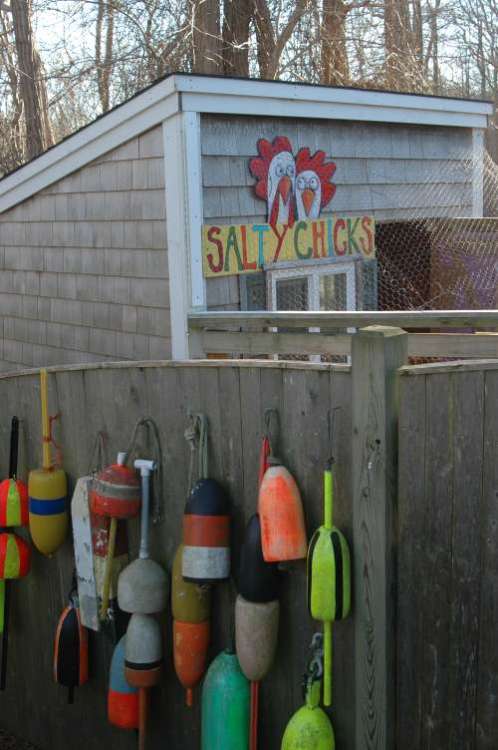 The Salty Chicks kept warm inside the coop under the heat lamp while we chatted all things, chickens. They have a nice mixed flock hardy to our cold New England winters.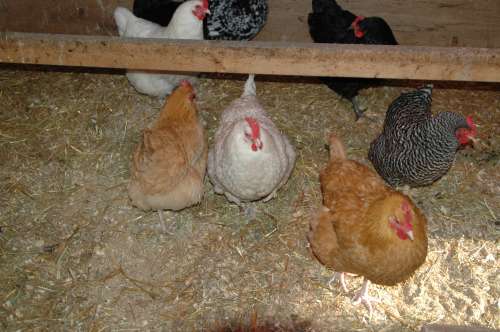 On our way out, Rob let us snap one more shot of him amongst his Lobster traps and miscellaneous fishing gear! He wears the face of a man who loves his work, doesn't he? Even though he complained about the cold weather and harsh fishing conditions he sometimes faces as a lobsterman, I can't imagine him doing anything else.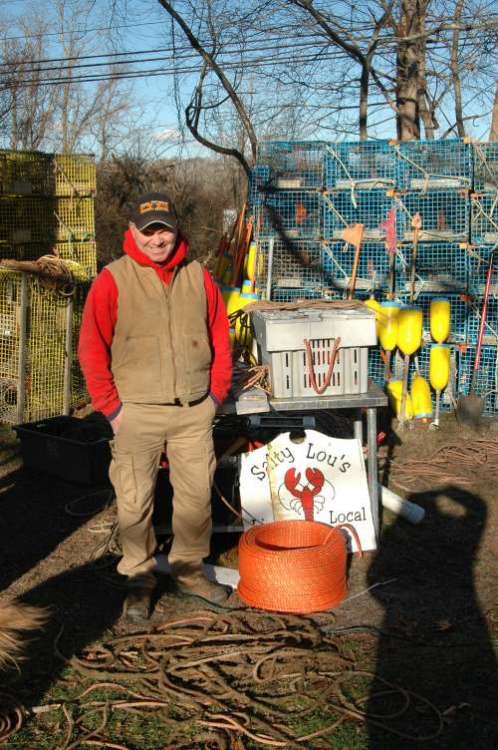 Here's our catch just after steaming in the Lobster Pot! We love to serve them with a nice side of melted butter to dip in!
Did you know Lobster is GOOD… AND GOOD FOR YOU?
Lobster stands up against other meat and dairy proteins on the nutritional scale!
Here are some comparisons for you based on 100 grams of cooked edible product.
Lobster is lower in calories, total fat, and cholesterol than chicken breast, beef or eggs!
PLUS Lobster meat contains omega-3 fatty acids, the substances that seem to reduce hardening of the arteries and decrease the risk of heart disease.
Lobster is also high in:
Amino acids
Potassium and Magnesium
Vitamin B12, B6, B3 ( niacin ), and B2 ( riboflavin
Calcium and phosphorous
Iron, Zinc and vitamin A
It's that darned melted butter on the side that makes Lobster a high calorie meal so dip lightly sisters! Lobster needs few embellishments. If you're in the mood for variation consider trying Dijon mustard, use Lobster meat in seafood salads, crepe's, or one of our favorites, omelets. You can also season with herbs or tart flavors such as tarragon, basil or thyme.
Healthy compliments to the main course could include clam chowder, baked potato, a rice dish and a fresh tossed salad. Nothing beats sweet corn during the summer months!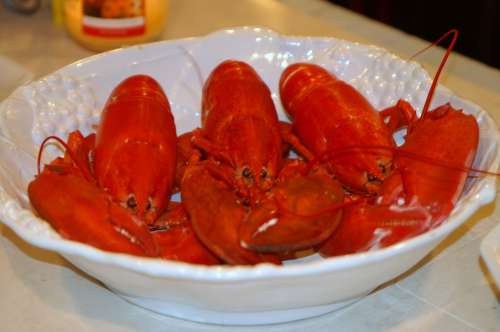 It was a mad dash to the cooking finish line to get the boiled red potatoes, salad, dinner rolls and bacon wrapped scallops done all at the same time, but we did it! While our meal wasn't the lowest in calories it was very high in good local flavor!
As you can see, my beloved couldn't wait to get crackin' on his Lobster! We wrapped up the evening with homemade gingerbread cake and watched a movie with Grammy Joy, Nicolette and one of her bff'l's! Just before midnight we watched the ball drop on TV and toasted in 2015 with a taste of Champagne! Then it was lights out for this crew!
Thanks for letting me share another New England classic tradition with you! How did YOU celebrate?
Until our next shoreline visit~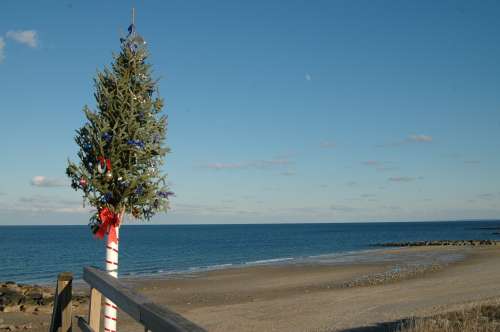 BEACH BLESSINGS and a very Happy New Year from the Beach Farmgirl!
Deb