Now that Thanksgiving has come and gone and we have all rested up from the big feasts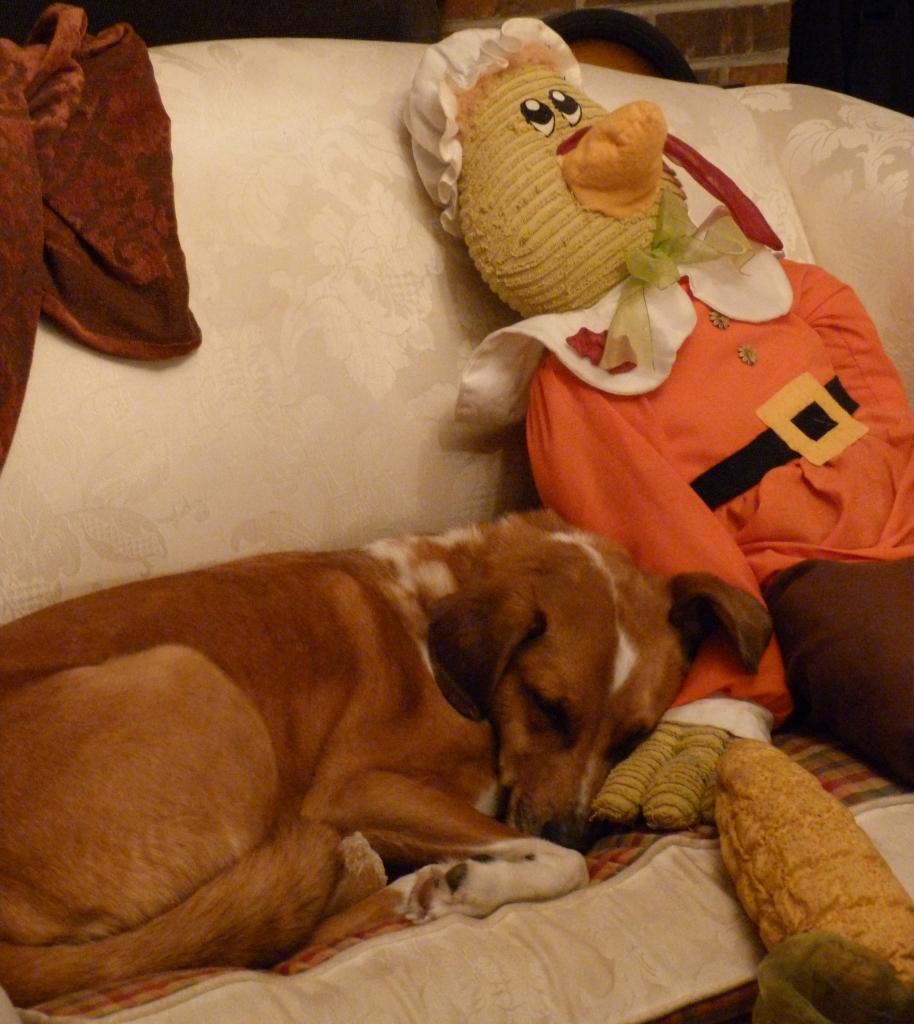 (Blue and Tom)
it's time to think about Christmas! And Christmas Trees!
Oh, but just to update you, I'm eating a big ole turkey sandwich right now.
Yep, there was turkey on the Thanksgiving Day table. Hubs insisted.
And next thing you know, I'm serving myself a slice of white turkey breast and some home-made gravy.
And. It. Was.
GOOD.
Real good. So good that I'm having a sandwich of leftovers.
(note to self: never raise turkeys. never raise turkeys. never raise turkeys.)

Now on to Christmas. The very first decision of the Christmas season is THE TREE!
Have you put up yours? Is it real or fake? If real, did you get it a tree lot or a store? Or maybe you went to a tree farm and did a chose-and-cut?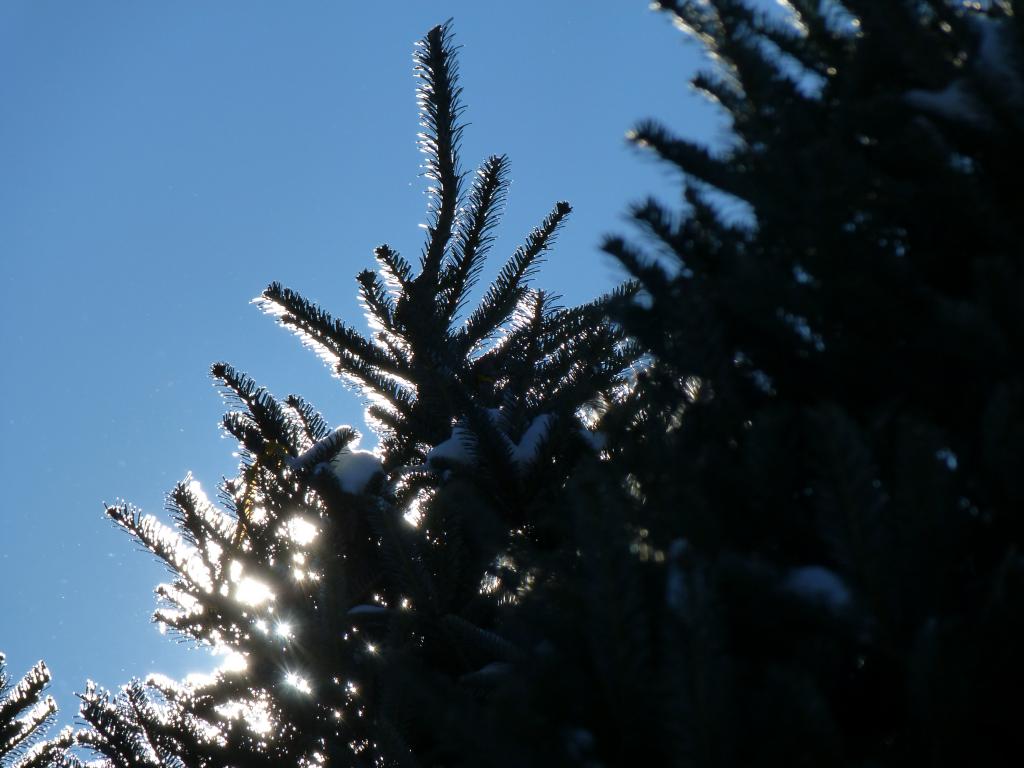 Many of you have asked me to write about my adventures as a Christmas Tree farmer, so I've decided to do just that.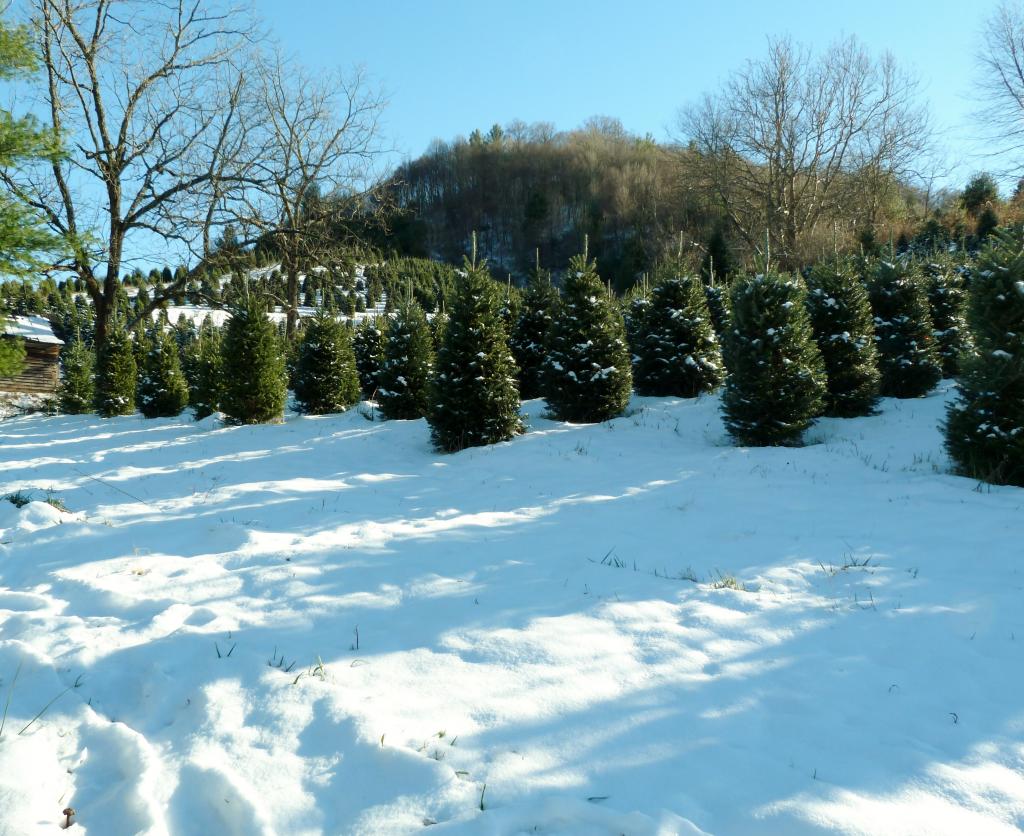 Truth is that I'm more of a Christmas entrepreneur than a Christmas farmer.  Yes, a Christmas-preneur. Which is perfect because I love Christmas. Always have.
Case in point….my elf persona, Binky, reads books at local schools during Christmas. I've had this gig for 20 years or so.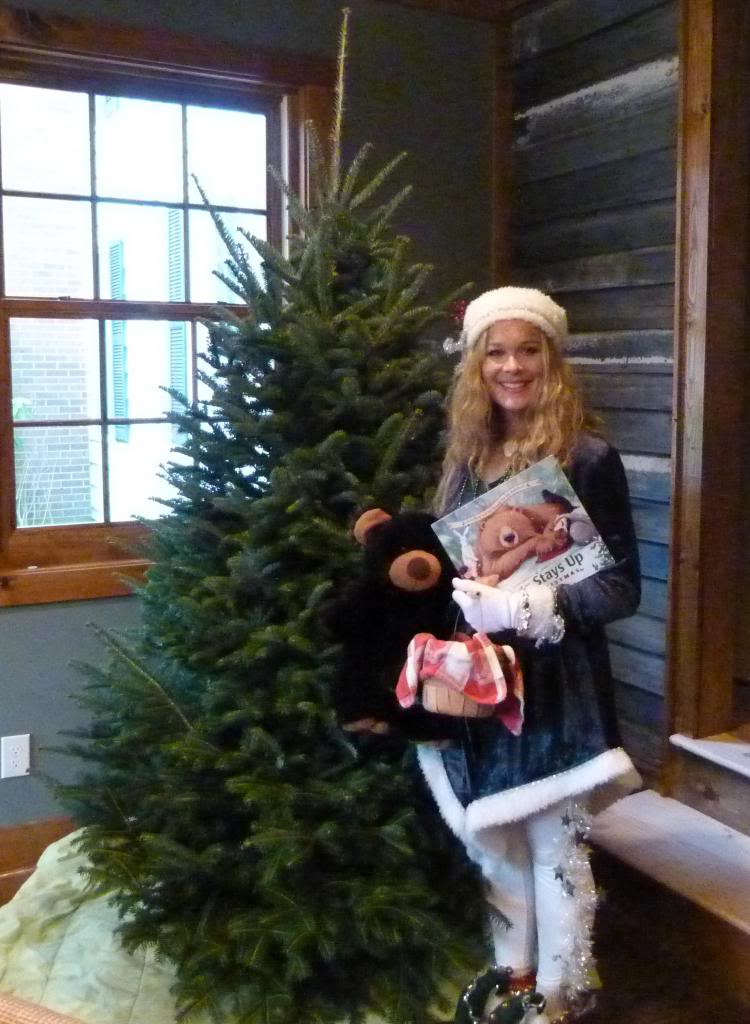 Anyway. I say that I'm not much of a farmer because I don't actually get out there and do the hard work. No, I don't trim, cut, bale, or load the trees. Nor do I want to. (I'm just the CEO of the operation. Christmas Elf Officer.)
You see. I am sitting in the house by the toasty fire eating that turkey sandwich and drinking some Christmas Eve tea (by Stash, it's awesome!) and outside my window, all this is happening….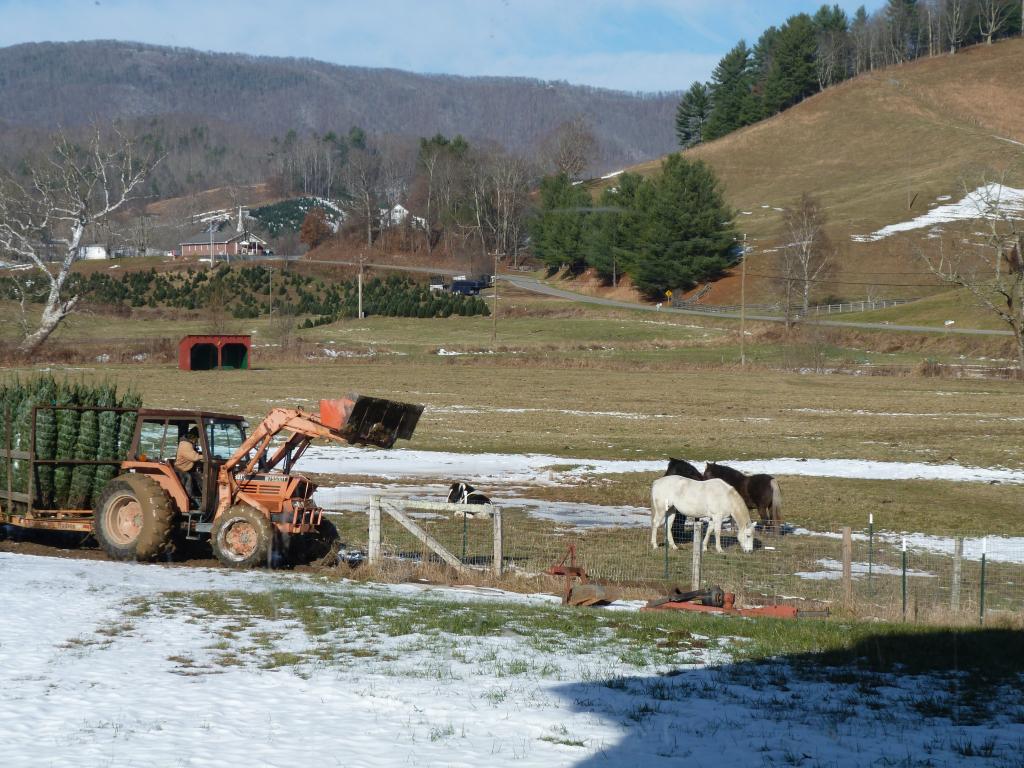 A trailer full of trees are headed out while the horses munch.
The view my horses would see right now is this: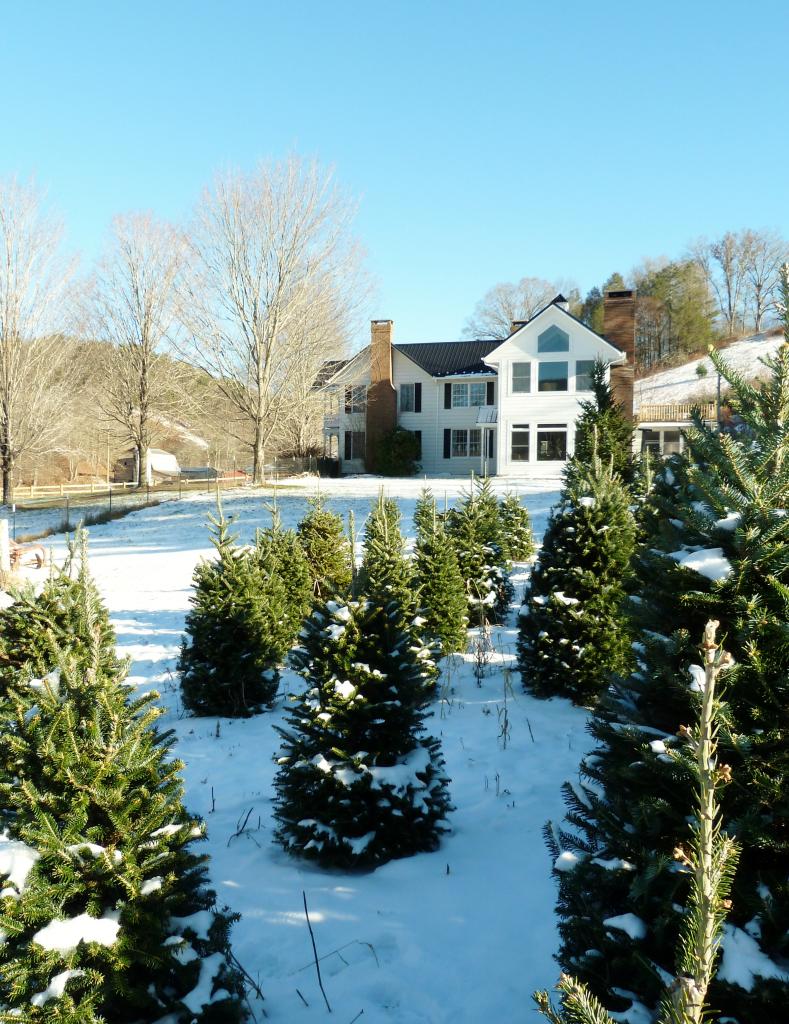 I'm in that window waving at you now.
Our trees are Fraser Firs. They have always been a favorite tree because of its lovely aroma and dense branches. Fraser Firs are the trees I always had as a kid and truly mean Christmas to me.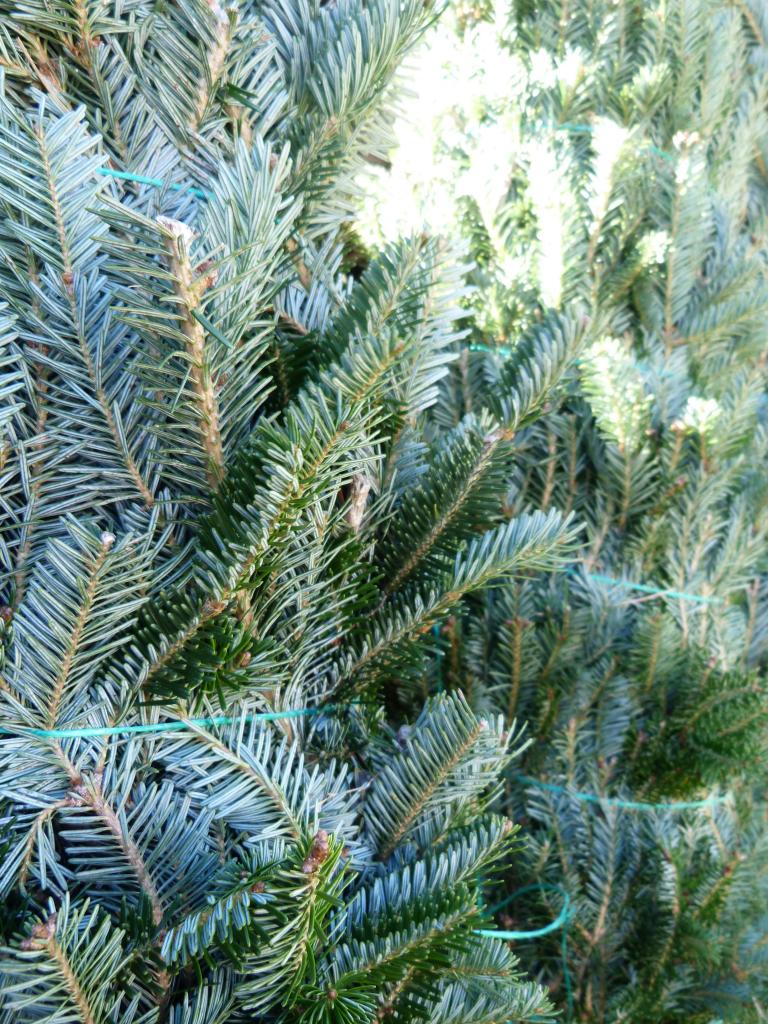 We purchased a tree farm already in operation. Our mission now is how to improve it and grow it. We have been overwhelmed with the house project and the out-buildings project since we moved here. This year we are going to concentrate on the business side of owning a farm, trying to eek out a living here. We are learning everything we can about the business and have some GRAND ideas.
The Christmas tree season began for us weeks ago.
The baler was fired up and used for the first time of the year.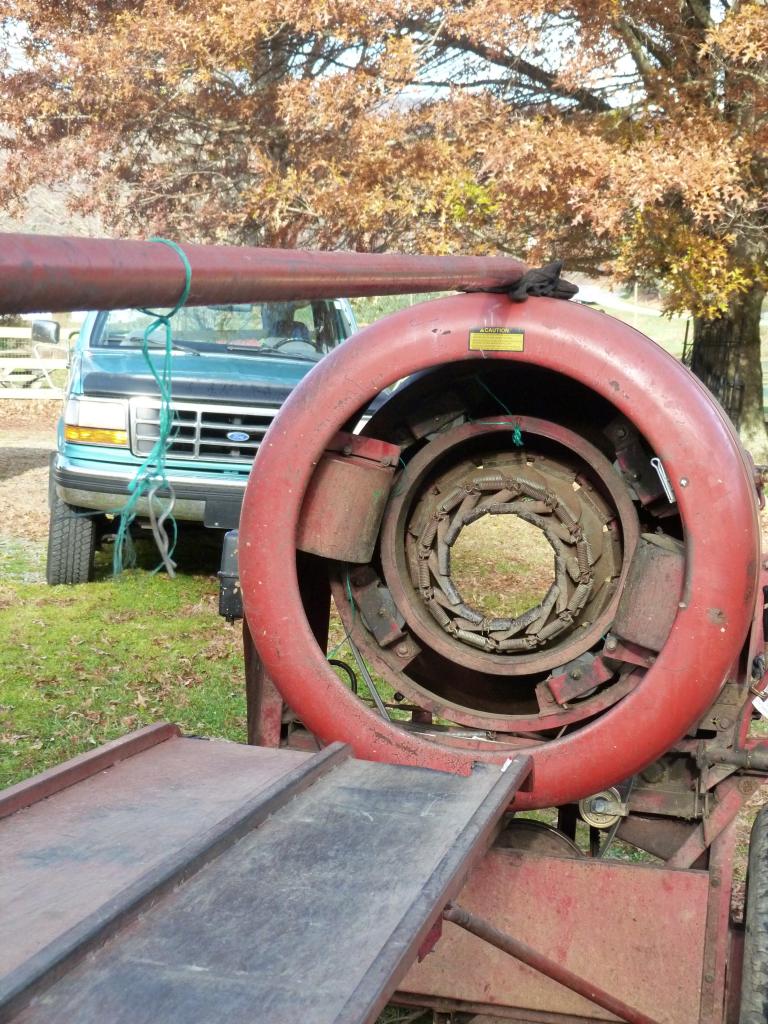 Our farm does wholesale business only. The workers cut the trees, bale them, and then load 18 wheelers. Most of our trees head up north, far up north. Our trees are handled with the utmost care. They are cut and carefully stacked and gently loaded into the trucks immediately for shipment.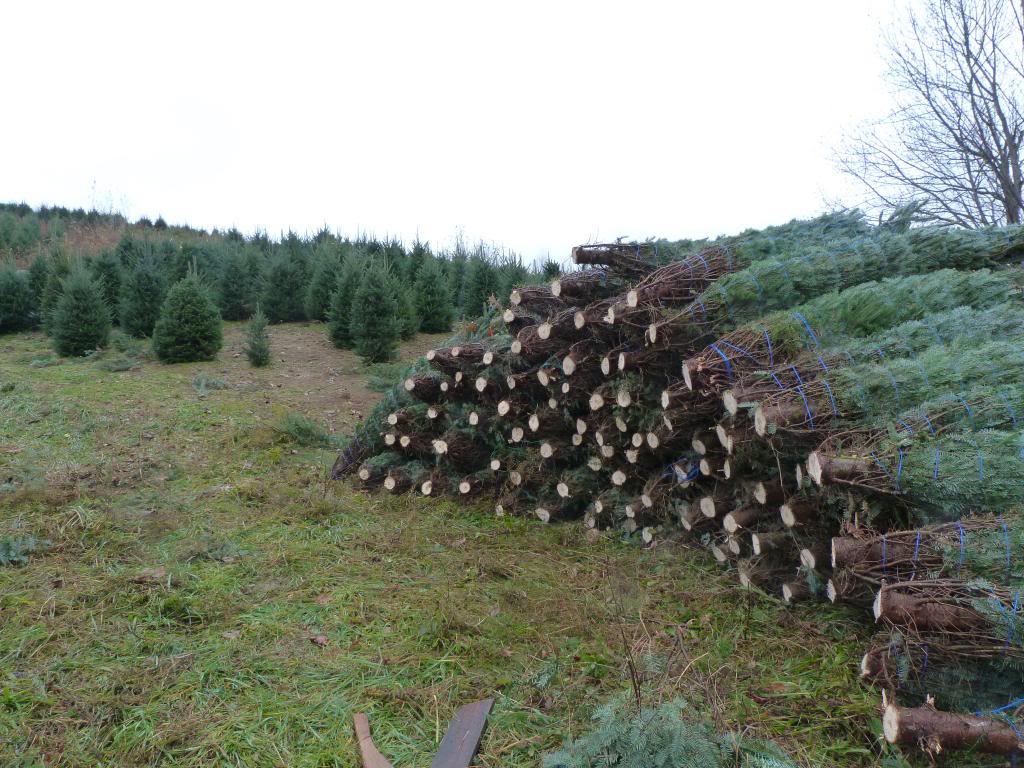 This time of year, my dog Blue and I take a short hike almost every morning through the Christmas Trees. There's just something about it. Since large scale cutting is going on the last few weeks, the aroma is strong and heady. This morning on my walk as I inhaled the wonderful scent of Christmas, I remembered something from my childhood. As a kid I bought some cheap evergreen incense at the local McCrory's 5-and-dime in my southern hometown. I'm not sure I even knew what incense was. My mom helped me light the incense cone and we set it on an old jar lid on the kitchen table. I couldn't wait to smell Christmas. It was horrible. Smoky and stinky. Incense, like candles, has improved as the years have gone by.
Here is our family, hard at work: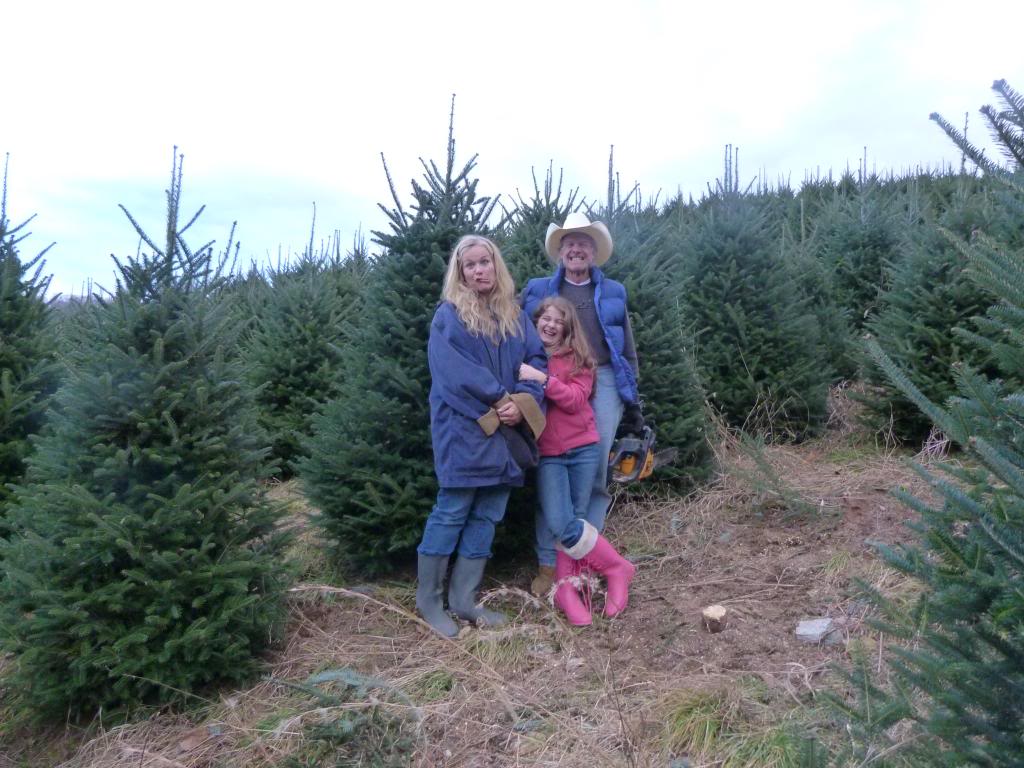 Yep, that's the way we roll.
Someone wanted to take our picture, so we made goofy faces.
I have to include this one so you'll see what a beautiful child I really have.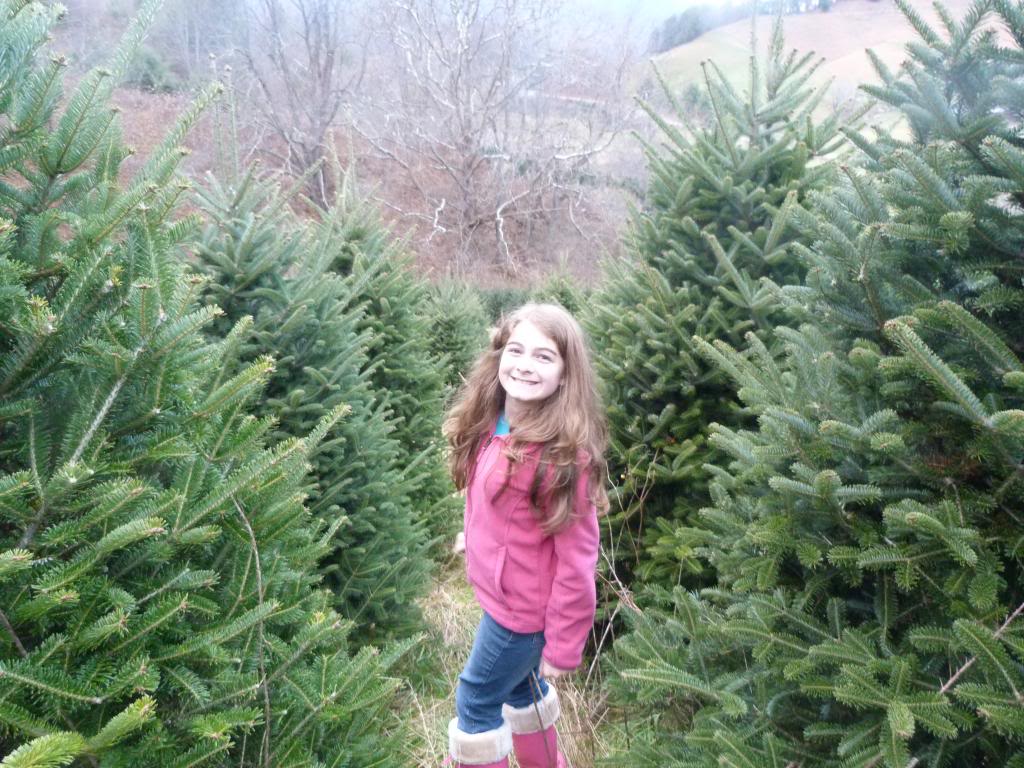 Okay, the whole REAL VS. FAKE thing.
According to the US Commerce Department, most artificial trees in the USA (85%) are imported from China. Most are a petroleum-based product. Many are made with polyvinyl chloride (PVC), which has been boycotted by many environmental groups. Yep, we all know that plastics may be harmful. Some artificial trees actually have a warning label.
And. Studies show that most families will use an artificial tree for only 6-9 years. After that it most likely heads to a landfill where it will remain indefinitely.
A real tree, grown with love and care by American farmers, absorbs carbon dioxide and other gases, while emitting fresh oxygen. They are beneficial to the earth throughout their entire life. They stabilize the soil and support complex ecosystems. After they are used as a Christmas tree, they are recycled and return to the earth. Many places offer free chipping service for the trees. Others place them in lakes and streams to provide habitat for water creatures. There are about 350 million Christmas trees grown in the USA.
So support your farmers and buy REAL. You can sweep up the needles, right? That's the main complaint I hear about REAL trees.
A tree topped with the sun. When it is cut and lovingly decorated in someone's home, it will be topped with a star or an angel.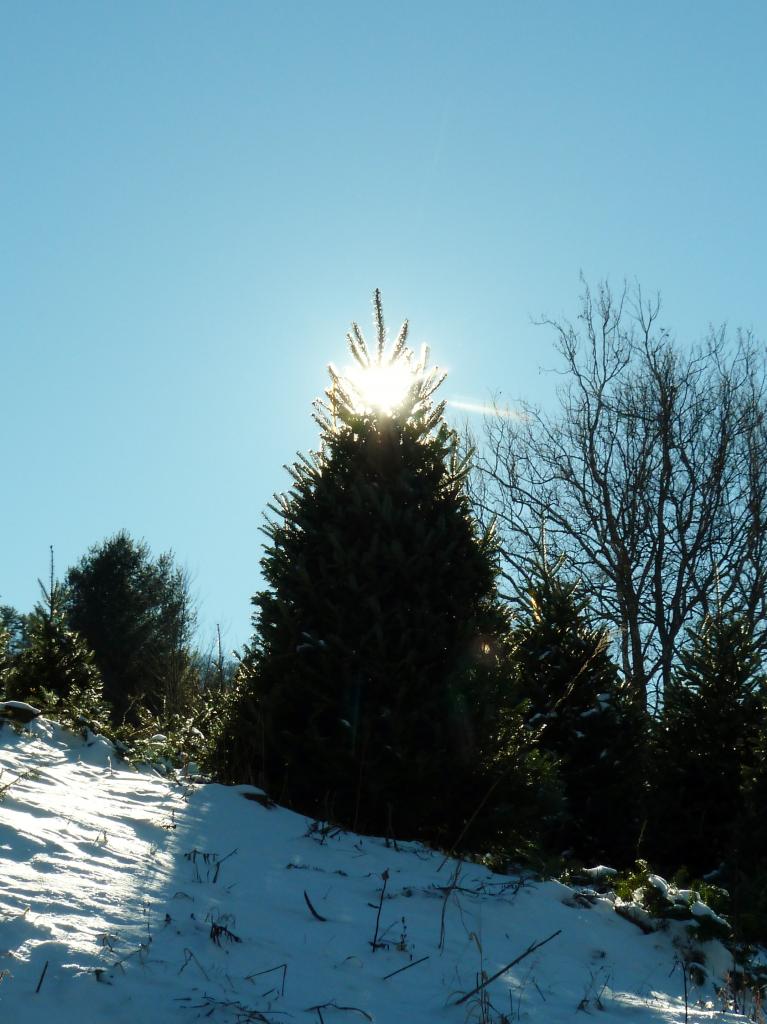 Someone wanted to know how many Christmas trees we put up.
Last year, our first year here, we put up just one. And hey, we couldn't even find enough of our packed-up decorations to decorate that one very much. What I learned from that experience is that it sure makes for EASY un-decorating! It was kinda nice. We were used to OVER decorating a huge house and yard. There is something to be said for LESS is MORE. Right. Simple is good.
Until next time, Friends, savor the flavor of life!
Lots of love, The City Farmgirl, Rebekah