I never thought I'd have the joy of owning an old barn, much less several old barns.
When we moved here, the buildings were in various states of disrepair. I only saw their potential at that time, never thinking much about the actual process of them REACHING their potential.
Whew. It is a process, a definite process. We are tuckered-out with the process.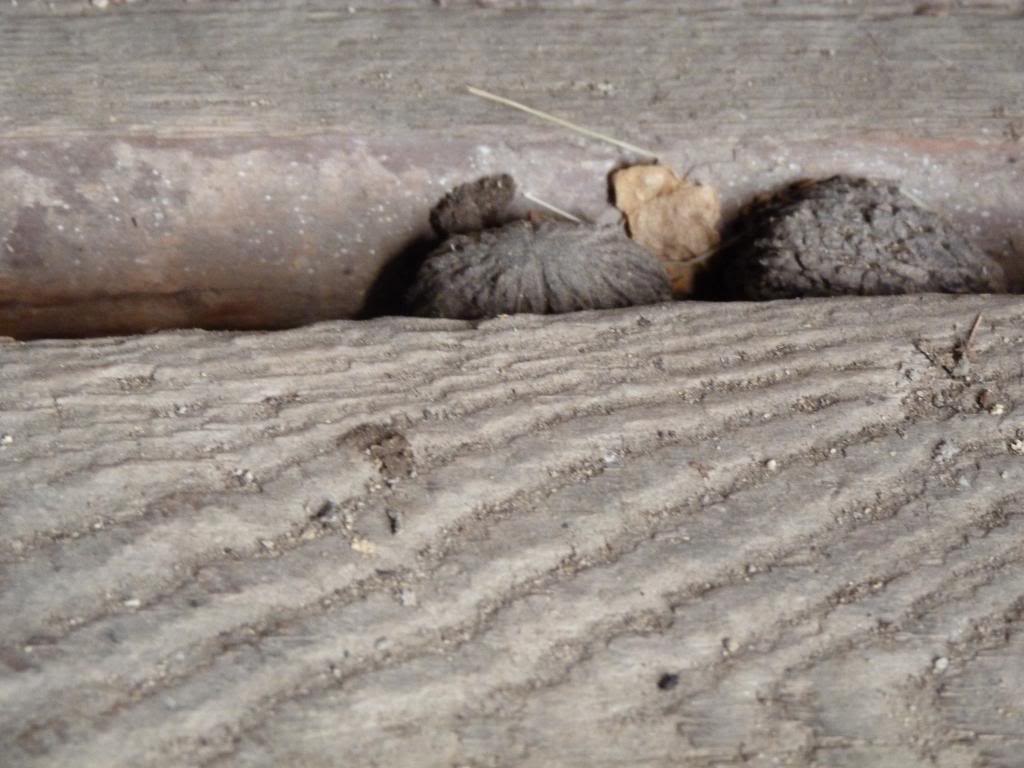 We started with the barn closest to the house. It's my understanding that this is the oldest barn on the farm, being built originally in about 1900. This is the barn that we've been working on for awhile now.
I get it now. I get why everyone said, "just tear it down. It's easier to tear it down and start all over. And cheaper too."
Fact is that I'm not a tearer-downer. I'm a saver, a preserver. I have always been drawn to "old."
Did you notice that photo? Can you tell what it is? That is the flooring of the upstairs part of the barn. Those two things, I think (!), are black walnuts. Black walnuts stuck tight in the crack of the floor. How did they get there? I bet years ago, a squirrel brought them up in the barn and spent the winter there. Either that, or maybe the old couple who lived here stored black walnuts in the upstairs of the barn. We do have some black walnut trees on the property, but they are on the other side of the house, in the yard.
Anyway.
The barn we have been working feverishly and tirelessly on is the barn that houses THE snakes.
This is the barn that it snowed IN last year.
This is the barn that my three horses hang out in, including my Soul Horse.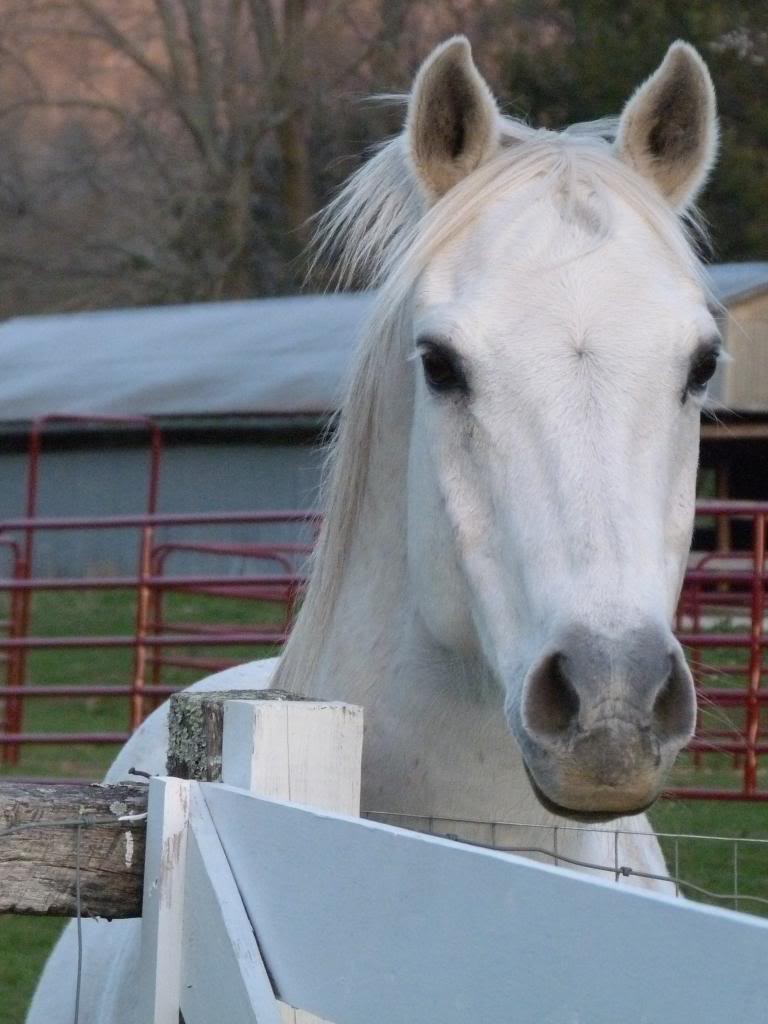 I love this barn.
It has been used as a dairy barn, and still has the "cattle head holders" hanging down.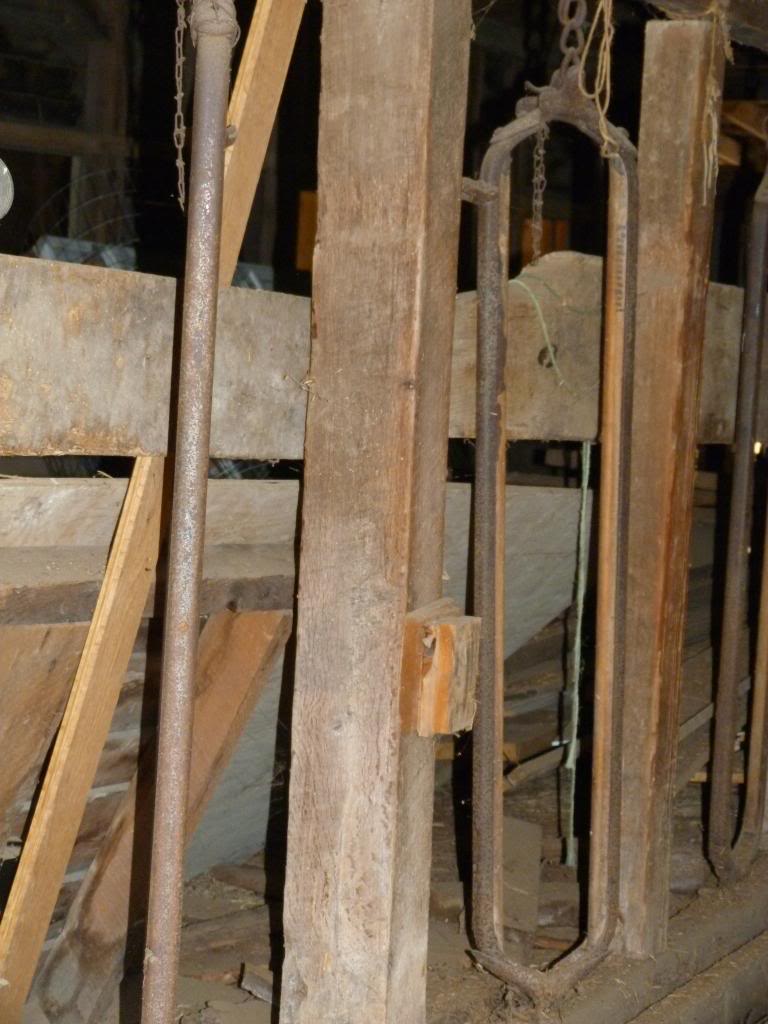 It has been used as a tobacco barn, and still has the tobacco sticks piled up from where tobacco was speared and hung here. In fact, I remember smelling the faint scent of tobacco when I first walked into this barn.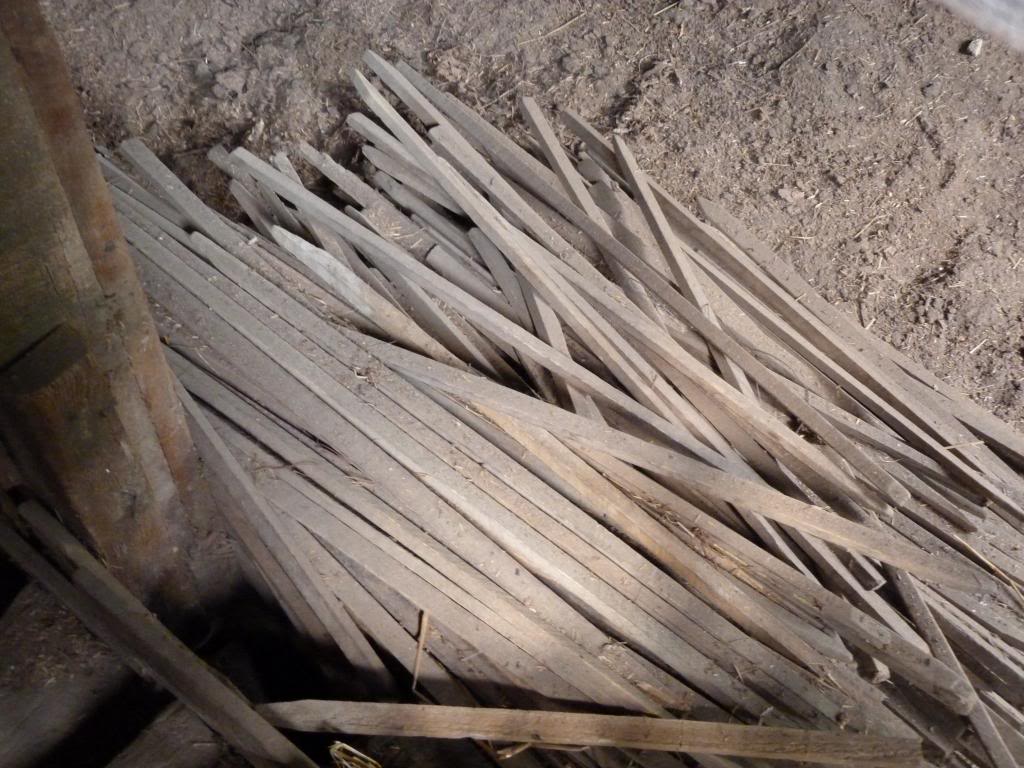 Something I particularly like about these old barns are the "make-do" elements I see everywhere. This is the door latch that keeps a door shut.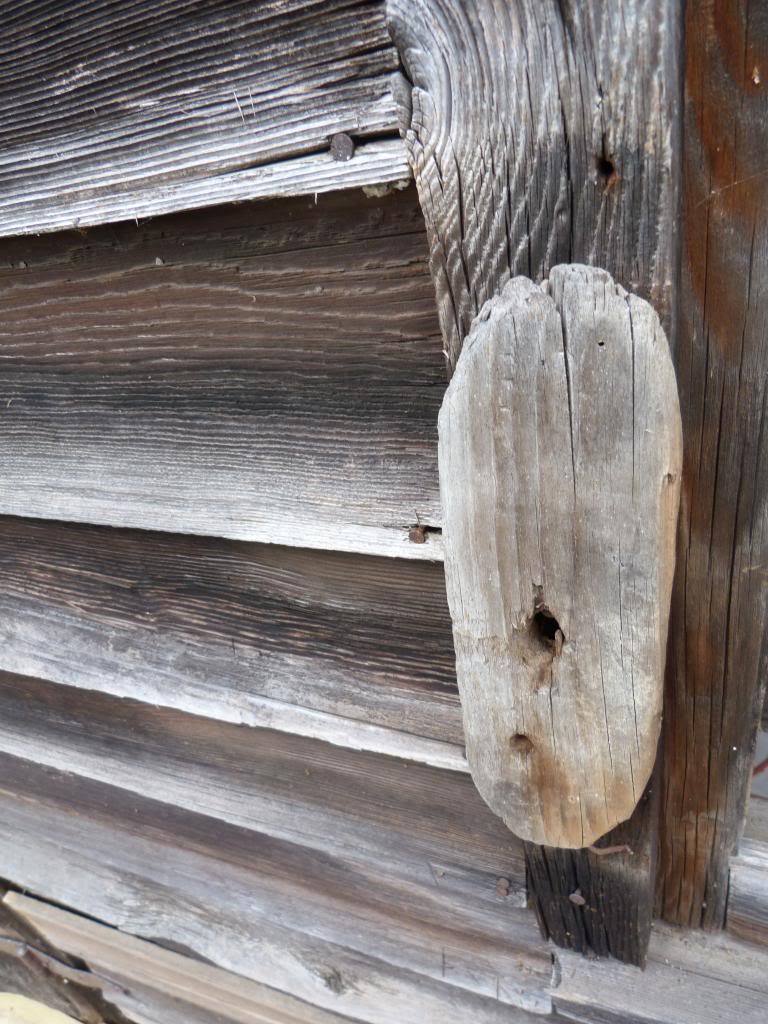 We created a tack room (more like a tack closet) in one corner of the barn. My riding instructor gave me that sign~BARN SWEET BARN~isn't it adorable? My husband built that door~isn't it wonderful?
The tack room-closet is made out of the barn wood siding that we took down on this barn. You can see the new wood behind. Sure, the new wood is pretty and all that, but it is the OLD wood that I am drawn to.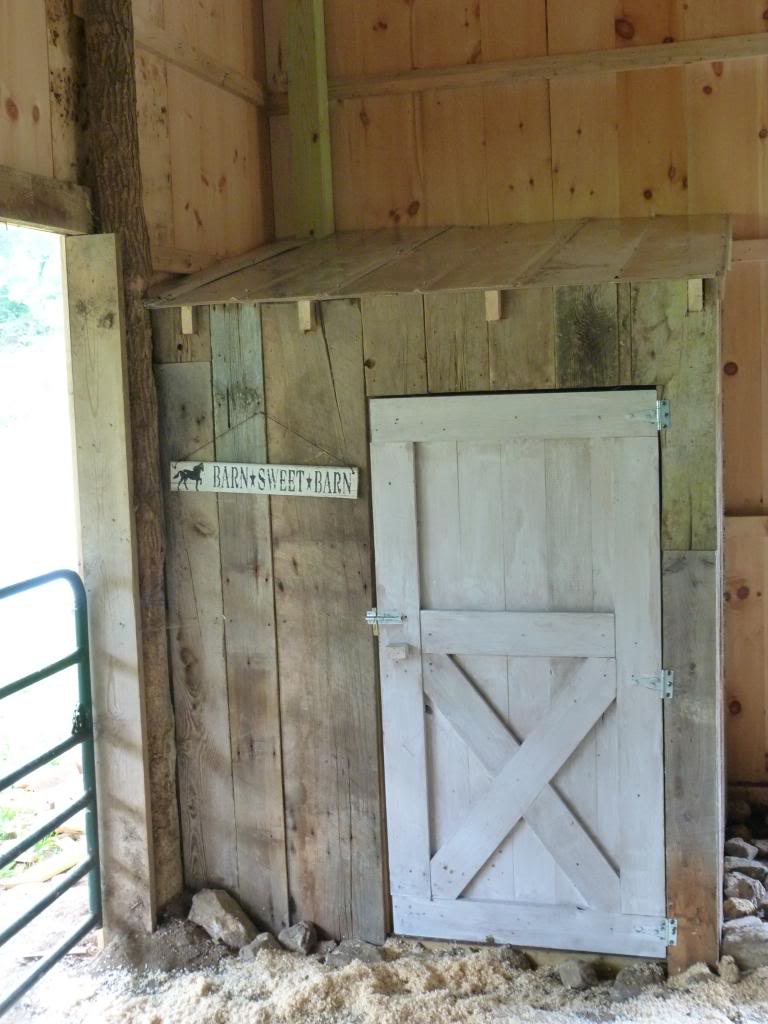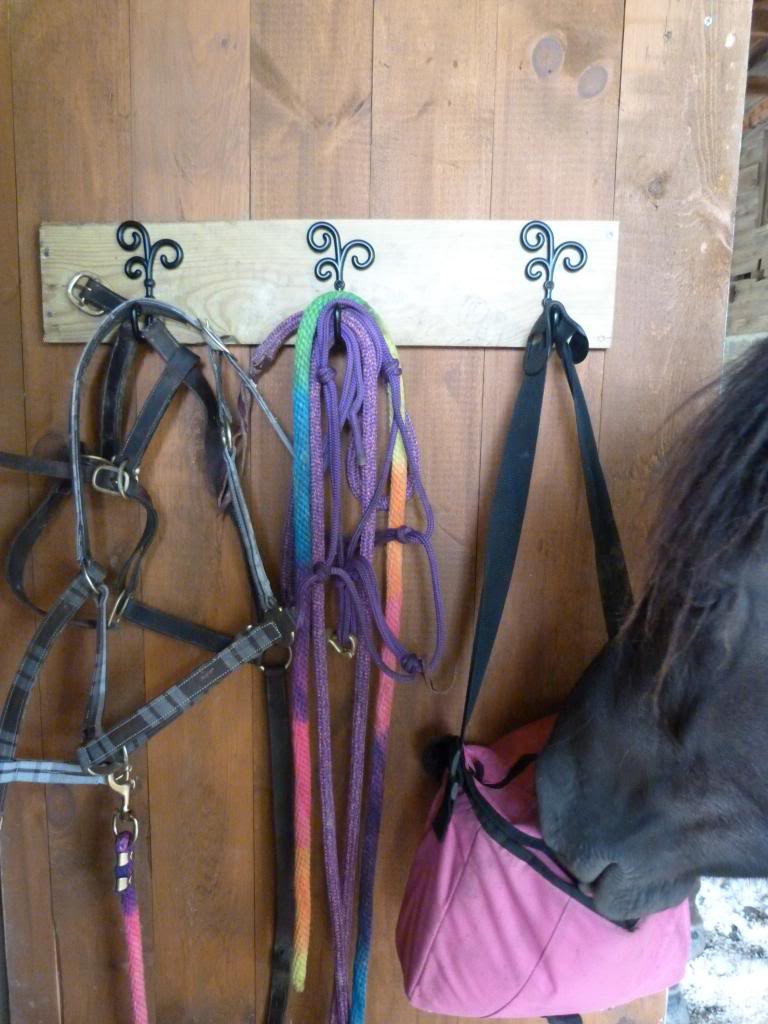 Jessi is into everything…
Now let's go upstairs.
Check this out.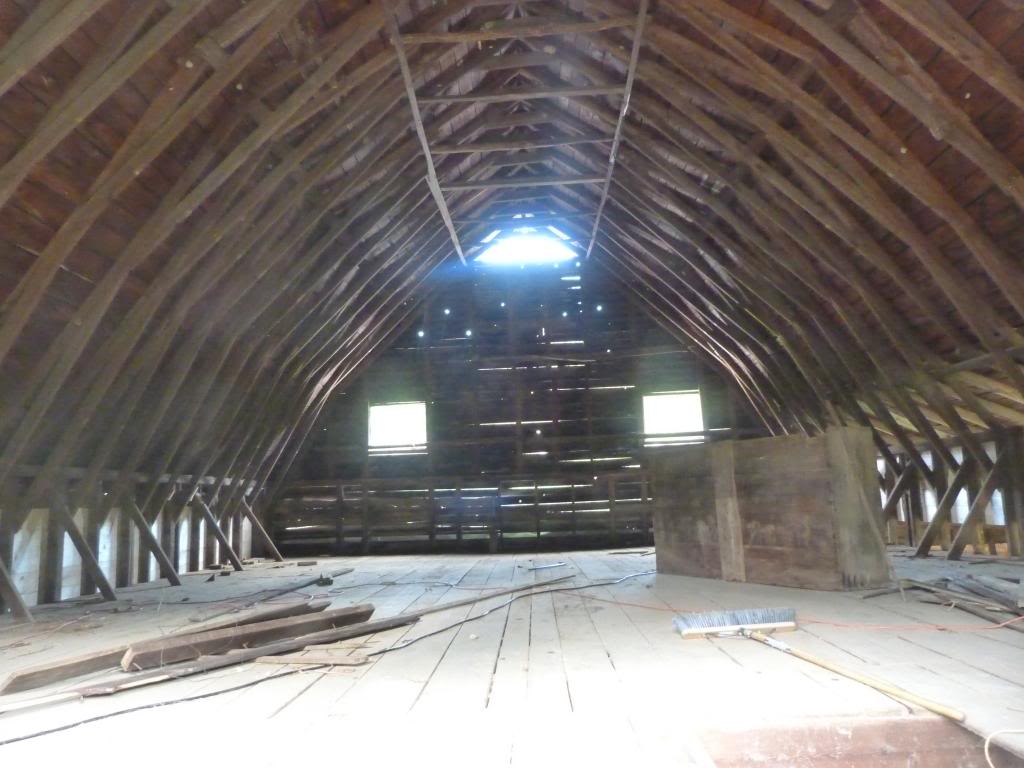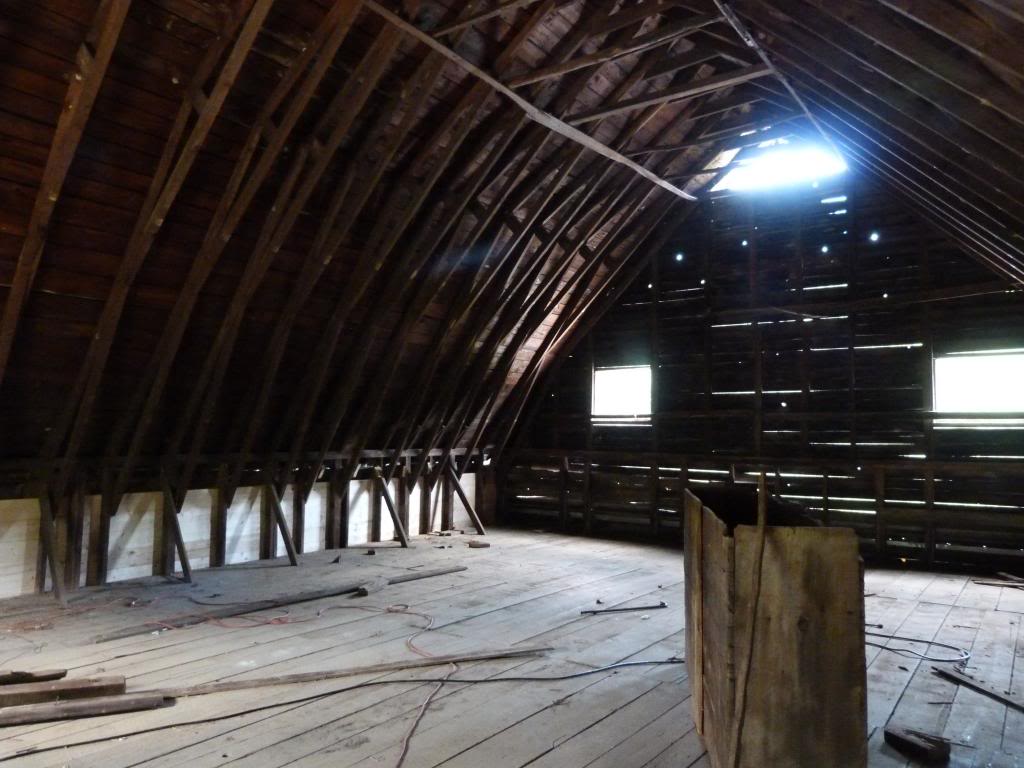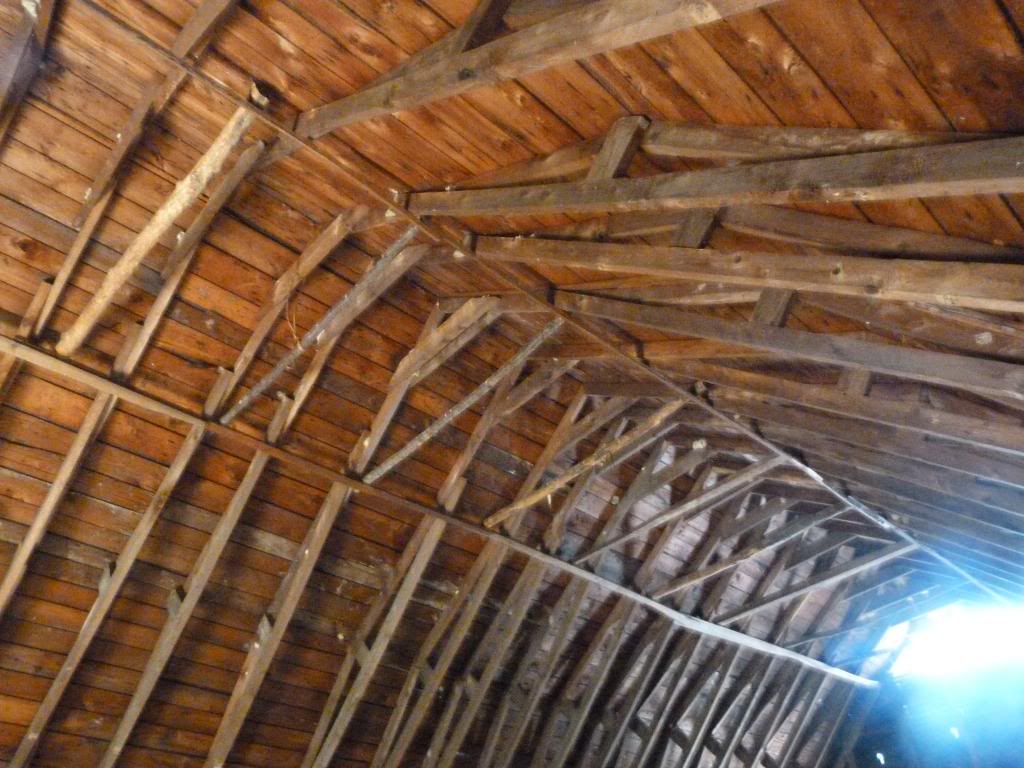 I wish, wish, wish, wish I had a before picture.
You couldn't walk through this upstairs. There were supports EVERYwhere for hanging tobacco. There was old tobacco and hay and feed sacks and goodness knows what else.
Here's a pile that came out of that upstairs area.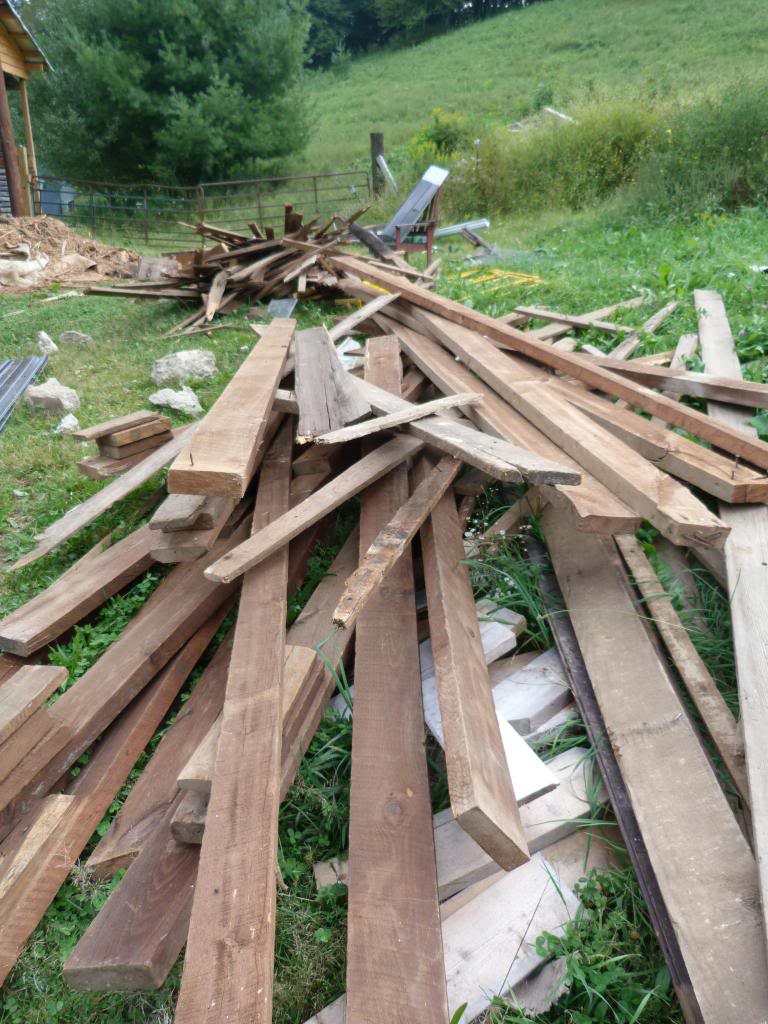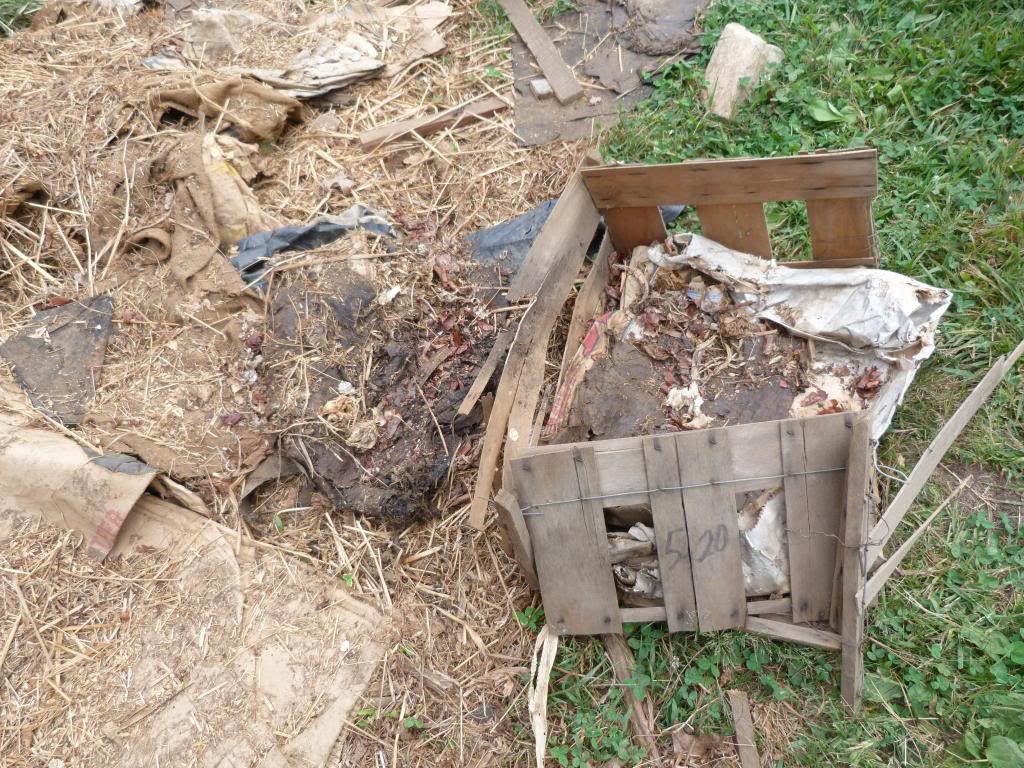 And these I'm saving. For what? I don't know yet….but aren't they incredible?? I have no idea when they were cut down and placed up inside that barn to hang tobacco on.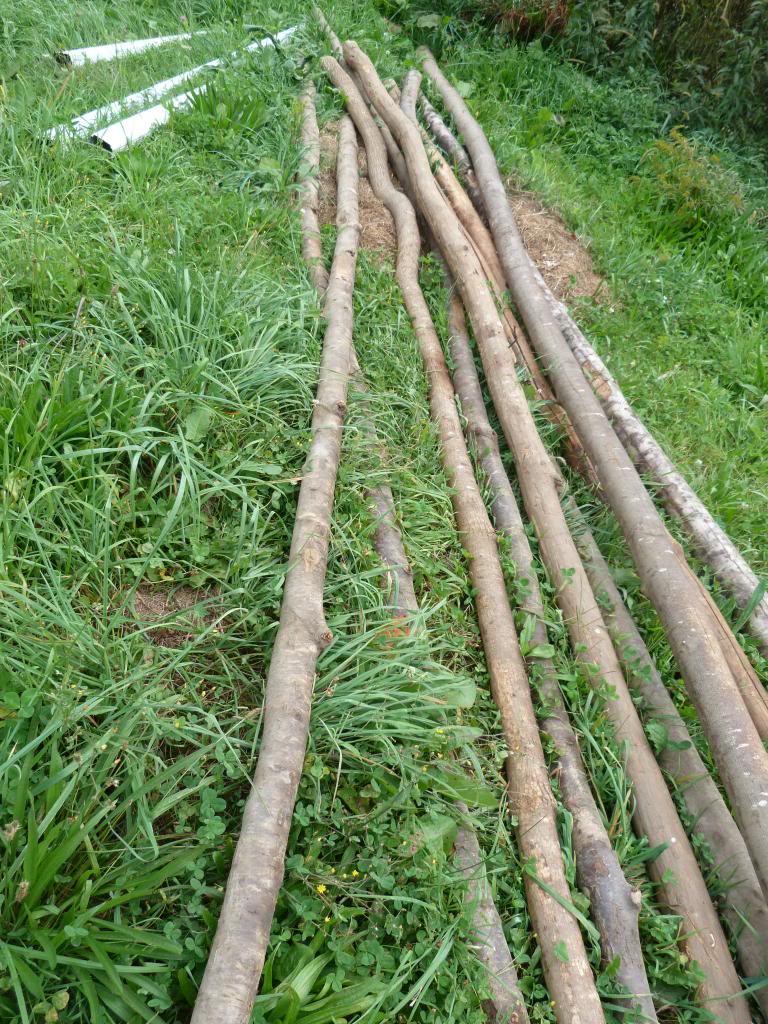 And so the top is finally cleaned out!
We're "in the short rows" now. Surely, we're in the short rows now.
Last week "we" took a diversion from the OLD barn and built a NEW run-in shed. There is a pasture that the horses visit that has no shade, no building to protect them from the sun or snow.
So…..the guys who are helping us, built this shed in no time at all.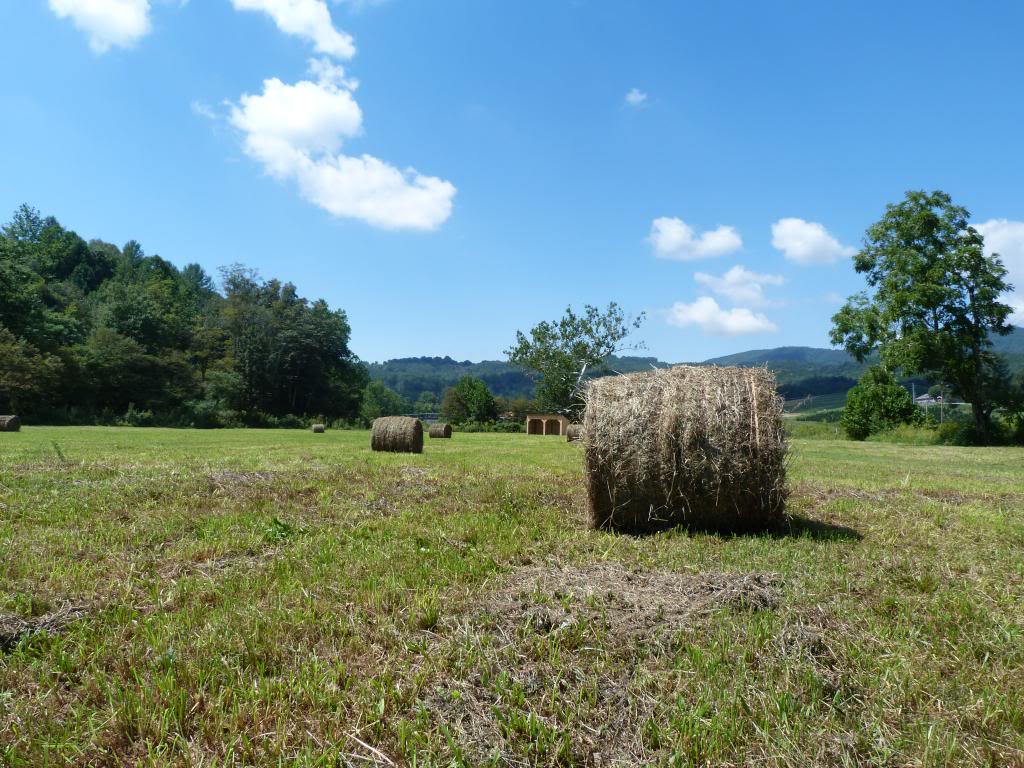 Can you see it on the other side of the pasture? After all the hay rolls?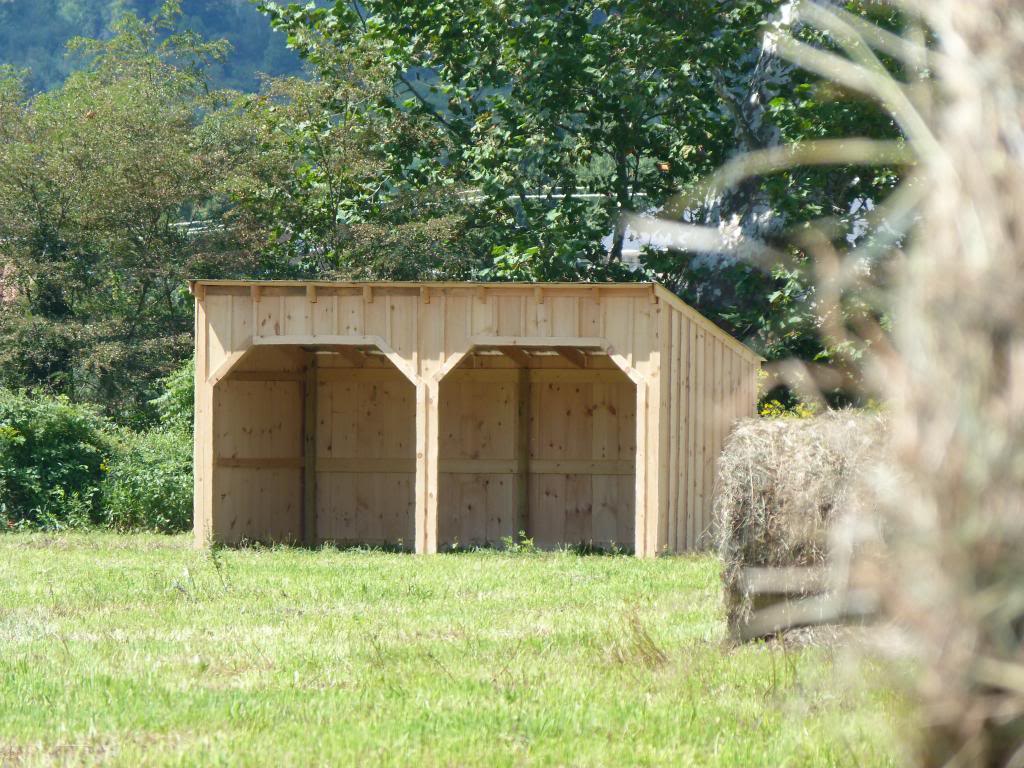 TA-DA!
We're working on painting it now.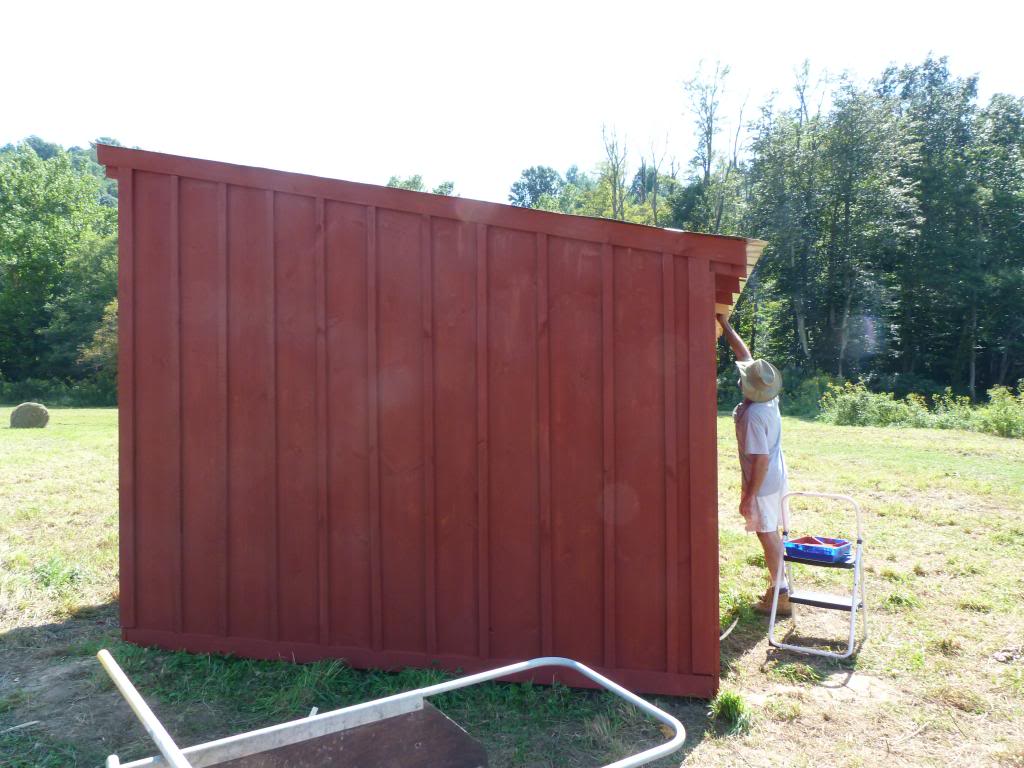 Here comes our favorite help: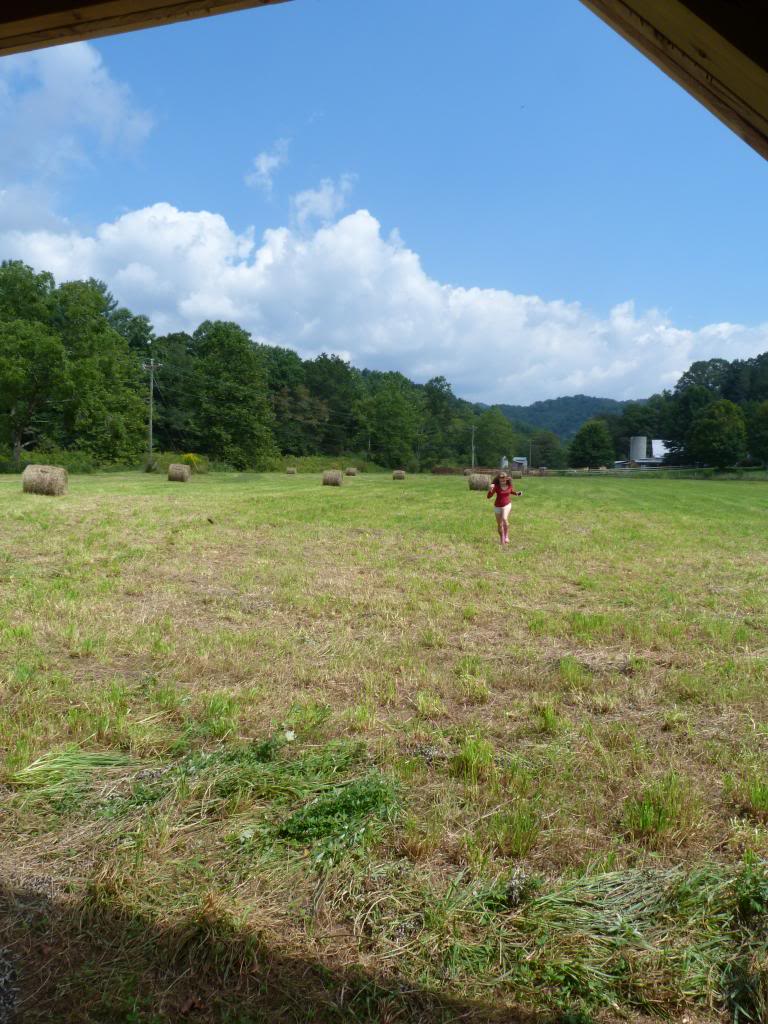 After we get this painted, we'll go back to the Old Barn project. I would have thought we'd have it completed by now, but it's taking much longer than we thought. Of course. That's the way renovation projects are. I've learned that by now. That's exactly the way renovation projects are. (And I'm cool with that….)
Until next time, Friends, savor the flavor of life!
Lots of love, The City Farmgirl, Rebekah