What's black and white and red all over?
Perfectionism is over-rated. That's the position I've decided to (try to…) adopt. Well, explore anyway.
I think I'll call it "Goof-Up Week." Yes, I've decided to give myself permission to make mistakes. I"ve decided to not beat myself up about them. Will you join me in this celebration of our screw-ups? This week of freedom from having to be PERFECT? Of trying to stop ourselves from feeling like we have project the notion that we're PERFECT? That it is okay to be a mis-stepper, mis-take maker, goof-upper farmgirl.
<The funny (funny-weird, not funny-haha) thing about this blog post is that I wrote it right before our online service went out for days, causing me to miss my deadline for getting this post up. Lesson learned: life in the country means technical assistance isn't readily and immediately available. It means learning to wait…accepting and forgiving other people's imperfections too…>
I've got this quirky (and probably unhealthy) thing in my personality that expects me to never make mistakes. Do you ever feel that way too? Like you're supposed to hit a home run every single time? Perfectionism, perfectionism, cursed perfectionism.
I expect complete competence in all things. From. Me. Always.
HOWEVER. I'm now operating in the dark at this farm; that is, I have so little knowledge on how to do farmy things for myself, that I've decided to let myself off the hook. Maybe this attitude will allow me to make progress? To move forward? Maybe, I won't stay stuck in analyzing and researching and thinking things through and being sure. Some things you just have to dive into. Jump.
Yes, just jump right in! Here are my red boots, dirty from all my jumping IN the last few days.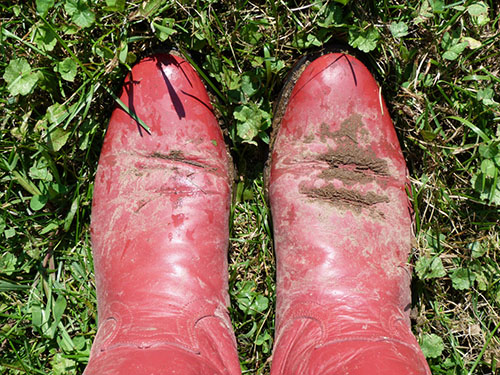 Now this post may make you crazy. Just know that there is something ELSE quirky in my personality: I like a million things going on at any given time. I like to spin lots of plates. While I am totally disorganized and bore easily, I'm happiest when I have projects piled high. Don't ask me how that works with my perfectionism bent, but I thrive in chaos and challenge. So, you see…I'm fine.
I tell you that so you won't go crazy for me with all the loose ends you're about to see that I have hanging. I'm totally okay with it, so you be too. Sure, we are living out of boxes and sleeping on the floor. But, it's all good. We are having the adventure of a lifetime. And remember, it is goof-up week. I've let myself off the hook. I can show you our big ole mess.
Okay, for starters. We did indeed decide to transform that middle bedroom into a Master bathroom. This has turned out to be one of those things that sounded easier than it actually is. You see, because there was no plumbing in that room, we had to rip out the dining room ceiling below in order to install water and drain pipes.
Here's the BEFORE of that middle bedroom.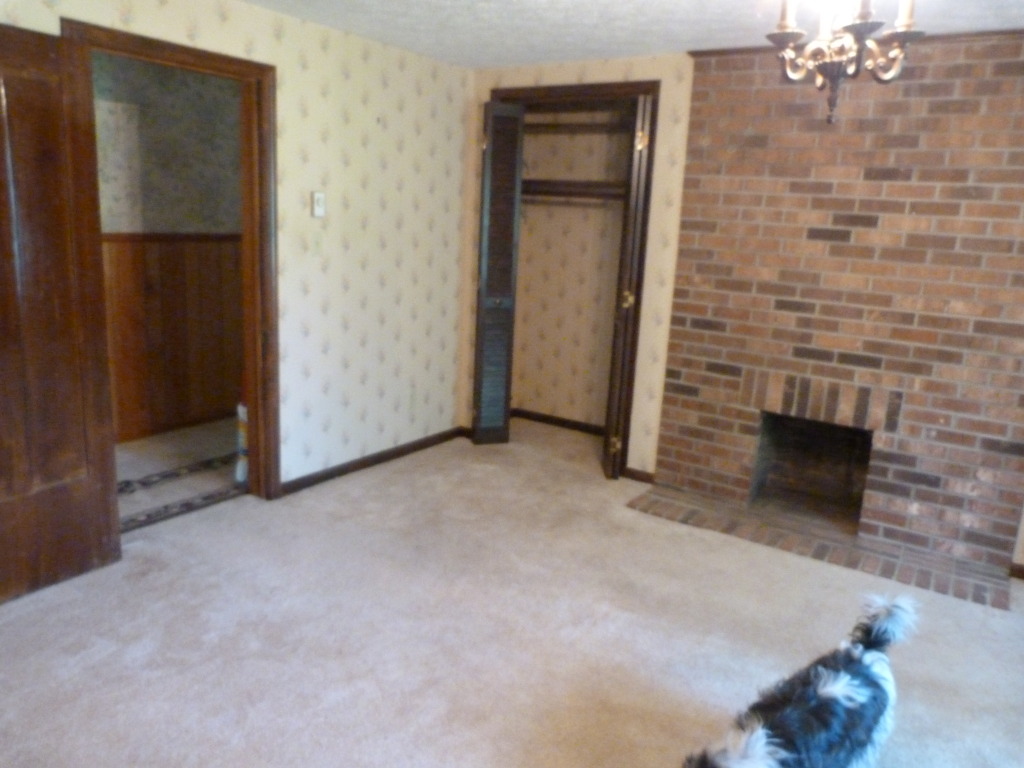 AND HERE'S WHAT IT LOOKS LIKE TODAY….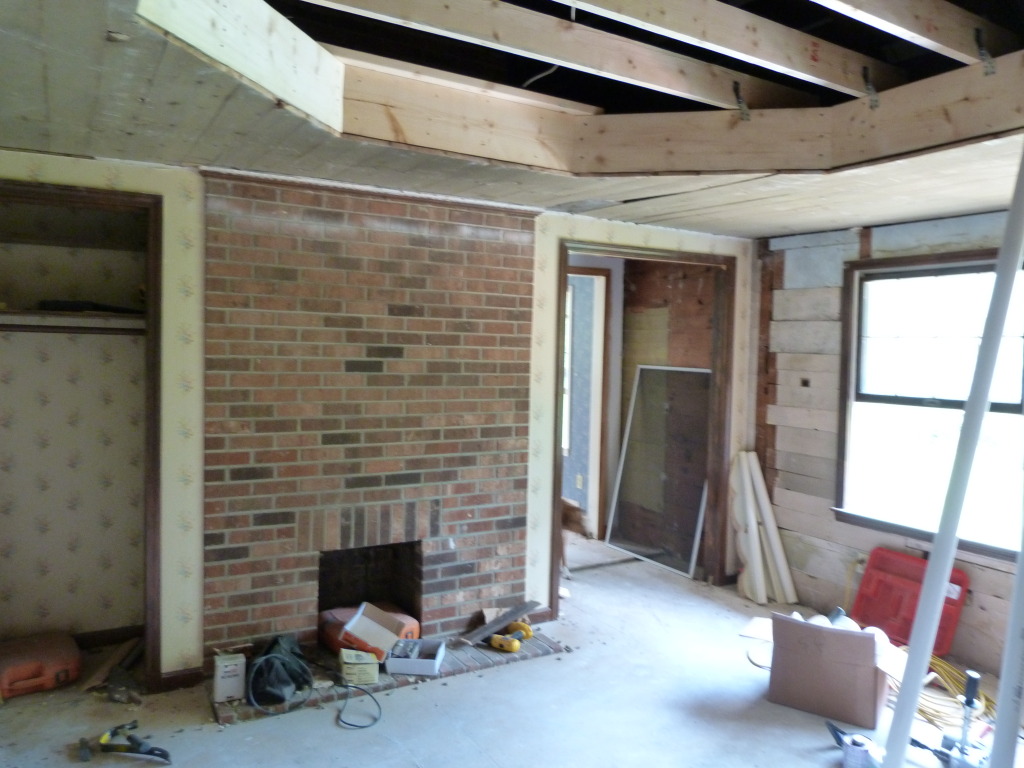 A mess, I know. But a means to the end.
And for real. I'm enjoying this process. It was so much fun for the sheetrock to come off the walls and see beautiful original boards underneath.  You can see them beside the window. And yes…that's the attic you see. Once we got that ceiling down, we had a clear view of the chimney above in the attic. Funny, funny, funny: a huge naked woman is painted up on there on the chimney stack. I think I'll head up and paint a naked man, just to be fair. Adam and Eve in my attic.
Look what we found in the ceiling of the dining room. Corncobs! Isn't that awesome! This house was built in 1890. I wonder how long those corn cobs have been up there?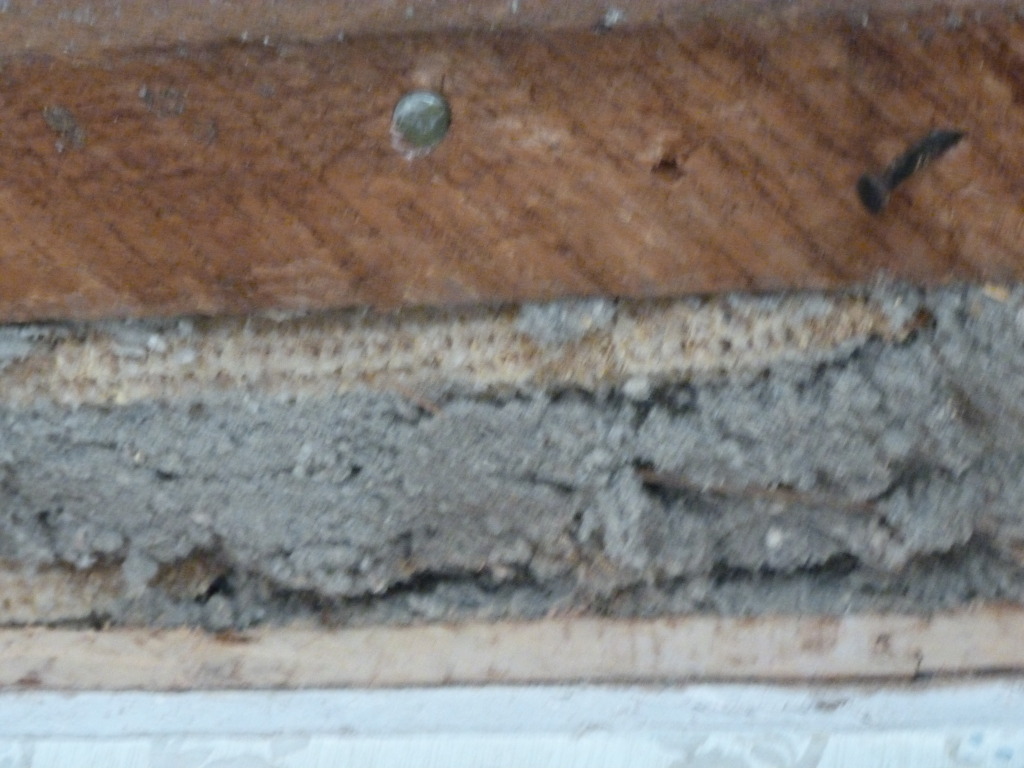 And remember our front steps? (not the orange shag ones, which I still kinda LIKE), but the front brown shag ones.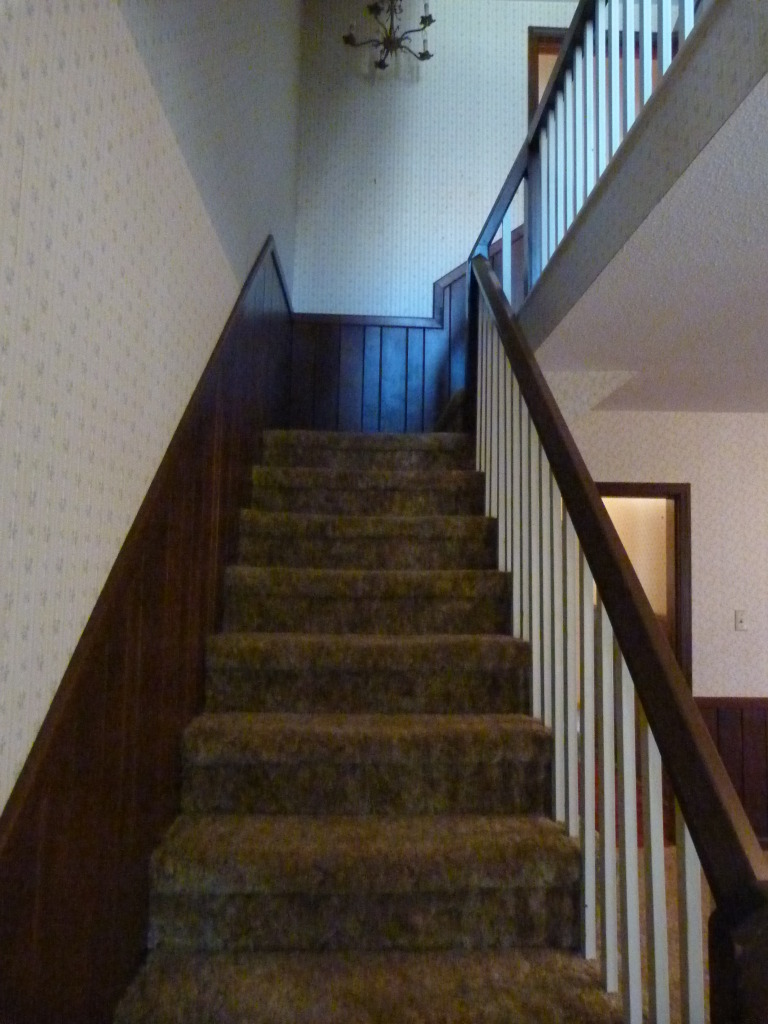 We ripped the carpet up from the front steps.
Here's what we found under the ugly carpet.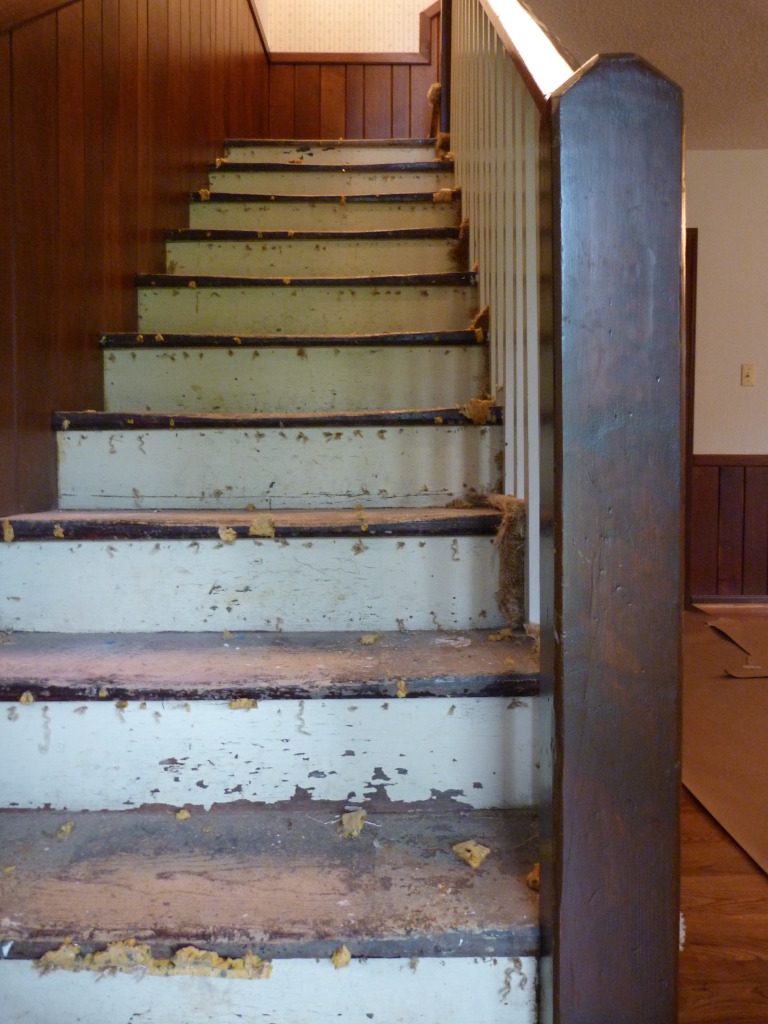 Ugly wood.
Except that. Now they have personality and charm. I like the way they are worn down. I wonder about the people who ran up and down the stairs before us, the ones who wore down the stair treads.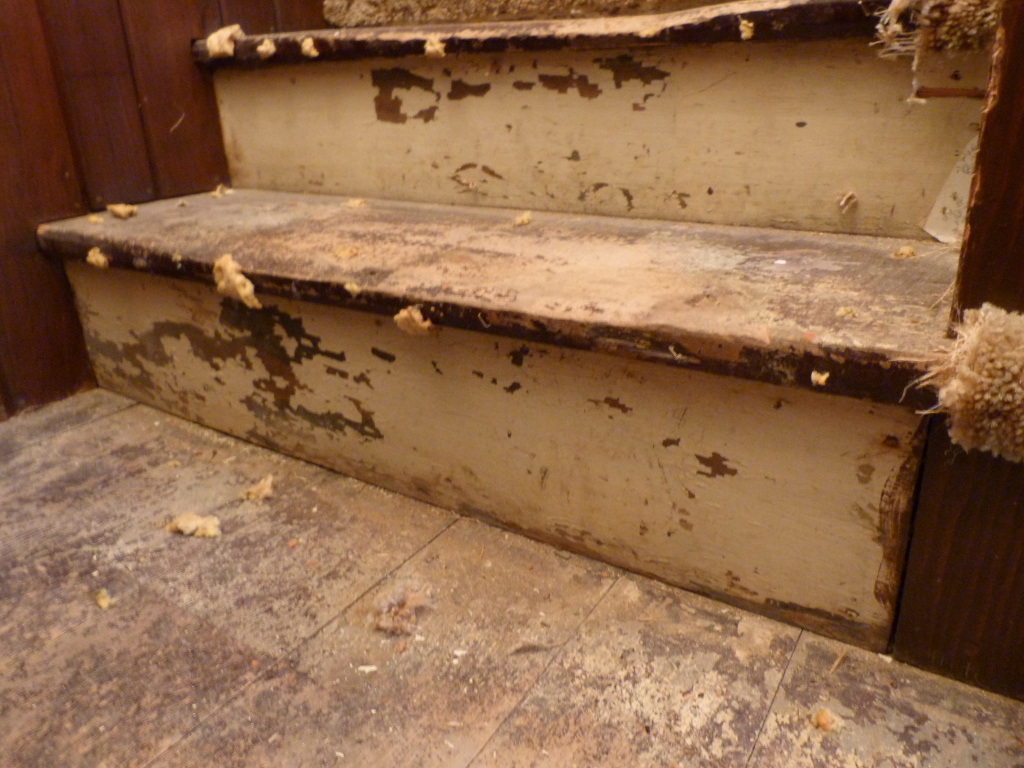 It was filled with staples and nails; we have pulled all those out.
I do believe (now that I have given myself permission to make mistakes) that I will PAINT them. White on the risers; black on the step.
Giving myself permission to make mistakes has allowed me to take chances.
So what does someone do who takes chances?
Buy red spray paint, that's what.
So far…
My old blue chest is Blue no more.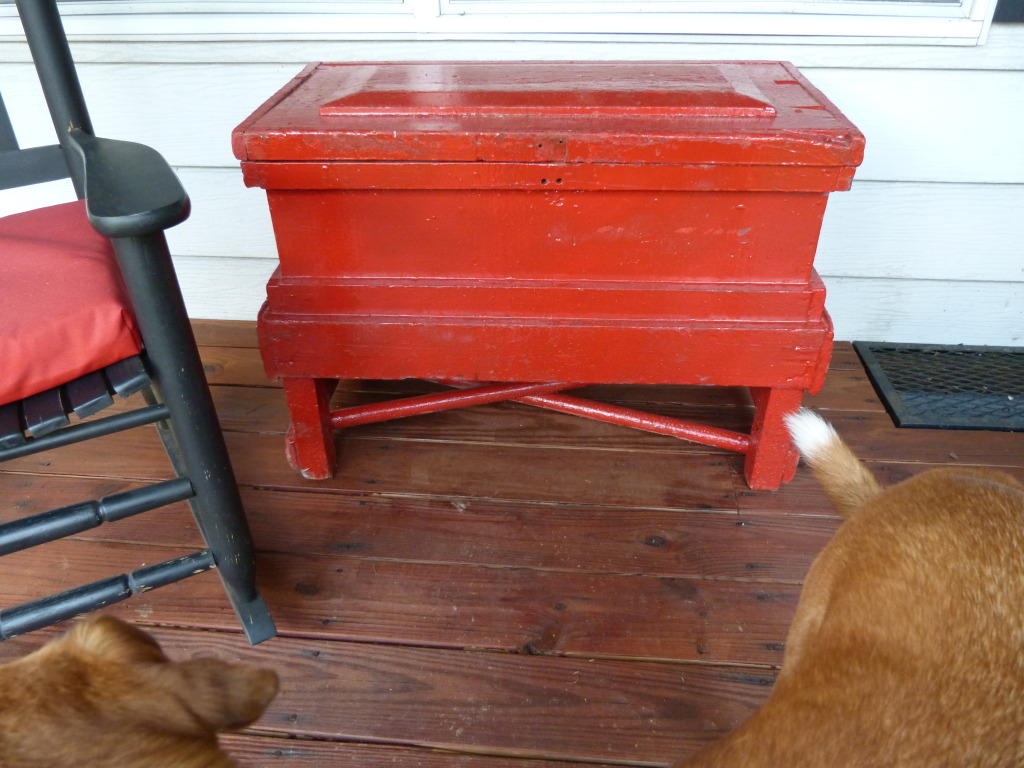 The old picnic bench is plain weathered wood no more.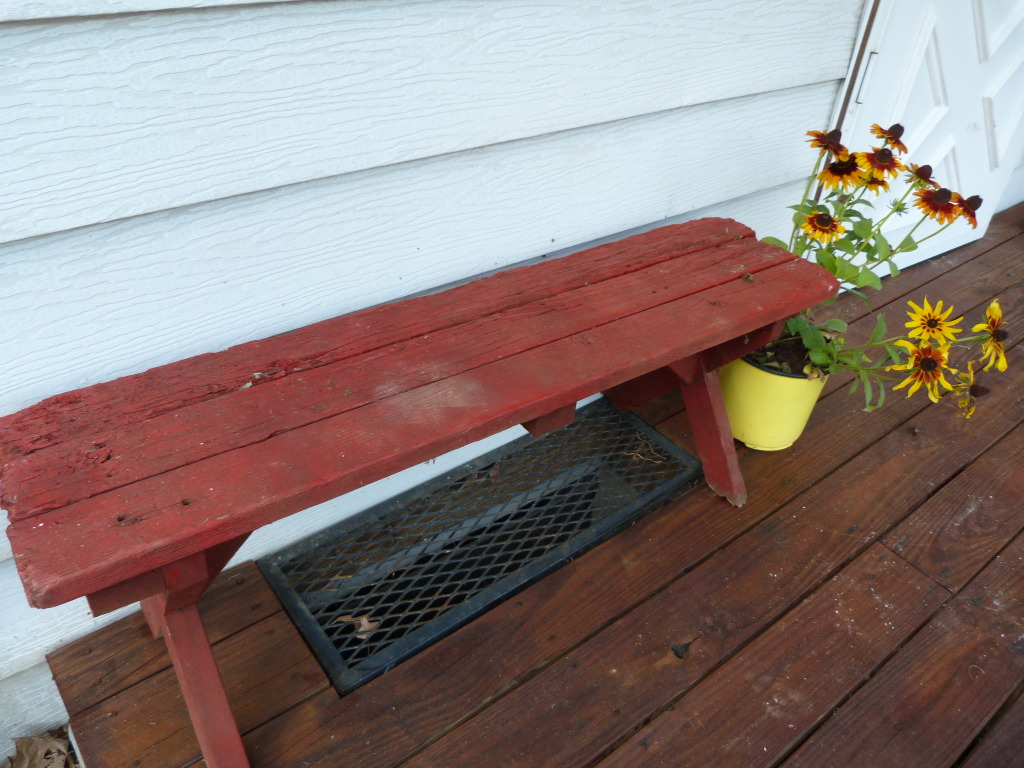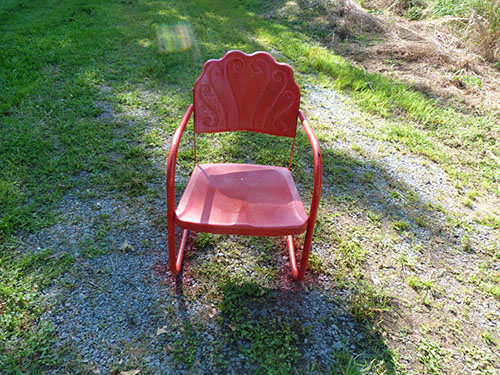 A metal chair we found in one of the old barns…now red!
Old rocking chair and bench….now RED!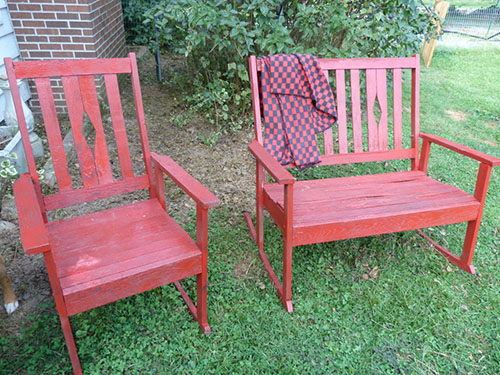 And various other red things I've spray painted.
Before: Milk can, chicken feeder, wicker chair.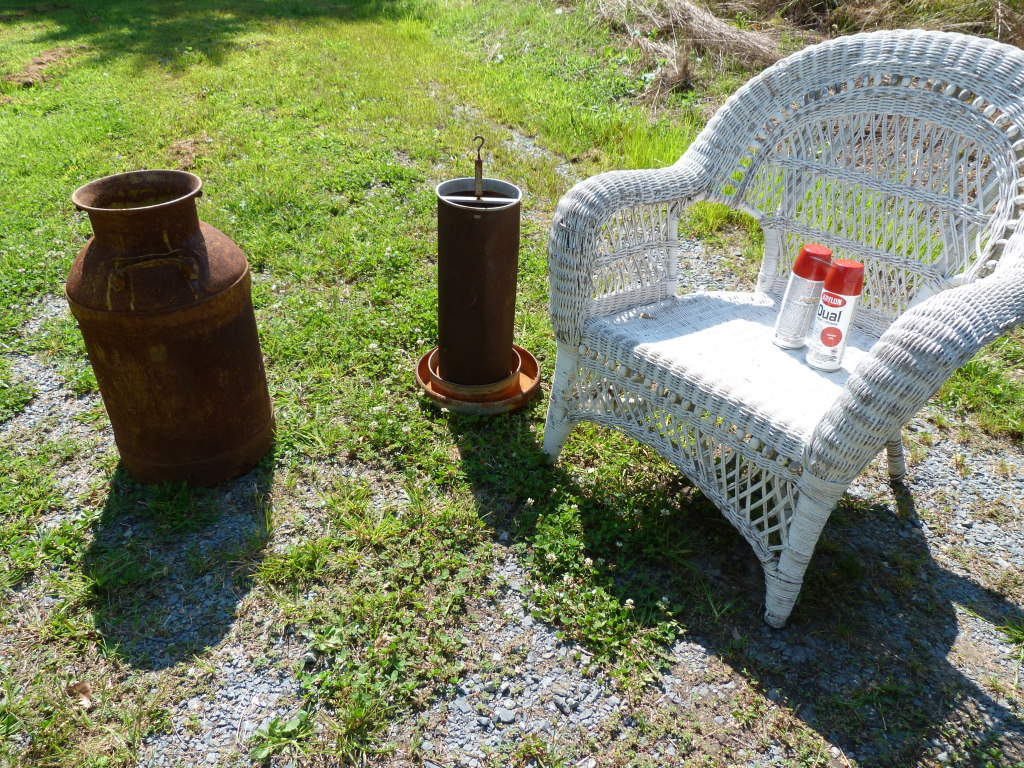 And after…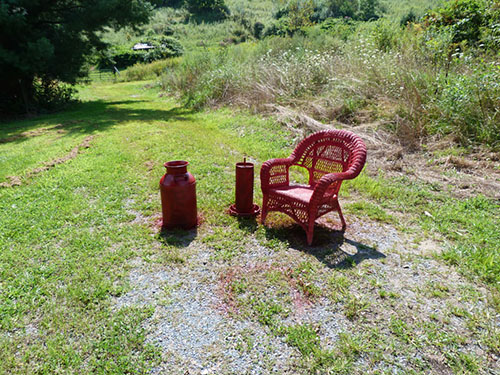 The answer to the riddle is a book. Did you guess it? Red is really "read."
But the answer to the question is my farmhouse. It is white now–the green cast gone when we pressure washed the exterior–with black shutters–and a touch of red all over! Except the front porch. I need some red here!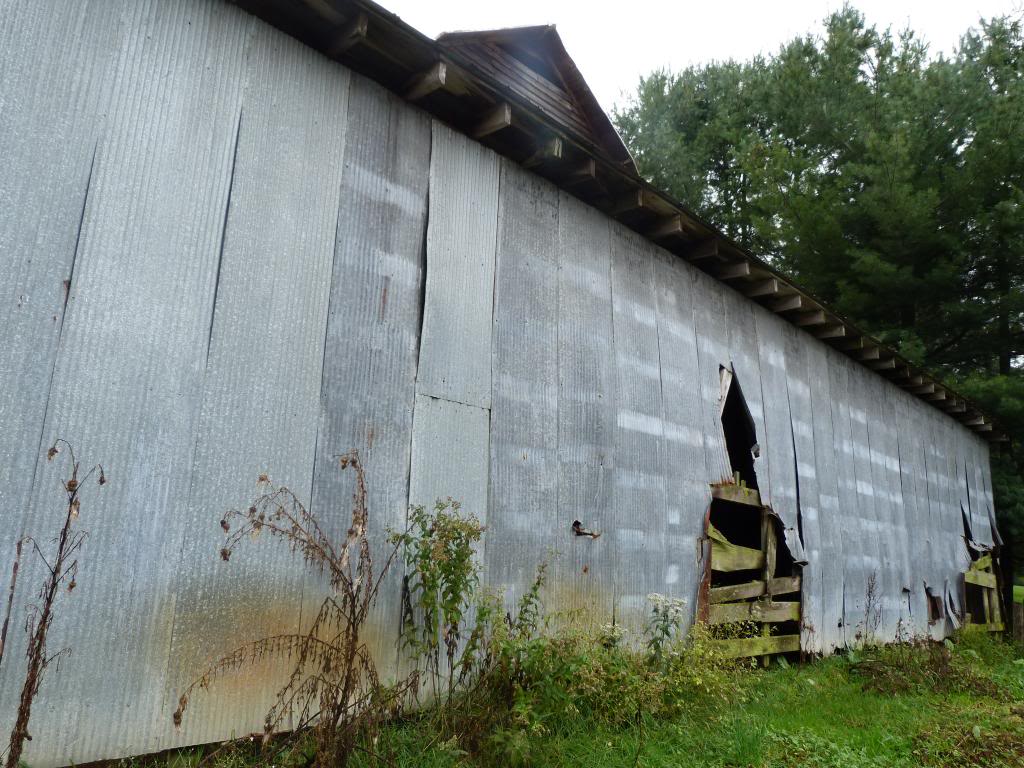 Just noticed that Oreo, the dog, is in this pic. Sorry about the backside shot there, but at least he matches. White and Black!
Farmhouse love. Truly, I love it here.
Now, what should I do with this porch? Red wreath? Red door? Spray paint those planters? Or no red?
Have some sympathy for me and fill out that comment form! Talk to me! (remember? I moved out to the countryside in a different state and don't know a soul. As you can see, I've made fast friends with a can of red spray paint.)
Until next time, Friends, savor the flavor of life!
Lots of love, The City Farmgirl, Rebekah