"Don't complain and talk about all your problems. Eighty percent of people don't care; the other twenty percent will think you deserve them." Mark Twain
I like Mark Twain's advice. Isn't it the truth? A whiner I shall not be.
HOWEVER. Y'ALL. (that means that the whining is about to begin)
My head is about to explode. Someone had a saying on Pinterest this morning: I smile to hide how completely overwhelmed I am.
We have so much to do. HERE where we are. THERE where we are headed. And everything in between.
Now we've made several decisions. One is that we are going to take that room upstairs with the brick chimney–you know the one I said was my least favorite?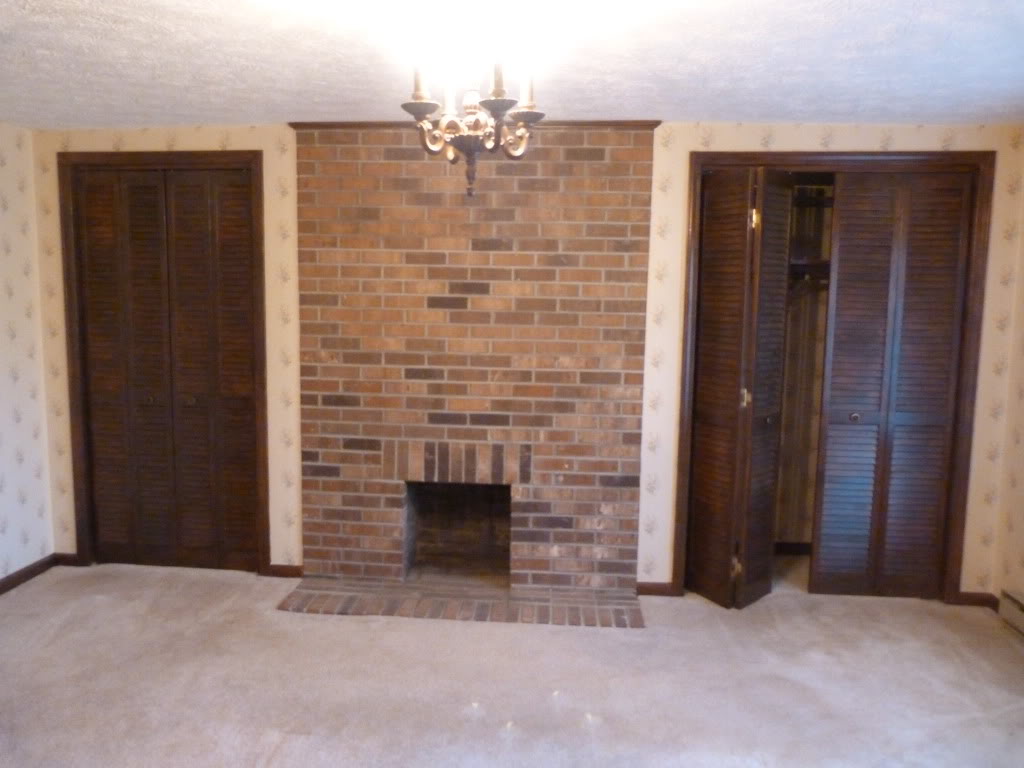 We're going to make that room a master bathroom! I'm working on ideas and trying to draw it out. (I draw like I'm in 6th grade, so poor contractors!) This is one of my husband and my favorite things to do. Dream and Design. So I'm in the phase of "Hmmm…should this corner be the shower? Hmmm…maybe the tub under the window? Or facing the fireplace?" 
"I'm dreaming of a claw foot or pedestal tub, just like the one my Grandma used to have."
We've decided to white wash the brick in there to lighten up all that brown. Don't you think that will help brighten up the room?
Now about the piper's payday.
I absolutely hate it when those times in our lives arrive and it is time to pay the piper! It couldn't be for a better cause (moving to a farm), so really, I'm NOT complaining. I'm just trying to figure out HOW to do it. I mean, we are trying to move into a house ½ the size of the one we're in.
I MEAN.
I have been mindlessly accumulating STUFF since I was 8 years old. I still have most of it. And 21 years ago this pack-rat married her soul-mate, also a pack-rat. Guess what their offspring is? Yep, a pack-rat.
I like to tell this story because it makes me laugh. A friend (who was a judge I worked with who's demeanor would remind you of Andy Griffith) came over to the first house we owned. He saw our overloaded-with-stuff garage and said, "You know what? They say you should give away whatever you haven't used in the last three years…." I said to him, "That's not what WE say. That's not OUR standard." He laughed and said, "I can see that." hahahaha. That was 15 years ago I bet. Time to pay the piper!
When we moved last time (and then moved back), I gave away and threw away what felt like a lot of stuff. And here's the honest truth: I have missed some of it. I have looked for a particular jacket or sweater or kitchen appliance. As it turns out, I didn't part with nearly as much as I needed to. Because this move is THE BIG ONE, six hours away, and because we are halving the square footage of our home, I've got to learn how to quit ADDING and start DROPPING.
But how, how, how???
This time I have been going through every single box in the basement, attic, garage and bonus room. You see, last move I simply moved those boxes filled with all kinds of STUFF.
Okay, so why do we have all this STUFF? What makes a pack-rat a pack-rat?
I have pop-analyzed myself to figure this out. Why do I hang onto so much? I think it has to do with two things: the past and the future.
As for the past. I keep stuff because it gives me my history. I have a terrible memory. I've always had a terrible memory. People I went to high school with tell me all kinds of stories about our high school antics and adventures. I'm always like—for real?? Mementos help me remember. I go through a box of stuff and find things that jar my memory.
And ego. I hang onto stuff to define who I am. See this article where they quoted me? See this picture of me in the newspaper? See this transcript from that case? See that speech I wrote? See all those things I created? It helps me remember, in a weird way, that I'm somebody. As if!
So I think I've kept the stuff so I can keep my memories and my history.
What an emotional thing this is to do. I'm living my whole life as I go through the boxes of my life. I found letters I wrote my parents from summer camp, a letter I wrote to Elton John, a postcard my first crush sent me from a trip he took to Europe. I found ticket stubs from every concert I've been to. I have those little notecards that come with flowers that my husband has sent me. I have menus from restaurants on vacations we took. I have old plane tickets. I have every piece of luggage I've ever owned, including the one Santa brought me that I took to the aforementioned summer camp. You get the idea?
And. I have everything my daughter ever created. Ever.
As for as the future. I keep stuff because I might need it one day. I fully intend to do something with that door I bought at a flea market ten years ago. For real. I'm sure I'll need it one day. I'm sure I'll know some time in the future what I'll do with it. You know all those glass vases that come with flowers? I've got 'em. And so far I haven't put them in the give-away pile because I have in my mind that one day we'll be hosting farm events and then I'll be needing as many vases as I can get my hands on so I might a well put these in a box and keep them somewhere, don't you know.
So I'm doing a mid-life cleansing. Getting rid of stuff.
I passed out big white trash bags to each family member this last Saturday. Fill 'er up! You wouldn't believe how easy it was for each of us to do that. In less than an hour we had each filled up the bags with items to give away. I put them in the car right away before we changed our minds about any of that good stuff.
Here are two things that were hard for me to put in my bag:
These slippers and these awesome plaid shoes (which are not now and never were tacky in any regard, so quit thinking they are because they are not. I loved them plaid shoes!):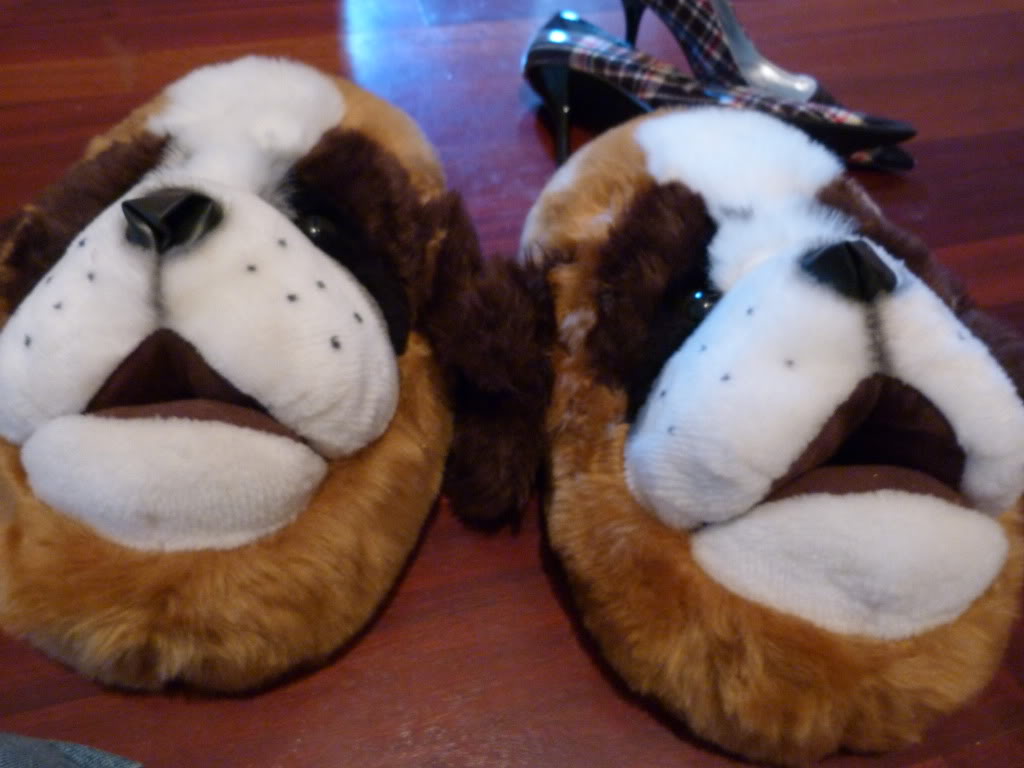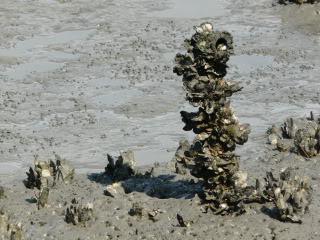 And I also had put in my 1990's combat boots (that used to be style and also, not tacky!) and some orange wedge heels (not tacky, not tacky, not tacky.)
 But you know what? My daughter pulled them out and said, "Can I keep these? They are so cute and I bet I can wear them in high school."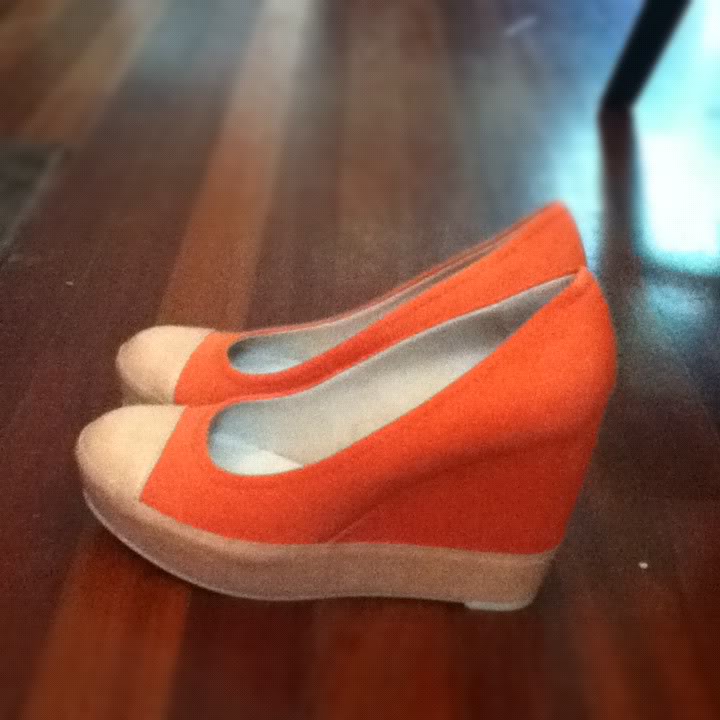 Though I don't think I'd let her wear these in high school. Too high?
In any event, I was happy to oblige! Why? Because I am a pack-rat, that's why!
Next thing I know she came into the room wearing my combat boots. Six sizes too big, but one day.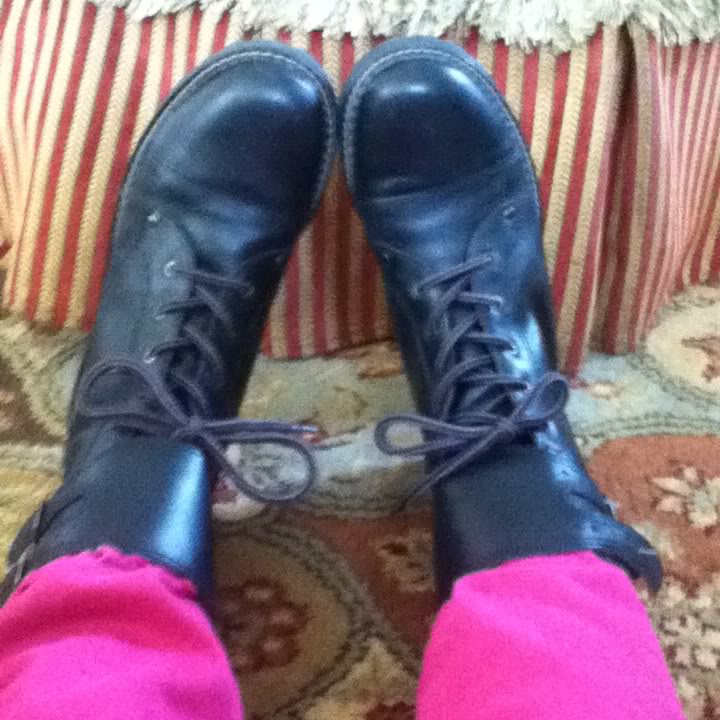 I'm trying to change my standard for things that go in the KEEPING pile. Instead of keeping things that might be of some use in the future, I'm thinking, "Do I NEED this now?" Because I've got to find a place to put it in my new house. For example, I've got these cute carousel horses. I didn't buy them, they weren't a gift. There were just left by a previous owner in a house that I bought about ten years ago. Why do I still have these? I just do.
I mean, they are cute and they remind me of that house and I might just need them in the future…..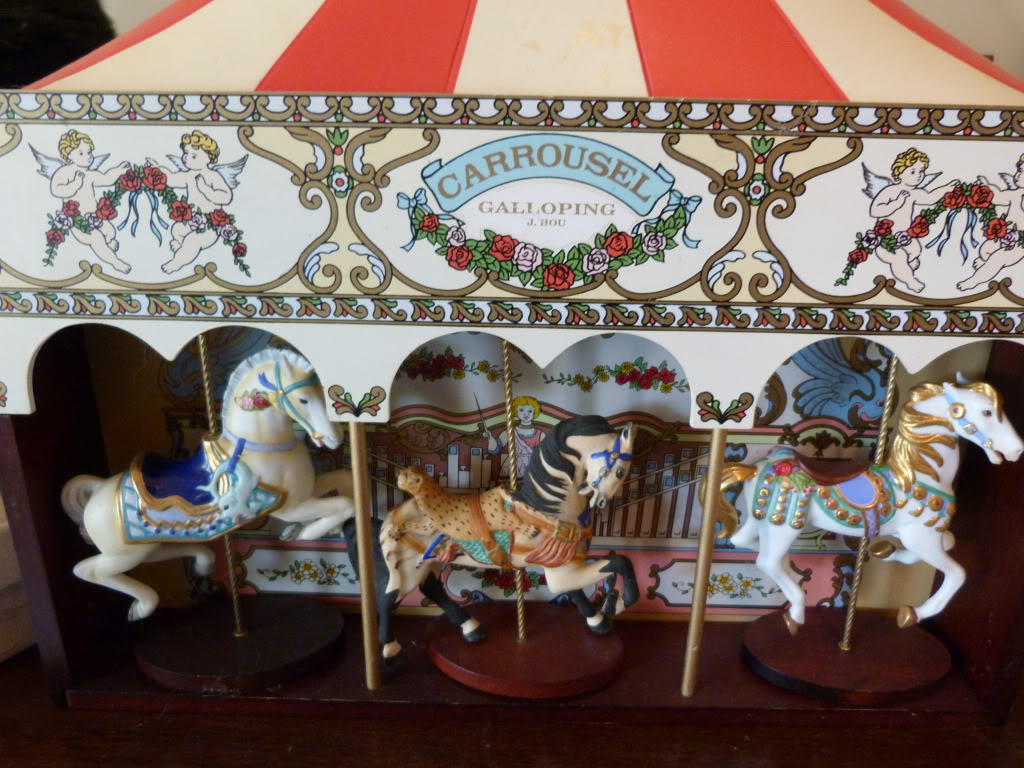 I am NOT organized; I know that and I've confessed it here a million-zillion times. But I'm working on it, Baby. I've GOT too!
Here are two areas I REALLY need help with. How do YOU handle these?
One is kitchen gadgets. In this house, I've dedicated a drawer to them. But it's a crowded, unorganized mess.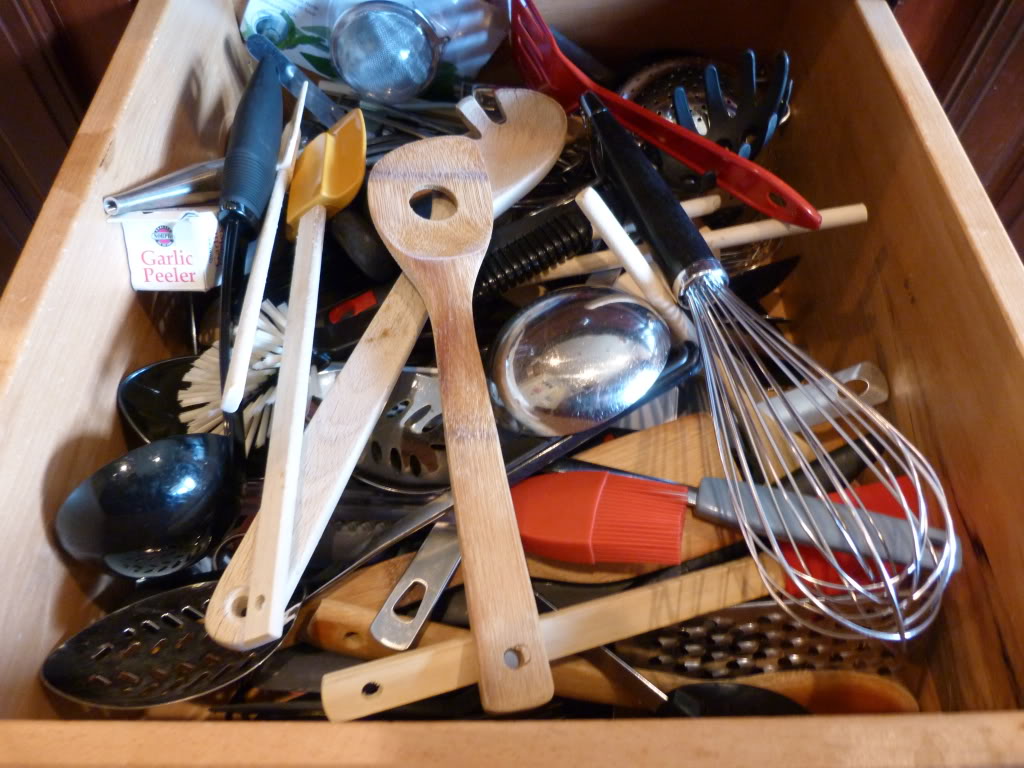 Where do you keep yours?
The other is tablecloths. Where in the world do you store all your tablecloths???? I have no idea on that one. I guess I need to give some of those away as well. How many does one person need anyhow?
Come over an visit me on facebook, pinterest or www.rebekahteal.com. I'm going to try to post more often. All the feedback is so awesome and helpful and I've got a ton of decisions to make over the next few weeks!
Until next time, Friends, savor the flavor of life!
Lots of Love, The City Farmgirl, Rebekah