This place I've found–our farm–is a dream come true.
It looks exactly the way it would if I had picked it right out the Sears Roebuck Christmas Wish Book. (My source for picking out Christmas presents when I was a youngun.)
I heart the old farmhouse that needs so much work.
And I heart what's around the farmhouse.
You know. The outbuildings. The farm. The land. The dirt.
Today I'm going to take you on a tour of the outbuildings.
When I was getting insurance quotes, the insurance agent asked me: how many outbuildings are there? when were they built? what is their size and use? and what is their approximate value?
IDK! ("I don't know")
You DK? he asked.
 No. I have no idea.
Well, let's start with the number. How many outbuildings will you have?
IDK.
You don't know the number?
No sir.
 So let's just walk about and take a look at these buildings. You count.
 I'll start with my pride and joy. A barn that was built around 1900. Classic! I LOVE THIS BARN.
 It's in pretty rough condition. I have no idea what it would take to make this useable again, but I aim to find out.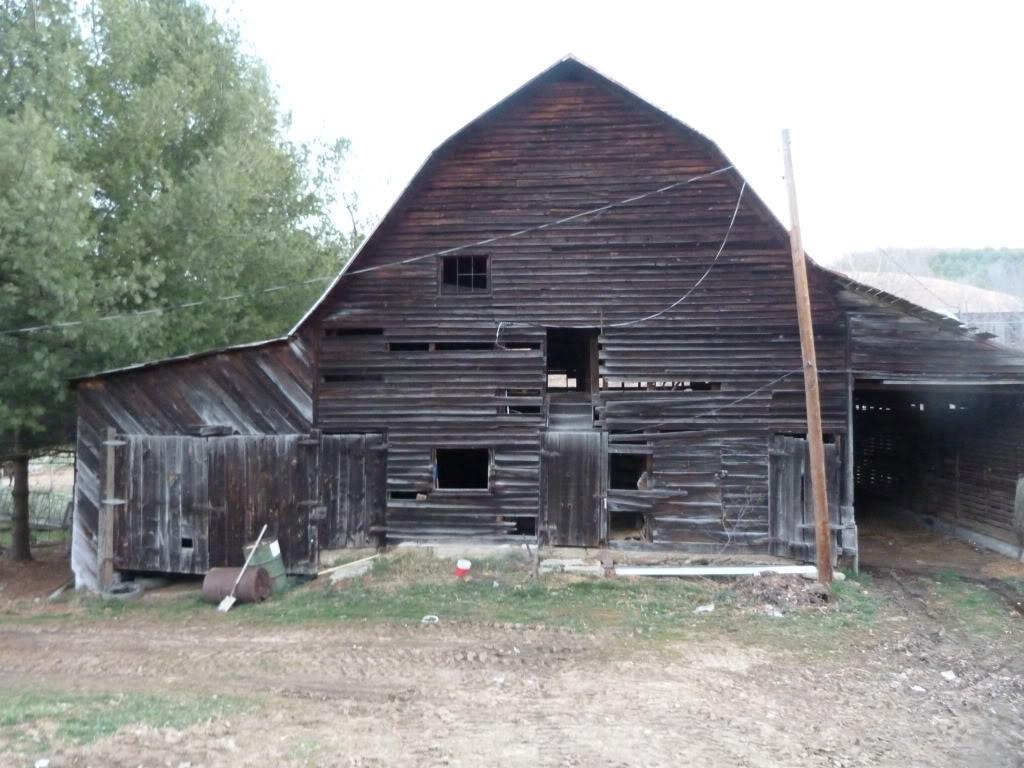 Here is what the left side looks like.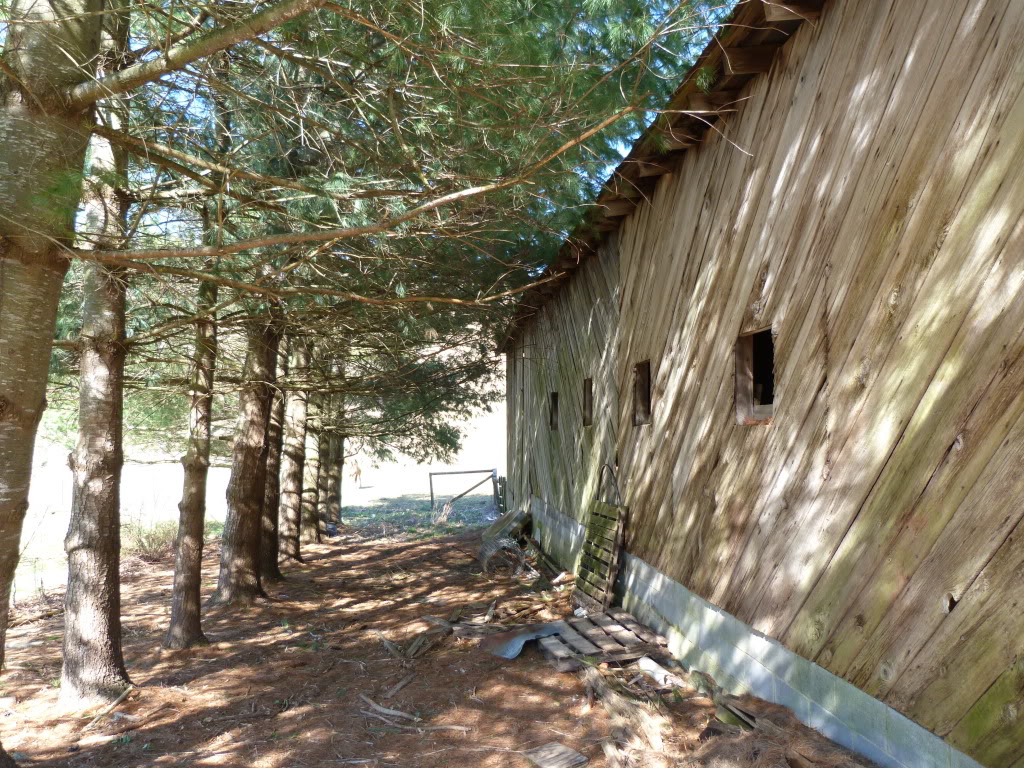 I can't walk past this "alley" without going down there, between the line of trees and the barn. It is so inviting, with the trees shading the area and soft pine straw on the ground.
And here is the  other side, the right side.
Look! A corn crib!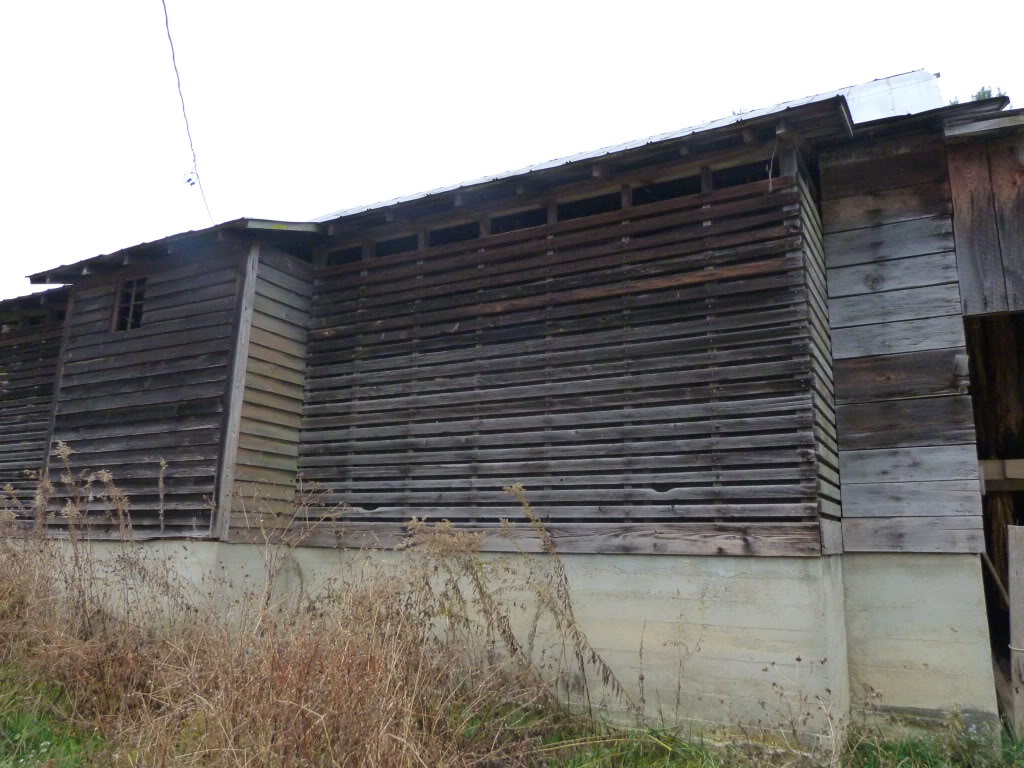 This is the inside of the barn at the corn crib.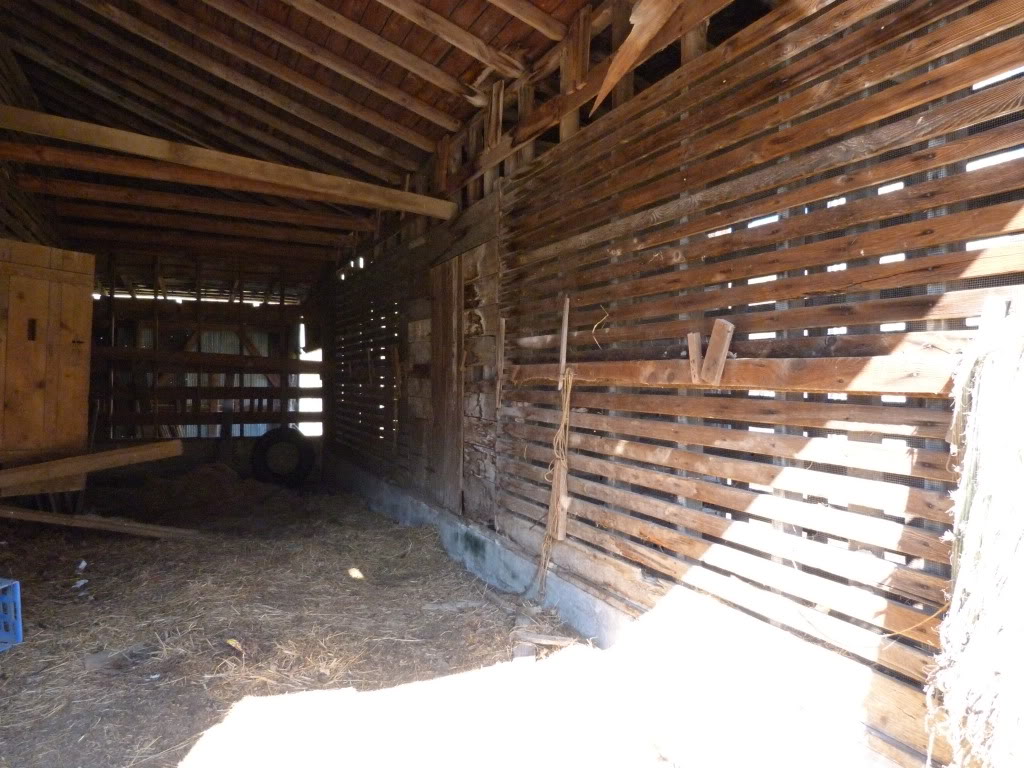 This is the back part of the building, behind the corn crib.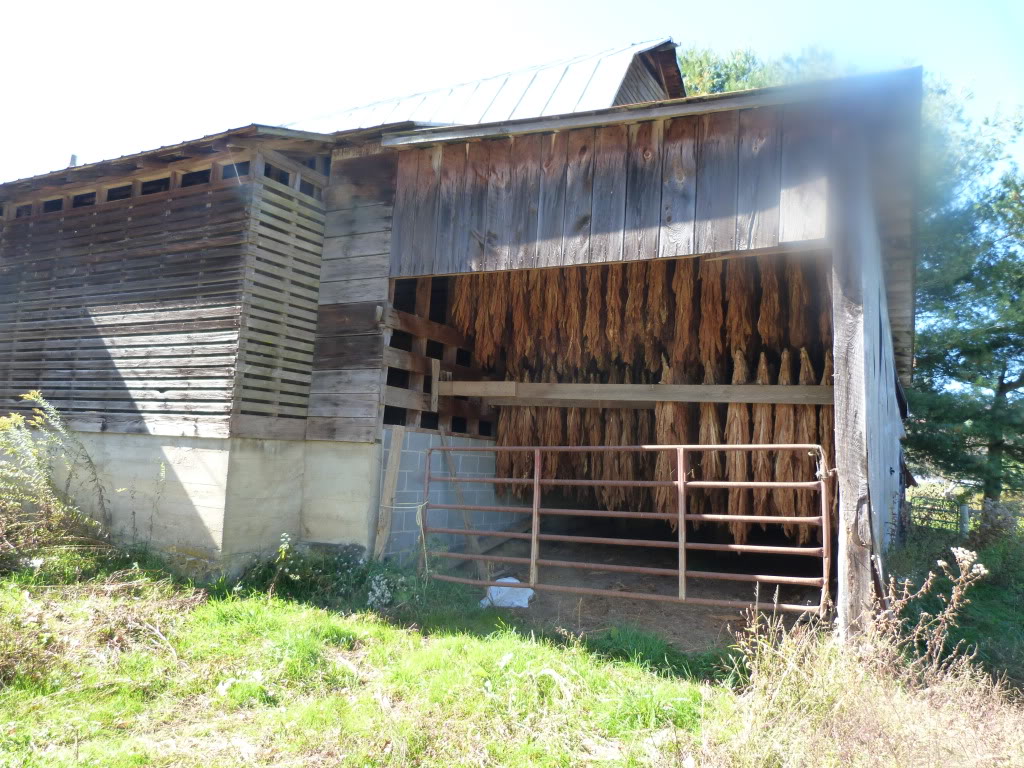 You know what that is hanging there? Ta-backy, that's what.
 And here is the very backside of the barn.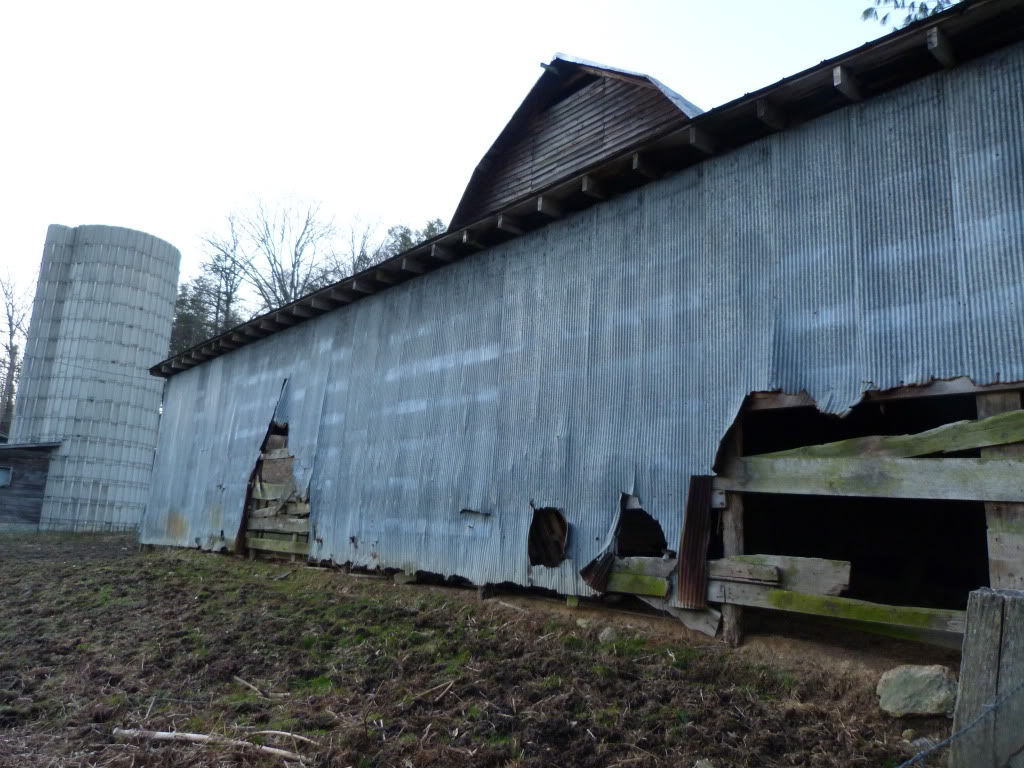 Needs a little work, huh?
I'm wondering how many pennies I need to save in order to fix this barn up.
I have no idea, but I bet it is a lot.
Do you see that silo in the background?
I LOVE THAT SILO.
Here's another view, just to situate the silo on the property for you.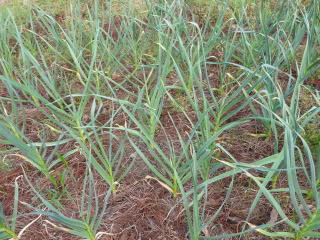 Hmmm, it looks like the leaning tower of Pisa in this picture. I'm pretty sure that's an illusion. (Pretty sure.)(Hope so anyway.)
Inside the silo is a fern and moss garden.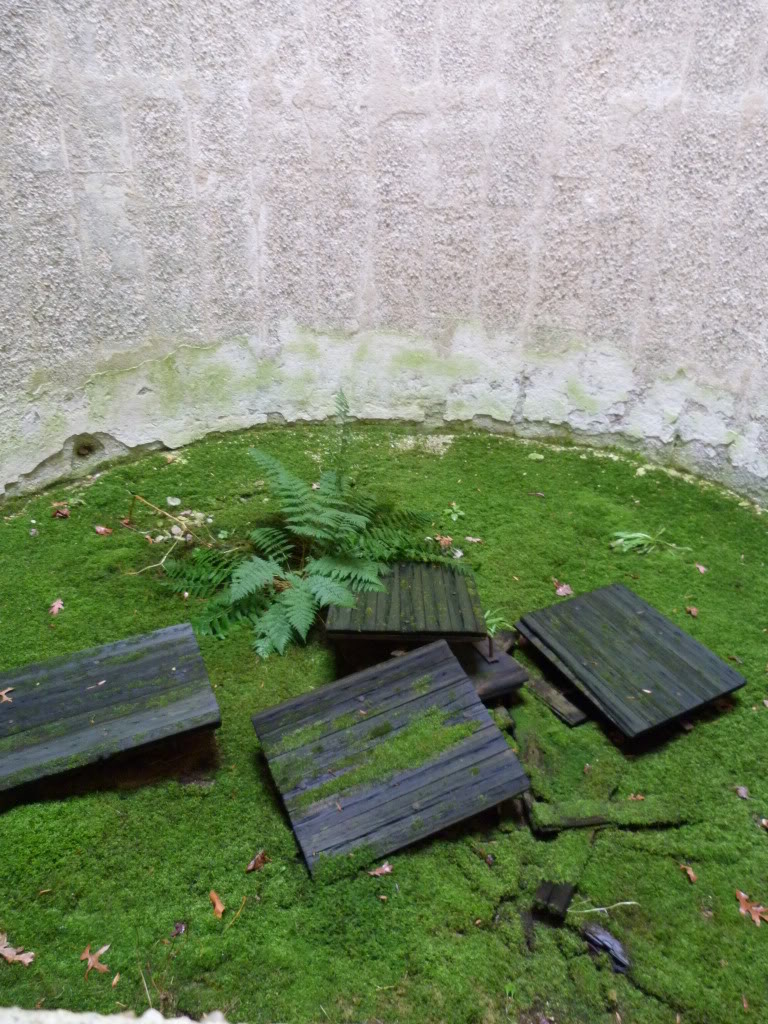 As much as I like the moss, I really need to get a cap for the silo, which means the moss garden will be a thing of the past.
Now, here is a cute little building behind the house. I LOVE THIS LITTLE BUILDING.
I thought this might have been the original spring house. It is located behind the farmhouse about where the spring comes down from the mountain. I have my eye on this little building for something very special. What? I don't know yet! But it's just so adorable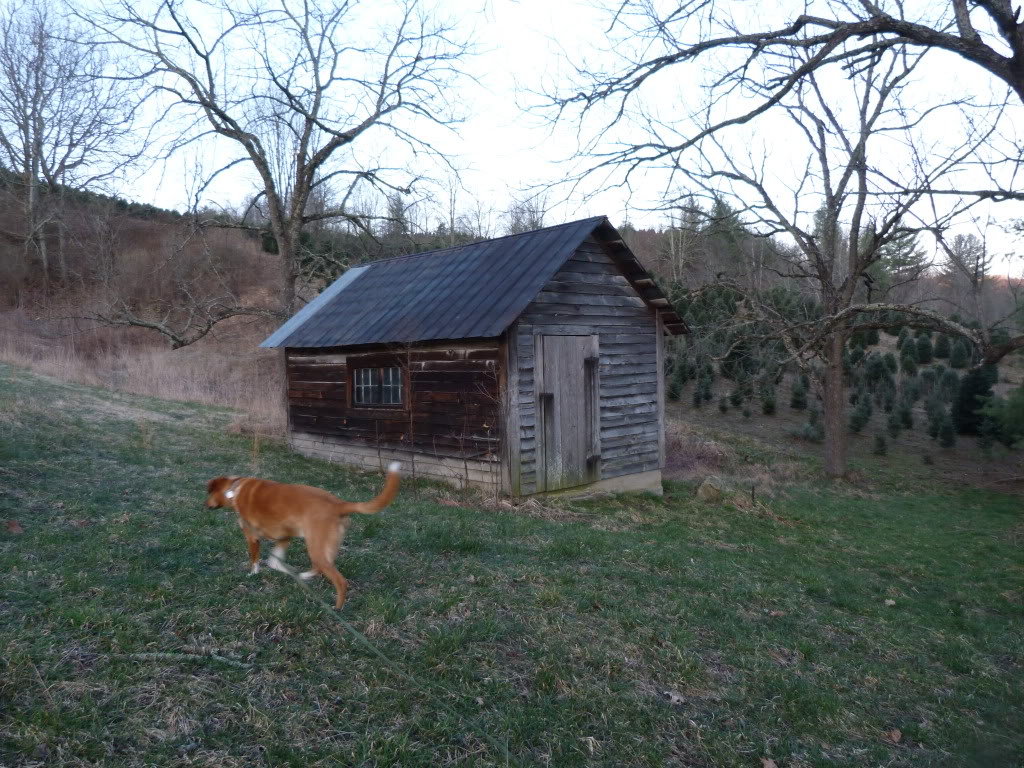 "Hello, Blue!"
Yes, that's a leash. Blue is in the country and still on a leash. I know, I know. He tells me the same thing.
Before I do anything special in my little building, I've got to snake-proof it.
Here's the inside on the day I first saw the farm (has since been cleaned out.)
See that rope-like thing dangling down from the beams? Beside that red thing? Yep, snake skin. A long snake skin. Bleh.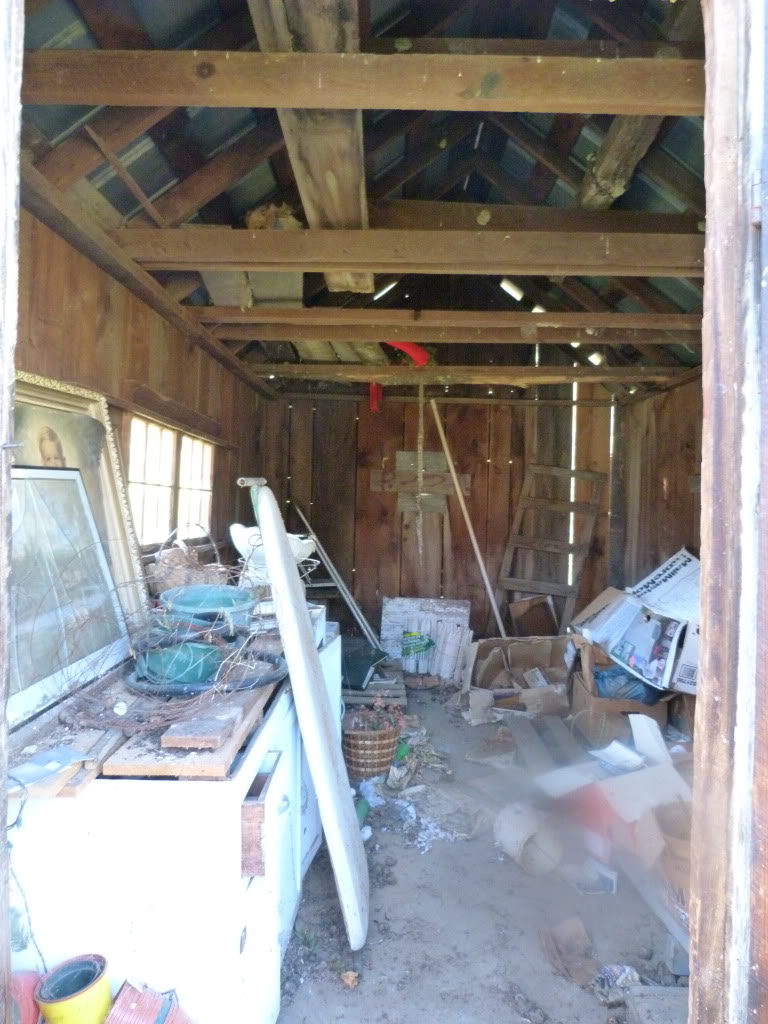 Now let's head down to the pasture area and I'll show you some more buildings. Are you keeping count?
There are three buildings that look like this.
A neighbor called them "pole barns." There aren't really any sides much, just a roof. I'm not sure what these are for other than parking equipment (which I have NONE). Well, and drying tobacco.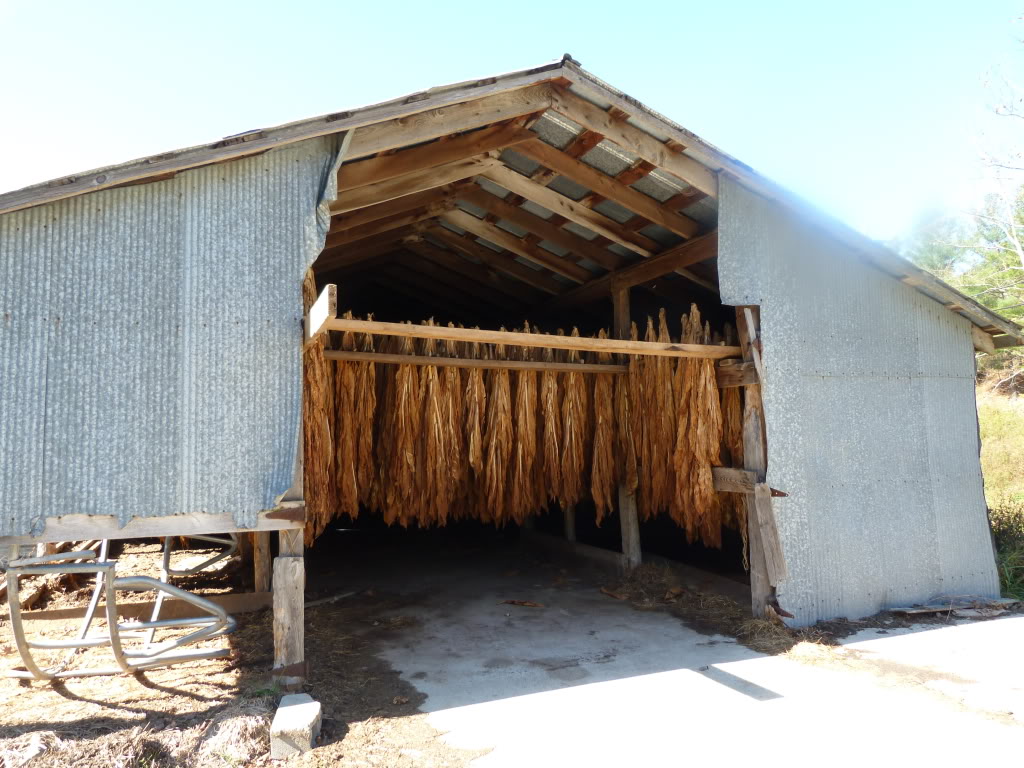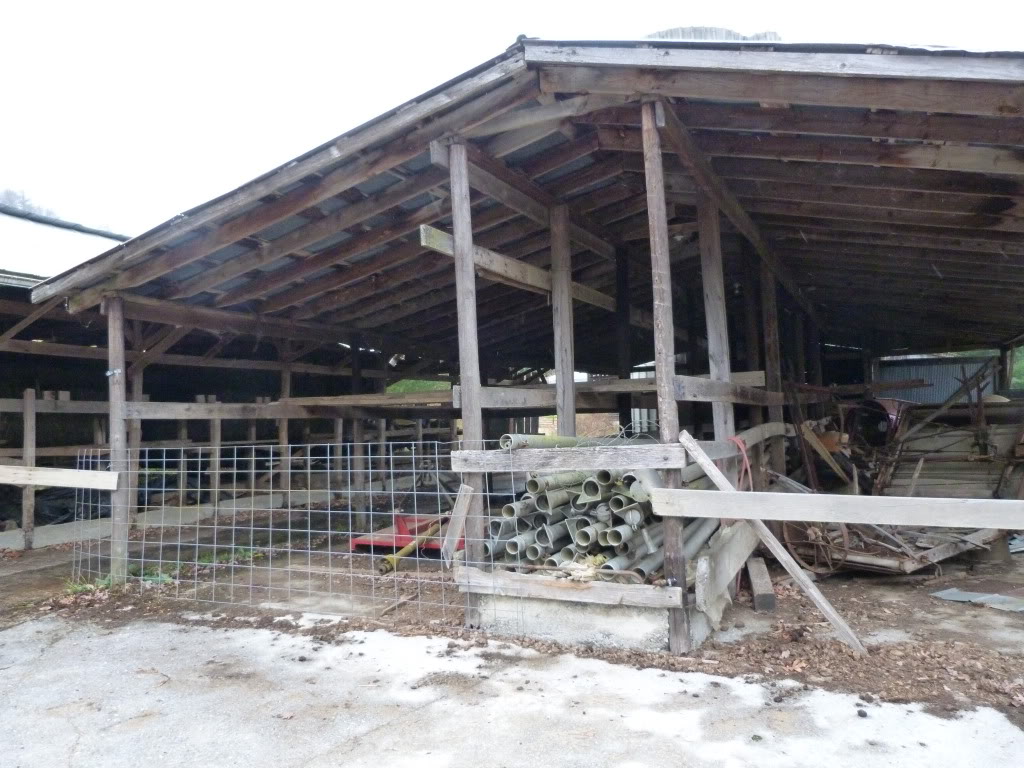 You know what I see?
Farm dinners.
Wedding receptions.
Parties!
 This, I was told, used to be a chicken shed.
Now that I've looked at a fair number of chicken coops online and in books, well, this looks more like a firewood shed to me. But what do I know?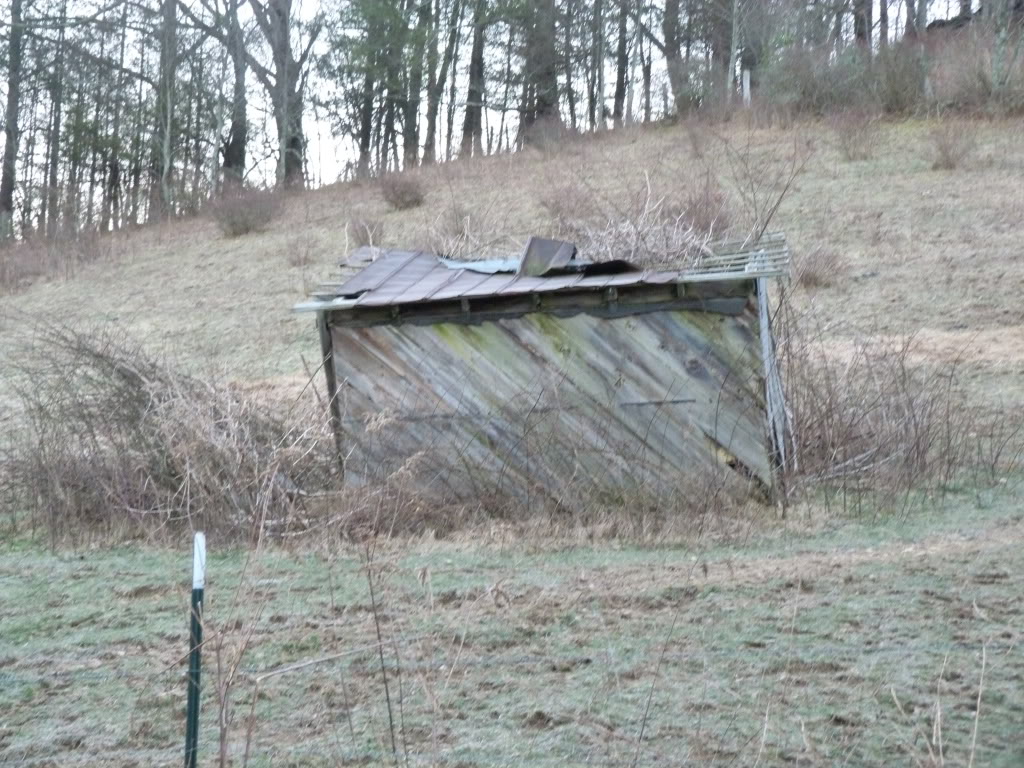 Now here's a shot of where we're headed to next. Let's head down to the horse pasture.
In the horse pasture (not my animals, btw) are another barn, a silo and another building, which I call the surprise building.
Because it was. A wonderful surprise.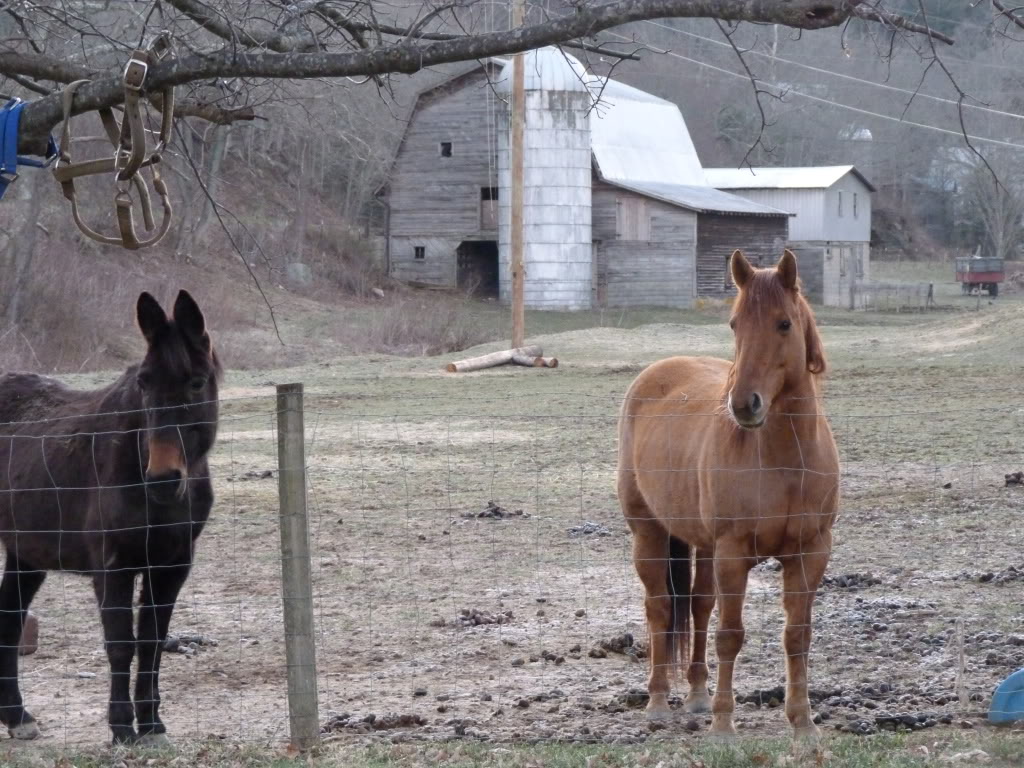 I LOVE THIS BARN AND THIS SILO AND THE SURPRISE.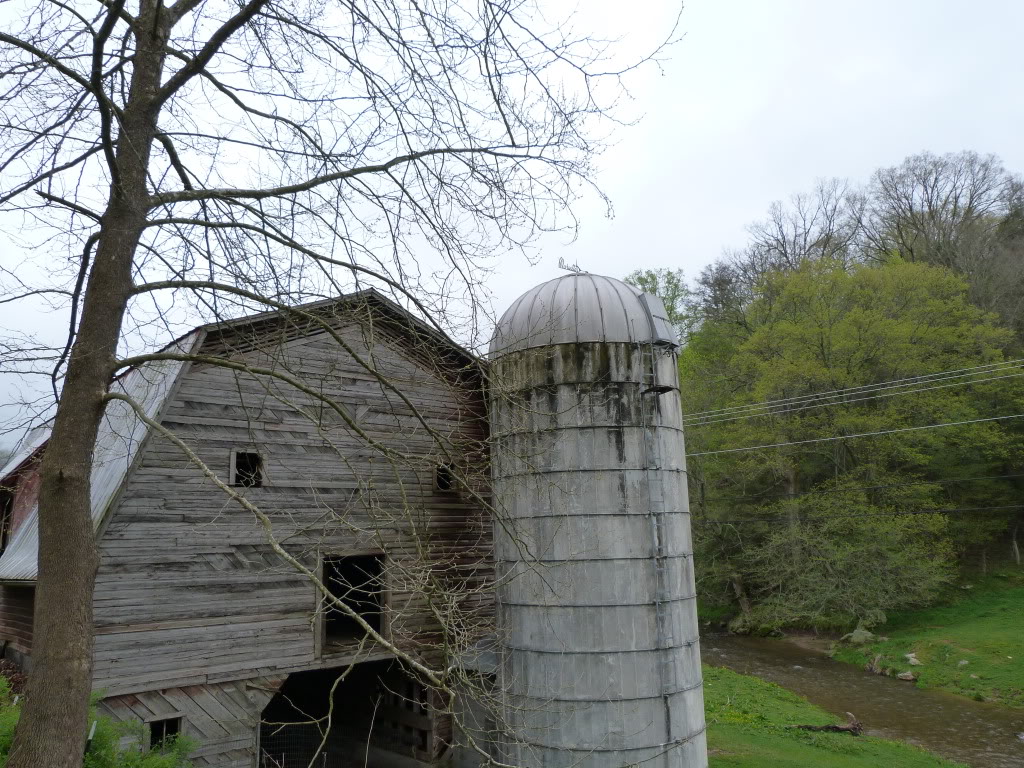 Come on, let's go inside.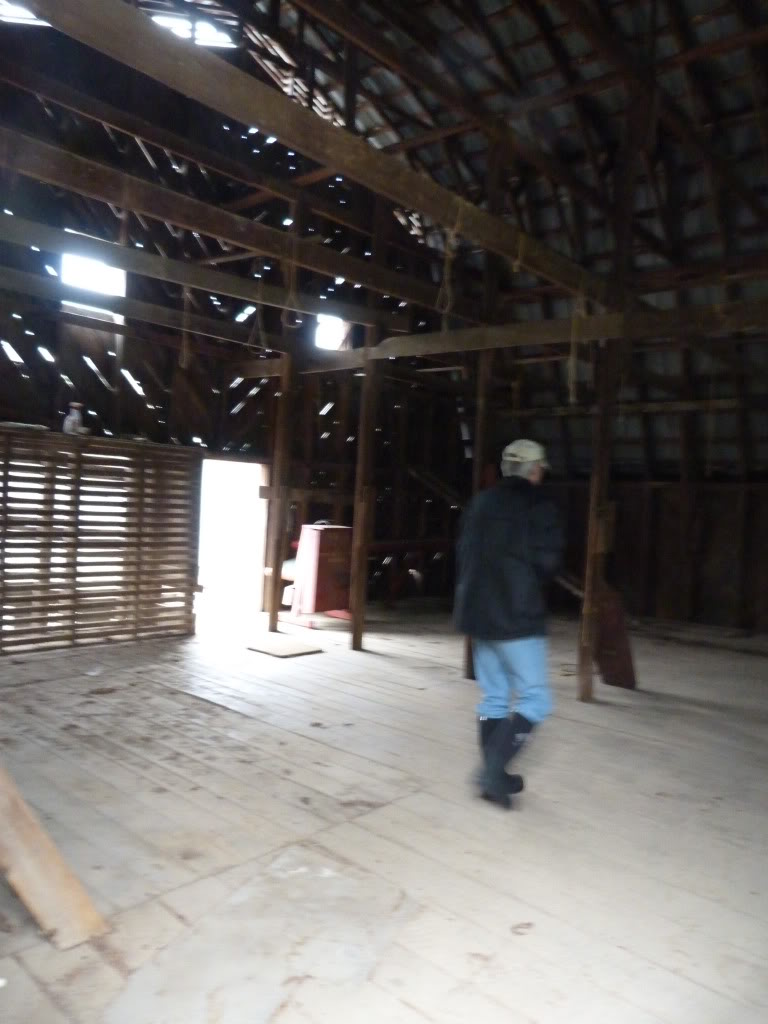 That's my cute Daddy, btw. I LOVE HIM TOO!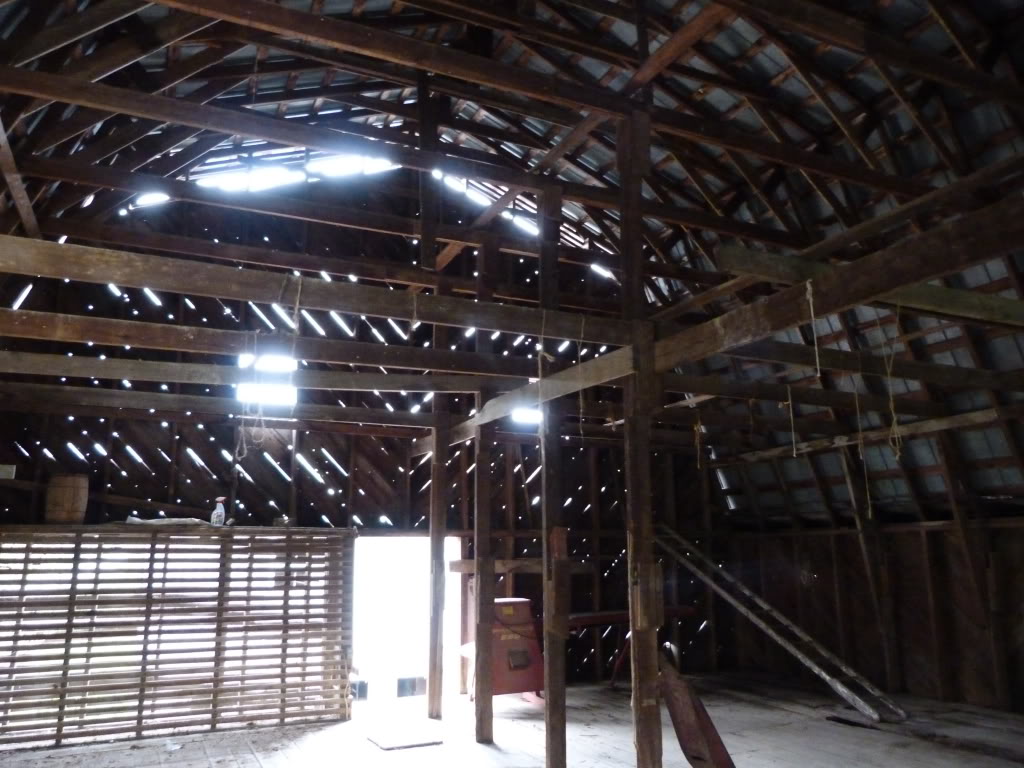 Now, my confession to you is that I haven't been in many barns in my life. I don't know what others look like. I don't really have an understanding of what each part of a barn is used for. These buildings were mainly used to store stuff and hang tobacco in recent years.
(Thank goodness my Daddy was here–he's a walking encyclopedia.)
I think the interior of this particular barn is AMAZINGLY GORGEOUS.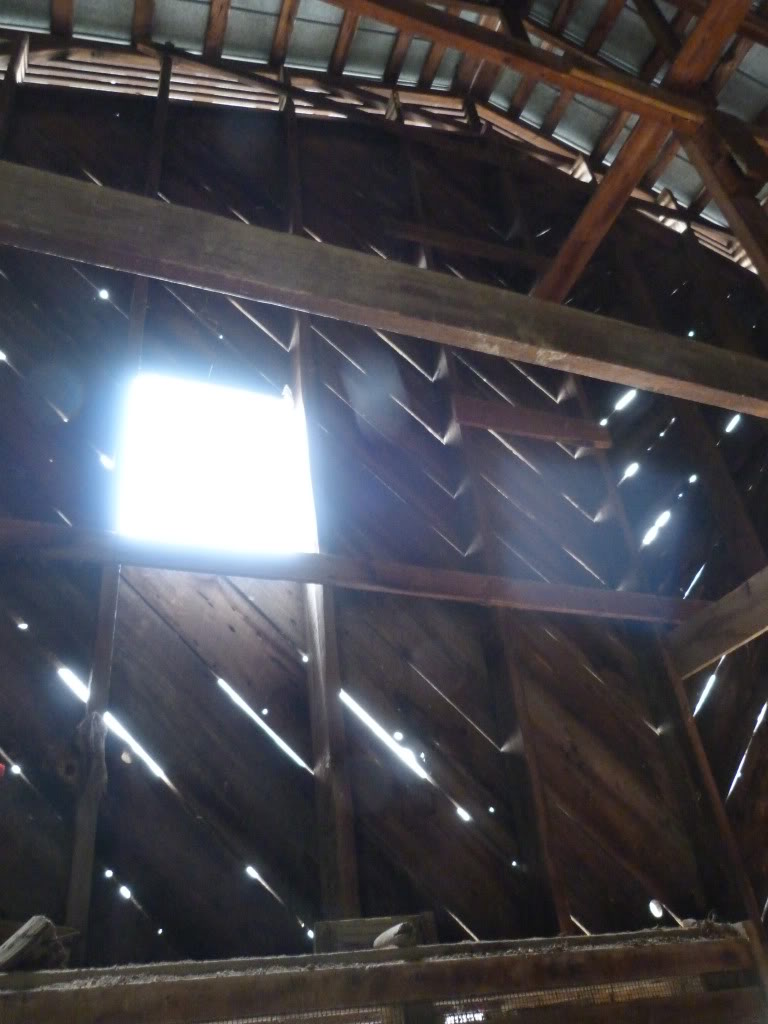 What are we going to do with this barn? IDK.
But looky here. Charlotte's Web.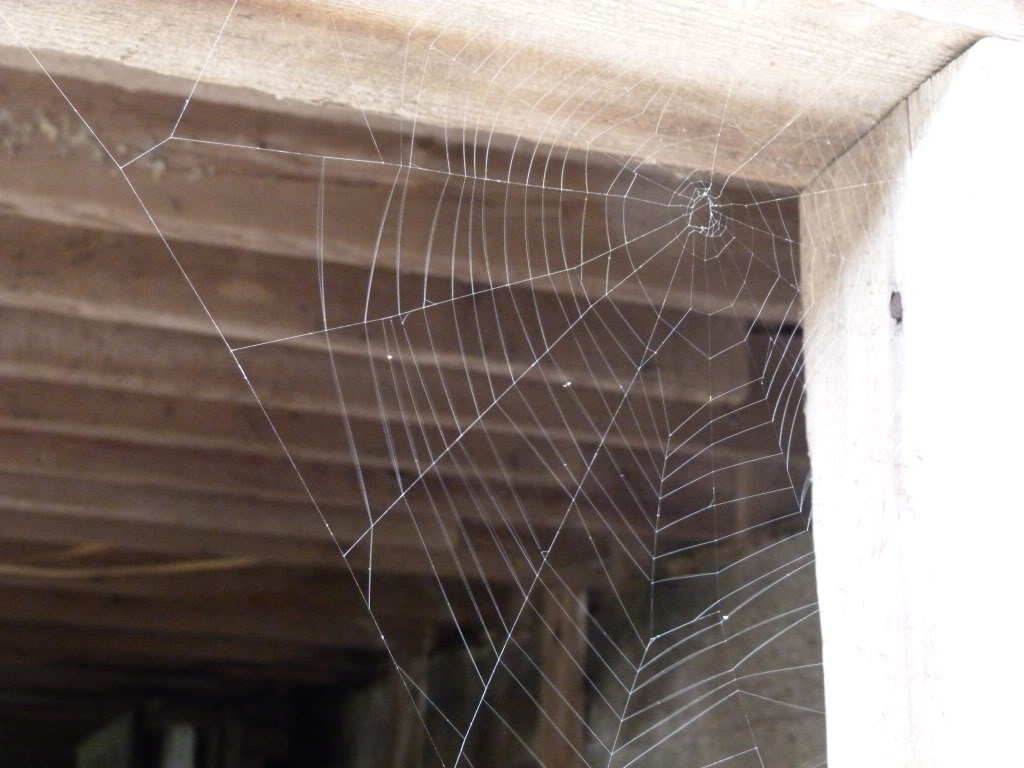 Here is our second silo.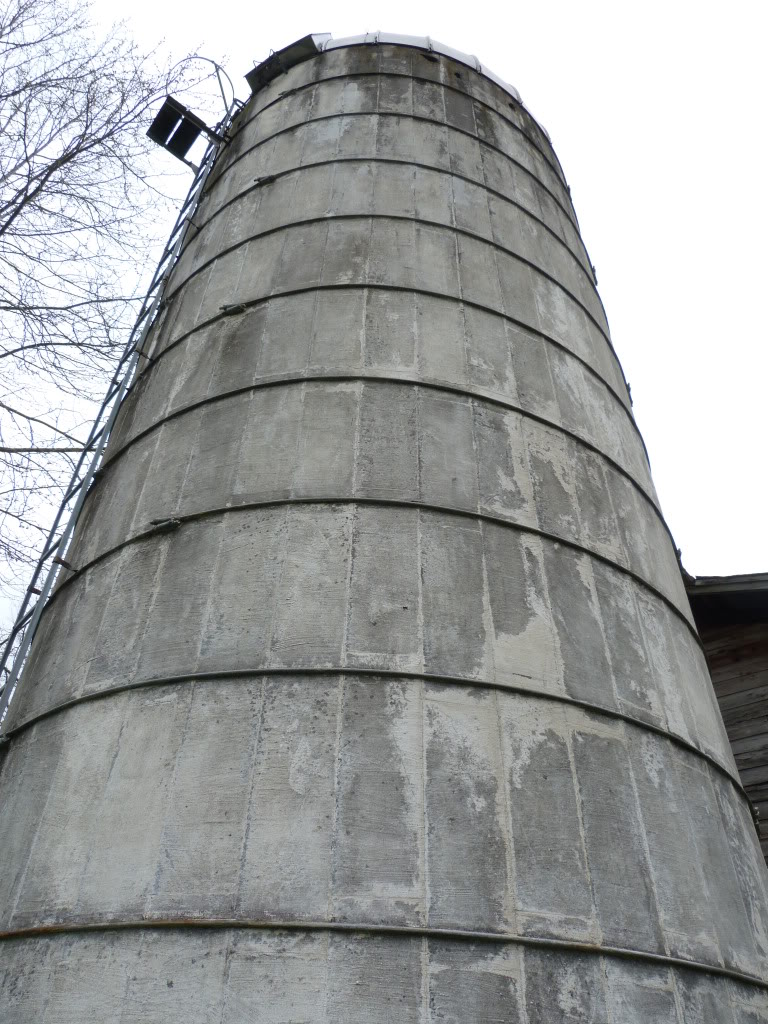 Now, as with the barns, I don't know how a silo works. I've never been around on and don't really get them.
But I have always admired them from afar.
And now I am admiring them from aclose.
Look at the interior. I am looking up towards the sky. Yes, this one has a cap.
This is stunning. This is art.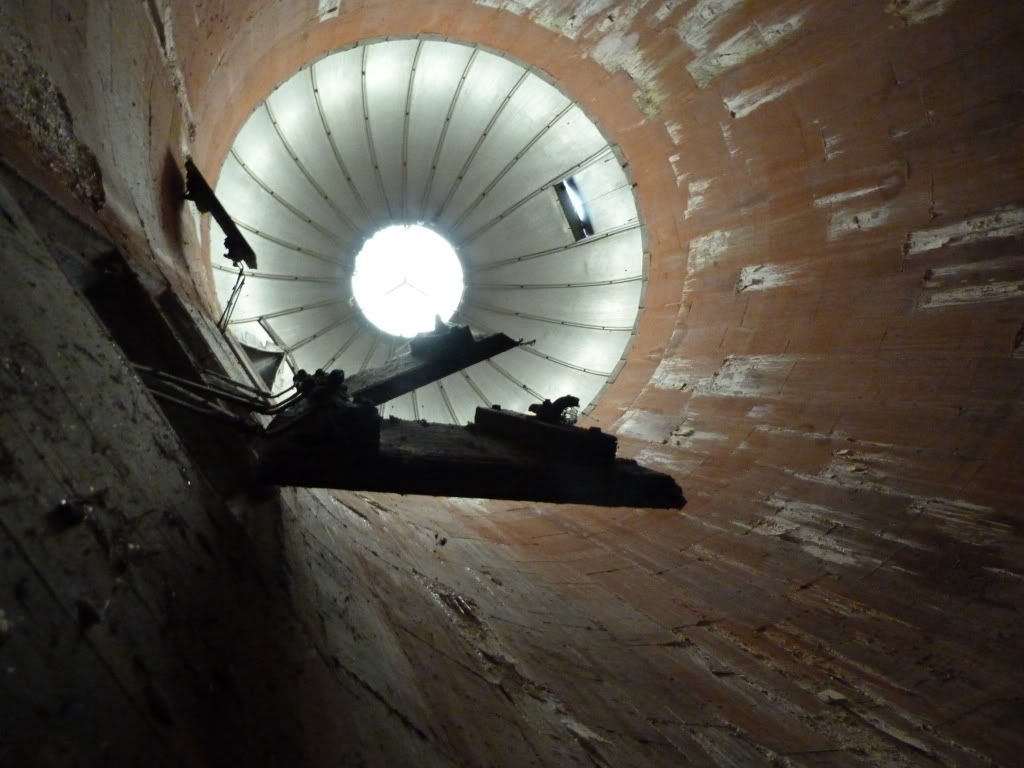 And here is my big surprise. Are you ready?
Okay, this is the building behind that barn we just went in.
Look inside.
Here's the date I found on this building.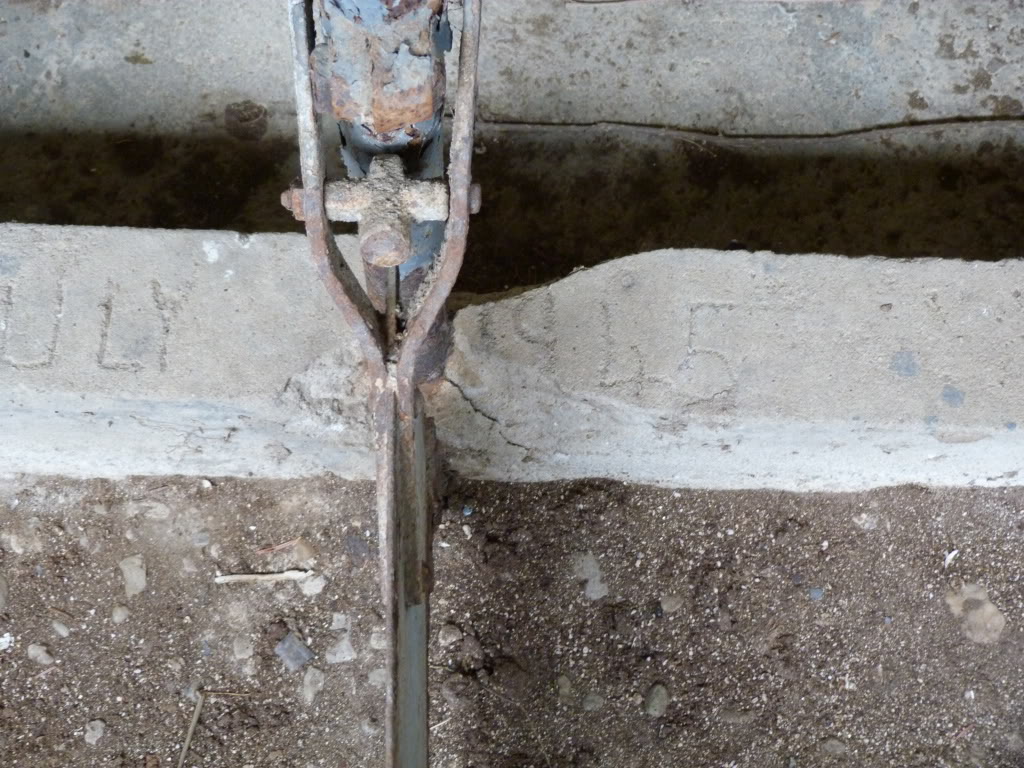 July 1945
I had no idea what was in here! None! It's not a pretty building on the outside. Looked just like an old storage building to me.
And then I went inside!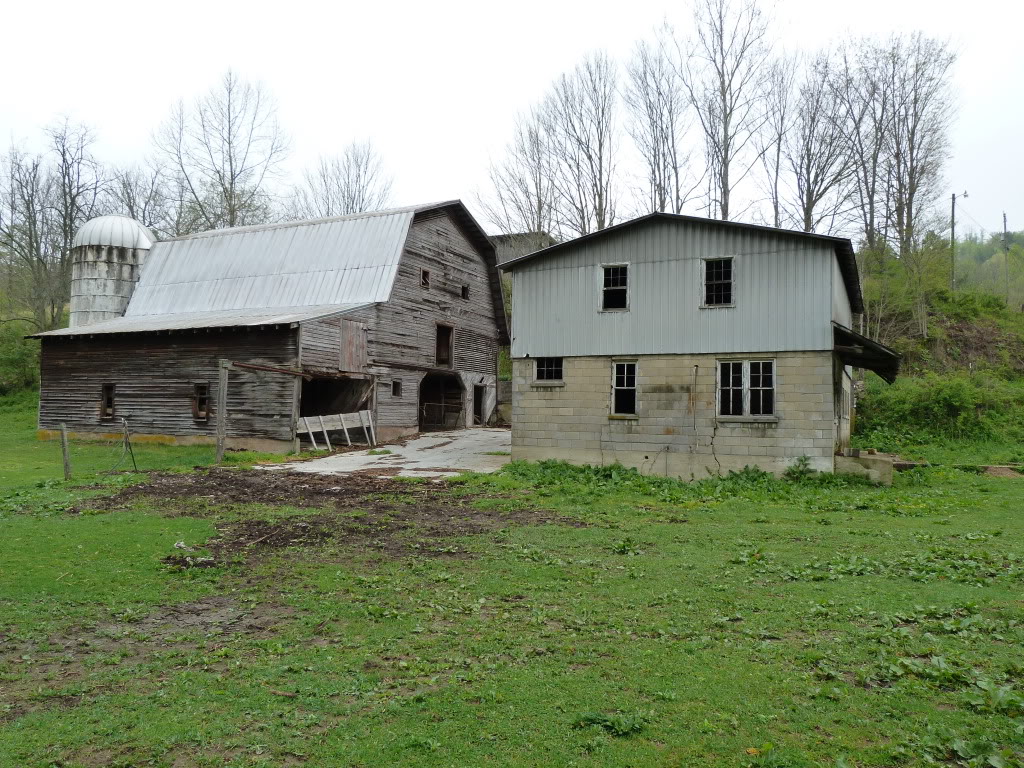 So let's go inside so I an show you.
Do you know what this is?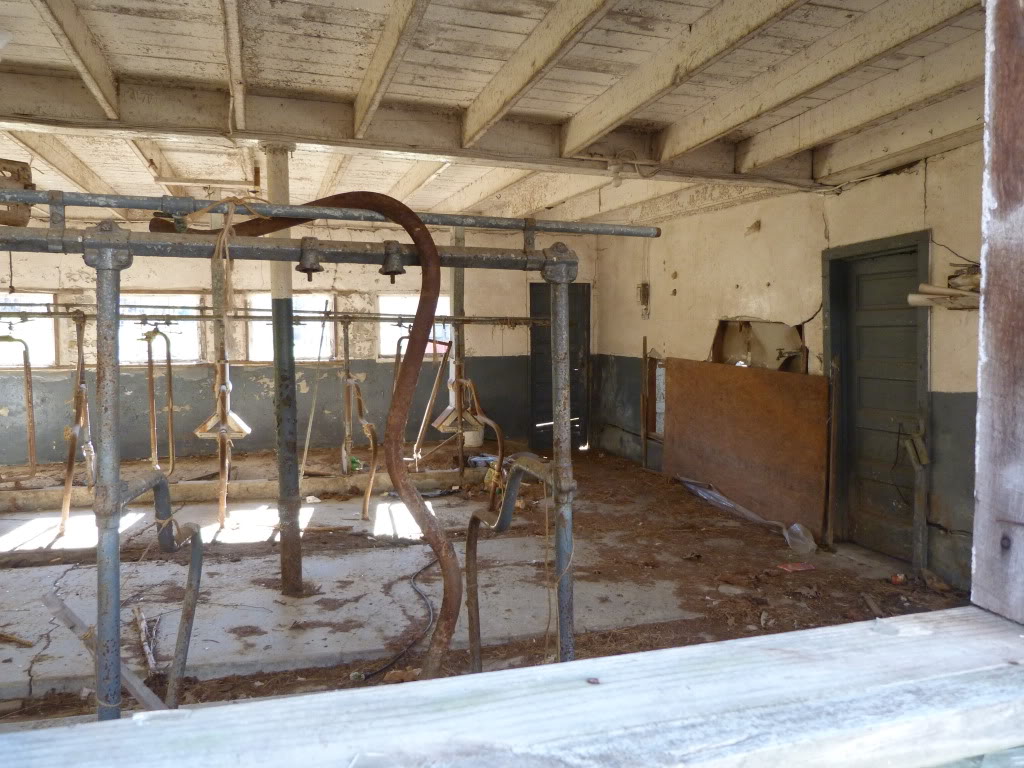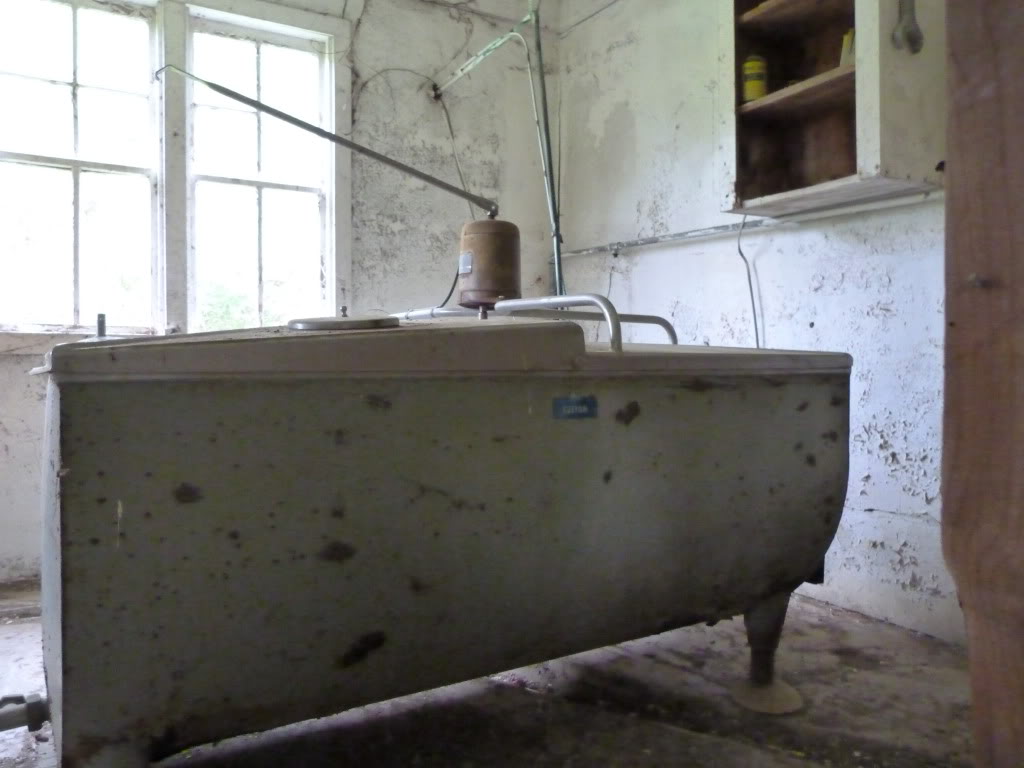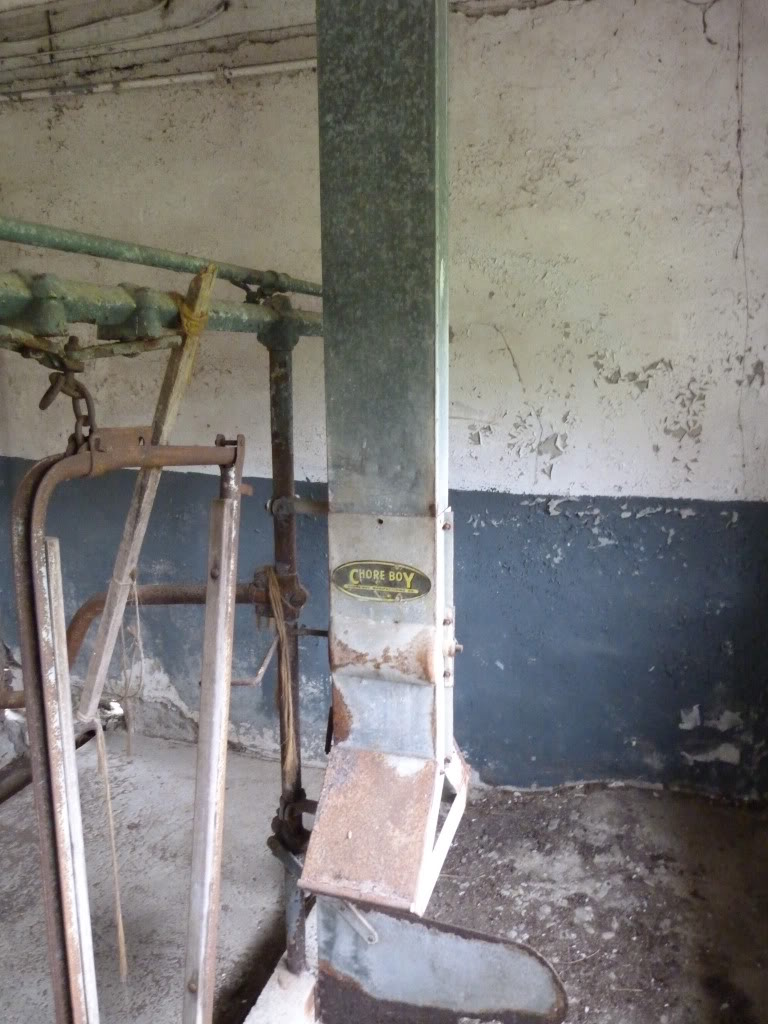 WOWZER!
An old milk house!!
 I'm so psyched.
 Oh yes, sure, you can see the work we have ahead of us.
But this is going to be a blast!
What a RIDE this farm is going to be!
Believe me, our seatbelts are on.
Until next time, Friends, savor the flavor of life!
Lots of Love, The City Farmgirl, Rebekah