In my mind, Farmgirls lead a highly organized life of pure simplicity. They are left sided thinkers. They are practical. And they are brave and strong.
My confession is this. That's not me. No, wait. I am brave and strong. But otherwise? Nah.
I am messy, cluttered, scattered.I
am a right-side of the brain person. That is my excuse. I have a sign, "I'm creative, you can't expect me to be neat too." My house and my car and my office have always drawn concern from other people, but the cluttered-ness rarely bothers me or my husband (he's just like me.) There have been times when we say, "hey, let's be more organized." But, it doesn't stick. Both of our offices have piles and piles of files and documents. We know what is in each pile. We understand the system. We're okay with it.
BUT. Now we have a strong desire to be more organized and simplified. Now we want to move to a small farmhouse.
Whoa. I, at this very moment, have a snake on my patio. Yes, Jake the Snake has returned this year to terrorize me. My little dog Strudel was just barking like crazy and I went out to see what the commotion was all about. Blue, my big orange dog came with me. (Oreo, my "I'm-a-lover-not-a-fighter" dog, stayed up on the deck, but joined in the barking.)
When I realized it was a snake, I wouldn't go near where the dogs had it cornered. (I guess I haven't progressed as far as I thought I had with my snake phobia. Hmm, it sure was easy to convince myself that I had recovered from snake phobia when there are no snakes around! But now that the snake has returned, so did my unnatural and debilitating fear of them.) So Blue and Strudel have the thing cornered and won't let up. The snake is striking at them. They're darting and backing up, darting and backing up. I want to go and "protect" them from the snake, but I can't. I'm paralyzed. So I yell, "Come! Come! No! No!" from afar. They bark their heads off and do not leave the snake.
I know three things. I don't want them injured and I don't want them to injure the snake. But I don't want to go down there.
What's a Farmgirl to do?
If I were my Grandma, who was a "real" Farmgirl, I'd have taken my hoe and "off with his head!" But that's not me. I don't want to injure or kill the thing. It's not poisonous.
So, this "Farmgirl," goes inside and gets some leftover lemon rosemary grilled chicken (it was good, btw). I stand on the deck and tell the dogs to come and get a "treat." That's a word they know well. Strudel comes running. I give her some lemon rosemary chicken and lock her in the house. Blue is going nowhere. He is interested in only one thing: the snake.
I slowly walk down the deck stairs. I start towards Blue with the lemon rosemary chicken, but as I do, he gets more ferocious and aggressive with the snake. I realize that he is protecting me. "Treat, Blue! Treat!  Blue!" Nothing. He is after the snake big time.
What do I do now? I mean, really? What?!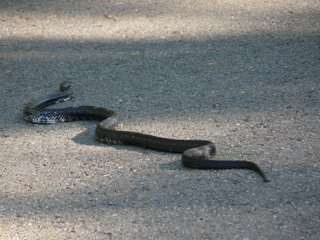 (This is not the snake in question. I didn't have my camera today. This is the snake picture from a few years ago.)
That's where we are now. Jake is down there somewhere. I finally convinced Blue to get close enough to me so I could grab his collar. I get him inside and life goes on. But the snake is still down there.
It makes me question myself. Can I handle life on a farm? Can I handle all the creepy crawly things that come my way? I was down in my garden here (in the backyard) the other day. I had finally gotten off my duff to plant some seeds. Out of the corner of my eye I see movement. I look over and it's the biggest, grossest spider I have ever seen in my life. His body was the size of a quarter, at least. And he had fuzzy black long legs. And he just sat there and looked at me.
And I had to move. I stood up to shake the willies away. I got away from him and worked in a different part of the garden. So, I doubt myself.
Do I have what it takes? Am I tough enough?
I was talking to someone who used to raise chickens for one of the big chicken companies. She said that she used to walk through the chicken house in the mornings and pick up the sick birds. "Whonk!" she said, "I'd hit their head on the side of the bucket and toss them in." That image haunts me.  I'm not much of a whonker.  I'm not made out of that. For her, she did what she had to do.
(Of course, I now know that the sorry conditions of chickens being raised for the big chicken companies. I know my own little flock would be nothing like that.)
But. I. Just. Worry.)
Blazoned in my mind is the time I accidentally killed three baby bunnies in my garden. It was years ago, and I haven't gotten over it yet. It was horrible, and I'll spare you the details, but I haven't forgiven myself for causing their deaths. I stayed out of the garden for a long time after that. That's what I mean. I'm not tough. I want to be, but it's not the way I'm geared. I still tear up when I see a dead animal on the side of the road. I used to cry when I had to read autopsies of babies and children.
So, I don't know if animal husbandry is really in my future. I read a blog post on urban chicken keeping that made me realize that as much as I like the idea of a chicken coop and fresh eggs, I'd love those chickens too much. I don't know how to separate that emotion from your chickens. Goodness gracious, I catch moths in the house and take them outside. Yanno? How do you find the inner strength to handle all the sadness that comes along with keeping animals?
Have I told you the Mercedes and the mice story? Okay, this post is getting completely off the subject, so I won't tell it here, but tomorrow I'll post it at
www.rebekahteal.com
(where I never make an effort to stay on subject. Ever.) It's good for a chuckle.
So I started a list of things I need to learn to do before I move to a farm:
1.
Use a chain saw.
3.
Hammer a nail straight. (as well as other basic carpentry skills).
4.
Take care of a horse (working on that one).
5.
Be less creeped out about creepy, crawly things.
6.
Learn how to operate a tractor.
7.
SHED STUFF I DON'T NEED AND ORGANIZE WHAT I HAVE.
Of all that, I think number 7 is the hardest. That is the confession I meant to make when I started this post. Of course, that was before the snake incident which led to that other "I'm not tough enough" confession.
So here goes. Recently we had some terrible storms at night. One night our weather radio sounded, so we gathered blankets, water, and the three dogs and headed down to the safest place in the house, our master closet.
We lay out on the blanket and told stories about all kinds of things. My daughter rarely goes down to this closet as it is tucked away in a corner of the basement. So she was asking about all the clothes hanging around and I was telling her about this gown and this dress and these shoes, whatever.
That's when I really saw it for the first time. My closet. And all that stuff.
And so, I got up from that blanket and started going through my clothes. What a ridiculous number of clothes for one person to have. And believe you me, if I'm thinking about moving to a little farmhouse with little closets then I better get rid of some of these clothes.
So I started pulling clothes off the hangers and folding them up in a pile. Soon it was so high it was about to tumble over. So I started a new pile. And then another. My husband joined in, going through his clothes and starting his own piles.
When the danger was over from the storm, we headed up to go back to bed. But something important had happened down there. Epiphany.
The next morning, I went to the closet with bags. I filled bags and bags and bags with great clothes and took them to Good Will.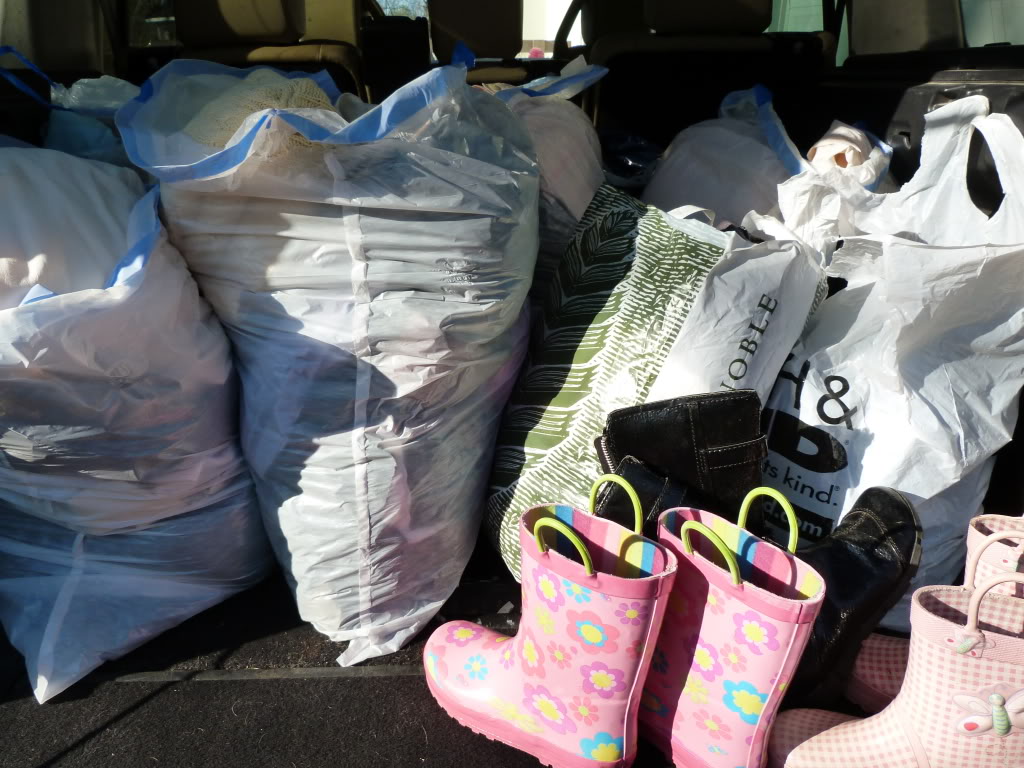 As I watched the guy toss my white silk blouse into a dirty bin, I almost stopped him to say, "Never mind! I'll take that back!" or "You've got to take better care of this stuff. This is GOOD stuff." But I didn't. I just took my slip from him and drove away. And thought, "I hope some little girl enjoys those gardening boots as much as my little girl did."
And so it begins.
Shed. Shed. Shed.
Until next time, Friends, savor the flavor of life!
Lots of love, The City Farmgirl, Rebekah