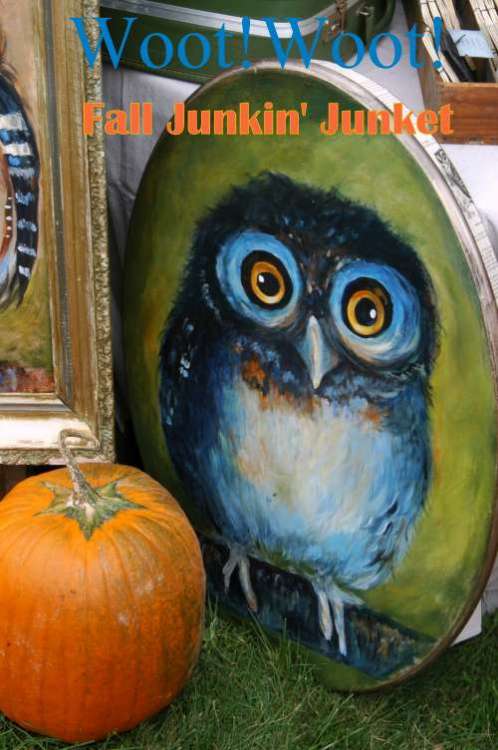 "Autumn carries more gold in its pocket than all the other seasons." —Jim Bishop
Dear Sisters,
What's more fun that grabbing your best junkin' gal pal and heading for prime hunting grounds on a perfect fall day? My friend, Melissa ( Tilly's Nest Blog ) and I have made it our fall ritual to hit the road every time The Vintage Bazaar comes to town. You didn't think we'd leave you out did you? Come on in! It's pickin' at its prime!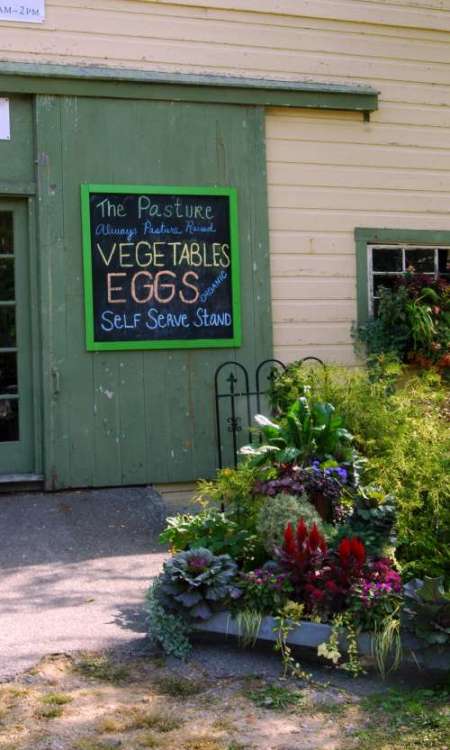 The Vintage Bazaar ( now its 4th year) showcases over 130 fabulous boutiques featuring antiques, vintage finds, architectural salvage, arts and crafts and some of the finest re-purposed goodness on the planet!
We've grown accustomed to being greeted by the farms huge flock of pasture raised chickens on our way in to the ticket booth. They travel in CHIC' luxury all over the farm in the EGGMOBILE.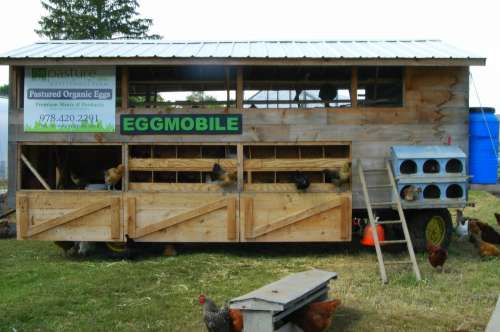 From the front you can make out the nesting boxes inside and the rain barrels on the side for convenient water access. The hinged doors close up tight at night keeping the flock safe from predators.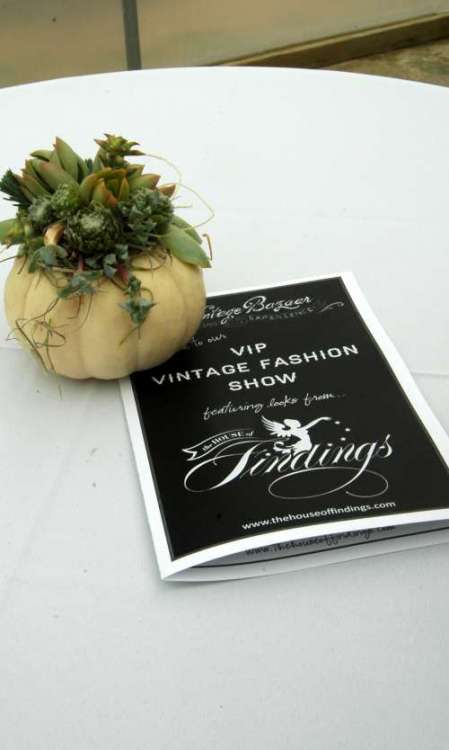 We arrived at 10:00 am and made a quick run though in hopes of making some good early bird deals before heading over to the VIP VINTAGE FASHION SHOW event at 11:00. Are you ready? Here we go!!!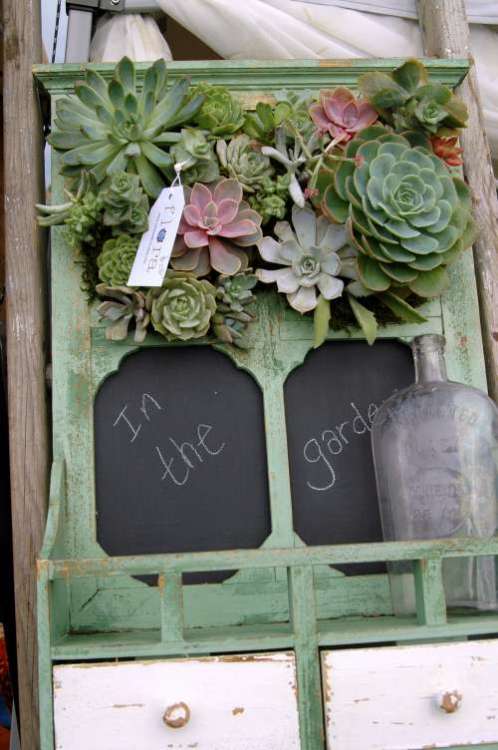 The level of creative genius is astounding. It's living proof that this is the age of ideas! Soak it in sisters!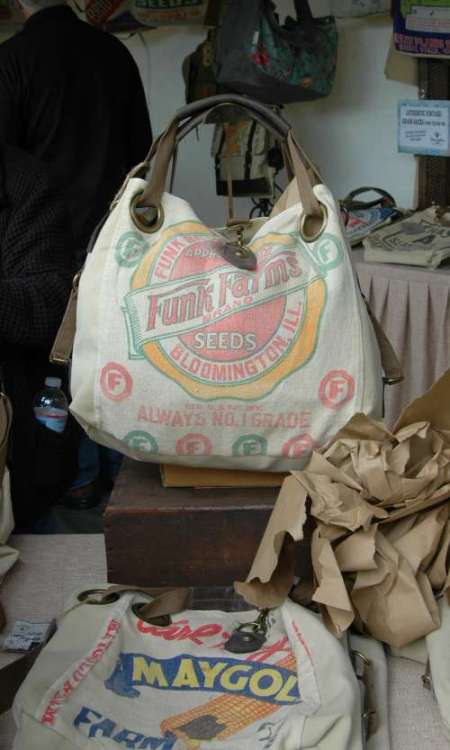 Right off the bat we spotted these lovely feed sack satchels. Don't ya love the name, Funk Farms?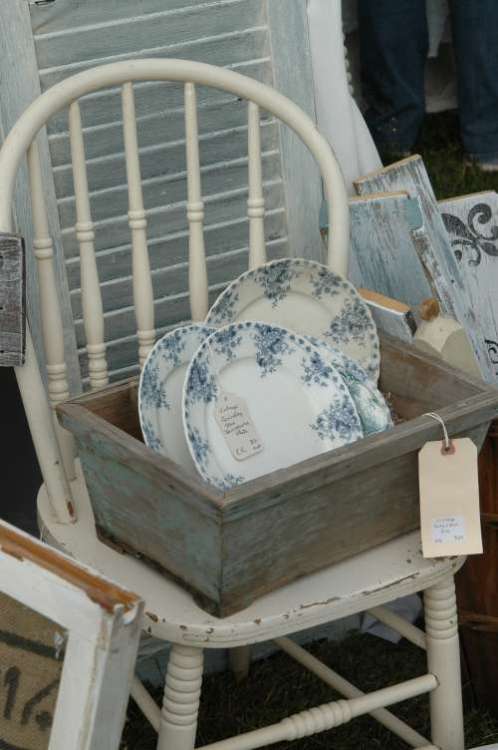 There is some serious, stellar styling going on here! These vendors mean business!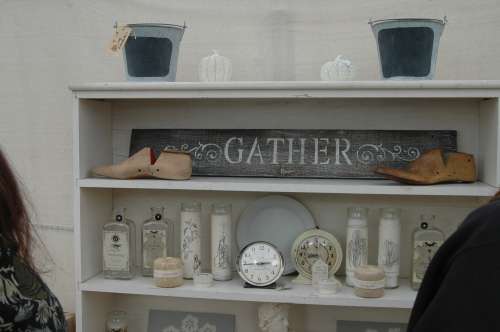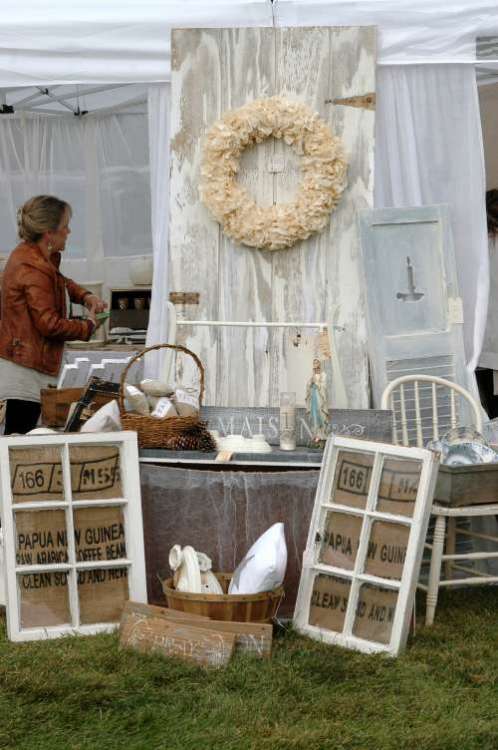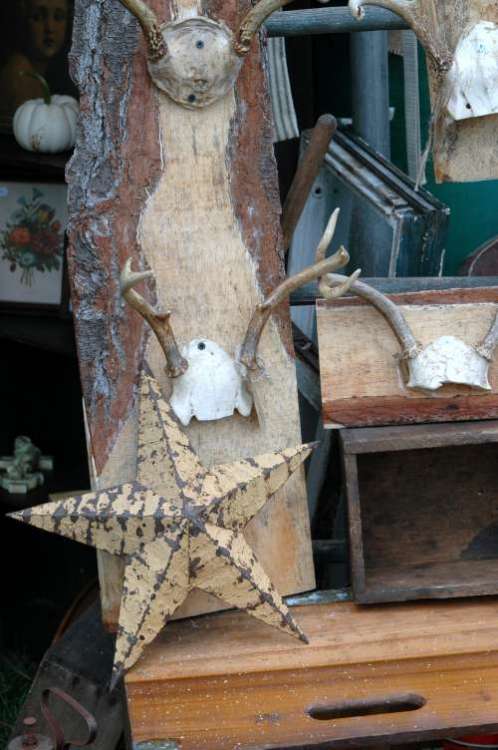 Does anyone need some horns or rusty stars for their Glamper? Speaking of Glampers! There's Melissa over by the Sea Pearl.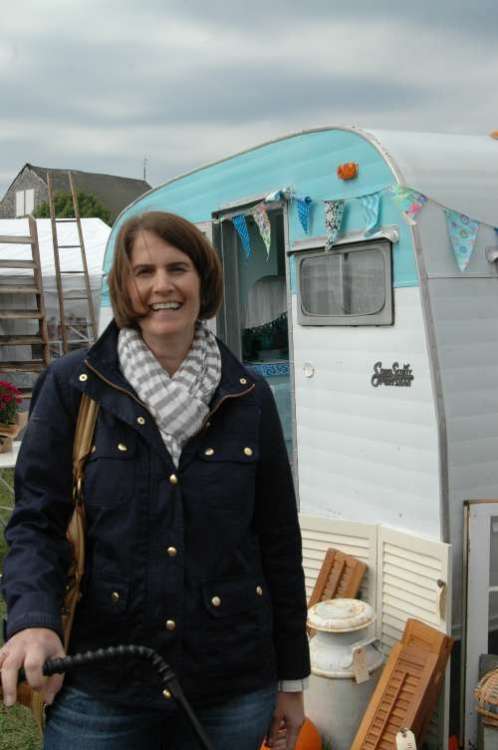 Here's a peak inside! Perfect for a quick escape
and a glass of wine with friends.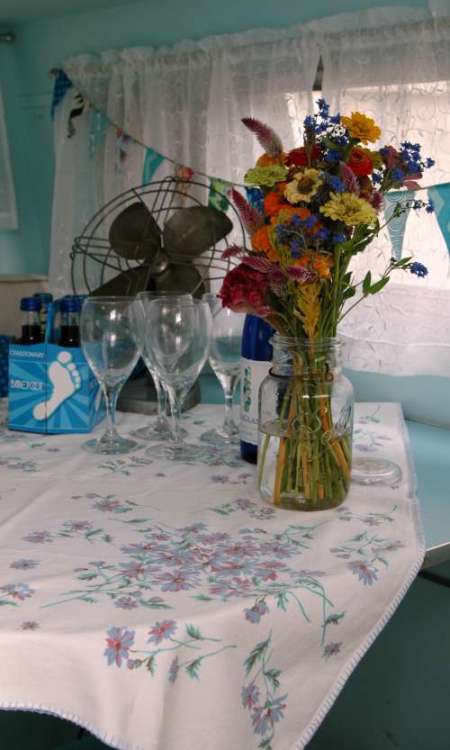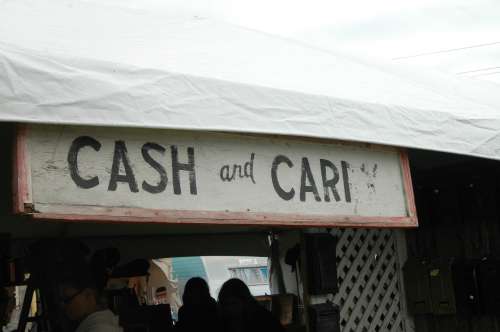 Oh, look! It's Cari Cucksey from the popular HGTV show Cash and Cari! Melissa and I went right in and said howdy, cause that's what farmgirls do! She was the sweetest, most down to earth person. Creative, kind and clever!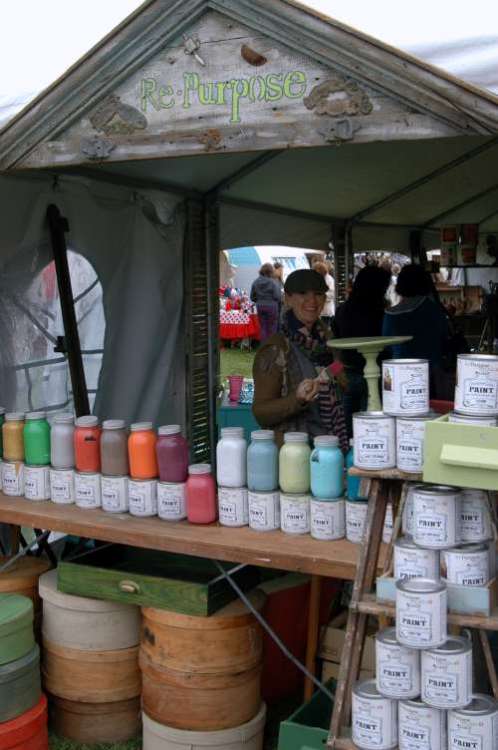 My favorite part of the bazaar ( besides that it's on a flower farm)  is seeing all of the re-purposed goods and hunting for things to make over myself. For whatever reason I'm drawn to larger projects. The 'thing' on my ' hot list' right now is to create a backyard green house out of salvaged windows and doors. Many of the vendors are hip to this cool re-purposing idea so I had plenty to choose from. I found seven vintage windows ( all the same size ) in beautiful condition and got myself an early bird special!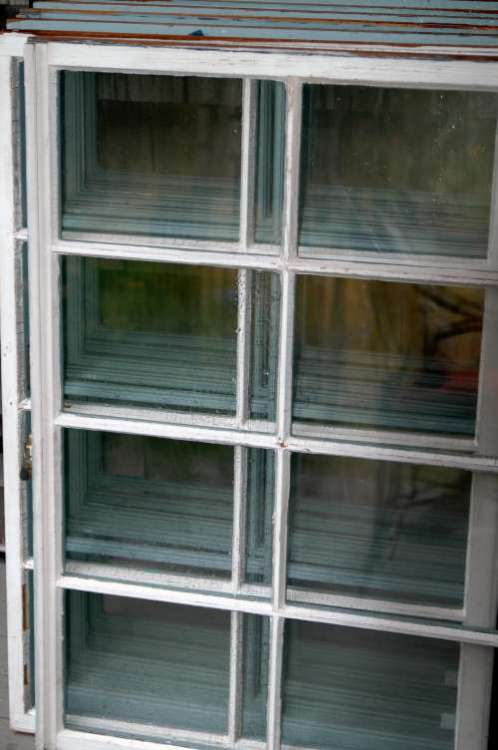 They were marked $27.00 each; I offered the dealer $100.00 for all seven and it was a done deal! And, if that wasn't sweet enough, at the end of the day he helped Melissa and I carry them to the car!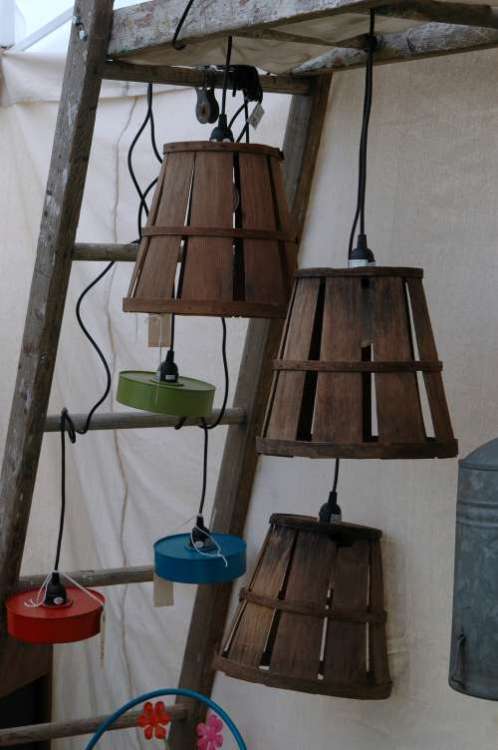 Does anyone know what these vintage parts are that have been up-cycled into farm chic lamps? I can see them hanging over a farm table, kitchen island or over an apron sink in a farmhouse kitchen. And, wouldn't they be lovely outside on a rustic porch?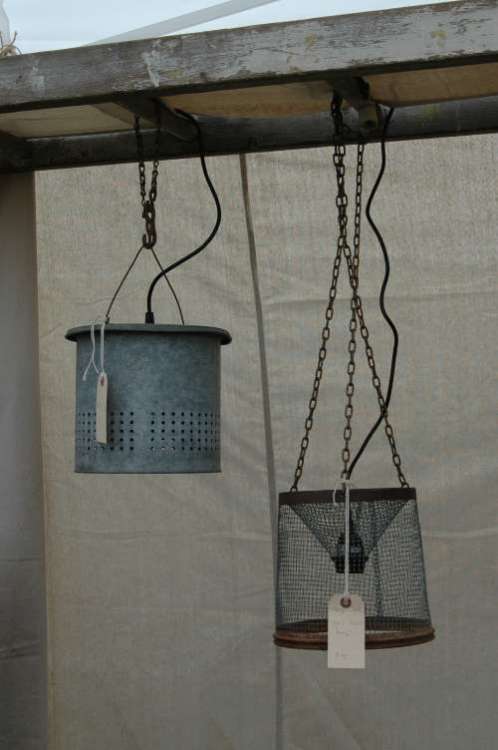 This vintage flower cart reminded me of Mary Jane's signature Farmgirl Romance style don't ya think?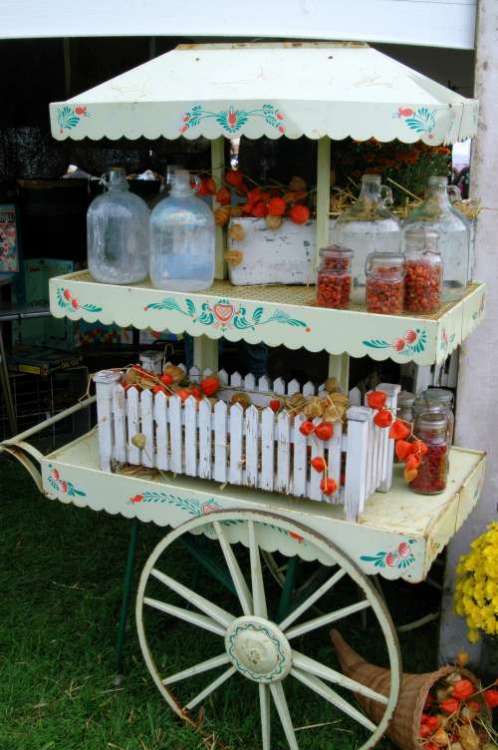 If you're a fan of vintage sewing notions, hold on to your knitting needles! There's more where these came from!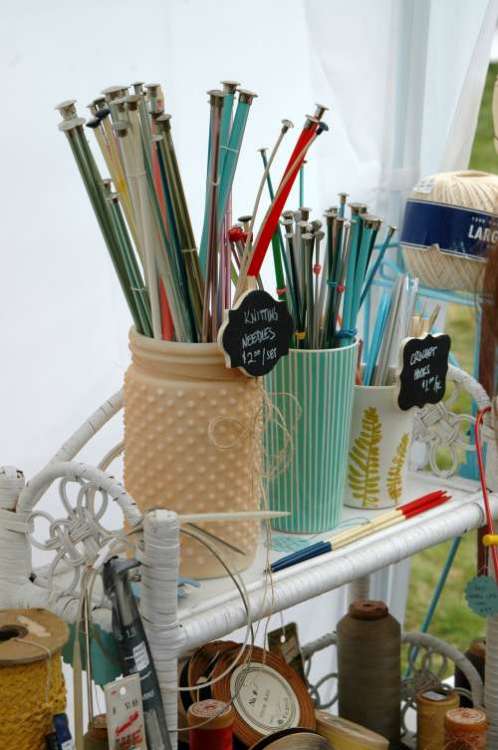 Just imagine what you could add to your vintage sewing collection if you went pickin' here!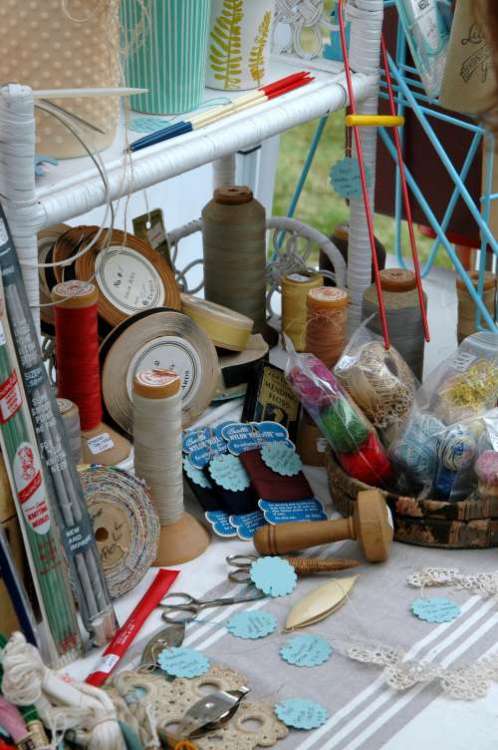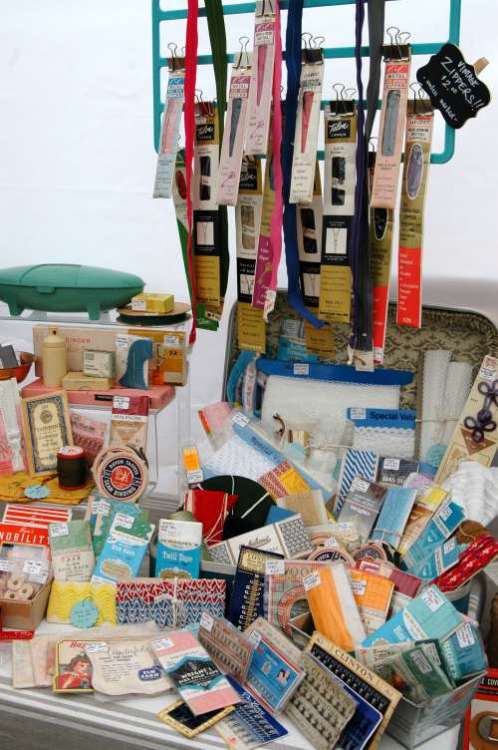 Sew delicious!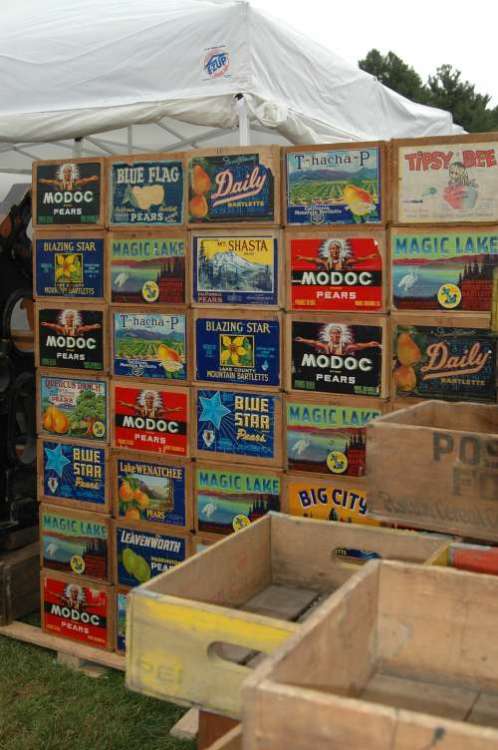 There was an abundance of old packing crates, mason jars, wooden and metal trunks this year. The collection of crates above with the vintage labels is quite impressive. The labels are in such wonderful condition. Any collectors out there who might be able to tell us more about them?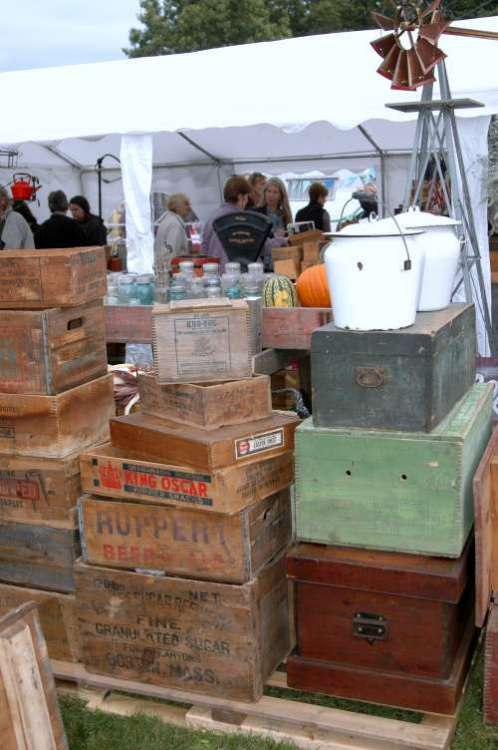 The Dish Sisters always do a bang up job in their Lil' shop and their displays are sooo cute!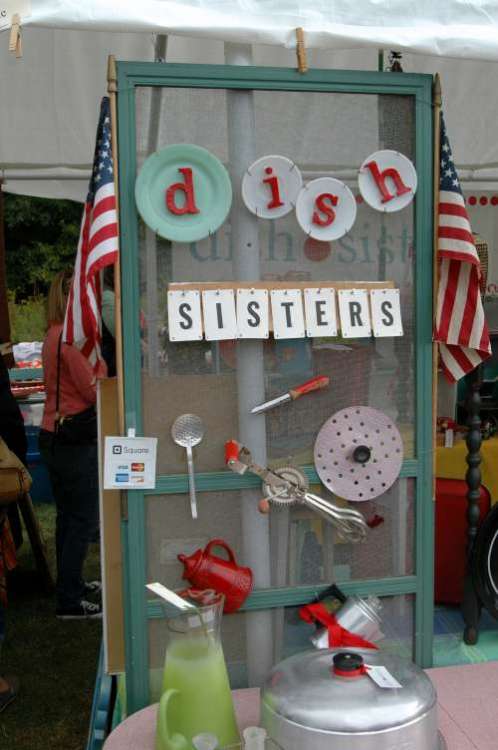 So, ya wanna see what else I got?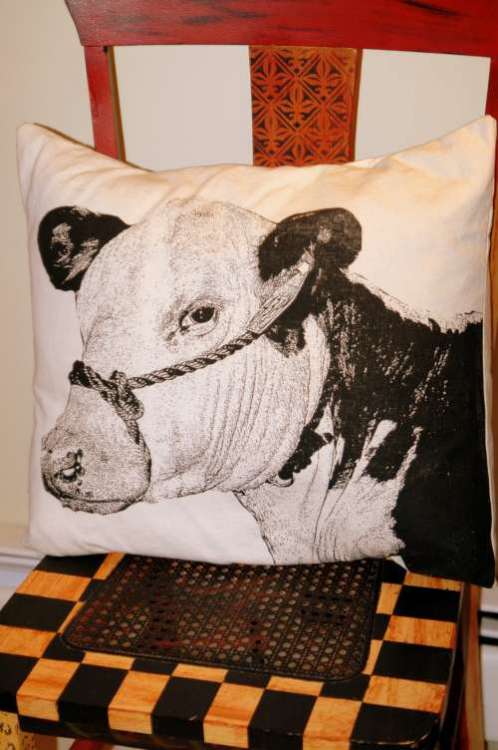 I finally got my cow! Well, it's really a cow pillow to hold me over until I have room one day for my real cow. I love the expression her face. She looks like a wise cow. I think I shall call her, Bea. This pillow is a Made in America original, created by a couple of creative guy's from PA. Their business is called Eric and Christopher! Ya gotta check them out!
Whew! I don't know about you, but I could use a cold lemonade and a sit down right about now. Tell me what you liked best about The Vintage Bazaar and thanks for coming along!
Join me next time for The VIP Vintage Fashion Show! You won't want to miss the Vintage Cowgirl Eleganza!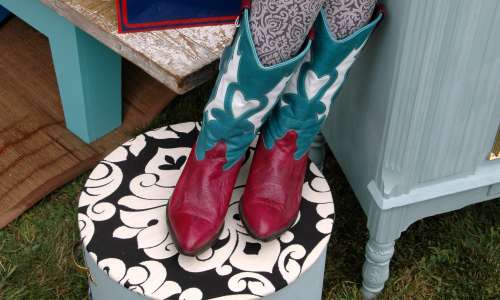 Until our next shoreline visit~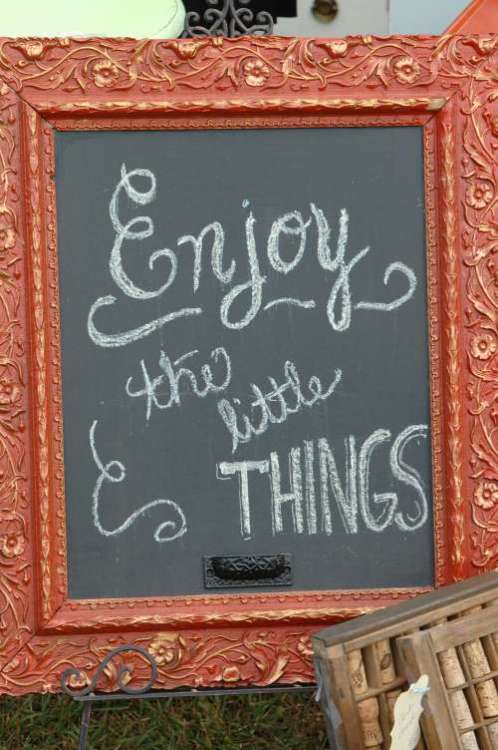 Much love and BEACH BLESSINGS!
Sister Deb # 1199