Yes…yes, it was. The Creative Connection Event was indeed wonderful. I enjoyed absolutely everything about it. One of my favorite parts was getting to visit with MaryJane. Could I love her any more than I do? Nope, I don't see how. She is everything you think she is, and more. And Meg is as precious as she seems. I was so happy to finally meet her. She's a doll.
And you wouldn't believe the creative talent and energy buzzing around the room. Such remarkable women. But, you know the thing I liked the most about attending?
Listening.
I sat back and listened intently to all the stories the women there shared with me. Treasures.
One of my favorite questions to ask someone I've just met is this: So, what's YOUR story?
I've asked it in many employee interviews too. The things that someone says after you ask that oddball question are always interesting, never ever dull. Usually, their response gets to their heart: the bottom line: what really matters. They tell you the things they think is interesting about them. What sums them up.
So, let me ask you. What's your story? What makes you YOU. What's your individual, personal story line? How would you answer that question?
What? Mine?
Well, as you know, I tell my stories on "this here" channel every other week. You don't have to ask me to share. I'm an open book. Probably too open for my own good.
But my "story"? I'm a mother, lawyer, Farmgirl. I like to garden, but when I do I'm probably wearing mascara. I like the woods, but am deathly afraid of snakes. The main part of my story is that I'm lucky.  Lucky, lucky, lucky. I feel like I'm living a charmed life. I've got this incredible man who loves me madly (for some reason.) And I love him like crazy and can tell you all the reasons! I've got a sweet, sweet daughter. I hit the jackpot when it comes to parents. And parents-in-law too. Just so lucky. And I've got this special, almost sacred place I call "The Farm."
However, there is a part of my story that I've been keeping to myself. It's the inside of my Farmhouse. I've gotten requests to give an interior tour, and I always skirt around the request. Sure, you've seen pictures of the outside of that sweet House, but I never show you inside. From the emails, I know that you think it is decorated to the hilt. That it is precious and tidy and picture-worthy.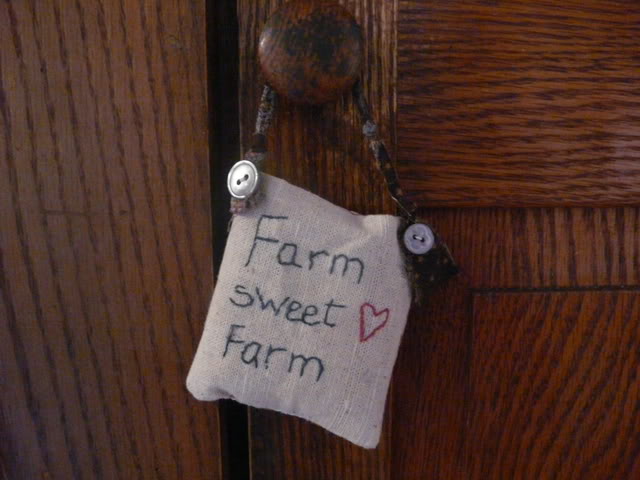 Farmgirl Aunt Jenny made this. Awesome, isn't it?
And I'm here to tell you: not so much.
So that's the part of my story that I don't usually write about. What can I say about it?
Truth: I'm terrible at decorating. Just terrible.
Truth: I'm terrible at decorating AND I'm cheap.
That means that my farmhouse is filled with mismatched hand-me-downs, flea market finds, give-aways from friends and families, and my own cast-offs.
But the other thing you should know is that I LOVE IT THAT WAY. I'm totally fine with it. No, it's not magazine worthy, but it's mine, filled with things I love. Color coordinated? Nope. Cutesy? Nah.
But perfect. I mean. Look at this setting.
There's my house (before the new roof.) Who cares what the bed spread looks like when the SPREAD looks like this….

But since so many of you have asked. I'm here to share. Let's go inside.
Here's my love seat. Behind that beautiful magnolia, with such a delicate, sweet scent, is my love seat. It was the first one my husband and I purchased after we got married in 1991. We've kept it so long because we love the love seat. The shape, the colors, everything. It's old and faded, and might smell a bit like dog, but we smile when we sit UPON it, remembering all the times we've sat there before. And smooched.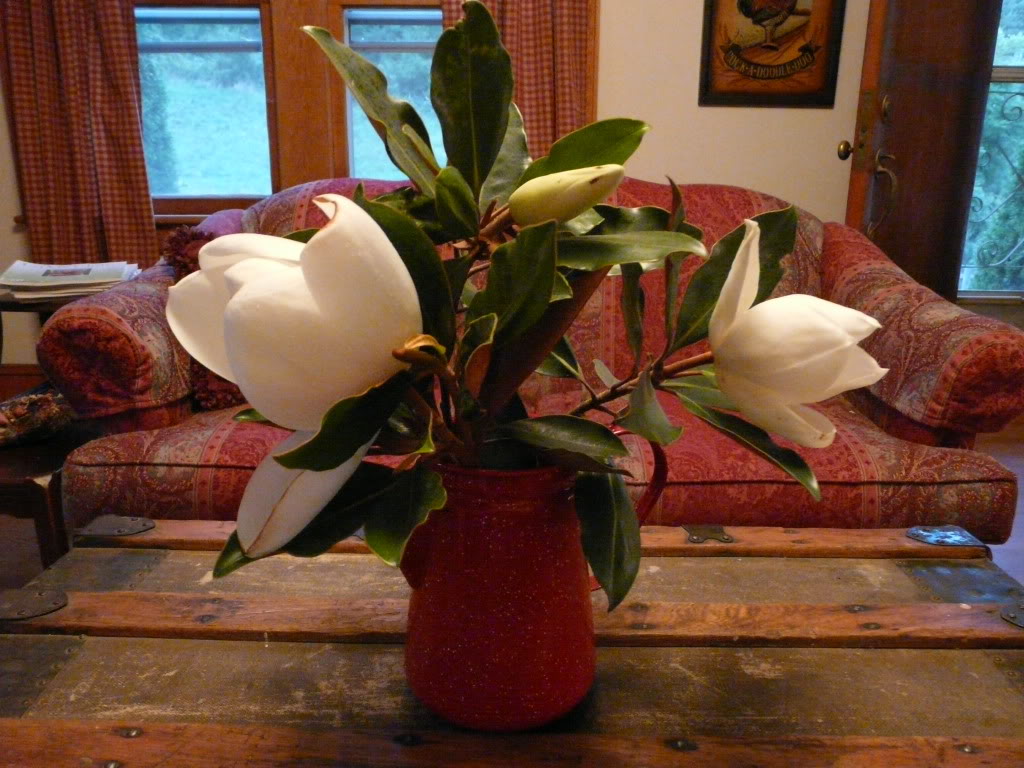 And that trunk I'm using for a coffee table? LOVE that thing. It's full of old blankets and quilts. It's rusty and blue on one side and not in the best condition, but I've had it forever. I picked it up at a flea market so many years ago. To me, it's grand.
And here. On the other side of the room.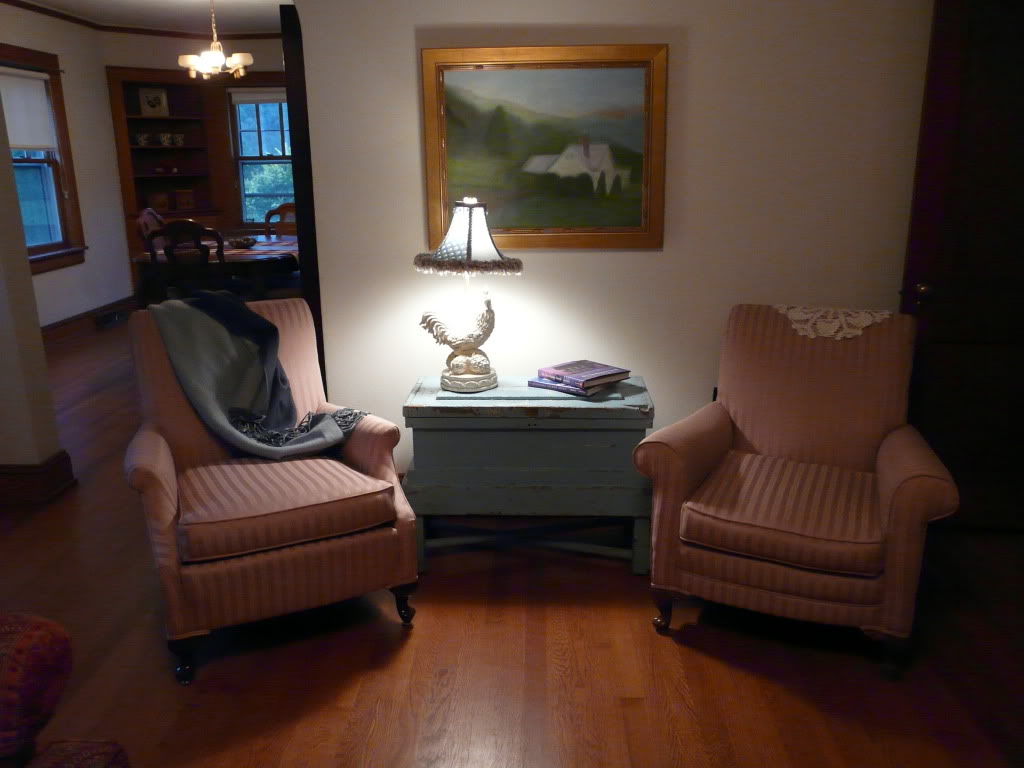 My two old pink striped chairs. My Mom gave these to us when we first got married. The one on the right came from one of my favorite aunts, Aunt Margie. She was tossing it out and gave it to Mom. The other one is one my Mom picked up from the side of the road, some one had thrown it out. She had them recovered in this pretty pink striped material and I ABSOLUTELY ADORE them. I love to sit UPON them and think about Aunt Margie and Mom.
The chicken light? I think that came from Tuesday Morning 10 or more years ago. The painting you see is my Mom's. She is an artist. I don't know if you can make it out, but it is of our little farmhouse.
And what do you think about that blue toolbox I'm using for a table? I've had that thing so long. I worked and worked and worked to clean out the oil from the inside. I finally succeeded. Now it is filled with games and puzzles. The things we do when we are there because we are so very FREE and UNPLUGGED.
I couldn't find a picture of my fireplace. But that's right in this room, making it cozy and warm.
One of my favorite things in the farmhouse is the kitchen stove.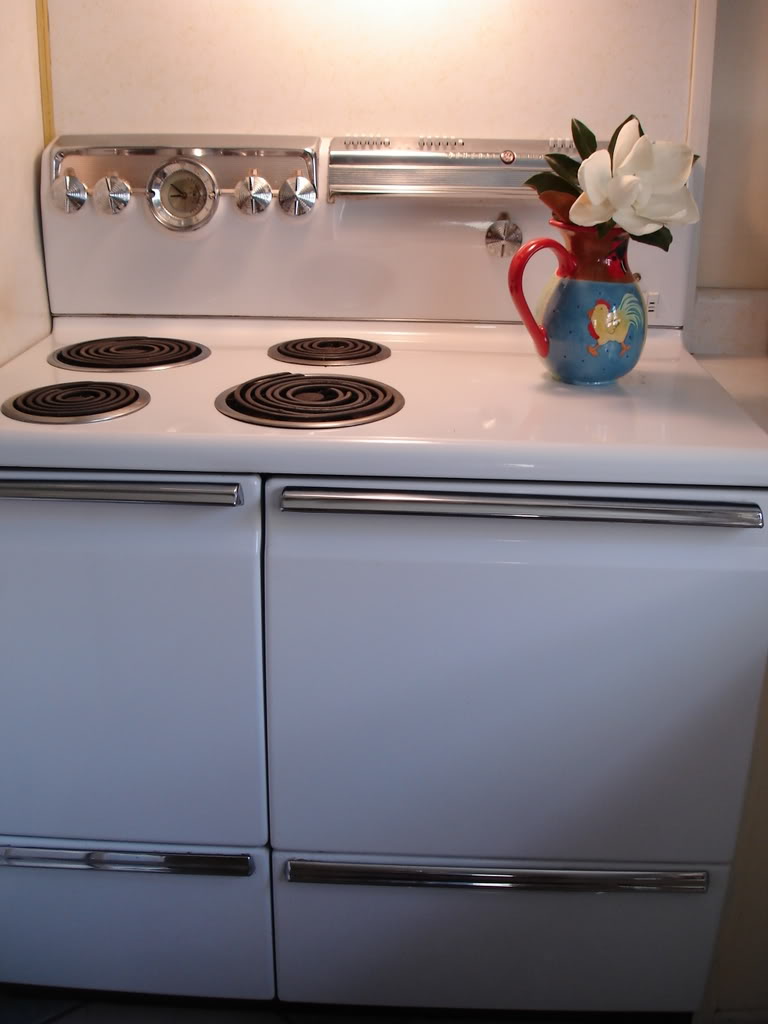 The stove sealed the deal.
When the agent showed us this house and I walked into the kitchen and saw the stove, I knew. This was my farmhouse. HOUSE LOVE.
I bought this screen years ago, to go on the front door of the farmhouse I was dreaming about. Well, when I found my house, this screen did not fit. So, it is now decoration in one of the bedrooms. I don't know if you can see this, but on it are words and sayings I wrote while I was waiting for my farm. Words of hope.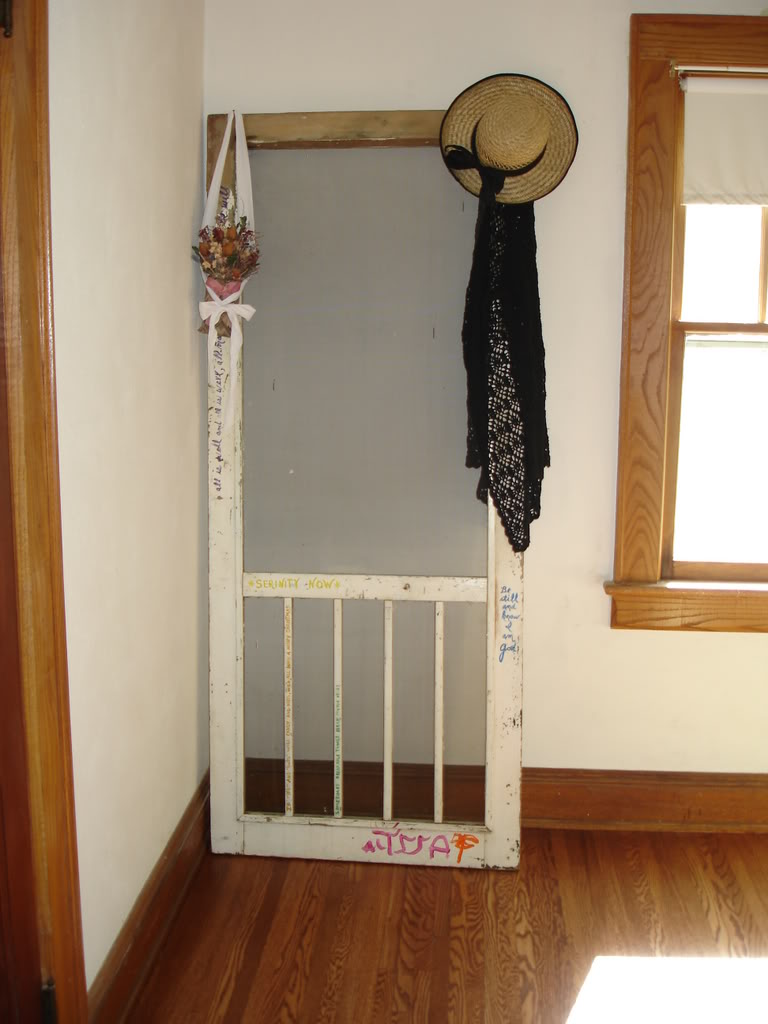 The Breakfast Nook. That antique, old, round, small, solid oak table is also one my husband and I bought when we first got married. But, it only seats 4; so, soon we replaced it with a larger table. This one was in the basement, just waiting for something. And now, here it is. It fits perfectly in the nook.
The flower is from the front yard; the bottle is a CheerWine bottle.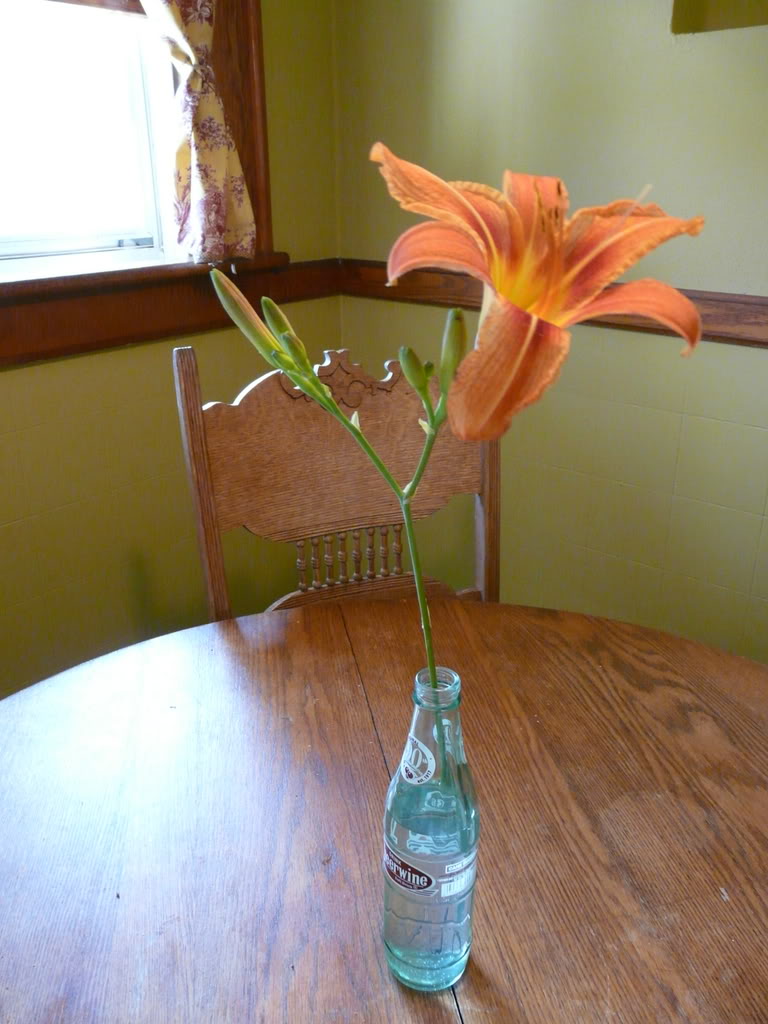 Ah, the phone. It came with the house. It is old and crackly; and it's hard to hear on it anymore. But it will stay forever. It belonged to the woman who lived here for so many years. On the top of it is a strip of masking tape with the name and phone number of her sister. I mean, who could get rid of that phone??? I'll take the crackly connection just for the way it makes me feel to talk on it.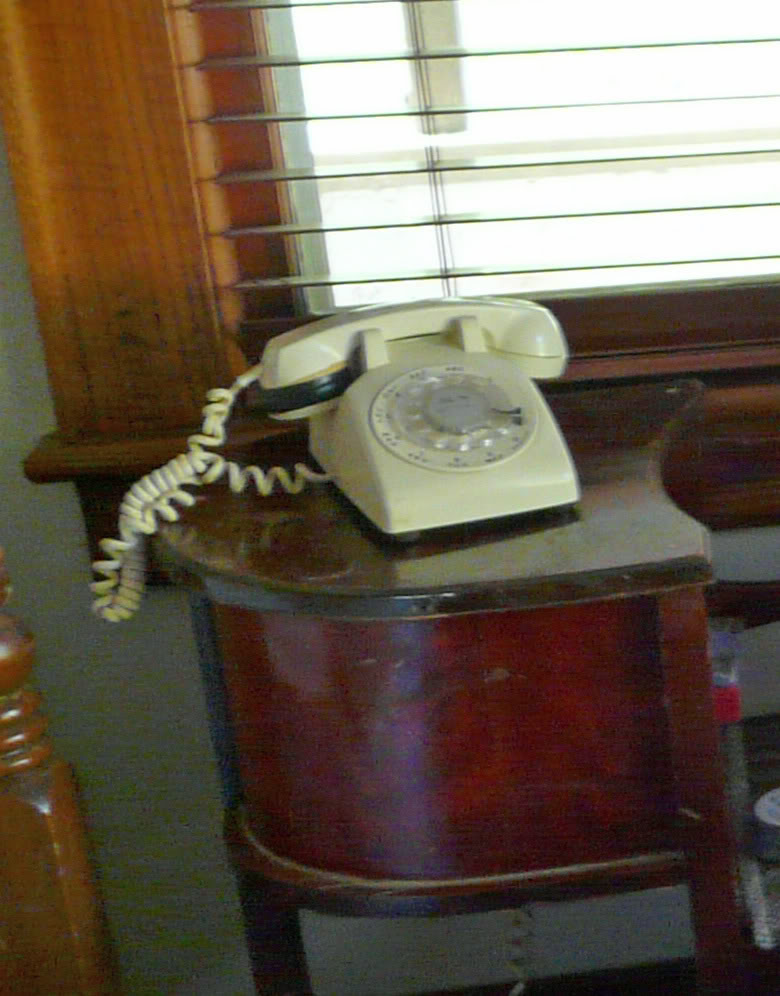 And the phone table is from my parents. It has a seat, so you can sit and talk for ages. Cordless phones made these tables unnecessary.
And what is this? Inside the farmhouse?
Check out this decoration. A couple of cutie pie cow-people. What's not to love, huh?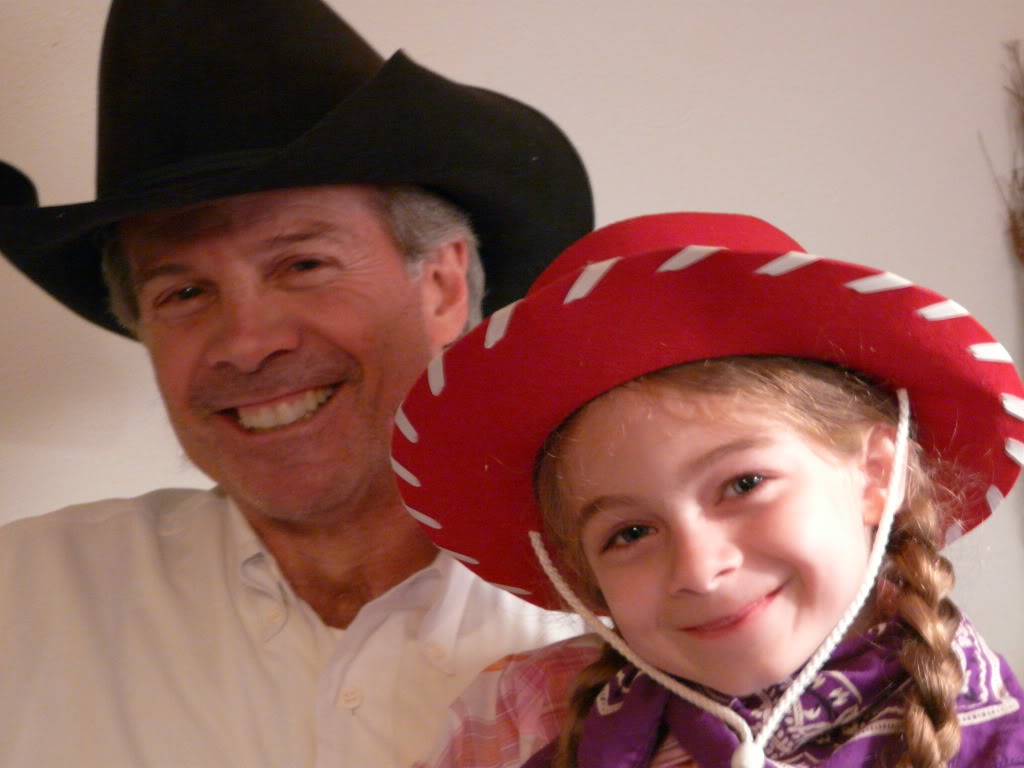 Okay, let's head down to the basement.
Even the door is beautiful, isn't it?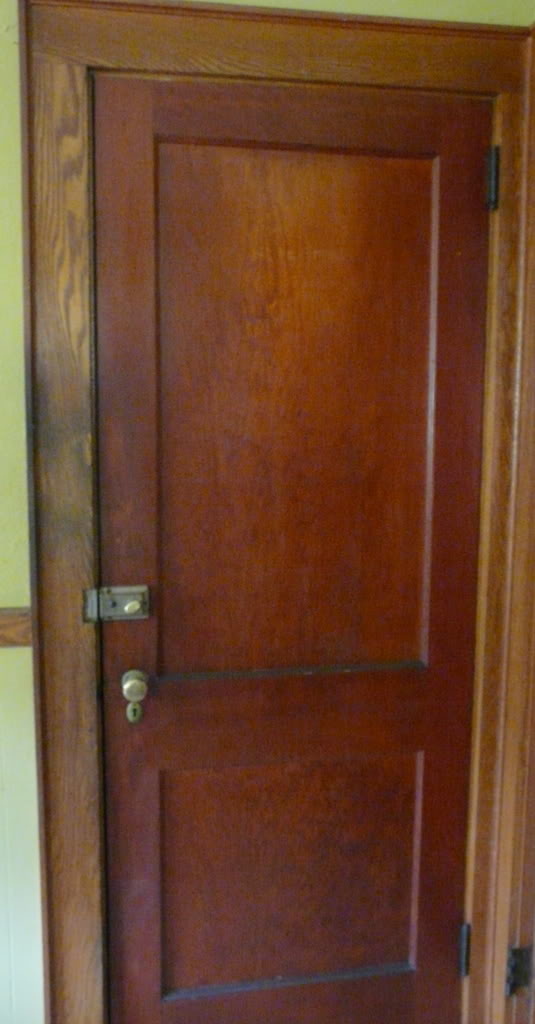 The most interesting thing about the basement is the crock in the corner. I think I've showed you this before. It's cemented into the floor. Very cool. And another old stove.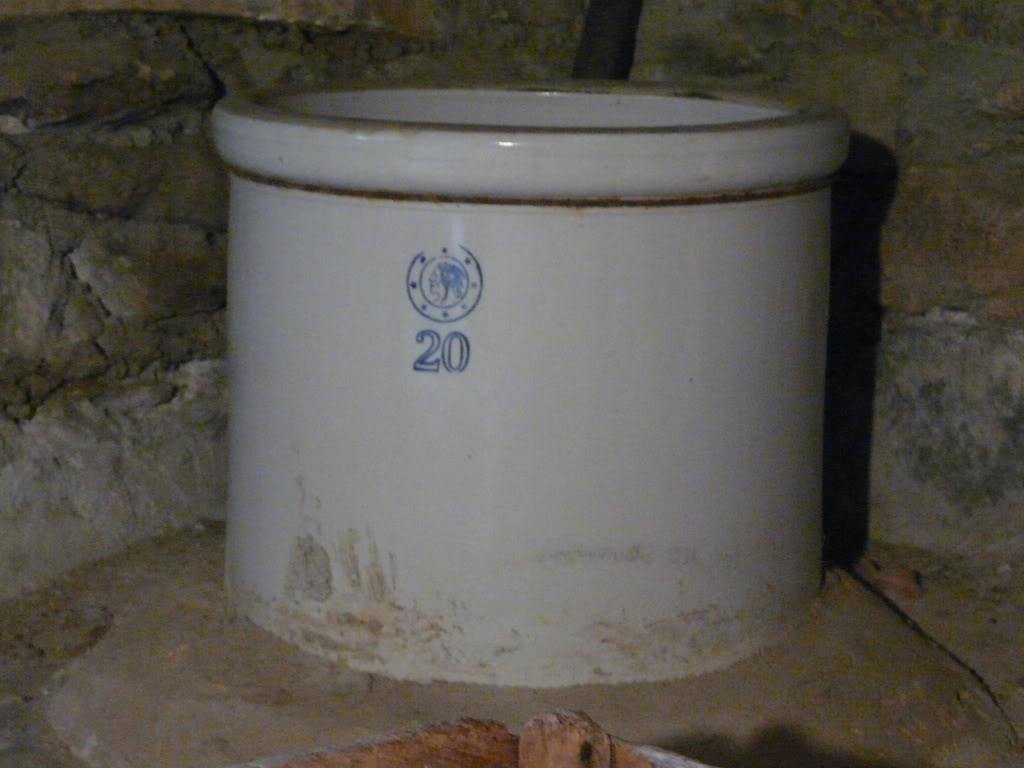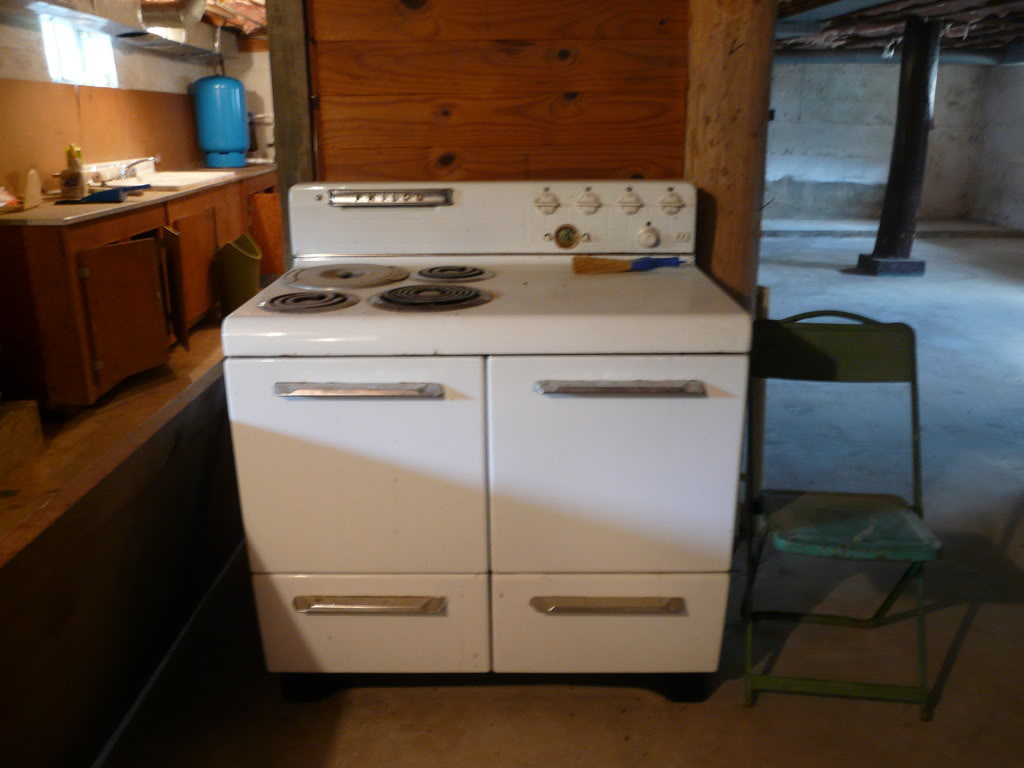 So that's the inside. Let's head out the back door.
Oh, I'll take that….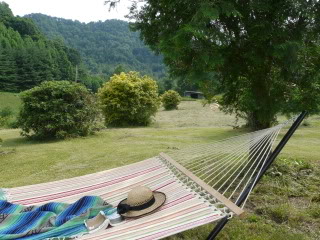 Just lay there and watch the sun set on the meadow.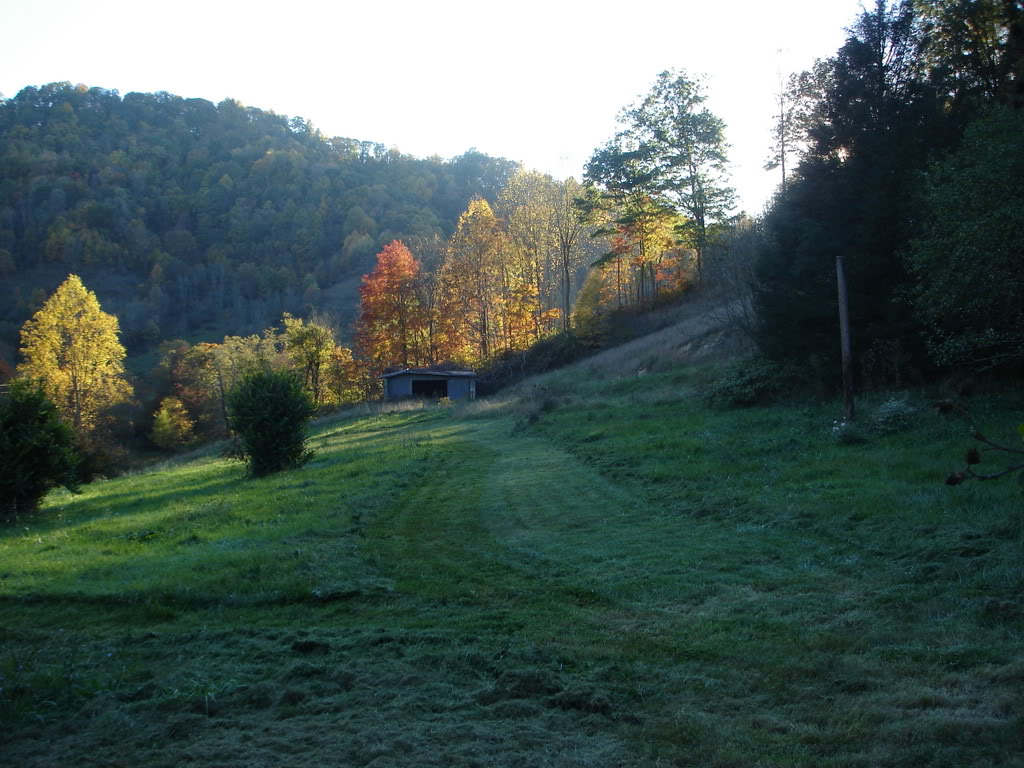 I mean, seriously, you see why I don't take time to decorate the inside? I'm outside most of the time I'm there.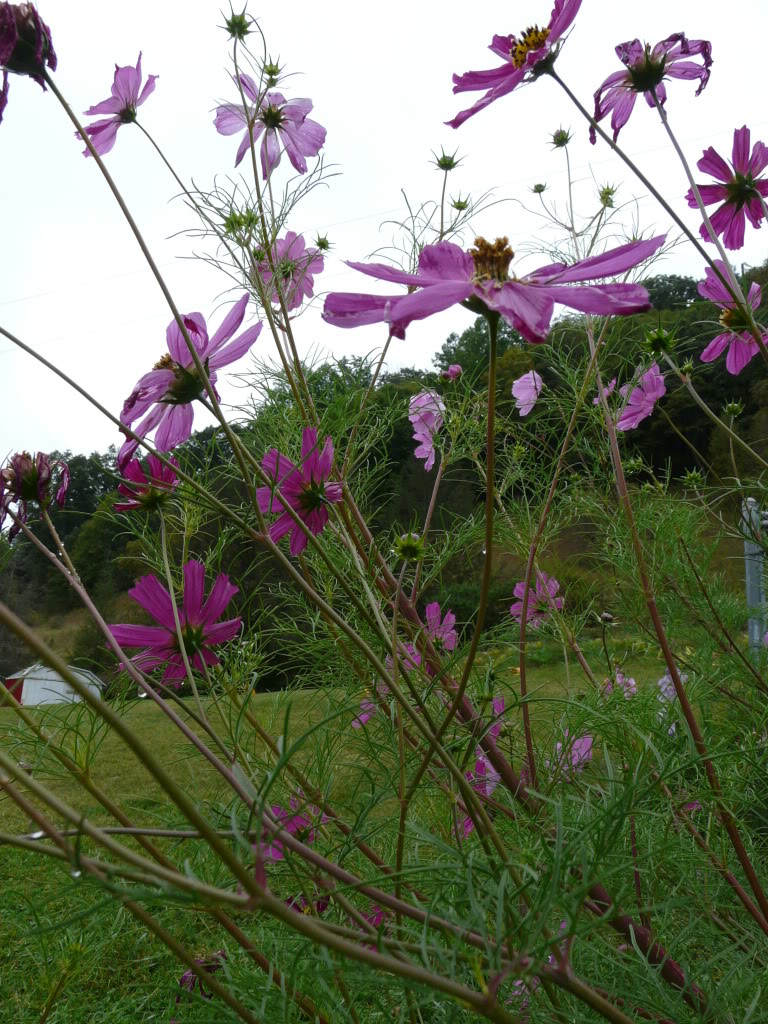 Cosmos by the house.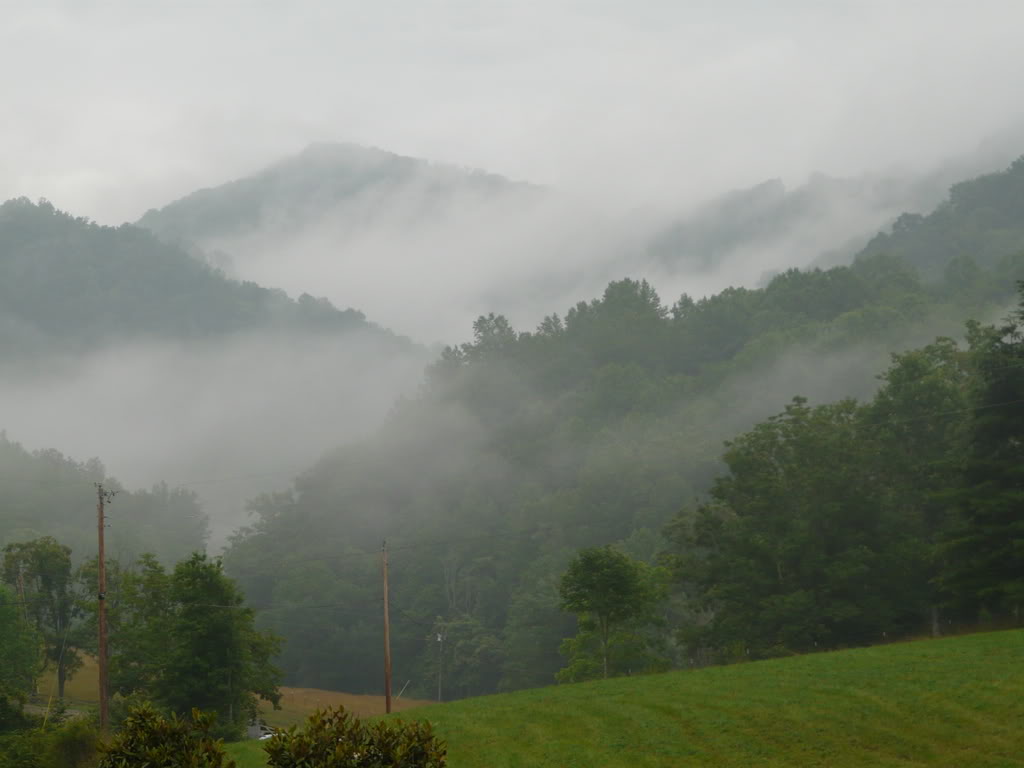 The view from the front porch.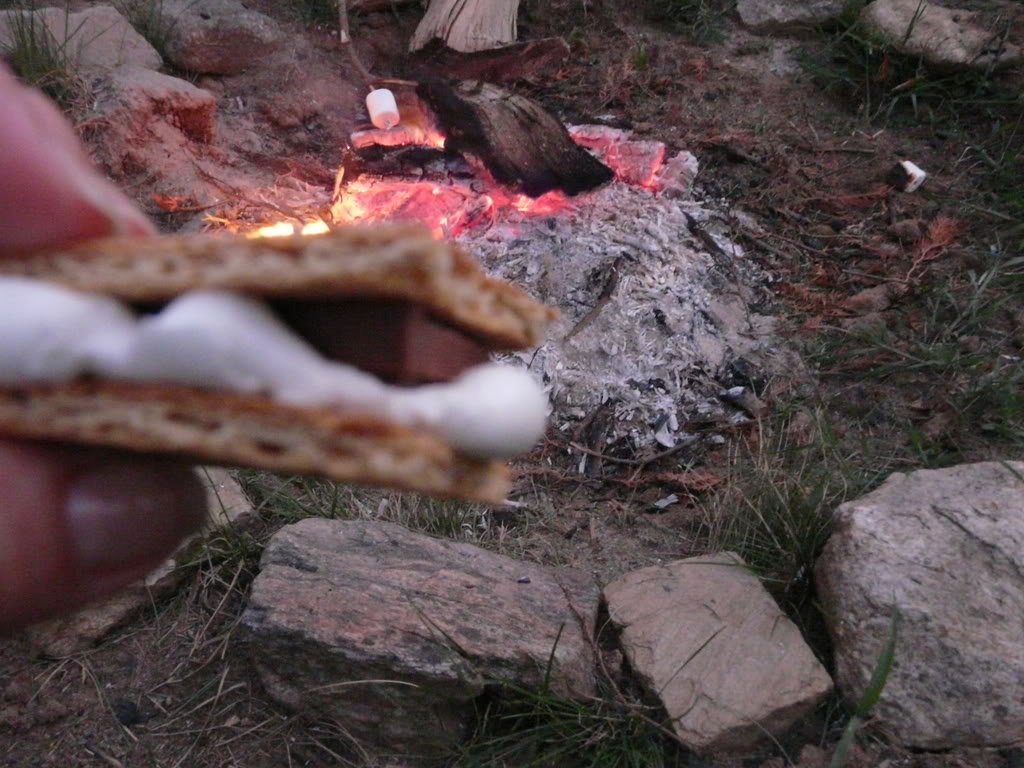 S'mores every night.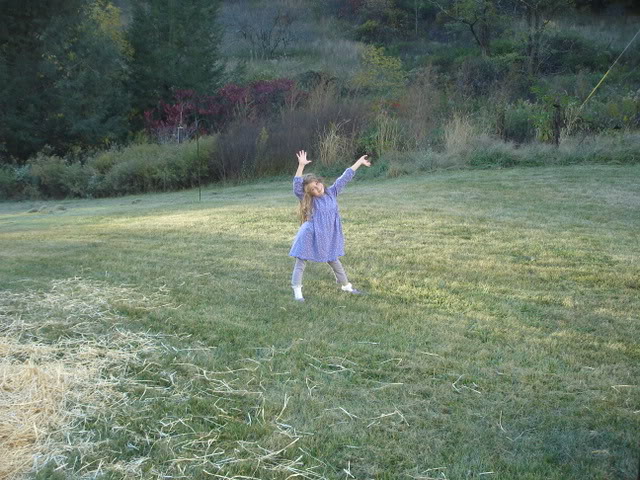 Happy, carefree child dancing in the meadow.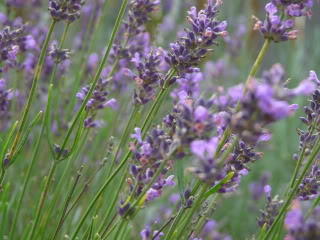 Lovely peace inducing lavender.
So my story? The bottom line is that I romanticize the farm life. I love the IDEA; I love the way it makes me feel to be a part of it. Escape. Re-creation. Refresh. I go there to find myself; I go there to find peace. And one day I'll have a big green tractor….
Now, what's YOUR STORY? Won't you take a minute and leave a comment?
Until next time, Friends, savor the flavor of life!
Lots of love, Rebekah, The City Farmgirl