The moon last night. A total wow. How fitting for 9/11. A full moon, low in the sky illuminating the earth, illuminating our hearts.
Last night's moon was the last full moon before autumn's official arrival. That makes it the "Harvest Moon." It was named "Harvest Moon" because this time of year is crop gathering season for many farmers. And that big, bright moon gives them extra time to harvest their produce.
I don't know about you. But I wasn't bringing in any crops. My garden is quite bare. Sadly bare. 
My major harvest this summer was tomatoes and basil. They are both long gone now.
But being a "harvest" moon and all, I knew I should harvest something. So I got rather loosey-goosey with the definition, as I often do. I'll tell you what I'm harvesting in just a minute, but how about you? Did you harvest anything? Either in your garden, or in your career, or in your home, or in your family, or in your head, or in your heart?
The problems with my garden this year have been numerous. First, we've had an extraordinarily dry growing season. The summer air remained sticky and heavy; yet there was never enough moisture to relieve the plants of their thirst. Instead, the humidity and hot sun made it hard for the garden-tending humans to be outside. I have convinced myself that I captured the haze of 'southern humidity' in pictures I took one evening in the garden. Is that possible?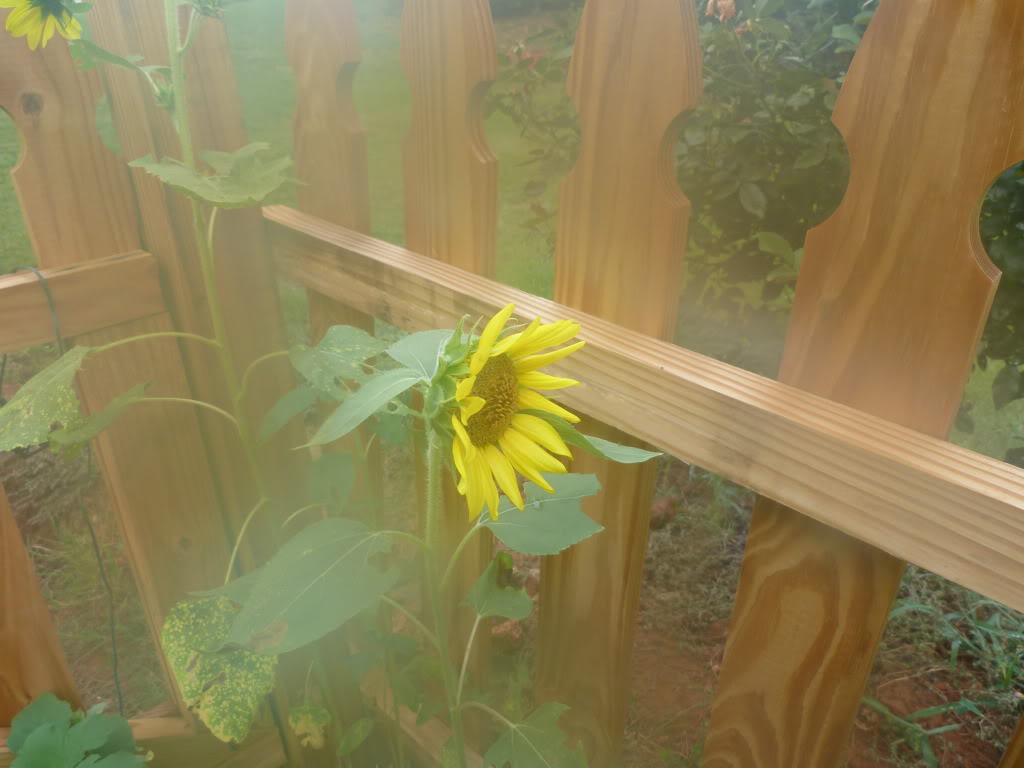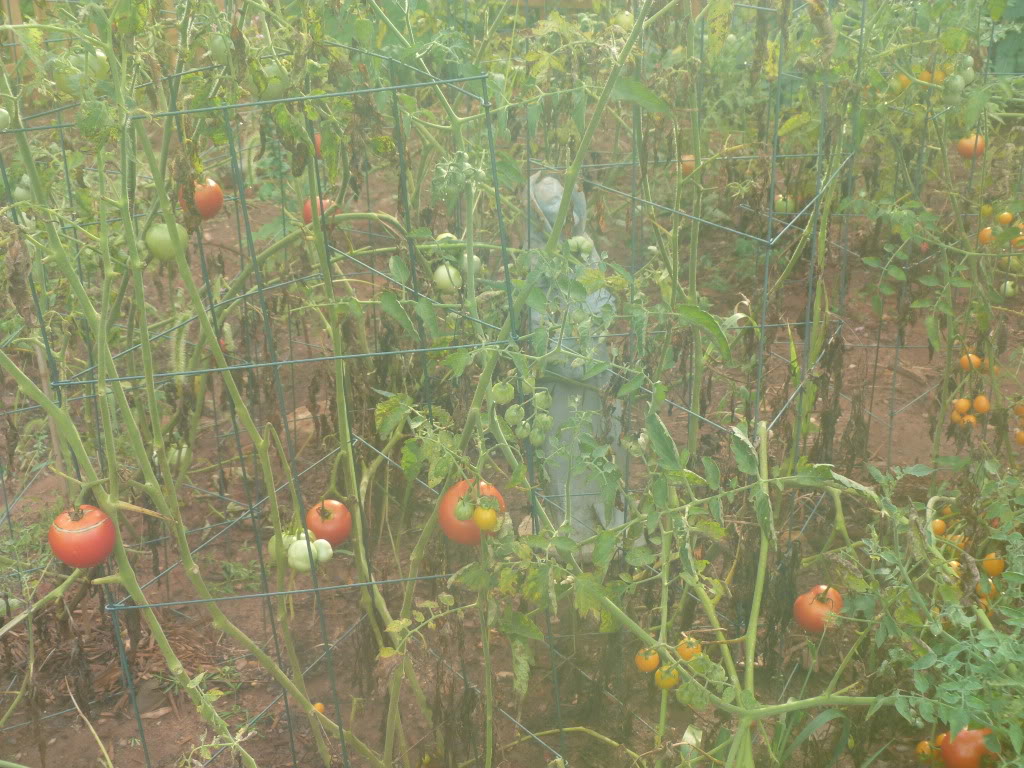 This was at the end of life for my tomato plants. They were dried up and looking poorly. Poor them. Poor me for not having any more fresh red tomatoes.
Do you know that this is the first summer I've longed for a swimming pool in my backyard? Ever. I'm not much of a sun worshipper or swimmer, so I've never even thought about the prospect. But this year I couldn't get it out of my mind how refreshing a nice, crisp pool might feel. So you know what I did instead? I bought one of those little plastic kiddie pools, filled it with water, and I'd sit in it after working in the garden. Plop. I loved it.
So did my three dogs. I don't know how many times I'd spot one or more of them standing in it. 
Okay, so other than the dry season, there were also the PESTS!
I had planted a few of those long, lovely, tasty Asian beans. Have you seen those? They are bright green, grow at least 2 feet long, and are very skinny.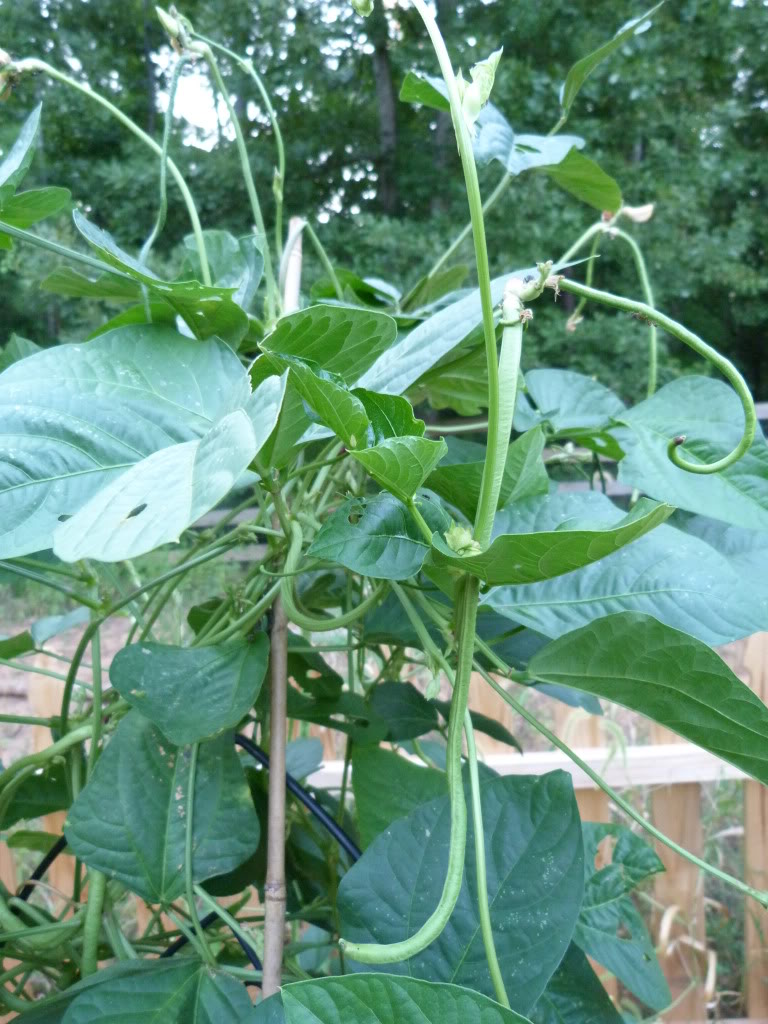 Truthfully, the joke never got old. I'd take one of those beans, put it somewhere unusual (like on top of the towels in the cabinet, or in the driver's seat of the car), and I'd wait. The single, long, slender bean looks exactly like a little grass snake. Of course, it wasn't as funny when the trick was played ON me instead BY me.
Anyway, the aphids found them. And then—to the rescue, the ladybugs found the aphids. Natural pest control at work.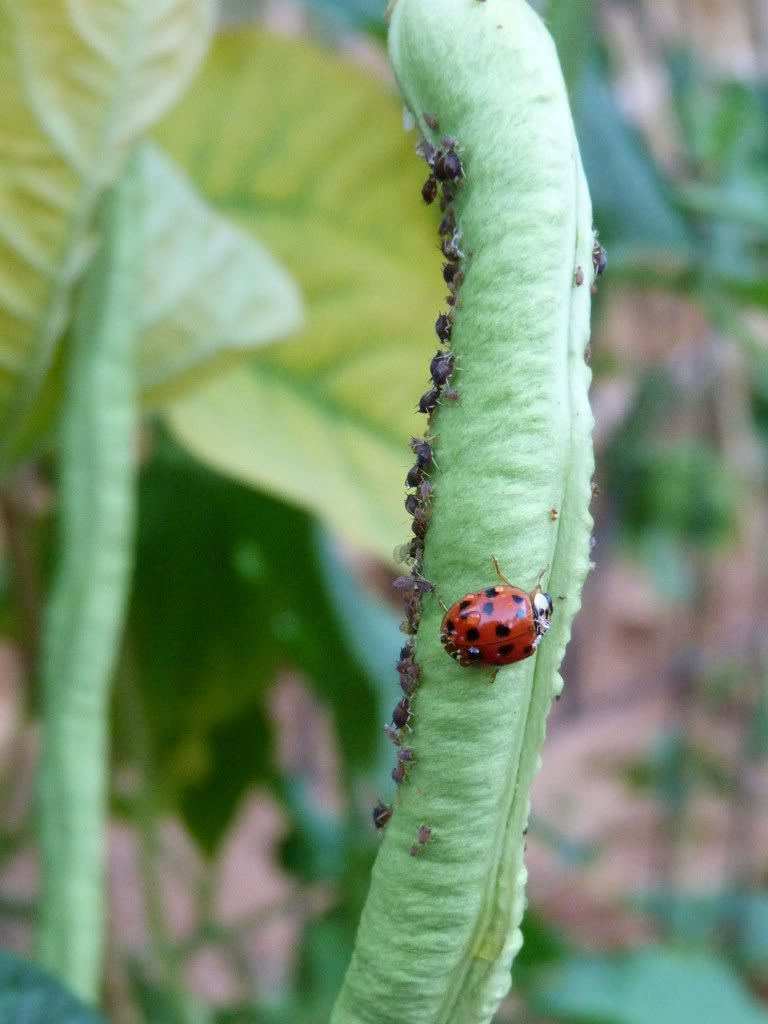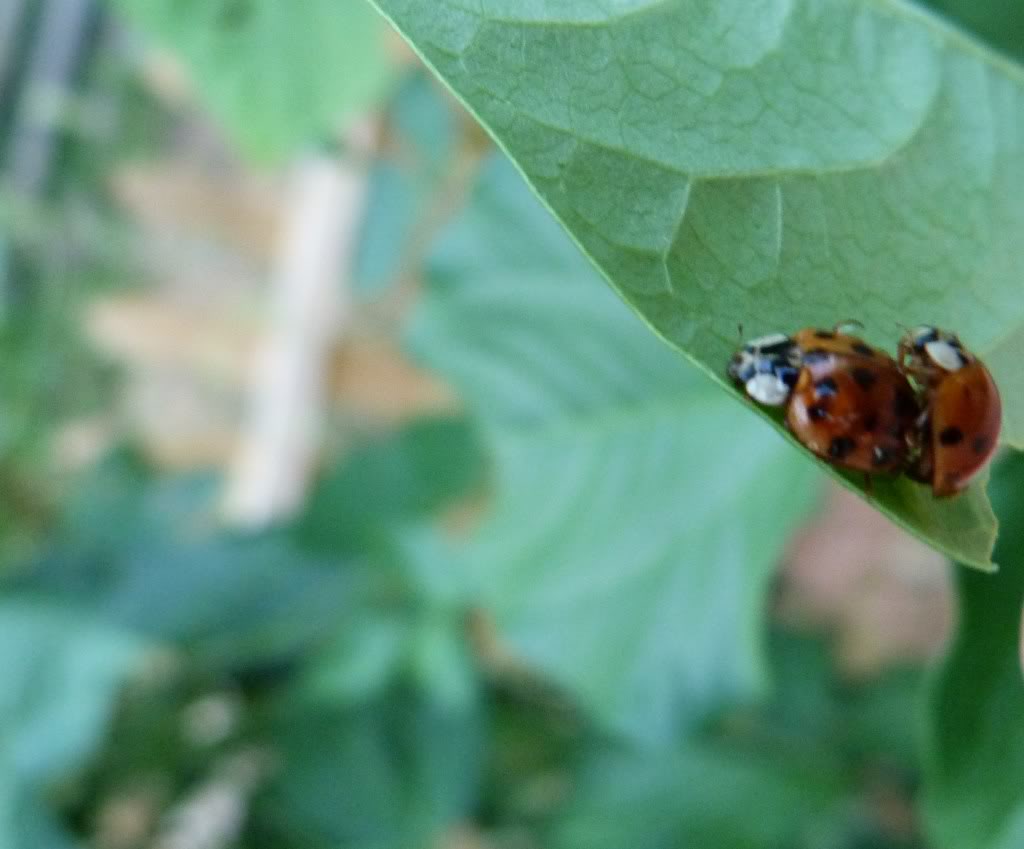 And looky here. More ladybugs on the way….
I didn't have much luck with my Red Russian Kale, no natural pest control showed up to save the day. They were decimated before I knew I had a pest problem.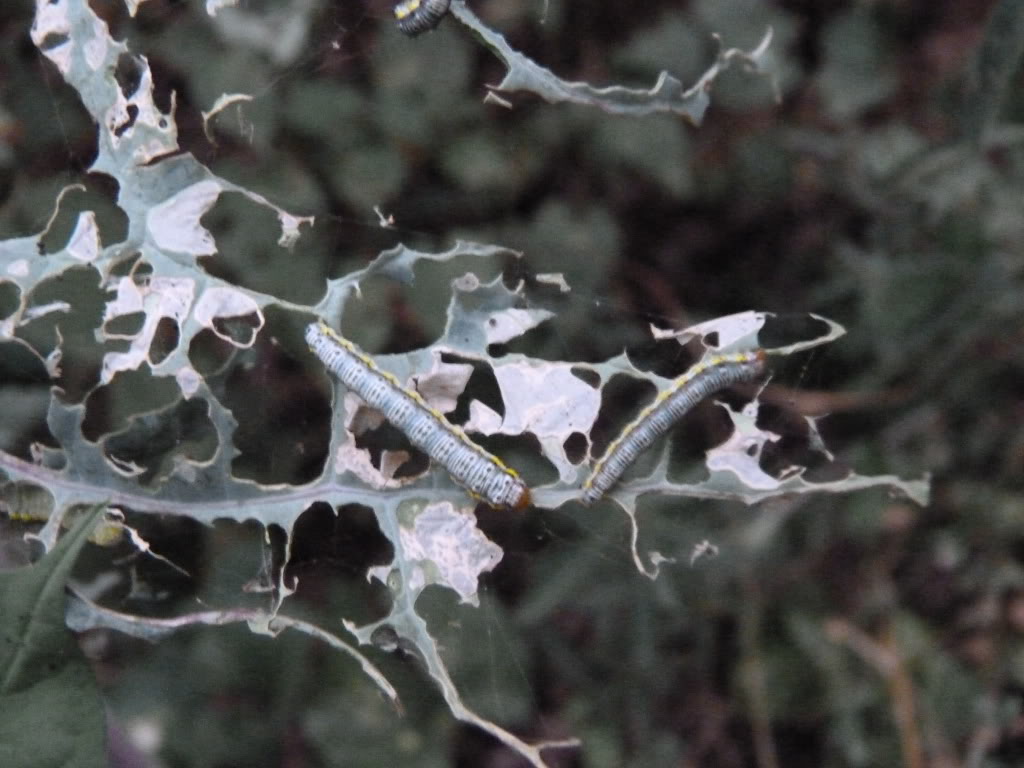 I quickly found the reason.
Isn't it cool how the catepillars are the same color as the kale leaves.
Wait. You probably can't tell that. Since the leaves are GONE.
But they are.
And. No.
I didn't.
I just let them be.
I mean.
It was too late already.
And they might grow up to be some spectacular butterfly.
You know?
Live and let live.
And what about corn? Is it even possible to grow corn organically? What, with all those worms that get into the husks and eat away. This year we planted some red popcorn, just for the fun of it. The worms ate every bit of it. We didn't get to pop ONE. I planned on popping the ears in the microwave like I'd read about, but we never had the chance. In retrospect, it might have been for the best. You see, at about the same time the popcorn ears were maturing, my daughter was beginning her orthodontic journey. "Absolutely no popcorn," her orthodontist preached.
Oh, and we had this little one.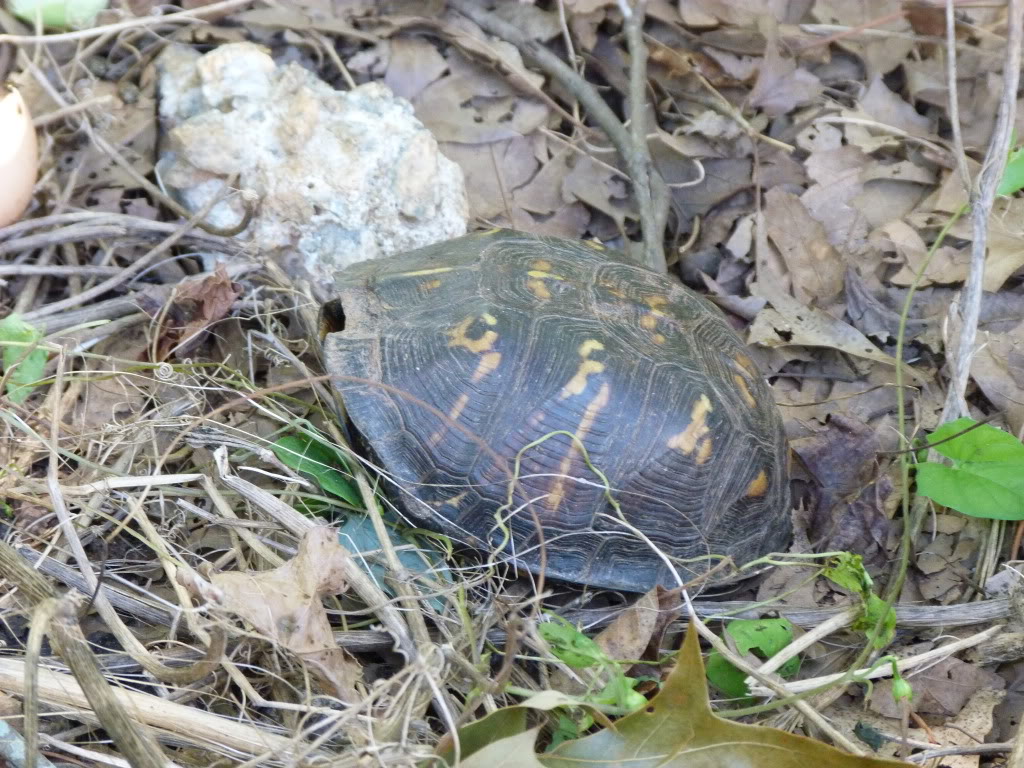 I removed him at least a dozen times. (Him, that is, or someone who looked exactly like him.) I'd pick him up from under my tomato plants and carry him outside the garden fence to the front yard. "Here, little one, you'll be happy here. There's lots to eat and plenty of cover." Nope, he'd always made his way back.
I planted soybeans. Not a one came up. Not a single bean.
I also planted Swiss chard in the new garden area. One came up. Just one. It had done so well near the house.
That was my big clue: it must be the soil. Swiss chard planted in my tiny side herb garden area: does well. Swiss chard planted in my big, new, beautiful garden: does terrible.
The new garden area was scraped down by a bobcat when we moved back to this house. What I've got to work with is hard, dry red Georgia clay. The soil is simply too hard and dense to allow seeds to pop through.
Hmmm…it now occurs to me, as I ponder this post, that the gardening problems never appear to rest with me, the gardener. It is always the soil, or the seed, or the lack of water, or the pests….denial, yep, it's my good friend named denial.
Okay, So this fall and winter I decided I'd try to remove the "poor soil" excuse from my list of excuses of why my garden fails. Before spring planting time rolls around next year, my soil will be amply amended.
I bought bags and bags of dirt, manure, soil conditioner. I bought BIG bags, bigger than I could handle. I unloaded them by picking them up to the extent I could, twist and throw down off of the truck, over into the garden. And whoops, there it went—not only the heavy bag of dirt, but my back too. (I keep getting reminders that I'm not 25 anymore. Dangit. That hurts on so many different levels.) So currently the bags of dirt are lying there in my garden, waiting for me.
Now, for the answer to the question of what I am harvesting this Harvest Moon: creativity! Ta-Da!
I'm bringing my Law-Maze Program there, to teach creative entrepreneurs how to get their business off the ground and soaring. I can't wait to meet artists and crafters and be in the presence of all that creative energy. I'll stand out like a sore thumb–I'll be the boring one in the black suit! Maybe I'll take my cowboy boots just for fun.
I'm beyond thrilled to be there for the MaryJanesFarm Day on Saturday. Check out the website for more details. It is going to be such a special time.
Now, how about you? Tell us what you are harvesting….in any sense of the word.
Until next time, Friends, savor the flavor of life!

Lots of love, The City Farmgirl, Rebekah