Dear Jake,

Seriously?!

You gotta be kidding me!

With Much Un-Love,

Rebekah
In my neck of the woods, springtime means flowers. Yes, as much as I complain about Georgia in the winter for its lack of winter wonderland weather, I applaud this place in springtime.
Looking down, you see gardens filled with colorful spring flowers. Purple hyacinths, red tulips, yellow jonquils.
But my favorite flowers are the ones I see when I look out and up.
Trees around here really deck out for the spring show.
Flowers, flowers everywhere.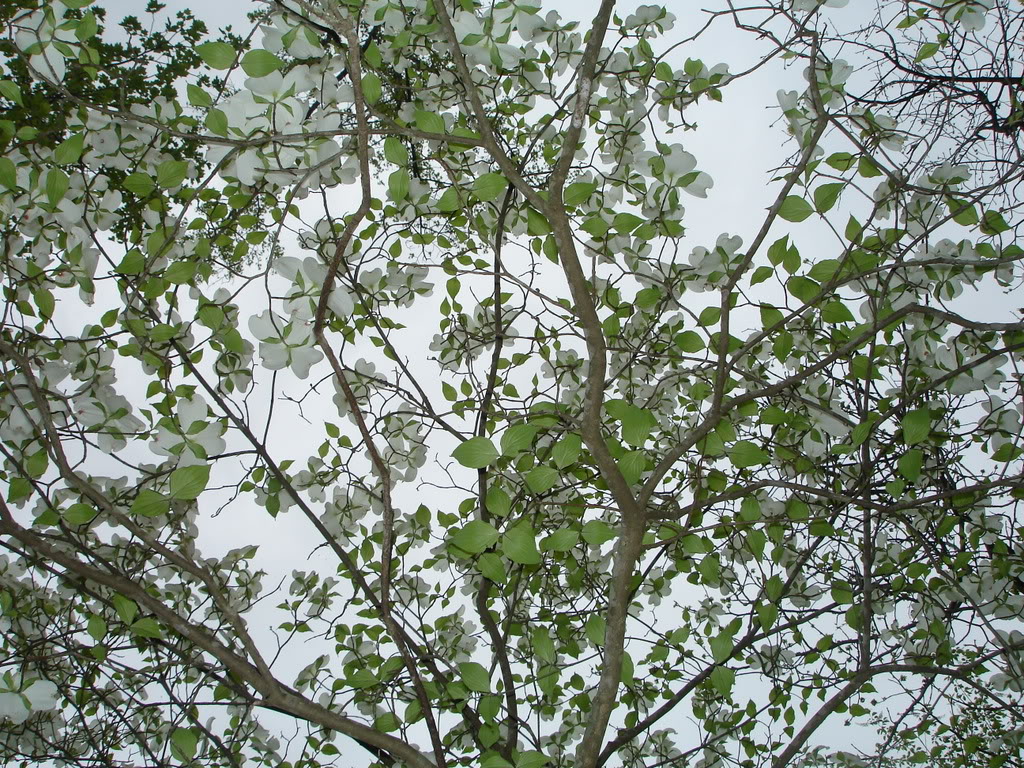 Redbud trees usher in warmer weather. Native to the area, they are absolutely everywhere. I've always been fond of them because of their sweet heart-shaped leaves. Love on a tree. But they also have these cute little light purple flowers that come out early and stay around to visit for a while. The small flowers grow close to the branch and look like little purple balls from a distance. To me, Redbud trees look like their branches have been strung with a purple springtime garland, from the trunk to the tip of each branch.
After the Redbuds pop, here come the show-off Bradford Pear trees. The Bradford is shaped like a giant egg, and produces profuse white blossoms all over. Unless that is, we had a late bout of freezing weather. Then nothing. Many, many years late freezes "get" them, and they are quiet. But not this year. They were gorgeous.
The Bradford Pears are followed by the cheery Cherry Trees. Oh the cherries! Yes, that's when you know for sure: spring has sprung! These cotton candy trees produce gorgeous clusters of fluffy pink blossoms everywhere. The blossoms don't stay long on the tree, but boy oh boy, while they are there, they are spectacular.
As I mentioned last week, don't have a picnic under a Cherry Tree. Sitting under the tree is like sitting in a snow shower of pink loveliness. Nice for laying under, day-dreaming, and enjoying the falling fluffiness. Not so nice in the egg salad. My favorite cherry tree variety is Yoshino Cherry. And yes, it is ornamental: pretty to look at, not to eat; that's a different kind of cherry tree.
Next up? The Dogwoods. The south is known for its Dogwood trees. These graceful trees, with their large creamy white four-pedaled blossoms, grow wild. You'll see Dogwoods on the sides of roads, in every yard, and in woods everywhere. There is nothing more beautiful than seeing the dots of the creamy white Dogwood flowers peeping through a deep green woods. Just beautiful.
My daughter always says that the blossoms of the Dogwoods look like angels' wings. That's where we are now in spring.
The angel wings are in bloom.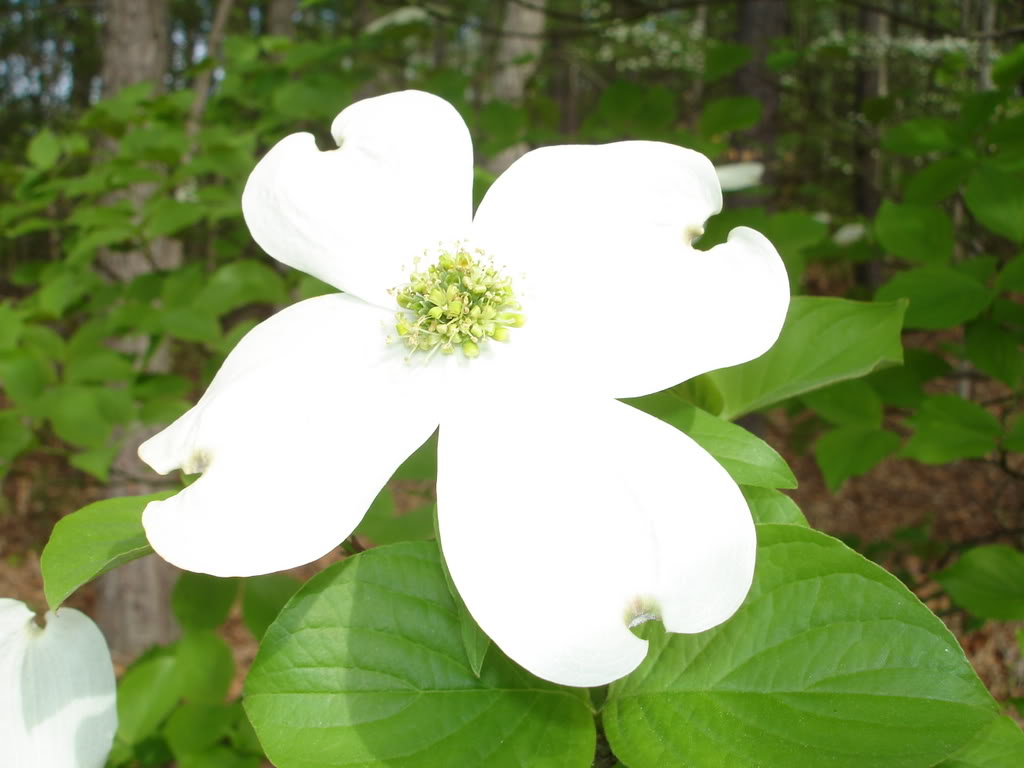 Yes sir-ee bob, things are really emerging around here.
Even my Sugar Snaps.
Even Jake The Snake.
But before we get to the early spring garden talk, (which we surely will because 'tis the season), I've got to tell you about a lesson I recently learned. Here it is: sometimes it's enough just to show up. Have you already learned this lesson in life? Not me. This was news to me. I didn't know "just showing up" was ever enough. And to be frank, "just showing up" has never been my style. I'm the one who goes for it. But hey, what I learned is that there is merit in "just showing up."
Just showing up can be very nice indeed. Just showing up takes the pressure off. Just showing up can be enough.
Here's what happened. Ages ago, way back in October of last year, I signed up for a 4 mile trial race to be held in March 2011. When I signed up, I had just done one. And even though I sprained my ankle in the process, it was worth it. I loved trail racing.
I haven't run much since I sprained my ankle. But the weekend came for March's trail race and a friend encouraged me to just go. So I went, and I ran the 4 mile trail race through the woods.
Wait, wait, wait, wait!  No…..that's not exactly true. The verb is not quite right. "Running" is definitely NOT what I did. This is where I learned my lesson.
The right verbs? Hmmmm… I showed up. I visited. I enjoyed the morning. I drank coffee. I trotted some; I sauntered some; I walked some. I completely let go of my competitiveness.
Wow. How different. No adrenaline. No power. No edge. Just enjoying the woods on a chilly Saturday morning. It was a completely different experience.
Do you know how to do that? Just relax and let someone else win? No, me neither. But I'm working on it. I think it's a good thing to learn how to do. Just show up and enjoy the ride. Learn to say, "Whatever…." ('Cause let me just tell you. I still won 3rd place somehow, some way…)
Okay, so behind me during this race is this gal. And she is hilarious. Well, I'm thinking she's funny, but she's not trying to be. She's mainly just hating this race and verbalizing it every step of the way. She's moaning and she's cussing. And it is cracking me up. I think she must have missed the part in the marketing materials that said "trail." (In fact, the materials say, "This ain't your Mama's trail race…." And it surely ain't!)
Anyway, I don't think this gal had any idea that this race was through the woods. This race goes THROUGH creeks and mud. OVER logs and rocks. UNDER branches. And roping DOWN a very steep, very muddy hill. This is very different from a road race experience.
Every single time she came to something in the trail, she'd say, very aggravated, "Seriously….!?" Not so much a question as a statement. And then she'd mutter in an exasperated tone, "You gotta be kidding me…."
I thought that was too funny. I heard it over and over again for 4 miles of tough terrain.
But here's the even funnier thing. I saw her at the banana station after the race and she said to me, "Wow, that race was awesome, wasn't it?"
And I said to her, "Seriously?" I really did. I kidded her and told her that she was funny complaining the whole way. She said she was totally unprepared for it, but that she loved it.
So those have been my words since then, in just her tone of voice. A very aggravated, "Seriously….!?" Followed by an exasperated, "You gotta be kidding me…."
Yep,I say it every chance I get.
So when Jake the Snake emerged this spring from his long winter's nap under my timber steps that are RIGHT BESIDE THE HOUSE that lead to my back yard, that's just what I said out loud, to him:
Aggravated:  "Seriously….!?"
Exasperated: "You gotta be kidding me…."
(Please note the improved response to seeing Jake. I did not run for dear life. I did not scream. I did not do my snake dance. This is good. This is progress. Is there hope?)
(doubtful.)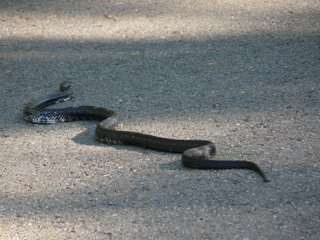 Seriously? Here?! Right beside my house? Where my three dogs frequently patrol?
Seriously? Under the steps I use all the time (I used to do so barefooted until I discovered him).
Seriously? With 5 mostly wooded acres around, you want to live here?
Seriously? Is it to personally terrorize me? Is this your mission in life?
Apparently: yes.
What is a snake phobic to do???
On to happier things. My garden. The Sugar Snaps are up. And growing in surprisingly straight little rows, unlike my usual crookedness.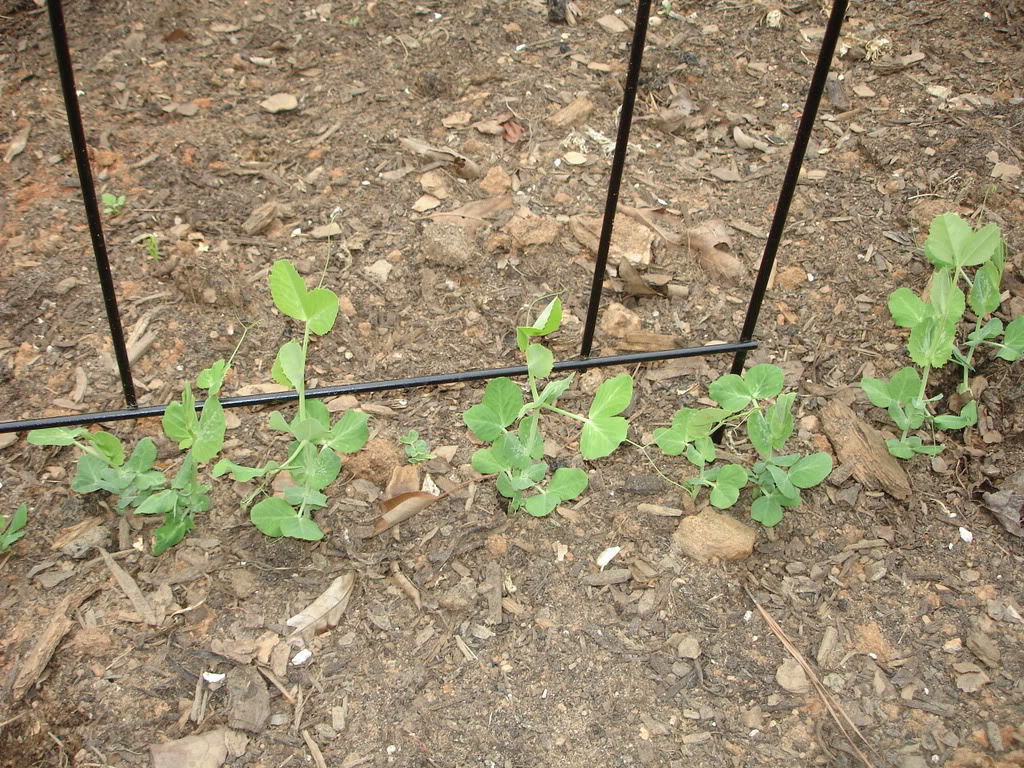 My daughter and a stuffed monkey from her school named Joe helped me plant a lettuce blend in our  Earth Box container. Can't wait until they emerge.
And last weekend I finally had time to plant some Swiss Chard and Bok Choy. I watered the seeds in and headed inside to cook dinner. The next thing I know, I heard some dog commotion outside. I went out to see what was going on, thinking, "could they have cornered Jake?!" Instead, I see little Oreo, our pound puppy that joined our family around Christmastime, inside the muddy garden area where I had just planted and watered the new seeds. He was having a ball playing in the mud.
So….in he went. Dinner placed on hold, I run Oreo straight to the shower. His long fur was so heavy with mud, it stopped up the drain. So, I don't know if my seeds will come up. Seriously!
In other garden updates, I finally broke down and called someone to come and till my "REAL" garden for me. That's the one down in the backyard that I want to fence. He came on Sunday, unloaded his tiller, drug it around to the backyard, moved the rocks that were in the way, and then began the process of trying to start his tiller. It did not go well. His tiller would not start. He ultimately broke the pull string trying. (Could the garden equipment curse that is upon me somehow have transferred to him temporarily since he was in my garden trying to help? Seriously. )
Anyway, he pulled the heavy,big, now broken tiller back up to the drive way, loaded it back up into his truck, and headed home with his tiller. Which, by the way, he's never had problems starting before.
So big fat bummer.
For him.
And me.
I'm still "REAL" garden-less.
And guess what else? In anticipation of having that REAL garden tilled up, I moved some garlic plants that were growing down there. So I dug them up and replanted them in a different spot. Lesson learned: garlic does not transplant well. Now the leaves are turning yellow, and it is looking very poorly indeed. I'm hoping I haven't ruined it. I mainly plant garlic each year for the garlic scapes in late spring. MaryJane's Garlic Scape Pesto…YUM! I can't do without that.
And finally. On a different note, I'm compiling a list of "An Emerging Farmgirl's" helpful websites. Leave a comment or email me with your suggestions for websites and links.
Okay, now it's your turn. What's got you saying "Seriously?!" lately?
Until next time, Friends, savor the flavor of life!
Lots of love, The City Farmgirl, Rebekah