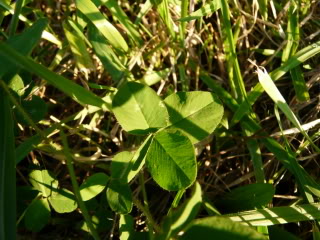 My four-leaf clover
Spring.Green. Wow, spring is about to spring on us. Only a few more days left of Old Man Winter. Spring officially arrives on March 20th at 7:21 EDT. WooHoo! Are you ready for your browns and whites to turn green? My brown world is already changing. We've had some warm weather here, and everything is changing to and popping up. Green.
Irish Spring. And speaking of green, it's almost Saint Patrick's Day. March 17th, the day we all wear green or suffer the pinching consequences. Or is that tradition just for spring chickens?
Spring.Cool.On. I wear green on St. Patty's, but I'm no "spring chicken." I appreciate it when I am called one. I appreciate it A TON, but it's been ages since I've been hip, happening, now, with it, or cool. Sometime in the mid-90's, I got my cool on when I worked with a bunch of cool folks just out of college. (I was at least 10 years beyond cool at that point.) They taught me things. One of my favorites came from David. He had just entered the criminal justice field from the beach where his previous job was selling suntan oil. Anyway, he taught me to say, "Cool Beans." (That was what, 15 years ago? And I'm still using it. I know, un-cool.) (Whatever.)
Cool Beans. I mention that story only to explain why I, an adult of 47 years, still exclaim "Cool Beans!" at certain times. For example, I said it just yesterday morning when I scored tickets to an upcoming James Taylor concert. See how cool I am? (I know.)
Well, I've been saying "Cool Beans!" ever since I first came across this idea, the coolest idea I've heard of in awhile. It's an online farmer's market. This concept was developed by Eric Wagoner, a self-proclaimed "nerd and farmer."
Here's how it works.
On a certain day every week, you receive an email from your online farmer's market. It directs you to the web-market for the week. There, you see the products that are available. It lists which farm it comes from, at what price, and even recipes. Y
ou then have a specified period of time, like 48 hours, to place your order for the items you want. You order online. After the market closes, the orders are forwarded to the farmers. Then, they 

pick the crops that are ordered and deliver them to the market.
For the farmers, there is no more having too much of one thing and too little of another. They pick only what is ordered. The market staff gathers the items in the order and boxes it up for us. All we have to do is stop by the designated place at the designated time and our order of fresh, delicious, locally grown wonderfulness is ready to go.
Brilliant.
What an awesome thing. 
If you've ever been part of a CSA (Community Supported Agriculture), then you've probably had the experience of coming home some weeks with items you didn't really want. Or you might have been disappointed with the lack of variety in your week's box, as you're limited to what your one farmer grew that week. Or perhaps the quantity is wrong for your family. I have never been particularly satisfied with the process.
Or, if you shop at a traditional Farmer's Market, you have to get there early to get the good stuff.
With this online Farmer's Market, you order what you want. You pick from as many different farms as you wish. There are also typical farmer's markets items available, like soap, lotion, candles, fresh baked breads and muffins, coffee, meats, eggs,  jellies, etc.
I'm loving it. The only thing I miss is the milling around visiting with people that I usually do at Farmer's Markets. Yes, this is very time efficient, and I do appreciate that on some Saturday mornings.
Greens. Most of my order has been greens. I love greens. All kinds of greens.
(love it raw, dipped in Ranch dressing!)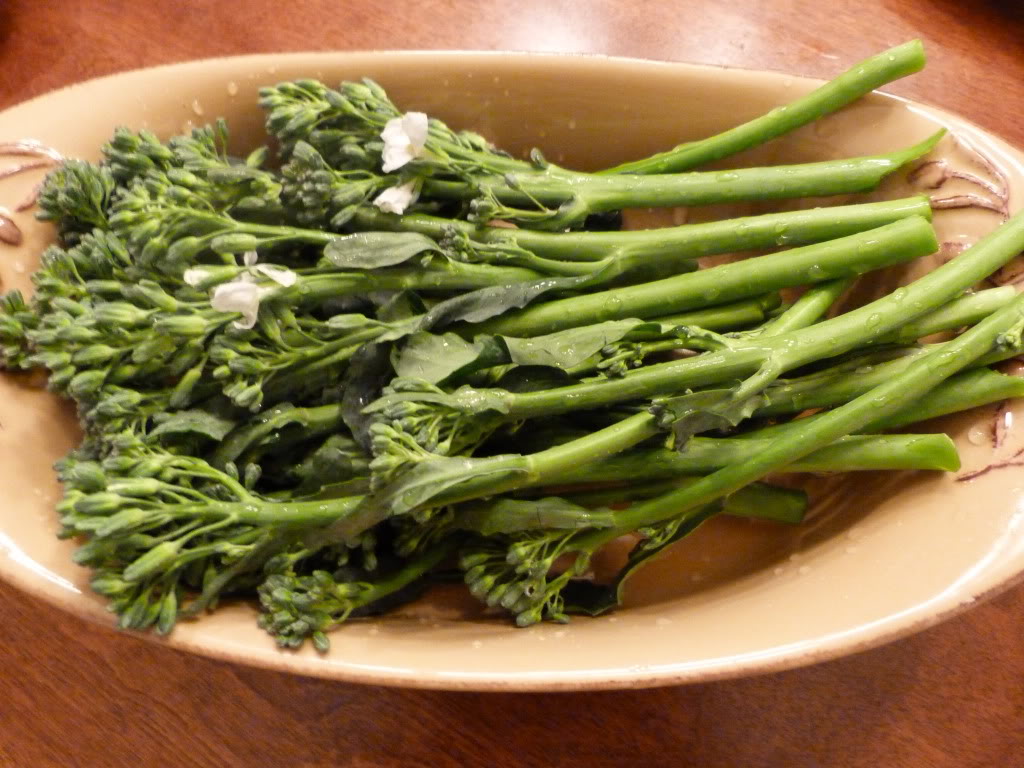 Hakurei Turnips.
(also love them raw, chopped in a salad)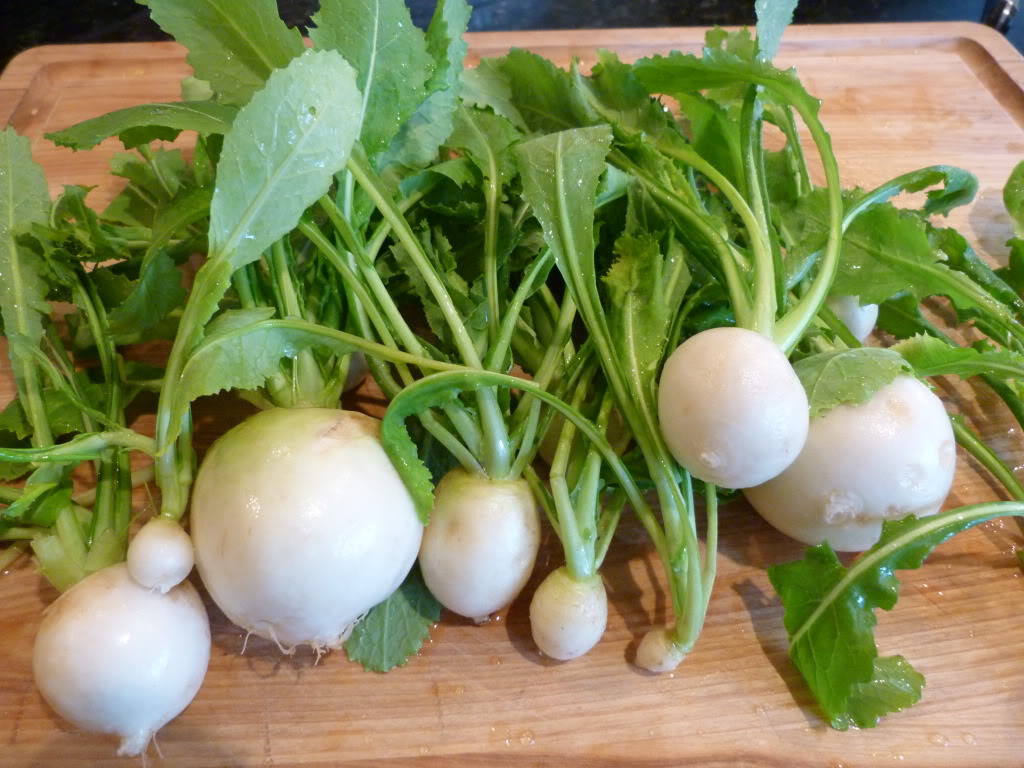 Italian Dandelions.
(must cook. strong, somewhat bitter flavor.)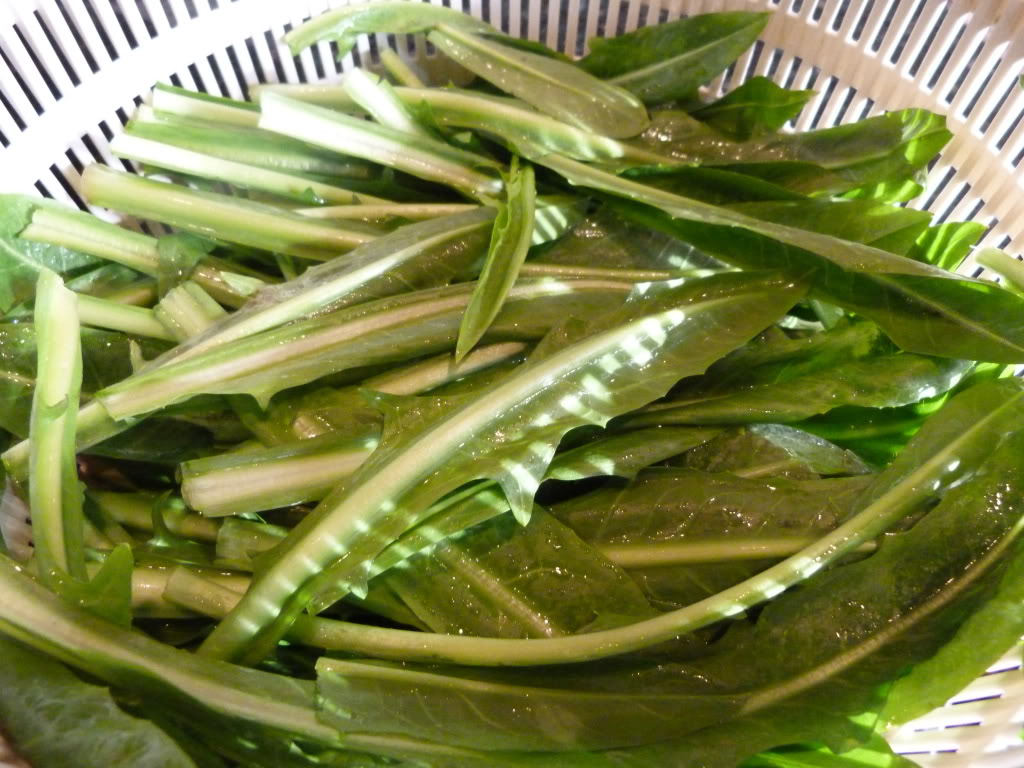 Broccoli Raab.
(yummy sauteed with olive oil and chopped garlic.)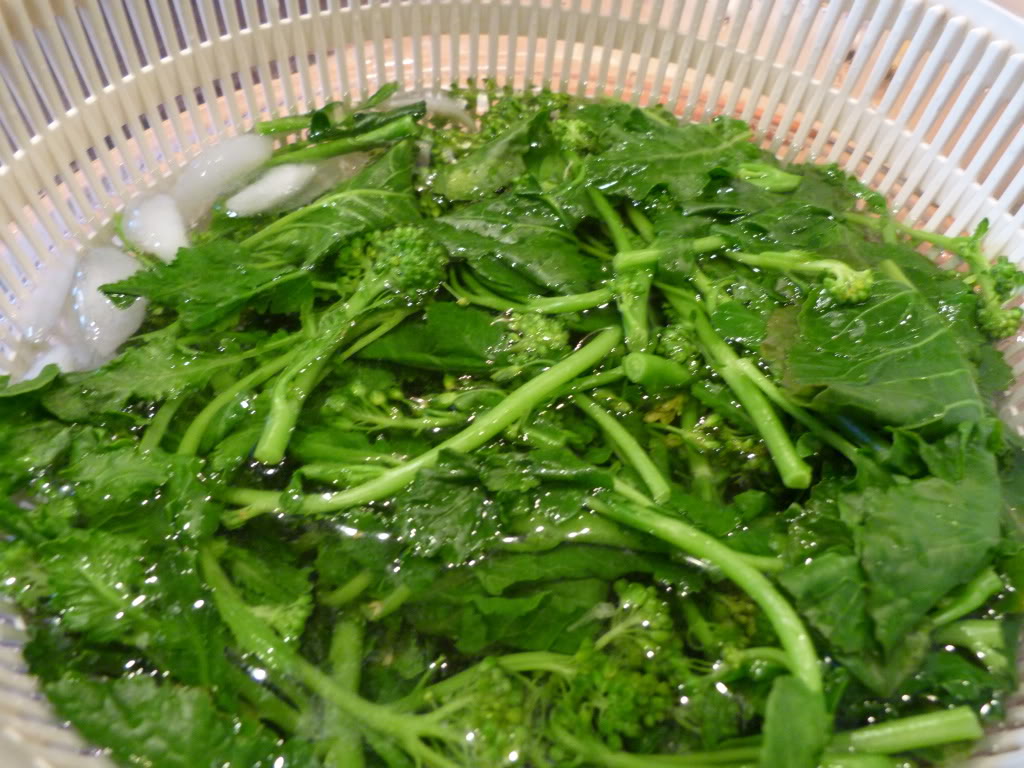 (fabulous raw and chopped in a slaw with Ramen noodles.)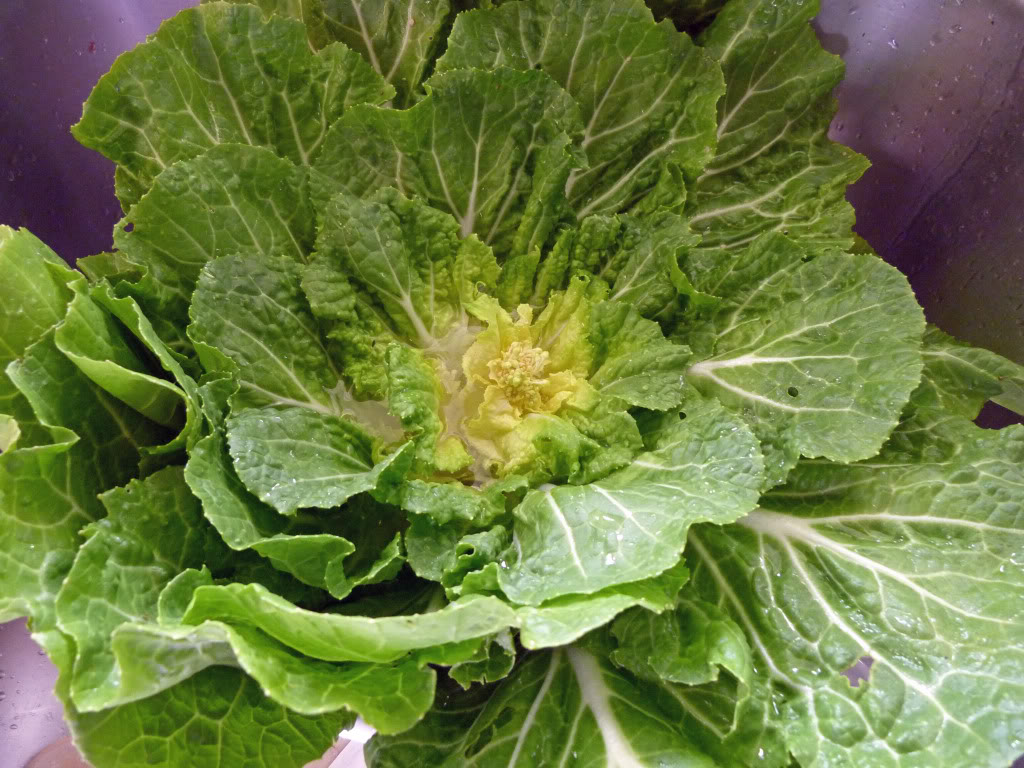 (just boil in a little water with olive oil and salt.)
Rainbow Swiss Chard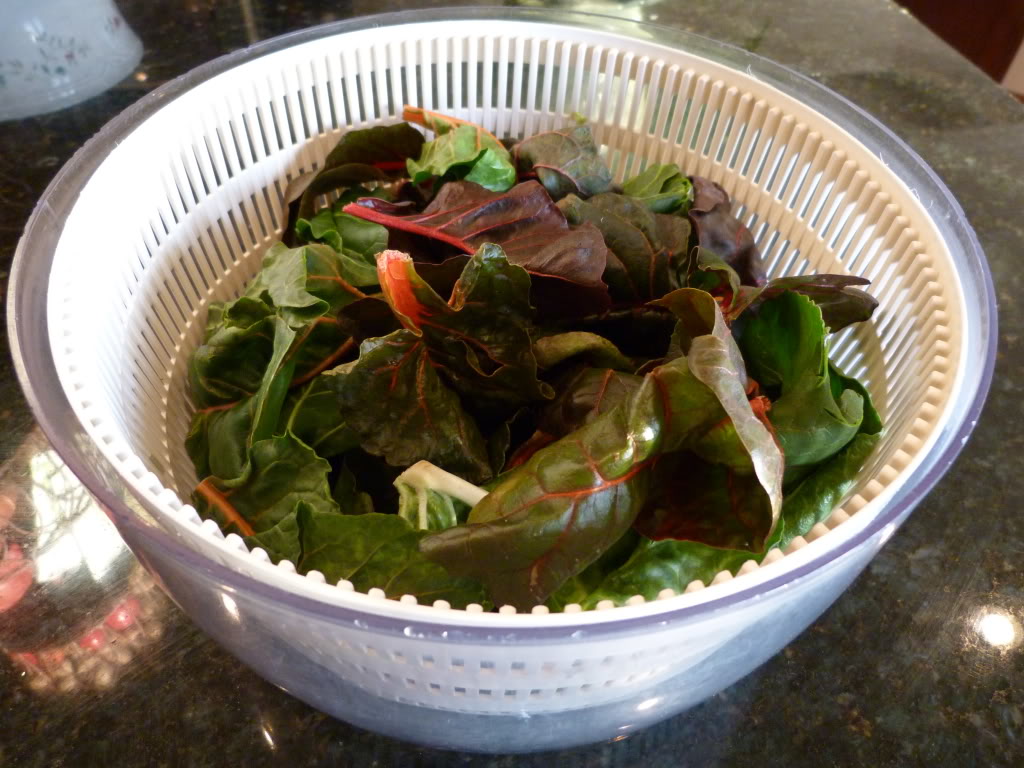 Cool Idea. You probably already know about a salad spinner, but just in case you don't, I have to share. That's my old Zyliss salad spinner in some of those pictures. This is probably my favorite kitchen gadget in springtime. If you don't have one, get thee to a store and get one. It is so worth it. I paid less than $20 for it 10 years or so. And I use it almost every day. You can easily rinse greens as many times as you need to in order to remove the sand and dirt from the leaves. Dump out the water. Then put the lid on and call your kiddo. They love to pull the string in and out, in and out. When they are through, you've got almost dry greens. Ready for a salad, or to toss into a pan with olive oil. Truly, it's a gadget that earns its place in my already crowded cabinets.
Back to my greens from the market.
I even get green (and blue) eggs there.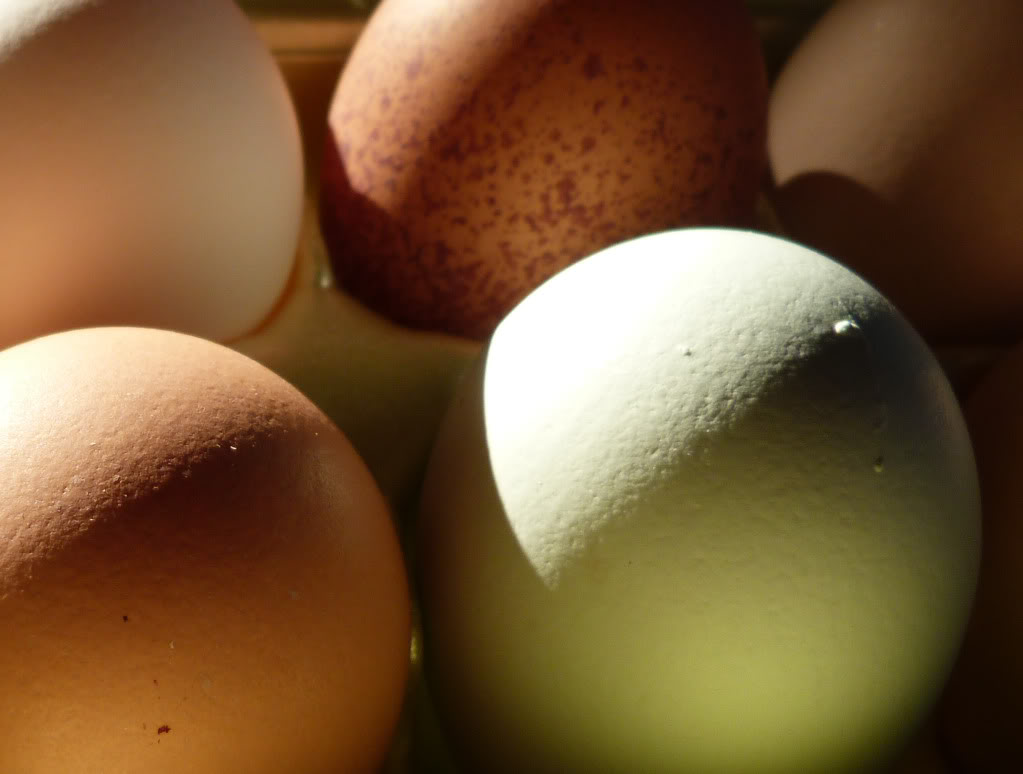 Eric's virtual farmer's market idea is growing like, like, like…..
(Hmmm….I'm trying to come up with something green that grows rapidly….hmmm…..got it!) Kudzu!
Kudzu is that ivy-like plant that grows like crazy in the south, taking over every abandoned thing and even some things that aren't abandoned yet. You see kudzu growing up phone poles and across the lines, covering barns, empty lots, yards, anything that's not moving gets absolutely smothered in kudzu. Like the hashbrowns at Waffle House, smothered and covered.
Here's Eric's website:
www.locallygrown.net
. Check it out.
And, if you don't have one in your area, you can start your own.
Here is the map
 that shows where the current and soon-to-be future markets are located.
What do you think? Cool beans, huh? Dos high five!
New Saying Alert. "Dos High Five."
I was recently at a children's sporting event. One of the kids who had been participating came up to her white haired grandmother, a Spanish woman, who happened to be sitting in front of me. The woman spoke Spanish to the child. I had no idea what she was saying. Then the grandmother raised both of her palms and enthusiastically said, "Dos high five!!" They high-fived each other with both hands. 
Until next time, Friends, savor the flavor of life!

Lots of love, The City Farmgirl, Rebekah
(P.S. Hey–I'll share my roof story soon! Thanks for asking!)