My husband is a huge gigantic Beatles fan. That's where the name of the post came from.
They've got a song (and an album too, I think) called "Magical Mystery Tour." I've always known my farm is magical, ever since I first stepped a foot on it. Cluttered and messy and over-grown, but magical.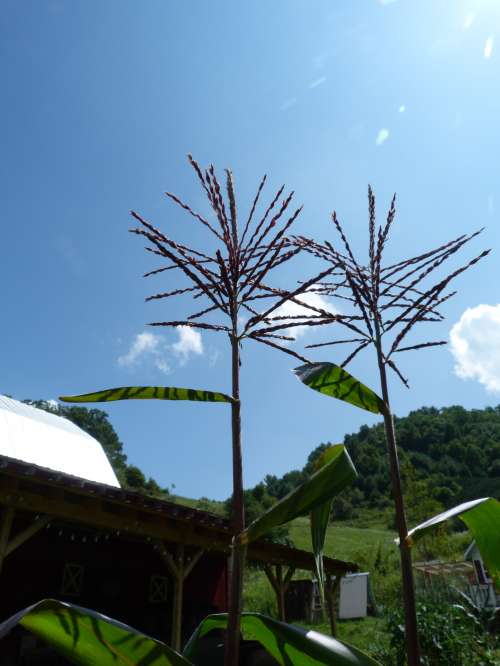 But mystery has become a large part of me living here as well. Mystery in the sense of these words coming out of my mouth A LOT: "Hmmm, gosh, I don't know…it's a mystery to me!"
Shall we begin?
Here's the first mystery.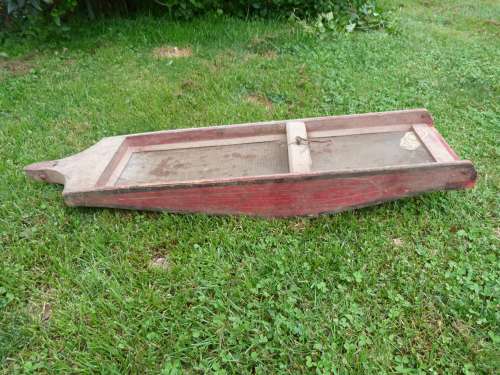 What is this?? I found it in the barn and think I'll hang it on my wall. But what in the world is it??
I want to hang it on this wall, along with that tobacco basket that is leaning against the wall. I also found that my barn. We've been working on this room. Killer light fixture, huh. It's mason jars. I just love it.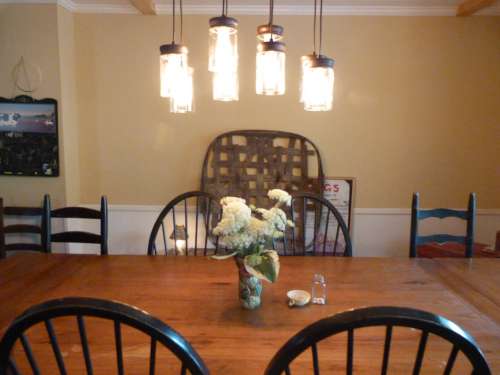 Here's an un-mystery. Those flowers are "Queen Anne's Lace." We have them growing all over the place. I picked some and popped them in a vase. Hard to believe these are "WEEDS" to a lot of folks. So delicate and pretty. And yes, that's the bean jar beside the flowers, where we are counting foggy days in August so we'll know how many snow events we'll get this winter.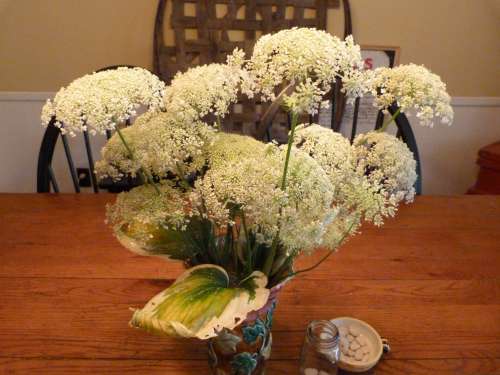 Which brings me to a MYSTERY: what's the difference in low clouds and fog? Just the other day I saw "fog" on the mountains and cheerfully put a bean in the jar. Yay! Later I reconsidered. No, that wasn't fog this morning, it was a cloud on the mountains I see from my farmhouse. I took that bean back out. un-yay. Anybody know the difference?
Wait. Before we get into any more mysteries. I've got to tell you where I am writing this. I'm usually at my computer in the office or at the kitchen table. But we got a MYSTERIOUS piece of technology that is some kind of signal booster. It gives me a signal further out from the house. So, how could I be inside when I could be outside on a day such as this?
Let me see if I can figure out the webcam on this computer (it is also a MYSTERY to me).
Photobomb~!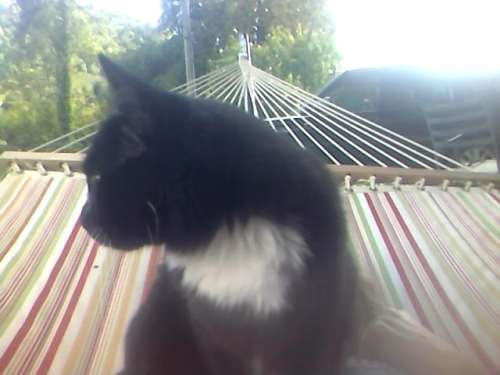 hahaha, my face is behind him. This is "Hey Jude." He is assigned to snake patrol and doing very well, I tell you. I named him "Hey Jude" because my husband doesn't like cats, but LOVES the Beatles. "Hey Jude" is the name of a Beatles song. The other cat on snake patrol is named "Sgt. Pepper." "Sgt. Pepper" is the name of another Beatles song. You see my plan? Guess what? It's working. My husband is actually warming up to cats.
Okay, let me webcam again.
Here we go. Got it.
Yep, we're laying on the hammock with my computer in my lap.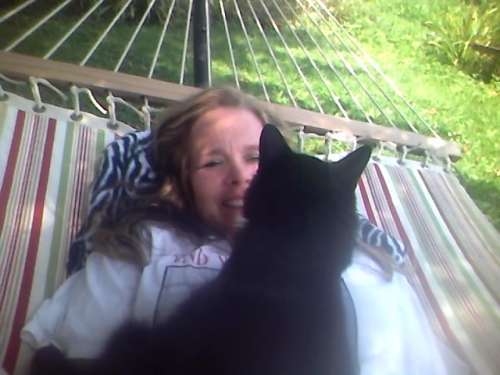 How awesome are THESE working conditions!
I'm under a large oak tree. Here, let me point my computer upwards: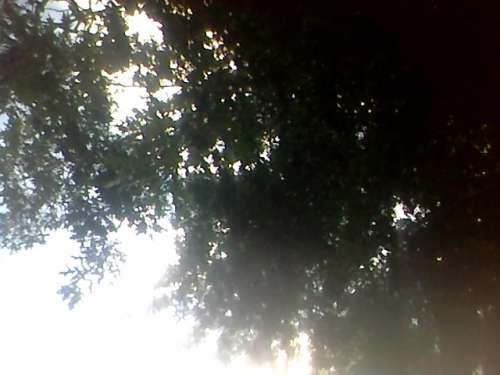 There is a cool breeze blowing. Beautiful. Feels like autumn today.
Ask me again if I miss Atlanta.
Earlier today, this little guy came to see us.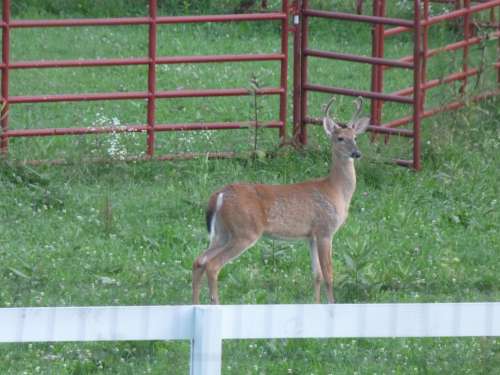 No mystery there. That's a deer, with cute little fuzzy antlers. He is right out in front of our house, by the red round pen.
Okay, let's head to the garden for some MYSTERIES.
What is this? Squash? Watermelon? My planting was haphazard this year.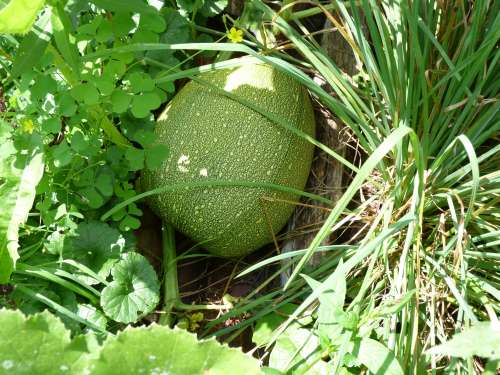 And this. What about this?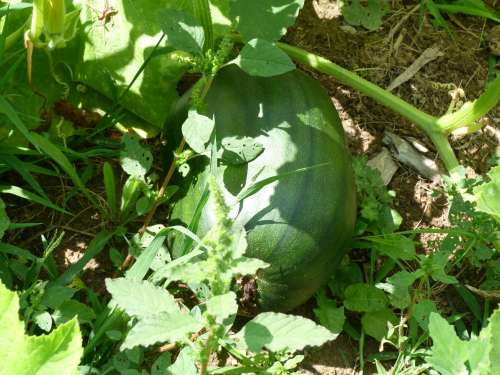 Could that be a watermelon?
Wow, I have lots of mysteries in the garden. Here's another: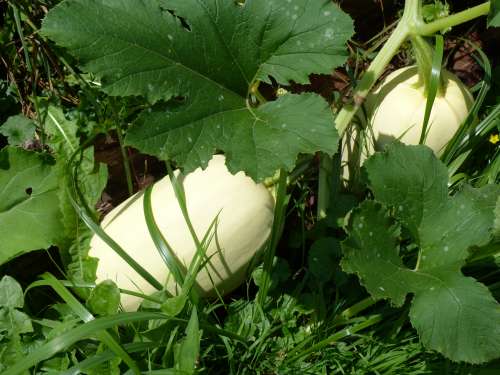 And another: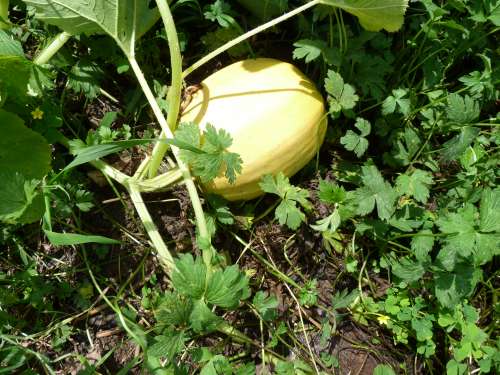 The problem with not being able to identify these veggies is that I don't know when to pick them because I don't know when they are ripe…
I have learned my lesson BIG time. Next year, I will make markers for my garden. I obviously can't assume I'll know what they are once they come up.
And this? Is this WHEAT???? I didn't plant any, but I kinda think it is. Or I guess it could be just a weed?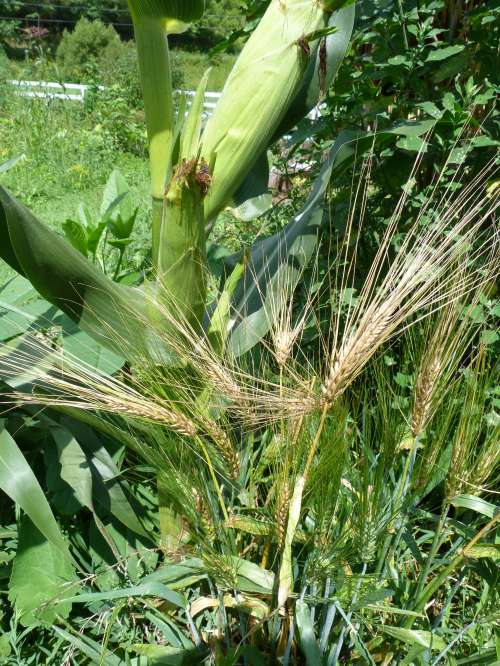 Oh, looky there. We've got company! Merlin is watching us from his barn. Hey Merlin! He's a big part of the "Magical" aspect of our farm. One day I'm going to be able to ride that boy. One day….one day. (Am I being delusional? Maybe…)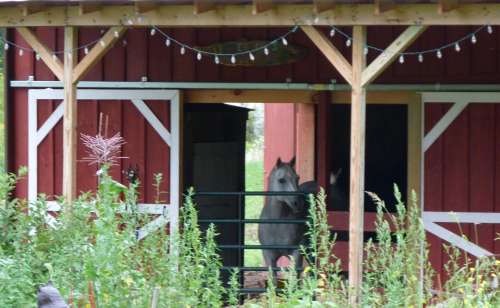 What is this?? It is growing in my garden and has a lovely flower on it. It looks like something out of a science fiction movie.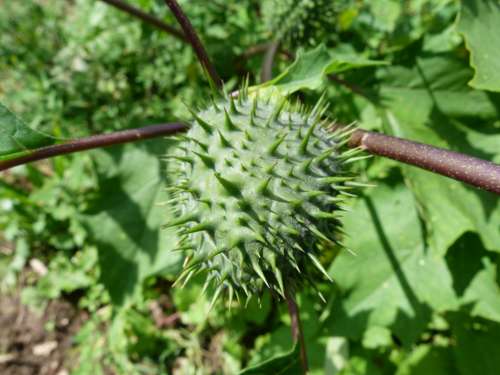 If anybody knows the answers to any of these mysteries, please let me know.
In other news, I planted my turnip greens and lettuce this past weekend. I know what THOSE look like, so I'm good.
Hey, I've got another MYSTERIOUS visitor. Let me web-cam again.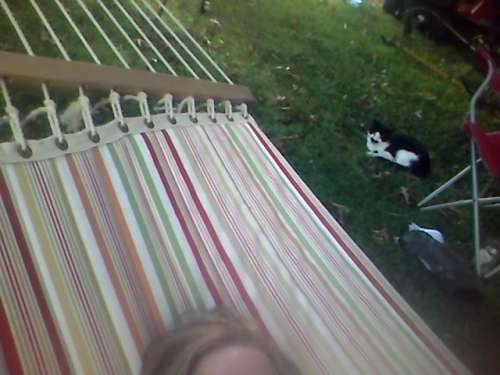 You see that cat with a mustache back there behind me?! It's the feral cat! The one I saved from death row! I had him locked up, but he escaped a while back. I was so sad and disappointed. Epic failure, I thought. I also thought he was a goner around here. Animals have to be locked up at night in order to live through the night. I was so upset.
BUT THEN. One day, he started showing up again. And now he's warming up to us ever since we got Sgt. Pepper and Hey Jude. Look at that! He's only about 3 or 4 feet from me. Now that's VICTORY. We still can't touch him, but maybe one day!
Okay, here's the final MYSTERY. Why is it not so good to be laying on a hammock under an oak tree on a breezy day in late summer? Anybody know the answer to that MYSTERY?
Until next time, Friends, savor the flavor of life!
Lots of Love, The City Farmgirl, Rebekah