How this post came to be? Well, I started thinking about 2010. And I started wondering about your 2010 too. Was yours good? Or not so good? In thinking about mine, I considered what it brought, what it didn't bring, what I lost, what I gained. Like most years, there was both good and bad, both joy and pain, both peace and turmoil.
So how best to represent 2010? How about random photos? You know, not the ones I pick and choose for a particular blog post. Just random picks here.
I picked two completely random photos per month to represent my year. Now, you'll know these are random because if I was picking them, this one would surely be in August:
Me and MaryJane! I finally got to meet MaryJane! Love her even more!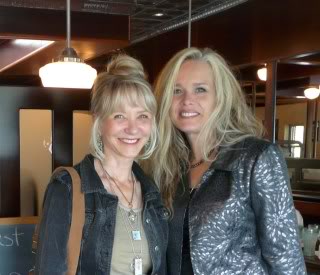 And one of the ones that came up for September, the one where I don't have make-up on, would definitely NOT be in the mix!
So here we go~2010.
2010 in Random Photos 
 January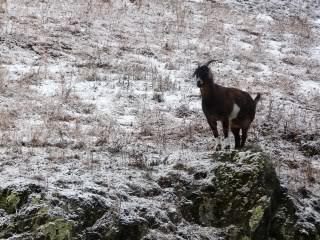 We talk (way too) often to this goat when we go to our farm. Meh-meh-meh.
He lives next door. He's a busy-body like the neighbor Mrs. Kravitz on Bewitched.
January brought unusual sights for Georgia. These items were in my wheel-barrow, a shovel, pots, and leaves.
They became an artsy ice sculpture. I think I'll call it "Gardening in Winter."
February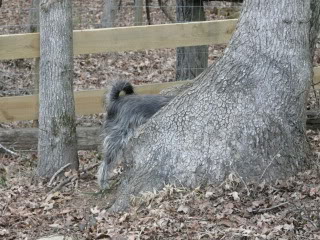 This is our Fairy Tree.
That is my dog, Strudel, going ONCE AGAIN inside our Fairy Tree. Terrorizing the fairies, no doubt.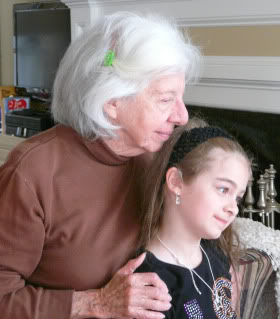 This is a moment I'm so glad I caught. It wasn't posed, they were indeed looking at something or other–I don't remember what.
It's my Mother-In-Law with my Daughter. This was my M-I-L's birthday, and I'm guessing my daughter put that little green clip in her hair.
 March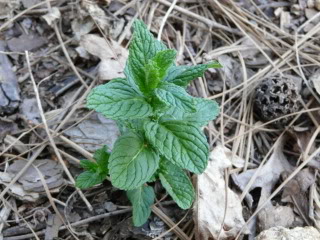 My Grandma's Mint peeking through.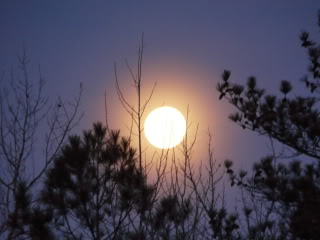 Southern Nights.
The March full moon peeking through.
April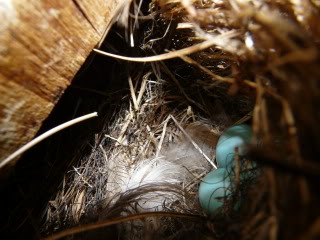 This shot is inside my bluebird box. Two blue eggs and some feathers. Had never seen feathers in there before. Their nests are usually only pinestraw.
Spring Soup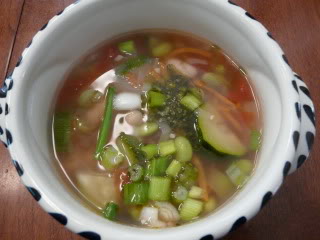 I have come to ADORE soup in every season. This one is filled with spring veggies, Like a Spring Tonic.
May
Garlic Patch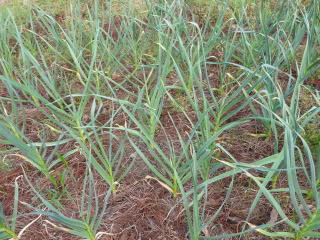 The garlic scapes are just about to form.
Bridal Shower Luncheon at the Swan Coach House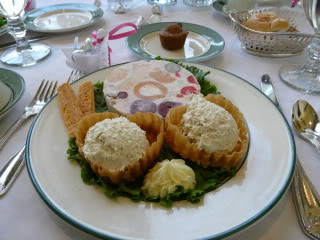 Chicken salad, Frozen fruit salad, muffin, iced tea.
A southern bridal luncheon.
June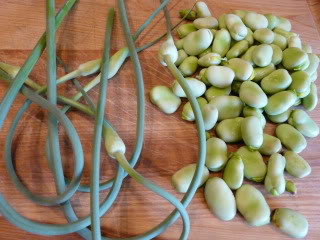 From my garden.
Garlic scapes and Fava Beans.
I remember that I made some linguine with these~yum!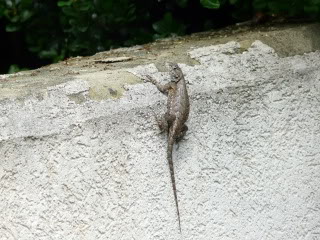 Ick. Don't know why I photographed him.
July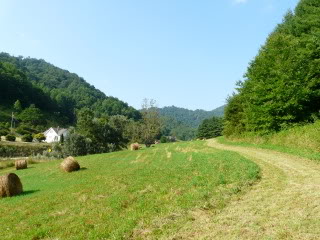 I love this shot. It's the path we mowed through our meadow so I could run while we were at the Farm. Amazingly, I went from a couch potato to a runner in 2010. And yep, that's my favorite house in the whole wide world. And yep, this is my favorite place.
As close to heaven as it gets.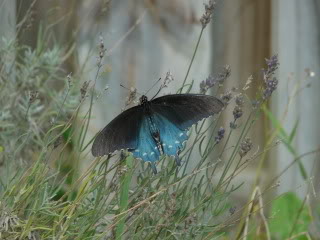 Blue butterfly on purple lavender at our farm.
Beauty and Enchantment is always close at hand.
August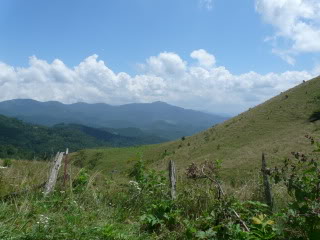 A Smoky Mountain-top Pasture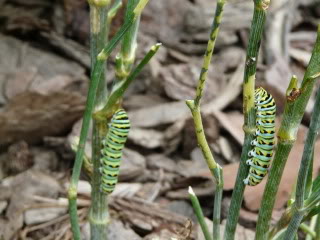 August Invaders to my garden at home
 September
Clam Tower, Jekyll Island, Georgia
I went to the beach to compete in the Shrimp and Grits Challenge Race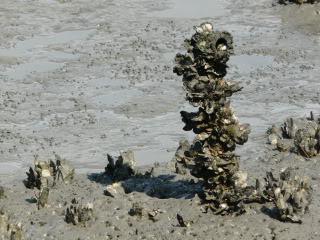 Blue's Graduation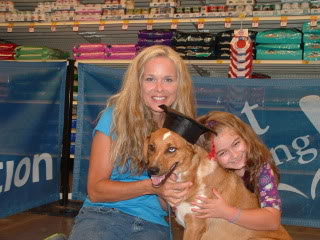 Wishing now I had worn make-up that evening to the dog obedience class. Oh well.
 October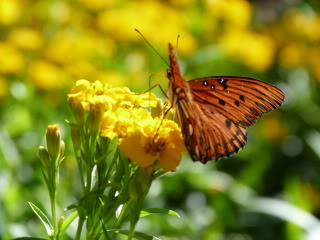 Tarragon, my one true herb love.
Do yourself a FLAVOR and plant some tarragon this spring! It's wonderful!
Gorgeous and delicious!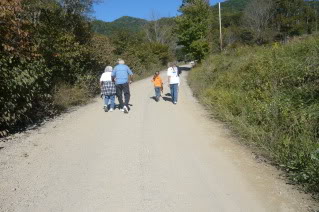 Hmmm…which James Taylor (my fav!) song to quote?
I'll go with "October Road."
 November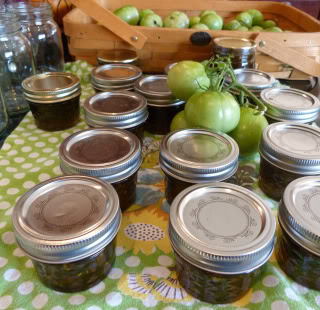 My Green Tomato Marmalade Adventure
Was that November? It seems like a long, long, LONG time ago when I made that!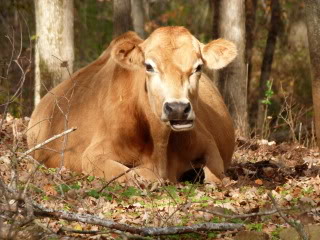 A cow at the heritage turkey farm where I bought our Thanksgiving Day turkey.
December
 I took a picture of these Mourning Doves through my laundry room window.
I took several pictures. In the first picture, their eyes are closed as they rested on my fence in the frigid weather. This is the second picture, I disturbed them when I moved the curtain to take the picture.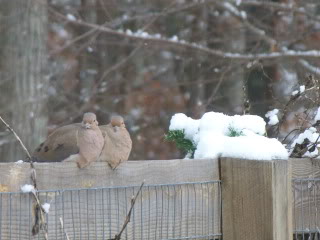 Oh, I'm so glad this popped up. This is our new dog, Oreo, just after he buried his face in the snow. Love this dog.
That's how we are in Georgia when it snows.
We stay home, celebrate, and bury our faces in the magical, fluffy, cold white stuff.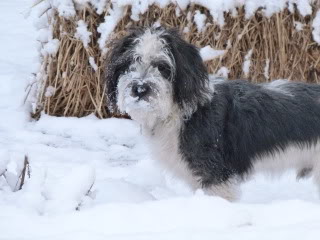 So in looking at these photos, I'd have to say my 2010 was filled with love, food, gardening, family. That's about right. It was a good year.
Now tell us about yours! What are your thoughts about YOUR 2010?
Until next time, Friends, savor the flavor of life
Lots of love, The City Farmgirl, Rebekah