Today is THE day I shall FINALLY…
I'm building quite a list for this day.
I felt a sense of autumn this morning, just a brief whiff. It is still hot as blazes here, but this morning there it was: an ever-so-brief cool breeze. It visited only for a moment, but long enough to make me a promise: fall is right around the corner.
We have had hot and humid weather for months now. "I'm melting, I'm melting…." Just like the wicked witch. Do you know that I had to switch to water-proof mascara just because of the humidity in this area this summer? Brutal.
And my summer gardening endeavors, as I've already lamented, were disappointing.
 However, let me just say here and now that after I lamented about those measly three tomatoes in my garden, my tomato plants made a liar out of me. I have been getting several a day since then! It's been wonderful. I'm in tomato heaven.
I thank my tomato plants profusely. I do so every time I see another red globe peeking through the thick foliage.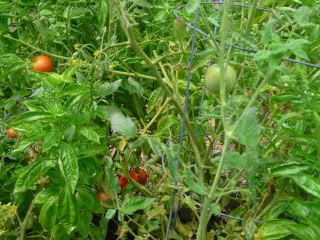 My Basil and Tomato Patch
My tomato collection is on my kitchen island awaiting my next culinary endeavor.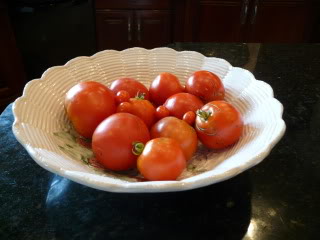 Hmmm, what will it be? What shall I do with my lovelies?
I must not forget to praise my herbs too. The herbs have been wonderful this summer. I have a nice assortment. Lavender, oregano, thyme, marjoram.
But my long time favorites by far are tarragon, rosemary and basil. The herb trinity. I never, ever want to live without those three plants close at hand. They are all super easy to grow and simply delightful. Take a look at my tarragon plant and I'll explain in a minute what happened to it.
My Poor Tarragon
Back to fall. And TODAY being the day I FINALLY do something. I have decided that today is THE day I shall FINALLY prepare my garden patch for my fall plantings.
I think I came to this place of declaration and action because of something I posted on my blog on Sunday (www.rebekahteal.com). I had just taken a picture of a butterfly right before it took off in flight. My thought as I witnessed it was this—-"Trust yourself. Take a leap of faith." This morning I woke up and it occurred to me, that's exactly what I need to do: trust myself.
I purchased my autumn seeds long ago, but have been TOO AFRAID to work in my garden.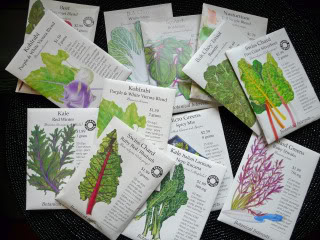 I love the fall plantings. Greens, greens and more greens…
Yes, fear has been holding me back from doing something that I love. What I am afraid of?
Here's a hint. They go "ssssssssssssssss" and they have taken up residence in my yard.
Yes indeed, I have a snake problem. And you might or might not recall, but I also have a snake phobia. I thought I was doing better on it. And quite frankly, I have come a long way, Baby.
But I tell you truthfully: I've got a long way to go too, Baby.
I've seen snakes in my garden, in my bushes, in my lawn, and on my patio. Freaking me out, to say the least.
That tarragon plant I showed you? The dogs did that to it, trying to get to an eastern garter snake that was under it. It apparently enjoys tarragon too.
Yes, my snakes have all been "peace-loving" and "non-poisonous." I know because I have looked them all up in here: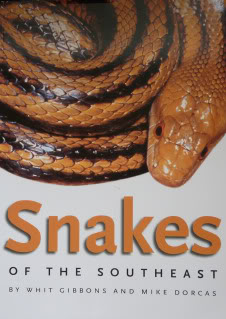 Yes, I know I should thank them for staying in my yard and keeping it varmint-free. I know these things in my head. But in my heart, I really want them to go. Far, Far, Away. No, I do not want them to die. I'm very clear on that. I've had offers of people who will come and take care of them for me. No, that's not what I want. 
I just want them to move. To go.
I am intensely afraid of us stepping on them as we frolic bare-footed in the yard. So we do not bare-foot frolic. I am intensely afraid of meeting one when I am in my garden. So I do not spend time in my garden. I am intensely afraid of them crawling inside my tent or sleeping bag. So we have not camped this summer in our backyard.
Interestingly, my daughter asked me just the other day what happened to my snake dance, the thing I do when I see a snake. It is apparently quite humorous. And I guess I have gotten so used to seeing snakes these days that I no longer perform a dance to mark the occasion.
My snake dance goes something like this (or did ): "S—S-S-S-S-S-S-S-SNAKE!!! EEEEEEEEEEE!!!! WEEEEEEEEE!" I scream while I run in circles and flail my arms and stomp my feet. It makes my daughter laugh. My spider dance and my lizard dance are quite similar.
So today? Well, today is THE day I shall finally face my fear of the snakes who are living in my yard and I shall go forth and garden.
Those slithery, scaly guys will no longer stop me from gardening. Today is the only day I'll have to work on it for quite some time, so here I go!
That means today is also THE day that I shall FINALLY get my old Mantis started all by myself. No help from the "men folks." Surely I can pull that cord hard enough and fast enough to start the thing. Though it has been a challenge in years past.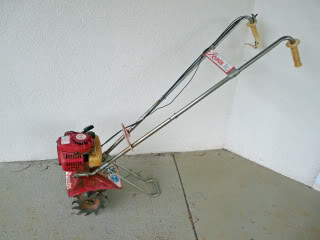 I have had my Mantis for, whoa, I'd say 12 years.
That also means today is THE day I shall FINALLY plant the 
leeks I've been wanting to plant. Leeks interest me, but I've never grown any. I've been meaning to start the seeds in pots, but hadn't committed to the garden thing. I wasn't sure I could actually get out there and DO IT! But that was before today….
Today is THE day I shall write this blog post as quickly as possible so I can get out there to live.
Now what about you? Today is THE day you shall FINALLY—-tell us! Make a commitment to today. Today is THE day you shall FINALLY do what?
And then, my Sweet Friends, get out there and do it!
Until next time, Friends, savor the flavor of life!
Lots of love, The City Farmgirl, Rebekah