Do you know who that is? On top of our United States Capitol Building?
It's "Freedom."
And "Freedom" is depicted as a chick. How cool is that? I learned that just the other day…..
I can't believe that I haven't mentioned it before. That I forgot to tell you this bit of interesting news! I won a sweepstakes! Whoopie! An all-expense-paid trip for me and my family to Washington D.C.
We just got back and it was such a great adventure. I can tell you this. I've always been patriotic and proud to be a citizen of the United States. Lee Greenwood and everything…
But I'm feeling even MORE patriotic since that trip. Just so proud!
I hadn't been to WDC since I went in high school on a band trip. That's been a few years ago….quite a few. And my focus at that time was not so much the history of our nation. It was on other things, like make-up and clothes and shoes and…well, you know, boys.
This last trip was great. My daughter is the perfect age for this, 9. Her focus was TOTALLY on the history.
The thing that struck me this trip was how our country has had such a difficult history. But you know what? The USA always comes through. Always.
We were lucky to snag a tour of The White House.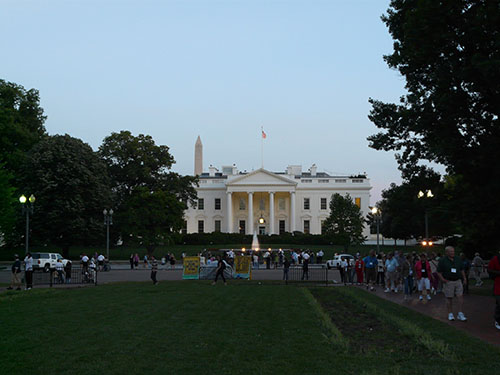 But I wasn't allowed to take my camera inside. Just know this. It was gorgeous! And very secure. There were guys on the roof.
Actually, the whole city is VERY secure. There was a police officer on every corner. 
You know what else we got to see? The Presidential Motorcade. I didn't have my camera for that either. It was amazin'. I couldn't believe how many vehicles and people were involved.
Police cars, motorcycles, several limos, SUV's, SWAT teams and even an ambulance bringing up the rear. Wow. I waved and waved and waved and finally one of the guys waved back. Awesome.
Here's the Supreme Court building.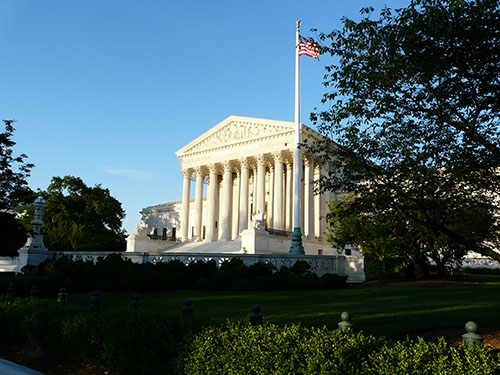 They called, but I told them no, I really don't have time in my schedule….
Here is the sculpture outside of the Supreme Court building: "Contemplation of Justice."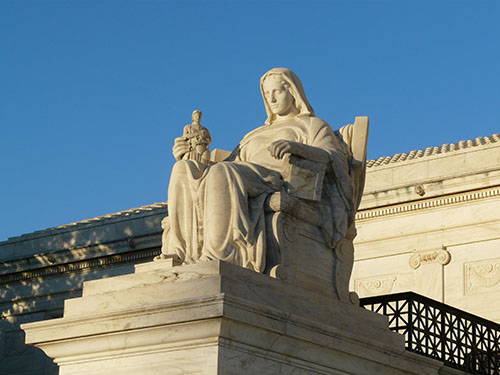 "Justice" is also a woman, which I think is cool.
We took an evening tour of the Monuments. The Washington Monument was beautiful all lit up.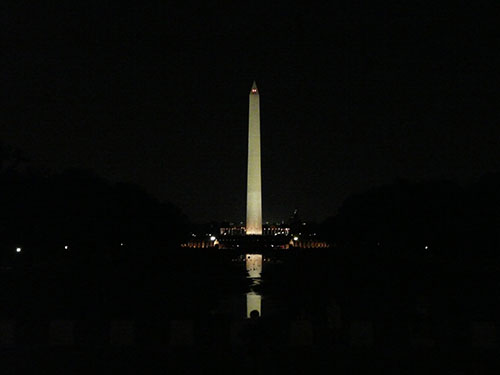 Day or night, the Lincoln Memorial was breath-taking. Night…..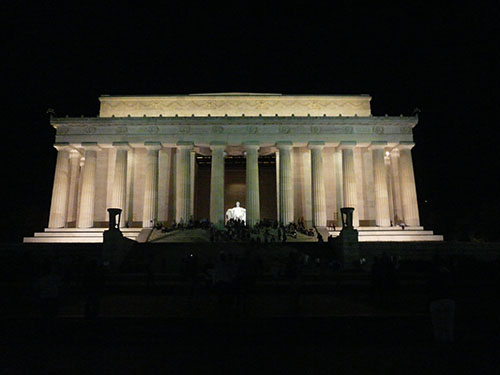 My Daddy knows Lincoln's "Four Score and Seven Years Ago" speech, I believe, in its entirety. That speech 
is engraved on one of the walls of the Lincoln Memorial. I took a picture of my daughter standing there in front of the giant words, reading every single word. She's heard Daddy recite it many times. (the picture was too blurry—-).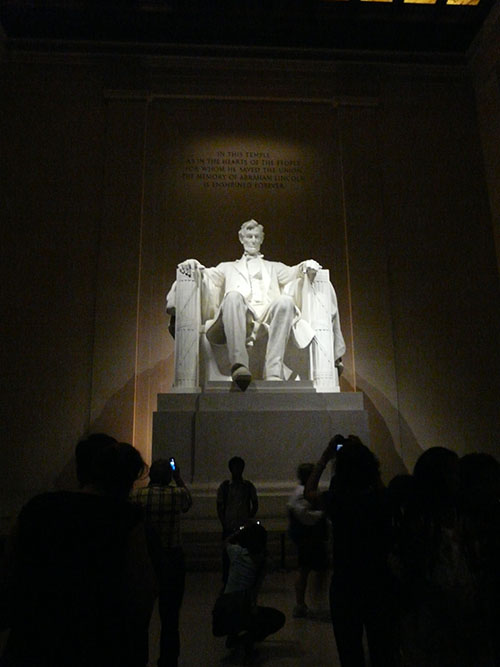 We went on a tour that went through Arlington Cemetery at night. Wow, that was moving.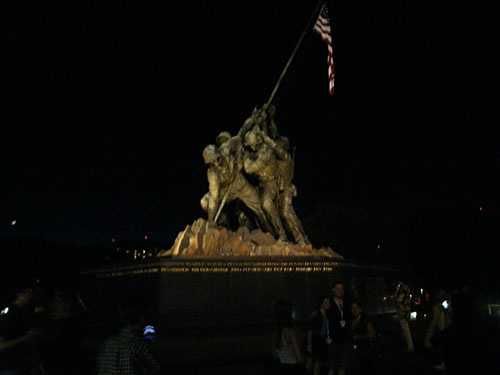 We visited the War Memorials.
The WWII Memorial knocked my socks off. I didn't remember it from my high school visit for a very good reason. It wasn't there. It opened in 2004.
We visited it during the day and i
t just so happened that as we arrived, so did a WWII veteran. He was being pushed in a wheelchair to go to the Memorial. He got to the middle area, where there is a grand fountain, and he sat there in his wheelchair and cried. I couldn't take it; I was so moved by the scene. We saw other veterans as well. They proudly wore hats and shirts identifying them as WWII veterans.
Later, we visted it at night under the light of a crescent moon.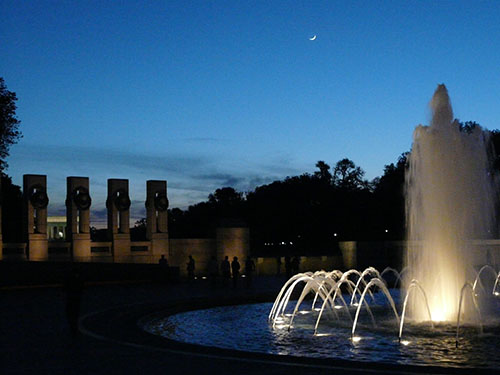 Here's Hubby and Daughter, standing in awe and silence. That's the Lincoln Memorial shining through in the distance.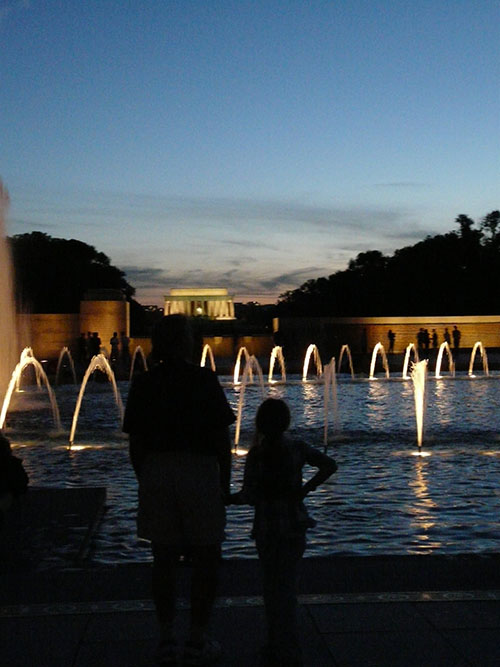 So this trip to WDC is what I've got that on my mind this upcoming Memorial Day.
I've written about it before, the way some of our meaningful holidays get buried in fluff. I can't figure out why that is. We are smarter than ever, with access to more information. It seems like things would become MORE meaningful. 
But no—Memorial Day has become simply a day to celebrate the beginning of summer. The true meaning is hard to find. I did a quick Google search to see if I could locate some meaningful Memorial Day activities. Few and far between around here.
Memorial Day is a day to honor the soldiers who died in service of our country. It began as a day to honor the Union soldiers who died in the Civil War. It was first called Decoration Day because folks went out to decorate the graves of the soldiers who had died in the Civil War. Now, it honors soldiers who died in all the U.S. wars.
We honor too those soldiers who served in the wars.
And those soldiers who served any where at any time to protect our Freedom.
Let's take the time to recognize Memorial Day for what it is. It's not a celebration of the coming of summer. A grill-out is great, but take some time to think about all the Freedoms we enjoy. Freedoms that are often taken for granted. We don't consider what it took to get them or what it takes to keep them.
President Clinton established a moment of remembrance on Memorial Days at 
3 pm
.
We should all take time to think about the veterans who served FOR US. And those who died serving FOR US. And those who are currently serving FOR US.
Wear a red poppy.
Decorate a veteran's grave.
Send cookies or socks or a letter to a soldier.
Talk to your kids about what an honor it is to live in the USA. Land of the Free. Home of the Brave.
God Bless the United States of America. Today and Every Day.
Until next time, Friends, savor the flavor of life!
Lots of love, The City Farmgirl, Rebekah