Is it possible for me to love a picture any more than I love this one? I really don't think so. I took it when my daughter blew a triple bubble. I didn't have my reading glasses. And when I downloaded the photos this morning, I couldn't believe it.
There's my magical farm reflected in the bubble….
And so I sang, "….wohoho, it's magic, you know….never believe it's not so…"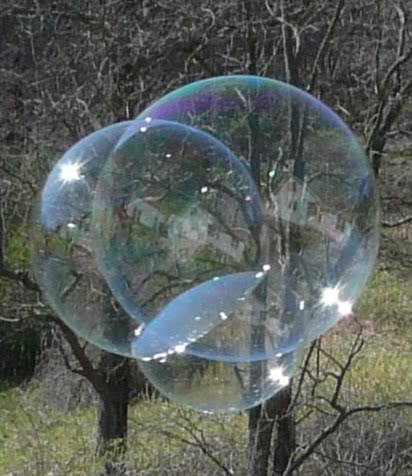 "So how would you describe your spring break so far?" my husband asked me.
I answered before I thought about it, "Not magical, definitely not magical."
We had been at our Mountain Farm for about 3 days when he asked me that question. 3 days of no indoor plumbing (surprise!), 3 days of fixing and cleaning, 3 days of weeding and mowing and weed-eating, 3 days of working from sunup to sundown, 3 days of ladybugs and mice, and 3 nights of no sleep (the neighbor's new dog barks constantly, but only at night)—-so, yes, those words, "not magical" fell right out of my mouth before my brain could stop them.
As soon I said those words, I regretted it. I wished I could take them back.
"Magical" is the word I have always used when describing our farm and my time at our mountain farm. "Magical" is the first word I uttered when the real estate agent took us here.
I wanted to change my answer to "okay" or "fine" or "could be worse" or anything other than "not magical." I don't want to be a fair-weathered steward to this old farm. I love it: the good, bad and ugly. I love it unconditionally. Of course it needs attention. It is an old farmhouse. With old everything.
But when hubby posed that question last week, well, I was less than charmed by the whole situation. Night had fallen and I had just gotten back to the house from getting 2 pots of water from the outdoor faucet in the side yard. One for coffee in the morning. One for the tea kettle now.
I had made that trek to the outdoor faucet many times since we arrived. It gives me the heebie-jeebies in general because the outdoor faucet is in a very "snakey" spot (to me). Believe me; I didn't like it in the daylight, but I hated it in the dark. In my mind's eye, snakes lurked in the grass, waiting to… (Remember me? I'm the one with the weird, debilitating snake phobia thing…)
So back to the night my husband asked me that question. I had just seen the quote for a much-needed new roof and then I headed off down that snakey trek for water. I had just finished pouring water into the tea kettle and put it on the woodstove to heat when he asked me that question.
Now I should be clear. It's not that I heated water on the woodstove because our stove was broken. No indeed, my beautiful 1950's GE stove was fine and dandy. It's just that I enjoy heating water on the woodstove for our tea. (My latest favorite tea is Numi's Gen Mai Cha Toasted Rice Green. Wonderful. Peace in a cup. Tell me you've discovered it too. If you haven't, do. Find it and discover it.)
There had been a slow and steady fire going in the woodstove since we arrived. I had brilliantly filled the woodstove with kindling before we left last time, so all I had to do was strike a match to have a nice, soothing fire.
Now I should be clear. It's not that I kept a fire in the woodstove because our heater was broken. Our old oil heater still works like a charm. It's just that I enjoy a fire in the woodstove. I like to sit with it at night. I like to stare at it and think. I like to sit in my special low-to-the-ground-fire-watching chair and just watch the fire.
But I must say, this no indoor plumbing thing had become a drag. No indoor plumbing meant no toilet. I have often kidded about a certain Tidy Cat cat litter bucket I have at our farmhouse. I have used for many, many things at the farm. If you've got a cat and a litter box, then you no doubt know about those Tidy Cat yellow buckets and the many uses of them. Well, mine now has another use.
This spring break trip had turned out to be very much not what we had hoped for. I guess I was feeling a bit grumpy about it. What we had dreamed of was a relaxing week at our farm, filled with short day trips and hiking and exploring and general goofing around. But when we arrived at our much-loved farm, we found things broken. We had very little leisure time, and lots of fix-it time. (I coined the week "spring broke" instead of "spring break." After a few days of dealing with it, I felt broke– both monetarily and mentally!)
And then there's the sunshine, my child. Having her (she's now 9—her birthday was during spring broke) is such a joy. Parenthood has been the only opportunity I've had (or taken) in life for rekindling childlike spirit and wonder.
My daughter absolutely loved the fact that we used a Tidy Cat cat litter bucket for a toilet. She loved the fact that she couldn't take a bath. She loved to catch hundreds of ladybugs every day and take them outside. She squealed in delight when she saw a pretty little gray field mouse run up the side of (the outside of) the house. She loved the adventure of this trip.
The next day, the day after I had made that mean "not magical" remark about our farm, my daughter ran inside to get me, "Can we go fly that kite?" We had brought a fairy shaped kite with us this trip.
I was working under the kitchen sink at the time, trying to locate the leak. You see, on our first night there, I had brought in water from the outdoor faucet, heated it up on the stove and put it in the sink to wash dishes. When I drained the sink, the water flooded the cabinet underneath. For real.
Well, I know magic when it is offered to me. And kite flying was just what my grumpy old self needed right about now.
So I crawled out from under the kitchen sink and followed her to the hayfield to fly a kite. Enough work; I needed some magic.
Bright yellow dandelions greeted us in the meadow.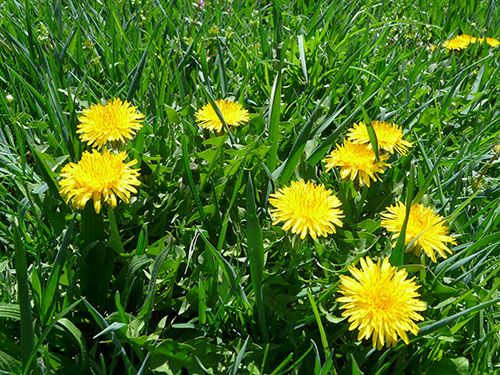 Hi yourself!
The wind was strong and vigorous. It took very little effort and skill to lift the fairy kite into the sky. It began to soar higher and higher….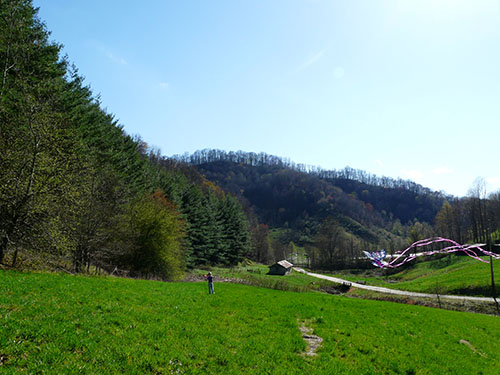 The wind was also wild and unforgiving. Crash.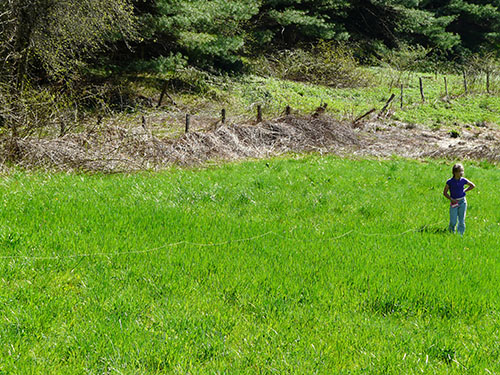 (Love the hands on the hips pose as she holds the fallen kite string.)
And so we abandoned our kite-flying and decided to climb high up our hillside. We made it almost to the top and sat on our enormous rock. I think it is granite. Sometimes we sits and thinks and sometimes we just sits. This time we just sat. For awhile.
Then we christened our rock "Yogi Rock." We did a few of the easy yoga moves I have learned.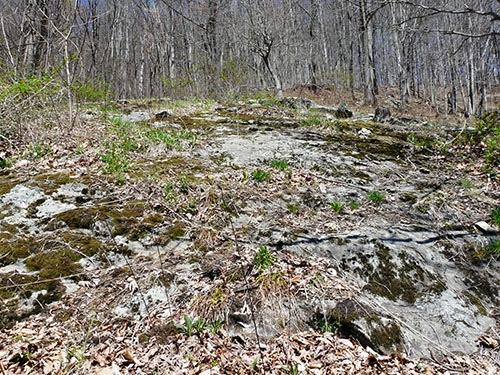 Our very own Yogi Rock
The view down from Yogi Rock: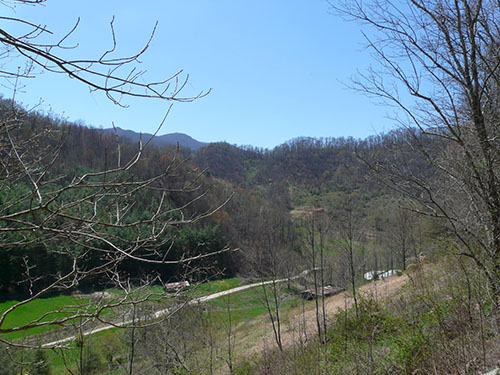 The view up: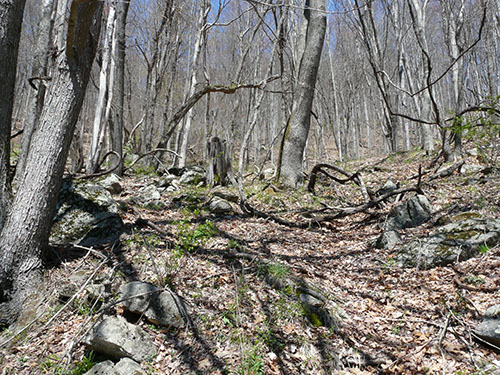 We then headed back down the hill and checked on our apple trees. There had been sub-freezing temperatures and heavy frosts since we arrived. But the blooms looked okay. Maybe, just maybe, we'll have some apples this autumn.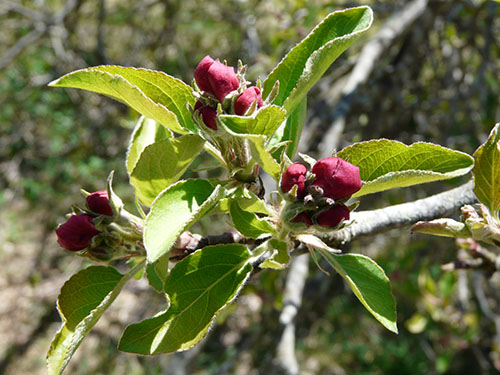 We spotted this little dude on a rock.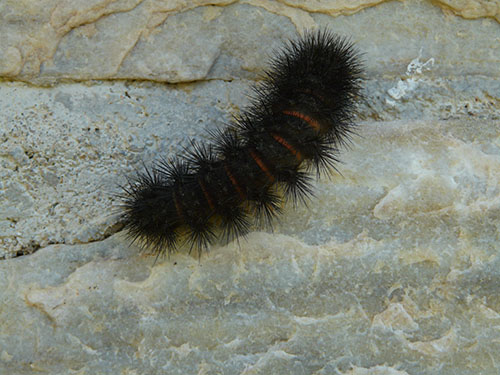 And these guys. Not your ordinary blackbirds. See those yellow and red bars?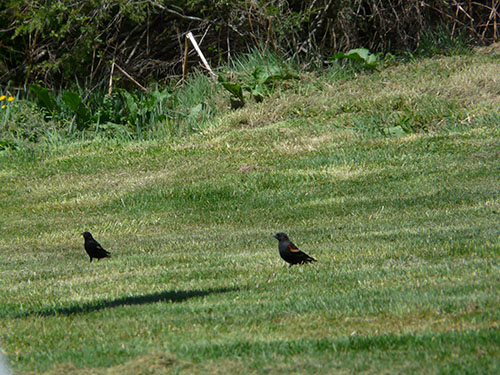 Next, we walked to the waterfall in front of our house. We sat on the rocks and dipped our toes in the cold, cold mountain stream. Our feet were soon wet and frozen.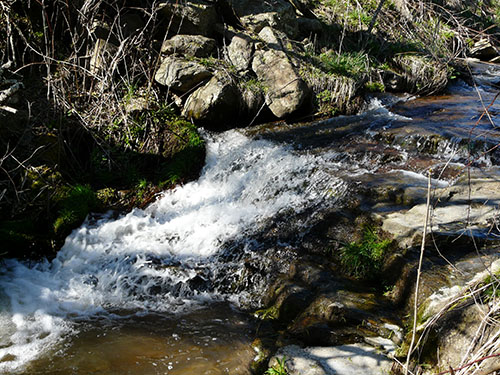 It was wonderful. Shockingly cold and wonderful.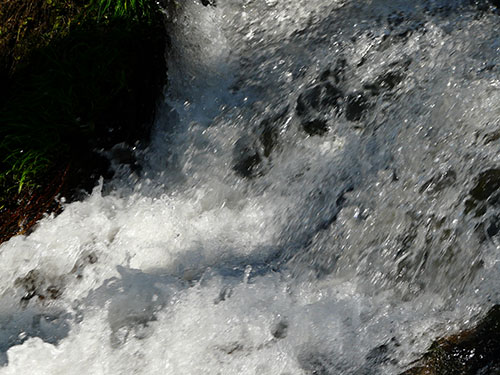 When we finally made it back to the house, I realized that my reading glasses had fallen during our outing. I usually have them on my head; they were definitely not there. Oh well, no reading or clear picture taking for the rest of the trip. "That's the way it goes," I told my daughter, "You'll have to be my eyes until we get home."
I realized then that my attitude had changed. Did I really just say, "that's the way it goes"?
We warmed as we dried ourselves by the fire. I heated the kettle for tea and hot chocolate.
While we were off gallivanting, Hubby had become a successful plumber. He had fixed each and every one of our plumbing woes. The ones we had identified anyway! We now had running water in the house.
When Hubby made that grand announcement, our daughter's response was a disappointed, "Awwwwww…."
Then she added, "Can we still use the Tidy Cat bucket?"
The tea kettle was now whistling, so I got up to get the tea. When I sat back down in front of the fire, I tried to read the quote on the tea bag pouch of that peaceful Numi tea. Since my glasses were out in the meadow, or hillside, or giant rock, or creek somewhere, I couldn't make out the words. I squinted in an effort to clear the fuzziness. Nope. I've reached the point where this method no longer works.
I handed it to my daughter—my eyes for the rest of the trip—and asked her to read it to me.
Her sweet voice, "I journey afar to find my way back home."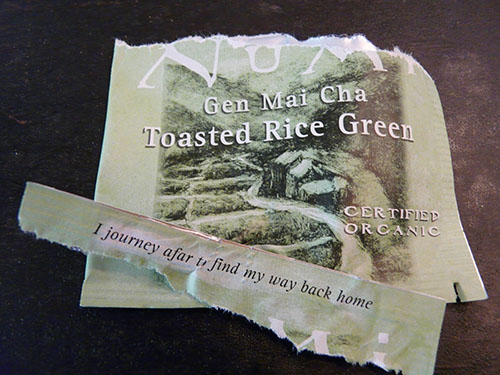 Yes, my home. My imperfect, needs lots of attention and money home. No, I don't live there full time, but it's where my heart is. I consider it my home. I knew it the first time I saw it and I know it now. It's where the magic is. My magic. And magic is something you make, like love.
So is home. Home is something you make.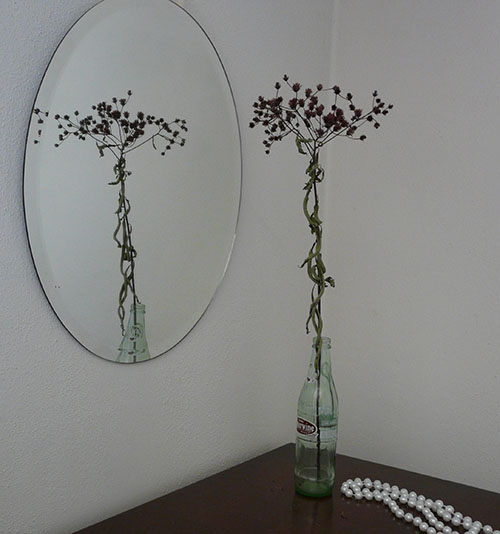 Until next time, Friends, savor the flavor of life!
Lots of love, The City Farmgirl, Rebekah