The month of June has the busiest, craziest, most-dragging-on weeks of the year for us, but they're also a happy time.  I feel like "Olaf" in the movie Frozen…summer is here! Cooler weather? "Let it go! Let it go!"  Time to get busy, get plantin', and really enjoy life. Come join my family as we transition to the new season.
My husband's been squeezing every last minute he can into cutting and making firewood of all the downed trees in our woods, before snakes and poison ivy are out. (Did you know that Denmark, where my husband's from, only has one, rarely-if-ever-seen venomous snake? My home state of Texas is unofficially "snake capital". I guess Connecticut's middle ground. We don't have that many snakes here).  Next year, that clearing will be where the beehives go. My daughter's finishing up her last weeks of school, with what seems like never-ending-end-of-year activities. Suddenly, it's time to plant seedlings, start mowing, and put out potted plants.  For me, I'm busy, too, but it's hard to feel stressed when there's so much refreshing color everywhere! There's green finally! I really appreciate greenery after everything was drab for so long.  While I've been planting annuals like geraniums, zinnias, and morning glories, I'm thankful for my perennial beds and the early bloomers.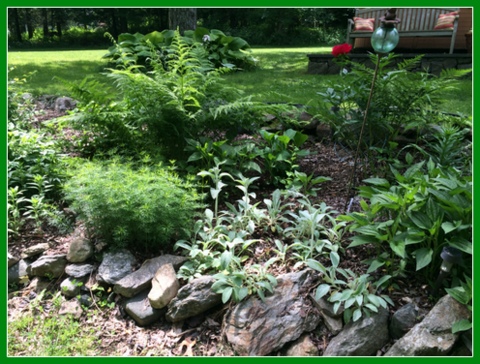 One of my all-time favorite plants is increasing in popularity: hostas. I first heard of Hostas decades ago on Martha Stewart's earliest show that was filmed out of her Connecticut home. One of the first plants to bloom each season, they get bigger and rounder with each passing year. The foliage ranges from solids in greens and lavender-blue-green, to variegated combos.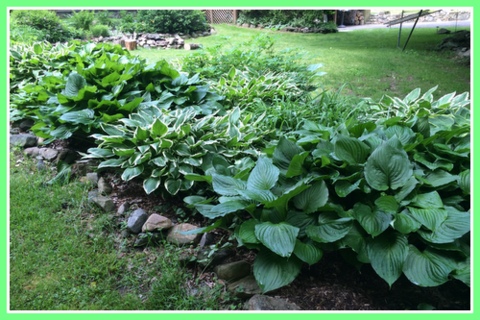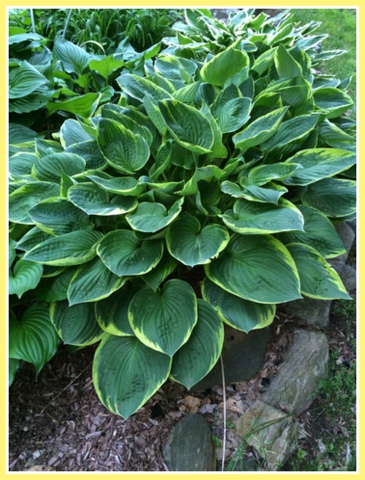 Hostas grow well almost anywhere, but thrive in shade or partial shade, making them good additions to my areas surrounded by trees. They bloom a flower stalk in late summer, and are the last things to take a bow when winter's frost arrives again. Let me stress, however, Hostas are DEER CANDY. If you plant hostas, make sure to protect them! Once the beautiful leaves are nibbled, they don't come back until next season (and it isn't pretty). The best success I've had is to spray with a putrid egg/garlic-based spray, repeating every few weeks or after heavy rain. I've seen the edges of my hostas "tasted", as if the deer are "checking" the effects of the spray. As long as I keep up with it, my hostas stay beautiful all season.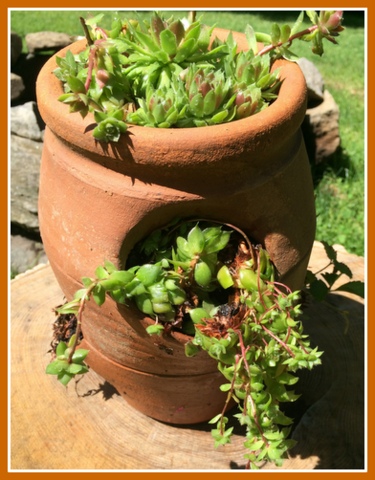 Another favorite: the hens-and-chickens succulent. This plant looks adorable tucked into strawberry pots.  However, plants in the pockets of my pot always seemed to die after awhile, due to lack of water. I solved the problem by re-purposing bendable drinking straws, cut to size and placing them beneath the soil with the the short, bended end pointed toward the pockets. Now everything is watered evenly. The plant pictured was potted last summer, survived winter inside the house, and is now outside for the summer.
We put in a larger garden this year. While I'm a fan of organic gardening, utilizing compost and organic or heirloom seeds, I'm also an advocate of chemical-free pest control.  Got slugs? Set out a shallow dish of beer. For pesky moles, I've picked up a windmill mole chaser at Harbor Freight tools for around $10.00, that a neighbor recommended last year. It works, and is cute, too.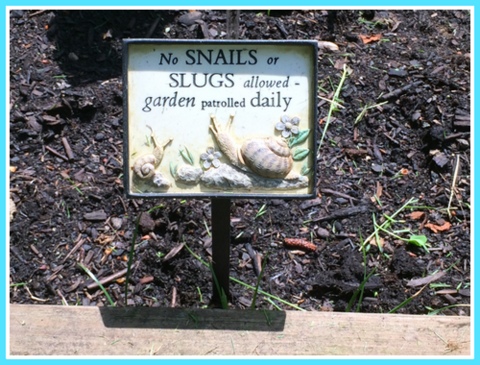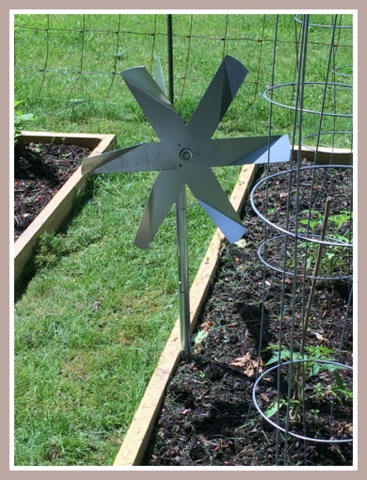 The chickens are lovin' the sunny weather, chasing insects and taking dirt baths in the sun. I've created a "chicken playground" with CD's hung from twine (like a chicken disco ball), rotting logs to hide treats in, and places to perch and dig.
I also put chicken scratch in an empty plastic water bottle poked with holes. They love to kick and pounce on it…it's the farmgirl equivalent of watching a soccer match. Hot weather can be hard on chickens. Avoid corn…it can raise their body temperature. Help them cool their body temps by treating them to fresh mint leaves.  My flock loves it!
I see winged beauties are back. We've had some interesting visitors recently.
The hummers came early this year…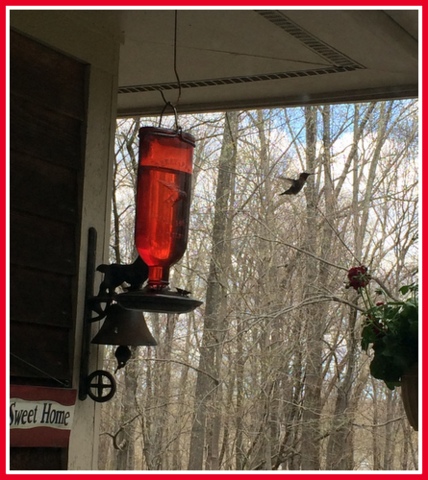 One recent morning, we woke up to a Luna Moth.  Rare, they only live one week after turning into a moth and have no mouths, so they do not eat.
Love the polka dots on the Eight Spotted Forester Moth…
And we've seen various spiders, toads, and frogs, nature's pest control.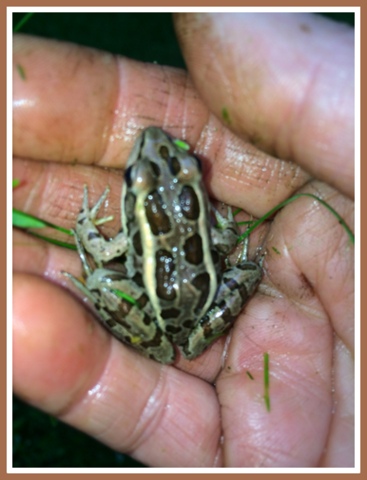 Wherever you are, I hope you are having a beautiful late spring/early summer, too. Remember to kick back and relax a bit, too!
Until Next Time…Farmgirl Hugs, Nicole