Someone stopped by the farm last evening, a neighbor's cousin from out of town. We were all standing around chatting and he asked if we had visited some local attraction. And I said, "All we've done is work since we moved to this farm, but one day!" And he said something that went right through me and stuck to my heart and brain.
"I'll let you in on a secret," he leaned in to me. Then he said, "On a farm, the work is never done."
I think he is right. When I consider everything we've got to do, REALLY CONSIDER IT, I realize that we're in for the long haul. We'll be working on it a very long time, maybe forever.
So if we wait until the work is done to have a little fun, to site-see locally, to go to festivals and cook-outs, to socialize, well, we'll never go. Because I think that fella hit the nail on the head, the work is never done here. Ever. It's different from an office job where you can be done for the day, go home, and leave it at the office. Here, you make a glass of iced tea and then gaze out your window and say, hey, I forgot to weed-eat that area by the maple tree and then you head out to do just that. No rest for the stewards of a farm. We are, as they say it around here "tared." (tired)
"We start to realize that there are anodynes in life that help us through the day…..a good BUBBLE BATH……helps us solve all this stuff in our head." Al Pacino
IKR. It not only helps us solve this stuff in our heads, but soothes our aching muscles, uplifts our sagging spirits. A bath can help the body, mind and soul. Straighten out all the knots there.
(The knots of wild grapevines growing on my fence.)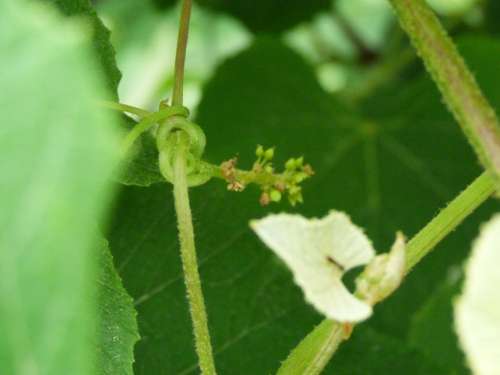 Have you discovered the healing of a bath? If so, how do you take yours? Lots of bubbles? Oil? Fizzles?
Take your bath up a notch and make it work even harder and better- pour in the Epsom Salt! A Chinese medical doctor told me about soaking in Epsom Salts years ago. It's good for what ails ya. (Of course, the Chinese doctor didn't put it quite like that.)
Epsom Salts are different than traditional salts in that it is a naturally occurring pure mineral compound of magnesium and sulfate. These minerals have very powerful health benefits that can enhance the detoxification capabilities of the body. See, think about it. When you pour it into your bath, your body is absorbing it through all your pores. So here's what it can do when you absorb it.
Epsom Salts can reduce your stress. Here's how. Stress drains your body of magnesium and increases the evels of adrenaline. When Epsom Salt is dissolved in warm water, and your skin absorbs it, it replenishes magnesium in your body. Magnesium, as you might already know, helps produce serotonin. Serotonin is a good thing: it is a mood-elevating chemical within the brain that creates a feeling of calm and relaxation. Calm and relaxation!
Research shows that magnesium also increases energy and stamina by encouraging the production of ATP (adenosine triphosphate) — the energy packets made in the cells.
Also, magnesium helps to improve muscle and nerve function, reduces inflammation, and improves blood flow and oxygenation throughout the body. Sulfates are necessary building blocks for healthy joints, skin and nervous tissue.
Now, don't add bubble bath or soap to your Epsom Salt bath; they will interfere with what the Epsom Salt is doing. Instead, if you want to add some moisturizing, add olive oil or baby oil to the bath. 2 cups Epsom Salt, 1/2 cup oil.
(now, I read that people with high blood pressure or heart problems should talk to their doctor before adding Epsom Salt baths to their routine.)
What else? Well, an Epsom salt bath is known to ease pain and relieve inflammation, making it beneficial in the treatment of sore muscles, bronchial asthma and migraine headaches.
Studies have also shown that Epsom salt can help regulate electrolytes in your body, ensuring proper functioning of the muscles, nerves and enzymes. Magnesium is also known to be critical in the proper use of calcium, which serves as a main conductor of the electric impulses in your body.
Epsom salt is believed to improve heart health and help prevent heart disease and strokes by improving blood circulation, protecting the elasticity of arteries, preventing blood clots and reducing the risk of sudden heart attack deaths.
And you know what? Proper magnesium and sulfate levels increase the effectiveness of insulin in the body, which help to lower the risk or severity of diabetes.
So, with all that, you should soak in an Epsom Salts bath. I have been doing it since that Chinese medical doctor advised me to years ago.
Recently, however, my Epsom Salt bath hasn't been very relaxing.
I have taken a bath with ticks. I think the salt must make them let go and fall off. Totally gross.
And then the other night, I'm soaking and see something swimming around. Upon further observation, I see a large black spider in the bath with me. That was SO not relaxing.
And then last night, when I pulled back the shower curtain to turn on the water, I saw a little mouse in the tub. I went to pick him up and take him outside and he ran down into the drain.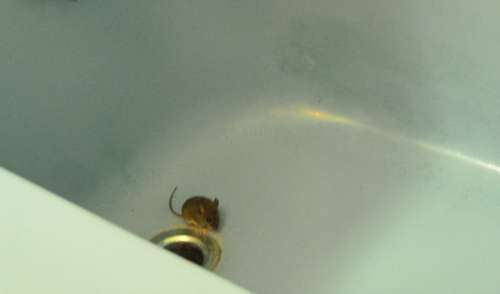 Where was he going? Where does that drain lead? And how did he get there? And WHO else can find its way into my bath tub through that drain? Sssssssss? Oh lordy.
Maybe the mouse moved in because we are basically cat-less here. About a month ago, our sweet 17-year old kitty, Gracie, crossed the rainbow bridge and broke our hearts. She had been sick for several months and had retired from mouse-chasing.
And then this moved in. This tiny pile of fluffy preciousness. My daughter named her AnnaBelle. I don't know how promising she is for a mouser. She's very lazy. And spoiled.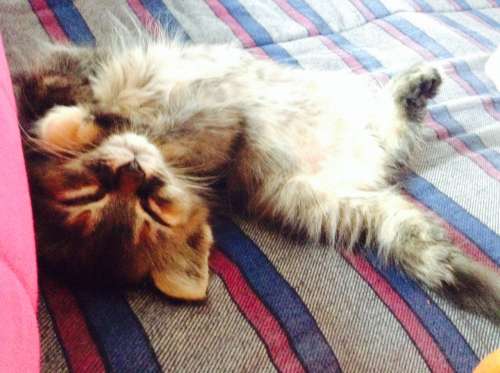 Until next time, Friends, savor the flavor of life!
Lots of love, Rebekah, The City Farmgirl in the Country