I came home with muddy shoes the other day. I mean MUDDY. Mud so thick my shoes were too heavy to wear. Mud so thick my shoes would probably never recover. I tried to get the mud off to no avail. So I put them in the garage to dry, thinking that once that once the mud dried, it might come off easier. As in…fling in all directions as I hit the bottoms of the shoes together with force. You know that routine, right? 
My husband noticed them days later, two big balls of mud sitting in the garage. When he looked more closely, he saw they were my Sketchers. So, he asked.
I told him the story. You see, I was coming home the other day from someplace or another and there, in the middle of the road, was a dog. He moved from lane to lane to avoid being struck by cars, but he obviously had no street sense or car sense. I think he might have just been dumped there because the dog seemed "dazed and confused."
So I turned around my car and parked at the edge of the road. My intent was to catch the dog and bring it home with me. No solid plans on how to make that happen, I just knew I had to do something.
That did not happen.
What did happen? Luckily three other cars stopped to help me. Together, we got him away from the road and out of harm's way. It was not what we intended, but it was better than nothing. The dog went into a wooded area and that's where we lost him.
We all took off our shoes before we got into our cars. Our shoes looked the same. Like mud balls.
I've been seeing a lot of creatures lately. When I first saw this turkey, it was displaying its beautiful tail feathers in a fan. By the time I grabbed my camera and got out of the car, it was too late. He was just running…
I am an animal person. I love them all, great and small. Dogs, turkeys…well, except for those long, skinny, slimmy creatures. You know that question I posed in the last post? About how many cats? I am the person who would have 100 cats. My husband set the limit on two, which is the number I had when I met him. Two in the house anyway.
And this. I have been worrying about a certain cow. Yes, a cow. I have driven repeatedly for the last two weeks down a road that has a beautiful pasture. Lush, verdant green pasture land. In front of it is a small enclosure with a cow. The first time I saw it, I didn't think a whole lot about it. I assumed that the cow was in "solidary confinement" because it was headed to be sold. But it has continued to be locked in that small area with no shelter. It has looked worse and worse every time I drove by. Last time I saw him/her, it looked terrible….what we call in the south "death warmed over." I began to wonder if the farmer was an out-of-town hobby farmer and if somehow this cow got himself into that enclosure and is starving to death and nobody is around to know about it.
There is no home close to the pasture, so I have no idea whose cow it is.
So I did what any other "citygirl" would do. I stopped by the Sheriff's Office and asked them about it.
The very kind and patient sheriff's deputy told me that cattle farmers often separate sick cows from the herd to protect the herd from the sickness. He said that probably since the cow is in that small enclosure, then something is most likely wrong with it. He said that he will drive by and check on it anyway. (I apologize to farmers everywhere if that was an uncool thing to do…would you mind if someone, a stranger, is worried about your sick or dying or starving cow?)
Well, later when my daughter got home from school, she ran into the house and said that there was a tadpole in her pool.
Now when I say "pool" and you probably have visions of a beautiful, in-ground, inviting pool.
No. It is one of those little plastic round pools. You know, eight inches deep or so? We used for purple play-sand last summer and it collected rain water all winter and spring.
So, I go to see and indeed, there is a little thing swimming around in her pool.
Deciding that it couldn't live for long in there with purple sand and no apparent supply of food, we got a jar so we could catch it. Then we brought it inside to decide what to do next with our tadpole.
My daughter enjoyed looking at it with her magnifying glass.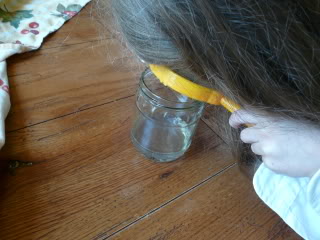 She found another squiggley thing swimming around in the water. And then yet another. I thought it was a good idea to keep him and study him. I thought it would be educational to watch him transform from a tadpole to a frog. I got out a flower vase, the kind so many people keep their Beta Fish in, and looked up what to feed tadpoles.
She then asked me if it would live.
"Hmmmm….maybe, maybe not," I said.
"It would bother me if he died," she told me.
Well, goodness knows there's enough to be "bothered" about without adding to it. So we decided to find him a home in nature.
There wasn't much time before her piano lesson. I thought about a creek close by and asked her if she thought that was a good home for her tadpole. She did.
Since that required us to walk through some woods, I told her to slide some pants on under her uniform (hence her "outfit" in the woods) and we'd hurry and get him and friends to the new home before piano.
"I almost love him," she said as she carried the jar through the woods and down the path to the creek.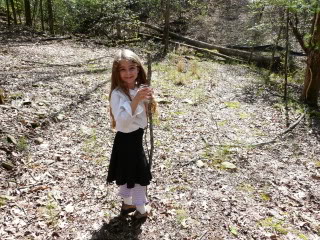 She found just the right spot where she wanted to release him.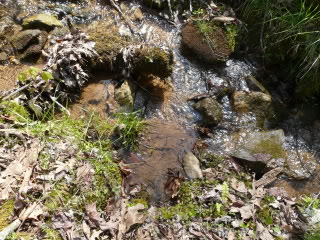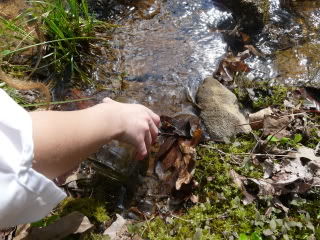 "He'll sing to me when I come in the summer," she said.
Daughter was so excited. She told her piano teacher about the tadpoles she saved. Her piano teacher assigned her a song about frogs, in the tadpole's honor.
She couldn't wait until Hubby came home so she could tell him all about it.
Later, when I showed my husband the picture, he zoomed in.
He then told me that we had saved a mosquito, not a tadpole.
I haven't told daughter the news yet.
I leave you with a question. Why would someone (me), in their right mind (questionable actually), hang a Cinderella laundry basket on the highest door hinge on the screened-in porch? Why would that same someone drag out the big red rug and hang it over the rail outside of the screed-in door that leads to the screened in porch? And drape red dish towels over the door? And a red t-shirt over the latch?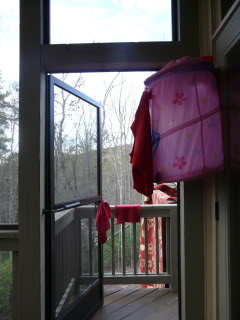 Until next time, Friends, savor the flavor of life!
Lots of love, The City Farmgirl, Rebekah