That's a tough one, isn't it? My "wondering" for the day is a tough-y, alright.
But first. I get so many requests to link your blogs to this one and I wish I could; but that's not a feature this "blog-ware" has. So send me your own blog links and those of your favorite blogs. I'll post them in a very special upcoming post. I'm thinking a "contest" would be fun! What do you think? Either email me using the link at the right or leave a comment below with the blog addresses.
Now on to my wondering of the day:
How many acres? How many cats? How many days (or weeks) off? How many friends? How many blueberry bushes? How many cups of coffee? How many hobbies? How many pairs of blue jeans? How many minutes or hours in meditation/prayer? How many books? How much kindness? How much honesty? How much time nurturing children? How many children? How many charitable endeavors? How much food in storage? How many gallons of water in storage? How much time on the computer? How much time cleaning your house? How many pairs of shoes? (Okay, forget that one…one can obviously never have enough shoes…)
What are those answers today? How much is enough? What is the balance? The "how much" number is ever-changing, I've sure learned that.
What is enough today often becomes too much tomorrow. Or not enough.
Ah, I don't know the answers for today, but I'm working on it. I'm wondering about it.
How about a "how much" on a lighter note?  How many eggs did you stuff with candy or decorate? We're still enjoying Easter around here. This week, "Easter week," my daughter is on spring break. So we've been goofing around and enjoying life. Nothing big, just hanging out and having fun. We continue to have egg hunts with the eggs we colored. Though I think it might be time to do our famous egg toss soon. Our eggs are beginning to have a certain, familiar odor about them. When that smell arrives we know it is time to stand on the back deck and have our egg tossing contest. That's where we try to hit various trees with our eggs. (I note that there are fewer trees to try to hit this year because of Friday's storm.)
Did you go to an egg hunt this year? Or host one? We went to a community "egg hunt" that was the strangest egg hunt I've ever experienced. Filled plastic eggs were dumped in a small, roped off area. I mean a very, very small area. Like 30 feet by 60 feet. For 80 or so kids. None of the eggs were "hidden." They were just dumped there. In fact, I'd call it an egg "dump" instead of an egg "hunt." Once the whistle blew to begin the….um…."hunt" the kids ran and pushed and scrambled and grabbed the eggs just lying there. My daughter only got 2 because she is not a scrambler or a fighter or a grabber. A truth of which I am proud, by the way.
I decided that this hunt was perhaps just poorly coordinated; perhaps they needed more help and more hands. Perhaps they had underestimated the "how many" people we need to help with this thing. So, perhaps they had no one to hide the eggs; therefore, they had to just throw them there in that small area.
But. I've now talked to others about my "not enough help" theory; I have realized that what I consider true egg "hunts" have gone by the wayside around here. I was told that the egg "hunts" are now much like the egg "dump" I witnessed. I wonder why that is? What happened to "hunts" where kids get to look for eggs? In any event, I will call next year and "volunteer" to actually "hide" the eggs. If they don't want my help, well then, we'll have to pass on another egg "dump."
Anyhow, we came home from the egg "dump" and have had lots of egg hunts at our house. Here, we used the eggs we colored. I never figured out the technique for hollowing out the eggs; so instead, we just boiled them as usual. We always have fun coloring the eggs. We'll use that clear crayon that comes with the kit to write things on the eggs or to draw pictures. Everybody always gets a special one with his or her name on it. Even our pets.
For example, this year there were eggs with: "Strudel" (our dog)…here she is now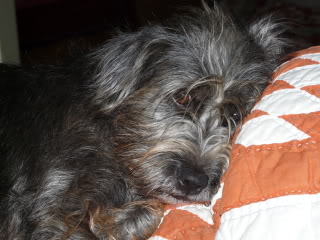 sorry to wake you, Doodle
"Elvis" (our cat)…here he is now….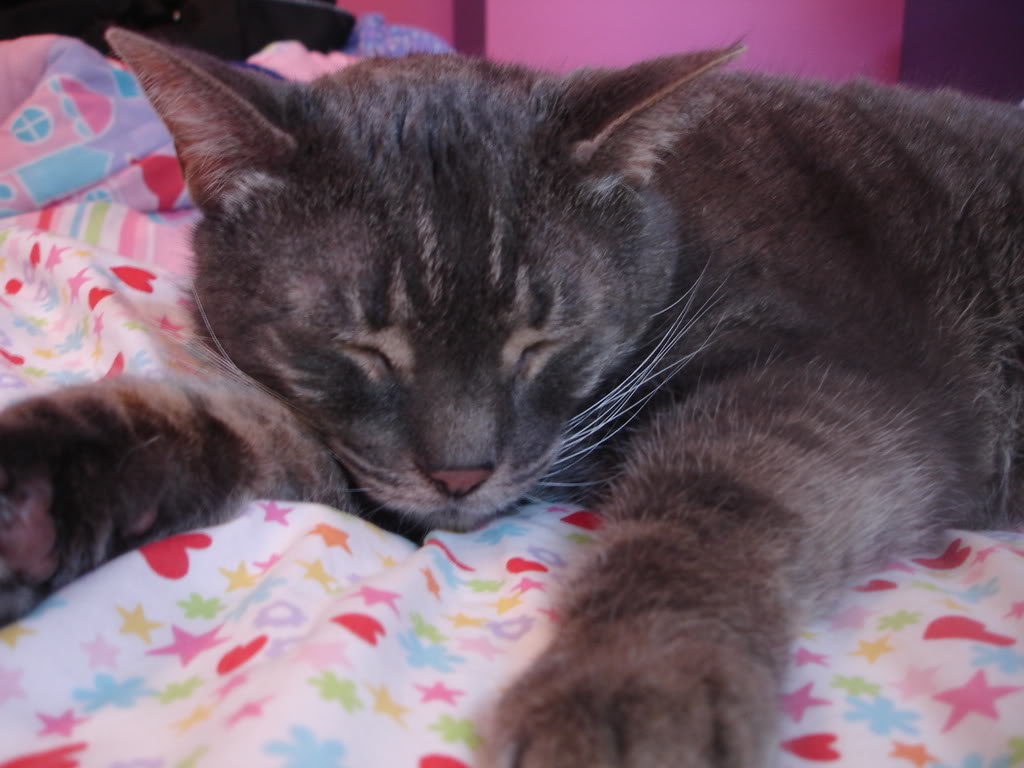 Guess it's nap time around here.
Here are some words on our eggs this year:
"Egg Head" "Hoppy Easter" "Hi, Mr. Wedgey Pants" (don't ask…) "I found it!" "Bluebird Inside" "Alley Cat" "Love the 70s" "Fragile" and "Happy Birthday" (for someone very special whose birthday fell on Easter this year, April 12th…I'll tell you who in the next post).
My daughter liked both hunting and hiding. Me too.
Strudel only enjoyed the hunting: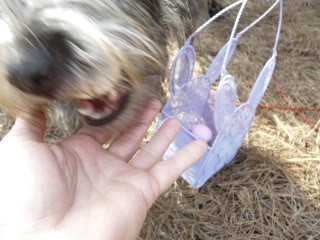 Drop it, Strudel-Doodle! Give it to me!
In one egg hunt where my daughter had done the hiding, I noticed something. The eggs were color coordinated with the hiding spot. I asked her about that and she said, "Of course they are…"
Now is that the opposite of an egg scramble or what??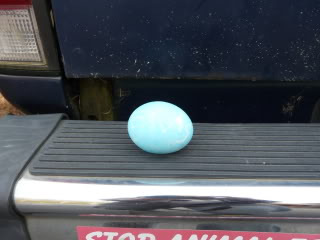 That's the "Elvis" egg, is says "Elvis" for Elvis the cat (named after Elvis Presley.) My daughter has now named my old truck (whose bumper you see here) "Elvis" after Elvis the cat, not Elvis Presley. So, the truck is older than the cat, but is named after the cat. We like to complicate things around here as much as possible.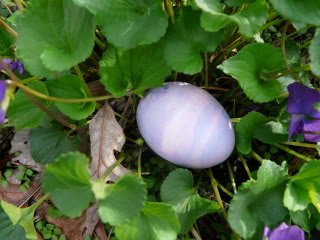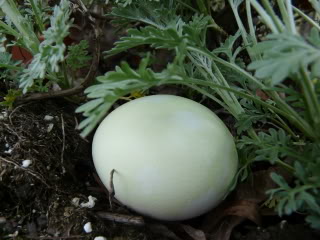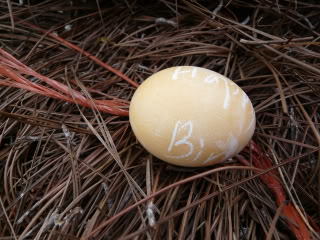 "Happy Birthday"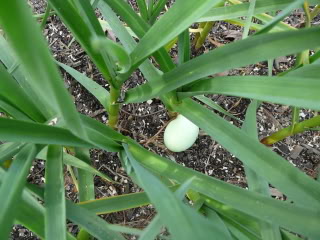 garlic egg
Isn't she cute? To do that?  TOO c-u-t-e! There are lots more color-coordinated photos, but I thought that was probably enough for ya on this Friday after Easter…
Have you noticed my daughter makes my heart melt? Yep, I thought so. 
Like this. A big pile of papers from school came home the other day. It was something they did way back on the 100th day of school. There were many different questions for the children pertaining to the number 100.
Like, "I could eat 100 ________." My daughter is a girl after her mother's heart. She filled in that blank with "M&M's." Yeah, me too.
Here's the one that made me cheer. "I wish I had 100 ____________."
Now before I tell you her answer, let me tell you the answers of some of her friends. "Webkinz." "Horses.""Matchbox cars" "Lizards" "Dollars".
My daughter, the girl after my own heart, who makes my heart all marshmallow-y and sugary and soft…she filled in the blank with this word: "acres."
Yeah, me too. I wish I had 100 acres too, though I wouldn't know what to do with them.
I'm sure I wouldn't want a "100 Acre Wood" like Pooh's. Maybe a "50 Acre Wood" would be good. That would leave me 25 acres for pasture and the rest for gardens.
When I asked my daughter what she would do with her 100 acres, she said "run on them." Yeah, me too. Barefooted, if possible.
I picked up a book at the flea market where I bought that old black table I put out on the screened in porch (and which is currently layered in yellow pollen.)
Here is said book, sitting upon said yellow-pollened table….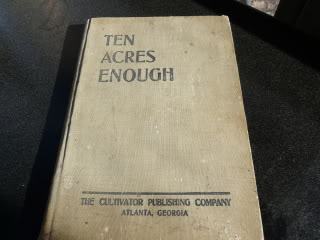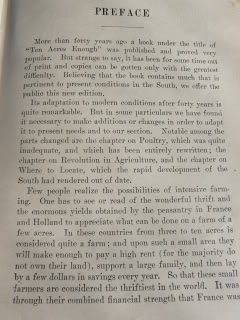 The book is called Ten Acres Enough by Edmund Morris. He wrote it in 1865. Sounds good, doesn't it? I'll take it with me this weekend when we go to our twenty acre mountain farm. This will be the book I've brought from home to read on this trip. I always take a book, just in case.
Here's the routine: I make a cup of hot tea, tuck the book I've brought from home to read on this trip under my arm and head out the front door. I might not get beyond the rocking chairs there. But I might. I might climb the hill behind the house; I might cross the street and head to the rushing mountain stream; I might plop down in the meadow; I might perch on the white wrought iron set my parents always had on their front porch when I was a child and which they gifted me; I might lean against one of our ancient apple trees.
Once I find a spot, I will open the book I've brought from home to read on this trip….
I will meditate; I will contemplate; I will admire the beauty around me; I will dream; I will listen; I will envision; I will list; I will wonder.
I will breathe in and absorb the peace of these acres. I'll tuck it in my heart and soul and bring it home with me.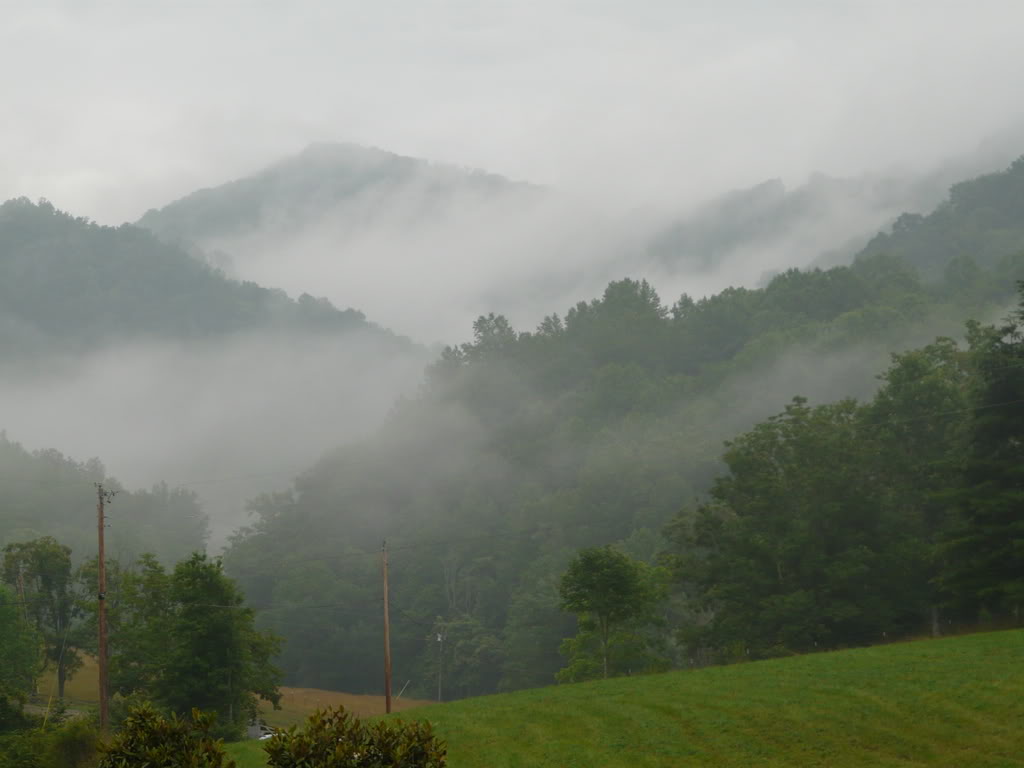 When the cup is empty, I will close the book (still on the preface page) and take it, with the cup, back inside.
I'll come back outside and pick up a shovel.
Then I'll find a different kind of peace and contentment with these acres; the kind that comes from communion with nature. From "working" with it and "touching" it rather than just admiring it. I'll bring that back home with me too.
"In quietness and in confidence shall be your strength." Ralph Waldo Emerson
"Do not dump the eggs and call it a hunt." Anonymous (well, someone who wishes to remain anonymous anyway…)
Until next time, Friends, savor the flavor of life!

Lots of love, The City Farmgirl, Rebekah