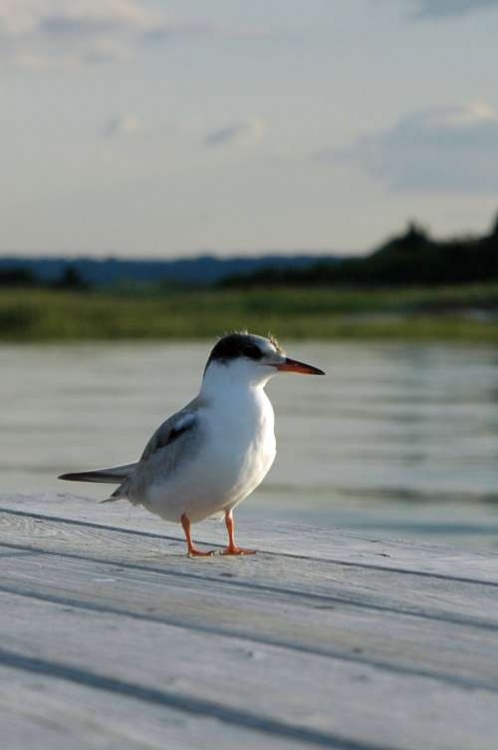 Dear Sisters,
I hope this note finds you all healthy and happy for the upcoming Memorial Weekend holiday. A farmgirls work is never done, even on the holidays. There's still plenty of feeding, planting, milking, cleaning and caring to be done but that can wait a few minutes! I'm reminiscing about Cottage Day's to come and I'd love some company! We've got so much to be grateful for and the beach is the perfect place to find some quiet and remember those who have fought and still fight for our luxurious freedom every day. Come with me and we'll clear our heads together at the beach! Only one condition. Check your cell phone at the cottage door! No selfies, snap chats, tweets or tumbles allowed!!!
Touch the earth, love the earth, her plains, her valleys, her hills, and her seas; rest your spirit in her solitary places. For the gifts of life are the earth's and they are given to all, and they are the songs of birds at daybreak, Orion and the Bear, and the dawn seen over the ocean from the beach. ~  Henry Beston ( The Outermost House)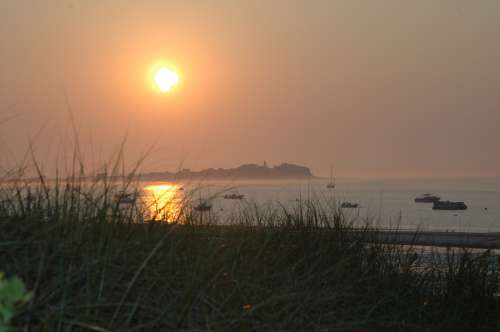 Let's pretend it's sunrise and we're headed out for a walk at first light with good old Henry. We step out the creeky cottage door into the dunes and slowly make our way down to the flat wet sand. At low-tide the air smells of dead clams, rotting sea weed, washed up ocean critters and the unmistakable scent of sea air. If you like the smell of a horse barn or a cow pasture then you'll like the smell of low tide too. It's a mix of aromas only mother nature could cook up.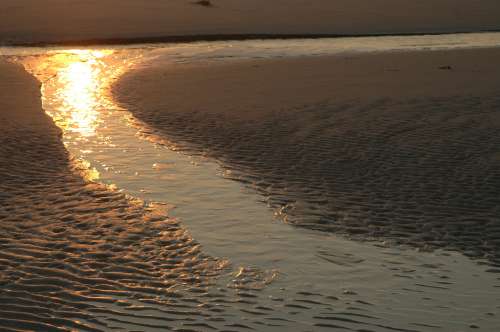 We observe that the tide is still out by several hours. As we walk along we are together, but alone with our own thoughts. The early morning light dances on the trickles of tide waters left behind after the last high tide drained back out to sea.
The sea birds are already busy with their morning rituals of fishing for breakfast and calling out to one another. Imagine what they are saying to each-other? How's the fishin' today Fred? Well, Vern. I had better luck down yonder this morning, hows the fishin' up your way this morn'?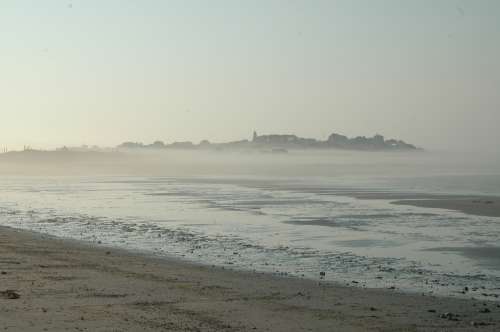 As the sun gets higher on the horizon a bank of fog rolls in and the skies begin to turn milky white. We walk and listen as the waves gently lap at the shoreline. Each wave claims more of the beach as it rolls in and out.
It's so easy to shed your cares and worries when you are at the beach, or any outermost place isn't it? I tend to walk with my head down when I'm walking the beach. I love to find beach glass and sand dollars to stick in my sweatshirt pocket so I'll have some small measure to remember my walk by.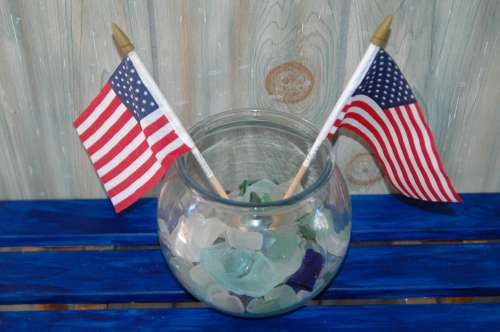 Sand dollars get left on the back steps to dry in the sun and the beach glass will go in the jar with the rest of my little glass treasures.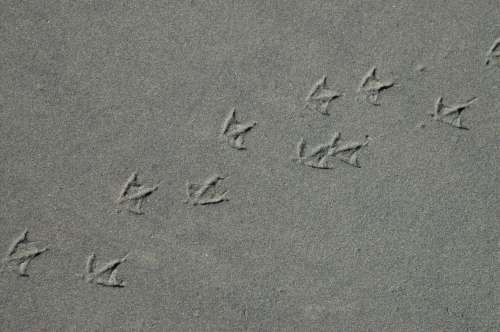 The longer we walk the more we awaken to the beauty and the soul of the ocean. It's vastness and mystery ignite our sense of wonder and curiosity. Both of which are hard to come by when boggled down with the comings and goings of daily life back in the  " real world ". It's out here on the water's edge, barefoot, hearts and minds wide open just like the sea where we can find those pieces of ourselves that get buried by the pressures of a busy modern life riddled with perhaps too much technology for our own good and not enough time to unwind in the natural world.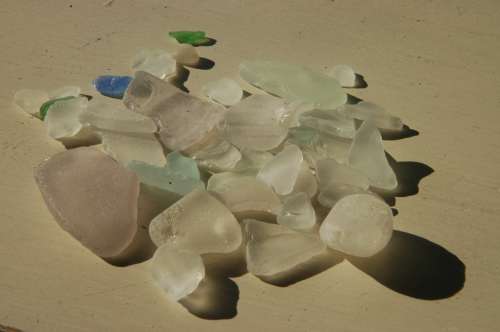 There's a peace and comfort that comes with " knowing " a natural place well. Whether it be the back-hills on your favorite trail horse, the city park walkway, a mountain hike, or a ride around the farm on your tractor. After a while those familiar bird calls, waves of grain, cloud formations in the sky, the way the light hits the hayfield or horizon a certain way just before sunset, and the way it just smells so darned good become part of you and you a part of it. And once you've found your special place in the natural world you'll be called back to it again and again forever and ever.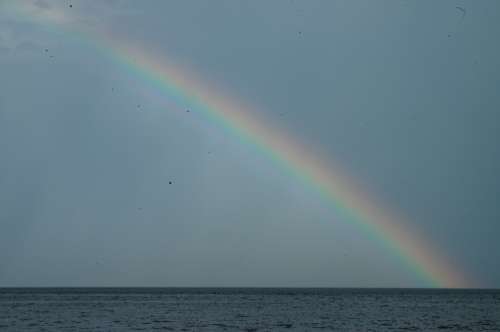 Henry Beston's The Outermost House inspired the establishment of the Cape Cod National Sea Shore in 1961 ( now a Massachusetts Literary Landmark ) with his classic American nature writing. It was the year he spent in his tiny cottage Fo'Castle which inspired the book. I'm no Henry Beston when it comes to prose, but we do have a couple of things in common. His modest sized cottage ( 16 x 20 ) was situated on a barrier beach. He could see the open ocean on one side and the bay side on the other. Our cottage the Sea Horse ( 16 x 23 ) is also positioned on a barrier beach. Out our back door we have glimpses of the open ocean and through our sleeping porch windows on the front side we have views of the protected bay. I've yet to spend an entire year at our cottage ( for one thing it's only 3 season right now ) but, it's on my handsome Yankee's and my bucket list! Henry and his wife Elizabeth also loved farm-life and he wrote a book called Northern Farm about their years together on their farm in Maine.
I attended a lecture this week by Author Don Wilding, co-founder of The Henry Beston Society. To learn more about Henry Beston and his amazing life before and after " The Outermost House" go here!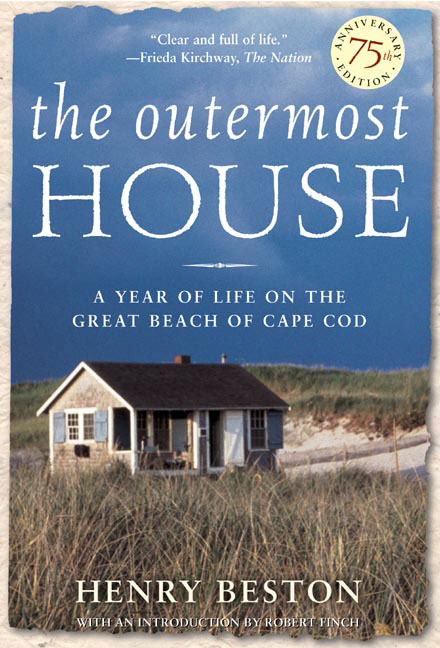 The sea's are the hearts blood of the earth ~ Henry Beston
I've got my copy on order from the library and I'd love it if you'd all read along with me!  We'll read " The Outer Most House " and Henry Beston's Cape Cod " then meet back here in a couple of weeks for a book club meeting! I'll share more about Don Wilding's Henry Beston Society in my next blog!

It'll be our own little Farmgirl Summer Book Club! It's probably available on kindle too!
Who's in?
Now, tell me… Are you part of a natural place too?  I want to hear all about it!
Until our next shoreline visit~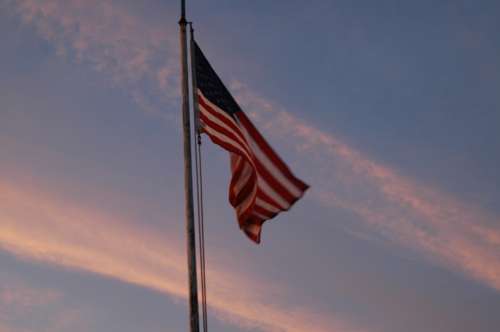 Beach Blessings and Happy Memorial Day!
Hey, now you have some reading for the long weekend!
Much love,
Sister Deb # 1199