The weather's warming up, slowly but surely.  Blooms are popping up, and trees have buds. The forsythia is yellow, birds are nesting, and the grass gets greener everyday. With all the beauty and promise, there's also a lot of clean up after such a long, hard winter. Relatives in Texas are already harvesting some garden goodies, but for those of us in colder climates with four seasons, nature takes her time.  Some days are still chilly, and real heat won't hit us for another few months. It makes for great weather to open the flowerbeds, get the gardens going, and take moments to enjoy outside. We've been busy adding backyard beauty and family fun on a budget. Come see what we've been up to (and bring some marshmallows for toasting over the new fire pit).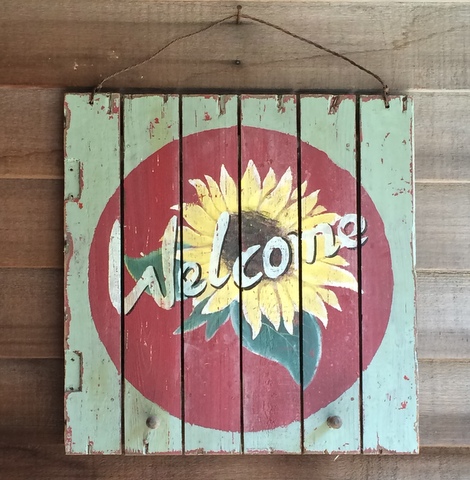 Our home's not a cookie-cutter, typical design. It's clapboard is cedar and woods surround the yard, giving it a rustic, country feel. There's a deck spanning the entire length of the back of the house.  The front has a small deck, and a southern exposure. I've always loved rocking chairs on porches, and found this beauty on an online tag sale for $20! It's a smaller scale than some, so it's a perfect fit for the front. It's a great place for me to pop outside for a bit of sun (or to write)! I wanted to protect the rocker from weather without sacrificing the beautiful wood grain.  Several people recommended Minwax Helmsman indoor/outdoor finish in a spray can.  It was easy to use and dried quickly.
I know it's spring, because the back porch is set up again, as well. It's where we dine alfresco and spend family time.  Decorated in red, white and blue, it's the same theme I dream of fixing up a vintage glamper in…someday!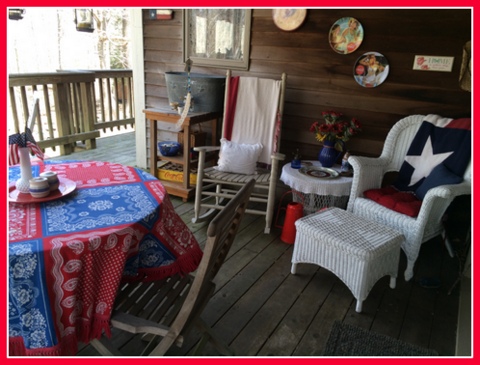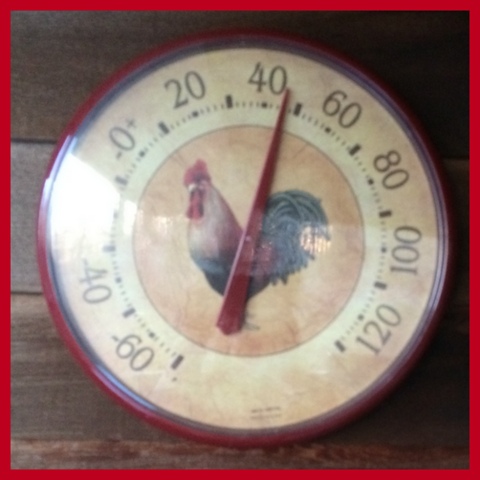 I recently went "junktiquing" with my friend Andrea, who has an amazing eye for finding treasure. She found a big bowl from circa 1894 for $6 (worth way more).  I found the rooster thermometer for $3.00, and the vintage English tin tray for $1.00! The 1970's Americana tablecloth is a recent flea market find, in perfect condition, for $7.00. I love my rustic porch with it's nod to my birth state, and everything there is reused or re-purposed.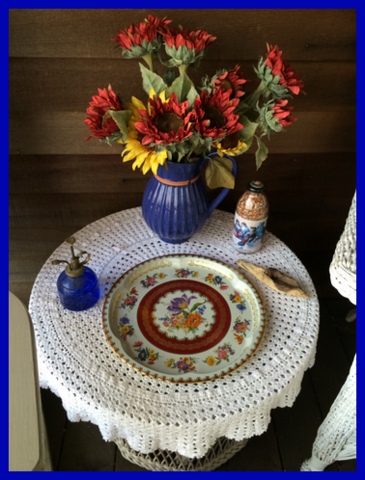 (On that same trip, I couldn't resist a hen on the nest milk glass candy dish for $4.00. I've always wanted one. It was pretty grimy in the shop, but after bringing it home and cleaning it up, I realized it's a vintage Indiana milk glass hen in mint condition. Score!)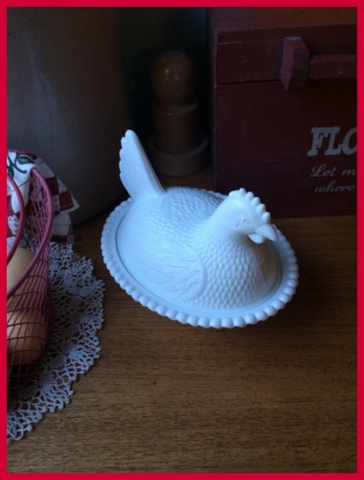 It reminds me of my "real" hens on a nest…
With the patios all set up, we've been busy trying to get the rest of the yard tidy from winter. There's sticks littering the grass everywhere. We've long wanted a fire pit, and were inspired by the one at the home of my husband's friend, Peter Darbisi.
After seeing Peter's, we decided right then to make our own fire pit, using the natural rocks that pepper our property.  Last year I finished making rock borders around all the flower beds, and each year, more rocks pop up right out of the ground.  If you decide to make or buy a fire pit, check your town's restrictions. Speaking with our fire marshall, a small, recreational fire pit is fine. Don't burn on windy, dry days, don't burn trash or leaves, and make sure it isn't where it's a nuisance to other properties. A permit's needed for larger fires, but we're talking a small campfire to gather 'round. In Connecticut, check out the state's DEEP site here: http://www.ct.gov/deep/cwp/view.asp?a=2684&q=531300&deepNav_GID=1619
Our pit is away from the woods and brush, and near enough that the hose can be grabbed quickly, just in case. We dug the ground down a little over a foot, and stacked the stones in a circular shape. I had purchased a new metal fireplace grate several years ago. Too big for our fireplace, it's perfect for the fire pit! Large tree stumps serve as rustic seating. It reminds me of the one we had at my dad's Texas ranch growing up. I spent many an hour with my school friends making s'mores over that campfire! I adore ours with the re-purposed rocks. You could also purchase stones or use bricks to make one.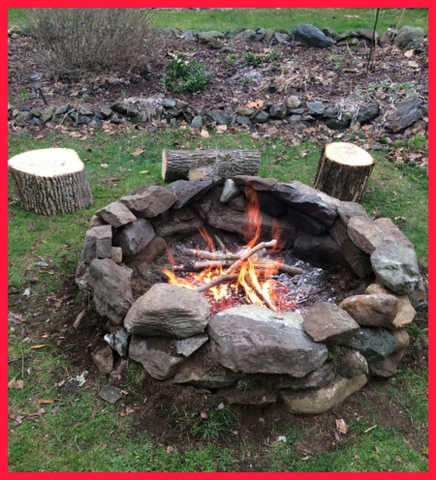 We surprised my daughter when she got home from school with marshmallows to toast on the new pit, making us "the coolest parents ever".
Our status went to "epic cool" with the surprise of her best friend arriving to join in on the fun. Wanting to keep the fire burning, she gathered every stick she could find. Yard cleanup was never so easy, (giggle)!
Hope you found some outdoor inspiration! Share with me your tips and memories of campfires!
Until Next Time…Farmgirl Hugs, Nicole