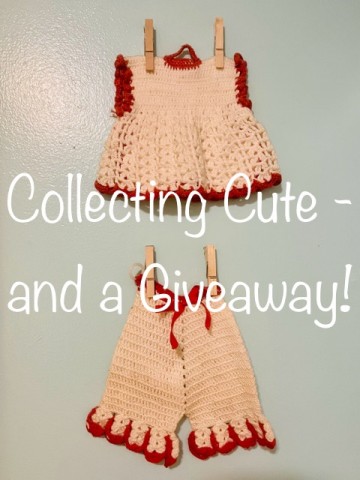 Have you acquired an "accidental collection" of something? I realized that I have just that – and it's a collection of "cute"!
My dear, late friend, Cyndi, also loved collecting all sorts of things. Back in the 90's, her favorite things to do were to visit gift shops and antique stores. From figurines to tea cups, and everything in between, I can still hear her say, "Two is a 'couple', when you get three or more it is a 'collection'".
Going by that, many of my "collections"  are accidental. I like what I like! I especially love fun, mid-century "kitsch". Many items from the 1940s to the 1960s might have been utilitarian, but they were most often pretty, fun, colorful, decorative, and even humorous.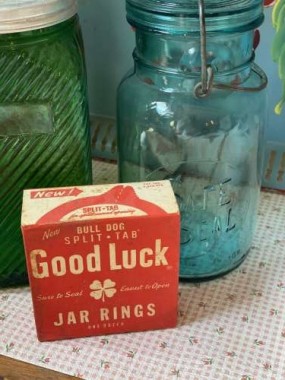 Take the everyday potholder, for example. Nowadays, "modern" potholders in stores are functional, may be colorful, but may not be so decorative or eye-catching. They are something everyone has (or needs, as soon as you realize the hot, overflowing pot is too hot to grab with just a dishtowel). Back in my grandmother's day, potholders were functional, but also little works of art, most often hand-made. Somehow, I've acquired an "accidental collection" of these sweet pieces.
Usually made of cotton, and either crocheted or knitted, many handmade mid-century-modern potholders still exist today because they were made so well that they withstood use and time, or they were so adorable they were deemed too pretty to use for their intended purpose, instead becoming something that brightened up the kitchen.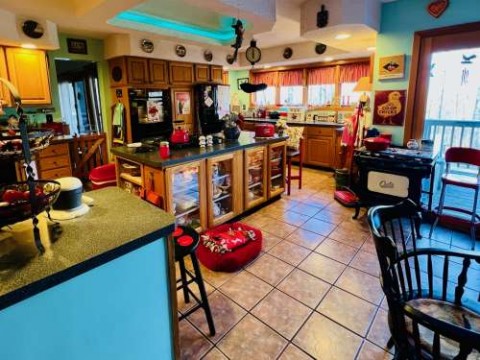 My kitchen is my favorite place to be; it's bright and full of kitsch. Vintage potholders fit right in with the decor! Found mostly in thrift shops, I have never paid more than a dollar or two a piece, but still they are vintage treasure! I wonder who made them, and marvel at the delicate and intricate stitches that make up these cuties. I use most of my vintage potholders as decor. Many are bright, mid-century modern colors, like red, white, or pink. Most have a design, with a loop at the top meant for hanging. 
I love the vintage pot holders made with flowers, like this pink one that graces my 1930's pink mixer.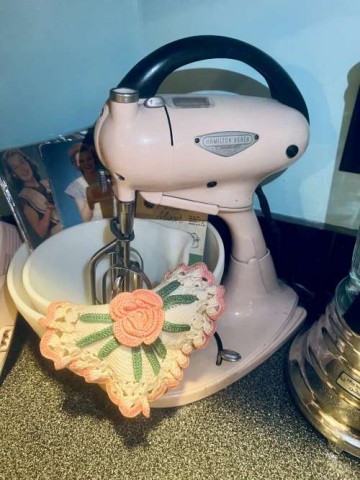 Similar in style, a red version "gussies up" my antique jar that holds dishwasher tabs. I attached it with a bit of double sided 3M tape.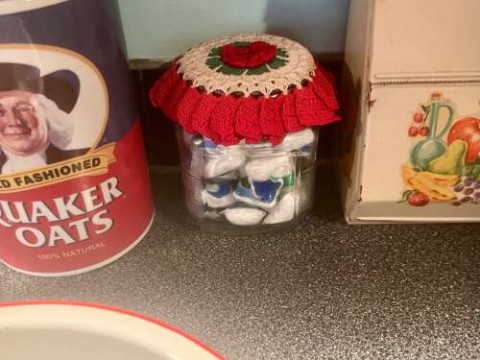 On the hoosier cabinet, a set of crocheted, red and white "sugar and creamer" themed potholders grace the doors, adding to the antique quaintness.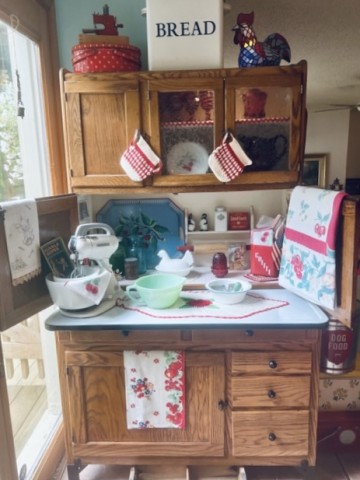 Quite old, they are so detailed and shaped perfectly!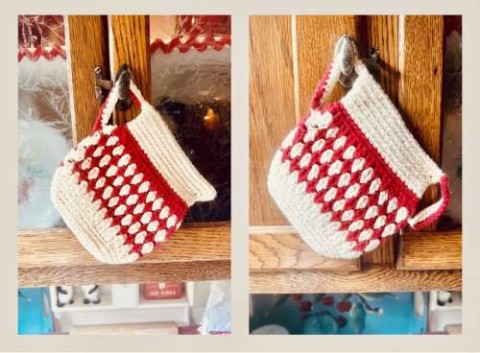 Also on the Hoosier, this pentagon shaped potholder adds a bit of color to a repurposed coffee canister from the 1950's.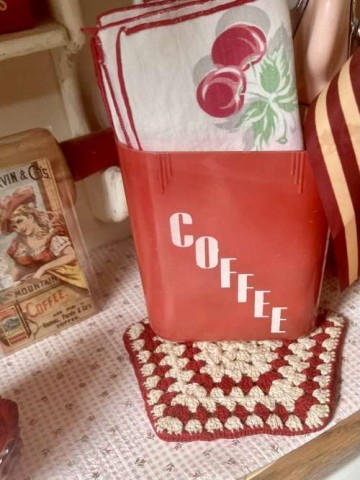 I love Scotties. They epitomize the 1930's and 1940's, and they also remind me a bit of my lil' terrier. For my birthday, my farmgirl friend Julie sent me the cutest little potholder, an antique crocheted square out of the finest yarn, with red edges, and a wee scotty dog in the middle. "I just know you will love this. I thought of you when I saw it", wrote Julie. She was right, the gift was very "me". This one is just so adorable.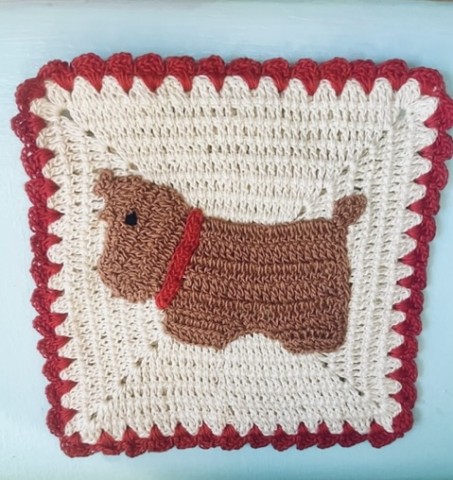 Too cute to ever use,  I attached it to the wall without damage to the item or to the painted wall with "Stick-Um" candle adhesive.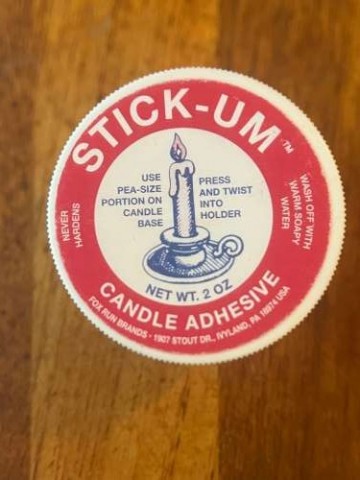 I use this wax for many things – to keep breakables from slipping off surfaces (we have cats, and dogs with long wagging tails), in the dollhouse, and to keep wall decor from going crooked, for example.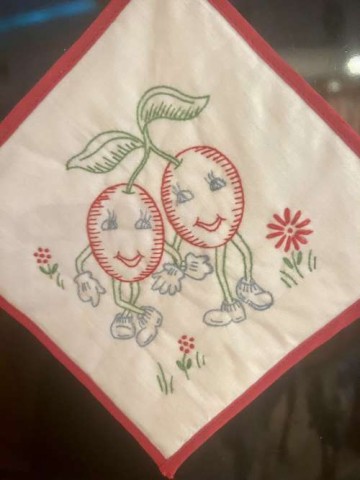 Also for my birthday this past spring, my sweet friend Robin sent me this quilted version with cherries (knowing my kitchen is a retro cherry theme). This beautiful, kitschy handmade piece came from the estate of a 90-year-old woman, who kept it pristine for decades! We have a really cool, working 1940's refrigerator in our basement, filled with cold drinks. I wish I could have it in my kitchen, but it's as solid and heavy as a bank vault, so there is no way it will ever make it upstairs. I make my "modern" (from 2000) kitchen fridge more vintage-looking with the sweet potholder, a 1958 calendar towel, and a linen 1940's postcard.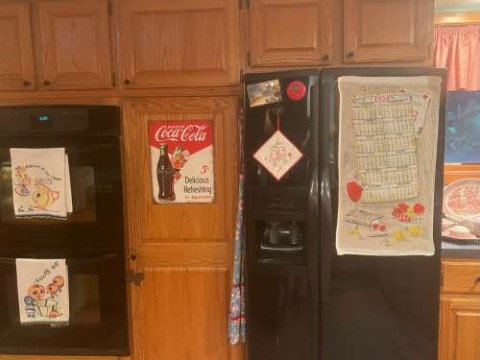 One of my adult knitting class students last spring brought in two beautiful antique potholders to show me, handmade by her grandmother many decades ago.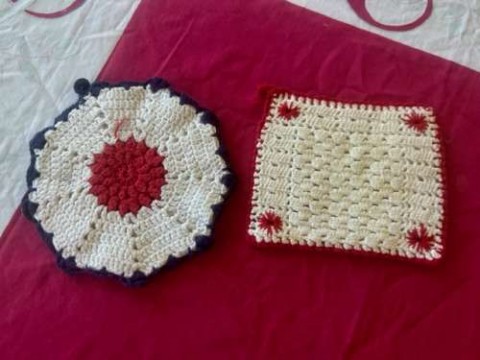 Though they aren't really Laine's preferred style, they are very sentimental, and she marvels at how useful the potholders are, still in use in her kitchen.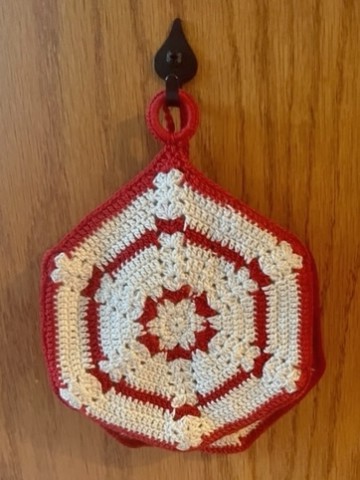 This small pair of hexagonal vintage potholders are made with fine fiber, intricately crocheted and double sided. I find they work better than big, thick or silicone modern counterparts, especially with my small hands! I did get tomato sauce on them, but a day soaking in a bit of OxiClean before throwing them in the wash got them as good as 1945-new!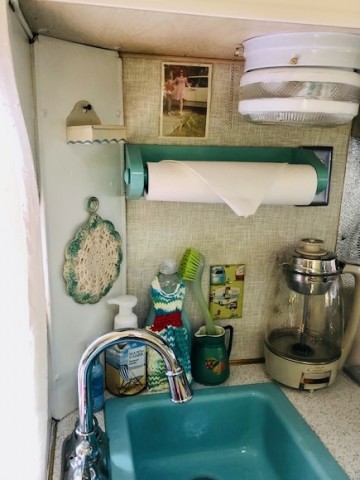 In the vintage camper, this pair of aqua colored potholders is a rare color, and faded, which I love. They say to me that someone loved to cook, and I love that though they have been washed so many times the color has faded, they are strong and intact, and I love that someone kept them. 
My favorite pieces, though, are the ones made to look like clothes, such as dresses, tops and bloomers. In my laundry room, I attached a pair of red and white potholders, in the form of a cute top and bloomers, to the wall, using tiny clothespins found at the craft store.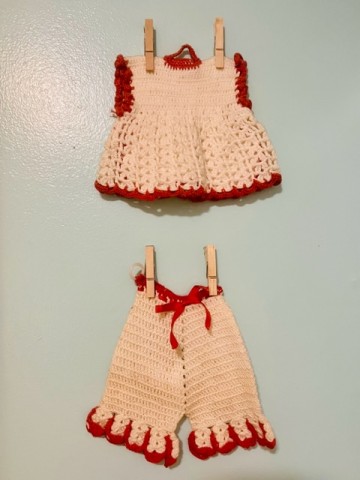 On the other wall, this red-white-and-blue vintage dress is just the sweetest. It hangs on an antique washboard with a magnet inside the dress.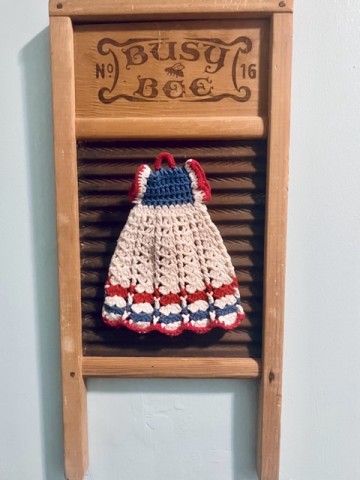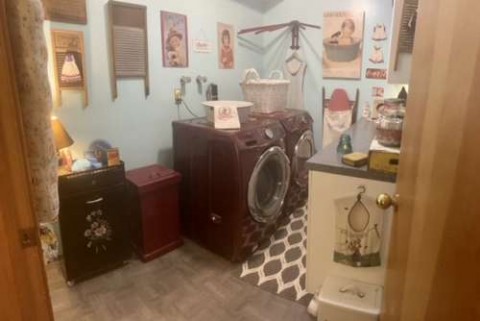 The floor in the laundry room was old, 1980's peel and stick linoleum, and had become dingy and cracked. Over the fourth of July weekend, my husband and I pulled up the old floor, and added a new one, choosing a more modern farmhouse parquet-wood look. I am really happy how it turned out, but it was much easier to do a project like that in my twenties than in my fifties! The little potholders hanging in there go well with the retro theme.
I am sentimental with this "sew cute camper" potholder my talented friend, Erin, made me several years ago…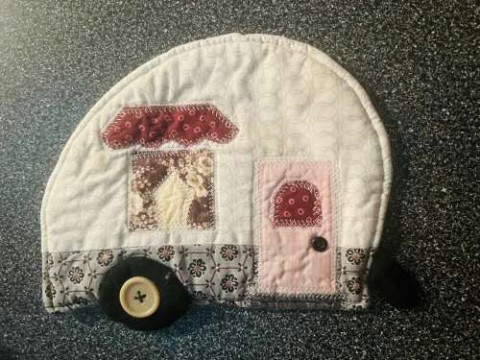 …and these cool retro potholders farmgirl friend Grace made for me recently.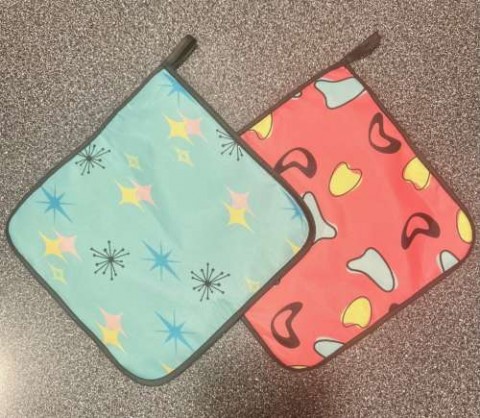 I adore my little potholders, whether they are being used for their intended purpose or as decor. They remind me of simpler times, and make me smile. I'd like to make YOU smile, too, so this month, I'm doing a "Pretty In Pink" Giveaway – with a vintage pink and white potholder, organic tea, and some various vintage and retro-inspired "tuck-ins", for crafting or notes.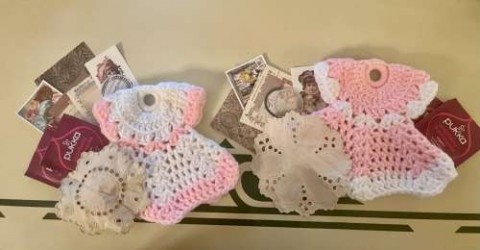 Two lucky readers this month will be randomly chosen. To enter, just leave me a comment below. Tell me about your "accidental collections", or just say hello! (Remember to do the Captcha so your comment goes through)! 
Until Next Time….Farmgirl Hugs, Nicole