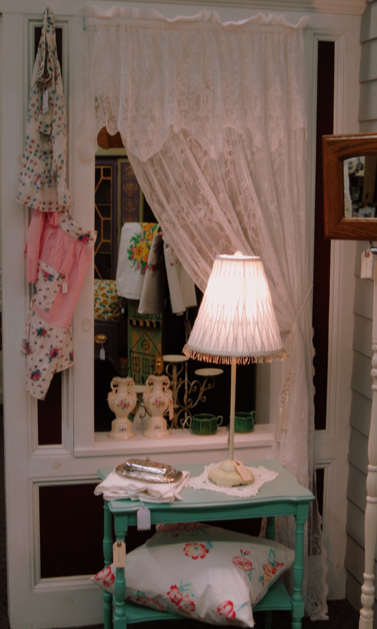 Your mind is a GARDEN.
Your thoughts are the seeds.
You can grow FLOWERS
or you can grow WEEDS.
~ anonymous
Dear sisters, HAPPY SUMMER! It's official. Today is the first day of summer and I couldn't be happier… Why? Well, why not? Yes, it's going to get hot, and humid and sticky and sweaty and buggy, and some days it might just be plain miserable. So miserable you can't even think straight unless your within inches of your air conditioner at all times. I've been known to take my meals there if needed. ( I'm 51, and hotter than ever ) But, you know what? That's not all that happens in summer time! For starters, once school let's out ( three days left for our freshmen in high school)  we get to spend more time with our chill ins' just chillin'. Some people get to go on vacation to sights unseen or perhaps travel some new territory for adventure or to experience another culture. Other's go to family reunions, or to a cottage, cabin or GLAMP- site to relax and unwind. To me the best part about going away in the summer is coming home. Not because I don't like going away to the BEACH or other places ( you know better than that) but because I MISS MY GARDEN when I'm away and I'm always anxious to see how much things have grown in my absence.
Summer is here and it's GOOD GROWIN' from here on out! I can't wait to show you what's bloomin' at Dandelion House ( weeds and all) and along the shorelines. Come on! Grab your big floppy garden hat and let's get going!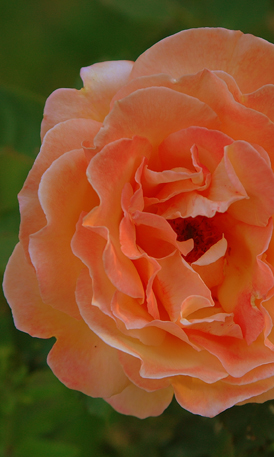 David Austin English Rose
No matter the size of your plot or pot we farmgirls just love babying along our gardens and farmyards don't we? We also love to nurture creative seeds that have been sitting dormant for too long. We plant our dream seeds in springtime and we count on summer to give them their time in the sun to flourish That's what summer is really for FLOURISHING. I'm gonna confess something before I shower you in flower photos. I am NOT a master gardener, nor do I know the Latin names for most of my plants. I am NOT a soil expert. Truth be told, I don't want to go to " deep" into the science of plants. I just want to paint with them and make pretty bouquets. Does that make me a " fake farmgirl "? Nah, I didn't think so.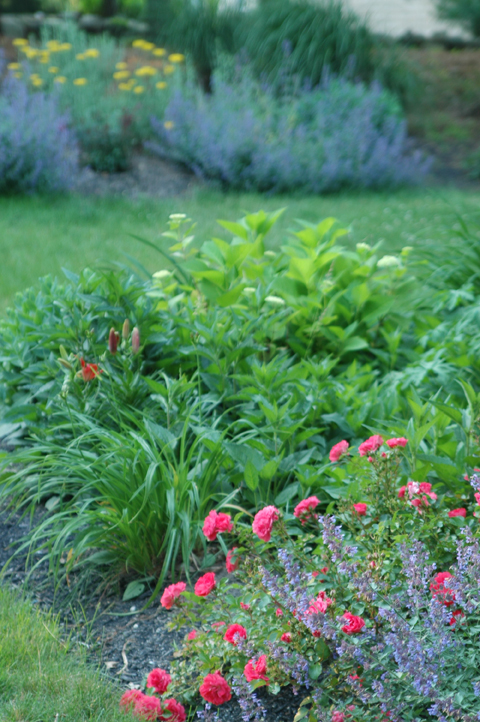 Deck Garden at Dandelion House ! Catmint, Knock Out Landscape rose, Day Lily, Hydrangea, 'Endless Summer ', Oriental Lilly
I'm a self- taught garden girl all the way! I don't know A LOT of things about gardening, but I do know that it's pure inspiration and a passion to dig in the dirt that started the first seeds of all great gardens and that's the area I like to hang out in the most when it comes to gardening. I AM an expert at day dreaming, and I love flipping through some of my favorite magazines and books for inspiration; and how can I leave out pinterest? As much as I love pinterest though, I still like to curl up in bed late at night with a cool breeze coming through the windows, the lights down low and READ. Naturally, my MaryJanesFarm is top of the heap on my stack of magazines I keep on my night stand. That's how I get my farmgirl juices primed with all the can-do spirit I'll need to tackle my gardening projects! My next favorite gardening magazine is The English Garden. It's an indulgence I allow myself because( 39.00 a year to subscribe)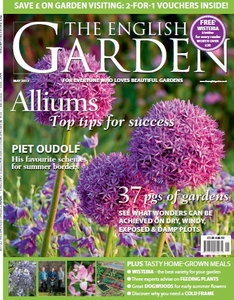 I am a bit of an anglophile. Have I told you this before? Well, anyway, It's true, I have a HUGE crush on England. Not the big city of London and I'm not holding my breath at the royal families every move, nor to I take my tea in the proper English tradition, but a trip to the English Countryside is on the tippy top ( right next to MaryJane'sFarm) of my bucket list! Did you know author Susan Branch and her husband Joe travelled to England last year by way of the Queen Mary 11? She blogged their entire adventure from the planning stages right up until they set foot back on shore in Martha's' Vinyard. I was glued to her daily updates and so were hundreds of her readers she endearingly calls " girlfriends". I never turned all the way green with envy, but I came close a couple of times!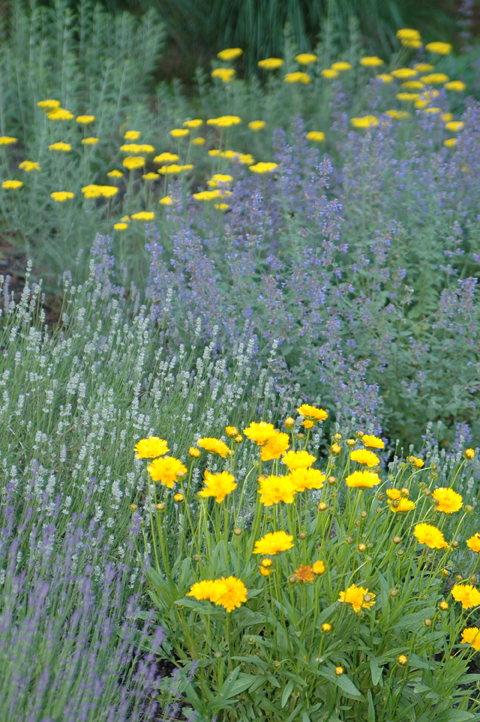 While I was in high school I had a guitar teacher who was from ' over the pond". Needless to say I was all thumbs at my lessons because I was " in love " with his accent and couldn't concentrate on anything else! His name was John, he had brown hair and was very soft spoken, oh, and he played guitar too, I think.

SWOON! Someone splash me with cold water please! Anyway… Back to England, New England, uh where were we? Oh yes, Plymouth, MA. America's Hometown named after " the " Plymouth in England.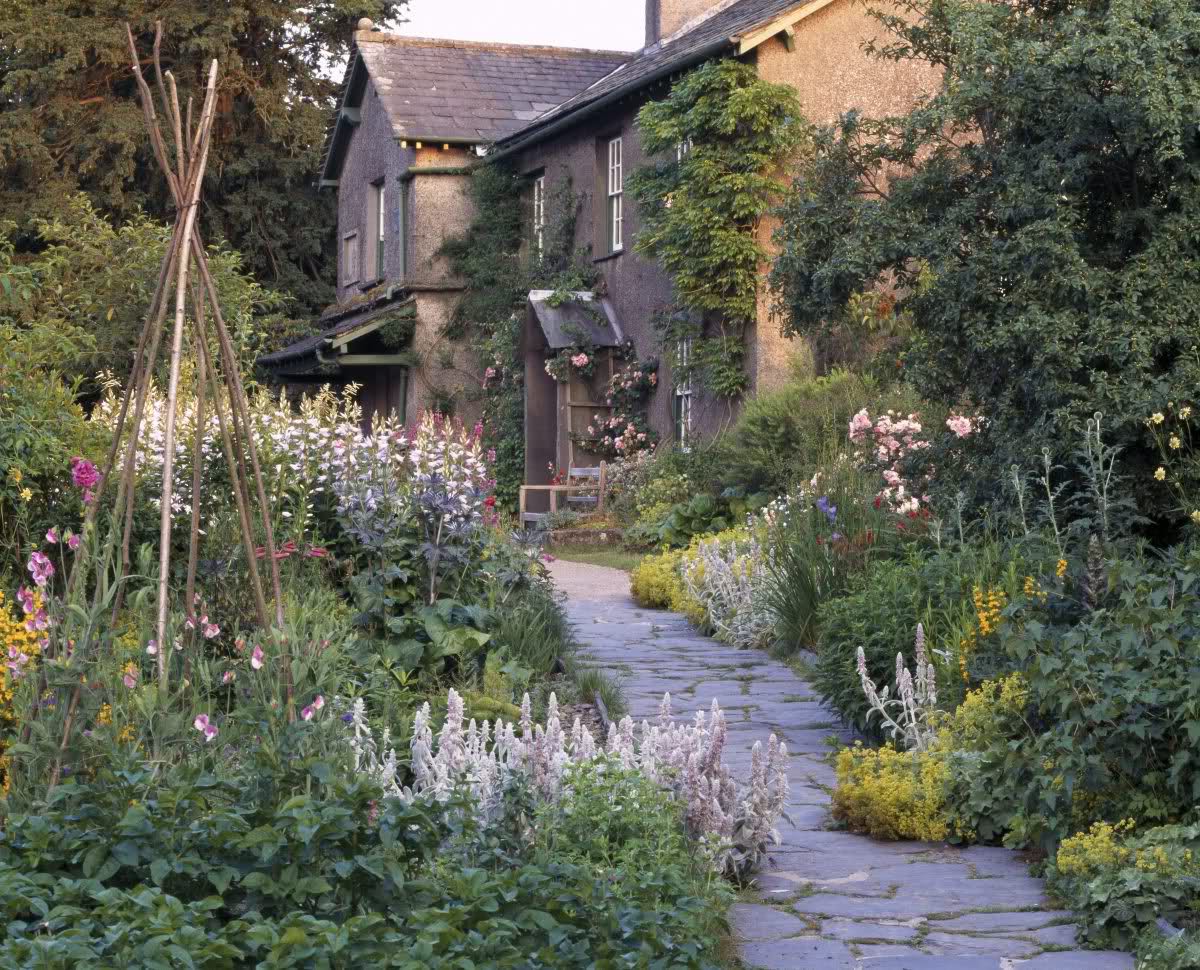 Author, Beatrix Potter's Hill Top House and Garden 
I dream of walking these paths and soaking up the inspiration and possibly sneaking a peak at some of Peter Rabbit's and Jemimah Puddle Duck's relatives!
I love the well thought-out messiness of an English cottage garden. Plants so thick you can barely see the ground,( no mulch necessary) elbowing one another out of the way like siblings fighting for the limelight, plant heads flopping over walkways, and the great waves of foliage and color that provide the structure that every good garden needs.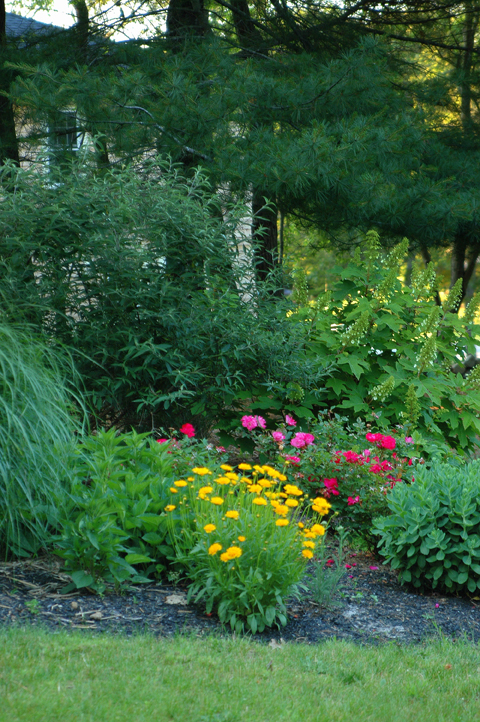 Butterfly Bush, Coreopsis, Autumn Sedum Joy, Oak Leaf Hydrangea, Red Knock Our Roses.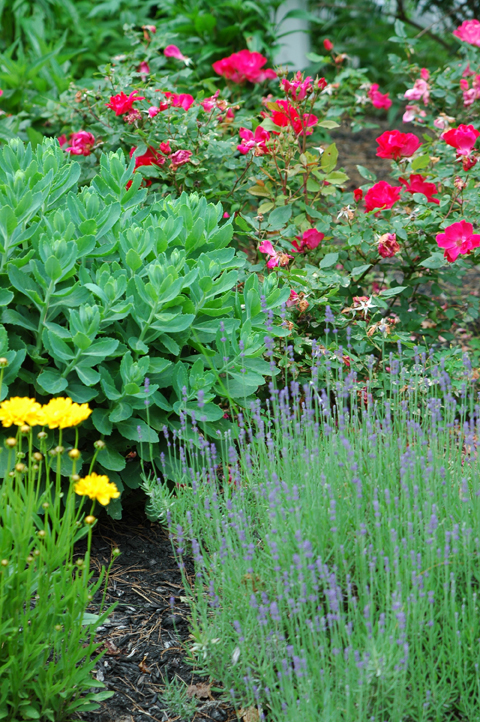 Same as above with English Lavender in bottom right corner.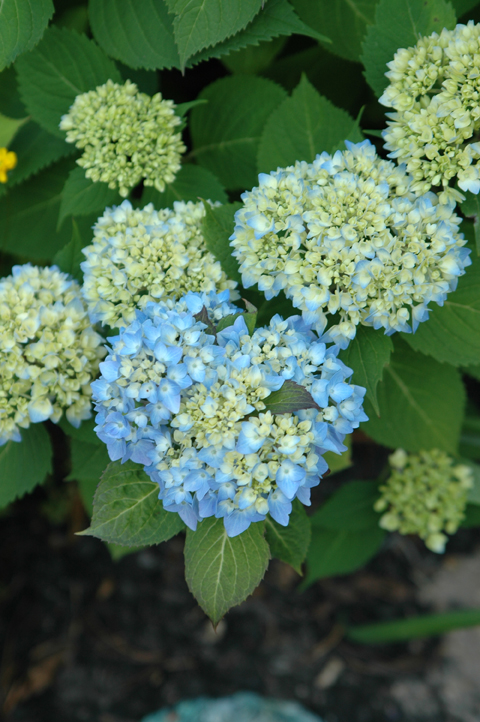 Endless Summer Blue Hydrangea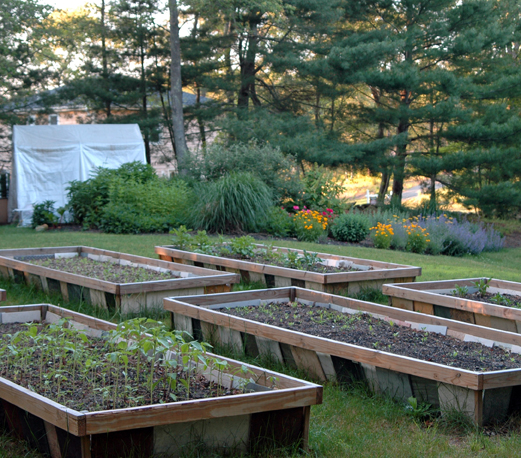 Greenhouse Garden in rear and raised bed cut flower gardens. Dahlia's, Sunflowers, Zinnias, and MORE!
In reality, no good garden is ever done! I'm constantly re-thinking different plants and moving things around for better performance. This year it dawned on my that like most gardeners I've been spending all of my energy in the backyard and for good reason, that's where my little annual flower farm grows and my largest flower beds are, but I've been neglecting an area under the trees in our front yard for the entire 12 years we've lived here, so I decided this was the year to add a tree garden under our stand of tall pin oaks in the front yard.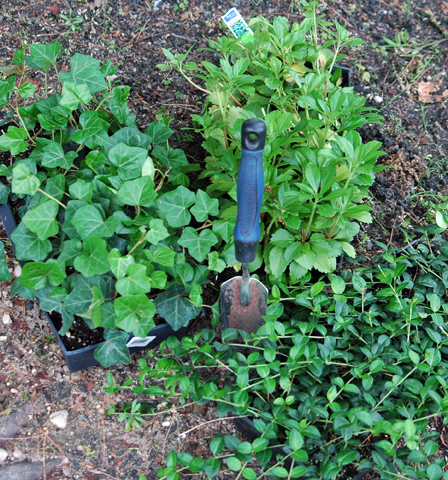 Shade loving, Pachysandra, creeping myrtle and English ivy.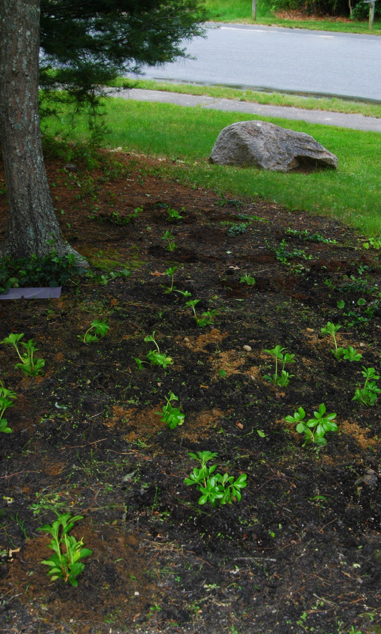 I started a few flats of English Ivy a few years ago then I got side-tracked.
It's doing great in the area I planted it in so I've added three more flats so it'll start creeping up the other tree trunks too!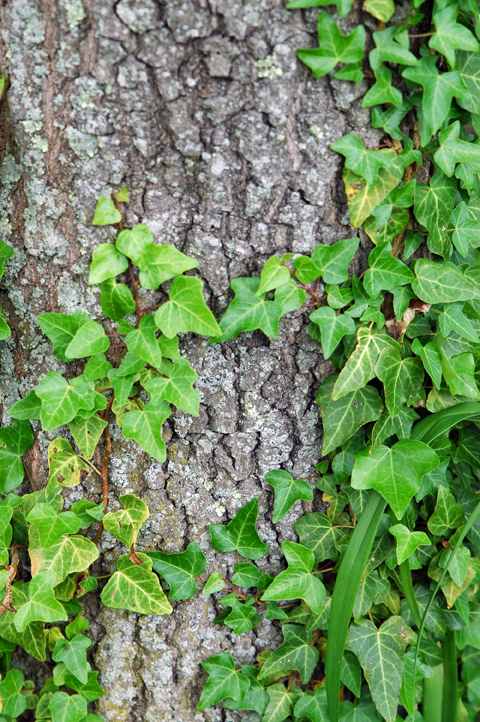 English Ivy
Good Growin' isn't really that hard. Well, the diggin' and sweatin' part of it is, but not the dreamin' and selecting plants part.
I follow a few common sense steps when I garden:
I give my plants what they need: Read the label markers your come with when and follow the requirements. When in doubt ask your nursery experts or your gardening friends. Most nursery's will offer plants that thrive in your area.
If you keep chickens, let'm help out with providing compost for your gardens.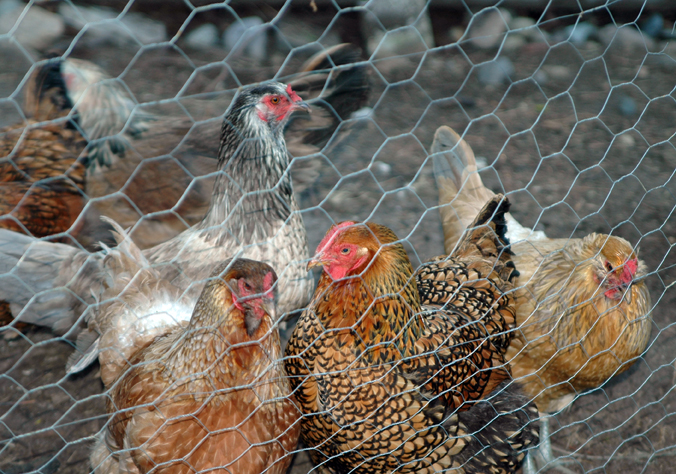 The Cottage Hen's wondering why I only brought the camera and no treats!
Your girls and your plants will love you for it!
I simply shovel off the top layer of my chicken run a couple in spring and again in the Fall and give a little top dressing to my plants!
I'm off to meet a farmgirl sister in Plymouth today so I'd better go get gussied up! I hope this summer brings you all you hope for and may your dream seeds flourish in the sun! And remember, a little healthy weeding is good for your mind and your garden!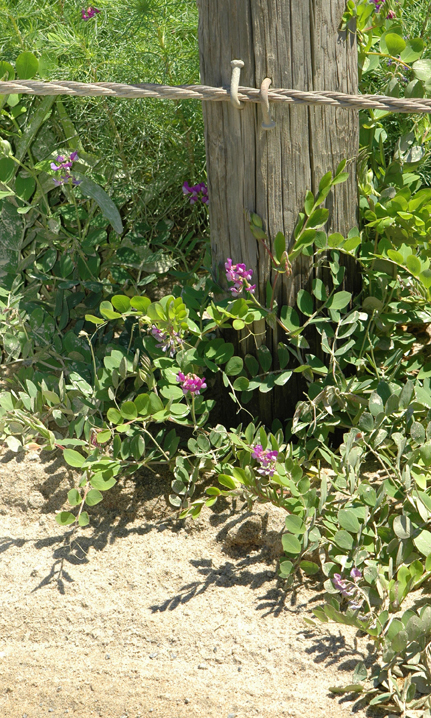 Until our next shoreline visit~
Happy Gardening,
Much love,
Sister Deb xoxo