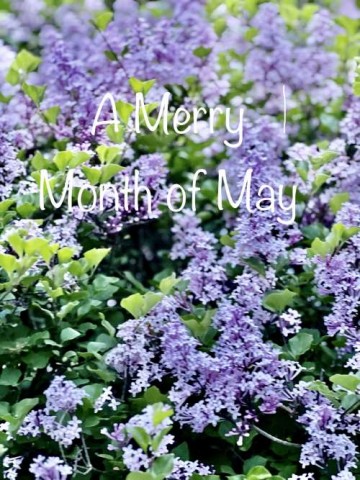 Welcome back, Readers! It is hard to believe, but the month of May is almost over! I hope you have had a good month since our last visit. From a road trip to foraging, to redoing my sewing room and more,  it's been a "merry" month!
One of the things I love about May is that it is when everything finally turns green, and all of New England finally blooms! Even though it's  been hard work getting there, with spending any free time in the yard cleaning, weeding, planting, spraying and watering, we have really enjoyed this year's blooms.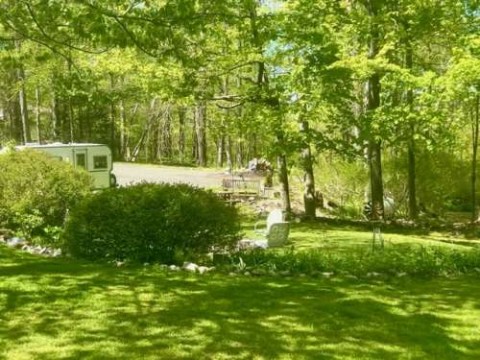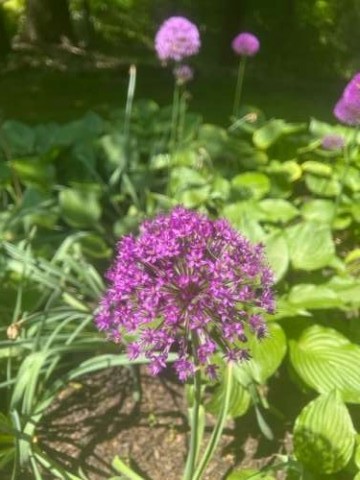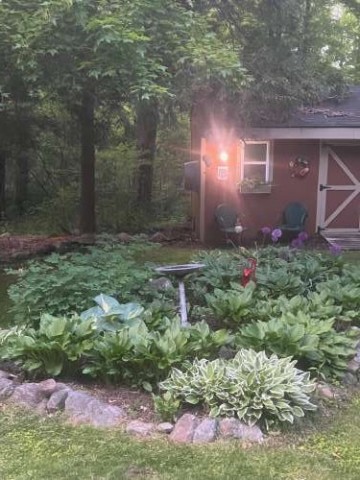 I love that my hostas are full and leafy! The biggest hostas are really pretty and green this year, as well.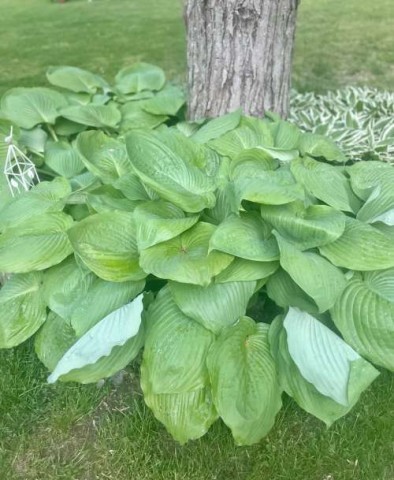 I love that my hostas come in variegated, blue, and green, and then during the summer, they'll also bloom flowers on a long stalk. They are one of my favorite plants, but I am constantly spraying them with liquid deer repellent – they are such a delicacy to the wildlife that pass through!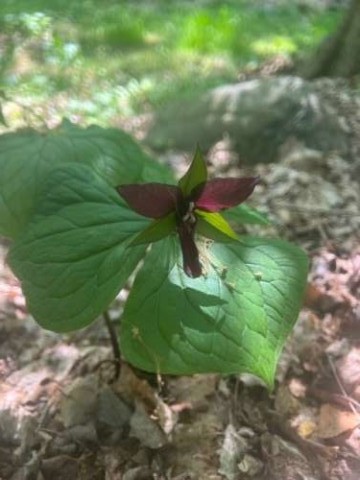 May also brings some wonderful wild blooms. Part of our property has a natural wooded area. It is always a thrill to see a rare, wild red trillium blooming!  If you're lucky to see a red trillium on your property or on a hike, don't pick it! Trilliums in the wild are plants that are propagated by ants! The seeds are also a rarity, as only one seed is produced by each plant. Trilliums like the rich soil of the Connecticut woods! 
Mother Nature also treated us to a bumper crop of wild ramps (Allium tricoccum)! SO DELICIOUS! Ramps are in the allium family, and are a wild, early spring edible. They grow wild in our woods, and the entire plant, from bulb, to stem, to green leaf are edible.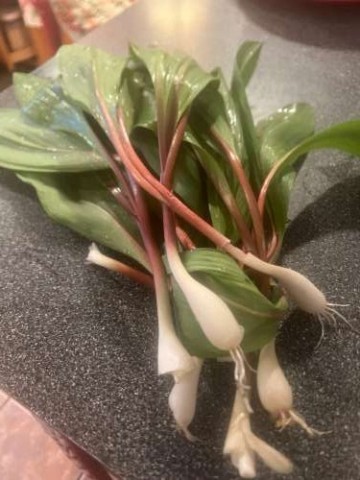 I've used them in dishes, replacing the ramps for onions. They were so tasty in my favorite Chicken Fried Rice recipe, in place of scallions. I have also tossed ramps in salads, used them as a green on a sandwich, and chopped them into eggs, but my family's favorite way for me to serve them is simply to saute them with a bit of olive oil, pink salt and a dash of pepper in my cast iron skillet, as a tasty side dish! Easy and delicious! 
Ramps grow low to the ground, from bulbs, with broad green leaves and reddish stems. Also called wild leeks, they have a mild onion/garlic scent. They taste like a cross between a sweet onion and garlic. They grow in Eastern North America, from South Carolina to parts of Canada, and are one of the first "green" harbingers of spring.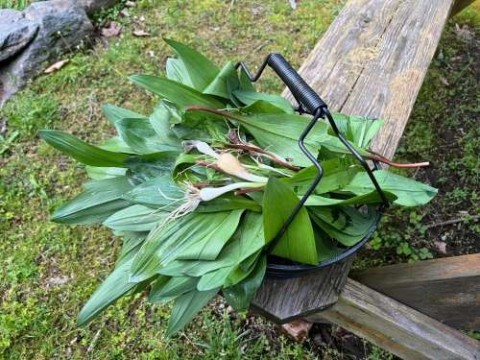 While they grow wild in our woods, we are careful not to harvest too many, especially at bulb level, so that there will be more ramps in following years, and I only harvest what we will consume at one meal or so, as they do not store very well. 
The season for ramps is almost over, but what a treat! If you do decide to harvest ramps, make sure you are taking them from your own property or where it is okay to do so, and make sure that what you are foraging are actually ramps! 
Unfortunately, in New England, many people are poisoned from picking the wrong plant, False hellebore (Veratrum). False hellebore is highly poisonous and should never be eaten! The two plants look similar, but False hellebore grows taller, with leaves that are ribbed, and have tall green stems. I found False hellebore growing on my favorite walking trail. Remember, do not forage unless you are ABSOLUTELY sure you know what you are picking!
The yard is certainly "alive" again.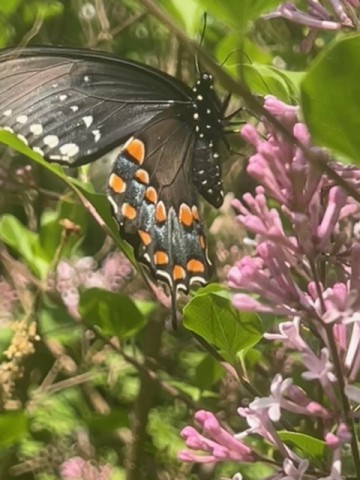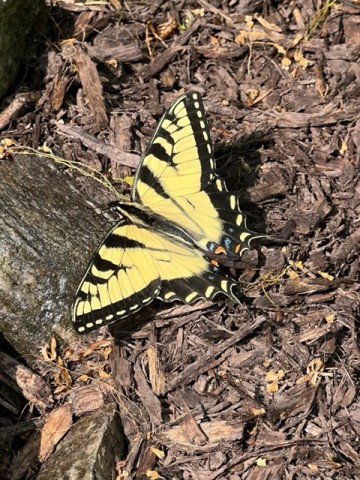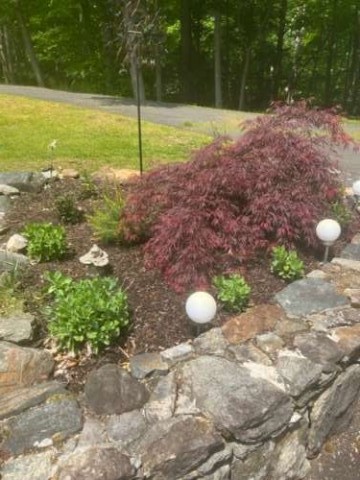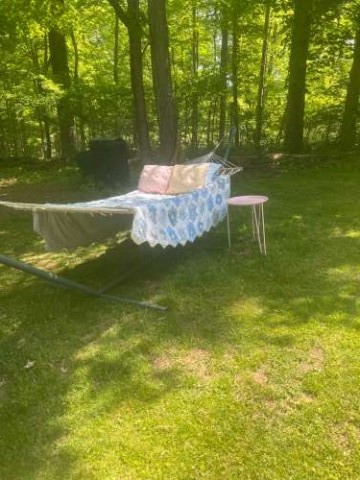 Right now, the whole yard smells like lilacs, and the peonies are about to bloom.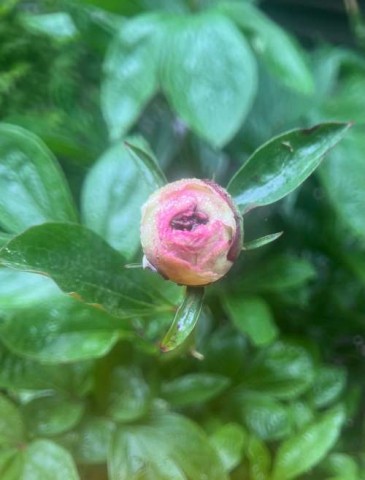 I haven't planted my tomatoes, squash, cukes or peppers outside just yet, but the veggie garden has peas, garlic, carrots, radishes and greens growing nicely. While we've had some beautiful, warm and sunny weather (finally), we went from 85 degrees one day to an early morning frost of 29! We set a record for cold, and I was thankful for the warning, as I rushed to bring in all my hanging and small plants, and covered my tender seedlings and baby plants in the garden with whatever I could find, including paper bags, terra cotta pots, and old towels and tablecloths. Thankfully, all my plant babies made it through the cold snap!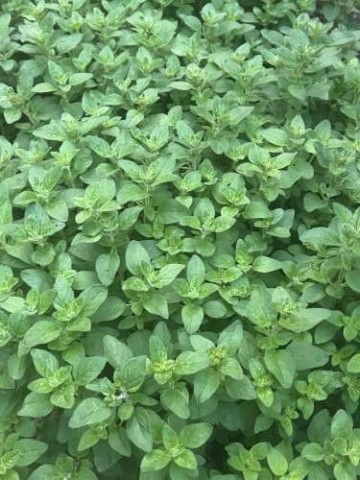 The herb garden is doing well, too. The oregano is full and lush! I will use it fresh all summer, and also put it in my dehydrator for delicious dried oregano through the winter months!
With all the sun and warmth that comes with summer, my sunny kitchen can actually feel like an oven. I always love the sun coming through the many windows, but the one window on the side gets too much heat in the warmer months. I didn't want to drill holes in the wood trim for a shade, and didn't want a shade in only "one" window. I also don't want something "permanent", as in fall and winter,  I want the window uncovered to let in more light. What's a farmgirl to do? Repurpose!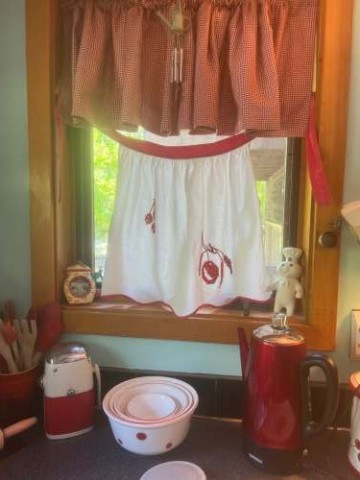 Using a vintage 1940's apron with cherries I've had in my collection for years, I "tacked" it up in the window using double sided 3M tape. The result is so cute! Light still comes in, but the heat is diffused, and it looks super-cute!
I was happy to set up Gidget the Glamper for the season, hoping we will also get to go camping this year! Trooper approves.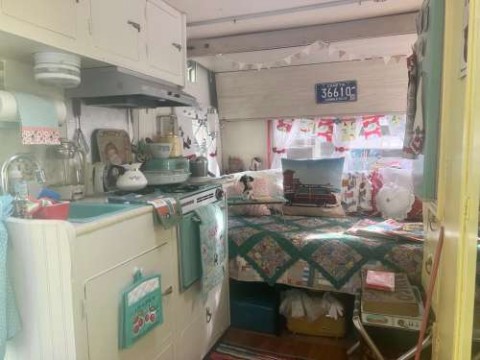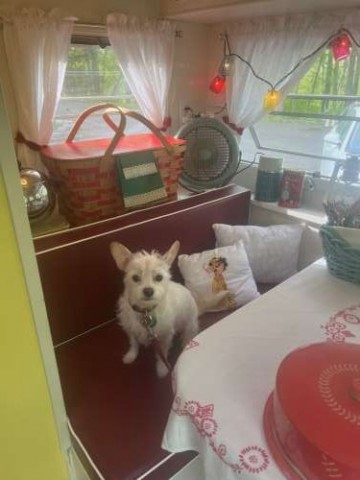 Did all you moms and fur-moms have a good Mother's Day? I will admit, mine was one of the best I've ever had, thanks to my sweet daughter and husband.
First, a few weeks ago, my daughter bought me an early Mother's Day gift – a new, modern sewing machine! I LOVE vintage sewing machines, and can take one apart, oil and repair them, but vintage sewing machine enthusiasts always have that one favorite machine that they love to sew on. However, vintage parts are getting harder to come by, and my family even noticed that I spent more time tinkering with my machine than actually sewing! My husband pointed out that sewing on a "vintage sewing machine for everything is like driving an antique car everyday to work." There's also a lot of things that modern machines can do that you just can't do on a vintage, pre-1970 machine. I have never seen my daughter so excited, and my mama heart is overwhelmed!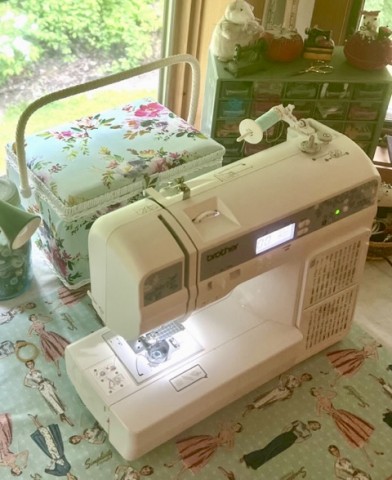 The first thing I made on my new machine was a garden apron. A favorite pattern is a good way to get to know a machine.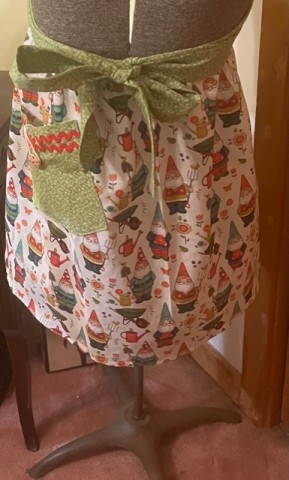 I thought the garden gnome fabric was hilarious. I added a pocket with an elastic closure to keep my phone (I once buried it by accident planting potatoes) and garden snips in, and sewed up a matching little drawstring bag for my snips from the scraps.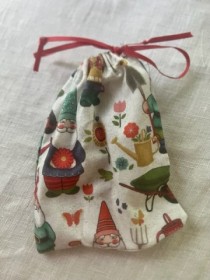 I also clipped my garden gloves on it. I keep the garden apron by the back door to grab on my way out to the yard. 
Since my sewing room is also part guest room/part doll room, having a new machine inspired me to spruce up my sewing room a bit. Though the inside of the machine my daughter bought me is metal, most modern machines do have plastic, and the sun can damage plastic. To keep the machine dust free and out of the sun when I'm not using it, I bought a cover on Amazon, and sewed up matching "bags" from other pretty scraps on hand, to house the foot pedal, cord, and other machine accessories.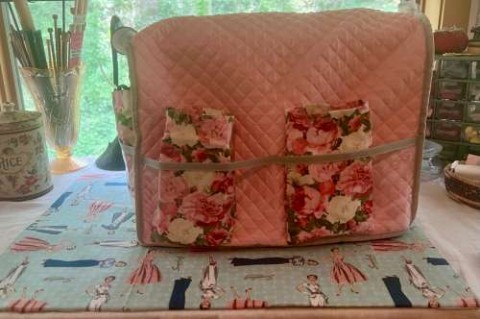 Speaking of scraps, I recently spruced up a purchased dress, as well. I had a "vintage" look dress in my closet purchased several years ago online. It was cute enough, but the large plastic black buttons that really did not match bothered me.
Over twenty years ago I bought a card of vintage glass  "shoe" buttons at a flea market. Unfortunately, the original card they were attached to got battered in my button jar over the years, so I decided to switch them on the dress.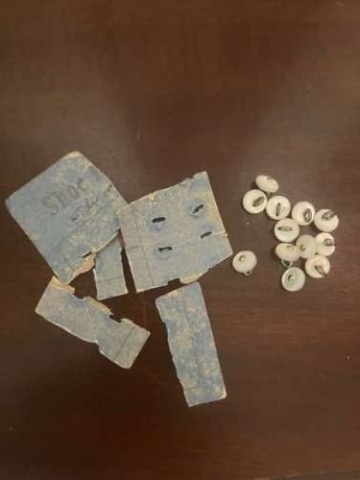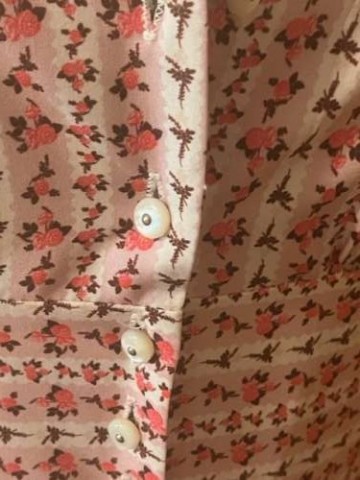 I also added a bit of vintage scrap lace, found in a vintage machine, to the neckline. I love the result and will wear the dress more often. 
I love spending time in my organized, cozy sewing room surrounded by old family photos, and pieces from my doll and sewing machine collections. Keeping clutter at bay makes it easier and inspires me to sew. I organized the closet, as well, hanging my knitting bags on the side wall inside.
To finish off the sewing room decor, I framed two cute 1940's needle cases, once given out as promotional items, as well as an old pattern.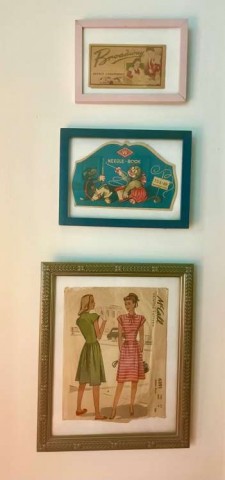 Back when the vcr was a "thing", at a Blockbuster store, I had once bought, on clearance, a boxed set of vcr tapes commemorating Audrey Hepburn in "My Fair Lady". Though the vhs tapes are no longer relevant, I have always loved the printed cards that came in the box, reprints of Cecil Beaton's costume designs for the iconic movie, intending to frame them someday. With frames I bought for just $1.00 each at the dollar store, I finally have the beautiful cards framed above the windows.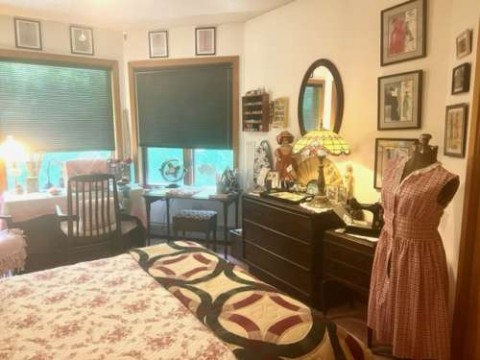 We have not been on a day trip in quite some time, so my family planned a wonderful Mother's day Sunday at one of my favorite coastal New England towns, Mystic. If you are ever in New England, Mystic, Connecticut is a must-visit!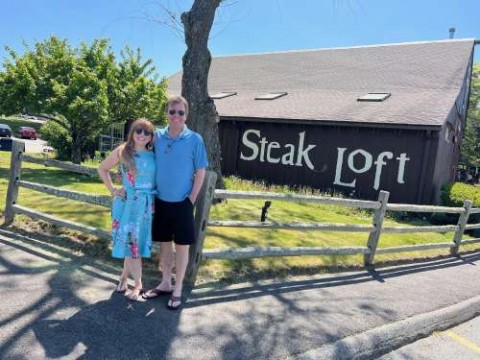 First we had lunch at the Steak Loft, a wonderful restaurant that never disappoints.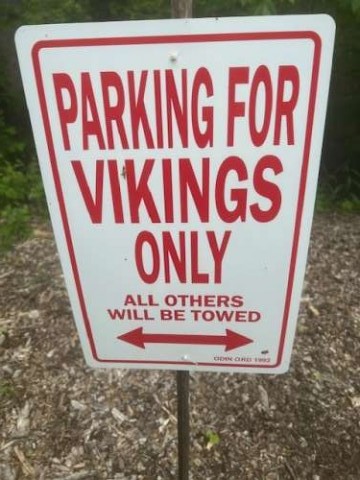 Next to the restaurant is Olde Mystic Village, a fun outdoor grouping of interesting stores. We always stop in at the Scandinavian store, Bestemors, where I picked a little something up for my Danish husband, so no one parks in his spot, lol!
Afterward, we spent time walking around Mystic Seaport. I never tire of going into the antique buildings and ships, and seeing the beauty all around. I think it is so important to support our museums, especially in these times post-pandemic.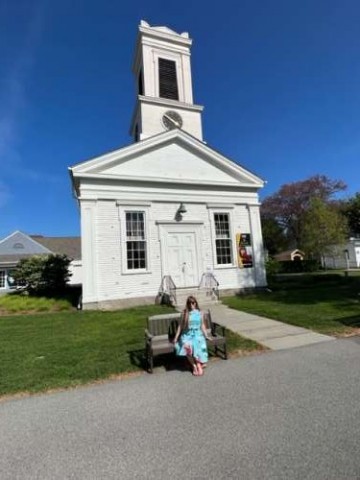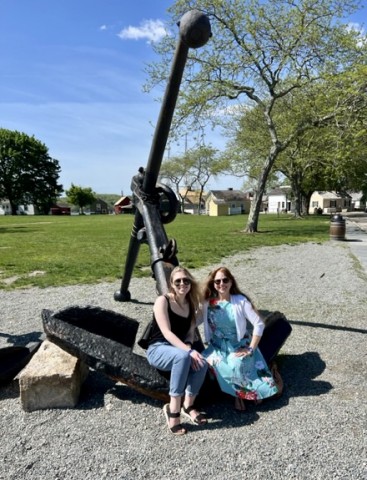 To end the day, we stopped at the Main Street area of Mystic, stepping in to a very cool shop, Mystic Knotwork, where we got the most wonderful dog leash! The store was filled with all sorts of knotwork from jewelry to rugs, all handmade. We then had the world's best (in my humble opinion) ice cream at Mystic Drawbridge Ice Cream.
We also got to see the drawbridge go up and down, something we had never seen before. To end a perfect day, we ordered a Mystic Pizza to go, taking it home to eat while watching the 1988 movie, "Mystic Pizza" on tv, something I have always wanted to do!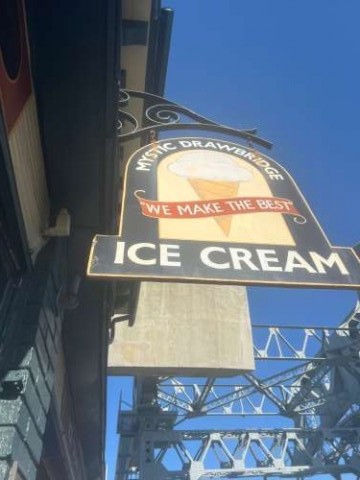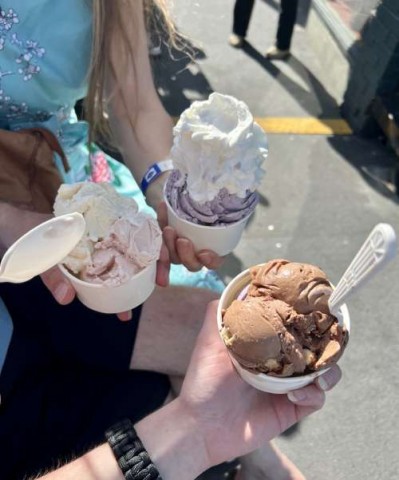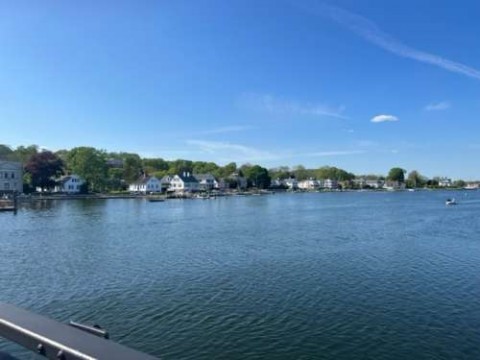 The next few weeks will be busy, getting the rest of the garden in, and getting ready for summer. Happy boy Trooper says he is ready!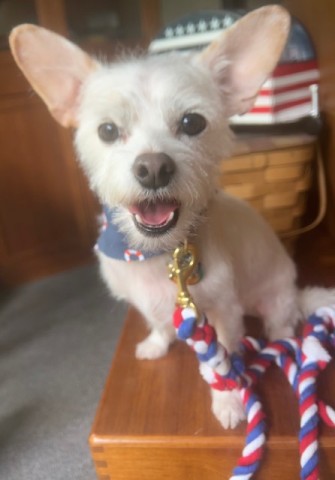 I hope you all had a nice month of May! Leave me a comment (remember to do the "captcha" so it goes through to us), and I do hope you visit with me again, next month!
Wishing You All A Happy Start to Summer and a Good Memorial Day Weekend to All!
Until Next Time…Farmgirl Hugs, Nicole