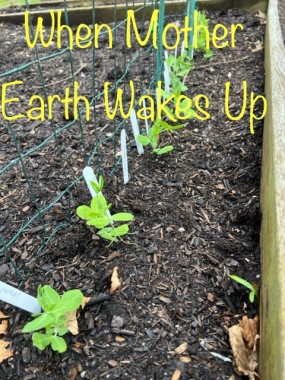 Hello! I hope this blog post finds you all doing well, and feeling the wonderful "warmth" of all things Spring! I know this time of year I might whine a bit because it always seems to take forever for the seasons to change and warmer temps to arrive, but this year takes the cake! We've had the heat and woodstove going, even into May. (Normally, this time of year, I might be fighting the urge to crank the air conditioner). I didn't grow up in a four-season climate, and am often asked by warmer-weather-dwelling friends how I can stand the cold for so long. Here's why…when Mother Nature wakes up from her long winter's rest, it can arguably be the most wonderful time of the year! 
Spring means we start seeing colors –  silver and white ocean waves, green grasses, pink skies at sunset, and blooms of all colors.
Everyday, there is something new blooming. 
Spring means I can start walking outside again! Because of the Pandemic, I had not seen the ocean in three years. If you have read my blog for awhile, you know that one of my favorite things to do when I have downtime in summer is to go to the beach.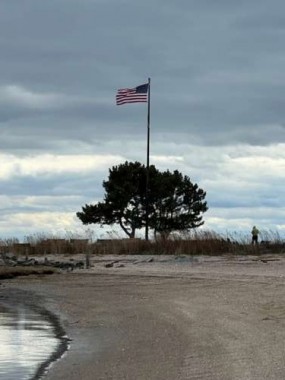 Recently, we decided it was warm enough (I use the word, "warm" loosely here, I still needed a coat) to head down to the coast. We had lunch at Jimmie's of Savin Rock, a New England restaurant that looks out to the water, opened since 1925! After dining, we walked the boardwalk.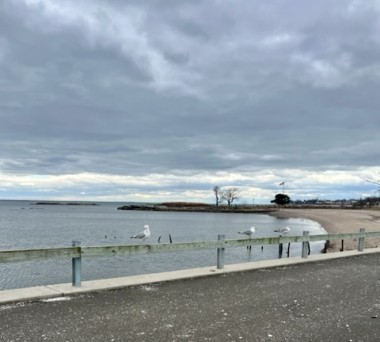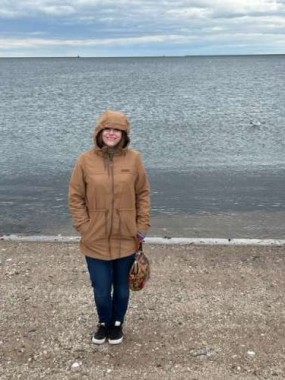 I have missed the smell of salt water, and the sound of seagulls as they comb the water looking for fish. Even though it was a grey, windy New England day, I was happy as a (true) clam. There is something about being on the beach – it's so good for the soul.
I posted one of the photos I took that day on my social media wall. I was blown away when my talented Facebook friend, Jill White, who lives a world away in New Zealand, used my photo as inspiration for her art!
Jill says her paintings, which are all sorts of subjects (and really beautiful), "are done in watercolor, with an ink component," as part of a "100-Day Creative Challenge", where you do something creative for 100 days! Have you tried doing a 100 day creative challenge? If so, tell me about it in the comments!
At home, I change my decor with the seasons. After Easter, I pull out my summer-bright decor. Vintage red strawberry pincushions "pop" with color in a vintage milk glass dish.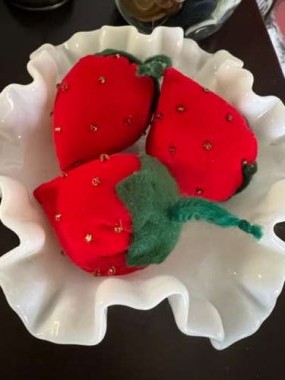 Outside, I couldn't pass up a real pot of strawberries on a recent feed-store run. 
On that same feed-store run, (at my local Tractor Supply), I found this adorable farmhouse-style pillow for my porch rocker. 
Herbs are potted, though I bring them in at night if we get too-low temps. I love that deep purple of the lavender!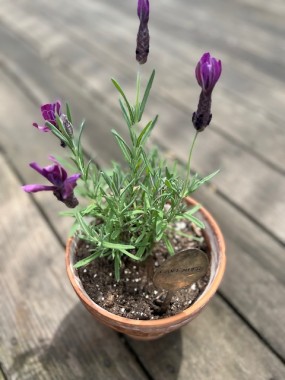 The lettuce I planted in my big pot, a cold-weather crop, is peeking out, bright and green.
Inside, the hope of warmer days materializes in the form of seedlings in the indoor greenhouse. Hello, my little babies!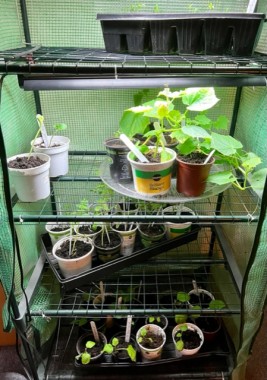 Outside, the snow and snap peas that Audrey and I planted together in March are finally popping through the ground. However, it will be a while before the other veggies can go in the ground.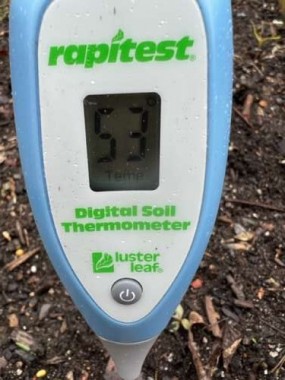 Here in New England, we have to wait until the soil is warm enough. Cold soil can shock sensitive plant roots, like tomatoes, so the best way to know when to plant is with a soil thermometer. It was sunny yesterday, but today is a typically wet spring day, and that soil is only 53 degrees! Brrr! I've been really happy with the digital soil thermometer I ordered last year through Amazon. It takes the guesswork out of knowing if it is still too cold to plant.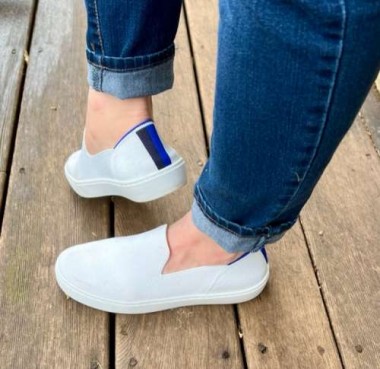 When I was a kid, one of my favorite things about spring was that my mom would take me shopping and I would get a new, fresh pair of sneakers, or "tennis shoes", as we called them in Texas. I still love that feeling of a new pair of sneakers, not only because I love a shiny, new pair, but also because it is important to have comfy, supportive shoes when I'm so busy and on the go. I sometimes find it hard to find shoes I really like. When a knitting student of mine walked into class recently on a rainy, muddy, spring evening with the cutest bright-white shoes, I told her she was brave – they wouldn't be white for long in that weather! That's when she told me that she had just washed them! If you haven't heard of Rothy's yet, you should check them out. They make shoes that are made of fabric woven from recycled water bottles, which makes the shoes washable! From cute flats to sassy sneakers, when it is time for a refresh, the insoles pop out and everything goes into the washing machine. I picked up the classic-looking, white slip-on like my friend's, knit from Rothy's signature stretchy fabric, made from water bottles. I absolutely love them! They are super-comfy and look cute with everything from jeans, to shorts, to dresses, yet also have been very comfortable for my long walks! I love that all the cute shoes and accessories Rothy's makes are made from single-use, plastic water bottles (which are so bad for the environment), keeping them out of the ocean! Win-win!
It's finally been time to reopen Gidget the Glamper. I love that it might be 2022 in the world, but when I step into my camper, it's still 1966! As you can see, Pip is ready to go camping!
Indoors, the cats enjoy the sunbeams coming into the house now that the sun has a different arc in the sky with winter's end. Mittens loves to perch in her favorite window, and Norman loves to hang out in my warm, sunny sewing room with me.
Outside, the insects are starting to wake up, as well. I've seen a few butterflies, and several other beneficials, like a six spotted green tiger beetle.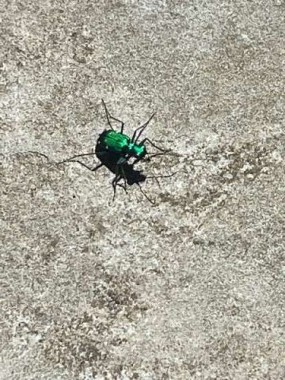 On a walk, I noticed several egg cases left by the Praying Mantis, as well as one on my rose bush in my garden.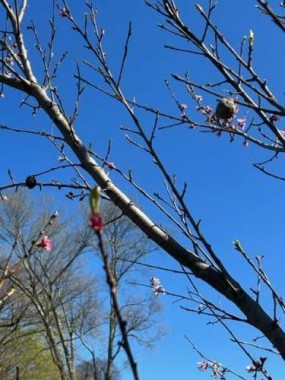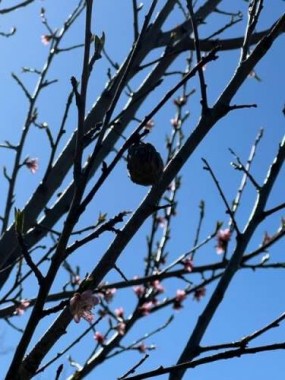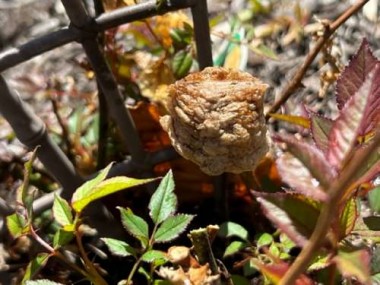 Each egg sac can hold up to 300 baby praying mantis, an important beneficial insect. It's also the State Insect of Connecticut! (Someone mentioned to me that the egg sacs look like pork rinds, ha ha)!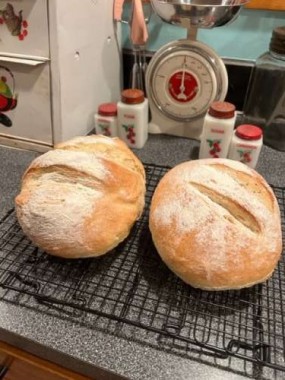 Spring in New England means that it isn't too hot to bake yet, and it kicks off the start of the canning season! I spent a very happy "Farmgirl Day" recently, baking sourdough bread from my starter, "Dough Beast", and making jelly from the first dandelions that pop up. Dandelion or "Sunshine Jelly", is one of my specialties, and tastes a bit like a combination of marmalade and honey. I posted my how-to and recipe on the blog, way back in 2013, in a post titled, "Hooray For Weeds".
After canning, baking and whitening some antique linens, I was tired, but it was a good, "happy" kind of tired!
Here's wishing you a great Spring, A Happy Mother's Day, and lots of warm, busy "Happy-Tired Days"!
**Leave me a comment so I know you dropped by! Remember, there is a new "captcha" feature to the blog! Please do the captcha in order for your comment to go through.** 
Until Next Time…Farmgirl Hugs, Nicole