You know that photo of yourself?
The one that is goofy and hilarious and you hope nobody ever sees?
And then you see your daughter showing it to her friends because it is so very rip-roaring funny?
Or maybe somebody else posted it and tagged you on facebook and you think–oh no! all those people I haven't seen in 20 years are seeing this–and quick! you untag yourself.
You know the one?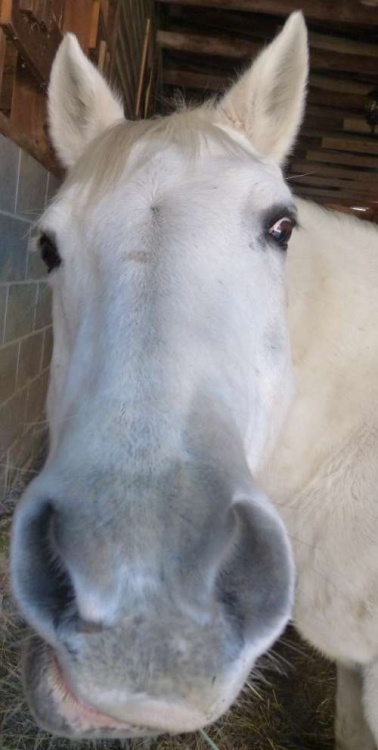 That's what my precious boy is saying to his horse friends out in the pasture now.
"You can't trust her…you won't believe what she is putting all over the Internet…." IKR. But. I love it.
I just took this photo of my soul-horse Merlin and adore it. It has nothing to do with this post or kitchens, but I had to show you my boy.
Look at his grey and pink lips and those freckles. And his muzzle drives me crazy with its softness. And that brown dot in the white of his eye that I admired when I first met him. It's an intimate view of Merlin. Do you see the spot on his head where his unicorn horn comes out when we're not looking? And if you look closely you can see my lipstick print on his head. Oh my.
BUT. Back to what I meant to be talking about: Yes, Yes, I am. Dreaming.
All winter long, I have been dreaming about snow and a new kitchen. Our farmhouse has a barely useable kitchen. The stove is old and the oven temperature is way off. I burn lots of dinners and cakes and cookies–yes, so many things. There is NO counter space. There is NO cabinet space. There is NO drawer space. There is NO light. The faucet leaks. The ice-maker doesn't work. I haven't unpacked most of my kitchen items because I don't have anywhere to put it.
Here's what it looked like when we toured the house for the first time. Orange shag carpet, orange brick linoleum.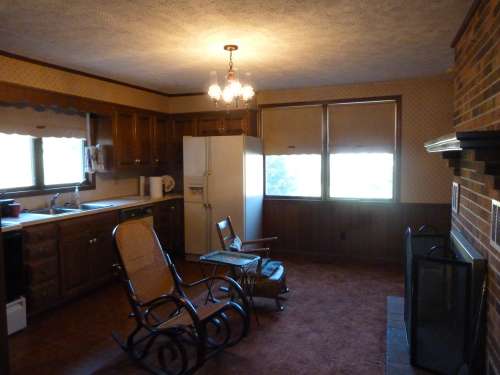 Everything I've mentioned is true about it. But isn't there something special about this kitchen that makes your heart swoon? It's so cozy and inviting. And the fireplace! It doesn't work, but what a beautiful feature to have in a kitchen.
I have had some gorgeous kitchens in my day. I designed this one. Which is the one I had before we moved here.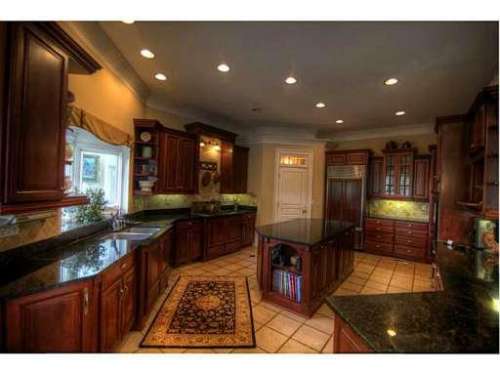 Large and shiny and useful. But not my dream kitchen.
And I designed this one. Which is the one before the one before we moved here. It was awesome too, with a dramatic stone arch over the free-standing range. (can't find a good photo of that, but it is to the right, see it?) Loved the cabinets and granite. But not my dream kitchen.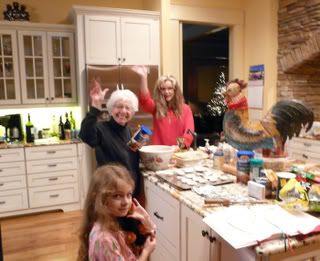 I've spent countless hours on houzz.com and browsing in magazines. Search "farmhouse kitchen" on houzz and you'll get over 791,000 photos. What a wonderfully enjoyable and creative Time Sucker that is. I found this kitchen though, which I think is my favorite so far:
http://www.houzz.com/photos/298698/Crisp-Architects-traditional-kitchen-new-york
Oh, and Pinterest! Just search for "farmhouse kitchen" and have a big long sit-down because you're going to be there awhile.
I'm looking at kitchens, from big to small. From fancy to simple. From white to blue. From country to traditional. I'm creating my DREAM.
So, tell us about your dream kitchen. Maybe you are already living in it; maybe yours is just a dream too?
What color is it? What kind of appliances? Gas cooking or electric? How big is your pantry? Is it a walk-in? Do you have any special work stations? Like a baking center or a canning station? What kitchens have you seen that inspire you?
Here's where I began. I thought, "okay, let's say I've won a new kitchen. I don't have to pay for anything. What does it look like?" Now, granted, I have entered every new kitchen sweepstakes I've ever seen. And no, I've never won one. And no, I can't have the kitchen I'd have if money were no object. But, that's where I like to start my dream. And now I have a pretty good idea of my Dream Kitchen.
Picture this:
My dream kitchen has a wall of windows where the sink is.
The sink is a huge farm sink, with double bowls and an apron front.
It has an AGA stove. Or maybe a free-standing range like I had before.
Oh, and it has a pizza oven in the corner.
It has a huge island in the middle, with nothing on it. No sink. No nothing.
It has a baking center, with a dropped countertop for rolling out bread and biscuits and pie crust. And a place for the stand mixer.
It has a coffee bar.
It has an ice maker.
It has a vaulted ceiling. With old barn beams.
It has a pot hanger. And a pot filler.
And a fancy crystal chandelier.
And a fireplace.
It is big enough. But not too big.
It has a banquette. You know, that little spot where we eat breakfast and my daughter does her homework.
There are some glass-front cabinets, maybe with wavy glass.
The cabinets are white or off white. Except for the island. It's barn red. And there's a surprise color somewhere. Like turquoise painted on the wall behind some open shelves.
There's some beadboard somewhere.
And space for an old antique hoosier.
My dream kitchen is always clean and tidy. (now THAT, my friends, is a dream)
And probably the best part: there's always a kettle on for tea, and a pot of soup, and bread and cookies are baking in the oven.
And most importantly, it is filled with people I love.
Hmmm…now that I think about it, I have that "best part" now. In my little kitchen. Tea and Love. Oh, and burned cookies. (just take a knife and scrape off the top, they're still good.) Your turn! What does your dream kitchen look like?
Until next time, Friends, savor the flavor of life!
Lots of love, The City Farmgirl, Rebekah
P.S. Here's one of my favorite things to make in my kitchen that doesn't require cooking. Ya can't burn it. I love this in the mornings. So good!
Rebekah's Mediterranean Breakfast
1 cup oats (steel cut oats are great, but so are regular)
1 cup organic vanilla yogurt (low fat is a-ok)
1 cup milk (anywhere from skim to whole is delish)
1/4 cup oat bran
1/3 cup honey
1/2 cup coarsely chopped walnuts
3 Tbsp chopped dried figs (I use figlets..lighter flavor and cute name)
3 Tbsp chopped dates
3 Tbsp other dried fruit of your choice (golden raisins, cranberries, apricots, fruit bits combo)
Combine the ingredients together in a bowl and mix well. Cover tightly and refrigerate overnight. (Or at least a couple of hours.)
By the way: fresh berries make a lovely topping.