I love color, don't you? Whether it's clothes, decor, cookware, or paint, I adore all things colorful. One of the reasons I specifically love this time of year is because it's when New England is at its most colorful! It's also when we see the most "visitors" – some good, some bad, and some paws-tively adorable! Come on over and take a walk around my yard with me!
When the frost finally leaves and warmer temperatures become the norm, gardeners in New England make the most of every minute of our short growing time. I have an herb bed, a veggie garden, and a cutting garden, all of which I planted. When we moved into the house over two decades ago, there was nothing but overgrown grass. I look forward to this time of year outside, despite the humidity, and the constant weeding, trimming and scouting for pests. By fall, we've had enough, and the colder weather and less time in the yard becomes a relief. Having four seasons gives us something to look forward to during the year, because each season is different and has its charm. However, this particular summer season has been really strange – we've run the gamut of everything from super hot, to unbearably humid, to so rainy we thought we'd float away. In between, we've also had those perfect, breezy and sunny, temperate New England days that are just dreamy.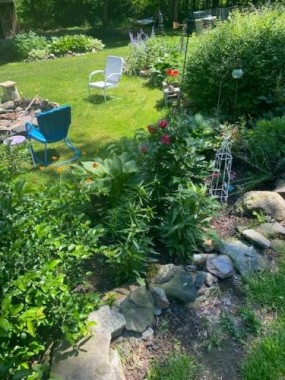 We walk by the cutting garden a dozen times a day because it's near the door where we take our three dogs out, and leads to the path to the chicken coop. Mid-summer is when it is in full bloom, both with flowers and colorful insects.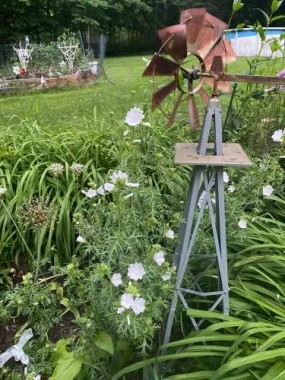 I first spotted these two aphrodite fritillary butterflies on the coreopsis.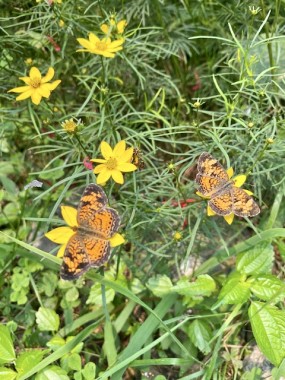 It's been nice to see butterflies this season. I was getting worried because at first it seemed we were not seeing any. I love spotting them; they are such pretty beneficials and one of the reasons I first planted my cutting garden twenty years ago.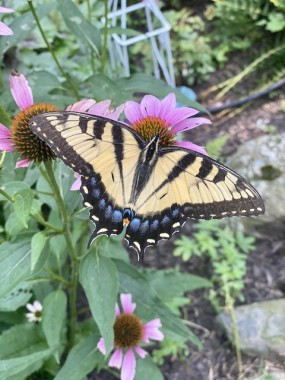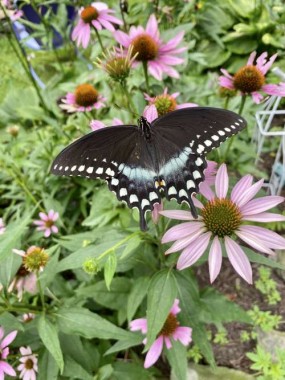 My favorite flowers to pop up in summer are my red bee balm blooms. They look like firecrackers, and are deer-resistant. This year they have drawn all sorts of colorful bees and birds, including a hummingbird moth and a ruby-throated hummingbird.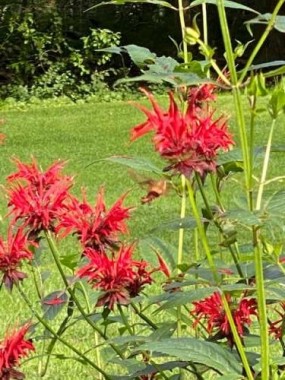 It's been a great year for roses.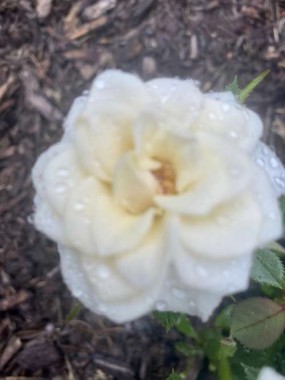 Throughout the years, I have planted little tea roses here and there; this color rose is my favorite because it reminds me of my grandmother, who was an expert at growing roses.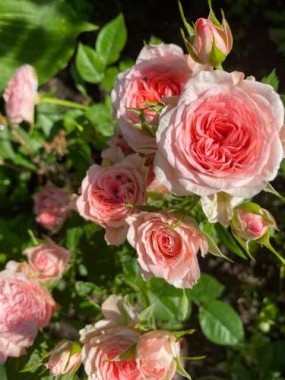 I have always found insects interesting, and noticed them even more after my daughter was born. When she was little, she would point out every one, and for several years now I have worked on an insect identification project as a Master Gardener. Butterflies and moths aren't the only insects with some amazing colors. 
We've seen a great number of dragonflies this year. They are great beneficials that eat a lot of "bad" bugs. They also don't hurt humans and are considered good luck in many cultures, especially if one lands on you. This one decided to rest a spell on my vintage metal hotel chairs.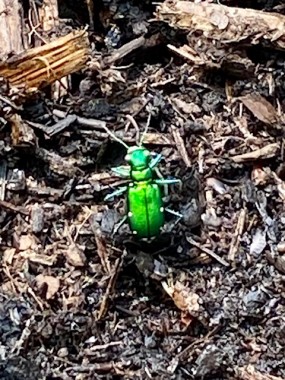 My favorite beetle is the Six Spotted Tiger Beetle, a great beneficial insect. 
Not every "visitor" is a welcome one, though they still can be interesting.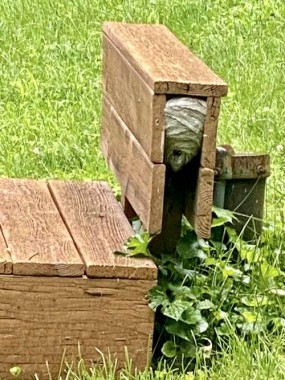 Following the week-long rain, there were many more visible insects, especially flying ones. Some are really fun to see, like the tons of fireflies that pepper the yard like glowing fairies from a storybook each evening. Some are more startling – it took only a few days for this huge wasp nest to appear inside the bench. We've seen quite a few nests this year, and had to call our exterminator (an eco-friendly one) for a nest of "several hundred" that had made themselves comfy just under the clapboard where my bedroom air conditioner is housed. Wasps are beneficial insects, but if they threaten human life they need to be removed. 
Even though they are a pest who can bring plant disease, I noticed these leaf hoppers are a lovely shade of lavender.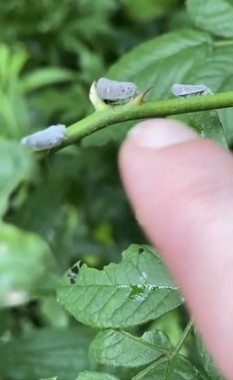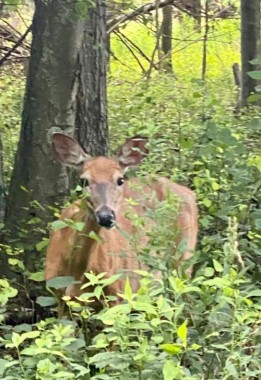 I love seeing  the deer, but this year, the big-eyed Bambis decimated my hostas! Look at what they did…no matter how much I sprayed or tried to chase her away, one girl in particular ate her way through my hosta beds like she was at an all-you-can-eat-buffet salad bar. She even knocked about the rock border! Oh well…I will plant some mums in fall and wait until the hostas come back next year. 
Let's head over to the veggie garden. Currently, the kale is beautiful with its dark green leaves and orchid-colored veins. I could eat kale every day and never get tired of it.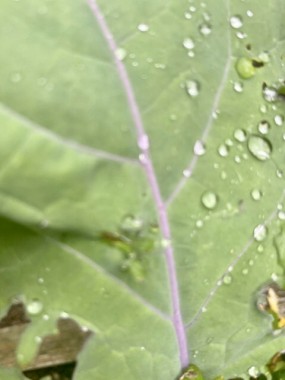 The tomatoes are finally starting to turn from jade green to ruby red.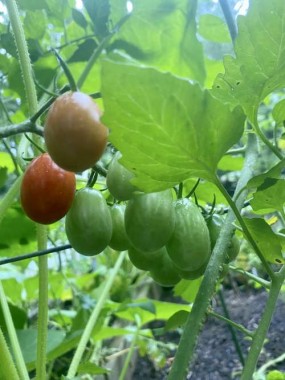 It was a great year for snap and snow peas, but it was time to pull them out. I noticed this fuzzy guy munching on the spent plants. He reminds me of Halloween with his orange coloring.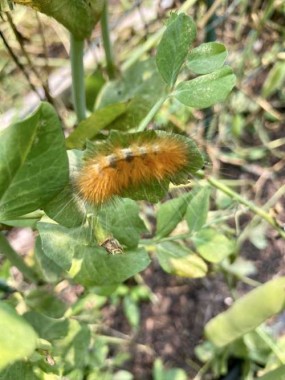 The deep purple of the emerging eggplants is one of my favorite colors. I can't wait to pick them! Everything is really starting to bear fruit now.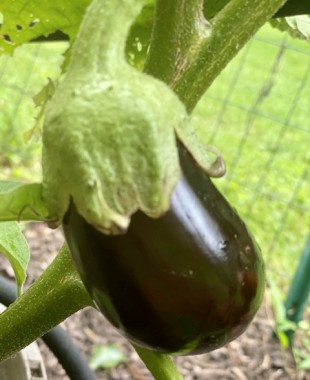 We have woods that border our property and driveway on one side. The wineberries that grow wild all over the state were really juicy this year.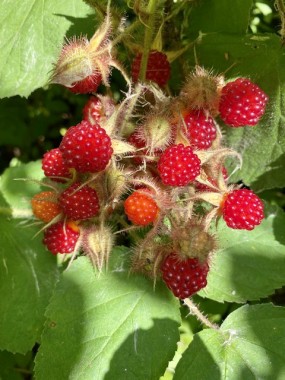 As a Master Gardener, I learned that they are on the "Invasive" list, but it is almost impossible for us to get rid of all the canes that show up each year. The forager in me loves to pick some of the fruit for jam, cobblers and morning muffins. They are so tasty!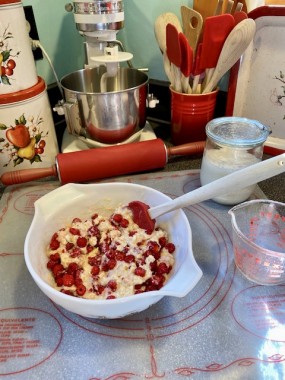 Our blueberry bushes have not disappointed either; we've been picking blueberries to go with breakfast for a full month now!
Now we've walked 'round to the herb garden. I have to admit, sometimes I let them go to flower because some of the flowers they produce are beautiful and fragrant.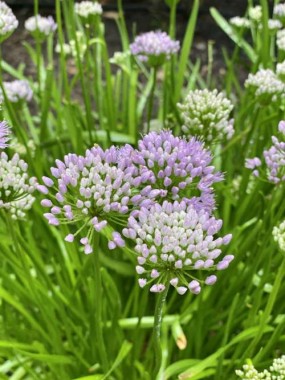 We need to pause to let the family of turkeys pass through. The babies are now "teenagers"!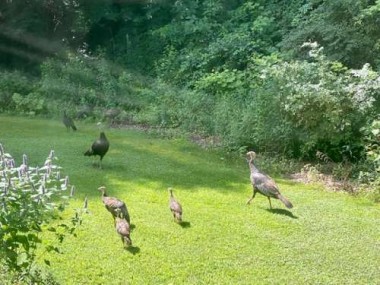 We are back round now. We enjoy sitting on the "shabby chic" porch, especially to eat dinner and watch the little brown and large brown bats that fly at dusk. The past week, it has been warm during the day but cooling down in the evening. On rainy evenings, it is covered enough to stay dry and safe but relaxing to listen to the falling rain. The lettuce and herb pots get a nice drink!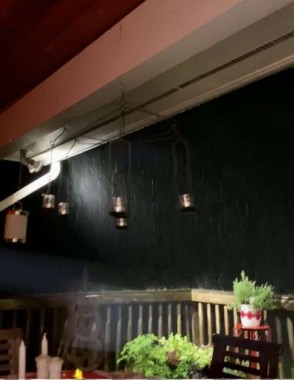 The shabby chic porch is a nice place to chat with friends, read, and watch the birds that visit our property. This summer, the table I had been using was getting too rickety. I found this adorable little 1950's 'cracked ice' child-size table. It works perfectly there, and adds retro red color! In the winter, I will bring it inside. Wouldn't it look cute atop with cookies at Christmas?
Speaking of cute, one paws-i-tively cah-ute visitor is the little bunny that lives in our yard. She is sometimes in the back (and nibbled my beautiful rainbow chard in the veggie garden until I fixed the bottom of the fence). Her coloring is beautiful, and she has a big white cotton tail and one lopped ear. We think she has been the same little rabbit that has been around for a year now. She likes to hide among the plants in the herb garden. I am also happy to report that our regular visitor, "Radio", the opossum, made a recent visit!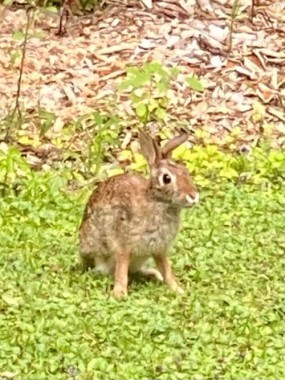 Here in Connecticut, we have at least a month before summer starts to end and gives way to fall. Until then, I'm trying to remember to take those moments, savor time outdoors, and literally stop and smell the roses!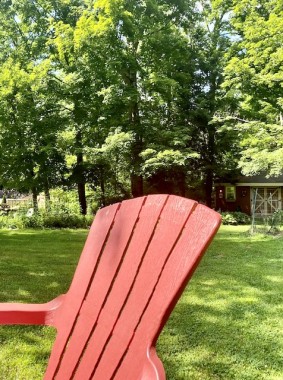 Thanks for the "walk"! How is your summer going… are you in the garden or by the shore? Whatever you are doing, I hope you are having a great one! Leave me a comment and say hello so I know you stopped by!
Until Next Time…Farmgirl Hugs,
Nicole