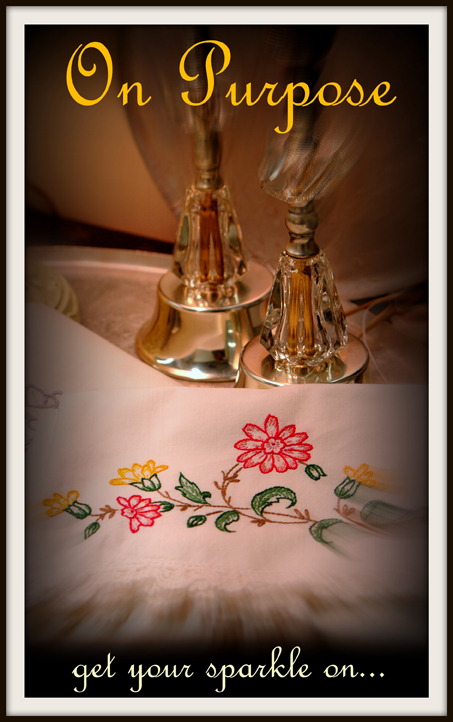 Dear sisters,
 It's great to be back here amongst friends. I hope this note finds you in good spirits and ready for the last full month of winter.  I'm counting the days till spring but in the meantime I've been up to my eyeballs in
"STUFF "
with the influx of items coming in daily from EBay for Burlap and Bling. If that isn't enough to clutter things up while I sort and price items I decided to tackle a few boxes, closets and dresser drawers while I'm at it! What brought on this early spring cleaning frenzy? Come on in and I'll tell you what I've discovered.
PLUS,
we'll take a trip to the
Antique Mall
for a sneak peak at my booth and more!
Are you a clutter bug or do you like things neat as a pin? I love the idea of "A place for everything and everything in its place" but I certainly haven't mastered it! Truth be told, I didn't want to start going through things right now, but my handsome Yankee got me going when we moved our daughters old school desk out of our den to make room for a dresser for my mother in law. We want her to feel right at home while she's here and living out of a suitcase for three weeks isn't the comfy cozy feeling we want to impart…Well, one thing lead to another and before you know it I had 4 boxes full of homeschool curriculum, teachers manuals and homework assignments to pack away and various other things to find a new home for, donate or toss out. Oh, I knew it was all hidden away in there I just didn't want to face the task of finding another place for it but I'm so glad my hubby was persistent because now I can move on to other de-cluttering tasks. As I hauled each box down to the basement ( which is bulging by the way ) I had to ask myself, "What the heck IS all of this STUFF and what is the PURPOSE of having it?" Let me break it down for ya. I guess it's just the "stuff "of life. You know, the things we accumulate as we live each day moving from one phase and interest to another. Books, art supplies, sentimental keepsakes, art projects the kids made that I can't part with, a sewing table, large pieces of furniture I've collected cuz I'm gonna paint that someday, (and I'm not even getting into my hubby's STUFF ) have all found their way to the holding room, our basement. We can both see the potential in things which is a fun thing to share but we've both said for years that we need a BARN instead of a basement for all of our —- eh hem… creative projects! All that's really needed is some good old fashioned organization for the smaller items and the furniture already has a new home… It's headed to my booth after it's painted (I really AM gonna paint it) so that will free up quite a bit of space in the basement for me to create in! I'm feeling a little lighter already as some things finds a permanent home in storage and others find a new purpose in someone else's home.
There is comfort and ease in being organized. As clutter moves out and things get stored properly it frees the mind for FRESH thinking allowing new ideas to unfold!
After all that hard work I think we deserve a little break don't you? Put on your walking shoes and come with me to the Antique Mall to see some great "STUFF"!
Wait! Before we go inside… Have you ever noticed how Antique Malls smell? Yeah, me too…. It's a perfect mix of dust, must and rust… I LOVE IT! Let's go!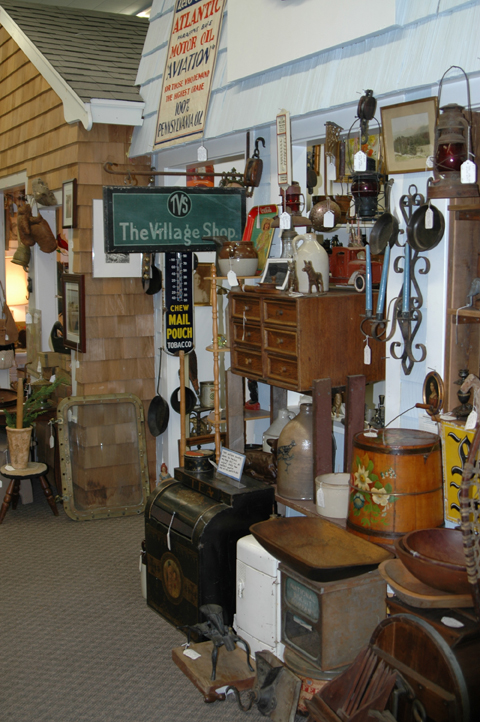 This antique mall has individual houses with storefront real estate as well as smaller spaces for rent. With two floors I think you could find just about anything you had your heart set on and then some!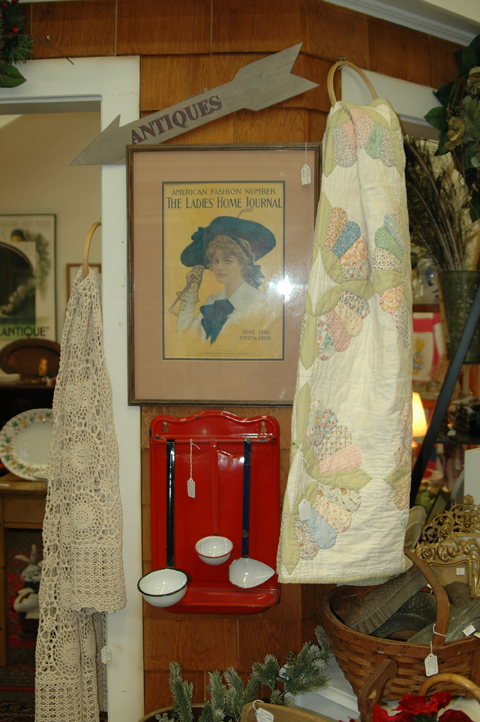 Quilts, throws, baskets, and vintage kitchen utensils adorn this store front.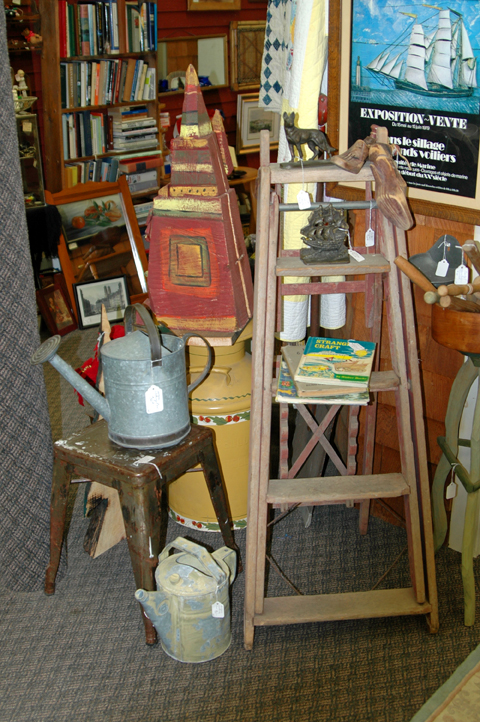 I'm learning a lot about how to display items. I love how the old ladders are used for staging items in both of these booths!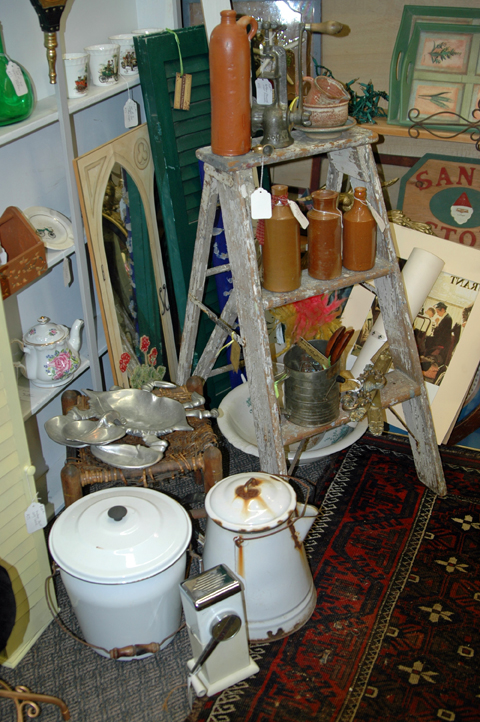 It's always fun to look at the artwork at an Antique Mall. There's always such a wide range of subject matter.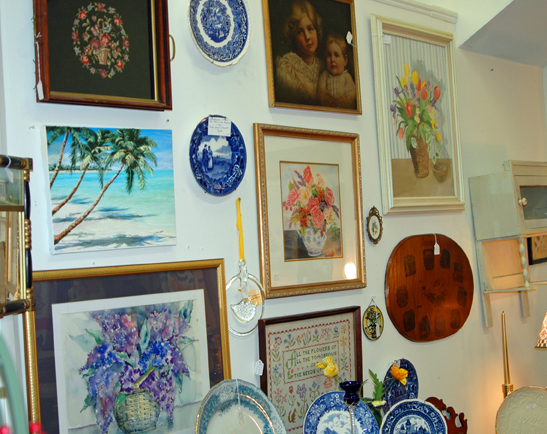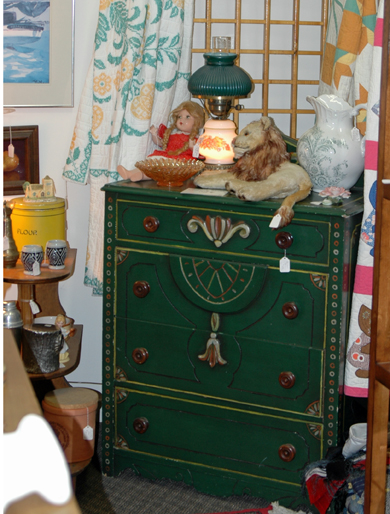 I love this chest of drawers with its funky folk art paint!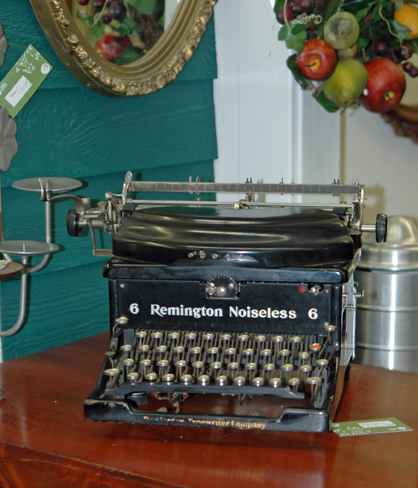 Typing lessons anyone? Great vintage typewriter for a writer to have on display!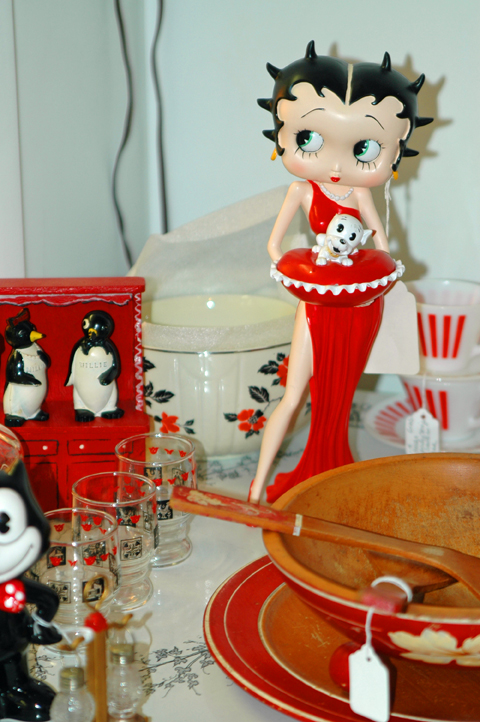 This  shop keeper is a purist and displays only retro items from the 1950's!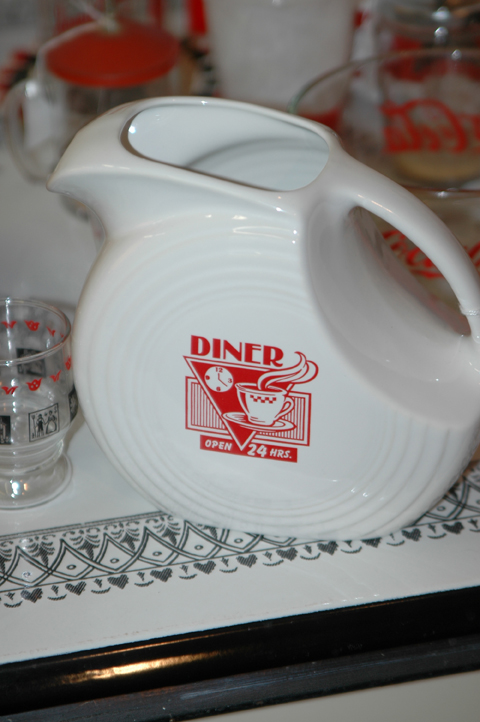 This lamp reminds me of MaryJane…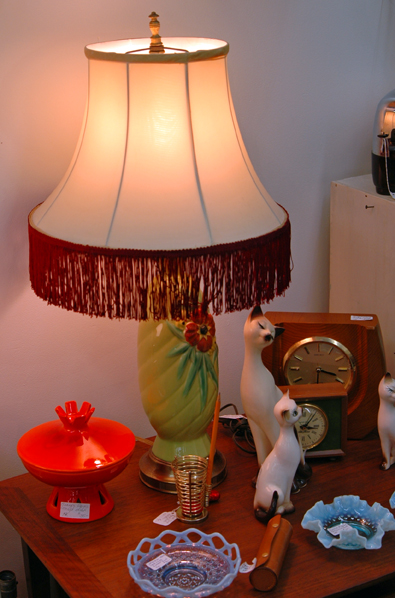 Well, here we are at my booth! Just a peak though!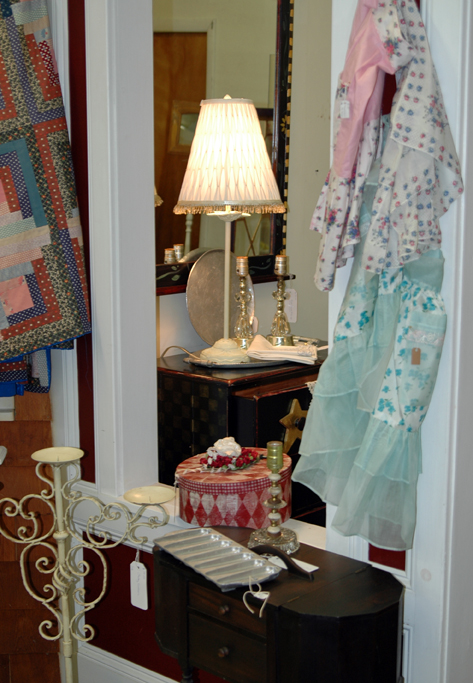 Out front I have an antique sewing table that I purchased years ago at an Antique Mall in Reno, Nevada. An iron candle holder, a cornbread baking tray and a cute little vintage crystal lamp. A few vintage aprons hang on the door frame. I have a vintage drying rack on the way for displaying vintage tablecloths and throws.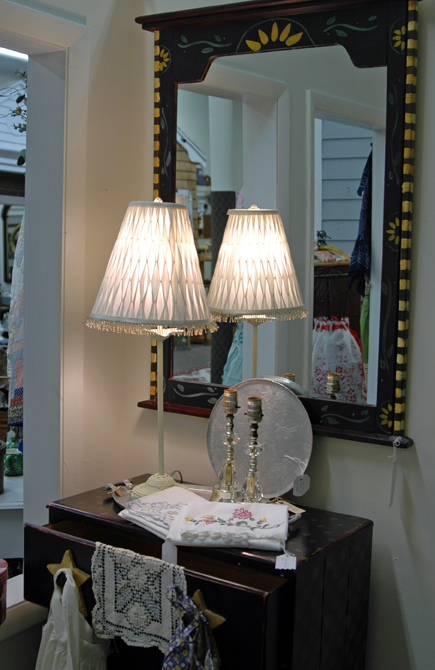 Inside, a vintage pine dresser and mirror I painted, a hammered alluminum tray with a single pillow case and two vintage crystal lamps from the 1950's.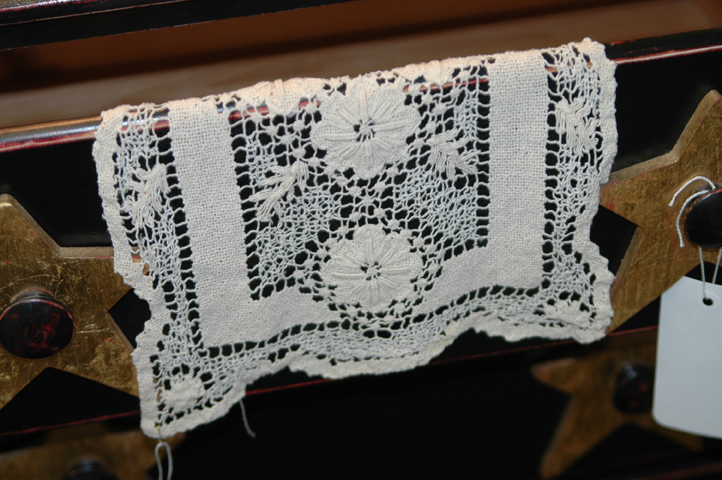 A crochet doily softens the look.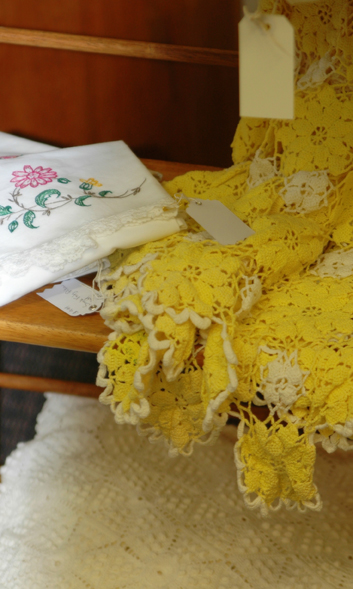 I fell in love with this yellow and white crochet throw! I hope someone else does too! This vintage china cabinet below is Lady Violet.  She is hand painted in green and purple metalic paint and shimmers with gold leaf stencil designs. I painted her a few years back and I'm hoping someone rescues her from my booth! The dealers at the mall call her the princess hutch.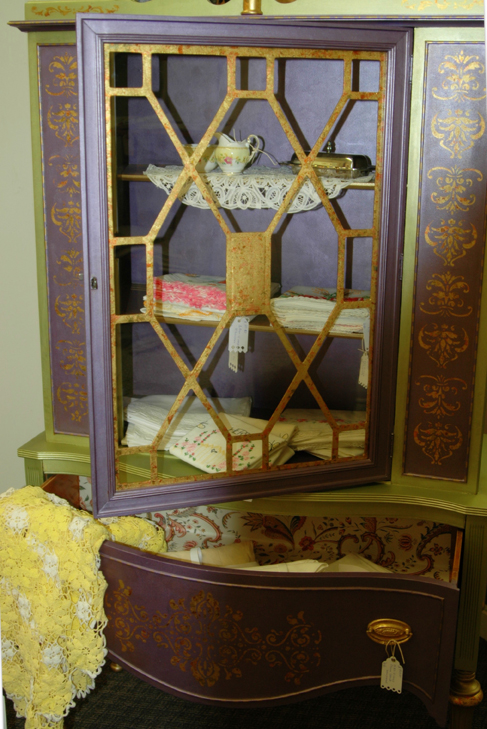 That's all for today sisters! I've got to get back to work!
Next time you're in Plymouth, Ma. stop by The Antique Marketplace at 46 Main Street to check out all of the wonderful booths in the Antique Mall.
If you've been holding back the reins on your spring cleaning let' em loose! Find a purpose for those unused/wanted items, store your keepsakes and make space for new ideas to flow in… Find a purpose for your "stuff "and you'll be well on your way to finding your purpose too.
Now, go get your sparkle on!
Until our next shoreline visit!
BEACH BLESSINGS and happy de-cluttering!
much love,
Sister Deb # 1199
P.S.
Great places to donate unwanted items:
Savers
Salvation Army
Church Thrift Stores
Big Brother Organization
Red Cross
Habitat for Humanity