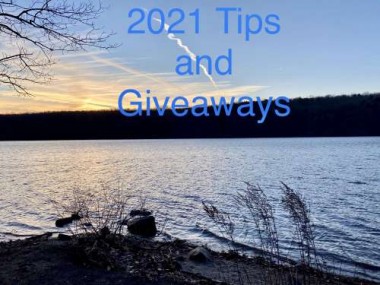 Happy New Year! Unfortunately, for us, 2021 is not off to the greatest start (home repairs) and sometimes, it seems like it's December 40th, 2020! We've also got a few more months, at least, of life not going back to more "normal" yet. However, in New England, we're used to long winters and being inside a lot – as a farmgirl, I know how to keep busy and to make do! Today, I'm sharing a few tips to help make things a bit easier, as well have some great farmgirl giveaways to help kick-start the New Year!
I won't weigh you down with my (several) home repairs, but the bad news is that this is how my New Year started: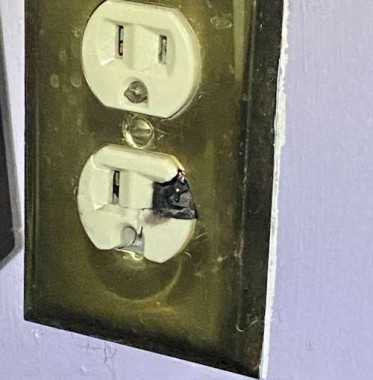 We're okay, no one is hurt, no major damage, and the good news is I found a really great electrician in my area!
My daughter starts back for her second semester of college soon. Unfortunately, it will not be "live" yet. One of the most often complaints I'm hearing from everyone right now is how kids of all ages are having a hard time focusing during virtual school. Online classes are hard on teachers, parents, kids, and adult students, as well. My daughter decided before the pandemic that she wanted to stay "local" for university, but she never expected to be home 24 hours a day! I wanted her college experience to be different – not just feel like a "continuation" of her last (virtual) months of high school. I can't do much to help with the online stress, but changing her room a bit brightened her spirits. If she'd been going into a dorm, we would've decorated it, so we revamped her room and work area.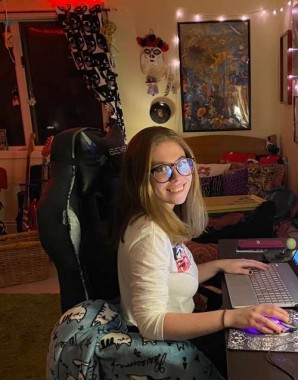 We packed up anything from her high school days. A "grown up" desk and comfortable work chair (with good support for long hours)  make things feel "official" for classes, and a cozy throw chases away chills. You don't have to spend a lot on a desk, but marking a specific area as an "official" workspace helps concentration. It should be a clutter-free, yet cozy spot. Fun, remote-controlled, color-changing LED lights around the perimeter of her bedroom add pizazz and set the mood – whether it's class time, study time, or time to relax.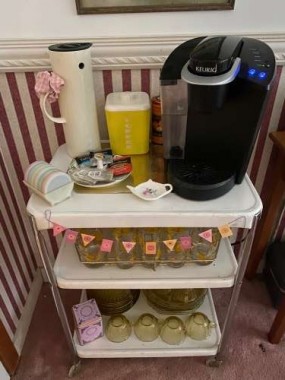 Breaks are important too – so I set up a "quick hot beverage/treat station". Using the vintage Cosco cart that we use for camping, I put a variety of quick-grab tea bags, hot water in a carafe (it will stay hot all day), and a single-serve coffee machine that was a gift many years ago.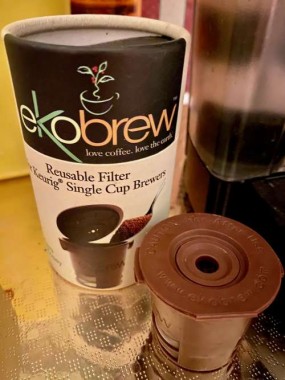 I prefer perked coffee with a classic percolator, but with an Ekobrew reusable filter, we can use our favorite coffee for a single cup without landfill waste. When my daughter has a fast minute between classes, she can grab a quick "cuppa"! You can use a part of your kitchen or a cozy corner somewhere – presentation and convenience make it special. I also keep a variety of healthy snacks on hand for quick brain-food boosters. 
Masks aren"t going anywhere anytime soon. Unless you're in healthcare, cloth masks have been recommended as an effective choice, so I've been sewing them for months. I love picking out fabrics to match my personality, clothes or mood, making the best of the situation. I've gifted masks to friends and made bunches for my family. Masks are like underwear – you don't want to share them. (Eww).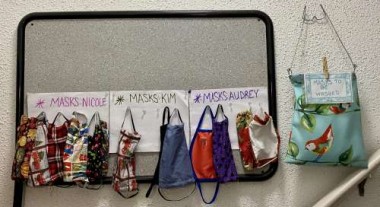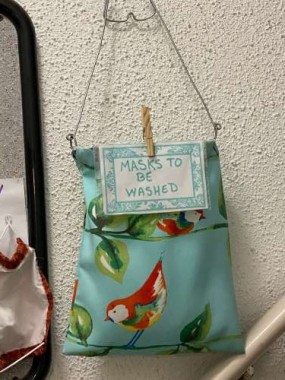 I organized ours by our basement garage door, using a bulletin board and tacks. They're convenient and out of the way, but at eye-level and easy to grab on the way out. On the way back in, we deposit the dirty ones in a repurposed clothespin bag (I use one from Prairie Pin Pouch. The handmade bags are adorable and durable). You could also use hooks on the wall, individual baskets, or cute farmhouse style buckets for mask organization. You can't control the need for wearing a mask, but you can keep them organized!
When winter comes, I want comfort food and hot, hearty meals. Y'all know I love my vintage tools, like my old mixers and my Pyrex bakeware. I don't often fall for "modern" kitchen gadgets. I love to cook, and can happily spend a whole day in my kitchen, blissfully cooking and baking. However, there are days that I don't have the energy to make a complicated meal, or come home later than planned. We've cut out a lot of take-out on those kinds of nights because of two additions to my kitchen repertoire. (I also love to try new recipes)!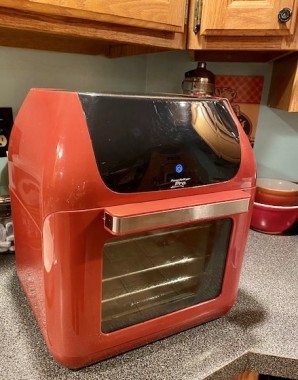 Last year, my mom and her husband gifted me an Air Fryer. It makes the most unbelievable homemade chicken fingers, home fries, and juicy roasts, using less fat than traditional methods. I don't know how I lived without it before! Frozen food comes out crisp, roasted veggies are fast and delicious, and meats like chicken breasts cook all the way through, evenly.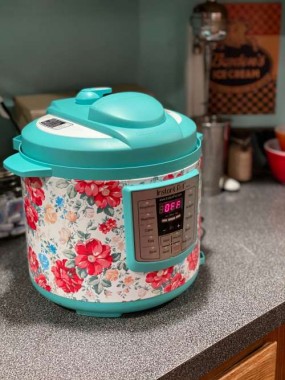 Another winter lifesaver in the kitchen is my Insta-pot. Before the pandemic, I attended a potluck, and the ladies all raved about their Insta-pots! I ended up purchasing one, and love it! Registering it on the website gives access to all sorts of recipes, as well, and the app tailors recipes to your particular model. I can make dried beans into an amazing quick meal – going from dried to delicious and soft, in less than an hour, for example, and I am now a master at Chicken Fried Rice! The nice thing about both of these tools is that they open you up to a world of new recipes, but you can also make your favorite recipes in warp speed time! I will be taking mine with me next time we go glamping in Gidget!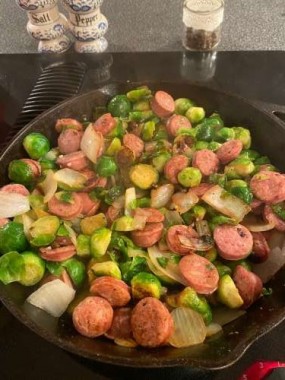 I still also like to whip up fast, comforting meals in my classic can't-live-without-it, cast-iron skillet. Right now, my family's favorite winter meal is my Brussels sprouts skillet: Cut the ends off of two pounds of washed fresh brussels sprouts, and then slice the sprouts in half lengthwise. Using two tablespoons of olive oil in the cast iron skillet, brown the sprouts on medium heat along with two cloves of chopped garlic, a large chopped sweet onion, and one package of organic chicken and apple sausage, cut into "coins". Using a spatula, turn constantly. Season with ½ teaspoon of salt and ¼ teaspoon of cumin. Cover and let cook down until sprouts and onion are soft, about ten minutes or so. 
After a good meal, try doing something different than turning on the television. We love visiting museums, and hope they'll be able to open up again soon. Until then, did you know that you can visit many of the world's museums virtually? 3-D technology makes it seem like you're right there, in the museum, looking at the exhibits. Virtually visit one of my favorites, The FDR Museum, in Hyde Park, NY. Here in Connecticut, virtually visit The Mark Twain House, or head across the globe to see beautiful art in my favorite part of Denmark, at The Skagen Museum. The Met? The Louvre in Paris…where will you go next? The virtual possibilities are endless, and "travel" to destinations you might never get the chance to go to in real life! Search under Google, and you will discover many hours of virtual museum tours to explore!
I think one of the hardest things about life during a pandemic is the lack of things to look forward to. Holidays, gatherings, and events we always look forward to are cancelled, and days seem the same for many folks. I think we have to give ourselves a few treats, and create things to look forward to.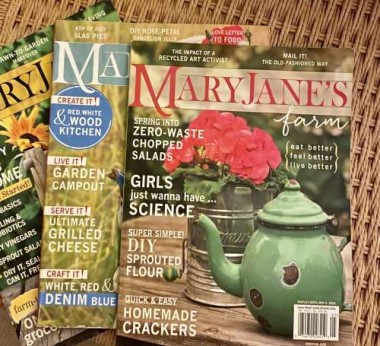 Now's a good time to subscribe to all your favorite magazines, and have them delivered right to your door. I've never missed a single issue of MaryJanesFarm Magazine since discovering it eleven years ago. Make sure your subscription is up to date HERE. When I get a magazine in my mailbox, it always feels like a nice surprise, and I spend a little "me" time relaxing in my favorite chair with a cup of tea – news off!
Scheduling a daily walk or winter hike, weather permitting, boosts mood, too. Daylight hours are already getting longer, seed catalogs are starting to emerge, and soon it's time to plan our gardens! Spring won't be too many months away now. 
At my house, we plan special "theme" evenings, trying new meals, along with watching a special movie. For New Year's Eve, I made an Asian-style dinner, something I haven't tried completely before.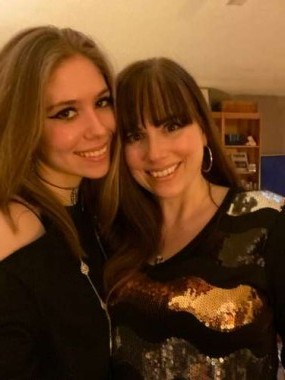 We watched New Year's-themed movies and dressed for the occasion, just the three of us. Scheduling, planning, and executing a special evening gives us all something to look forward to.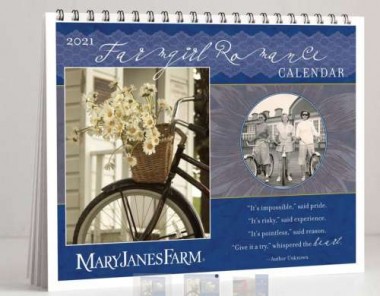 To help you schedule YOUR special evenings, ZOOM meetings, and 2021 plans, we are giving away FIVE MaryJanesFarm 2021 Calendars, courtesy of our dear MaryJane! Five lucky winners will receive this beautiful calendar in their mailbox! What a great way to start the year! To be entered in the drawing, leave me a comment below, telling me what you are doing to make 2021 a bit brighter, share a favorite recipe or kitchen gadget, organization tip, or just say "hi" so we know you stopped by!  I will draw FIVE lucky reader names at random! Winners will be notified via email. 
Wishing you all a Happy, Healthy New Year for 2021! See you next month!
Until Next Time…Farmgirl Hugs,
Nicole