"Mary, Mary, Quite Contrary,
How does your garden grow?"
Tell us. How is YOUR garden growing this summer?
Won't you share with us? Hit up the comment section with "Your name, Your name, Quite your mood, How does your garden grow?" And then tell us about your garden, or lack thereof.
Ok, I'll start.
"Rebekah, Rebekah, quite frustrated yet for some reason rather perky, how does your garden grow?"
Well, why don't I just show you my harvest so far?
2 blueberries (two blueberry bushes)
This year I harvested 2 whole berries. I plopped them on top of yogurt for breakfast. Yum. There were only two, but they were sweet, tender, and bursting with flavor. (Imagine if there were, say 10! or 20!)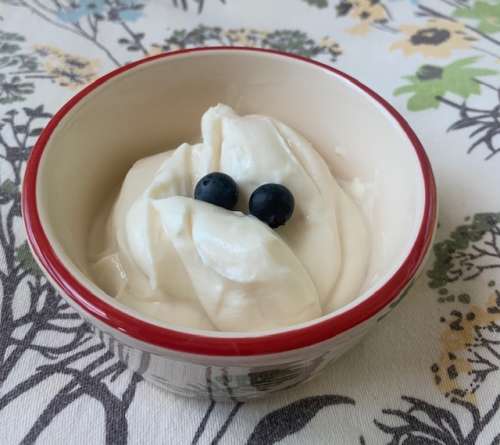 2 bunches of colorful Swiss Chard: one pink, one yellow
I don't have a photograph to share of these lovely vegetables because I didn't realize at the time how skimpy my overall harvest would be. I chopped the leaves and stems and sauteed them with Olive Oil and fresh garlic. It was yummy.
4 Okra Pods (three plants)
I have three plants. Fried okay is delicious. I think I'll wait until I have the other two pods that are almost ready to pick. That should give me enough to feed one person.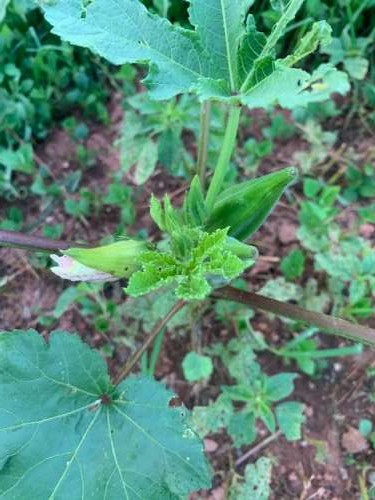 Have you ever seen the Okra flower before the pod forms? It's beautiful.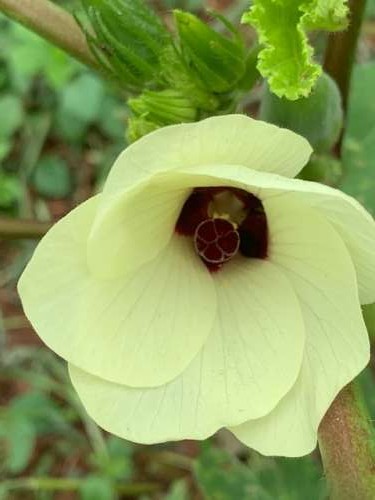 1 cucumber (3 vines)
My cucumber? Delicious. Just perfect. Crisp. Not even a tad of bitterness. I enjoyed it for lunch one day. Chill it; peel it; slice it longwise; sprinkle with salt.
There are no signs of any other cucumbers forthcoming. The vines are dying.
0 Better Boy tomatoes (4 plants)
Talk about disappointing. My tomato plants are all leaves and no blossoms. I'm not hopeful that I'll be able to experience the summer ritual of picking a big tomato warmed by the sun, standing in the garden, and eating it there while juice drips down my chin.
sigh.
But I am not completely tomato-less:
1 or 2 small tomatoes every other day (3 plants, 2 in the garden and 1 is a "volunteer" in the shubbery by the house)
These are good to eat on your way somewhere, like the horse barn. I have a yellow and red cherry tomato plant and a grape tomato plant.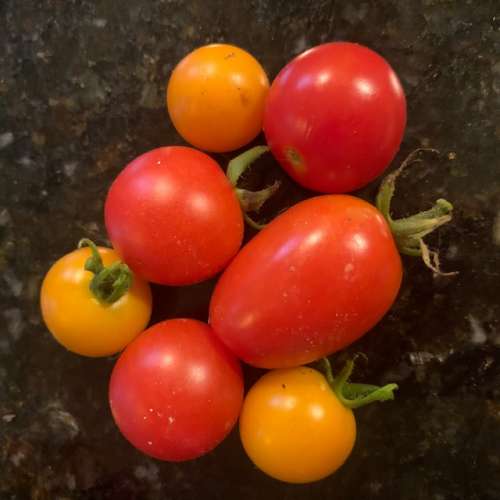 0 yellow squash (9 vines)
My three hills of yellow squash have produced nothing. Zilch. They don't look promising.
0 watermelon (3 vines)
But. The vines look healthy. Will there be fruit? IDK.
3 tiny butternut squash (6 vines)
are growing now. I have hope in those little guys. Butternut Squash is one of my favorite all-time foods. Come one, Butternut Squash. Fight, Fight, Win!
3 Mad Hatter sweet peppers (1 plant)
Aren't these adorable?? I am for sure going to be harvesting a few of these cuties soon. Only one plant has survived, so whatever this plant can do will be the entire harvest.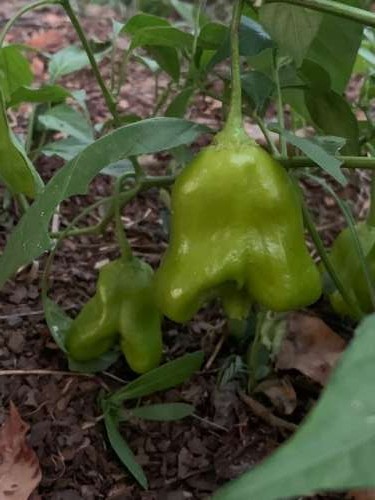 Some Zinnias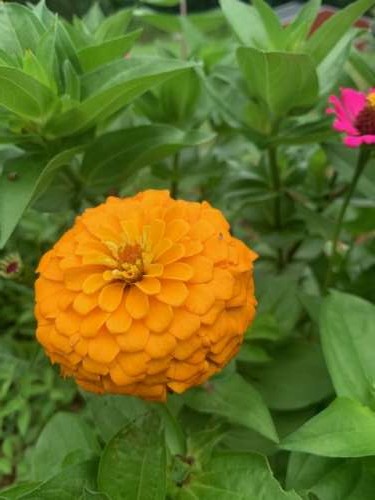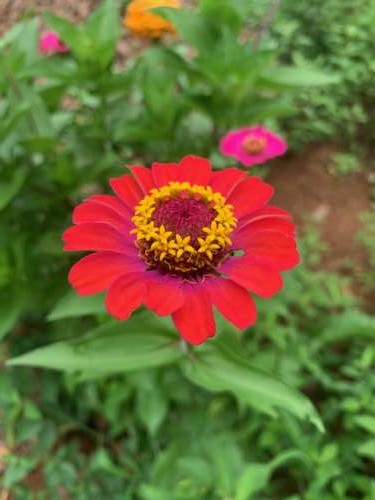 My poor raggedy, straggly garden.
So how does my garden grow? I'd say this year's gardening adventure has been a trip. A trip right down the toilet.
Here are my latest excuses for this year's garden failures.
When you move to a new place, you must create the spaces you need. Outdoor entertaining area. Picnic area. Feral cat area. Chicken area. Fruit bush/tree area. And garden area.
For my garden spot, I picked a sunny area in the corner of an old goat pasture. Even though it was "et" up with weeds, I saw a tidy and productive garden in my mind. (In some parts of the south, et = "eaten.") I began the war last year as I attempted to conquer the weeds. Hand combat, by the way. All by hand.
Here's what I started with.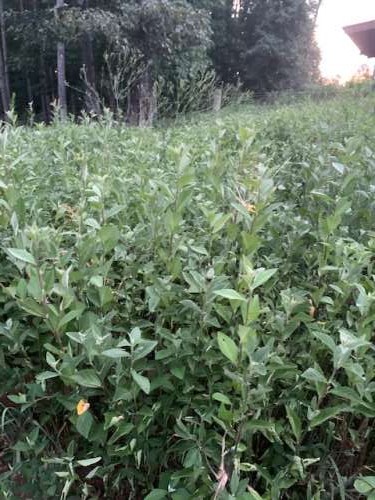 Can you see the fence posts in the middle of the weeds? Those are the back of my garden spot. Can you see the actual fence?
No? Okay, let me do a quick mark-up.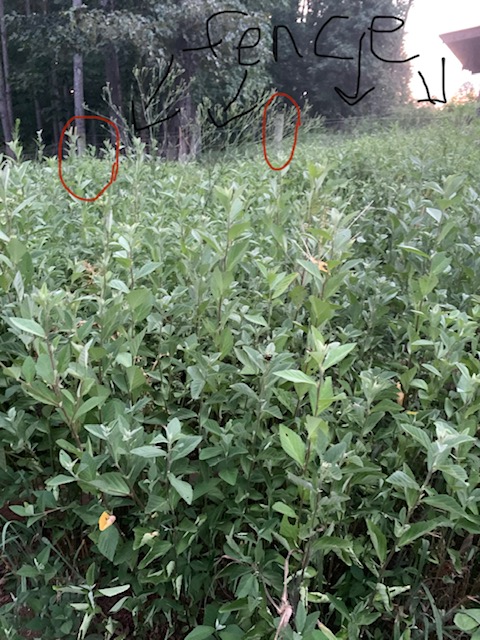 This was last year's garden in August, back when I was super naive.
I tilled up the old goat pasture, sowed many seeds, and sang a happy tune.
I did not reap what I sowed.
It was outrageous how quickly the weeds took over my little chosen garden spot.Tall, out-of-control, stubborn weeds of several different varieties. No corn, no yellow squash, no tomatoes, no cucumbers, no pumpkins, no butternut squash. No anything edible.
SO, AS YOU CAN SEE, THIS YEAR'S YIELD IS INDEED BETTER THAN LAST YEAR'S.
(Though I freely admit that my yield has not merited the amount of effort I put into the garden this year compared to last year's.)
There are three main reasons that I lose the weed battle. Awful and painful Weed number 1; evil Weed number 2; and terrible Weed number 3.
These three weeds are my greatest plant nemeses ever. Ugly, powerful, painful, prevalent, and out to get me. They say bullies seek the easiest victims? 'Tis I, an innocent, pure-hearted gardener without much equipment, few tools, limited knowledge, and a hearty NO-CHEMICALS philosophy.
To use another southernism, each of these 3 weeds is a "booger-bear." This term came from the Appalachian Mountains where booger-bears are possibly real (eh, possibly not). They are massive bear-like creatures who walk through the forests on their hindlegs. In addition to bear features, booger-bears are reported as also having gorilla, cat, and dog features. Booger-bears terrorize humans with every encounter. Very scary dudes.
The term eventually evolved to mean horrendously difficult, challenging, tough, and unpleasant undertakings.
One of these booger-bear weeds you probably know. Stinging Nettle. Holy smokes! One encounter and you'll never forget it. These weeds have little hollow stinging hairs on the leaves and stems that act like hypodermic needles. They inject a poor unexpecting gardener with histamine and other chemicals that produce a stinging sensation upon contact. The prickly, stinging pain from this plant lasts more than a day for me. It's awful and painful. While this weed does have medicinal properties, I have no idea how anyone would ever be able to harvest it!
Weed number 2 is the one that I detest the most. It has thick, strong, impenetrable stalks. With thorns! It grows deep, deep roots that neither a hoe nor a shovel can eradicate. And. It spreads so fast that you can almost see it grow. See those tiny thorns at each stem? They hurt like the dickens.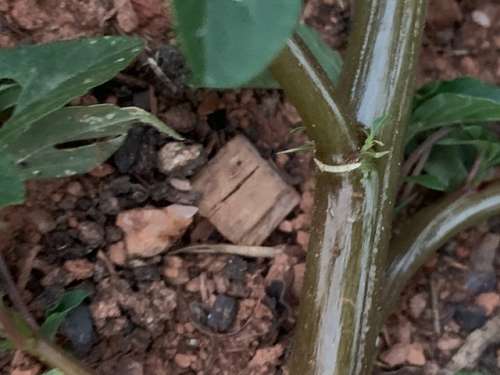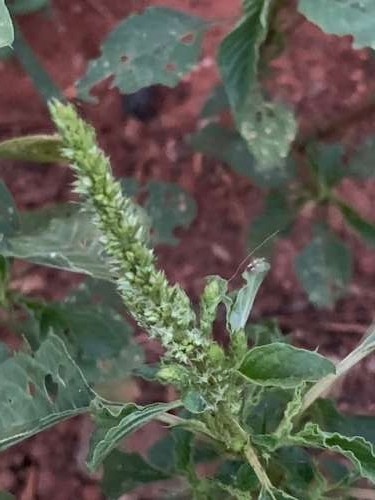 Don't be fooled by the flowering stalk. The plant is Just. Pure. Evil.
It is a variety of a weed known as "Pigweed." This type of Pigweed is a warrior who evern loses.
The last weed, the terrible Weed number 3, causes no injury, but is so fast growing and fast reproducing that you can't keep up with it. It's impossible. It has deep, deep roots that you can neither pull up by hand nor use a hoe to get under its roots. I don't know what it is. But I have a name for it that I can't say here.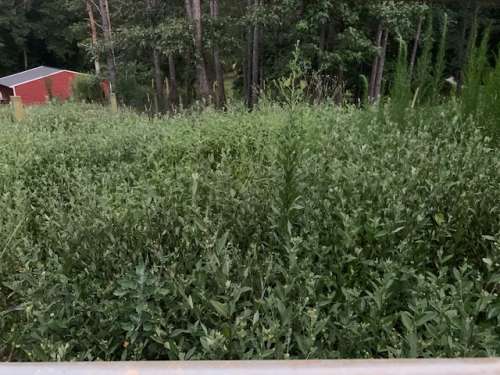 Round-Up, oh Round-Up, get thee behind me. How thou dost tempt me!
So this year I had a plan! Oh yeah.
This year I decided to delay planting my garden in order to fight the booger-bear weeds and win. When the weeds started popping out of the ground in my planned garden patch, I did a prescribed burn in the garden. My intent was to burn out and destroy all the booger-bears and their seeds.
I brought in logs and wood and burned the garden area. While the earth was still hot, I tilled the soil by hand, turning over the burning earth into the ground to kill any seeds.
Voila!
Oh, believe me. I was proud of myself. The fire not only killed the weeds but also made the soil nice and soft and workable. Here in Georgia, we have mainly hard red clay for dirt. This burn process transformed my red dirt into something a dark, loose soil that was easy to till by hand.
Oh, I was happy, brillant even. I fought the booger-bears, and I won! I planted the garden and sang a happy tune.
Check me out! Farmgirl, indeed.
Then I learned the lesson to NOT taste victory before it is actually yours.
First only a few of those Booger Bear weeds popped up. I used a pickax to get them out of the ground. And then one night while I lay sleeping zillions of the weeds popped up and grew a foot before morning. (Exaggeration? Perhaps.) Within 24 hours I realized that I had lost again this year. There seems to be no controlling these aggressive weeds without chemicals. There seems to be no way to use that spot for an organic garden.
I'm thinking goats.
And the Farmer's Market.
Your turn! Share your flower, vegetable, fruit, water, whatever garden with us! In the comment section, simply write,
"Your name, Your name, Quite (insert your mood here), How does your garden grow?"
Until next time, Friends, Savor the Flavor of Life!
And never stop planning and dreaming.
Rebekah, The City Farmgirl