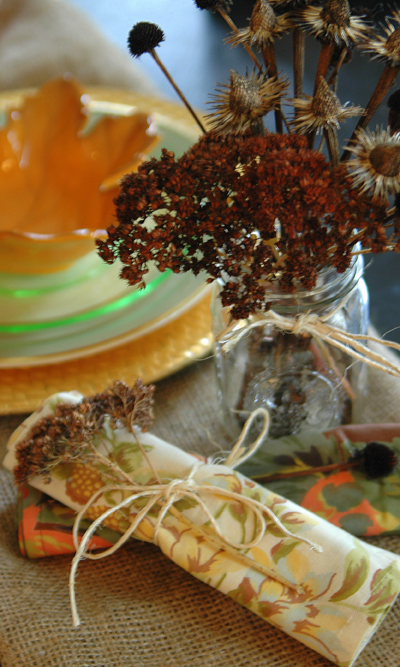 Gratitude unlocks the fullness of life. It turns what we have into enough, and more. It turns denial into acceptance, chaos to order, confusion to clarity. It can turn a meal into a feast, a house into a home, a stranger into a friend. Gratitude makes sense of our past, brings peace for today, and creates a vision for tomorrow. ~ Melody Beattie
Happy Thanksgiving from the shorelines! By the time some of you read this you might be diving into your leftovers already but let's not jump too far ahead, I haven't even roasted the turkey yet! Yep, you read that right… I'm hosting dinner this year for the first time in years and while I'm always grateful to be a guest my heart sings when we have our family and friends over for the holidays. I'm not one to go over the top with lavish decorations but I do love a warm, cozy, and festive atmosphere during harvest season. But, I don't want to spend a lot of money creating it. So, what's a farmgirl to do? Go a gathering that's what! Come on in and let's talk turkey and decorating and shopping and sweet potatoes and, and, and…Oh, just come in already!!!
What's a girl to do when she has 15 guests coming for dinner and only one set of 8 white dishes, and one set of 6 vintage dishes and a few misc. dish patterns. The same goes for my silverware and napkins situation.  I thought about using paper plates, but our son nixed that idea. I think he said something like, " Mom, Thanksgiving honors the day the Pilgrims and the Native Americans sat down to feast together for The First Thanksgiving right here in Plymouth. Don't cha think
that calls for REAL dishes?" Deep down I didn't want to go the paper route either. I began to imagine the tables set, music and laughter in the background and candle light dancing off of everyone's smiling faces. I decided right then and there that I really don't need matching anything to create an inviting table setting. In fact it's quite the opposite and a whole heck of a lot more fun! For inspiration I thought of the handmade/recycled wedding MaryJane featured in her magazine last June where the wedding party wore handmade clothing, and ate from thrift store dishes. Then I went rummaging in my china cabinet, my mom's china cabinet, my linen's drawer, the feed store (I'll get to that in a minute) and my favorite discount department store,
TJ.Maxx/ Home Goods. Then I made a trip out to the garden for cuttings for my naturel' centerpieces!
Here's how I've pulled it all together!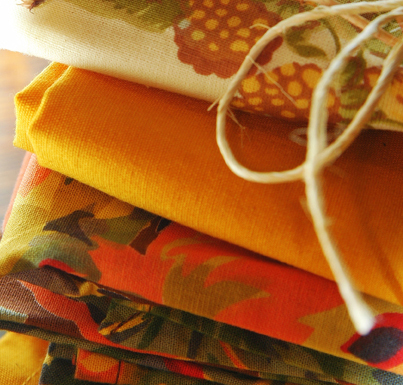 I did do a teensy bit of shopping… I found some lovely floral napkins with a faded, vintage look to them to go with my plain gold cloth napkins. I fell in love with two different patterns that were on sale for 4.99 per package of 4!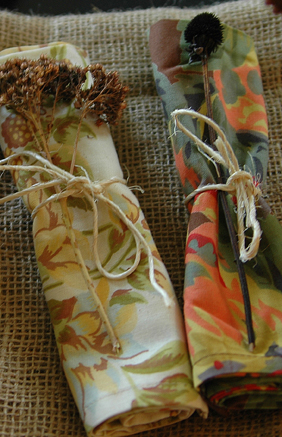 Instead of purchasing napkin rings I'm using jute twine to tie them in place with a sprig of dried seed pods tucked into each one to bring in the outdoors. The burlap underneath is what I stopped by the TSC for… it comes in rolls and for  ten dollars I'll have enough to make one long table runner! When Thanksgiving is over, I can make pillows, chair covers, or wrap mats inside of picture frames with it! I just love the versatility of burlap. I goes with just about everything but my favorite pairing is burlap and bling! I LOVE the juxtaposition of plain and pretty together.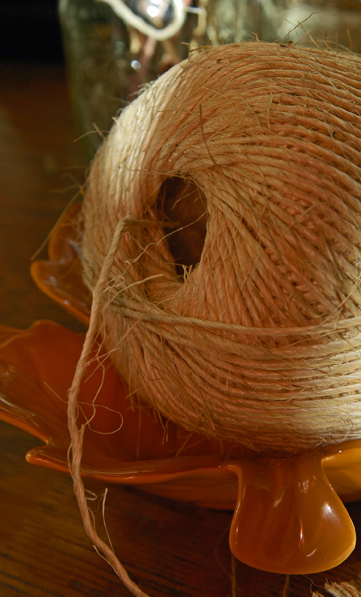 The autumn leaf dish was a bargain at TJMaxx. Perfect for nuts, cranberry relish, soup or salad! I got two!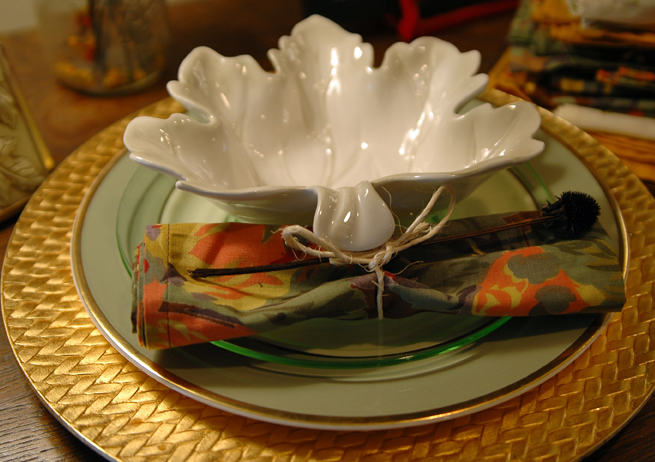 The napkin above has dried black eyed susan attached and the one below is dried autumn sedum joy.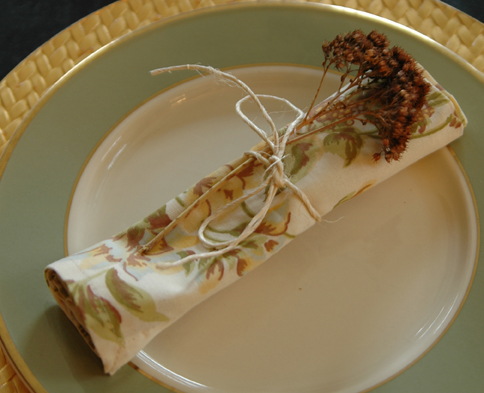 Who says flowers can't be a part of Thanksgiving? NOT this flower farmgirl!I gathered enough dried flowers to make a few fall arrangments for the table. Here's one all ready to go with sedumn joy, blackeyed susan, grass plumes, and cone flower. Placed in a small ball mason jar tied with jute twine they make the perfect simple, frugal and festive decoration for the fall table.
Total Cost:
Napkins ~3 sets of four for ~15.00
Burlap~ 3 x 10 feet roll~10.00
2 Autumn Leaf bowls ~ 8.00
Oak Tags ~ 2.99
Markers~ gold, silver and copper~ 3.99
TOTAL: 39.98 ( NOT BAD)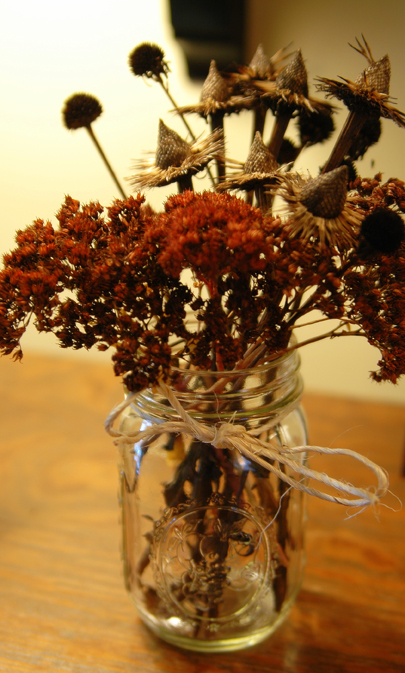 Plain Oak Tag place markers tied on to the napkin rings, green Depression glass luncheon plates and my mom's sparkling vintage amber glass goblets put the finishing touches on my festive and frugal, Thanksgiving table setting!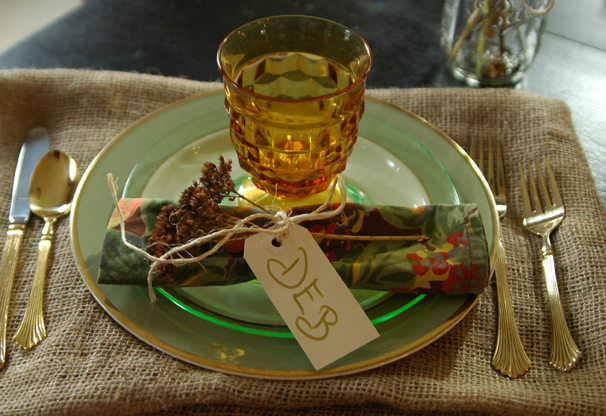 Now, how about something to eat? Here's our favorite recipe for candied sweet potatoes. My handsome Yankee loves them! It's called,
Sweet Potato Cashew Bake.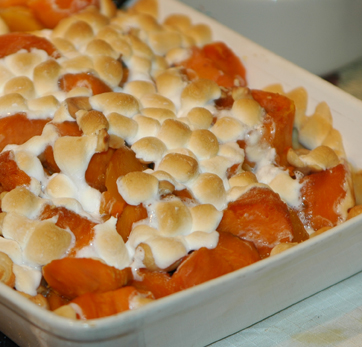 Here's the recipe straight from the red and white checkerboard cookbook by Better Homes and Gardens.
6 medium sweet potatoes ( 2 lbs)
1/2 cup packed brown sugar
1/3 cup broken cashews
1/4 teaspoon ground ginger
1 8 3/4-ounce can peach slices
3 tablespoons butter
Peel and boil sweet potatoes whole for 30 -40 minutes ( until soft but slightly firm)
Drain and let cool. Cut crosswise into thick pieces. Combine brown sugar, cashews, ginger,and 1/2 teaspoon salt. Drain peaches well. In a 10 x6x2 inch baking dish layer half each of the sweet potatoes, peach slices and brown sugar mixture. Repeat layers. Dot with butter. Bake, covered, in a 350 degree oven for 30 minutes. Uncover; bake about 10 minutes longer. Spoon brown sugar syrup over before serving. Serves 6-8.
* I cover mine with marshmallows and bake uncovered for the remaining ten minutes just until they are a toasty golden brown.
Well, sisters I'd better let you get to your Turkey Day doin's! I'm wishing you the best of days with your loved ones over this holiday of giving thanks. I'm so grateful for each and every one of my farmgirl sisters and MaryJanesFarm for all of the ways you enrich my life every day! THANK YOU!
Remember it's not how much you have, but what cha do with what cha got that counts!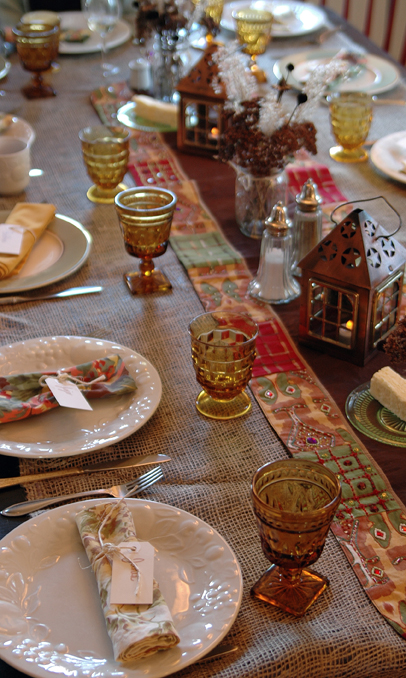 Happy Thanksgiving~ from sea to shining sea!
Beach Blessings and lots of love!
Gobble, Gobble…
Deb # 1199