One thing's for sure. I'm not going to use the CV-19 word in this post. No way, no how.
Or how's this: C for Colorful. V for very. And guess what? My Baby turned 19 yesterday. So, Colorful Very 19.
So what are we to do about Colorful Very 19? I think the answer is, "enjoy life even more." Leave our worries behind. Focus on today. And just go 'round and 'round that ole mulberry bush with a smile on your face.
Because, My Friends, spring is here. And that is happy news for us all. If spring hasn't reached you yet, just wait. It's headed your way…
This spring has knocked my socks off. Quit literally. No socks. Or shoes. Just feet, running around in green pastures.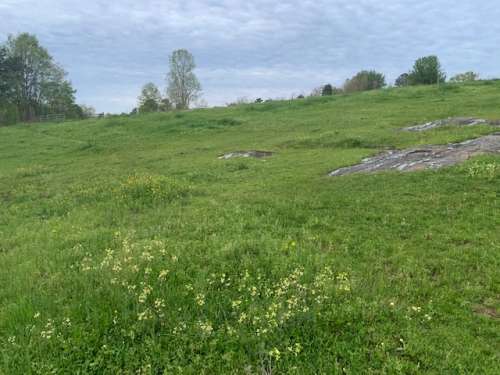 My feet had forgotten the massage offered by the new, soft, cool spring grass beneath them. I used to date a guy who would plop down in the grass, take off his socks and shoes, and massage his feet across the grass. That's how I discovered this particular gift of nature.
My nose had forgotten the orchestra of the sweet fragrances of spring coming together in an "ah…." Especially early in the morning.
My sinuses had forgotten the yellow dust of the south's pollen. When you recognize a car in a parking lot, you can write joyful notes or drawings with your finger in the yellow pollen. (Or you could before Colorful Very 19.)
My hands had forgotten the cool, grainy feel of gloveless work in the garden soil.
My ears forgot the constant birdsong that arrives in spring. And at dusk, the song of the peepers in the still waters.
My eyes had forgotten the colors of bright green trees set against a cloudless blue sky.
My everything had forgotten the quick profusion of weeds emerging. With weeds, you snooze, you lose. Truth be told you'll ultimately lose the battle with the weeds. But keep the hope alive for now. Early spring is the time for hope. Pull the weeds. Reality will kick in soon enough.
My heart keeps hope close at hand. Deep in there, planted with deep roots to the left of the aorta, is a big pile of hope that never wilts or wavers.
But. My mind never forgot any of it. Grass, flowers, dirt, songs, trees, weeds. "Spring is coming," it would whisper to me at just the right moments.
Since we are going to go around it today, I should update you on my mulberry bush. The mulberry bush in my yard is a mulberry tree. Its stately, curvy branches have leafed out already. It will become a messy tree once the fruit begins to form. In my tree, the small fruit to too high. I can't harvest any, so most hit the ground. But my tree is ready for our happy, circular spring dance beneath it.
Here is Georgia, I am paying close attention to the gifts of spring's arrival.
My first emerging flowers are woodland. You'll miss them if you're not careful.
Wood Violets are the earliest to pop up out of the earth and bloom.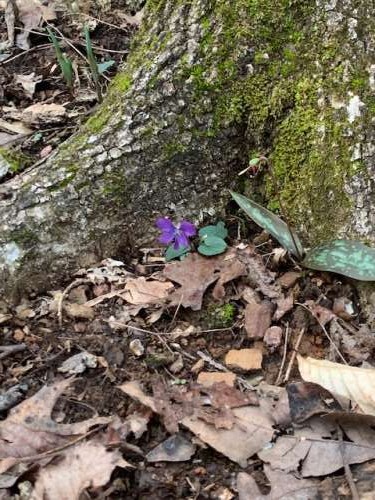 Next for me is the Yellow Trout Lily. I have a hillside down by the creek that is covered with these. They are named "Trout" Lily because of the spotting on the leaves.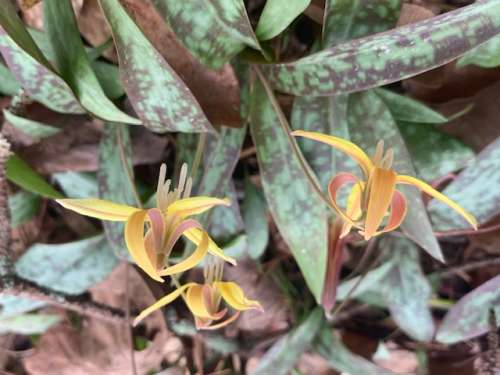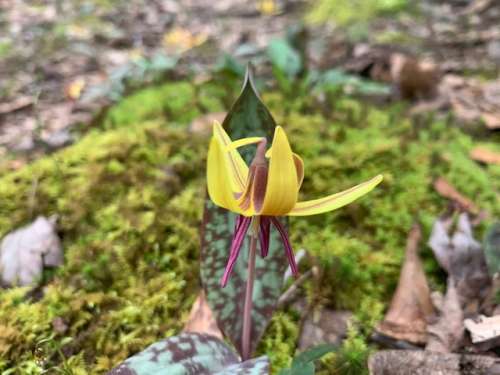 And then, right as those are about to die out, the Rue Anemone or Windflower blooms to cover another hillside by the creek.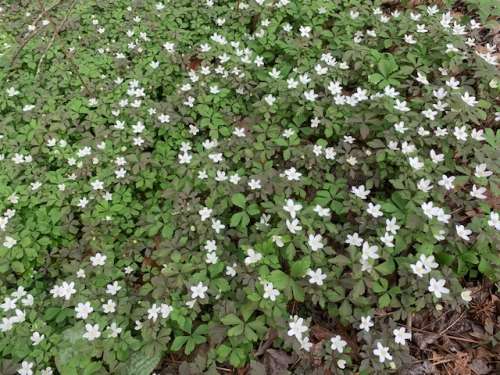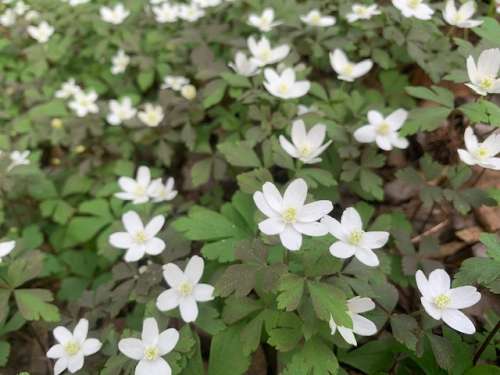 Then, boy oh boy, my all-time favorite, the Trillium comes out to delight me.
Here's a patch.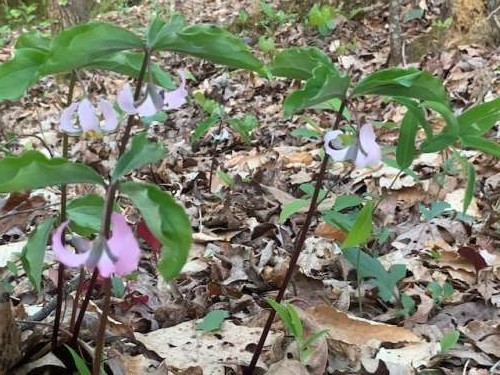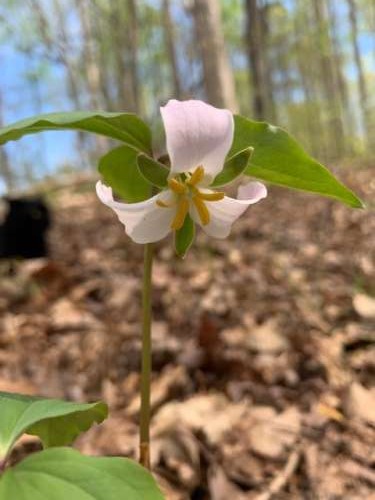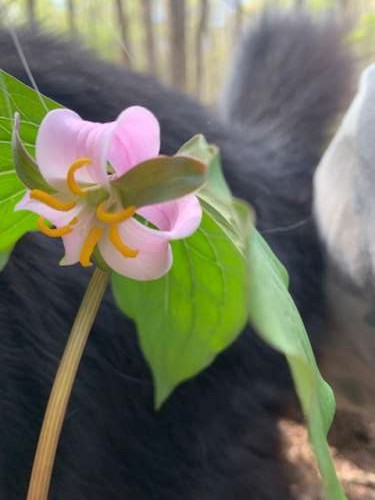 (that's my cat, Jude, in the background.)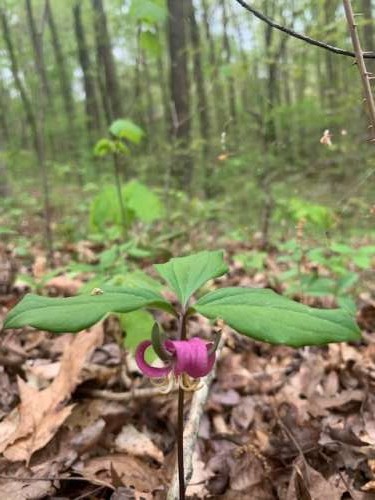 And these tiny unidentified woodland flowers are in bloom.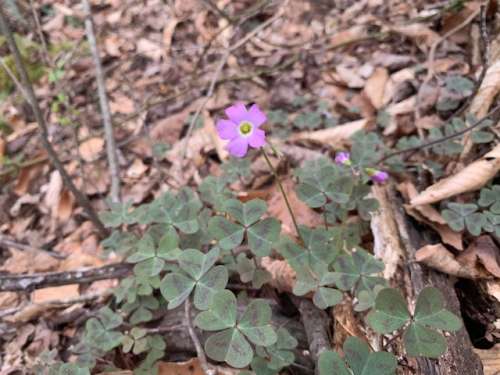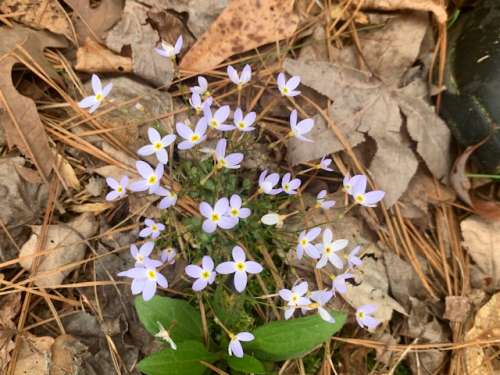 Wild Columbines are in bloom for a bit.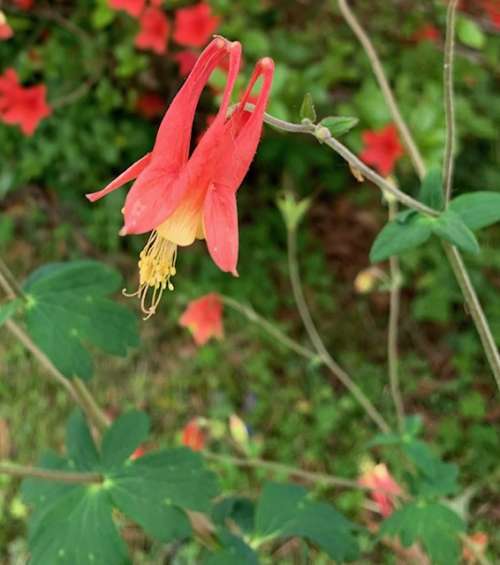 Wild azaleas and dogwood appear in unison. This is the wild azalea. I only have one Dogwood tree in all of my woods, and I couldn't get a good photo, so we must imagine the graceful beauty of a Dogwood.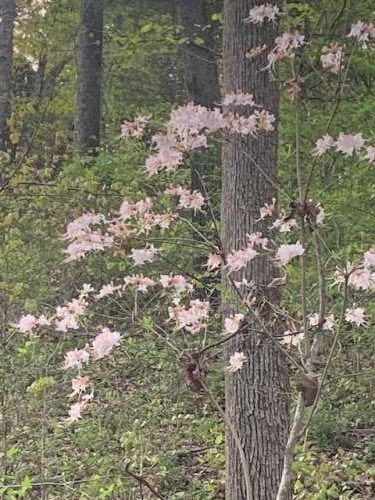 The domestic azaleas explode in flowers.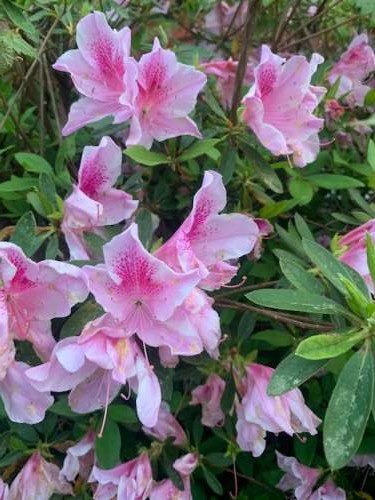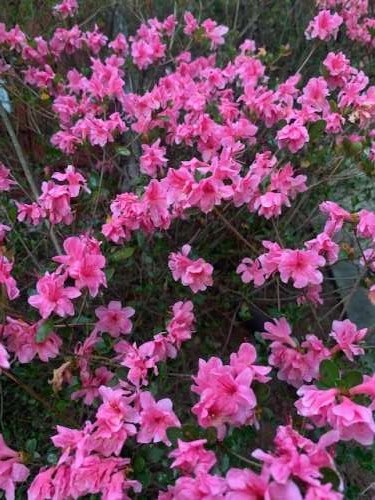 In fact, my domestic Azaleas are almost finished blooming.
And the wistful wisteria, a longtime favorite of southern landscapes. It grows naturally here now, spreading through-out tall pine trees. The sweet-smelling, purple flowers drape down gracefully from the branches. You're lucky if you find one growing close enough to the ground that you can reach up and grab it and inhale deeply.
No need to pick a branch, though you'll be tempted. It'll wilt within hours in your vase.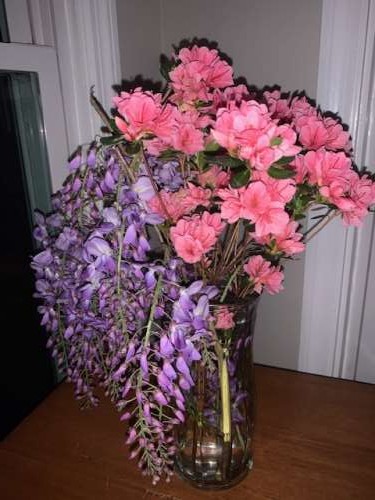 And check out this oddball in the woods.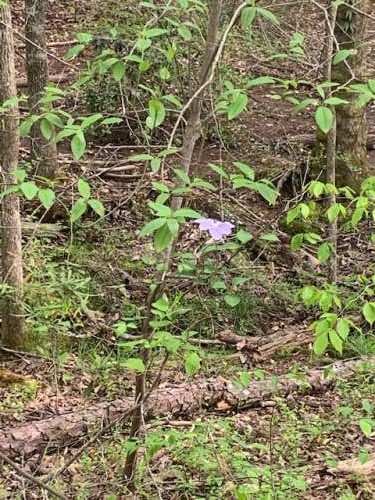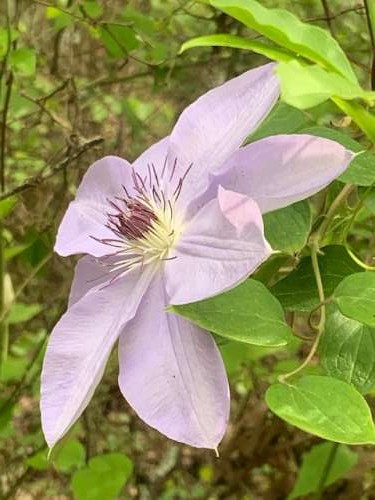 I got closer and found that it is a Clematis Vine. I guess a bird or squirrel planted it a while back.
And it's not a flower, but I'm pretty sure that this is a huge Morel mushroom. Definitely noteworthy.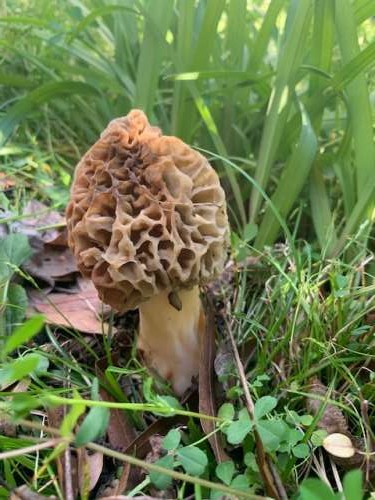 Here's a Wild Strawberry plant. Little tiny strawberries will be here soon.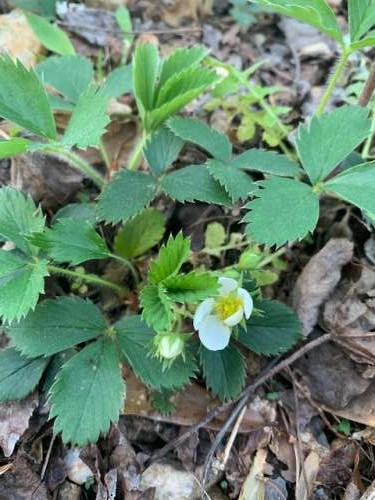 The Carolina Sweet Shrubs are in full, cinnamony bloom.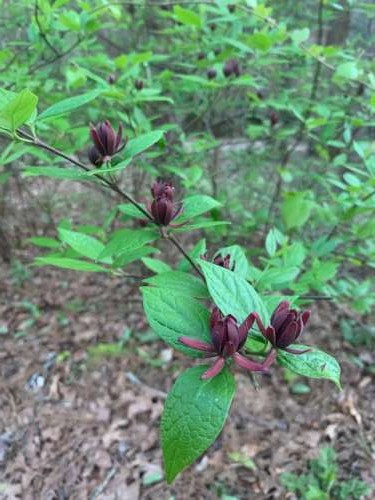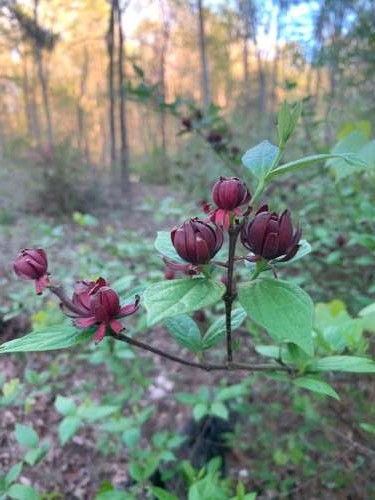 It's not wild; I planted it last year. But looky here. Lavender! I can't believe it is still alive and profusely blooming. I was never able to grow Lavender the last time I lived in Georgia.
This aroma takes me back to the Lavender fields of Provence, France. What a marvelous journey that was.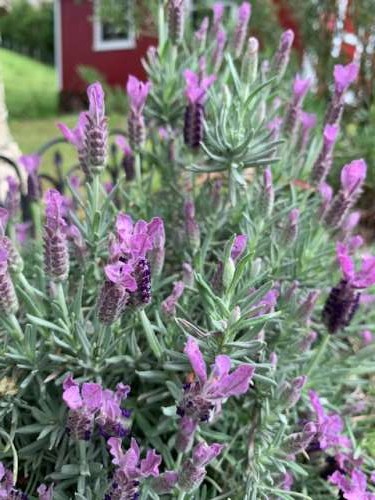 It's baaaaaack! And just when we needed it most!
May it help us put a little SPRING in our steps.
Until next time, Friends, savor the flavor of life!
Lots of Love, Rebekah, The City Farmgirl