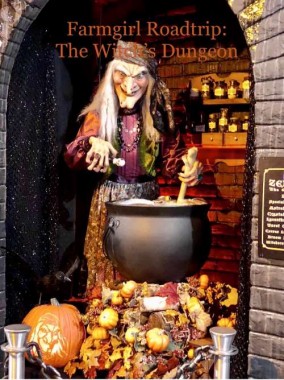 Halloween is one of my favorite times of year. Last October, my family and I visited a place in Connecticut that appeals to all ages, with visitors that come from all over the world. The Witch's Dungeon Classic Movie Museum is a real treat!
The Witch's Dungeon Classic Movie Museum, located in Bristol, Connecticut first opened in 1966, when its founder and curator, Cortlandt Hull, was only thirteen years old! Part wax museum, it houses life-sized figures of movie greats such as Bela Lugosi and Vincent Price, actual movie props from legendary movies like ET, and exhibits and display cases of classic movie memorabilia. Two different classic movies are played via reel-to-reel nightly. Currently opened Friday through Sunday during the month of October, The Witch's Dungeon offers something for everyone, a spooky but non-gory way to celebrate Halloween. In the 53 years since the museum opened its doors, they have had countless visitors from over 40 states and from 28 countries.
As a child, Cortlandt Hull loved visiting wax museums, but always found it disappointing that any Halloween-themed Chambers of Horror were filled with torture devices, and classic movie monsters were missing from the exhibits. Young Cortlandt also loved to build Aurora model kits, popular during the 1960's- similar to model car kits but of classic movie monsters like the Wolf Man and Dracula. Cortlandt wanted to build life-size movie characters, and the idea for the museum was born. He spent much of his childhood ill, so his parents wanted to encourage his interest and creative talent. His first creation, designed when Cortlandt was only twelve, was "Zenobia the Gypsy Witch", who still greets visitors at the door of the main part of the museum! Family friend Mae Questel (who voiced Betty Boop and Olive Oyl, and later played "Aunt Bethany" in National Lampoon's Christmas Vacation) introduced Cortlandt to the great voice actress June Foray. Award-winning June Foray, the voice for classic characters like "Rocky the Squirrel" and "Cindy Lou Who", is the voice of "Zenobia".
The wax museum portion of the exhibit is jaw-dropping with realistic detail and life-sized figures of classic movie greats, made from casts of the actors themselves. With no blood or gore, Mr. Hull feels the characters in classic films have more substance than modern-day horror. "They are over-blown fairy tales", he adds.
Cortlandt Hull's family has roots steeped in classic Hollywood. Mr. Hull's great-uncle, the actor Henry Hull, was the first "Werewolf in London" in the 1935 film. His mother, Dorthea Hull, was a professional Broadway costume designer. She designed all of the costumes for the museum until her death in 2004. His father, Robert Hull, was a painting and decorating contractor and helped a young Cortlandt build a Swiss-chalet building to house the collection when the museum first opened (the expanded museum is now housed in the 1890 Bristol Historical Society building).
Mr. Hull, who holds Bachelors and Masters degrees, has taught film at the college level. He was commissioned by Universal Studios Florida to create a figure of Lon Chaney, Jr. for their exhibit, and has been a writer and director. He learned much from movie greats and Oscar-winning makeup artists like John Chambers who worked on The Planet of the Apes and Dick Smith from The Exorcist.
Cortlandt Hull's great-uncle Henry Hull also worked with Vincent Price in the 1961 movie Master of the World. Vincent Price was supportive of Cortlandt's dream, taking an interest in his art ability. Vincent Price, who became like family, was also a fine art collector. He was a friend for over twenty years and visited often. His voice plays on tracks in the museum, and the acting legend even went so far as to find the original suit he wore in House of Wax for his likeness in The Witch's Dungeon Museum.
The museum celebrated its fiftieth anniversary in 2016, and remains a true original. The subject of many articles in publications such as National Geographic, the museum is the only one that has been featured in Ripley's Believe It or Not twice. Through the vision of a young boy, when Halloween was not the huge holiday it is today, the exhibit proves that we can do anything we put our minds to with hard work and dedication. The Witch's Dungeon Classic Movie Museum remains a truly magical place.
On our visit last year, the classic film Dracula was playing. Mr. Hull answered a question I have wondered about every time I've seen the film. Do you know why in the scene with Bela Lugosi as Dracula, when he is greeting his visitors in Dracula's castle, there are armadillos scurrying about? It is because Bela Lugosi hated rats with a passion, so they substituted armadillos for the rodents!
For more information on this wonderful Halloween destination, check out The Witch's Dungeon Classic Movie Museum official website at www.preservehollywood.org. Appealing to all ages, the admission is only $6.00, with half of the fee going to the Bristol Historical Society. Popcorn and candy are only $1.00. The non-profit museum is staffed by all volunteers, who are all very knowledgeable and friendly. We loved every minute of our visit, and can't wait to return. Thank you, Mr. Hull, for preserving classic Halloween.
Wishing you all a Happy Halloween! I hope you enjoyed our visit to The Witch's Dungeon. It is truly a must-see destination! Remember to leave me a comment below so I know that you stopped by! Stop back in when the next Suburban Farmgirl Blog goes live on December 3rd!
Until Next Time…Farmgirl Hugs, Nicole